When it comes to artists pushing the envelop with bass-influenced techno and UK bass bobblers, you'll be hard-pressed to find better mixes than those by Laksa. Born and raised in Bristol but now based in London, his foundational love for soundsystem culture reverberates through the bassbins of his sets and productions to this day. Regular releases on the likes of Timedance, Illian Tape, Mistry, Hessle Audio and AD93 (formerly Whities) over the last eight years have cemented him as a cross-genre tempo hopper, but it's his collaborative work with friend and fellow DJ/producer re:ni that has helped push both their own respective crafts to new heights. For the last five years they've been combining forces as re:lax, be it through their now-famous monthly NTS Radio shows or their regular party series, hosting the likes of DJ Persuasion, Gigsta, Lil C, and Shannen SP for their frequent dancers and ever-growing faithful. Expanding the re:lax project even further, the pair have started a label under the same name, launching with Laksa's Body Score EP back in April followed by Jurango's high-tempo Isle Of Crass EP just last week.
We caught up with Laksa for a chat about his Body Score release, the conditions he fosters for creativity and flow, the announcement of the latest re:lax record and the artistic pressure of participation via social media. His accompanying Truancy Volume is a 90-minute showdown covering all grounds between bass-focused techno and head-turning club rhythms, capturing the DJ in peak-time mode for a statement mix that just keeps blossoming. With a large portion of the music comprising unreleased dubs from fellow friends and producers, there's a uniqueness to the mix that holds testament to his character as a supportive, trusted voice for new music. Showcasing works from the likes of re:ni, Jurango, Harba, Amor Satyr, Agonis, Swimful and Beatrice, it makes for an exciting and hopeful forecast of club music over the next 12 months. A must listen for sure.
Hey Callum, thanks for taking out the time to answer some questions and doing this mix for us! So just to start, how have you been, and how has the year been getting on for you so far? When we were queuing up getting this mix going you were on your way on a bit of an Asia tour with re:ni that included stops in Japan, China and Bali. Made some core memories I imagine, how was that? Any particular highlights? "Yes glad to finally make this happen. Always been such a fan of the blog and mix series! Year has been good thanks. Definitely ticked off some of the bucket list with things like; starting a label, first all night re:lax b2b, tour in Asia and playing Berghain. Been quite difficult juggling music and social work of late though, so I think I may be making the switch to full time music soon. And yeah that trip was pretty special. It was amazing to do the solo gigs, but just felt extra special to be able to do some as re:lax. Doing something which is bigger than yourself feels more significant to me. Hoping to go back out to Asia in January, so can't wait for that aka just want to eat that goodness."
So I thought we'd start talking up some of the music you've released this year in the form of the 'Body Score' EP, released on your own label with re:ni, re:lax. I was quite interested to read that your job as a social worker was a big influence in how you approached the energy to the release. You were reading the book 'The Body Keeps the Score' during this time too. Can you tell us a little bit about these influences and how it formed the approach? "The books are pretty interesting. Brief synopsis is; the relationship between trauma and the body, how trauma manifests in the body and, importantly, healing processes (involving how to reconnect with your body). To me dancing is one of those things that helps people reconnect with their bodies and can be so therapeutic – and why raving can be cathartic. There's not much of a thought out process in how I approach things, they just tend to fall into place. With my job and background, I'm just quite curious with social theory, concepts and trying to link some ideas together – this mix being an example. I was reading the book in preparation for my first mental health social work job, and ended up using quotes or samples related to the book/headspace I was in. To me they just captured and created an energy for the record, especially on 'Bodies', and importantly something which I feel is personal to me. There's so much music out there, why wouldn't you want to stamp your identity on it?"
I've been trying something new with the interview format with a couple producers I've interviewed in that I've been asking if we can break down the making of one of their tracks on a more technical level? I've always been a bit fond of 'Bane' on your Timedance release as it's such a simple but out there track. I was wondering if we could do it with that tune. "Nice one. Yeah Banes one of my faves. Very weird. That tune one was made with quite a bit of gear – Vermona drum machine, different mono and poly synth and a delay pedal – which was quite key for the main arpy bassline and synth and was a bit of a happy accident. I even had delay on the bass which isn't very clever ha. I just found a segment of the recording I could low pass for the bass though, and then put the high passed synth sounds on top. I'm not the most technical but that feels like a technical tip right? People may find it interesting this is the sample for the vocal. The main point I'd want to get across though is for producers to consider their set up, and whether it creates conditions for creativity and getting in a flow. You don't need loads of synths etc, I've just amassed bits etc over time. I've been thinking about this more after reading a recent Rick Rubin book. When writing Bane I definitely had more flow and I've been thinking I need to tap into that again – mainly by thinking about my setup.  Modern production technology, online tutorials etc makes the entry level easier, so for the artist you need to think how you can stand out and avoid falling into traps of making stuff that sounds good, but isn't very distinct."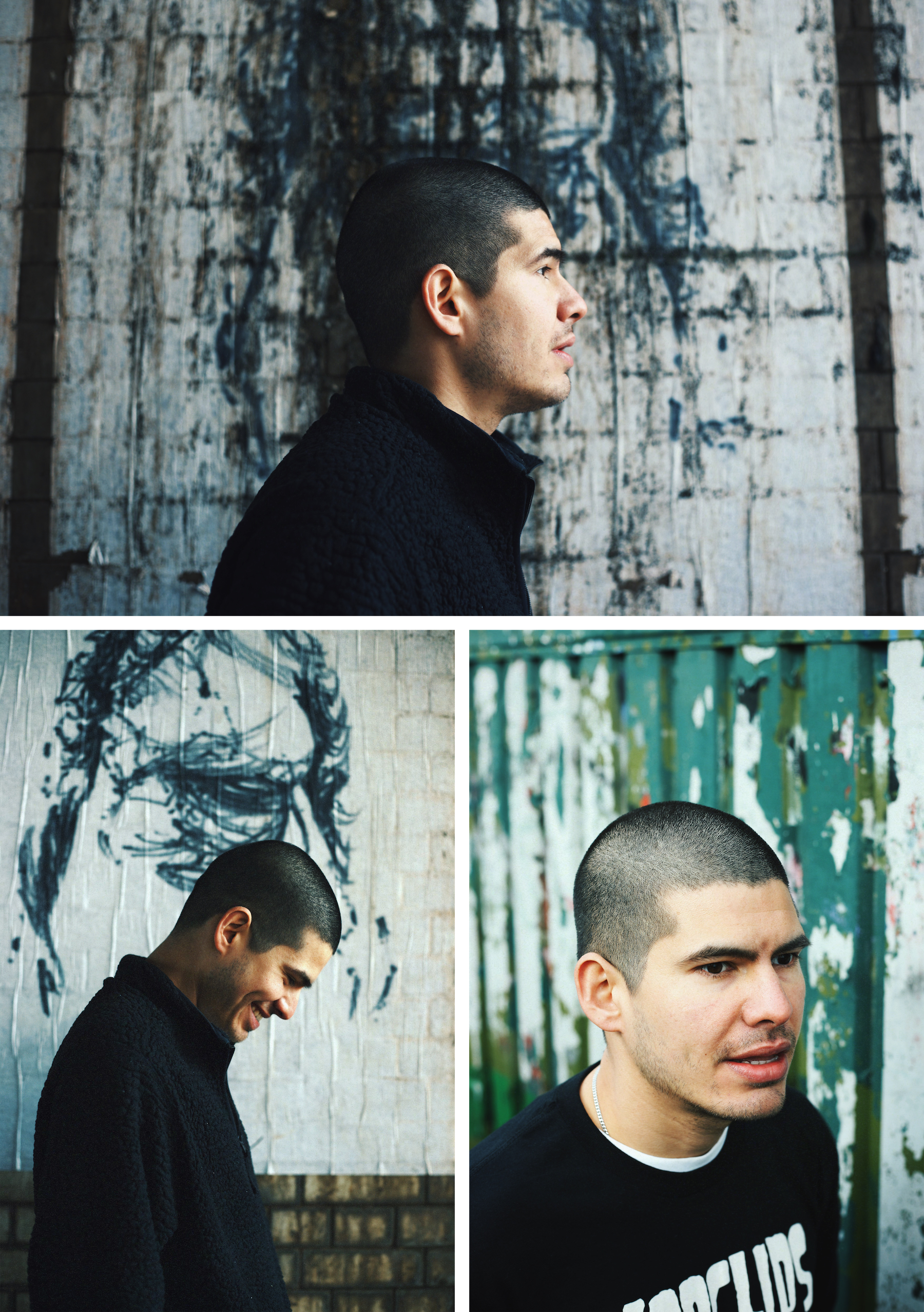 Was interesting and quite refreshing to read that you had to park the Hessle release for a little while as you couldn't nail the last two tunes for it. I imagine even the best producers have setbacks. How do you go about beating writer's block? Oh nice, I'm glad you received it that way. Was my intention really. Breaks down the mystique a bit and the idea your progression always needs to be an upwards trajectory, which I hope is reassuring to some. For your question – ultimately it's what contributing to the block. So I've broken it down a bit:
1. Linked to the q.3, I'd say it's considering your set up and whether it's creating conditions for creativity and flow.
2. In the nicest way possible, 'mindset' is a big thing. It's not always fun writing music, and writing requires a lot of failure (maybe I need a better word for failure). Failure is what puts a lot of people off or can create a resistance towards doing. Hurts the ego, doesn't feel nice, I can go on. It's why I acknowledged some level of failure or setback. Normalizes it so hopefully others feel more reassured and that overcoming fears of failure is part of the process.
3. Finally, it can also just be space – having time away from 'the thing' (which is music in this case). Sometimes we're so focused, obsessed etc with doing something, space away is important. Time to experience other things, get a fresh perspective and hopefully bring new energy. What I say to my service users often is – can you expect different results doing the same things? It totally applies here.
It'd been a few years since your last EP on Hessle. Was that a conscious decision to take some time off or were you in a place where the plan next was always to try get re:lax off the ground as a label and that's where you wanted your next release to be? I imagine with the pressing plants and being a new label that might have taken a little while. "Yeah I began working full time over the pandemic which unfortunately slowed things down and ended up causing delays, alongside the practicalities you mention. We wanted those tunes to be for re:lax, and definitely felt worth the effort and wait, as it kicked things off nicely and has been received really well so far. Had a real spread of people supporting the record, which felt very affirming, from likes of Surgeon and Eris Drew, Simo Cell and CCL, to Om Unit and Mantra."
Was amazing to see the announcement of the second release on the label from Jurango this month, in that it's great to see you platforming other producers quickly off the start! Can you tell us a bit how the release came about and how you first met and heard their music? "Oh wicked that's really good to hear too. It's really important building something that's bigger than us and showcasing/developing other talent. I've said it before and I'll say it again, so many tunes and artists get lost in the swathes of the internet, new labels and VA comps. It's a bit overwhelming to be honest, so establishing some narrative and creating some cohesion is super important. We've actually been working on the record for a while. Nathan's really pushed himself and I think it shows. He sent the lead single, Isle of Crass, maybe three years ago, and then we've been having quite a bit of back and forth with other tunes since then. His sound has developed since then but we just felt it would be such a shame to see Isle of Crass get lost or unused. Saw someone write about the EP saying "It's one of those releases where you see a bunch of influences that don't fit together, and then you listen and it does fit", which I think sums it up well and is a credit to Nathan."
The label should be such a success in the same way you've run your parties over the years. You and re:ni as residents with often just local and quite emerging names throwing an absolute party. Whenever I think Ormside Projects I immediately think of re:lax nights. Has it been a good home to cultivate that kind of community sort based setup? What's the progression been like for you two? "Again really nice to hear you say that. I feel recently the parties have taken a step up – mainly because of the addition of Farda P. Having a host gives it more of a soundsystem feel, which is important to us as that was our entry into dance music. Last party with MJK, Kampire and Just Bee was a memorable one. All night b2b with re:ni was special too, felt great to have a crowd trusting us to soundtrack the whole night. Jurango absolutely smashed it for his lauch party too. Every party has been a winner this year. Also got to give a shout out to Oopie. Their artwork was just so instrumental to the vibe and headspace of the parties when we started them, and I will just never stop loving the trippy wiggyness"
To what extent is your music tied to community, and to what extent is it about individual expression? Can those things intersect? "Unfortunately, it feels like music is more about individual expression, with little community, at the moment. Funny you ask this really as these ideas are explored in the Shawn Reynaldo interview too. In the interview they discuss LARPs – live action roleplay. An issue or danger with LARPS, is when you can't distinguish between role play and the 'actual' person. Naomi Klein discusses this idea of 'doppleganger' in her new book too, which reminds me of this too. It feels like socials are made up of a lot of Doppelgangers and LARPs at the moment, lots of role play, different versions of people, and you're not sure which one is the real them. Quite disorientating. 
Maybe it's tough to see social media as the beacon of individual expression, but it's ultimately the space which feels very visible for this. As an artist, you can't but feel pressured to participate in some way, as otherwise are you basically invisible? In his model, individual expression feels like people straining, shouting over one another. I don't find it very inspiring to be part of (on both sides) and it feels tiring for all parties. On a positive note, setting up the label feels a way to create community and push back on these current trends and pressures – creating that intersection. You have individuals under the label, but importantly a home where voices almost amplify one another and give an individual work more meaning. "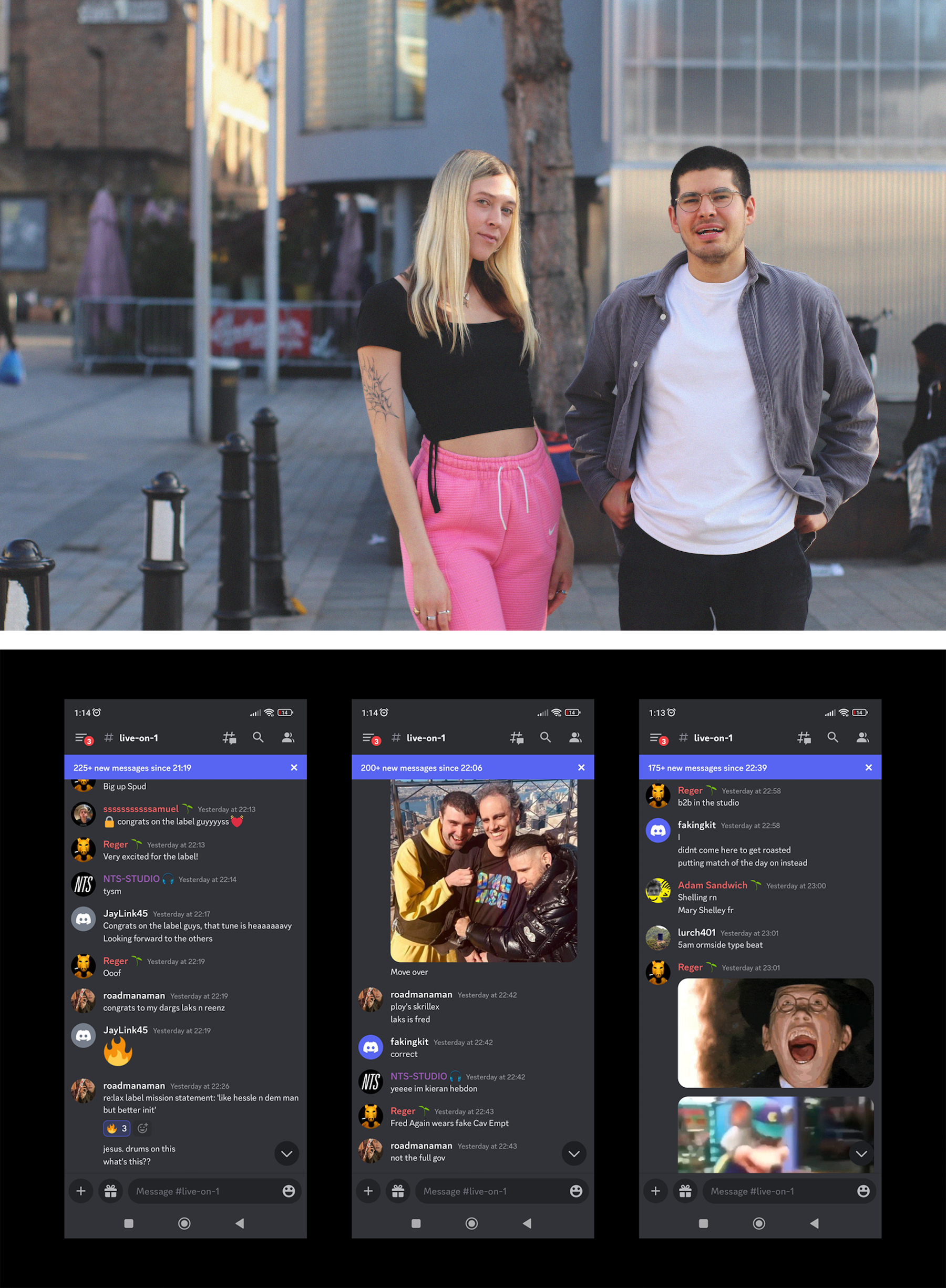 What can you tell us about the way you approach your DJ sets? You've talked about 'energy' and 'flow' in some past interviews but was wondering if you could expand on maybe where those influences have come from, and what sort of flow you look to achieve with your sets. "'Energy' to me is the emotion of the track. What give it that feeling and ultimately how you can emotionally connect with the music and artist.'Flow' is a focus on the sonics – the sound design and technicals. I talk about it here, to avoid repeating myself. I suppose energy and flow feel like the fundamentals to dance music. Doesn't matter if it's jungle, grime, dubstep, techno etc, getting that balance right feels crucial. Sound design without the energy just feels a bit empty. We hope re:lax can be a home for the tunes getting that balance right! I'm always trying to do beat repeats, slip, FX with reverb and delay when i mix now. Before I used to be an Allen Heath mixer guy, but it's the pioneer now. The in-built effects unit is so great. Gives you more tools for creativity. Experimented with some delay spin backs and beat repeats in the mix (around 1hr 14mins). To be honest I'd like to add more flow to my DJ sets, but like I said earlier, sometimes getting caught up in sound design can take away from the feeling and being in that moment, so it's got to be measured."
Do you have certain parameters when looking for tracks? I enjoyed reading an interview where you said you like the lines being blurred as that's where contextualisation often creates the best surprises or weirdness. "I can't say what I'm really looking for but typical rekordbox groups are genre led – 'bass', 'techno' – or functional – 'weird', 'chune'. Then it's nods to emotions – 'mood', 'weird' – or sonics – 'raw'. Then it's rhythms and how it might make people move – '4 2 floor', 'pummel'. Typically it's rhythm, aesthetics and emotion. Recontextualising is something I like to do, especially with vocals. In this mix the blends at 52mins and 1hr 18mins are good examples for me – taking quite hypey vocal tunes and making them a bit deeper."
I imagine you and re:ni must be on a pretty similar page with all the B2Bs you do, be it over radio or at a club? "I'd like to think so haha. We never plan anything which is nice. Just feels very free flowing!"
What did it feel like dropping Breakage – Hard in Berghain? "Haha good question. I mean it got the reload so need I say any more. Deffo wanted to do an opening set you wouldn't normally hear there and I think it went down well. Got to give a shout out to Darwin too! She's such a dedicated bobbler and has been pushing all corners of bass for a long time. Next Reef Party in November looks epic to say the least – D Bridge, EMA, NVST, Lee Gamble to name a few names. Nov 10th berlin folks!"
Can you tell us about three albums that a) define you getting into electronic music in general, b) maybe a midway album when you were fully invested in DJing and and c) a recent album that you've especially enjoyed?
a) Jam City – Classical Curves. That album just sticks out to me. Felt like an album I had on repeat when expanding my interests outside of dubstep ha.
b) Lee Gamble – Koch. That album is just levels.
c) Loving the new Anthony Naples. The new Gaunt album is incredible too. He'd pretty much sent that to me 2-3 years ago, but only seen the light of day now.
What sort of other hobbies or interests do you have outside of electronic music? Are there any books, films, art pieces or other things you've seen or been reading/watching that you might want to share?
I've briefly mentioned quite a few of the things I've been reading and watching so here they are:
Rick Rubin
Naomi Klein
Shawn Reynaldo
Could you describe the process of creating this mix? Was there a specific message or feeling you wanted to convey? "Couple things actually. I suppose the two quotes/samples are from the Shawn Reynaldo interview I keep mentioning. Whilst I was digging for the tunes and mix, I had seen some debates on socials recently about people playing cheesy pop edits, which the interview touches on. I just thought it would be funny to play around with the topic and start the mix that way. It just had this idea in my head to create that contrast and give Isle of Crass more of a bang when kicking off (which is Jurangos new tune for re:lax). For me, the contrast just shows how 'Isle of Crass' stands out and does its own thing. Without this being a Shawn Reynaldo dedication session, I also really found his idea around 'techno as folk art' really interesting. Mix starts with him exploring the idea. I'm not out here saying I'm fighting against that with this mix, but I'm always trying to do something different and personal. I hope anyone listening to the mix or reading this will take those values and principles away with them.
Beyond that wanted to push some of the faster, bassy n techno sounds and make it quite heady/trippy. Kind of vibe I can imagine rolling out to close ormside for re:lax – dark n smoky at 5am right next to the bass bins. Most of the music from 35 mins onwards is dubs (including myself :-)) or new music from producers who have started popping up more in the past couple of years, especially when it goes to 150bpm. Also quite a lot of re:lax – current and forthcoming – in there, which is nice. re:ni's next one is fiyahhh too. Special shouts to re:ni, Jurango, Harba, Amor Satyr, Agonis, Swimful, Beatrice, amongst others."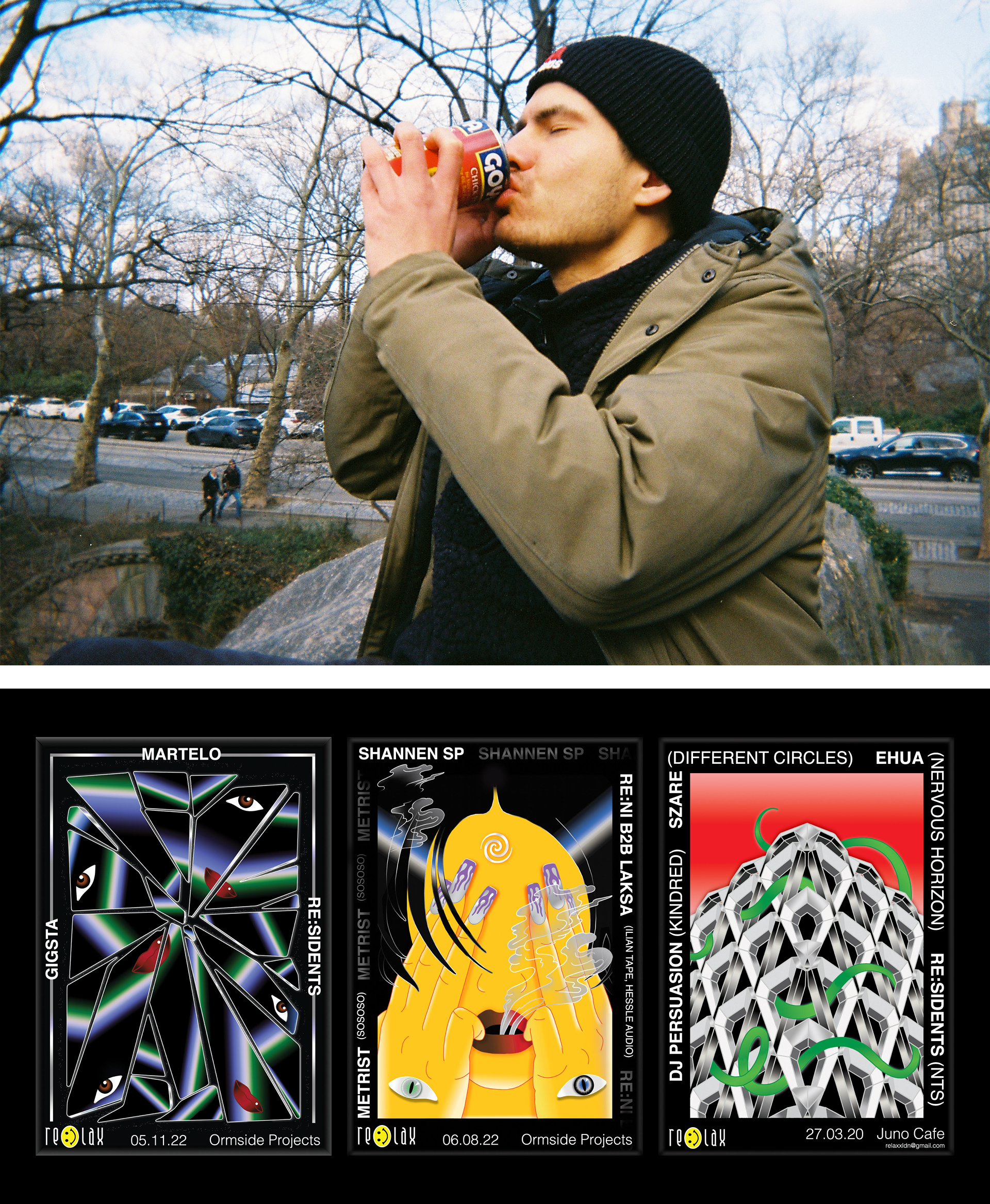 What are you looking forward to for the rest of the year? What are your artistic goals for this year and beyond? "Just finishing off my next EP which I hope will be out first quarter/half of the year – one of the tunes is in the mix. Recently released my remix for Tra Tra trax, and i was super happy to contribute something to their label! Hyped for Jurangos launch party at re:lax HQ aka ormside projects on October 21st – alongside K Means and re:lax b2b. Be great to celebrate that record as we certainly didn't make it easy for Nathan haha – well deserved dance i say. Just want to keep building re:lax really. We really enjoy working with the artists and collaborating, hope we'll have 3-4 records for next year.I think writing an album would probably be an interesting step for me, and something I'd definitely like to explore. Lax on the long play. Would love to work with a vocalist too. Combining more of my social theory interests and music is something I've always thought about too. Hopefully with some time away from social work for a bit, i can explore that."
Last, usual question from us, what was the last thing to put a big smile on your face and when was the last time you had a proper dance? "I deffo felt like a kid at crimbo when listening to a wip for re:lax – big smiles all around. Ooo last proper dance, that was Dekmantel this year. re:ni smashed it as you'd expect, Hyp11e was so so killer and felt super locked in for Dozzy. Oh and got to give MJK a shout out, he slayed the last re:lax. Shouts to Lil Channy and Meat too, no reason per se but gotta big up the team!"
P.S from Laksa
Felt uncomfortable dropping the mix 3 weeks ago, and in a way still do. If you've checked my socials you'll know my stance on what's happening in Gaza. I believe we're witnessing a new phase, an upscaling and intensification of ethnic cleansing and apartheid, a genocide of Palestinians. I don't really have the words…..but to say nothing feels wrong. I'm still educating myself and the main thing i'd say to others is to inform and educate themselves too. Even though at times I feel I contribute to the polarization you see online, I try my best not to. In my job, telling people what to do never really gets results, so please just be kind, curious and open. Sources I've found informative, compassionate and/or moving are below. Also began watching this interview with Marc Lamont Hill which has been great. 
Lowkey
İyad el-Baghdadi
Melek Erdal
I hope you enjoy the mix and it takes you somewhere x
Laksa: Soundcloud, Instagram, Twitter, Bandcamp, Resident Advisor
re:lax: Soundcloud, Instagram,
You can download Truancy Volume 318: Laksa in 320 kbps and view the full tracklist on Patreon here. Your support helps cover all our costs and allows Truants to continue running as a non-profit and ad-free platform. Members will receive exclusive access to mixes, tracklists, and discounts off future merchandise. We urge you to support the future of independent music journalism—a little goes a long way.