The last few years have been incredibly fruitful for Ayesha as a producer, with her ever-growing ability and desire in expanding her production techniques leading to some superb releases on Scuffed Recordings, Fever AM and Kindergarten Records. With the latter based in New York, where she currently resides, she's been able to become a close-knit member, with regular takeovers and huge b2b2b sessions on the Lot Radio forming a deep label-friendship like none other. With more than 10 years of DJ experience under her belt too, it's no surprise that her skills as a selector caught the ears of revered party Nowadays, with a booking alongside Aurora Halal and Danielle resulting in her being tapped for a residency at the night soon after. It's an achievement she's quick to describe as a 'decade of figuring out how to exist and evolve as a DJ and producer combined with some good fortune'. Good fortune can only get you so far however, and her tantalising sets of heady breaks, soundsystem techno and bass driven, rhythmic excursions have solidified her as one of NYCs brightest talents, both as a producer and DJ. It takes a lot to be in this scene after a number of years, and her honesty in 'wanting to just exist as a music producer, and not necessarily an influential one', is an inspiring and refreshing outlook and one newcomers should look to take heed of when honing their skills.
We caught up with Ayesha for an in-depth interview, getting on to topics where we discuss how she 'creates to heal', her stints in India and London as her musical tastes formed, and the narrative, or expectation that a South Asian woman would make South Asian inspired beats. Her Truancy Volume is a special one, and with a runtime of two plus hours it's a mix we've been coming back to repeatedly and finding new favourite blends and sections. Opening with the beautiful, meditative vocals of South Asian-American vocalist and sitarist Ami Dang, Ayesha quickly descends into party mode, with experimental club-focused sound design and heavyweight garage, dub and techno making for a boiling pot of overflowing, high-energy music.
Hey there Ayesha, thanks for taking out the time to answer some questions and doing this mix for us! So just to start, how have you been, and how has the year been getting on for you so far? You've talked about facing one of your biggest fears in that you had a bit of a creative lull this year. "Thanks for asking! The past 12ish months I've basically lived under a rock trying to finish new music. I definitely experienced a lot of resistance in my creative process during this time that created a feeling of stagnation at moments. But I think the truth is it was never a lull – just the fear of one."
I've been trying to expand my technique when it comes to sound design and expand my producer repertoire, and I believe that's inherently a challenging experience. The time spent trying to do this slowed my pace in terms of releasing music which definitely had its emotional challenges. After releasing with Scuffed Recordings in 2021 I dealt with a lot of fear of failure + industry pressure creeping in at moments – I felt like I was failing to get a foothold in the sudden traction I was getting as a producer. Looking back, I slowed down because I had to go inward and figure out what I wanted to say moving forward — you could see it as doing a deeper level of work. Even during the quietest of months I was creating, experimenting + testing out new ideas (even if they sucked). This work is always ongoing, but easy to forget when you don't have finished tracks to show for it.
Your tweet about creating to heal or work through alienation as one of your main motivations also hit me like a tonne of bricks. Was coming to terms with this one of the factors in possibly getting out your lull? "Actually, remembering that I create to heal + work through alienation is more grounding to me than motivating. Seeing it as a modality for healing is especially useful to me when I'm overwhelmed by this industry — more specifically, the expectation that I should be making loads of tunes right now to build the fanbase and open even more doors for myself. To cope with the pressure I try to remember that I show up to create out of necessity for myself, and the fact that its resonating with others is just a strong bonus. I'm extremely fortunate that what my mind and body tell me to create is appealing to people beyond myself. Honestly these days I try to see having a music career as a freak accident – something that emerged from me wanting to simply exist as a music producer, not necessarily an influential one.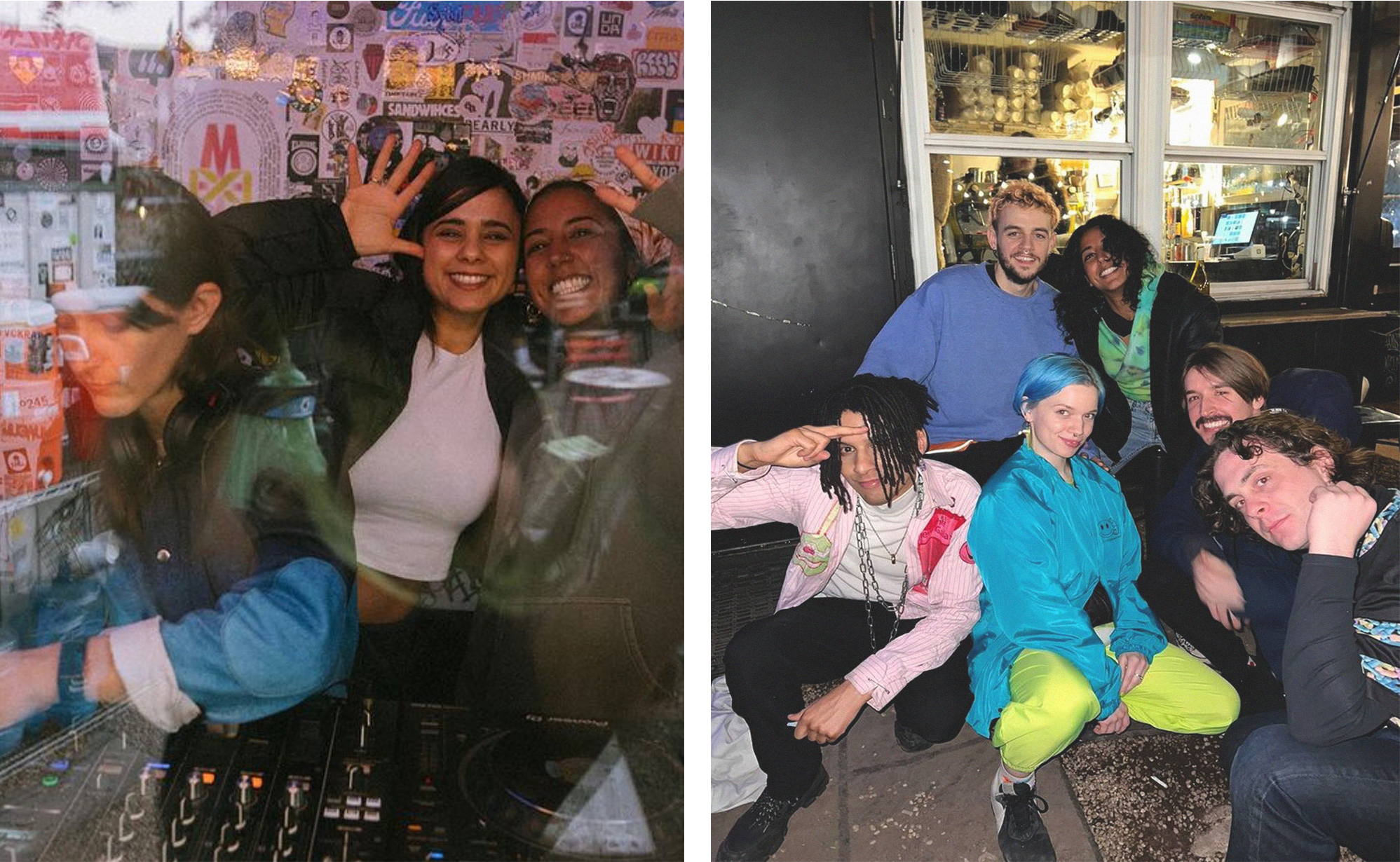 So just to go back a bit it was interesting to read that a large part of your childhood and upbringing was back and forth between India and the states, with your first move to India being in 1995 where you were based in Tamil Nadu. From what I've read Tamil Nadu has a very rich musical history. Although a long time ago do you recall any key musical moments in this period?
Growing up in the city of Chennai in Tamil Nadu was in general very musical. I remember –
 – Being exposed to a ton of 80s-90s Bollywood and Tamil songs. Kids were singing + dancing to them at school all the time so I learned them too.
– Encountering traditional styles like Carnatic, Hindustani Classical, and vernacular styles of devotional music everywhere.
– Local functions on the street were also very musical – I would encounter pujas (worship ceremonies), street processions led by drum ensembles (Thapattam) and the call to prayer at local Mosques. The place just had a distinct soundtrack that I was fortunate to experience.
– Dance was also a very prevalent art form with many different cultures and communities using dance in rituals of celebration and worship. I had many friends who practiced Bharatanatyam and Kathak — two very prolific Indian styles of dance.
– Dance and music are integral parts of many cultures, but from my perspective it does feel especially pronounced in ordinary Indian life. I was very fortunate to spend my childhood somewhere so musical, it definitely shaped me.
I understand you grew up playing the piano and teaching yourself the guitar too? "I have been playing the piano since I was 5. I had my moments where I was good as a performer, but definitely lost interest after having a terrible high school piano teacher who would berate me a lot. She sucked the fun out of it for me. I used to love the piano for the aspect of performance, but this teacher never really let me perform and slammed me with music theory homework which made me really detest music theory. A few years later my dad bought me one in a California pawn shop, so I started teaching myself the guitar. Not via sight reading but by digging up tablature on the Internet and mostly learning the guitar to sing familiar songs with friends. This experience really ignited an awareness that I enjoyed playing music, I just needed to reconnect with the social part that I enjoyed most about music."
I enjoyed reading that you spent a lot of time downloading as much music as you could from peer-to-peer file-sharing programs and burning CDs. It's funny as there is this generation of DJs, including myself who did the same thing and it's such a nostalgic feeling to look back on. What were you downloading back then? "Yes! The CD burner was the most exciting invention around the early 2000s to me. It felt super exciting to create my own CDs and share them with friends. At the time I was downloading a lot of hip hop, RnB, and Punjabi hip hop edits from the early 2000s. The latter was super fun because it was connecting the East and West in a way I had never experienced before. I remember distinctly downloading a Dr. Dre Bhangra edit and being amazed that my culture could be represented in Hip Hop, and via the newly exciting phenomenon of the Internet. It was an early seed of encouragement that it was possible to be a South Asian and exist somewhere in global digital culture."
So when did DJing and going to parties come into the picture for you? And where were you based at the time? Was there a first dance music experience at a party that really stuck with you? "I don't think there was one party that was formative for me, it's been more of a gradual accumulation of unique nightlife experiences. But going to parties and DJing definitely emerged at different times in my life: I was first a fan before a DJ.
Growing up in several Indian cities as a teen, I was clubbing and dancing to house, techno and hip hop at the age of 15. My Indian upbringing was pretty relaxed, contrary to what many might assume. My parents were self-made intellectual people who had a huge art and book collection, and they were avid patrons of art and nightlife, since their hippy days in the late 70s/early 80s. For this reason, as relatively responsible children my twin sister and I were allowed to drink wine coolers at the age of 14, and we started clubbing at 15 (it helped that my sister and I had each other). We used to love going to this club in Bangalore called Spin, showing up at midnight to catch the DJ transition from house to hip hop hour. He was this open format DJ who did the same set every Saturday (exact same songs in the exact same order) and everyone loved him for that predictability, which is interesting to think about today. After I got a little older I also started going out in Goa to Trance, Psytrance, Downtempo parties with my parents. That was when I first witnessed the rise of the Asian Underground movement after seeing artists perform like Karsh Kale, Anoushka Shankar and The Midival Punditz.
I also lived in London in 2007-2008 as a 21 year old student – this year really solidified my love for electronic music and broadened my horizons musically. I worked at a pub several nights a week to afford living in London when the US dollar was vey weak (it was half the value of the pound at the time), so I became a night owl. My dorm was right by Brick Lane so I was often out at the bars around there and in Shoreditch (333 Mother Bar, Old Blue Last, The Big Chill). Musically this time opened my eyes to 00s Dubstep, Garage, and Grime (e.g. Burial, Caspa, Rusko, Benga and Coki, Skream, The Bug, Plastician, Shola Ama, Ms Dynamite, DJ Zinc), and also Aughts Electro and Indie Dance. I went to a lot of parties at clubs like Koko in Camden, The End, The Egg, and Club Aquarium (a seedy basement bath-house club with a massive swimming pool in it). That was also the first time I went to Fabric where I saw Block Party do a DJ set (it was so special). After my time in London I basically became a Bloghouse head and spent a lot of time on music blogs to find tracks to download and then share with friends via iTunes playlists. It felt like a blessing to witness labels like Mad Decent, Fools Gold, and Dim Mak during that time- I was eating up the sound of 2000s electro and its crossover into Dubstep and Club.
DJing emerged later in my life at the age of 26 – a decade ago. I was based in Washington DC and working a dull nonprofit job in the international development space. I used to work in a field called 'Monitoring and Evaluation' where we were doing a lot of public opinion research and assessing the quality of of US elections assistance programs in about 40+ countries. Two years into it I got tired of the conservative culture of the Industry and its bureaucracy (it felt like someone needed to die for another person to get promoted) so I started making DJ mixes in my bedroom with a Novation Twitch controller and putting them on Soundcloud to deal with the boredom. This was with mostly music I'd also ripped off Soundcloud (I was very into the computer music + edit culture that was prevalent on Soundcloud at the time). DJ Native Sun (of Black Rave Culture now) and DJ Underdog were two DJs I really looked up to and they were playing this stuff along with a lot of Afrobeats, Ancestral House, East Coast Club, Juke, RnB and Trap. I was really inspired by the ease at which they bridged genres while keeping the room locked in. I would go to warehouse parties at a place called 411 New York Avenue/ Union Arts where I eventually also started DJing at. I also started DJing by playing at a lot of house parties, DIY art shows and punk shows. I really miss the house-show circuit DC used to have between the years 2012-2015. I learned how to mix on my toes in front of crowds mostly in these welcoming DIY spaces, and then I eventually transitioned to playing clubs and bars."
So what can you tell us about getting into production? Did you have a clear idea of the sounds you wanted to make when you started? Has this idea been something that's consistent or has it developed over the years? "Honing my sound as a producer has been a very slow gruelling process for me. I started producing in 2015 when I downloaded a bootleg copy of Logic Pro, and then Ableton 7. At the time I was trying to make experimental hip hop and footwork, and it felt super hard to become decent — it felt like a pretty steep learning curve as someone in their mid to late 20s who had no production background. After moving to NYC in 2018 I became more aware of my desire to make visceral body-hitting music that was inspired by my diaspora at moments. I think this intention emerged because I wasn't finding enough of it while digging as a DJ, so I wanted to try making it for myself. I was very inspired by Hard Drum and UK Funky artists and wanted to somehow translate my love of South Asian and near-east percussion into club music in a way that felt personally authentic. From 2020 onward I started layering other intentions onto this, such as getting a bit more psychedelic and freakier with synth and bass design, and experimenting with additional elements like breaks to create more forward motion and energy. Everything you've heard from me as a producer has been somewhere in this arc."
I read an interview in 2016 where you mention there was a narrative, or expectation/hope that a South Asian woman would make South Asian inspired beats. Granted this was 2016, but was that something you still thought about later on when you were fully deep-diving into productions as Ayesha. Did you want any influences to be subtle? "I am glad you asked this question :) As a cultural minority in electronic music, at moments I've felt a distinct kind pressure— that is to conform to the styles of other South Asian artists who have been successful. This assumes that there are only a limited number of ways for brown people can exist in the music industry if we want to be successful. Moreover, underrepresented or marginalized people at times are also expected to play up racial or cultural stereotypes to be accepted in the arts (and other industries) and thereby reinforce whiteness and white supremacy. I've always tried to be very mindful of these expectations and resist them in a way that feels true and kind to myself — which is to engage my roots from an angle of choice. For underrepresented or marginalized communities in the arts, having the critical element of choice in terms of how we present and represent ourselves creatively is empowering. With this in mind, I've really enjoyed being able to choose when I want to be literal and on the nose with South Asian influences, and when I want to be more subtle – the power of choice here is so important to me."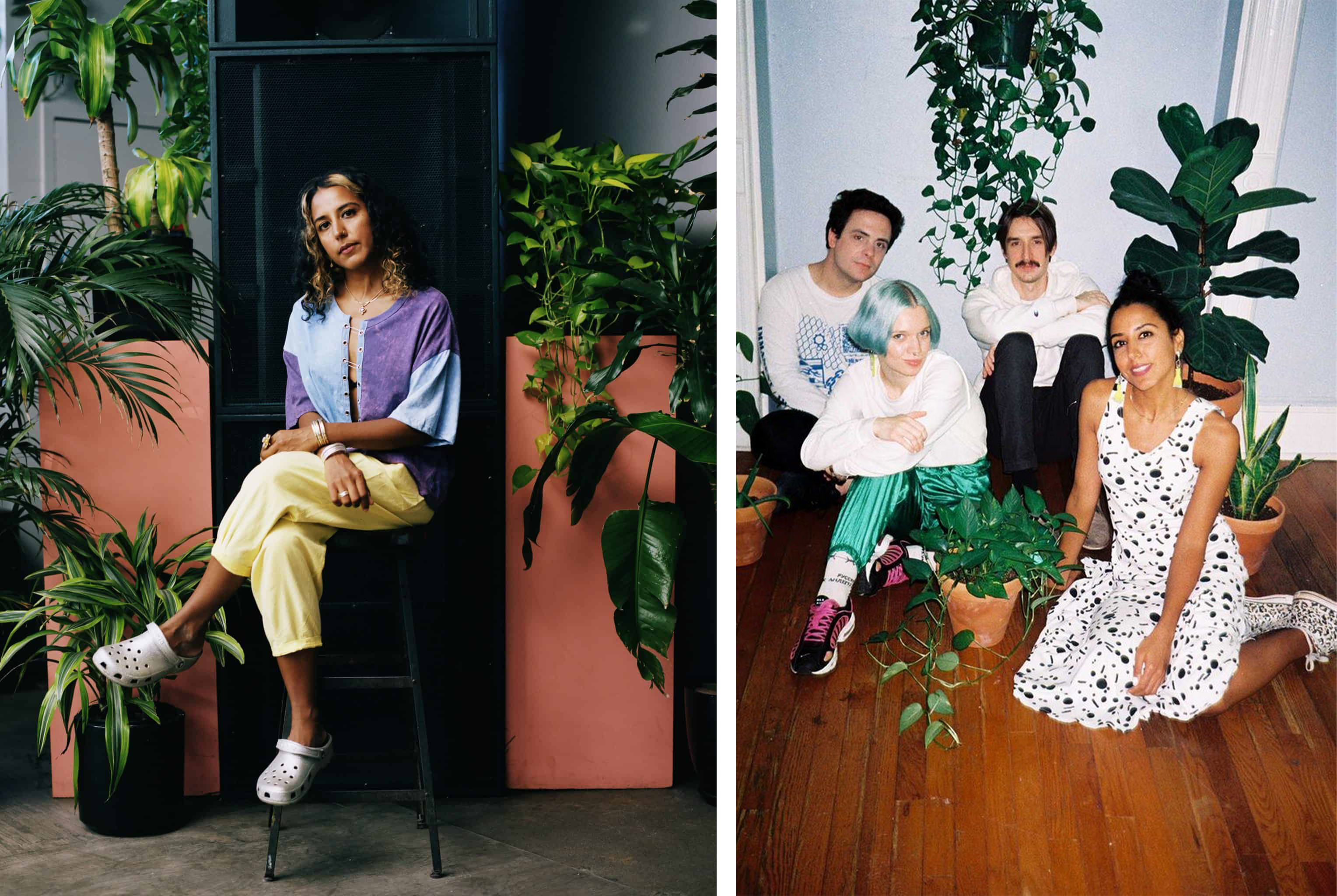 With your productions often being heavily percussive is that something you really honed in on mastering and learning about? Was it all trial and error or were there any videos, articles, books, friends or other producers that were a beacon of knowledge? You have mentioned however that you try to see your technical choices as creative choices that are your own and not subject to anyone else's rules. Can you expand on that? "I make a lot of my music via trial and error actually. I make drum grooves based on what my body wants to feel and hear, and beyond that any mastery is just the product of repetition over time. That said, as a DJ I listened to a lot of Hard Drum, UK Funky, Techno and Breaks for years prior to making music, and this definitely informed my standards around drum programming and groove-making.
Ableton's 'Making Music : 74 Creative Strategies for Electronic Music Producers' by Dennis DeSantis was a huge help for me when it comes to learning the ins and outs of that DAW. There are a lot of incredible strategies and tips for humanizing your sounds, creating swing and groove, and other production techniques that were foundational for me, I strongly recommend it to anybody at the beginning of their producer journey. To get my drums to hit hard, I definitely also watched my fair share of Youtube tutorials on side-chaining. Learning how to do that changed the game for a producer.
With regard to me trying to see my technical choices as creative choices — this is a mindset I use specifically when mixing down tracks. Across my early releases I was a tad fearful of making the wrong mixing decisions when finalizing premasters. But in the last year or so I had a breakthrough realization that what I choose to do when mixing my tracks down is also part of the creative process : my mixing style is informs my overall sonic signature or fingerprint as a producer, and this palpable. This is also the case for every producer out there. While there are mixing best-practices and foundational principles that are helpful, you're still using your ears and your unique listening environment to finish tracks (which is also contingent on your resources at the moment). This inevitably leads to everyone's mixes being a little different, in my opinion. This realization has really allowed me to let go of the fear of judgement when mixing down tracks. I am more confident when I think of my mixing style as equally integral to my sound as my production style."
I wanted to try something new with the interview format here and I was wondering if we could break down you making one of your tracks and what the process was like? I've really grown super fond of 'Dark Matter' that was released on Scuffed Recordings. It's almost like a wilder XLB by Pearson Sound. "That's very cool you think that, XLB definitely blew my mind when I first heard it! Happy to break down the process behind that track. So I went into my studio sometime in 2020 and started playing with my studio partner's Eurorack. I'm not a modular synthesis expert but I was able to figure out how to patch things + make some cool sounds, which I recorded into Ableton. Then in December 2020 I started chopping up the sounds and trying to make a track.
While you may not detect it in the track because there's so much going on, this track is mostly a series of modular mallet arrangements. For example, you can hear mallets programmed as tops but what you may not guess is even the pads are mallets but with a resonator and dub echo thrown on them. Then the laser sounds that come in a minute-and-a-half in are the result of some fun automation experiments. Basically this track is an exercise in using the same source material for a majority of key elements.
That said, the vocal, the rubber bass and the break are all additional elements that I added as the track started coming together. I did not originally intend on this becoming a 'break tune' but the break just infused a ton of energy into the song so I ran with it. The vocals are a funny story — I've always done impressions growing up and enjoyed imitating people. I sometimes joke that my back up career is voice acting if the DJing and music doesn't pan out 😂
Anyway, as I started to develop it further I thought the track was starting to sound cosmic, sort of like launching into a deep space rave. So I did my best cyborg impression on the mic for it. I wasn't the best at vocal processing back then so I think I could have brought the vocals higher up in the mix for more impact, but I suppose the imperfections of the track make it unique."
I'm not aware of how long you've been in New York for, but can you tell us a little bit about moving to the city? When did the Nowadays connection start and how do you end up becoming a resident? Those residency live recordings have been some of my favourite mixes from the last year. "Thank you! I've been in NYC for 5 years now. I moved there in 2018 after feeling pretty burned out as a DC DJ. Earlier in 2015 I had quit my nonprofit career to DJ full-time and work as a booker at a venue called U Street Music Hall. I really enjoyed this time but it proved to be pretty exhausting relying on DJing for income, and I also knew I wanted to start producing more – but lacked the time to do it as a fulltime DJ. It made sense to go back to a day job, but ideally in the music industry so I could continue to deepen the music making in a supportive environment.
Fortunately a good DC friend of mine named Max Rewak (who's also an incredible engineer) moved to NYC by 2016/2017 to work at a company called Splice – a music creation platform known for its large library of royalty free sounds. In 2017 he told me they were hiring and that I should consider applying, which would then allow me to move to NYC. I got the job there and started working in NYC in 2018. I've now worked there for 5 years.
It was really hard to move to NYC and start from scratch. As I wasn't getting many bookings at the time I felt a lot of deep remorse leaving my DC DJ days — I really wasn't sure if the DJing would ever pick back up again — I was mentally ready to pivot to focusing on a career in the music business side of things. But after moving to NYC every day I would focus on honing my producer voice and technique. I never lost sight of the goal, which led me to releasing my first EP on Bandcamp on March 16 2020 as a the world came crashing down due to COVID. It was called 'Let's Get Visceral.' I was excited about making dance music with some ASMR feels to it. During that time, at Splice my job was to manage the UK company Loopmasters' portfolio, so I was manually tagging a ton of samples and becoming intimately acquainted with the sounds I wanted to use in my own production. These circumstances definitely informed my sound back then.
'Let's Get Visceral' caught the attention of a music writer who happened to also be aware of my DJ background, which led to my first feature on Bandcamp Daily. That was hugely encouraging to me after making a lot of life changes in the pursuit of music. This in turn also positioned the release to hit the feeds of other NYC producers – two who are part of the Kindergarten records family, which led to me releasing 'Natural Phenomena' on Kindergarten Records in May 2020. I quickly become good friends with this crew thanks to both Masha and Despina, and started DJing more frequently with the Kindergarten Records crew.
Nowadays came into the picture after I was booked to open one of Aurora Halal's residency nights featuring Danielle. I really enjoyed that night which led to me opening for Principe Disco's N***a Fox, which then led to a residency offer. My guess is it's the combination of a few impactful releases (a split EP with Sharu on Kindergarten, and a VA tunes on Controlfreak, Fever AM, and Daytimers) and DJ gigs that helped me get through that door. To me personally, becoming a Nowadays resident is the result of almost a decade of figuring out how to exist and evolve as a DJ and producer. This, combined with the good fortune of being in the right place at the right time."
Most of those sets hit around the 3 hour mark and above. How do you go about preparing for a residency night DJ set at Nowadays. As someone who's never been before I have this image of just this super receptive crowd where the good vibes are just constant from start to finish. Does that come with nerves? "Yeah, Nowadays' crowd is often super supportive and open minded – the freakier the set, the better. But at the same time I definitely feel that as a resident playing every other month I want to take the room on a journey that's cohesive and memorable. To do this I often choose to close my nights, due to the freedom of the after-hours : the crowd after 3 AM is willing and ready to be taken to new and less familiar places. In the summer I also love the feeling of the sun coming up through the factory glass as I'm DJing, it's truly a special feeling of connectedness when the rises over a dance-floor. It's this feeling of arriving at your destination after a long musical ride.
The desire to create nights + experiences like this definitely does come with its fair share of nerves. DJing at my residency is an act of vulnerability. I try to bring my full self into the room behind the decks to connect with the audience, even if its at times imperfect. I often feel really emotionally depleted the day after a residency for this reason — I've poured a lot of my inner resources into creating an experience for others."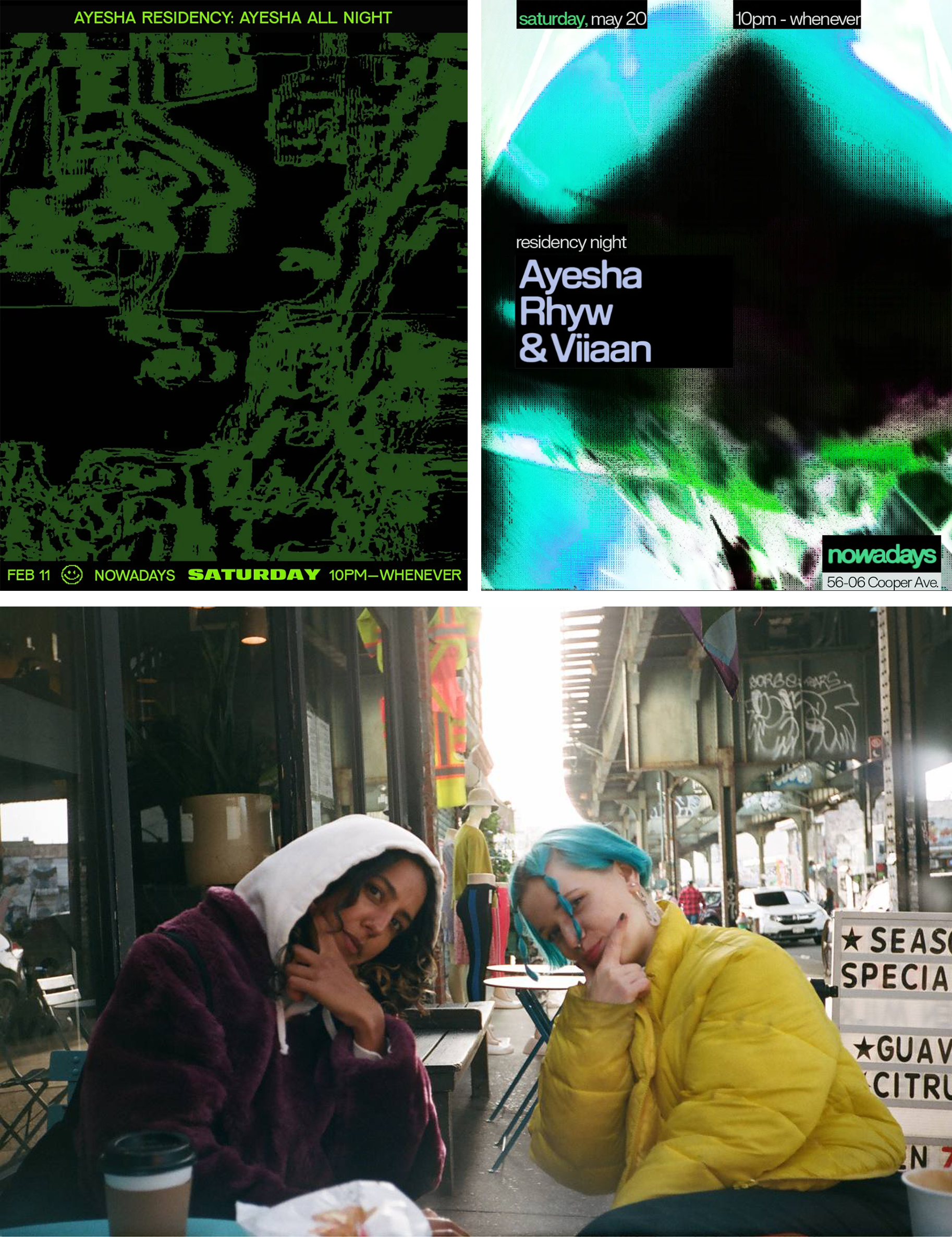 What sort of other hobbies or interests do you have outside of electronic music? Are there any books, films, art pieces or other things you've seen or been reading/watching that you might want to share? "I'm fortunate to have a lot of hobbies outside of electronic music – I have definitely been intentional about cultivating them too as a healthy counterpoint to working with machines. I absolutely love to garden and I didn't really realize I had a green thumb until COVID. I don't have a lot of space to garden in my tiny Queens apartment these days, so I've created an indoor jungle in my house. But if you are in Ridgewood Queens and happen to go to the vegan Chinese restaurant Coco Linn on Fresh Pond Road, you'll see my fire escape gardening attempts right above the restaurant.
Another hobby that I've really enjoyed over the years is running in nature — it's truly freeing to engage my body this way, as someone who is often sitting at a desk or standing for many hours. This is also when cool ideas pop into my mind around track names and concepts.
As far as books and film go, I think I'm definitely screen-averse given how much time I spend on my computer, so I've been reading more books than watching films. My taste in books is very broad, but I have found myself gravitating to nonfiction lately — whether it's histories of Brooklyn or Afghanistan or essays on pleasure and healing or Murakami opening up about his writing process, I read to learn from people and the world around me. Lately I've also been enjoying podcasts while stuck on the NYC subway. Rick Rubin's Broken Record Podcast and Hidden Brain are two of my favorites at the moment. Re: Broken Record, I find it really grounding to hear perspectives on creativity and navigating hardship from other musical artists. Brian Eno's interview stoked a lot of curiosity in me as a producer, I highly recommend everyone listen to it."
Could you describe the process of creating this mix? Was there a specific message or feeling you wanted to convey? You mentioned on twitter you were 'pouring love' into a particular mix and I'd hoped it was for us. "Haha yes, it was definitely this mix! I poured a lot a love into it. I mentioned it on Twitter because I was overcome by this sensation of wonder and joy as I selected and threaded each track. To me that's pretty close to the feeling of love.
When selecting these tracks I wanted to revel in the creation of a long winding mix – a two hour journey, spanning from downtempo 80-160BPM. I used to create two hour mixes many years ago, but it's been a long time since I had this opportunity… So I really wanted to start slow and then gradually escalate things. I also wanted to span a variety of genres (Downtempo, Dancehall, Garage, Trance, Techno) while maintaining a sense of sonic cohesion by really paying attention to the sound palette of each track. This is what I try to do in my DJ sets too. I hope listeners feel these intentions in this mix and take away a sense of creative freedom."
What are you looking forward to for the rest of the year? Are there any upcoming performances or releases that have you particularly excited or inspired? What are your artistic goals for this year and beyond? "I have a rather exciting release coming out this year – I can't say more about it till it's announced though ;) Got 2 remixes in the works too. Beyond this, I have 3 more residency nights at Nowadays this year with some very exciting guests, and I'm beyond thrilled to have Dublin's Sputnik One and Kindergarten Records labelmate Sobolik join me on July 21st. The response to the announcement was overwhelming so I believe this night is going to be crazy.
For this year and beyond my goal is to keep chipping away at making tunes, but doing so with the intention of pleasing myself before others. I've found it very useful lately to proactively remember that I show up everyday to make music for myself, and it just by chance happens to be resonating with others. I'm also trying to make music remembering that I'm not in a rush to churn tunes out at lightning speed— I am happiest working at my own pace and that is enough. DJ Gigola's track 'Affirmation Practice' opening this mix def sort of speaks to this sentiment :)"
Last, usual question from us, what was the last thing to put a big smile on your face and when was the last time you had a proper dance? "I played at Bass Coast Festival in BC Canada two weekends ago where also I did the rare thing of dropping acid with friends. It allowed me to finally surrender to the environment around me and feel more connected to my surroundings, rather than my usual state of resistance (which I often find myself in as an often sober DJ holding it down as everyone around me is letting loose). I experienced a lot of great sets during that festival, but Batu's first set of the festival at the mid tempo + downtempo stage was an outer-body experience in this state."
Ayesha: Soundcloud, Bandcamp, Twitter, Instagram, Resident Advisor
You can download Truancy Volume 313: Ayesha in 320 kbps and view the full tracklist on Patreon here. Your support helps cover all our costs and allows Truants to continue running as a non-profit and ad-free platform. Members will receive exclusive access to mixes, tracklists, and discounts off future merchandise. We urge you to support the future of independent music journalism—a little goes a long way.