If you've spent enough time listening to London radio over the last decade, there's a high chance you've heard one of Kasra V's cutting-edge and eclectic NTS shows. His distinct musical taste was informed by his move to London from Tehran at age 17, and subsequent immersion into the scene via parties, radio, production, and by also generally being a top-tier selector and music digger. It hasn't been without changes, however, with the last couple of years bringing in a new-found stylistic confidence when it comes to his productions and DJ sets, and achieving a sense of pride in his sound, which he admittedly felt he had yet to nail. He's fully found his groove and it's been a joy to see, with mixes for Radiant Love, Animalia, Soulseekers Allowance, and Mixmag all in the last year, propelling this love for early-to-late '90s proggy-centric rollers to a wider audience. He still holds his middle eastern influences close to heart, and his versatility as a producer led him to team up with fellow Iranian producer, Sepehr, for a project called Flower Storm, which recontextualizes classic Iranian sounds within their own take on modern electronic music. It's a thoroughly researched release brimming with statement and intricate sampling that's made for one of 2023's most unique records. We caught up with Kasra to deep-dive into into his time throwing parties in London, his NTS shows, his idea of successful musical collaborations and the progressive, percussive, rave inspired mix that is this weeks Truancy Volume.
Hey there Kasra, thanks for taking out the time to answer some questions and doing this mix for us! So just to start, how have you been, and how has the year been getting on for you so far? "Hi, first of all thank you for having me on the series. I'm great, this year has been my best in music so far, a lot of very exciting moments. Some I didn't expect at all but why the hell not :)"
So as it's your first time getting interviewed on the site, just thought we'd go way back for a bit. You're originally from Tehran, but moved to London when you were 17 and from what I read, deep-dived into dance music and DJing pretty much into your second week of London life. You were throwing parties quite quickly, can you tell us a little bit about that? "I started Djing from my second weekend in London, just various bars and parties, nothing serious but it was great as a practice and I truly believe every beginner DJ should go through this phase. It's a very important learning curve. After a while, one of my friends suggested that we should throw our own parties and planted the idea in my head. So we did a few parties around Hackney Wick inviting guests like Jon K, Femi who runs NTS and a few other people as well as nights where it was just the residents. We also had our resident LED/Haze machine operator & visuals magician MC Death. He made our parties look so good. Running a party can be very stressful, but when it's busy and it's a vibe it feels like the best place on earth."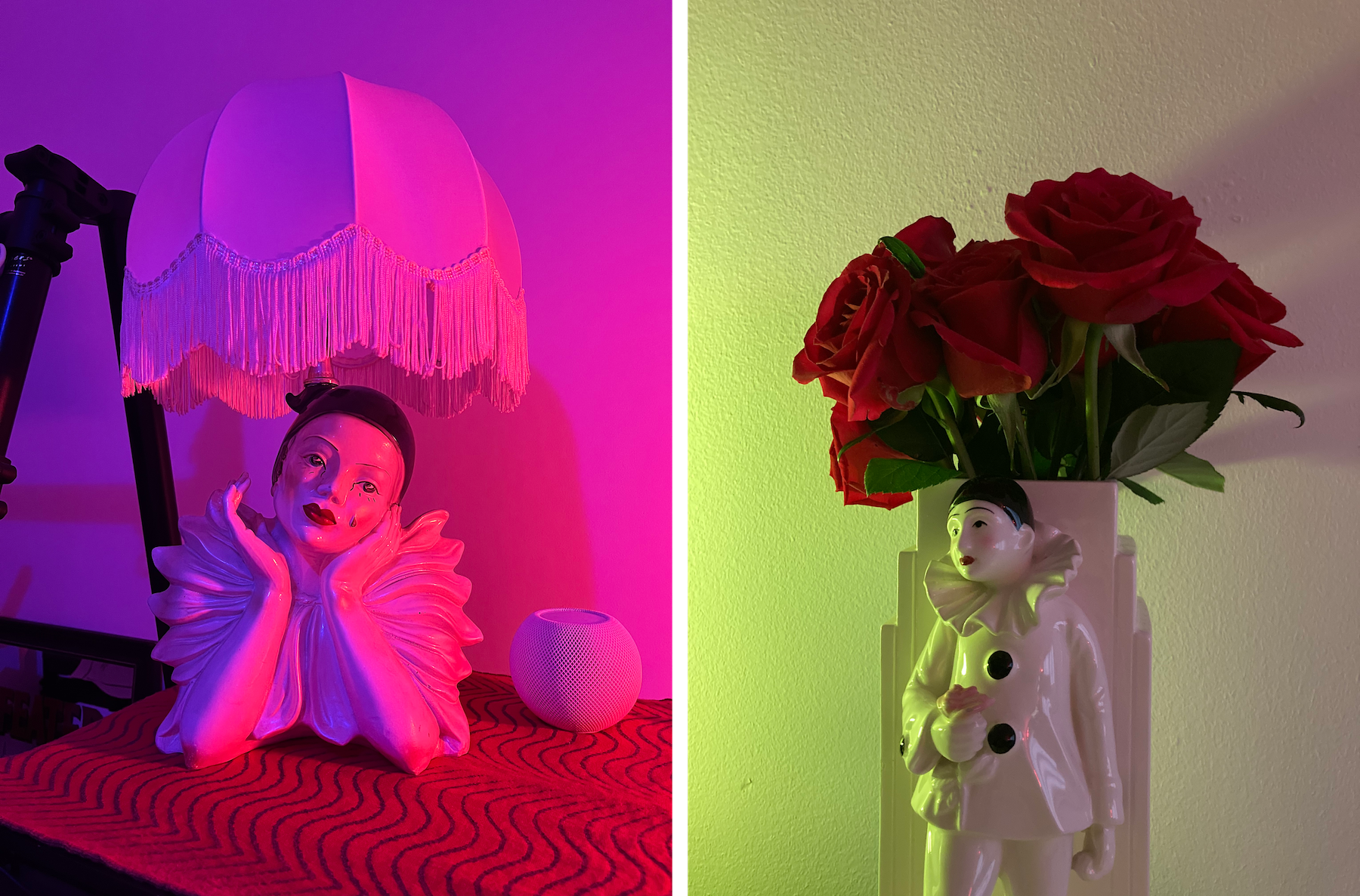 Left – Decoration at my home studio. Right – More decoration at my house studio
Have you thought about throwing parties again? You had a run with Domino Dance from 2018-2020 where I imagine covid and lockdown kind of put an end to that, what with Five Miles having to close down. "I did Domino Dance in collaboration with a good friend, Karl Fuller who is part of the cause now. After the closure of Five Miles and covid I kind of shifted my focus on producing more and forgot about throwing parties for a while. That being said, in March I did an all night b2b with Marie Malarie in partnership with venue MOT which was a lot of fun and we plan on doing more of that!"
What sort of parties were you attending at the time as well? Would you say the first dance music experience/party that really stuck with you was in that first year in London? "In my first year in London, I went to all the classics. I visited Fabric on my first weekend in London, you have no idea how mind blowing it was for me to enter a club that size as my first ever clubbing experience. Other moments that stick out are seeing Moodyman at Secret Sundaze's tenth birthday, hearing bok bok do a rewind at Trouble vision (I didn't know that was a thing so I was really confused hahaha ), sneaking into Glastonbury as my first ever festival experience and more. You have to bear in mind that I grew up somewhere that was very different to London so a lot of things that a normal teenager from UK / Europe would find normal was completely new to me. It was a truly exciting time."
As someone who's been DJing since they were 17, what's been the biggest hurdle in maintaining your love for it? It's probably been quite a long road for you.You've talked about in the past about not properly enjoying producing till around 2019, 2020 onwards. "Somewhere along the way, I lost my love for fun and happy music for a bit, mainly because I was thinking of DJing and production as a way to make money. I had a bit of a break whilst I focused on other career routes and honestly it was such a blessing. All the decisions I made and all the parties I played from that moment onwards were purely out of passion. I can say over the last 2-3 years I can really feel the difference, I have the same excitement I did for music when I was a teenager. Overall, you need to get your mindset and focus in the right place if you want to be in music for the long run."
What can you tell us about making your recent Radiant Love record? You've talked about finally finding your club sound in recent times, was that a big influence in how you approached this record? "Making of the Hyperdelic EP was a new approach to production for me. I started doing more live takes and experimenting with different synths and effect pedals. As well as that I spent a lot of time creating a library of samples that would be classified as rock records and bringing it into an electronic context. Pretty similar to The Prodigy or early Chemical Brothers. I would say my current club sound's influence fully kicks in from my upcoming EP on Shaytoon."
How often are you in the studio making music? What is your current schedule like? "At least once a week (normally Thursdays) I use a shared studio space in hackney wick. When I want to make a song that is more musical I write and arrange at home, then I take it there and replace the sounds with drum machines and different synths. Sometimes in the studio I also have jams that are of the moment but they tend to be more simple. I've been trying to make music on a daily basis since 2020, even if it is only for 30 mins or an hour. For me it has been much better to turn it into a routine."
In terms of that recent club sound, is it kind of a full circle moment for you? You've talked about listening to a lot of old Sasha, Danny Tenaglia, Global Underground sets when you were first getting into dance music. I've absolutely loved some of your recent mixes for Soulseekers Allowance, Radiant Love and Animalia. "Growing up in Tehran, the first type of club music I heard second hand through my older brother would be classified as progressive house or music from labels such as Tribal or Twisted. The sound that I have been focusing on over the last two years is heavily inspired by a combination of Junior Vasquez, Tony De vit, Sasha, Danny Tenaglia and all the labels and DJs around them. That's a mix of a few sounds but I believe they also meet at certain points."
You've been doing a fair amount of b2bs on your NTS shows lately? I know that might be a more conscious decision with the hour slots but it also must be a really nice way to intersect your own tastes with someone else and to see how it goes? As someone who's been on NTS for such a long time now it must be important to keep things entertaining for yourself? "You know, I've been doing NTS for almost 10 years now. That's more than 200 shows! So over the years I have changed the format and direction a few times mainly for my personal pleasure. Over the last year I have been doing more b2bs as a result of my show being one hour nowadays. Anyone who I have done a b2b with is a close friend or someone who has been on my show previously so I have a good idea of what they would play."
What can you tell us about the formation of the Flower Storm project? How did you and Sepehr meet? From what I understand a big part of this project was collecting a big bank of samples. How much music did you get through and what was standing out for you? "Me and Sepehr started chatting online for a while and met when he visited the UK to play at Houghton festival a few years back. Houghton ended up getting canceled so he stayed at my house for a few days. Fast forward to covid, we both had a lot of free time and spent a while coming up with the visual and sonic identity behind Flower Storm. Then my brother Morteza Vaseghi helped us with the branding and design. The first few months were purely just spent on creating a sample library before we attempted to make anything. From then onwards it just flowed!"
What are the factors that lead to a successful musical collaboration? What have been some standout moments for you? Are there any artists you would like to work with in the future? "First of all you have to trust their taste and technical abilities. After that you have to make sure your personalities are compatible. Flower Storm is still in its early stages but standout moments so far have been hearing the songs getting played by numerous DJs who are certified selectors such Donatto Dozy and Vladimir Ivkovic. Personally there are a few singers / instrumentalists I'd like to collaborate with for Flower storm that could help take the project to a different level for us but for now we are focusing on getting our sound out across the first 3 releases."
What sort of other hobbies or interests do you have outside of electronic music? Are there any books, films, art pieces or other things you've seen or been reading/watching that you might want to share? "For movies I would suggest watching everything by Krzysztof Kieślowski, Emir Kusturica, Takeshi Kitano, Paolo Sorentino and Derek Jarman. Books I recommend are Stanislavski's books on acting, all the shah's men by Stephen Tinzer and I am Ozzy by Ozzy Osbourne, It's hilarious!"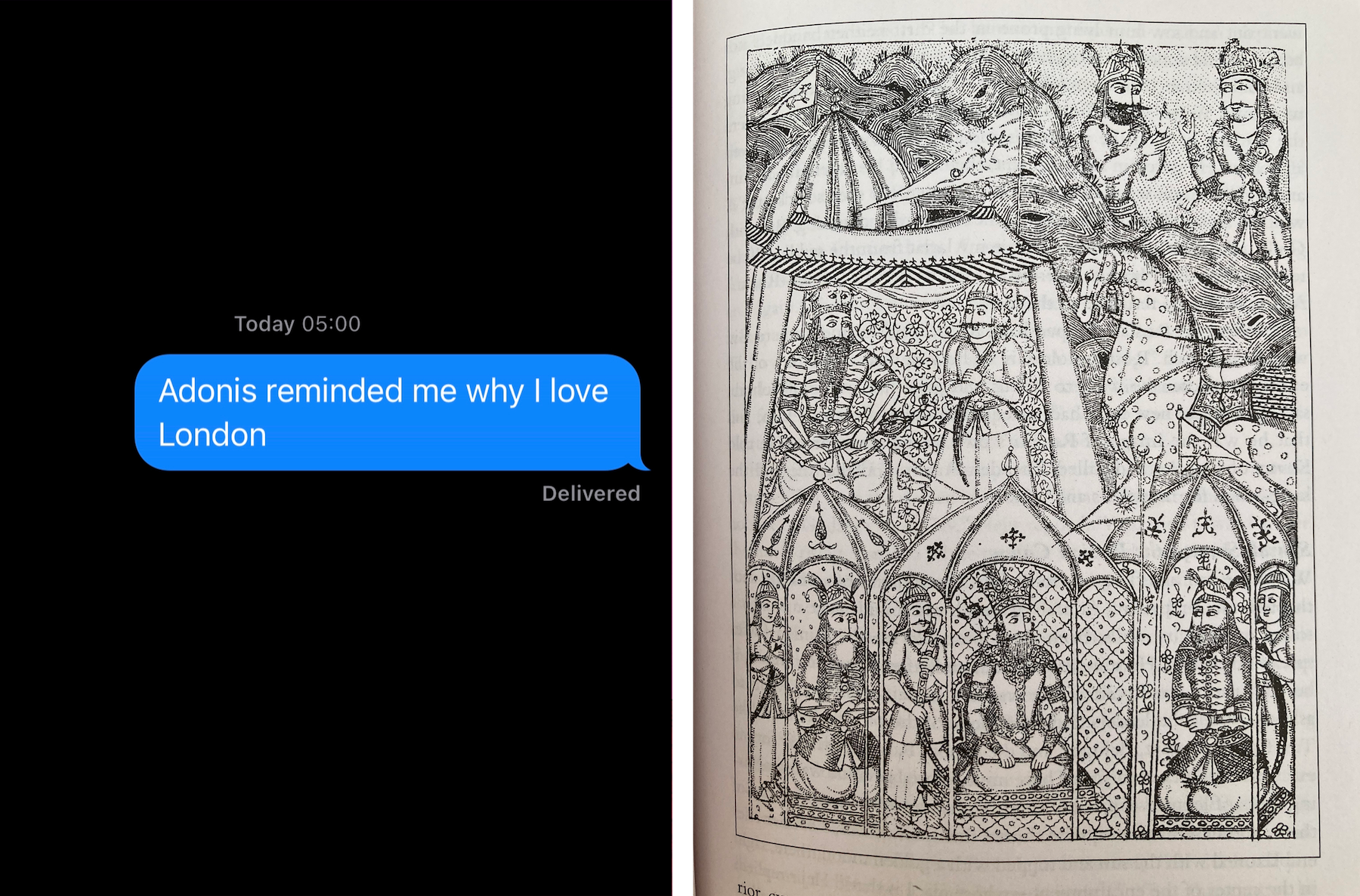 Left – A text sent to a friend at 5 AM. I was having too much fun at Adonis . Right – A drawing in English translation of Shahnameh. One our main inspirations for Flower Storm
Can you tell us about three albums that a) define you getting into electronic music in general, b) maybe a midway album when you were fully invested in DJing and and c) a recent album that you've especially enjoyed?
Junk Science by Deep Dish. I still love this record.
Original Rockers by Rockers Hi-Fi. The mix of influences on this LP is so inspiring. Push Push is probably one of my favorite songs ever.
Conduit by Coby Sey. Such an original sounding record.
Could you describe the process of creating this mix? Was there a specific message or feeling you wanted to convey? "I made this mix at home on 2CDJs, two Technics and a rotary mixer. It was then EQ'd by Thoma Bulwer at TB Studios to make it sound better. I wanted to capture how I would sound in a party and be across the board of progressive, percussive, ravey and most importantly fun!"
What are you looking forward to for the rest of the year? Are there any upcoming performances or releases that have you particularly excited or inspired? What are your artistic goals for this year and beyond? "Excited about traveling and hanging out with friends and fam. I'm really looking forward to DJ at gayhaze in August. It's up there in my top 3 best parties ever. Release wise, I have an EP coming on Sepehr's label Shaytoon as well as our second EP together as Flower Storm. Also in the process of curating a release to celebrate 10 years of my radio show on NTS for next year."
Kasra V: Soundcloud, Instagram, Bandcamp, Resident Advisor
You can download Truancy Volume 311: Kasra V in 320 kbps and view the full tracklist on Patreon here. Your support helps cover all our costs and allows Truants to continue running as a non-profit and ad-free platform. Members will receive exclusive access to mixes, tracklists, and discounts off future merchandise. We urge you to support the future of independent music journalism—a little goes a long way.