Releasing your own music for the first time is no doubt a stressful but invigorating experience. Releasing your own music for the first time on a label you've set up with your fellow producer friend can only add an extra layer on top of that. It's however a journey Miles Mercer and Simic have both taken on since 2021 with the upmost care with Accessory Records, coming out the other side with five electrifying and groovy house records between them the last couple years. With 'Astralogic', Miles' excellent and now much sought after debut, the young producer cemented himself as an exciting talent to watch when it comes to heads down, no nonsense, four-by-four floorburners. The record saw some heavy rotation from the underground digging scene to boot, with videos popping up of Raresh, Oshana, DJ Masda, Rhadoo, Gene on Earth and the Slowlife crew all dropping his music to ecstatic crowds. It made for an unforgettable first release for the Seattle-raised producer, who has since followed the record up with the equally as thrilling 'Molecular Acid' and 'Counting to Eight' EPs. In Truancy Volume 310, Miles Mercer gives us a snapchat into his serious approach to digging as a DJ, unearthing 75 minutes of uplifting acid soaked proto house and rolling, twisted whippers for a mix that just hits all their intended marks.
Hey there Miles, thanks for taking out the time to answer some questions and doing this mix for us! So just to start, how have you been, and how has the year been getting on for you so far? "Hey Riccardo, thanks for having me. Long-time listener, first-time caller. The end of spring has been really nice and I'm feeling a lot of gratitude for time spent with loved ones. I just took a trip out to Sedona in the Arizona desert with some of my closest friends and got to experience a part of the USA I've never explored before. I went off-roading, hiking, and visited one of the USA's largest airplane boneyards. It was an out-of-this-world trip that really set the tone for what's shaping up to be a great summer."
So I think this may be one of your first interviews online from what I've been able to research so thought we'd start by going back a little. Can you give us a little insight on how you first got into electronic music and DJing in the first place? Was there an album, DJ or even party in Seattle which set things in motion for you? "You are correct! This is my first interview and I appreciate you putting this together based on the limited information available upon googling my name. I think my interest in electronic music stemmed from being a guitar player and just wanting to dive deeper into sound. It's hard to pinpoint where it all started because I've always been a huge music nerd, but I remember once around 2009, when I was like 17, my cousin Spencer visited me in Seattle and showed me his MPC1000. We made a beat using some drums and samples he programmed and some guitar loops from my Digitech looper. On that same trip he showed me some music by Baths and Gold Panda. Around that time, my older brother Cole was getting me into electronic-adjacent stuff like Animal Collective, Hot Chip, and LCD Soundsystem. I bought an MPC shortly thereafter and I've been making tracks ever since."
As far as DJing goes, I started doing that at parties in high school around 2009/2010. The first few parties I DJd were using a cracked version of Traktor under the pseudonym DJ Capri, which in essence involved me dressing up as a Capri Sun juice box with a shirt made of duct tape and a wrapping paper straw taped to my back (sorry, you don't get those pics for the article.) I think I treated DJing more as a silly house party trick that was distinct from what I was actually trying to do with music, but over time and as I learned more about it, it began to inform what I actually wanted to do creatively.
From what I've read and seen online it seems like the Seattle electronic music scene seems quite wholesome in its community. Was it an easy place to properly deep-dive into electronic music and DJing once you got the bug for it? "I honestly don't think there is a better place to deep-dive into pretty much anything than Seattle. It's a city filled with obsessives and the electronic underground scene is no exception. One thing that makes the Seattle scene unique is that it's a very geographically undesirable place to "make it" as a DJ, so everyone there is doing music from a real place of personal necessity. This is what makes the city such an incubator of incredible talent and some of the best artists I've ever met. It's a scene that subsists on passion and requires everyone to be actively involved for its survival, which leads to the participants really caring about it and feeling a sense of ownership. The unabridged oral history of the whole scene between 2014 and now is a story for another day, but in short it was a bunch of passionate people doing what we could with what we had and learning as we went along. I still believe some of the most exciting things in electronic music are happening in Seattle and I feel lucky to have cut my teeth there."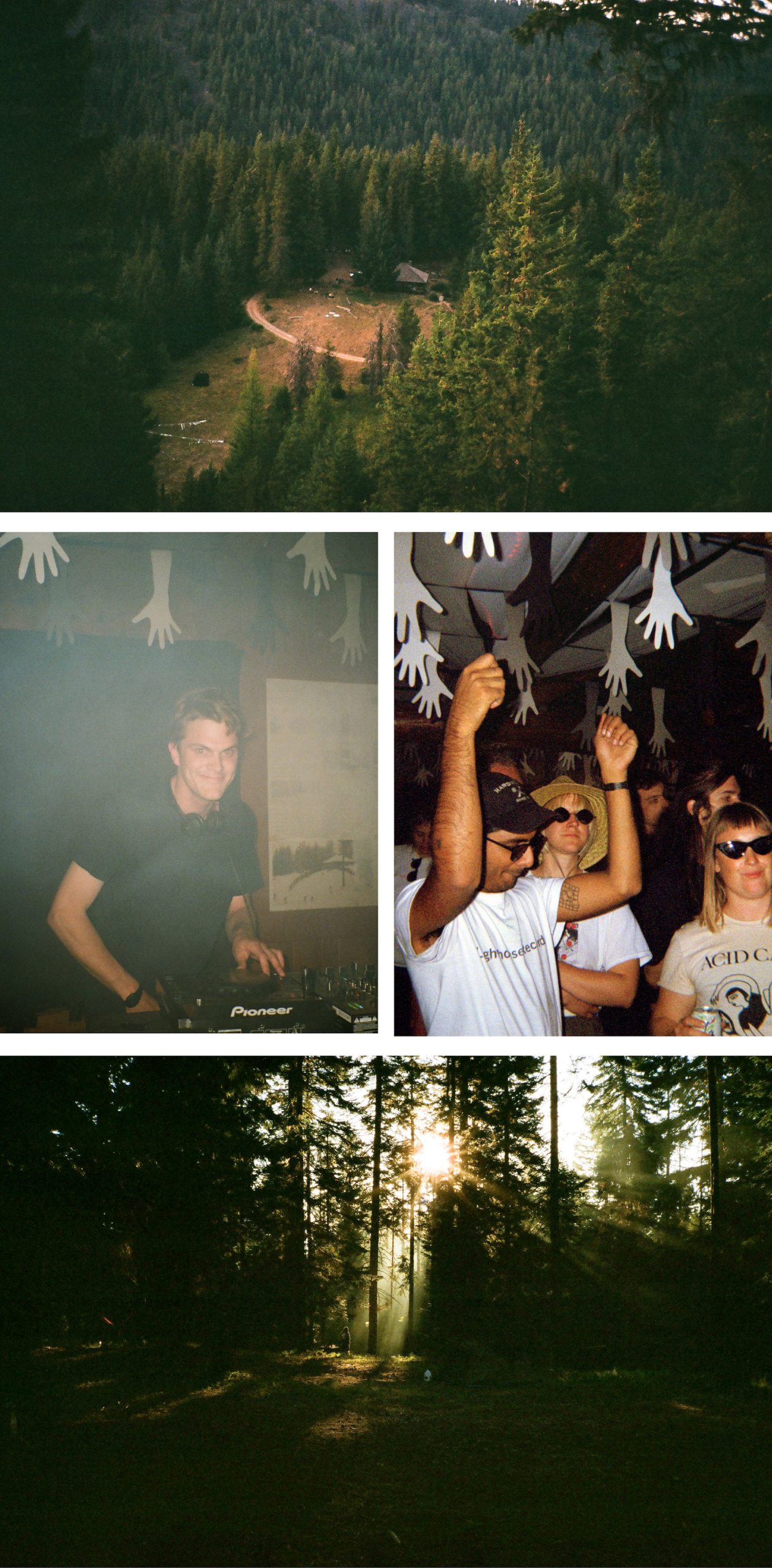 You ran a party called Grounded from around 2015 to 2018 where you were a resident alongside a DJ called Kinjo? Can you tell us a little bit about those times and if they were at all formative to your DJ development. I saw you brought names such as Lily Ackerman, John Tejada, Daniel Bell, Palms Trax, Frank & Tony and more to play the party. "Kristijan (Kinjo) and I met on the dancefloor in 2014 when I was volunteering for the Decibel Festival and we were both hungry to throw a party in Seattle. This was a particularly great time to be a budding electronic music fan in Seattle because overground institutions like Decibel and underground institutions like High & Tight were bringing world class artists like DVS1, Steffi, Erika, and Roman Flugel to town to be experienced in intimate venues. Kristijan and I had a shared enthusiasm for everything that was going on in the city and were very eager to be a part of it. So, we got in touch with the owners at the legendary and now, sadly closed, Re-Bar to see if we could start doing a monthly there and started up our residency "Grounded" on fourth Saturdays. This would be the beginning of my involvement in the scene in Seattle and the catalyst for most of the community I would go on to find there.
Around this same time, I was starting to hear mumblings of a young group of DJs and producers called secondnature who were meant to be the coolest thing going in the Seattle underground. Eager to hear what they were all about, I pulled up to an underground party filled with black-clad art kid looking types with DJs called Fugal and Doubt. I was extremely impressed with what I heard and I was inspired by these people who were my contemporaries treating this music as a serious artform. A few months later, I received an invitation to an event called "The Lodge," which was touted as an invite-only techno campout in Mt. Rainier National Park organized by secondnature and legendary University of Washington party house Salmon Town. Up until this point, a large part of what was happening in Seattle was centered on Decibel festival and the artists it was bringing both to the festival and to clubs year round. When Decibel left Seattle in 2015, the duty fell onto all of us DIY people to fill the void and keep the momentum going in the city. Events like The Lodge, TUF Fest, and Research carry major significance for me because that's where I really began growing close with a lot of people who are, to this day, my best friends.
In the years that followed, I always tried to keep the community at the center of what I was doing. Kristijan and I went from being residents at Grounded to turning it into the only party in Seattle which featured open-to-close sets from local DJs. We wanted to do proper underground parties outside of the club as well, which saw us bring people like Carlos Souffront and Bill Converse to come play in various warehouses and art galleries around the city. We also threw a very casual free day party every other Sunday at Fremont ski bar Woodsky's where the vibe was always fast and loose. I think the most ridiculous thing we did during that time was booking Palms Trax for a "donations at the door" Sunday party on his first US tour. At the height of Grounded, we were doing like 24 parties a year and I'm tired just thinking about it. I wish I still had energy like that."
So after this, you started a label called Accessory Records with Simic in 2021. Before we deep-dive into the label can you tell us a little bit about how you and Simic first met and what was the catalyst in you two becoming friends? "I was a Simic fan first and foremost before Ben and I really became friends. I had seen him play at a few different underground parties in Seattle, including some with secondnature at Salmon Town, and I was always blown away by his DJing, live sets, and releases. I was definitely a bit intimidated by him at first, as I am with most artists I am a fan of, but in 2016 we both went to New York for Sustain-Release and I think that's the first time we really bonded. That turned into a weekly mixing session in the basement of our friends' Raj and Phil's house, to the four of us renting a studio together for a year. We started a slack group at that time to coordinate who was going to be at the studio, and it's still active to this day. We've always kept honest and open lines of communication alive for creative feedback and I think I owe a lot to that to ultimately feeling confident in my music."
You both live in Queens, New York now right? How did the move transpire and how's New York been treating you? "Yep! In 2018, I made the decision to leave Seattle and move to New York after some big life shake ups went down. I already had a few of my best friends living in NYC and I was visiting them often, so it seemed like a logical thing to do as a means of creating a sort of new beginning. It was the best decision I've ever made as I've found the best group of friends in the world and met the love of my life who I'm marrying this fall. Shouts out to the Boof Sisterhood and Razrbark.
As far as the music scene in NYC goes, I've definitely taken a back seat approach up until somewhat recently. As I mentioned before, I was very involved in what was happening in Seattle and, frankly, starting to get a little bit burnt out. I looked forward to coming to NYC, hitting the reset button, and learning more about the scene and what was happening here. Over the years, my friends and I have done a handful of renegade parties in squatter brownstones, abandoned apartments, and other seedy DIY spots. Throwing a party to me has always been inexorably linked to hauling speakers, fixing sound issues, and worrying about neighbors and police. After almost five years in New York, I'm starting to understand the larger scene to a point where I know how I want to contribute to it."
Can you tell us a little bit about the discussions you had in wanting to get this label off the ground then. Was the idea always to alternate releases between you two and see how it would go? "During lockdown, Ben and I were both making tons of music and probably chatting every other day. We started to get deep in the weeds of what we were doing because, for the first time, we actually had the time. We both became obsessed with arrangement and sampling and had very open conversations about the work we were doing and the techniques we were using. I think we both realized that arrangement and sampling were the tools that we could use to really let our personalities shine through the music and how we could convey our shared quirky senses of humor.
I remember sending Ben my track "Andouille Kiss" and getting instant feedback from him like…"this is really good, we should really put this out." I didn't really think much of it at the time, but a few weeks later I realized that we were talking more and more about starting a label. It was a conversation that sort of naturally evolved into "let's do this!" I was thinking that since Ben was the more established artist of the two of us, he would be the one to carry the torch for the label's first release…but he had other ideas. I remember at our first official label Zoom call, before we even had a name for it, he said that he thought I should be the first release with the tracks that would ultimately become The Astralogic EP. We ended up combing through the dozens of tracks that we had made during quarantine and packaging up the first four releases before settling on the name Accessory for the label. Then we sent these 4 proposed EPs to distributors across Europe, decided on KMA60, and put all of the records into production. Shortly thereafter Ben moved to New York and we have been running the label locally ever since.
I think we always wanted to treat the label as an outlet for our own music, as we both make a lot of tracks and we wanted ownership over the whole thing. This approach has allowed us to focus our community-building efforts on other things like parties, radio shows, etc."
How did it feel to see some expert record spinners in Raresh, Oshana, DJ Masda, Rhadoo playing your music out too? That first record goes for a hefty price on Discogs now. "It's always exciting when someone sends me a video of my music being played at a party. I've only heard my music on a big soundsystem a handful of times, so most of the context I have for it comes from grainy cell phone videos of European festivals. When I first saw those RPR videos I couldn't really believe it. As far as the discogs prices for AR001 go, I don't have much to say except please don't pay $60 for my record. Digis are on bandcamp and I promise you there are better uses for your hard earned cash."
How would you describe the music you make? Is the goal for the moment to make music for the club? How do you go about approaching that these days when sitting down to produce? Have you got a pretty streamlined setup at this point? "I think all of the music I'm making currently is made with DJs in mind. I grew up playing blues music and I think I've always gravitated towards genres that are simple in form, but still allow a lot of room for experimentation and expression. The reason I love making house so much is that once the groove is locked in, there are limitless directions I can take it and ways in which I can play with the form and express myself. However, elements like a simple bassline, a 4-to-the-floor kick drum, or an upbeat 909 hi hat can still bring the listener back to something familiar.
As far as my setup and process, I would say that really comes down to when and where I'm feeling inspired. My home studio is a pretty simple setup with a few pieces of gear I hold very dear, including a Dave Smith OB-6. That synth is on pretty much every track I've ever released and is responsible for a lot of the gritty, free-flowing analog synth sounds you hear in my music. Ideas really strike me anywhere and, oftentimes, the bones for the best tracks come together just sitting on the couch with my headphones and my laptop. I enjoy sketching out ideas on the fly and then going to the studio to polish them."
Is there like an aim or goal you want to accomplish whilst DJing as well? What would a perfect 6 hour Miles Mercer set sound like? "It may sound trite, but my main goal with DJing is just to play good tracks. I consider myself as more of a presenter than a performer in my DJ practice and I really just aim to get from track A to track B in the most direct way possible. I believe that if the tracks are good enough, I can rely on them to do most of the legwork for me. Most of my DJing takes place in what I call "Midtempo plus," which I categorize as between 90bpm-132bpm. I would say a 6 hour set would involve me hitting that upper threshold during peak hours and the low threshold during opening or closing hours. I really love dancing to music that is faster or slower than that range, but I leave the DJing of it to the real professionals."
Can you share any tracks or mixes created by someone else that really bring you back to a specific time or place?
Tracks:
Jimi Hendrix – Castles Made of Sand: Me 11 years old in my brother's Chevy Blazer like "wow, okay music really goes there"
Omar S – Sky Train: Detroit with all of my friends
Pet Shop Boys – West End Girls: Simic closer at the last secondnature party I went to before leaving Seattle.
Greg Phillinganes – Lazy Nina: Summer of 2018. Moving to New York.
Larry Heard and Mr White – Sun Can't Compare: Falling in love with Razrbark
Vera – Take Me To The Bridge: Validation Dept. at the Lodge. Everyone blissed out at sunset.
Mixes:
This is not a Seance #010 with Carlos Souffront (Ifach special): Simultaneously began my obsession with both Carlos and Baby Ford
Mosca STL Locked Groove Special on NTS: Walking 500 miles alone in Spain on the Camino de Santiago. Life was a locked groove.
Quest – My Own Jupiter: What really got me into digging for records in a serious way.
Razrbark – Psychosomatic Ambient Steam: When the world realized she was destined for greatness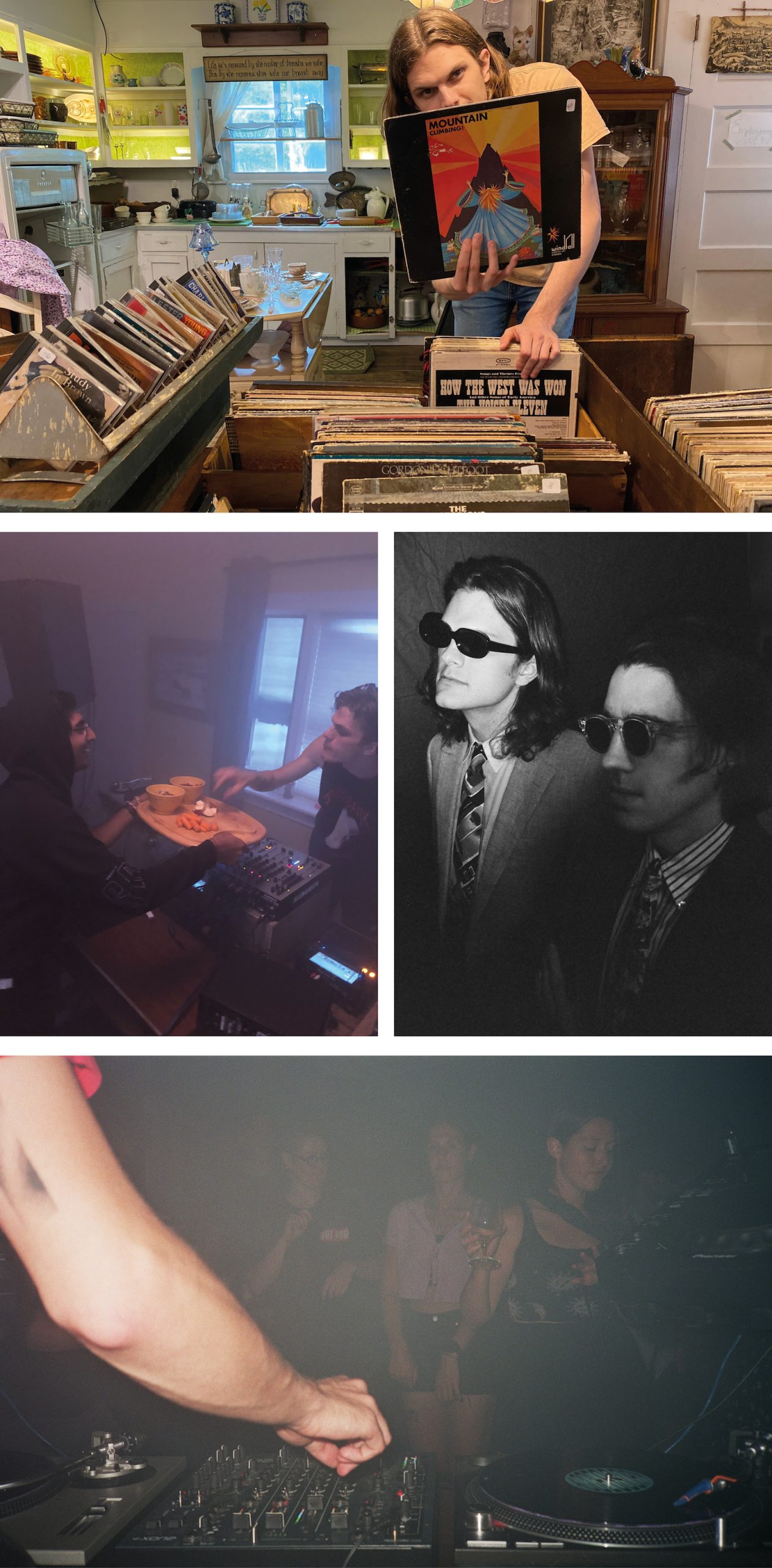 What sort of other hobbies or interests do you have outside of electronic music? I know you're a very avid cook and have a big interest in Italian food from the dishes I've seen on your twitter. Can you tell us about that? What is a famous Miles Mercer dish? "I love aviation, film, crossword puzzles, my cats, riding my bike, and yes, cooking. My interest in Italian food arose from spending a year abroad in Florence when I was in college and becoming obsessed with the local fare. I am definitely a people-pleaser by nature, which informs both my efforts with music, party organizing etc. as well as my love of cooking for friends. I have a 9 foot farm table in my dining room and I love nothing more than cooking a big pasta dinner for friends, pouring some good wine, listening to music, and just hanging out. As far as signature dishes go, I think my most lights-out dish is braised short rib ragu with homemade tagliatelle. That has certainly gotten the best feedback from friends and family of anything I've made. I also got an ice cream maker this year and I've been getting really into making homemade ice cream. As I said, people-pleaser."
Can you tell us about three albums that a) define you getting into electronic music in general, b) maybe a midway album when you were fully invested in DJing and and c) a recent album that you've especially enjoyed?
Simian Mobile Disco – Attack, Decay, Sustain, Release
Baby Ford – Headphoneasy Rider
Beta Librae – DAYSTAR
So what can you tell us about the mix you've recorded for us? Was there any direction you decided you wanted to go for this when making and are there any particular tracks you want to shout out? "All vinyl assortment of tracks I've picked up over the course of the last year. I'm by no means a vinyl purist, but I've just really liked mixing with records recently so I wanted this mix to reflect that. I had a pretty good idea of how I wanted it to unfold and I hope the listener is able to extract some sort of narrative from it.
The closing track is a record I picked up at Selector's Records when I was visiting Seattle last August for an Accessory Records x secondnature party that Ben and I were playing with our friend Kristen Dalen. I bought it a few days before the show and ended up closing my set with it. Since then, I've always wanted to close a mix with it. I think it touches a lot of things that I look for in a track: unique groove, fun arrangement, creative sampling as well as a psychedelic whimsy that's hard to pin down."
Last, usual question from us, what was the last thing to put a big smile on your face and when was the last time you had a proper dance? "My friends Cara and Papu got married last weekend and we had a really cute reception for them in the backyard at Nowadays. Everybody looked really hot and it was a jubilant affair.
As far as my last capital P Proper dance, that would have to be when I made the last minute decision to hop on a plane to Detroit for my favorite party in the world: No Way Back. I got to have my favorite DJ Carlos Souffront turn my brain inside out, but the real magic of the day is when my longtime friend Jess Duran (AKA Succubass) opened the Lot Mass party with one of the most fun sets I've heard in recent memory. It was a beautiful moment seeing old friends from Seattle and new friends from NYC come together in a shared dancefloor bliss and it's one of those dancefloor moments I will cherish forever."
Miles Mercer: Soundcloud, Instagram, Resident Advisor
Accessory Records: Soundcloud, Bandcamp
You can download Truancy Volume 310: Miles Mercer in 320 kbps and view the full tracklist on Patreon here. Your support helps cover all our costs and allows Truants to continue running as a non-profit and ad-free platform. Members will receive exclusive access to mixes, tracklists, and discounts off future merchandise. We urge you to support the future of independent music journalism—a little goes a long way.