Virginia has a reputation as one of dance music's most quintessential DJs, meaning very little is needed by way of introductions. The now Portugal-based producer and vocalist has been deeply involved in electronic music for over two decades, her fun-loving demeanour and infectious sets of house groovers and club-ready electro making her a staple figure at clubs and festivals all around the world. Holding a residency at Berghain's Panorama Bar since 2012, Virginia's rich vocals, narrative songwriting and ever-growing production skills have formed a unique discography of work on Ostgut she can truly call her own.
Located an hour away from central Lisbon, she's spent most of her time over the last couple of years setting up a picturesque, countryside music retreat alongside Steffi. Calling the project Candy Mountain, the pair have built a 'zero-distraction-tranquil-environment' for artists and friends to come record and and collaborate on music, with a ton of vintage analogue and digital gear on site making it a perfect escape for anyone needing to knuckle down on their musical ideas. The plans for Candy Mountain are more than just a studio however, with the pair hoping to expand on the recently launched label with events, radio shows, livestreams and exhibitions in the near future. With both of them already sharing the rich history of producing one of the most memorable house tunes of the last twenty years, as well as a subsequent album of impassioned vocals and late night-toned Detroit-electro in the form of Work A Change,  the long-time collaborators are well-set to succeed in anything they put their mind too. We caught up with Virginia for a little chat to hear more about the project, the community aspect of living in Portugal and where things may lead to, recharging from touring, and how she's been able to navigate her long DJ career without losing sight of her authenticity. Mixing our 302nd Truancy Volume, she's described it as a warm and deeper sound of her collection, with wintery cold and slower season boogies as a driving influence for this splendid one-hour mix.
Hey Virginia, hope you're well! Massive thank you for contributing to the series and for answering some questions for us, all been very long fans of yours! So just to start, how are things and how have you been this last year? "Thank you so much for inviting me to record this mix for you. Things have been exciting last year. It was really great to be on the road again. Happy to see some familiar faces, but also play new venues and new party series, festivals, And I was busy working on the Candy Mountain project."
So I wanted to talk about Candy Mountain straight away too as it must have been a project that you and Steffi were working on for a while, especially building the new studio part. You must have been both very excited to have finished and announced it last year. Can you tell us a little bit about how the idea formed and what went into creating this new venture? "Steffi and I moved to the Portuguese countryside a couple years ago and building a studio there was always kind of a dream. Not being able to travel during the pandemic accelerated the process in getting things in motion a lot faster. It is work in progress, but I am super happy with how it came out and I am enjoying the good energy of this place."
Was the creative hub aspect that you mention in the social descriptions an idea from the beginning? From the pictures I've seen online, the space looks incredibly beautiful and definitely one for invites. Have you had many people over yet? "Steffi and I both felt that it was important to give something back to the place we moved to and welcomed us. We hope to do so with this new concept. We think it's a great opportunity to be able to support the community and release the music that was created here on the Candy Mountain imprint. Our goal is to work globally but mainly have an open door to the community here. With touring again this past year we haven't had the chance to invite a lot of artists over, but am really looking forward to welcoming more artists soon."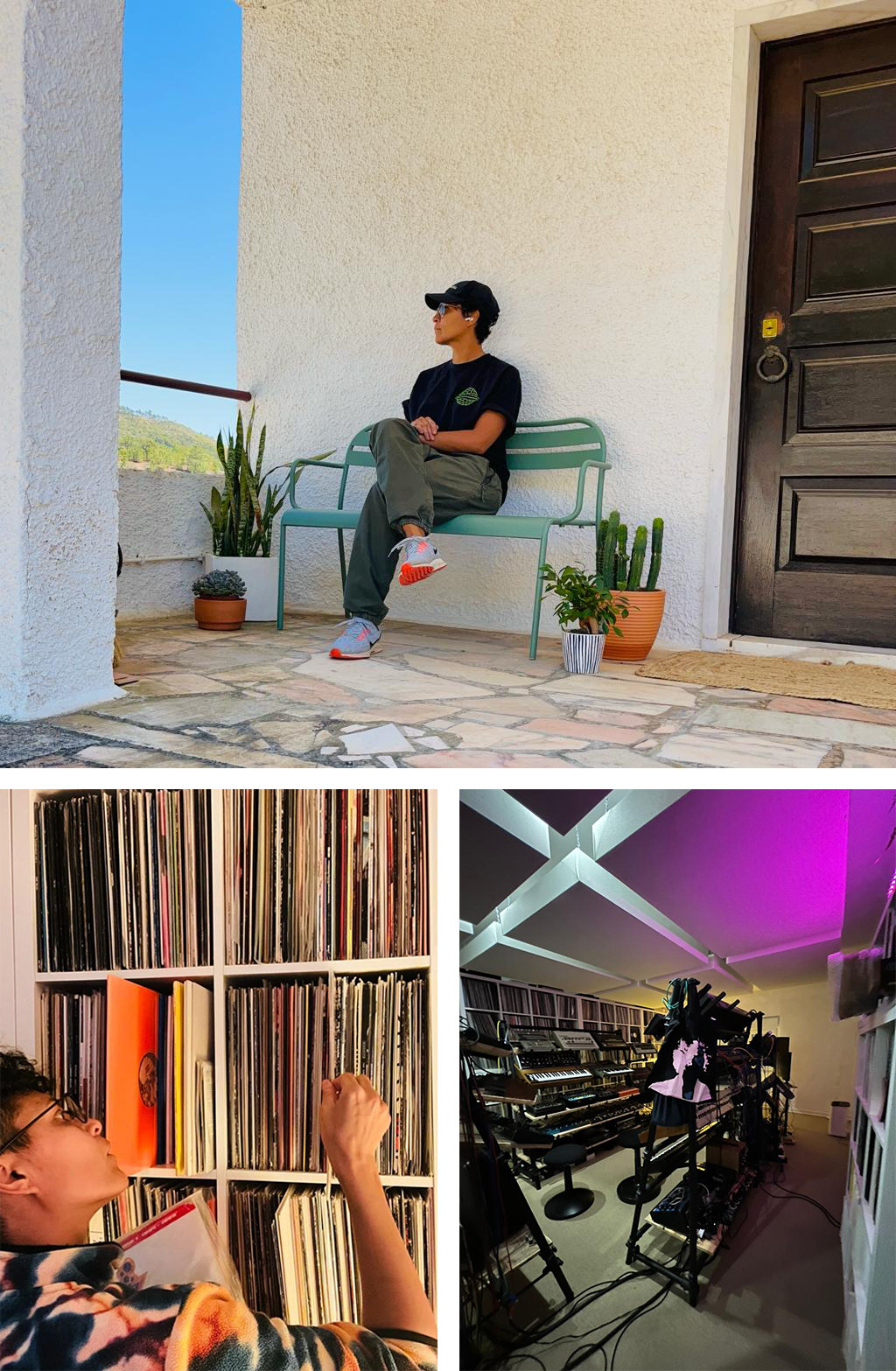 What's the aim or goal with the label moving forward? Release music from yourselves for the moment, or expand to having further people on, maybe with people who have recorded in the studio? "Next on the label we will be releasing live versions of Steffi's Red Hunter album, which was the first release on Candy Mountain, and an EP by Tracing Xircles. The aim is definitely to expand the roster. Hopefully work with local talent and of course release music that has actually been written within the studio walls of Candy Mountain."
Having lived in Berlin for such a long time and now being based in Portugal with the studio, has your idea of where home is, changed for you at all? Has it given you a new lease in inspiration, being somewhere new? "Absolutely. I thought leaving would be somehow harder, but I lived in Berlin for 17 years and it was time for me to explore some place new. Now I live in the countryside and it really helps me to re-charge from touring. The weather has a positive impact on me and being so close to the sea is great. It's both calming and energizing, I love it. Even though I haven't released a lot of music lately having moved here has influenced my creativity a lot, like building and decorating the Candy Mountain house and the different direction we can go with it."
You've been a resident and playing regularly at Panorama Bar going on 11+ years. Has anything changed in the way you DJ in that time? Do you remember any difference in emotions from the first time you played from the weekend just gone recently. You must have so many moments of just playing your favourite tracks to people. "The excitement I feel before my gigs now is still very similar to when I played the first couple of times. I guess that just means I care a lot. I always want to play the best set I can. I put a lot of thought and feeling into my selection. What makes playing at Berghain/Panorama Bar so special is a combination of many things – the building is quite impressive, the energy the audience resonates and the passion I try transport onto the dance floor as an artists performing there. Yes indeed, I remember a lot of crazy, great, epic moments."
How much time do you spend organizing your digital files before a gig? How do you organize them? "I take quite a lot of time for my preparations. I might take a 2-4 days to browse through all the records stores and buy music. Then take another 2-3 days to organize my music by genres, load them into Rekordbox, set cue points, etc. On the night of a gig I am collecting tracks in a folder specifically for that set, reflecting on my mood for this show."
How would you say becoming a touring DJ for such a long and maintained period has impacted your approach to DJing more generally? Are you still heavily inspired by a lot of what you get to see on the road regularly? "I would say I get new input. What I have come to realise is that the most important thing for me is to stay close to myself. Trust in what I do and have confidence in my development as an artist. There will always be a new trend or a new hotshot in the scene and if I check out from myself and let myself get distracted from what's happening around me I will loose my authenticity. I think this a big reason for why I am still touring today. I am grateful to have gained a lot of experience over the past years touring across the world, any situation, positive or negative. It helps me navigate and deliver under any circumstance. I feel it is extremely valuable."
I was watching your HÖR set recently and I think everyone in the comments and myself included just loved the energy that you give off when both DJing and singing. When it comes to your singing do you have a little notebook in which you write lyrics in for later use? Are you improvising, or even a mixture of both? Where does the inspiration for your lyrics usually come from? "Thank you. It's a bit of both. Sometimes I do improvise, other times I take existing lyrics – my originals or from other artists – and make it a 'Virginia edit'. I have notebook and a collection of single notes with lyric snippets for when I am actually in a writing process or studio recordings. For the HÖR set I used parts of 'Strange Fruit' by Billie Holiday on a Basic Soul Unit track on Dolly. At the end of my set I performed one of my originals 'Follow Me' from my last Ostgut Ton album. I get my inspiration through lots of different things. Could be something I lived through or someone I know has lived through, I could be inspired by a documentary that got me thinking. Sometimes it is just a word I find sounding interesting."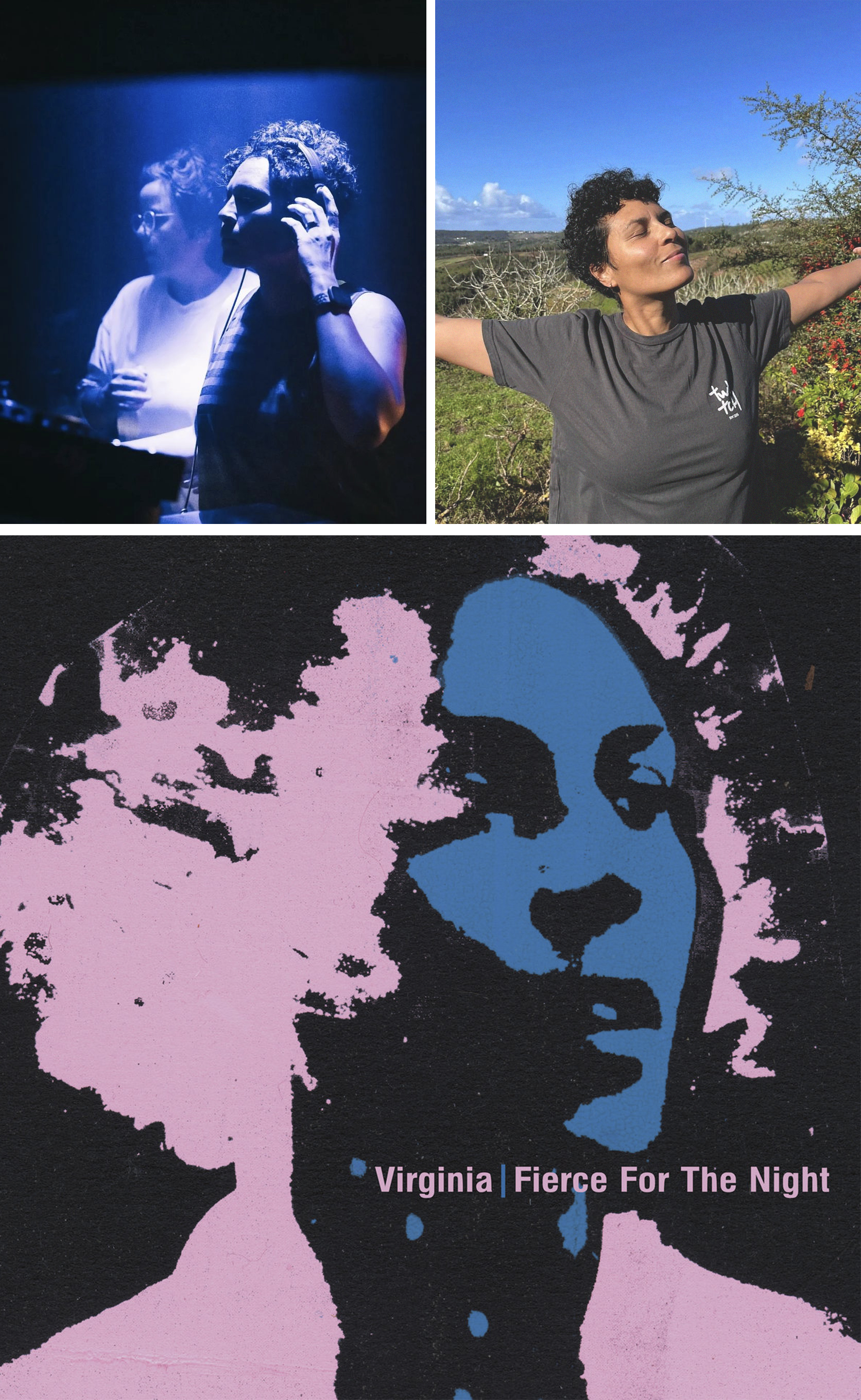 I've been asking this question a lot lately but I've enjoyed seeing the outcomes. Can you tell us about three albums that a) define you getting into electronic music, b) maybe a midway album when you were fully invested in DJing and and c) a recent album that you've especially enjoyed?
a.) Underworld – Dubnobasswithmyheadman
b.) Larry Heard – Alien
c.) Steffi – The Red Hunter
What sort of other hobbies or interests do you have outside of electronic music? Are there any books, films, art pieces or other things you've seen or been reading/watching that you might want to share? "If I would have to name one hobby it's probably botany. Now that I have a garden and many sunny days it's easy to grow almost anything. I love my plants and its so much fun to watch, flowers, vegetables and fruit grow. A book I am reading at the moment is by Graham Hancock, Magicians of the Gods. Very interesting new perspectives on the human ancient history."
So what can you tell us about the mix you've recorded for us? Was there any direction you decided you wanted to go for this when making and are there any particular tracks you want to shout out? "I was in the mood for some deeper, percussive, warm and musical tunes with a good amount of punch. Accelerating a bit towards the last third of the mix. Some of the tracks I really wanted to play out but haven't had the chance yet therefore selected them for this mix. Music I really love listening to myself during this still wintery cold and slower season of the year. All of the chosen tracks inspire me and make me move. Amazing productions. Shout out to all of them!"
Last, usual question from us, what was the last thing to put a big smile on your face? "Steffi always makes me laugh – just yesterday another synthesizer has been delivered to our house. I'm like gurl seriously, we don't have any more space, hahahah."
Virginia: Soundcloud, Bandcamp, Instagram
Candy Mountain: Bandcamp, Instagram
Main photo by Stephan Redel. Makeup by Saskia Krause.
Steffi and Virginia Fabric photo by Benedict Priddy.
You can download Truancy Volume 302: Virginia in 320 kbps and see the full tracklist by supporting Truants on Patreon here. Your support allows Truants to continue running as a non-profit and ad-free platform. Members will receive exclusive access to mixes, tracklists, and merchandise. We urge you to support the future of independent music journalism—a little goes a long way.