Over the past decade, Georgian producer and DJ Gacha Bakradze has developed a distinctive sonic language that's seen him become a leading visionary in experimental electronic music. His immersive sonic landscapes have spread far beyond the boundaries of his native Tbilisi, first enthralling listeners worldwide with the post-dubstep and dub-techno-inspired sounds of his 2012 debut, Remember, for Apollo Records. While Gacha's sound has undergone numerous transformations over the years as he's experimented with various artistic identities and musical directions, the evocative melodies at the heart of his sound have never shifted from focus. From the lushly layered IDM and ambient textures of his 2021 album, Obscure Languages, to the heartfelt, leftfield house expanses of his 2017 EP, Mapping/Eyespace, the enigmatic and tender quality of Gacha's music continues to captivate.
Gacha's thoughtful approach to sound design has always been one of nurturing intent, focused on celebrating personal growth, musical inspirations, and his local community, rather than seeking the spotlight. This loving pride in his artistic peers is, in many ways, what led him to found the successful night club and community space, Left Bank, which has become a hub for Tbilisi's young artists, aspiring DJs, and local producers. Largely a collaborative endeavor, Left Bank was born from like-minded individuals aiming to provide relief from the city's confining, conservative ideologies and oppressive politics, with the resulting space serving the community's young progressives. Since its founding in 2020, Left Bank has grown exponentially, enriching its programming with more diverse lineups, increased international DJ bookings, nights with unannounced artists, and a podcast series. With a strong identity and meaningful mission, Left Bank and its collective are an extension of Gacha's own dedication to the local electronic music community, and his commitment to its long-term growth and stability.
With a new 2023 split release alongside HVL, aptly titled Splits, for UK label, Organic Analogue Records, an upcoming album for the Barcelona label, Lapsus, and a full roster of Left Bank bookings, including hosting Pearson Sound on March 31st, Gacha has been keeping busy to say the least. In the accompanying interview, we delve into Gacha's personal productions, musical evolution, collaborations, identities and inspirations, along with his insights on the formation and future of Left Bank. 
Hello, Gacha! Thank you very much for doing this interview. We've been fans for so many years now and this feels long overdue. How are you and what have you been up to lately? "Hi there, thanks so much. Lately, I've been keeping myself busy with music production, running Left Bank, and spending time with my loved ones."
Is this a big planning time of year for you or are you already very much in the thick of it between personal productions and running your club, Left Bank? "It's definitely a busy start of the year for me with lots of music making and keeping the club running smoothly. But honestly, I love what I do so much that it never really feels like work."
Has running Left Bank made it difficult to focus on your own music and productions? What is your current schedule like? "Running Left Bank has definitely been a huge time commitment, especially at the beginning, but I wouldn't say it's taken away from my own music-making. Sometimes it's good to step away from producing and do something that's not music. I try to balance my time as best I can, and I've actually found that my work at the club complements my music-making quite well. It's still related to music, so I'm happy no matter what I'm doing."
I would love to start by discussing your personal productions and musical background. How do you begin your production process? What are your first steps? "When it comes to my production process, it really varies. Sometimes I'll have an idea or a particular sound I want to work with, and other times I'll start with a loop or a chord progression. The most important thing is having a solid work routine and trying out different approaches. I also try to stay open to new ideas and let the music guide me."
Do you prefer to make music alone or with others? How has your background of playing guitar and in bands influenced your approach to production and/or collaboration? "I love both. My background of playing guitar and being in bands has definitely influenced my approach to production and collaboration. I've learned to value the creative input of others, but being in a band also meant compromising on certain ideas. Producing music on my own is liberating because there are no compromises, and I can really push my ideas to the limit. That being said, collaborating with other artists is always challenging and exciting. It's fascinating to see how other people approach music-making and their creative process."
Could you talk about the evolution of your sound over the years? Has your focus or approach to production shifted over the last decade? "My sound has definitely gone through some changes over the years as I've become more comfortable experimenting and pushing myself to explore new sonic territories. However, I believe that my love for sound design and melody is a consistent thread throughout my work.
As time went on, I realized that it's better for me to take things slower sometimes, or to work on a couple of projects simultaneously, switching between them to clear my head is helpful. I find that when I give myself time and come back to a project later, I often hear it with fresh ears and a new perspective."
The music video for "Bowl" continues to captivate even 10 years after its release. Could you describe the process of making the video with Anna Kobakhidze? "Making the music video for "Bowl" was definitely a memorable experience! Anna Kobakhidze, a film student at the time, came up with all the choreography in the video, which I thought was fantastic. When it was first released, people didn't quite understand it, but I loved how surreal and dreamlike it was."
Can you recall any particular travel experiences that had a significant impact on your musical outlook or personal journey? "Fortunately, as an artist, I used to travel extensively, and as a result, I have been able to visit many amazing places over the years. Being outside of my comfort zone, traveling, and experiencing different cultures and things has always been a major source of inspiration for me. But I don't like the idea of traveling just for a vacation. The whole concept of being a tourist and following an Instagram travel lifestyle bores me. Moreover, considering the environmental damage caused by air travel, it is important to think more thoughtfully before flying to a random country.. For me, typical tourist destinations are always a letdown, but going to other places, and interacting with locals, is truly rewarding."
Do you feel there are any particular concepts, musical or otherwise, that have influenced the sound of your music over the years? "Yeah, there have been a lot of different concepts and influences that have shaped my music over time. I've always been drawn to the sounds and rhythms that you can find in everyday life, and I try to incorporate those elements into my music whenever I can. Plus, I'm heavily influenced by people, and relationships—all of that stuff finds its way into my music.
Overall, I think my music is a reflection of my personal experiences and the many different influences that have shaped me as both an artist and a person over the years."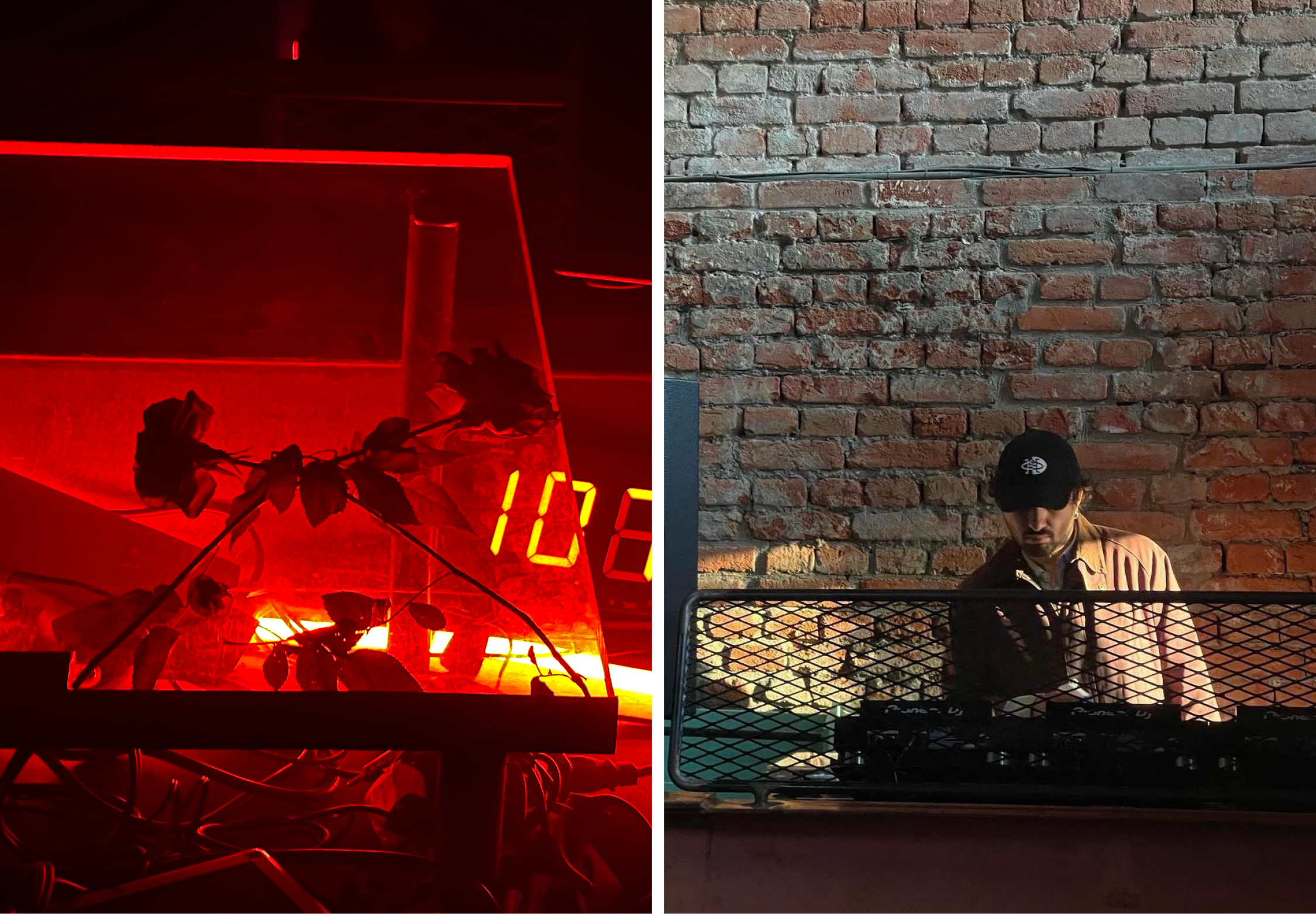 How would you summarize the 'Gacha Bakradze' sound in a few words? How have you separated the sounds and ideas of your different aliases? "I've experimented with a lot of different aliases over the years—stuff like Winter Flags, Akwaaba, and Clarinets—to explore different ideas. My first releases were under the name Gacha, and when I signed an exclusive deal with Apollo Records, I wasn't allowed to use that name anywhere else. So I started releasing stuff under the name Bakradze for other labels. Eventually, though, it just got too confusing, so when my contract with Apollo expired, I decided to combine the two names and release everything under Gacha Bakradze."
Is there any one record or track of yours that you feel is the best summation of your sound or makes you feel most proud? "That's a tough one—I'm pretty critical of my own work, so it's hard for me to choose just one thing. But if I had to, I would say that my album Word Color is really special to me because it reminds me of a really transitional time in my life. There are a few tracks on there that I'm particularly fond of, like "Stray", "Dream Debris", and "Sarphi Rocks".
I'm also really proud of the track "Inside" from my Western Arrogance EP—I made it during the pandemic, and I was imagining it being played in a dark club. And then there's "Indivisible" from my album Obscure Languages—I think that one has a combination of different elements that really represent my sound well."
Have there been any particular artist collaborations from your past that you would love to revisit in the future? "Definitely, I've had the pleasure of collaborating with some amazing artists like John Beltran, Locked Groove, Natalie Beridze, and others. I would love to work with them again, as well as new artists."
As you've worked with numerous notable labels over the years, do you have any advice for other artists trying to release their music? "My advice would be to focus on the music, keep producing, and be patient and persistent. It's important to send demos to labels that align with your style and to build relationships with people in the industry. Rejection should not discourage you—keep improving your thing."
In what ways do your Tbilisi surroundings influence your music? How would you describe its contemporary electronic music scene? "Tbilisi has a rich musical history and culture. As for the electronic music scene, it's very vibrant and diverse, with a lot of talented producers and DJs. There are a lot of great clubs and events, and the scene is very supportive and collaborative. However, the city also faces challenges such as political instability, economic uncertainty, and a conservative society.
Despite these challenges, Left Bank and other clubs in Tbilisi are working to create safe spaces for young people to socialize and share their opinions. They also use their platforms to raise awareness about political issues and to support causes like the relief efforts in Ukraine."
Could you tell us a little about your journey in creating the club night and multifunctional space, Left Bank? What started it all? "Left Bank was created as a community space for people. It began with a group of friends and like-minded individuals who wanted to create something unique and special in Tbilisi. The goal was to provide a safe space for people to express themselves and connect with others. Over time, it has grown and evolved into what it is today."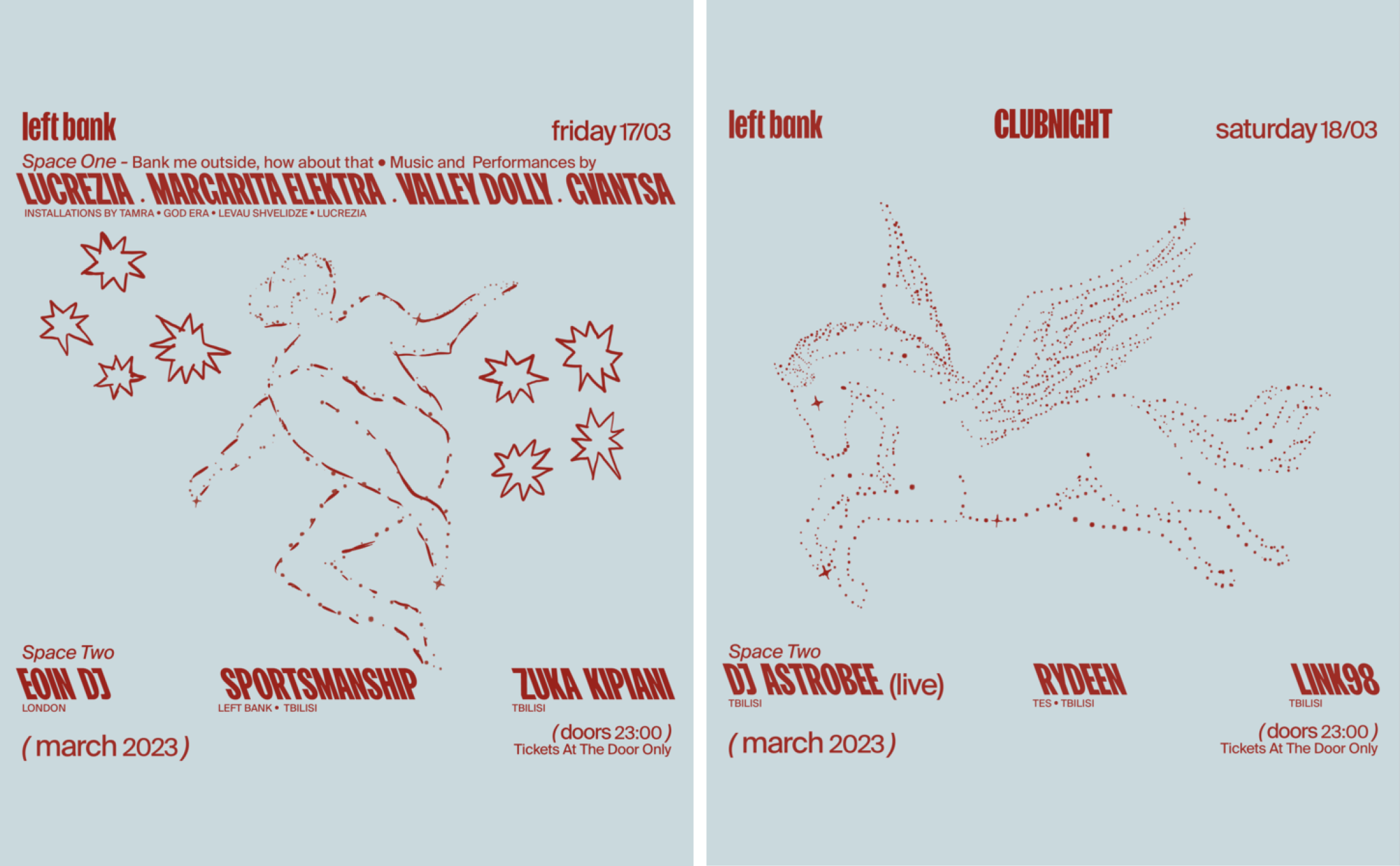 How would you describe the space and crowd? What are the types of sights and sounds one might experience on an average night? "The Left Bank is a friendly place that draws a wide variety of people from different backgrounds. It's a space where people can come together to enjoy music, art, and other cultural events. The club is constantly being renovated with details like chains on the dancefloor, dark room etc. The main idea of Left Bank is natural diversity and giving a platform to people who are not represented in many areas nowadays. Left Bank is a space where a new generation of Georgian youngsters who don't trust neither government nor religious ideas can socialize and share opinions."
How did you go about selecting the artist collective for Left Bank? Is there a particular factor that ties these artists together? "Perhaps the main priority is attitude towards music and love of what they do. Also other human factors, for example, Nathalie (Ogazón), she is such a lovely person, I immediately felt that she is one of "us" and she felt like family. Also, when Wesley Wise or Sportsmanship played for the first time, we immediately offered them a residency, because in addition to musically crossing over, they also seemed to have the right attitude towards their work. Ash is my long-term friend. Apart from being residents, they are working at Left Bank and are team members, Nika for example (Routes Not Roots) does many things, Rati (Sportsmanship) is a stage manager, Datuna (Wesley Wise) is a sound guy, Ash is a booker and so on. Probably the unifying factor is that they all share a love for music and are dedicated themselves to something."
Could you tell us more about your new party series, X, and what separates this from your normal club programming? "X is a series of events focused on exploring the boundaries of electronic music and promoting event by not revealing artists in the lineup. Unlike regular club nights that rely on DJs, X keeps the lineup a surprise to create a deeper connection between the performers and the audience."
Have there been any standout moments for you at Left Bank? Any particular artists you would love to book in the future? "One of my most memorable moments was when it was raining, and everyone was still dancing at the outdoor stage early in the morning. I gave out bananas from the bar, and people were genuinely happy. I still see people who thank me for that morning haha. Left Bank remains a community space, and the homely atmosphere is crucial to us. Also, one of the recent parties was when Objekt played, and the energy in the room was magical. Collective takeover is always magical…In the future, we'd love to book more international artists."
Which artists are currently inspiring you? Are there any particular albums or sounds you've been drawn to recently? "At the moment I'm really inspired by the works of Meredith Monk, Elvin Brandhi and A.C. Marias. It's good to revisit your favorite artists as well as discover someone new everyday. I've been exploring a lot of choral music lately."
What have been your most significant artistic influences outside of music? If you could master any subject, what would it be? "I'm interested in art, film, and literature, and I find inspiration in those mediums. If I could master any subject, it would probably be painting or filmmaking, as I enjoy telling stories through visuals and sound. I also enjoy to paint with my kid in the mornings. Also, philosophy is something that interested me…metalworking, or woodworking, but I'll probably cut my fingers before I learn :')"
If you could curate the perfect lineup who would you include and why? What factors do you consider when booking artists? "That's a very hard question. When curating a lineup, I would consider who I personally enjoy listening to, but there are also other factors to consider. such as the type of event and the audience. It's also important to think about the overall vibe and energy that the artists will bring to the event.
One of the most important factors in booking artists at Left Bank is whether they create the right vibe and party atmosphere. This means that they need to have a certain level of experience in playing at clubs, and know how to read the dancefloor.
Additionally, gender equality and diversity are important considerations when booking artists. This is very important to create an inclusive and welcoming environment for everyone. By having a diverse lineup, it ensures that everyone feels represented and included.
Overall, curating the perfect lineup is a complex task that requires careful consideration of various factors, some mentioned above. But hopefully we have a good team who have a lot of experience in booking artists and know how to create an atmosphere that is both fun and inclusive."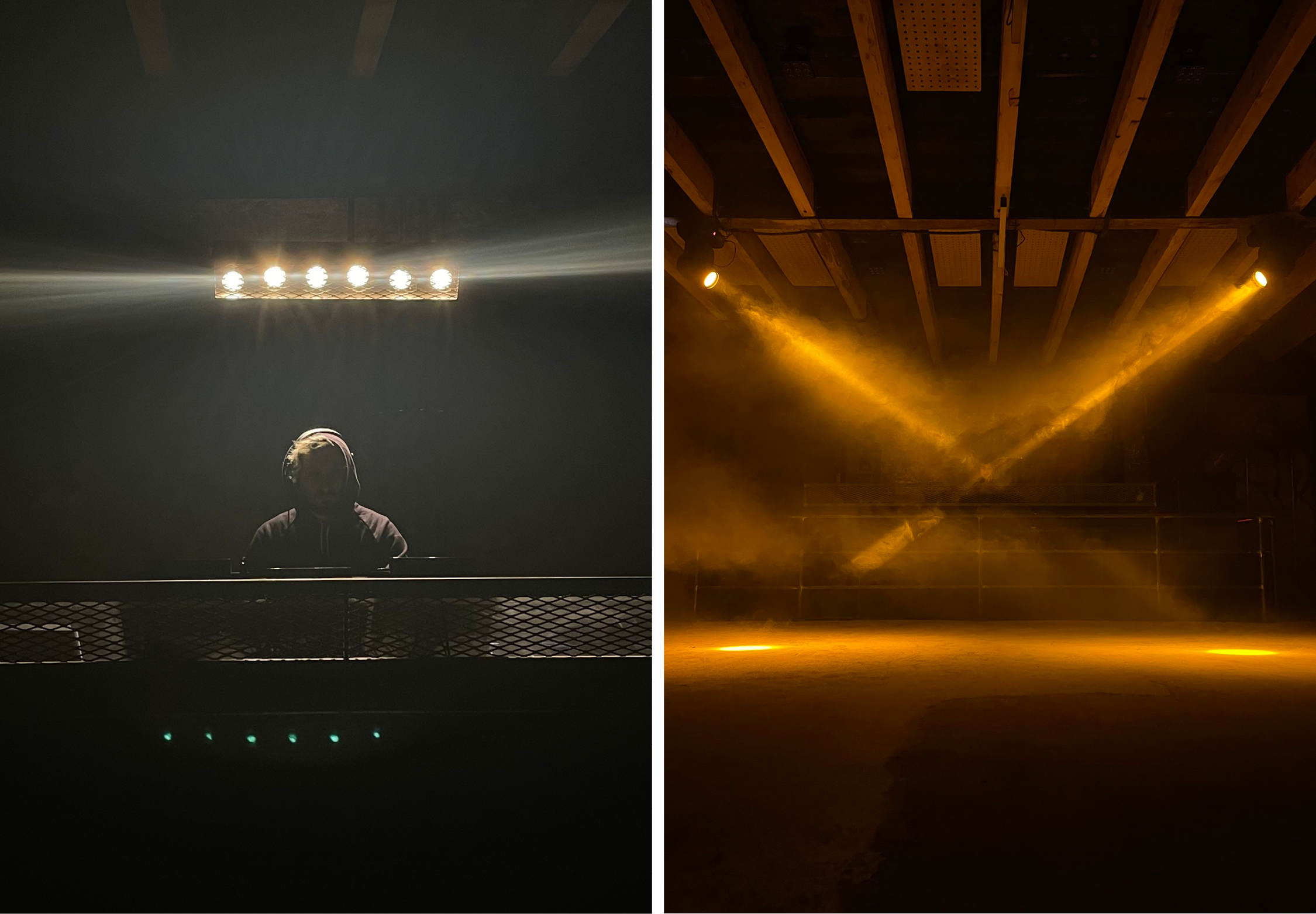 When treating visiting Left Bank artists to a meal or quick tour around Tbilisi, where are some favorite spots? "Some of my favorite spots to take visiting artists are Keto and Kote, Shavi Lomi, Rooms, maybe Rigi for some traditional stuff… it always depends also what they prefer etc."
What aspirations or goals do you have for your personal music and for Left Bank in the coming year? What are you looking forward to? "For my personal music, I'm looking to experiment with new sounds and push myself creatively as much as possible. As for Left Bank, we're looking to expand our programming and bring in more international artists. We're also planning to launch a record label in the coming year, which is something I'm really excited about."
Is it important for you to leave a lasting impact on Tbilisi's music scene? How do you want to be remembered? "For me, the most important thing is to love what I do, and if it happens to contribute to the growth of the culture, that's even better. Leaving a lasting impact is not my main goal, but it would make me happy to know that my work has made a positive difference in some way."
Any upcoming releases or particular parties we should keep an eye out for? "I have a new album coming out on Lapsus and I'm super excited about it!"
Left Bank: Instagram, Website, Soundcloud
Gacha Bakradze: Bandcamp, Instagram, Soundcloud
Photos courtesy of the artist and Left Bank