It's been 16 years since Kassem Mosse's first outing on Workshop, with the time until now heralding him in as one of electronic music's most consistently awe-inspiring and enigmatic producers. His amazing ability in producing everything from Shake-style loops and intoxicating hazy 4/4 has made him a master of modern, abstract and deeply arresting house and techno. (Then there's all the further aliases to dip into.) Workshop 32 is his first solo work as Kassem Mosse in six years and it marks a surprising inversion to his vinyl-hissed rogue machine patterns of old. Influenced by records from the likes of Glenn Underground, Scott Grooves and Theo Parrish, KM's tendencies for minimalistic and sparse-sounding arrangements are still well on show here, yet often infused with a gentle looping resonance. This is perfectly incapsulated on closers 'D2' and 'Provide Those Ends'. We caught up with KM for a little chat about evaluating your own music, working with music ethnologist Arthur Boto Conley, the continuation of his Seltene Erden alias and the track inspiration behind this long-awaited return to Workshop. Giving some context to the album, he's made us a beautifully subtle dance-leaning mix that's weighted with emotion and sultry after-hour vibes.
Hey there, thanks for taking out the time to answer some questions and do this mix for us! We're all such long-time fans here! So just to start, can you tell us a little bit about how you've been the last year? What sort of things have you been getting up to? Did you take up any new hobbies, interests or read any good books you want to tell us about? "I've been working outside of music to keep up with the bills, mostly. I watch films, I read books, nothing new for me, really. When I had some time available between jobs and projects I would make music with friends. I enjoy working with others and it's taking my mind off things and at the same time it also feels quite productive: there's an MM/KM album coming on TTT, and Kolorit has a second album and a 12" lined up for Berceuse Heroique & Blundar, respectively. But that wasn't your question, so in terms of books I've read recently I'd say Olga Tokarczuk's "Drive Your Plow Over the Bones of the Dead" was a particular favourite and I also enjoyed catching up on Carmen Boullosa's 90s novels, "They Are Cows, We Are Pigs", "Duerme" and stuff like that. Currently I'm reading some German non-fiction, "Den Schmerz der Anderen begreifen" by Charlotte Wiedemann."
I imagine some of that time has been spent focusing on the release of your fourth solo album, which is coming out soon as number 32 on Workshop, a release which comes as your first full-length since 2017 and your first solo release on Workshop in nine years. What can you tell us about the accompanying 'words of guidance' by Pjotr Jezernitski? There are so many amazing little excerpts to pick out from I wonder what came first, the album or these words? "Pjotr has written these words in reaction to hearing the finished album. I like what he comes up with when he writes and I told him in advance that he should take any liberty he wants, breaking down grammar etc. We have been working together since the first Mosse album actually, where he provided vocals for the opening track. We recorded a track together a while ago that hasn't been released. So I thought it would be nice to continue our work in this way in the meantime."
How have you learnt to judge or evaluate your own music over the years? Or do you find you just make and experiment as much as possible and let certain label owners do the evaluating for you? How has it worked with Workshop over the years and this album in particular? "It's different each time when it comes to releases. I often produce with a certain outlook or setup depending on the project, to ensure that the results to have a coherent sound. In this case I compiled the tracks before and everyone was fine with it. Other times it's a bigger selection and people take a pick. I know most of the people I work with on a personal level, so it's not a difficult thing. We give each other feedback. When I work together with other people it's usually a collective choice. But I'm fine with other people taking picks. It's interesting to have another perspective on your work."
I was reading an interview with Mix Mup and in one section he talked about how you two work together so well because you have the same approach to music, the same idea of going to clubs and that you both like going out and being able to hear new refreshing music and sounds. How often do you find yourself quickly adopting certain ideas after hearing something in a club? "Not quick enough I guess! There's always bits where I think, I should try something like this, a bassline, or a rhythm. But by the time I get back into studio mode I've forgotten about it. On a subconscious level, I'm sure these ideas are there somewhere in the back of my mind and when the time comes, they'll just manifest themselves in whatever I'm working on at the moment."
What can you tell us about working with Arthur Boto Conley for the MM/KM release on his label Travel By Goods? The care, effort and design that went into that record, the show and space just looks amazing. "The music ethnologist Arthur Boto Conley is an alias of the German artist Thomas Baldischwyler. He started running the Travel By Goods label in 2010, and he is in charge of all the visuals. He also produced the music on many releases. So yes, he takes great care on all the details and often works with people who are involved in the visual arts as well. He approached us because we often work with MPC samplers and he had set his mind that the last release should be a remix of his back catalogue made with two MPCs. We recorded the whole thing as a live sampling session in our now-defunct project space that we ran for about 8 years. We hosted art and music shows with friends from around the world and the TBG night was one of the last events: the building was demolished a few weeks after. It's nice that the space has been documented by Andrzej Steinbach with the photos that accompany the release."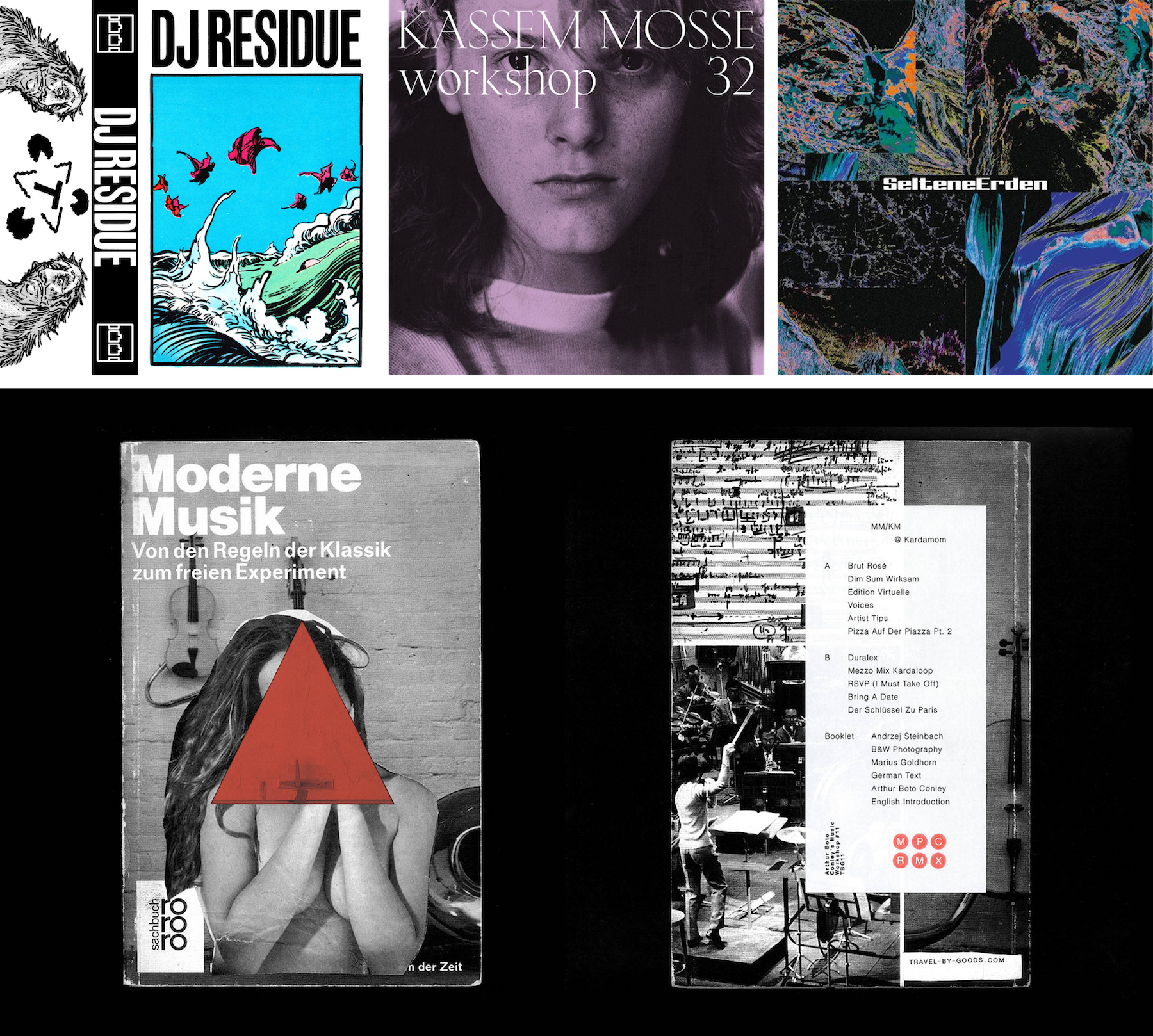 Boomkat described the recent album you did for Youth under your Seltene Erden alias, as the kind of album they've wanted to hear you make for ages. I hate to use the word melodic as the album gives off a different vibe to that, but it felt like you definitely explored a new outlet. Was that the case? "For me it was simply a continuation of the first Seltene Erden release. Andrew from Youth had been asking me a few times already whether I had more tracks in that direction. At some point I had some time available between projects and started editing older pieces in that vein and made some new recordings as well, then I processed them all with the same setup and Andrew and I were happy with the result. For me the lines between projects are often blurred, so I wouldn't see them as a new outlet. I see Seltene Erden tracks as rare materials in themselves, you have to invest some time and effort to find them and turn them into something useful."
In an interview talking about Ominira, you mentioned that as a label you have no interest in the record industry and that you believe music does not require a commercial value to exist and be meaningful. It's been nice taking a deep-dive into the back catalog of things I've missed, because as a whole you've been putting out a number of releases each year since 2011, that kind of exists for people to stumble upon and find almost. You've kind of had this amazing, make-it-up-as-you-go-along sort of attitude to the label, but do you have a perfect idea of how the music you put out might exist once released? Is there a context or is that more up to the artist and listener at that point? "Once something is released it's not in my control what people do with it. I see some of the releases more as artifacts than just plain music media. The most recent release on the label is a CD-r that is housed in used CD-cases that we bought for cheap from people who were getting rid of their old CDs. They are scratched and worn, some have stickers on them. I like the idea that they look and feel like found objects almost. Finding them in a carboard box somewhere out on the street, that would be an ideal setting I guess."
How was the live show at Tresor for the Globus x Workshop last night? From a lot of your interviews you talk about how the crowd is almost a piece of equipment that belongs to your show. "It was fun plus I got to catch up with some friends I hadn't seen in a long time. I like the new layout and sound of Globus. As far as the crowd is concerned, I don't recall saying that. I hope I didn't say that. It goes against my fundamental beliefs. So let me clarify: the audience are not "a piece of equipment that belongs to my show". That sounds like I am controlling or manipulating them. It's a terrible notion. What I have meant, maybe I didn't express it clearly enough at the time, is that there is a feedback between a live performance and a crowd, and in this way, the crowd has an impact on the performance and becomes a part of it. The audience shapes what I play, that doesn't mean I will do what they want, or give them what they ask for, but I am also there with them in the same space and reacting to them. I think a live performance should always be some form of communication."
Speaking of your live set as well, I noticed a caption from one of your Insta posts promoting the amazing DJ Residue release where you mention the release is mainly 'unreleased bits + edits from live shows'. With the latter and the edits, are you constantly recording them to edit later? "Most of the time something goes wrong with live recordings. I usually don't bother doing them. Also because I'm opposed to the notion that everything needs to be documented and be made available. But sometimes a recording can work like a session take, and I found some good material on the ones I used for that mixtape."
Reading through all your interviews I've noticed your fondness for long walks. Could you describe to us what an ideal Leipzig route for you might be for those visiting the city for the first time? Do you listen to music on these walks or is it very much a process for taking in your surroundings? "I usually just drift around or stroll through the neighbourhood, go to see friends or have a coffee somewhere. I used to listen to music on walks more than I do these days. If you're outside there's always something to catch your attention. And if there isn't you have time to let thoughts come to you."
So what can you tell us about the mix you've recorded for us? Was there any direction you decided you wanted to go for this when making and are there any particular tracks you want to shout out? "It's supposed to give a context for the album. And as such it includes some tracks by artists that inspired the sound of the new album, and combines them with older tracks, some classics and more recent tunes that I see as falling into the funkier section of house and techno. I don't want to put a focus on individual tracks. It's all about the combination and the flow."
What house plants do you have in your house and how long have you had them for? "There's quite a few, pretty much in every room of my flat. Some are doing well, others need a bit more care, I hope they'll be ok, because I'm in fact not very good with plants. However some of them have been with me for a long time, the oldest one has accompanied me for more than 16 years."
Last, usual question from us, when was the last time you danced and what was the last thing to put a big smile on your face? "That would have been at our night at Globus, and I was smiling when Viola played Wendy & Lisa."
Kassem Mosse: Soundcloud, Bandcamp, Instagram
Kassem Mosse – Workshop 32 is now out to buy on digital here.
You can buy a vinyl copy from all your usual sellers – Hardwax, Juno, Boomkat, Honest John's and Rubadub.
You can download Truancy Volume 301: Kassem Mosse in 320 kbps and see the full tracklist by supporting Truants on Patreon here. Your support allows Truants to continue running as a non-profit and ad-free platform. Members will receive exclusive access to mixes, tracklists, and merchandise. We urge you to support the future of independent music journalism—a little goes a long way.