Jennifer Loveless' diverse cultural background has brought her to a few places across the globe. Raised in Toronto to a family of music lovers, she had a small stint in Guangzhou, China where she discovered Ableton Live and started to channel her early foundations into learning music production. A move to Australia in 2012, where she dotted between Melbourne and Sydney then gave the perfect environment for the Jennifer Loveless project to come to life. With such an abundance of DJs and producers supporting each other in the fight outwards, Jennifer's knack for performance and powerfully fun productions saw her quickly blasting through in her ascension.
We caught up with Jennifer to chat about a recent move to London this time, the emotional presence in her music, the balance in her approach to DJing, and the seed conversation that influenced her brilliant new release Around The World. The release itself, a lush, rewarding six-tracker of propulsive basslines and fluttering synth lines is Jennifer at her most audacious, each track filled with tiny little exciting details smearing in technical quality. It's a structure of work that follows her first Butter Sessions record Water with a distinct narrative in mind, and produced to a wonderful and infectious degree. It feels like a club record but one very much with an introspective touch. With her Truancy Volume coming in at the tail end of a 'double drop' Australian and European summer, Jennifer is in high-spirits for the 70 minute mix duration, making good on her outlook of balanced energy and working her way up into a peak-time stretch of house-groovers and body-moving pumpers.
Hey Jennifer, how has your summer been? I hadn't realised you had made the decision to relocate to London this year. How was the move and how have you been settling in? "Hello! It's been an adjustment that's for sure. There was the physical move but also that compounded with the two years of being in a pretty strict lockdown. I kind of disassociated there for the first little while. London has been nice, but I can't say I feel settled yet. We've been travelling in Europe a bit, and London is just also such a vast and rich place, I feel like I haven't even scratched the surface yet."
Despite leaving Australia, I saw a nice quote from you describing the dance music scene as one transformed from one of structural destruction into one of togetherness, of hope and of imminent future growth. It looks like it's in good hands at the moment, right? "It absolutely is in amazing hands. The number of absolutely talented artists taking the wheel right now is aplenty! Australia has such a wealth of talented artists coming through, I feel those who have been paying attention the last five years already know this and again, it's only getting more abundant."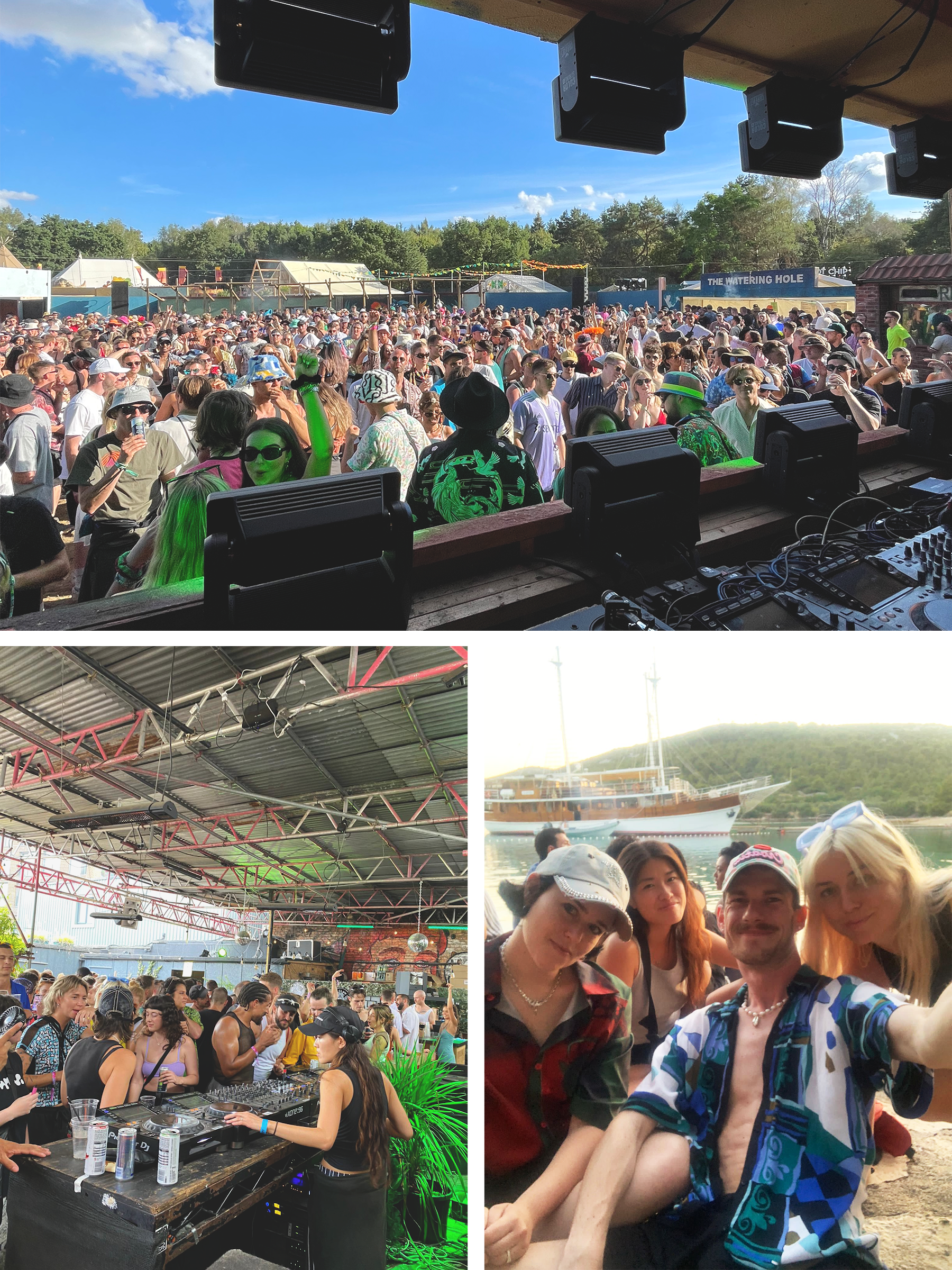 I saw you've been busy in London already, playing Body Movements, Night Tales a couple times as well as ticking off lots of other festivals and clubs around Europe with Lost Village and Panorama Bar potentially being highlights. Has it felt like a tour in a way or more just getting used to the shorter travel? I also heard you had a big Aus crew come down for Body Movements too, that must have felt great! "It's been nice, I'd say it doesn't feel like a tour so much as just settling in here. I've made the effort to stay a few extra days in every city that I play, just to get to know the environment a bit better. I feel it's important. It's not always possible of course, but when I can, it helps ground me and feel part of the city's fabric a bit. I did have quite a few friends drop in for Body Movements and my Pano set, and it did wonders for my mental wellbeing to be honest. Coming from Australia where you're quite used to having a few friends at every gig, and on that note, coming from Australia where I know most of the cities and venues pretty well, it's been a bit daunting to be out of that. Feeling that familiarity in and amongst the new was beautiful."
You've got your amazing second release on Butter Sessions called Around the World coming up this month but let's talk about your first one, the Water EP for a moment. You finished it during Covid times, yet you've talked about deriving its energy from memories pre-pandemic, of water and crashing oceans, whales/dolphins sweat, parties, friends and David Attenbourough. Were you at all worried that finishing it during lockdown, it might not have been the EP you wanted to create? Or were the ideas and feelings firmly in place for you to get your head down? "That actually that never crossed my mind! In many ways it was kind of a beacon of hope, a reminder that things have been good and surely would be again. In a way, I think it kept me mentally strong. I had a project through lockdown that kept my spirits up, kept the memories alive, and kept me excited."
What can you tell us about the themes for Around the World? I want to say the move might have been a big influence, but maybe there's more. I also want to say it feels like a perfect follow-up as the first release almost felt like a mini LP with the five tracks, and this follows suit with six tracks. Was there a lot you wanted to convey with these records? "Yeah, for sure Around the World is quite a literal sort of tribute to the places I've been, the things I've seen, the people I've met. The seed came from a conversation I recorded with my mother where she said the phrase 'it's around the world though' (title track). She was talking about music and how it could be accessed around the world. I started thinking about how the world feels smaller the more places I go and the more connections I make. The artwork by Maryos Syawish plays with that old flat earth argument, and I kind of liked bringing that back up, cause the more I think about it through the beauty and ugly of homogenisation, the world might as well be."
You've talked about in past interviews about being conscious of maintaining an emotional presence in your music, especially within a scene that can be very in your face with partying and hype. Why do you think that's been important to you? "I think it keeps existentialism at bay. Not to say that everything I make is sentimental or something, but I mean emotional presence, as in it can be that or also frivolous and searching for that ecstatic fun. I guess I want my music to be a destination or that transition from one genre to another. Or something that just perks up your ears. Obviously the point is subjective to the listener, but if it at least does that for me then I'm in a good place. It also satisfies that emo girl mood I've had my entire life."
Can you tell us about some of the formative years in terms of dancing in clubs and going out? You've talked about enjoying dancing and raving on your own in those times, as well as learning a lot about yourself. "Yeah, in my formative years, I didn't really go out with a large group of friends, I'd go by myself or with one other, and it was more of a go and not speak to anyone and just bliss out introspectively. I did a lot of thinking then and learnt a lot about myself and where I fit in in the world."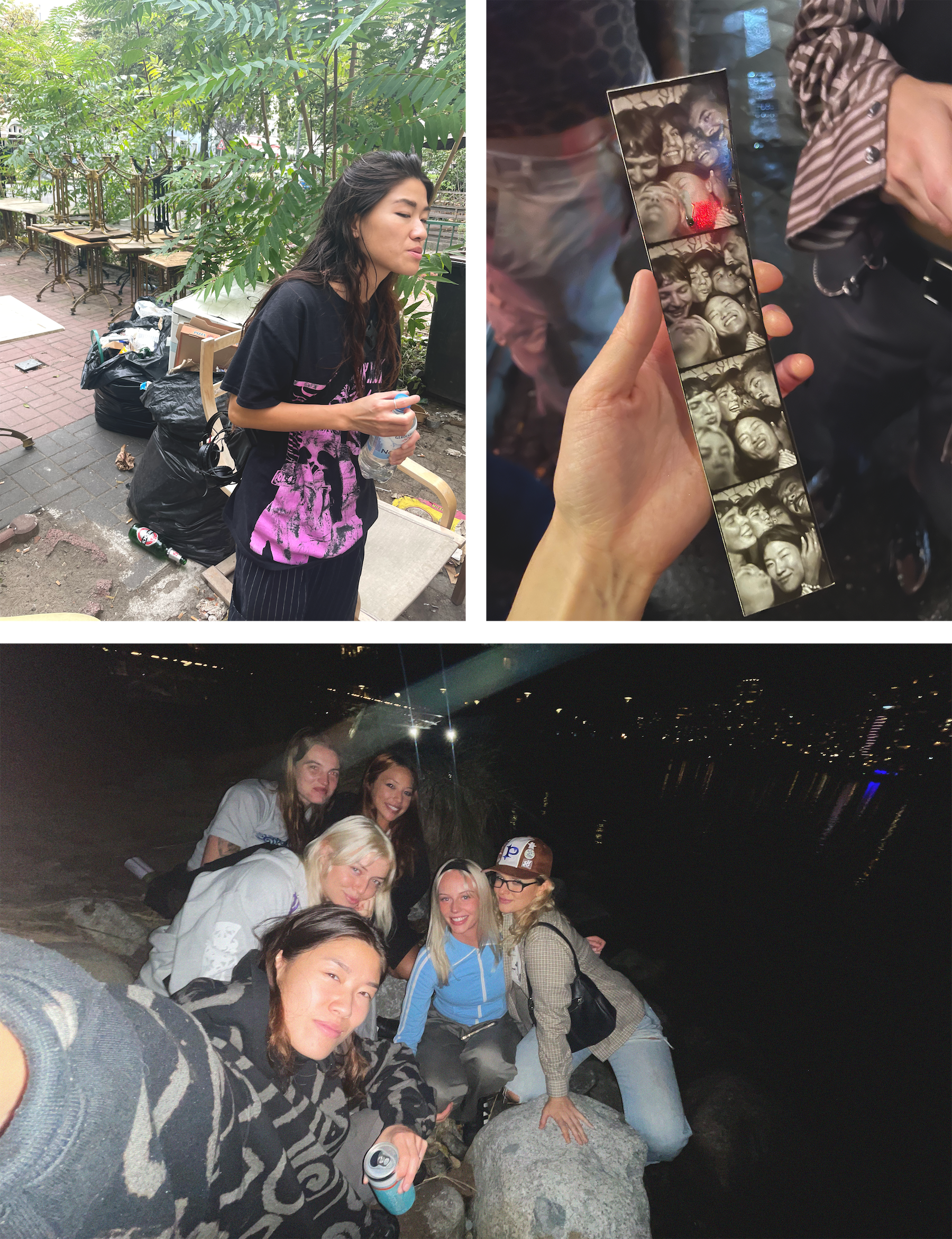 What can you tell us about your live set that you've been playing out the last few years? I read in an interview that you've purposely avoided getting a laptop involved for as long as possible. Is that for a more tactile approach? "They've been super fun! It feels natural to me. I guess it must be the years of performing as a kid. I avoid using a laptop in this setup because I really enjoy getting off the computer. Because of this, my live sets are kind of loose meandering improv sketches of songs that are out and songs that only get played in live form."
Can you tell us a little bit about how you approach DJing when playing out? I was listening to your Pitch Music & Arts Fest recording and loved hearing bits from Basement Jaxx, Joe, Thomas Bangalter, Angels of Love all scattered throughout. "I think balance is probably the word I would use. If I throw it really hard one way, I'll try to contrast it at some point later in the set. If I throw in something well known, I'm also using that to shine a light on the track after or before that might not be. If I get really happy, I like to get a bit nostalgic too. And yeah again the same with production, emotional presence is key, so I use that to guide me and use songs as tools to get there, if that means using just 30 seconds of a track than that's what I'll do. When deciding on what to play, there is usually a song or two that I'm really excited about that I'll anchor my whole set around."
I've been listening to a lot more full-length LPs lately, lots of ones I used to listen to when I first got into electronic music especially. Can you tell us about three albums that a) define you getting into electronic music, b) maybe a midway album when you were fully invested in DJing and and c) a recent album that you've especially enjoyed?
1. Forevernevermore /Silent Introduction – Moodymann
2. More Life – Drake
3. So Sweet – Regularfantasy (not an LP, but still!)
What sort of other hobbies or interests do you have outside of electronic music? Are there any books, films, art pieces or other things you've seen or been reading/watching that you might want to share? "Love getting to the ocean, going for an explore of what lives underneath. I used to scuba pre-lockdown, haven't done that in a minute but would love to get back into it. I also really love food, I love cooking it, I love watching documentaries about it, I love the culture of it, I even enjoyed my time as a server for quite some years… in another life I could imagine myself in hospitality. I'm currently reading Joan Didion 'A Year of Magical Thinking' – a friend lent to me in LA."
What can you tell us about the mix you've recorded for us? Was there a direction you decided you wanted to go for this when making and are there any particular tracks you want to shout out? "A few things informed this mix: my recent release, how I feel at the end of a double drop of summer (Aus and Europe)… like all of my online sets, I like to play with taking energy up and down and seeing how far I can end from where I started. I approached this set pretty similarly, except probably a bit more inspired off the back of my first Panorama Bar set – that never fully sending it, slightly psychedelic and journey unclear feel."
Last, usual question from us, what was the last thing to put a big smile on your face? "My partner :)"
Jennifer Loveless: Soundcloud, Instagram, Bandcamp
Jennifer Loveless – Around The World EP is out now on Butter Sessions
You can download Truancy Volume 296: Jennifer Loveless in 320 kbps by supporting Truants on Patreon here. Your support allows Truants to continue running as a non-profit and ad-free platform. Members will receive exclusive access to mixes, tracklists, and merchandise. We urge you to support the future of independent music journalism—a little goes a long way.