Four stand-out releases in two years is no mean feat but Montreal-based producer Maara has taken to releasing propulsive proggy delights and ethereal downtempo steppers of high quality with absolute ease. Following her debut EP Ultimate Reward on Priori and Ex-Terrestrial's label NAFF, she's dropped releases for Isla and Radiant Love plus, more recently, hypnotic, ritual-ready throbbers for X-Kalay. Currently on tour in Europe for first time with another Australian tour later in the year, she's answered the call for a mix and interview at just the right time. We caught up with Maara to discuss her rapid ascent these last two years, her former relationship with hip-hop, the exposure of creativity and inspiration in Montreal and how she's challenging herself to embrace both improvisation and imperfection. Her Truancy Volume is a packed club mix perfect for these long summer nights, complete with emotive breakdowns and arms-in-the-air riffs that capture those hazy, afterhours pumper-territory festival sets to a tee. With a lot of the mix made up unreleased music by friends, the energetic pace keeps up for the full hour, supplying the finest blends of deep-seated house, trance and prog.
Hey Maara, massive thanks again for doing this mix for us and taking out time to answer some questions! How have you been? From the outside, the last year-and-a-bit seems to have been an amazing one for you: debut release on NAFF followed by three more records, a string of super well-received mixes and an upcoming tour. How have you been taking it all in? "Thanks so much for having me! It's been a super exciting time and quite transitional for me. I never really DJed before the pandemic (other than mixing occasionally on a radio show with my good friend Lis Dalton), so I never got the opportunity to gain experience in front of crowds. Fast-forward to this year, I'm doing two international tours — Europe this summer and later this year in Australia — which is incredibly exciting and I'm deeply grateful for the chance to play in all these different places. I've dedicated a lot of time this year solely to DJing and practicing mixing in my living room. I've had to do a lot of learning as I go and I'm really excited to prove myself as a strong DJ and not just a producer."
You've talked about hip-hop a lot in your past interviews in term of influences. Were there any hip-hop productions, producers or beats that that kind of formed what you were making? "Kelela's mixtape Cut 4 Me absolutely blew my mind — I remember being 16 years old in high school listening to it when it first came out. The production and the producers she chose to collaborate with as well as the experimental energy of that project really excited me. I still listen back to that mixtape all the time and it's so so good and still sounds fresh and relevant. It's all these electronic tracks with hip-hop energy, with crazy sampling, crazy vocals. I think I definitely carried that aesthetic forward with me. I love the track 'Enemy' (prod. by Nguzunguzu) so much. Love so many tracks on there."
Can you tell us a little bit about the bridge into Maara? I feel like your first release obviously took a direction into more techno and proggy house territory but tracks like 'Dungeon Babez' or 'Plum Paradise' on your Radiant Love release showed you're still quite comfortable working at 90bpm with a slightly different angle. Do you think those five years as Massie Dome helped in contributing everything you want to make now as Maara? "For sure, everything is practice and the years of producing both hip-hop/more experimental music have shaped me into the producer I am today. I think being curious about abstraction has helped me be less rigid with my genres. There are certain song structuring principles I used while making my vocal music that I still apply to my dance tracks. I also think even having an aesthetic appreciation for different sounds and spending time working within different frames of music always refreshes your practice and gives you this ability to switch between mindsets and bring new ideas together."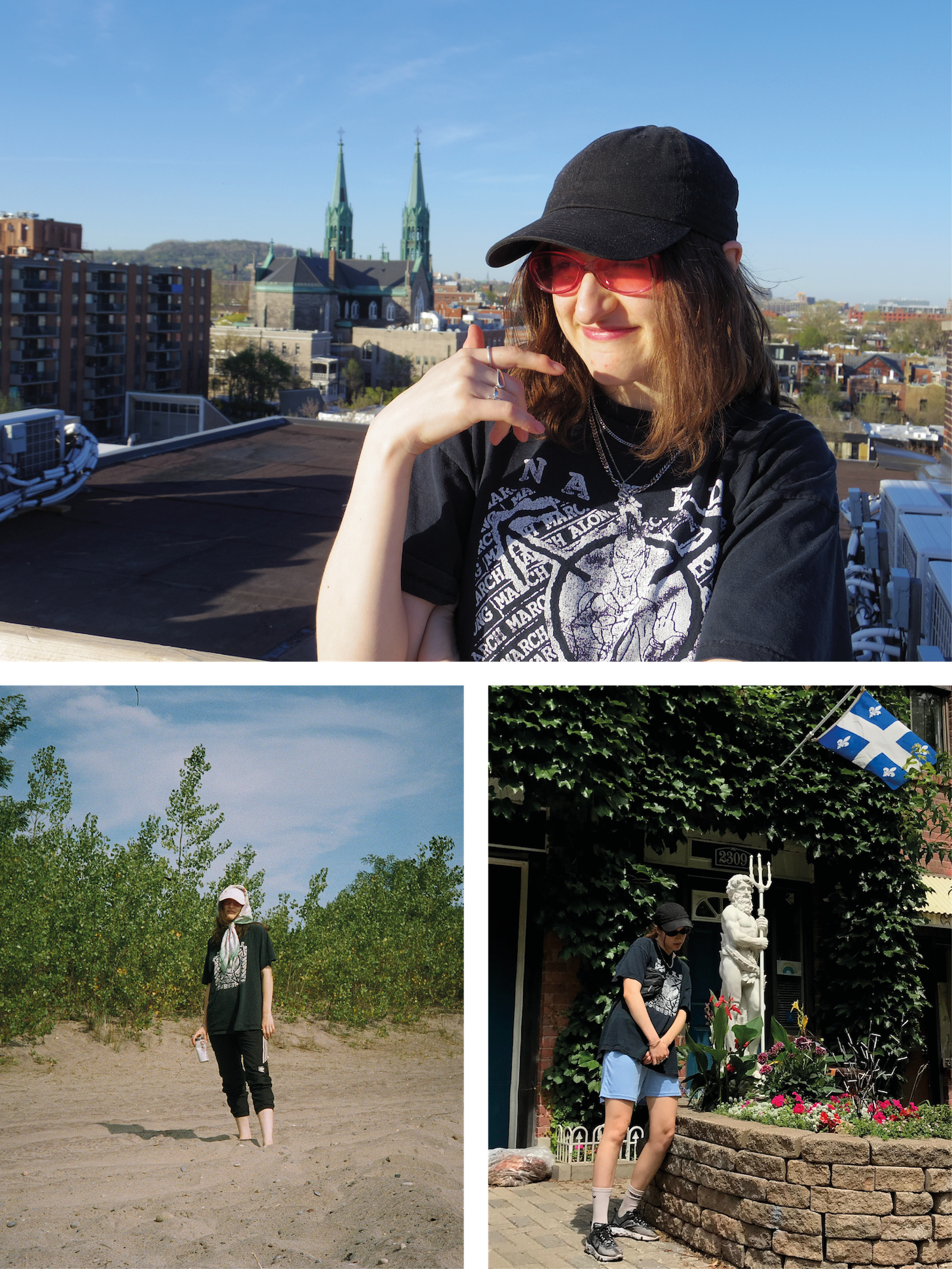 How easy does production come to you now? With three, soon to be four releases since last year, are you someone who is able to get in the zone quite quickly and regularly? A lot of your mixes are filled with unreleased music too. I spotted the Waldorf and Roland racks in a picture, as well an assortment of other gear and was wondering how streamlined your process is these days? "Yes, I make music quite consistently. I consider it a daily practice. It's easy for me to focus on making music, and I let it take up a lot of time and space in my life. I end up making most of my music on the computer but I sample my gear from time to time. I mostly end up recording bits from the electric EMX1, ER-1, EA-1. That being said I'm always looking to do things differently and learn from my friends who have different skillsets and whose music is hardware-based. Maybe one day I'll make most of my music on gear…who knows!"
You've cited the prevalence of electronic music in Montreal also being really influential in terms of your directionality. Can you tell us a bit about that too? Have there been some key parties or fellow producers that have taken you under their wing at all? You've been making some music with Priori too, right? "Yes! Lis Dalton who is an incredible DJ and good friend of mine really exposed me to a lot of underground dance music and people in the Montreal scene. I ended up meeting a lot of producers through her, like Francis (Priori) and Sophie (D. Tiff, when she lived in Montreal). I think having that exposure and just being around other artists who were producing exciting dance music expanded me a lot creatively. I felt especially inspired being around female energy. I had been producing music for a while and all of a sudden everyone I was around was either a DJ or a dance music producer, and that definitely made me curious about the things I could make within the genre. I found it difficult to make hip-hop music in Montreal as an anglophone, and to meet other like-minded people in the field — especially other queer women. Yes, Francis and I have been making some music! Plans are always changing but I'm excited to get to share some of our tracks soon."
I've never been to Canada before but you've stated in a past interview that Montreal has a very laid-back, European feel to it? I feel Canada has these amazing producers working within the lines of ambient and electronic excursions that just feels so unique sometimes. What's in the air/water? "I think Canada and Montreal are pretty small, especially with regard to the dance music scene which feels closely-knit. I think proximity, shared values, and a sense of community allow for a lot of creativity and inspiration. There is a ripple effect happening creatively that is easy to sustain collectively. I'm still not entirely sure how to answer this question and it's something I think about often: why do certain communities give rise to a particular sound or artistic movement? I think it's also a combination of sociopolitical and cultural factors coming into play within an environment and its historical context. Rent is relatively cheap in Montreal and it's arguably easier to sustain a creative practice here full-time than it is in any other Canadian city with a vibrant arts scene, such as Toronto or Vancouver."
I've been listening to a lot more full length LPs lately, lots of ones I used to listen to when I first got into electronic music especially. Can you tell us about three albums that a) define you getting into electronic music, b) maybe a midway album when you were fully invested in DJing and and c) a recent album that you've especially enjoyed? "1. Freaky Chakra, Lowdown Motivator: I remember randomly picking up this record at a Berlin record store in 2019, and hearing 'Tra Vinge' and 'Halucifuge (Blind Dive)' for the first time. I was like what on Earth is this!? This trippy, dark and seductive, otherworldly party-oriented music that has this abstract essence but works on the dancefloor so well… I think it's one of the first dance records I heard that really made me excited about dance music. Really inspired by them and love their music. Rest in peace Freaky Chakra <3<3. Around this time I also remember hearing I Believe's Outside Time on Sonidos Isla (Daniel Rincon's label). I think it's a brilliant release that encapsulates everything I love about dancefloor tracks: evil, trippy, dark, seductive, pull-you-in-type music. I'm into more than just trippy music, but I think these records really resonated with me as I was first getting into the genre.
"2. Get F**ked's Dot To Dot: I guess you could say this is a midway album but I absolutely love this progressive, dark, driving tip. Their music embodies hot tech house with a fun twist.
"3. Ambien Baby's Mindkiss. I absolutely loved this record and Ambien Baby's other works. Blessed to call them my friends. And for full-length LPs I really enjoyed Roza & D. Tiff's new LP on Delicate Records, Edge of Innocence, especially the song 'Possession'. Also a big fan of theTerra Utopia by Terra Utopia release by Benoit B."
How are your USB playlists arranged when it comes to prepping and playing live? Is there a regularity to your sets at all or are you pretty random from gig to gig? "I'm still working this one out! Right now I have things organized mostly by energy/genre/time, e.g.: pumpers, peak, rhythmic, electro, bangers, warmer, enders. I pick out music prior depending on the event/time of the set/venue I'll be playing. I very recently started using Rekordbox for the first time and learned that I can make playlists within it, which was a relief. I decide on the first two or three tracks and the rest is freestyled. I think I'm learning to play better and better like this. Just practicing good track combos, knowing my tracks — whether they sustain the energy, bring it up or change it — and having control over the flow and direction of my set has been key."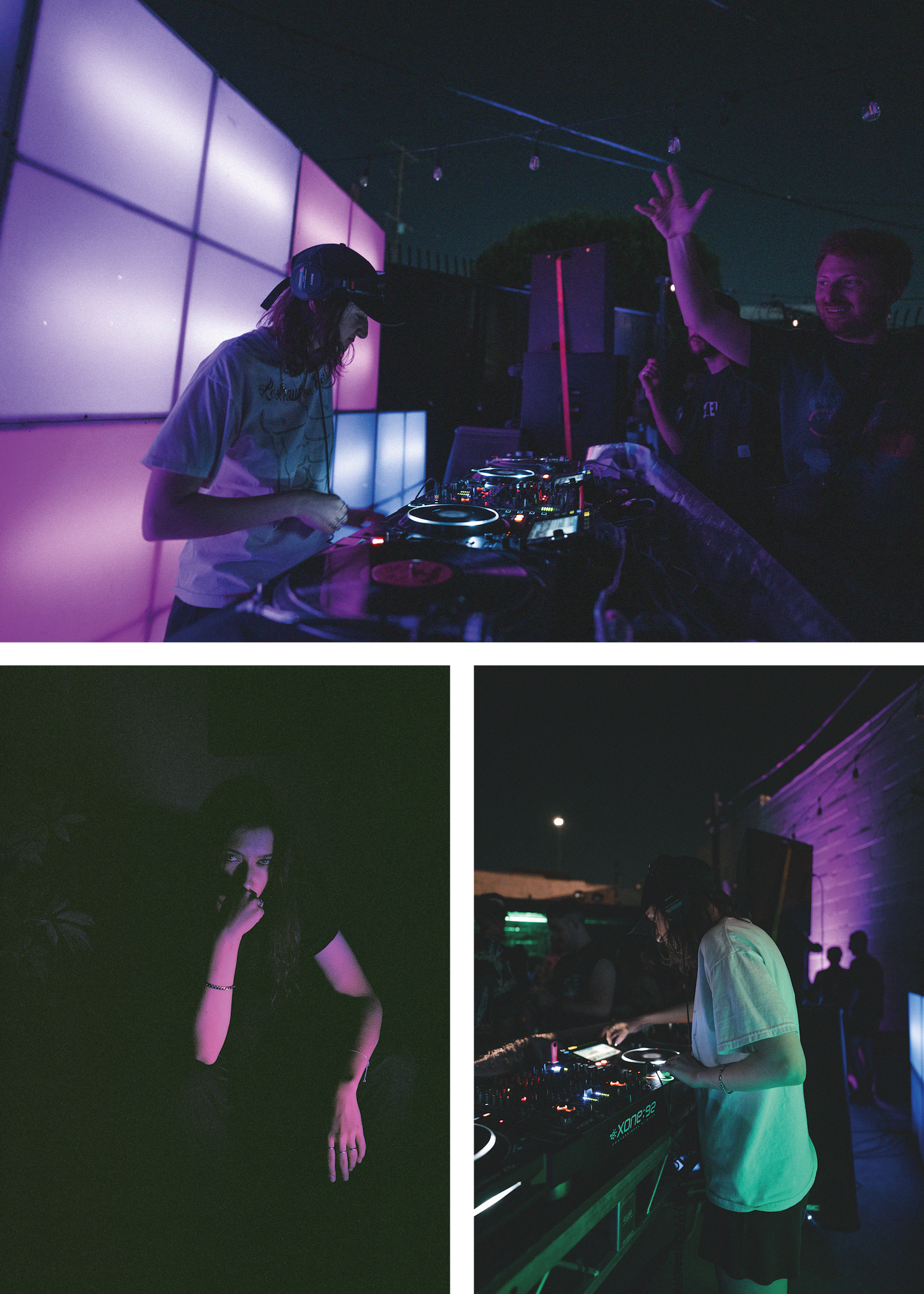 What sort of other hobbies or interests do you have outside of electronic music? Are there any books, films, art pieces or other things you've seen or been reading/watching that you might want to share? "I like going to the gym and running/working out. My favorite movie that I've seen recently is Tinker Tailor Soldier Spy. Not so new but really good if you're into spy movies. TV wise, I was really into Killing Eve this past year. Other than that I hang out with my friends and partner, go to parks, relax, and make yummy tacos from time to time."
You've got your first European tour kicking off this weekend with stops in places such as London, Kosovo, Copenhagen and Berlin to name just a few. What you got in store for the people of Europe? Are the playlists and the freshly-made productions ready? "Bangerz.. Haha yes lots of friends' music and my own music/some of my dancefloor favorites, fun ravey stuff, electro, proggy, rhythmic, driving stuff. I want to play a wide variety of genres, but keep it cohesive. That's important to me. I have the most fun when I get to play all over."
So what can you tell us about the mix you've recorded for us? Was there any direction you decided you wanted to go for this when making and are there any particular tracks you want to shout out? "I wanted this mix to encapsulate a live energy and include some of my dancefloor favorites. While the first part of the mix is chill, after 20 mins I start to focus on more stuff I like to play out. I'm challenging myself to embrace both improvisation and imperfection, and stray away from making super formulaic mixes. I hope it's still a blast to listen to! I've included lots of forthcoming music from friends that I really really love."
Last casual question for us, what puts a big smile on your face? "Hanging out with my friends, DMing Ben Klock, and discussing 'horse energy'."
Maara: Soundcloud, Instagram, Bandcamp
You can download Truancy Volume 295: Maara in 320 kbps by supporting Truants on Patreon here. Your support allows Truants to continue running as a non-profit and ad-free platform. Members will receive exclusive access to mixes, tracklists, and merchandise. We urge you to support the future of independent music journalism—a little goes a long way.