Over the past few years, Civilistjävel! has released a series of magical records. Each 12" has featured a collection of untitled tracks that sit somewhere along a spectrum of ambient smudge. Sounds vary, with dank drones and shocking darts hinting at musique concrète and strange soundtrack or library music. Occasional forays into lumpy techno and muted bleeps feel like abstract takes on the clubbing experience, strange sounds caught between cloakrooms and flotation tanks. Having self-released up until now (working with London's Low Company), the artist's latest record is the inaugural release for Perko's new FELT label. Another first is that this release comes with a title: Järnnätter , meaning Iron Nights in Swedish. Reportedly "a Swedish expression for long nights of frost that damage plants", Järnnätter offers appropriately gnarly 'scapes, at turns lurching unsteadily, whispering with malicious intent or throbbing with an unseen yet palpable menace. We caught up with the artist to ask a few questions about his intentions, his history and his inspirations.
Where do you get your energy from? Both in music and life. "Let me paint a picture from recently. Several days of snow storm in February. When it's over the temperature drops, the sky is blue and the whole world is just white, glittering meringue. Days like that are the best for good energy. Basically I just like to spend time in my house on the High Coast of Sweden. When not doing that I get much joy from finding cheap musical gear that few care about but still makes interesting sound."
Google translate says that Civilistjävel! means "civilian bastard". How accurate is that? "That is fairly accurate. I got the idea for the name after watching the movie Ådalen 31 by Bo Widerberg. It is about the 1931 strike and subsequent shooting of workers by the Swedish military in Ådalen, which is also the part of Sweden where I'm from. At a point in the movie Civilistjävel! is used as invective by the military."
What percentage of your released work is from the archives vs new material? Or is that part of the mystery? "There has not been any conscious decision to be very mysterious about this. The first two records are entirely made up of relatively untouched archival material from 1995-2001. The third one is about 50% new material from the last five years and the rest from the '90s. 4-5, which was released last year, is mostly made up of material recorded between 1999-2002, even though much of it has been processed in different ways. I noticed many just regarding claims of it being old recordings as some sort of marketing ploy, so I've kind of just given up on doing any more of those official release-related statements regarding when the music was made. Anyway, Järnnätter was recorded during lockdown in 2020, but one track on it is actually the oldest recording I've released so far. There, now you have a mystery to solve."
How did you first connect with Low Company? "I was doing some work for Blackest Ever Black and just sent Kiran (who ran both LC and BEB) some stuff from my archive, which I had just started to transfer from tape. They were very excited about it and wanted to see it released." And what led to working with Fergus/Perko and FELT? "He contacted me on Instagram and asked if I had any music he could release. I always say yes, so eventually just sent him the finished album."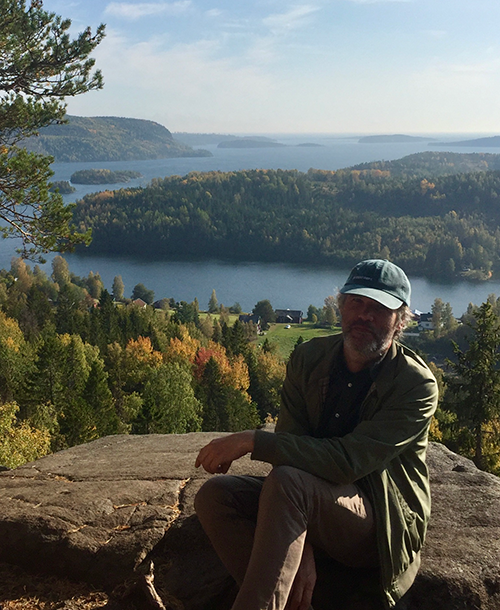 I believe Järnnätter will the first of your releases to be available digitally. How conscious a choice has that been? "I really have nothing against digital releases, but am not a fan of streaming services. Music is about community and connecting with people and I believe algorithms simply are not good at this, or conducive to a healthy music community. If someone writes me because they cannot find the music, I always just send them the files."
You're playing a launch party at a barbershop in Uppsala – what made you pick that venue? "I had a standing invitation from my hairdresser to do some kind of event there and this release seemed like a good time to take him up on that."
Without giving too much away, I believe you often work in music "behind the scenes", i.e. in things like mastering and producing for other artists. How different is your approach there to what you do with Civilistjävel!? "That is right, I have done quite a bit of especially mastering for others. A little less recently since I started working full time for a company where I'm also working with sound, but in a totally different way. I think the biggest difference in doing my own stuff is that I don't care that much if it sounds good, at least in any traditional way. It's more about finding some kind of emotion and interesting texture in the sound than for example doing a great-sounding mix. Most of my music is also recorded live straight to a single stereo track which is really not how a professional electronic music project is usually done."
Järnnätter by Civilistjävel! is out on April 29, Buy here.
Photos courtesy of the artist.