The common thread running through DJ Plead's career is tough, functional, percussive music, drawing on the rhythms and timbres of his Lebanese heritage for a sound that's deeply personal yet one that can quickly alight a dance floor. It's this genre-busting flair of club experiments, nurtured and supported by a crew of like-minded producers based out of Sydney and Melbourne, that has led to much of his success. With releases on the likes of Nervous Horizon, Decisions, Livity Sound and AD93 all in the last few years, his strikingly original productions have found many admirers, and it's very easy to see why. We caught up with Jarred to talk about his upcoming European Spring Tour, how his mesmerising, ambient-inspired Relentless Trills release came about, his big bag of Lebanese cassettes and how he's been incorporating more melodies and harmonies into his productions over the last couple years. His Truancy Volume is a rhythmic slow-burner, rippling through like a low-slung techno mix but with all the percussive elements and complex syncopation that has made him such a innovative figure when it comes to global club culture and embracing your roots.
Hey Jarred, thanks for taking out the time to answer these questions! I'm glad we finally managed to get around to getting this mix out in the end! So just to start, can you tell us what's been happening with you the last month? "I'm so glad this has finally happened too! The last month I've been hanging out with my family, and spending lots of time indoors. It has been raining (and flooding) quite heavily and consistently in this part of Australia for what seems like forever, so I've used that as an excuse to stay home more."
I had a little peep at the listings for your European Spring Tour coming up and you've got quite the number of spots to play from the 29th April. Are you excited? Being based in Sydney (I think at the moment), what's the planning like before going on such an extensive tour. Have you got tour life locked down from the previous ones now? "Yeah! I am excited and a little bit nervous of course. The last time I was in Europe feels like a lifetime ago. I don't think I properly experienced 'tour life' last time I was in Europe. In terms of bookings, things were just warming up for me then. This time around feels a little different. Because I'm only there for a few months, it feels more focused. My planning currently involves making playlists and listening to music, trying to make as many DJ tools as I possibly can and booking trains. God that sounds so boring, and I guess it is."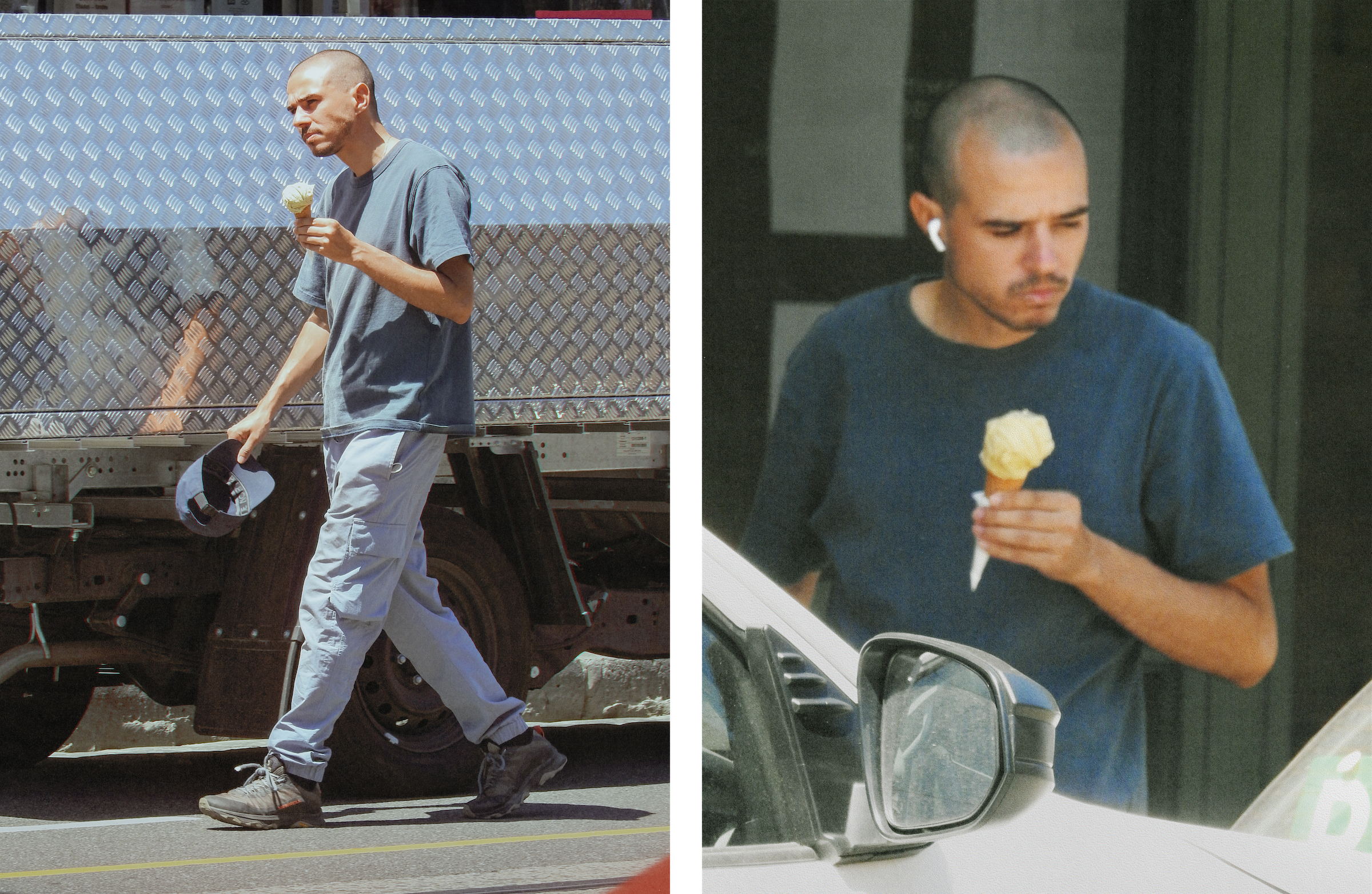 I wanted to talk about Relentless Trills for a moment as it's the last full length release you put out and I really loved everything about it, be it the artwork on both the tape and 12", and the music itself – RT3 and RT6 being my faves. Can you tell us a little bit about how the release came about and how it found a home on the Boomkat Documenting Sound Editions? I was reading that the release had meant to originally be a full ambient release, but that you 'caved in' by adding some drums on some of the tracks in the end. "Thank you Riccardo! The release came about all thanks to Shlom and the Boomkat team. I'd just arrived back to Sydney during the initial COVID lockdown and I received an email from Shlom asking if I'd like to be involved with the Documenting Sound tape series. Basically he had said I can do whatever I want to fill a tape. It could be a mix, or field recordings etc. I assumed at first that it would only exist on the tape and not be available as digitals. Even though this didn't end up being true, it gave me a freedom I hadn't really experienced before where I just didn't care much about the detail and just kind of printed out the tracks. I played the keys sometimes for a 20 minute chunk and then copped out the bits I didn't like and stuck the rest together. It was a really different approach to making dance music. I think I'm confused about what the definition of ambient music is, but yeah, I wanted to make a completely ambient (drum-less) tape. Ultimately, I think that Relentless Trills serves it's ambient function. Its background music."
How long had you had the Yamaha keyboard for? Had you sourced it out as you had an idea for the release or has it been in the collection for a while? Is your setup quite minimal in this aspect? "I've had the keyboard for a long time. In fact, a lot of my drums are sampled from it, which I've used right from the beginning until now. It was my only piece of non-laptop equipment, so I'd occasionally get it out and play some riffs on it, resample some things. It felt like the perfect constraint for the Boomkat tape. Recently, I upgraded and bought a Korg pa700OR keyboard that is also an 'Oriental' version of a low-mid range arranger keyboard. It's got some great sounds and rhythms on there that I'll hopefully get around to using at some point."
You've talked about in past interviews how you're usually quite worried about melodic elements dampening any kind of rhythmic momentum when it comes to your productions as you'll usually work from drums up. Do you think that's still the case after this release? What has studio time looked like the last year? "This is true! I think that's why in the past most of my melodic content was heavy staccato. I've managed to get over this fear a little bit in the last few years. I think the Boomkat release has ejected me from the drum orbit a little bit, for better or for worse. I've spent some time in the last two years dabbling in making R&B music in the studio with Sydney artists Setwun and Utility. That has been a great experience and has helped me think about melody and harmony more. My upcoming record will feature a lot more melodic material. I sometimes worry that I've lost the knack for being able to make simple, effective, DJ tools. I'm trying to jump back into that headspace now. "
What's sample-sourcing like for you? I noticed a pirated Now Arabic 2004 CD in the car stereo in one of your Insta posts. I don't know about you but when I realised I could look through all my mum's old Latino CDs for sampling it kind of opened up a world to my heritage that I'd maybe taken for granted growing up. "Yes, that is a wonderful compilation. It's the only CD in my mums car to this day for some reason. It also contains the original song by Ruby that I've sampled. These types of CDs and cassettes had a pretty big influence on me growing up. Before YouTube, they felt quite rare and valuable. I have a big bag of Lebanese cassettes that I've always wanted to properly sample but it's always felt like too much effort, whoops! I'm so used to just ripping things off youtube. Sample sourcing is something I haven't done too much recently. I just have a private youtube playlist and if something comes on that has a little snippet that I might like to sample I'll just whack it in there. It's been so long since I've pulled something out of there to sample though. I'd love to get back into the habit of starting off a track by just producing around the intro to a RnB song or something and then removing the sample later on."
How have the collaborations come along the last few years? In an interview in 2019 you stated you wanted to work with as many producers as possible and it seems you're slowly achieving that – the Anunaku record, the recent tracks with Phillip Jondo on Dekmantel, as well as Copy Envy, 8ULENTINA, Logic1000. What's been your approach with all of these? What have you felt you've got out of each process? "Yeah I'm clocking up lots of collaborations these days! Each collaboration has almost a completely different flavour. My collaborations with Big Ever (fka Cop Envy) are a lot of fun, and really educational for me. I've learned so much from him over the years – big up Big Ever, for ever!
The collaboration with Anunaku was remarkably quick. We blitzed that. I'm hoping in the next few months we get some hours together sitting side by side and get to vomit out another record! My approach with most of the collaborations is to generally not try and come in with any ideas or results that I want to achieve. At least I'll try not to express them if I have them deep down. I guess generally to remain quite passive and to just see what happens. Not all collaborations work. Maybe you just get together in the studio and listen to music and don't make any.
Despite all collaborations feeling really different to me, they have all made me want to go home and make music. I think it's an essential motivator for me. If I were to just try and bang out music by myself the whole time I'd just slowly lose interest or my music would become unlistenable."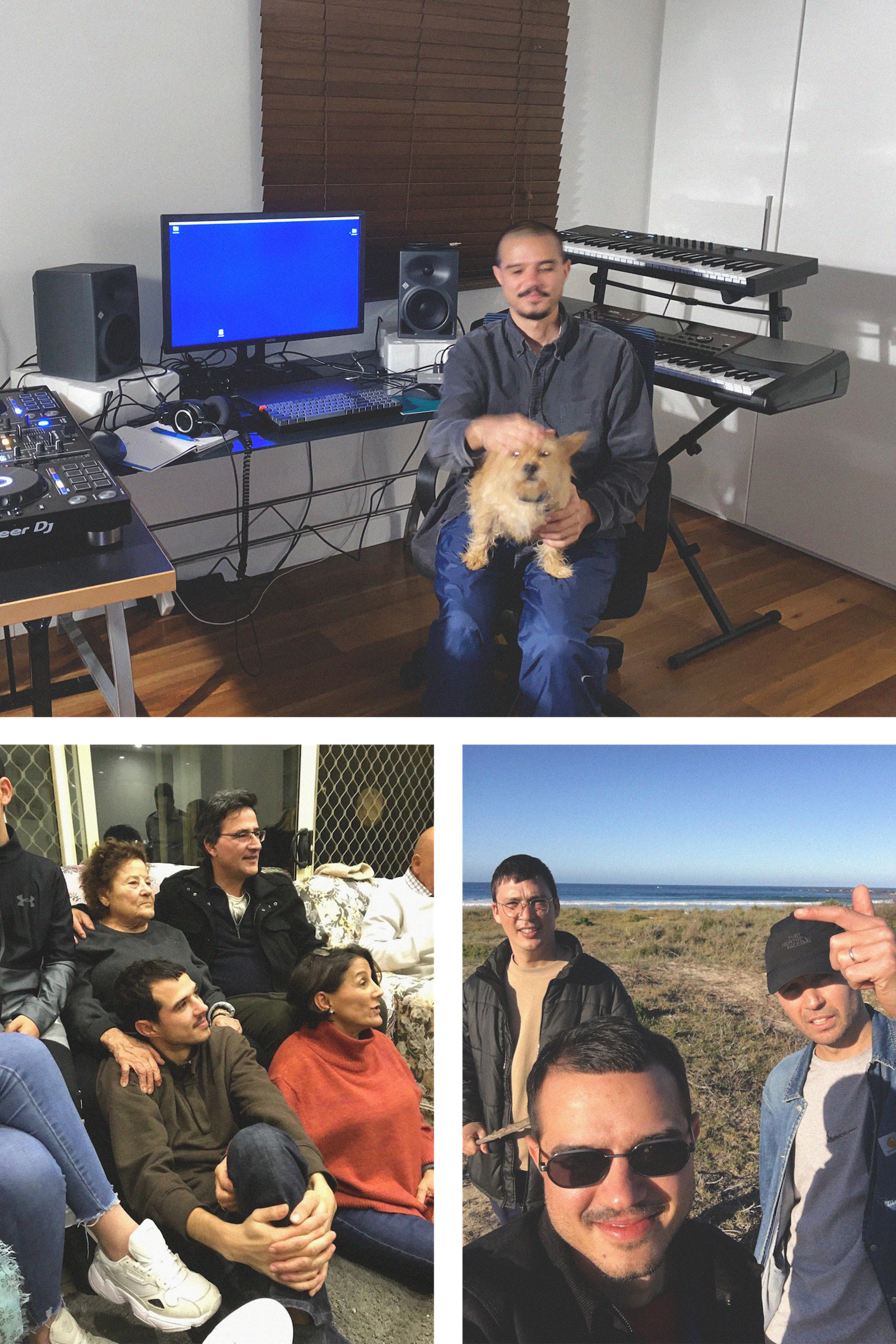 There was that Dr Dre flip with Alaa Fifty on vocals you did a while back. How did that come about? Think Ploy opened with the instrumental on his Cav Empt Cassete mix. I imagine you made with vocals in mind however? Has that been something you've thought about more and more with your productions, especially with the space that's often in your mix? "I made that tune originally with no intention for vocals. It was just something that I wanted to do to see if it worked. I somehow knew that the little synth lick would sound great if I gave it that arab touch. The original instrumental I made was just floating around for ages. I'd play it out a lot. Some friends would play it as well. Phil Batteikh was making Cairo Concepts, a compilation of music that drew inspiration from the Cairo music scene. From memory, he just asked to have that instrumental to try and get Alaa Fifty on it. It was a dream when it actually happened, because I'm a big fan of Fifty's. I think he really nailed that tune and I'm really proud of it. I've got this hope that it will someday just go viral in Egypt.
My introduction to producing dance music was always with vocals in mind. I started off with my 'band' BV where we would produce instrumentals together for Marcus Whale and Cassius Select to vocalise on, live. So I guess that's possibly why a lot of my tracks have that kind of space in them. It's how I learned to produce music and I'm really grateful for that. In the last two years I've been making some RnB music with Utility and Setwun which has been great. That definitely has the clear cut goal of having vocalists on the tunes."
I noticed you recorded a mix of all Mawaal music for Movements Radio last week. For anyone not familiar with the genre, what can you tell us about it, along with what you recorded? Do you have two tracks you'd recommend to someone if they were interested in learning more. I noticed in another interview you mention your grandma Ibtihaj, is that her in the Insta post? Have you played her your mixes? "I've had this idea for a mix for a long time. It was my original idea for the Boomkat tape actually. Mawwal is a very sentimental style of Arabic music. It's often beatless and contains lush instrumentation and soaring, emotional vocals. Sometimes the introduction to a song is in Mawwal style.
Here is one: Fairuz – Mawal Enta Ou Ana (Live)
And another one: Asala Yousef – Mawal Taali
Yes, that is my grandma in my Insta post. She recently survived COVID at 96 years old. I don't really show her any of my music or mixes. Probably because I'm scared she'd give me a lecture about finding a proper career. This Mawwal mix might actually be the thing to show her. She'd certainly be vibing on the Fairuz songs in there. Love you Néné xx"
Can you tell us a little bit about how you, Jon Watts and T.Morimoto all met and at what point did you all decide to start the label Sumac? You've talked in past interviews about how you all coaxed each other out of your own shells in terms of productions, was Sumac an extension of that you feel? "We met more than a decade ago probably and all through the Sydney music scene. Tom and I lived together a few times and make music together, as Poison. We all moved to the same suburb of Melbourne together at a similar time and were just constantly in each others houses. Sumac was created as a way to release our own music and eventually music by our close friends. It certainly did help us to get out of our shells. Jon and Tom have an excellent instinct for what sounds good and we all really trust each others opinions, so I feel really secure about sending them music."
The reception for the Logic1000 releases must have felt nice. To see someone you've put on, who you're also really good friends with and have it be this huge EP. "We definitely helped coax Samantha out of her shell! She took a little convincing to allow us to release these tunes that had just lived as unfinished sketches for a long time. It was really a huge moment for everyone when that record blew up, especially because we're all so close. I look back on that time fondly. I'm really proud of the way her and Tom (Big Ever) have handled her sudden rise to success. They're an incredible team."
One of the reasons our crew bonded so early on was our love for R&B and rap. It's quite well documented in past interviews your own long standing love for the genres, I was wondering if you could hit us with three of your favourite tracks. "Yep, I love it. I would say its one of my biggest influences.
It's so difficult to narrow it down to favourites. I'll just share tracks that are impossible to get old for me.
Mario Winans – I Don't Wanna Know (ft. Enya & P. Diddy)
Ginuwine – Final Warning (feat. Aaliyah)
You're performing live (for the first time?) at Mutek Montreal in August. Can you tell us about the preparation that's gone into that? Are we getting Relentless Trill Plead or staccato, percussive club Plead? Or even both! "Originally I was going to lug over this big Korg arranger keyboard but I think I'll need to make the live set-up a little bit more compact. I haven't prepared too much for this yet (oh god) but I'll start very soon! I think I want it to be a bit more on the Relentless Trills. Deep, Hypnotic, Trill."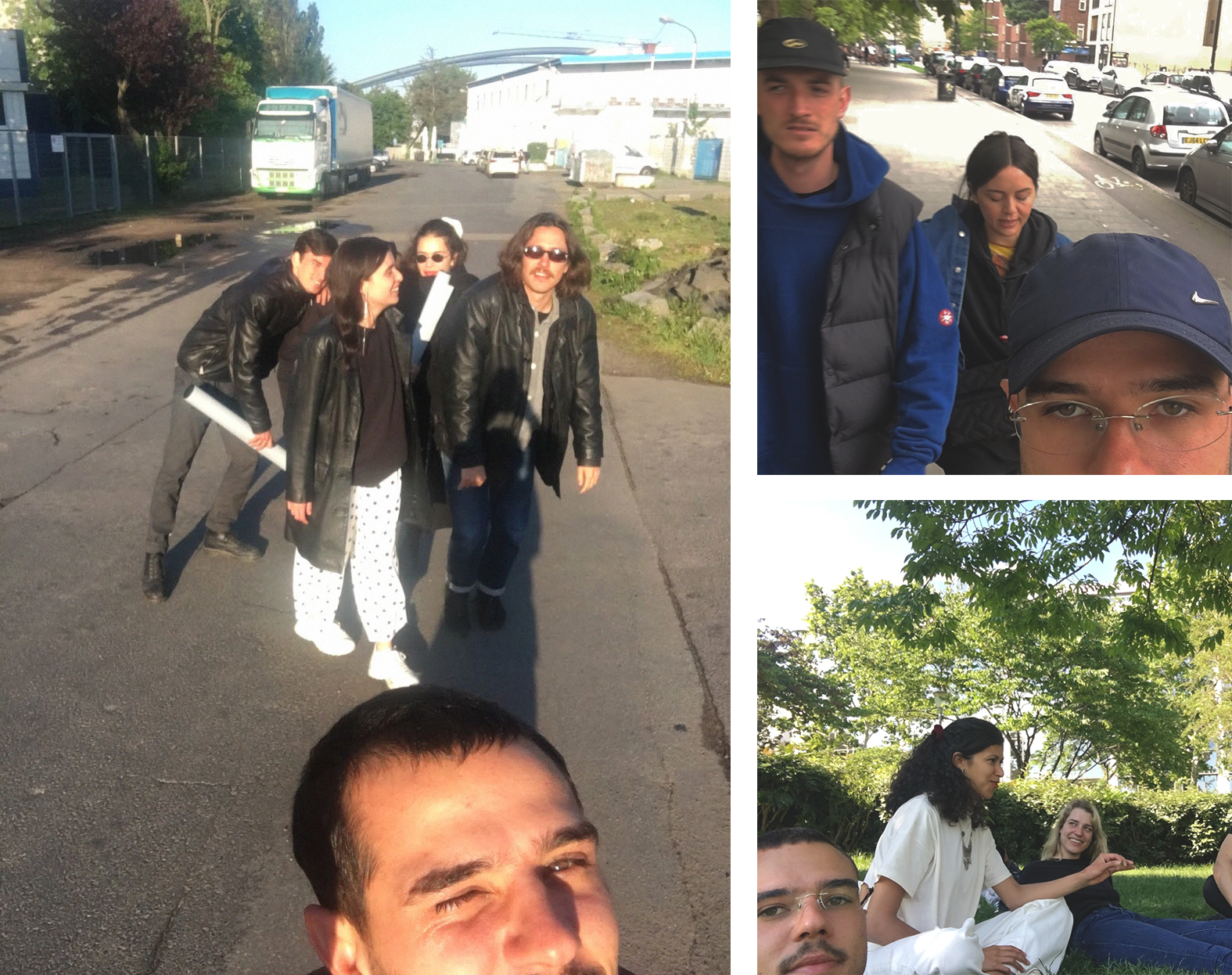 What sort of other hobbies or interests do you have outside of electronic music and your work as illustrator? Are there any books, films, art pieces or other things you've seen or been reading/watching over the year that might have inspired you that you might want to share? "I'm really into racquet sports. I play squash and tennis quite a lot and I follow the tennis religiously at the moment. My main artistic output a few years back was taking pictures; creating images. My old friend and image-mentor Jacob Ring (who took some of these latest press pics of me) recently encouraged me to get back into it over the lockdown period last year. I jumped back in for a bit but it pretty quickly, the motivation faded away again. I find that when I have spare time now it goes into music, which is a bit of a shame. I'd like to mix things up a little. It would be great to dedicate more time to different / new hobbies.
This will come across as incredibly biased, but an inspiration piece of art is this piece Waking Life: The Dreamwork Model by Tom smith (Sumac). It's a beautiful and haunting bit of Sci-Fi."
So what can you tell us about the mix you've recorded for us? Was there any theme you decided you wanted to go for this when making? Are there any particular tracks or producers you want to shout out? "It starts a bit slow and ends a bit fast. This is the first dance-music-tempo mix I've done in a bit. I feel like I've been gravitating more towards slower tunes the last two years but I've pushed myself with this one to pick up the pace. Shout out to Big Ever with two tunes in this mix. The opening track is by Fake (Cassius Select). Hopefully that one coming out on Sumac at some point this year. And final shout out to the mysterious Cow Man (?)."
What plans do you have for summer and the remainder of 2022? "I head off in just over 2 weeks to Europe for the summer. DJ at some cool and fun events and spend as much time as I can with Tom (Big Ever) and Sam (Logic1000) who have recently given birth to my goddaughter, Genie. Thats the priority!"
Last usual question for us, what was the last thing to put a big smile on both your faces and when was the last time you properly danced "Last time was a few months ago when the world's best DJ, Ben Fester, played at Pavlova Bar in Sydney." 
DJ Plead: Soundcloud, Instagram, Twitter, Bandcamp
Photos 1, 2 and 3 by Jacob Ring
You can download Truancy Volume 292: DJ Plead in 320 kbps and view the full tracklist by supporting Truants on Patreon here. Your support allows Truants to continue running as a non-profit and ad-free platform. Members will receive exclusive access to mixes, tracklistings, and merchandise. We urge you to support the future of independent music journalism – a little support would go a long way.