Named after the Latin word for the ash genus, Fraxinus is a vehicle for the weighty techno of Devon-born, Netherlands-based DJ, producer and composer Cameron Leaf. Originally making a name for himself as part of the Her Records crew, he debuted with the All Ends 12" in 2014. Compilation contributions for Her Records and Astral Plane Recordings would follow, along with a remix for M.E.S.H. which marked the start of what would turn out to be a four-year hiatus. Even still, his high-impact tracks made their mark, with cuts like "Stone Drums" regularly appearing in sets and edits across the scene.
Now re-emerging from what he refers to as "temporary suspension", Fraxinus returns to continue his work in kind. He recently announced his new label Powerplant and inaugurated it with Position [Displacement], the first of a slew of digital and vinyl EP drops en route. Here he builds on his foundations, packing grumbled arpeggios, grime cadences, ravey loops and of course percussive onslaughts into cavernous techno structures. It's a jubilant occasion, toasted with a mighty behemoth of a Truancy Volume mix: 80 minutes of dizzying drums, peak-time techno, jungle submergence and oceanic respite. He catches us up in-depth on the experience of biding his time in the interview below, and says of the mix: "Recorded live in District YY Amsterdam 16/07/2021 using 2x Pioneer CDJ 900 mk1 + Allen & Heath Xone 23 (Kernow Massive), Q3 SFX retrofitted. RIP Cath. Thank you."
Hi, how's it going? Are you moving between places at the moment? "I've just arrived back to the Netherlands, I'm back in Amsterdam now after months in the UK and I feel like it's straight into the eye of the storm. I spent pretty much a whole year in Amsterdam, I didn't even leave the city, so I just wanted to do a trip over to see a bunch of mates I hadn't seen for a while, family and stuff. Obviously, it's been a couple years now, running deep with COVID, but the last year has definitely gone quick and I felt like I needed to go somewhere different, change of scenery, which was definitely beneficial. I had a bunch of stuff to sort out for the label, and a bunch of records to stamp. It was a bit longer than I intended. I was originally only going to go back for a couple weeks and it ended up being like three months."
I'm glad it felt worthwhile. What is it you've been up to over the past four years? "Music-wise, I've been just constantly working on stuff. Lots of different things. Last time Fraxinus was in the spotlight would have been a M.E.S.H. remix I did in 2017. That was kind of an under the radar thing that ended up popping off. Before that, it would have been a compilation feature. So yeah, all this time, the years and years gone by, I've just been amassing lots of material, exploring ways of working and experimenting, and solidifying a sound. I feel like that happened around 2016 when I really started to hit my stride with what I wanted to make. Because before then I felt like I was just trying all these different things out and nothing really felt right with what I was doing. It took a couple years and then I ended up really identifying with what I was making, and that's when it clicked for me, and I was like 'okay, cool'. This latest record, Position [Displacement], was tied up in about 2017 as well. So there's been a bunch of stuff under wraps, you know, I've had all this stuff ready to go. So it's just been steadily building and now I'm ready to put out stuff. Obviously COVID and things put a bit of a delay on stuff. This stuff was supposed to come out a couple of years ago, but then it was kind of a commitment thing on my part. An emotional commitment to put the music out, also financial."
Was it an active choice, going into this phase of biding your time where you knew you'd be stepping away from putting stuff out? "Definitely. We did manage to do a lot of stuff with Her Records. But I felt like the others had found what they wanted to do and I was meandering a bit and it took me a while. I managed to go to the US and play with Kid Antoine, which was really sick, and we did a Her Records Boiler Room and stuff. But it came a bit too early for me. I look back on that stuff and it wasn't something that I was really identifying with, I was just going along with it, swept up with it. Technically I could make tracks and I could mix, but as an artist, as someone making music, I really wanted to find out what I wanted to do and take my time. I wasn't really interested in getting swept up in pushing to get booked more. Things fizzled out with Her Records, just naturally. You had NKC starting Even The Strong, MM moved up to Glasgow, so we've moved apart geographically and people had their own projects on the go, which is really cool.
"To coincide with that slow ending to the label, that was kind of the same thing with me; taking a step back and building something. It's really worked, I think – I'm generally quite a patient person and that's been really good with the actual act of putting together a record label. I knew I had a few years, and I did feel a bit out of the loop. And I saw what I could have been doing in a way, but I felt I really wanted to be true and put together a real core statement – which is essentially this EP, Position [Displacement], and then the other two coming up. I wanted to put out a bunch of stuff in one go instead of spreading it thin. I wanted to hone my sound, make a bit of an impact with what I was doing. I think that's really important, not just as an artist, but if you're setting up a label or something that's an extension of what you're doing."
Now that you're back with all these things lined up, how are you feeling about this shift in work-life balance I imagine you're experiencing? "A lot of people involved in the 'industry' know about making records and the huge amount of time it's taking to get stuff out by manufacturers, but even in that timeframe, there was stuff to sort out. Leading up to the release it's a bit more work, but before that, there's a lot of chasing up to do with things, there's a lot if you're being really organized about it, things you need to sort out so I suppose there is more work now. But it's something that's completely enjoyable, you don't even notice it. That's like the cliché, 'you never work a day in your life if you're doing something you like'. And it's my baby, this project – I don't know how long it's going to go for, don't really have any expectations. Once you get it out, that work really pays off, just in the way people are talking about it and receiving things."
How did it feel to get that feedback when you announced the label and EP? "Really good. It had been so many years I've had this stuff done and I've only shown and told close mates. It's not as if I have a huge following or anything but there's people who've been keeping up with this stuff since the Her Records days. I see certain names and think, 'oh, these people have been with us for years,' and it's been so nice to see them in particular. I wanted to wait until that month or so before the release date, so years of this excitement and anticipation. Music had been done since about 2017, artwork maybe a year later. Had everything done and ready, even the press releases, and I had this list of ways I was going to do the promo, it was all there. I just had to wait to get it out – it was really nice."
I'm glad! It's interesting as well because I think there's a general misconception from people seeing releases maybe not getting how long they can take. And you've been doing it almost all yourself, right? Managing the release, talking to production and distribution, sourcing the artwork… "I've done everything in terms of the actual record and everything, so aside from the obvious stuff like the cutting, and the manufacturing, and the mastering (Saif Bari from Fixed Mastering – was good to get him involved with that), I've done all the design. I mean, the front cover, I guess I was directing it. There was a photograph by Richard Fox, a photographer who was living in Devon, which is where I'm from. The picture's of Dartmoor National Park. He lives in Scotland now. But he allowed me to use that picture and is really on board with it. I got a friend of mine, Enrique [Arce Gutierrez] to [assist] – because I had this idea of a floating rock, I thought it would look nice in this picture and I was really set on that idea. So apart from the front cover, and those other things, everything is done [by me] – I write all the press releases and so on. I probably could have made it easier by asking for some help on certain things, but I really wanted to do this, every bit I can. There have been times where I've really needed to call on a bit of insight from friends, but a lot of it I'm going into a bit blind. It was a big learning curve, but it makes it all the more meaningful that it's out and I feel really proud of what I've done."
Can you tell me about when you decided that you wanted to make your own label, Powerplant, and what the plans for it and idea behind it are? "Just an outlet for my vision of this music, techno. There's a bit of compromise when you're putting something out with labels of course, which is totally fine. But with this EP, I was really set on certain things like the artwork. And I thought, why don't I try and do it myself and I can then build on something of my own? I saw what NKC was doing with Even The Strong. I thought, maybe I can do something similar, self-released. Purely self-released, see what I can do with the sound and build on a series of these records. It's just me wanting to try out and see how it goes while I have the chance to do it, while I have the tunes there, while I've felt sure about it. You could say the world doesn't need any more record labels, but then at the same time the world needs loads more labels to keep pushing forwards, making new ground and seeing what happens."
You've had releases out before the hiatus, but what you've got lined up is the most people will have heard from you. Do you feel like you're picking up from where you left off? Or does this feel more like a fresh start? "It feels like both because it's been so long. But at the same time there's real DNA of what I was doing before and what we were doing as Her Records and some of the other stuff I was involved with. This EP is my first proper release – it's not a full-length album, but All Ends was just a single, A-side and AA-side. I definitely don't shy away from the old stuff. Some of the stuff that was on Her Records Volume Four was kind of the same time where I was finding my stride as well. I don't know how to answer that actually, I have to think about that."
It might not even be important to you. As you said, the work hasn't really stopped for you. "Yeah, it's always been bubbling away. To the public, it's going to be seen as a fresh start, but for me, I've just been cracking on, continuously making stuff."
Can we talk about the inspiration for the first EP? With the floating stone, I wanted to ask if there's a geological inspiration going on? And what is it that ties these particular tracks together? "There's definitely for me some kind of geological significance. When I make a kick drum, I feel like a really good kick drum should sound like a huge stone being dragged along the floor – the reverberation and decay of it. Where I'm from in Devon, especially on Dartmoor, it's a lot of these granite outcroppings and there was a lot of quarrying. It's not a concept record about stones, but that definitely feeds into it. As far as tying the tracks together, it's a bit of a journey with the EP. I didn't want to do four tool-y tracks with this one, I thought it has to be something that is a little bit more cinematic with some of the sounds. It's all underpinned by hard-hitting percussion and sound design."
Let's talk about your sound. People know you for a sound that is stripped back, lean, skeletal, high-impact. What draws you to this framework? What does does this sound allow you to express? "I'm really taken by very functional music that's not four-to-the-floor. There's something about making really powerful tracks for the club that can also go a bit further. It's exciting, it gets me going, hearing something that's very nicely put-together. When people say techno, they're generally gonna think of you know four-to-the-floor. I think there's so much more to it than that. I really like that framework of using body music that intrinsically gets you moving, then twisting it a little bit. It's not particularly new, what I'm doing – I just enjoy putting these things together. There's definitely a power behind hearing stuff on a big soundsystem and that's a really exciting space to be in, in terms of the mode of creation."
When it comes to the production of these tracks, they were made over a period of time when you'd been trying to find your voice. Do you have a routine when it comes to making music? What's the process to it? "It really depends on what's happening. One of the more regular ways of me making music, if there is one, is just starting with kick drums and then getting a bit of a pattern with the tempo. That was kind of how I did this EP, starting with kick drum patterns, and then building the kick drum around the pattern and the tempo. It's a really specific thing, but making the kick drum work with the pattern and the way that you play it in or draw it in and swing the notes about a little bit by eye and starting that way and building something out from there. Sometimes I really enjoy doing weird stuff, chaining loads of units together in my workstation, like 10 distortion units and see what happens, or loads of flangers or something. With this stuff and still now, it's mostly all technically stock plugins and a lot of stuff from – I think it's rebranded but it was called VSTforfree.com. Just loads of free plugins on a technical level. The last two years, I started to invest a bit more."
Is there a particular workstation you gravitate towards? Are you using any gear or is it all laptop? "Well, I have a few bits that I've used from mates. I've got a little Korg synth here, and then otherwise, it's all in the box. I use Ableton Live – I only just got Ableton Live 10, I think they're on 11, so I'm a bit behind. It's something I've used for a long time. I got taught how to use it when I was about 14. Shout out to my friend Ben, Brain Rays; he showed me how to use it. We had a workshop in our school Ben led for a day. So I used it for a day, and then years later I started getting into production, probably when I was 17. Since then I've just been using it. I just play stuff in with a MIDI keyboard, occasionally grab some stuff from synths. A lot of the time just clicking notes in with the draw tool. Which is really funny, taking a step back and realising what a lot of people are doing is just clicking in notes and we manage to make these amazing pieces of music. You can make so much just by using a laptop, it's amazing."
Was that workshop day in school where the journey started for you as a music producer and DJ? "At that point, I didn't really understand what Ableton really did, and didn't really know anything about production. I started to learn about synthesizers when I was about 16, and then there was actually another workshop. I went to a rural community college/tiny school of like 500 people, and there was one workshop during half-term (I did Art GCSE), and two people came from the Netherlands. They were in a band called SKIP&DIE – it was Jori Collignon and Catarina Dahms. I don't know how they had this connection with the school. They came. There was a few of us on this workshop, half-term, school's out, so people didn't really want to do it. I was like, 'I'll do it', see what happens. They were musicians, they brought their own synths and stuff, and they did this workshop and performance. I was like, 'ah, I'm gonna quiz these guys on what they know,' and that was when I first saw a synth being used. I kept up with Jori in particular – he now lives in Portugal – and that kind of set me off properly on wanting to learn more. It was so cool, we were doing bits of visual art and sound, and there was just something about meeting Jori and Catarina, and that's where I started. From there, just slowly learning, teaching myself how to make stuff.
"I then went to a sixth form college and there were a couple people making tunes there. So I was in this environment where, okay, these people are producing, that's cool, I'm gonna try and do some stuff as well and push myself a bit more. That was a period of time where in this one small town, there were three or four hand-built soundsystems by kids, people between 16 and 25. Three or four different crews who made these really big soundsystems, and there'd be parties in barns and stuff – it's quite a rural area. That was something that really drove me, thinking, 'oh, this is cool'. It wasn't the free party scene, people playing jungle-tech, and questionable free party music, I'm not really into that – it wasn't like that. It was actually just really good tunes. People were making their own tunes and playing them out and I feel lucky to have experienced that because that doesn't really exist as far as I know in that area anymore to that extent. There's something really cool about that. That's what really started me off and then from there to Her Records."
That's pretty cool to hear about, I've never heard that before – this is in Devon? "It is. I was born in a town called Brixham, then I went to community college in Dartmouth, and then the sixth form college was in Totnes. Totnes is seen as quite a bohemian place, a lot of 'hippies' are there but it was a really nice town. It was a good environment being in the sixth form college because people were really experimenting with what they were doing inside of college, they had this Art Foundation course bringing people to uni and stuff. But also outside, people were putting on these parties and doing things. Maybe looking back, it seems like there was more going on than there was, but it definitely had an impact on what I'm doing and at least me starting off, you know?"
Musically, what was happening back then? Was this early 2010s? "Yeah, this would have been 2010/2011. So yeah, early high school stuff… I remember seeing Blawan the first time I went to a clubnight and he played in Exeter and that was really cool. I'd heard "Getting Me Down", we were always jamming to that, so going up to see him was really cool. You have Joy O, future garage or whatever people were calling it, that kind of stuff was going down. I have to say, some of that stuff I wasn't really into but it was something I still appreciated as being solid music, even if it wasn't really my bag."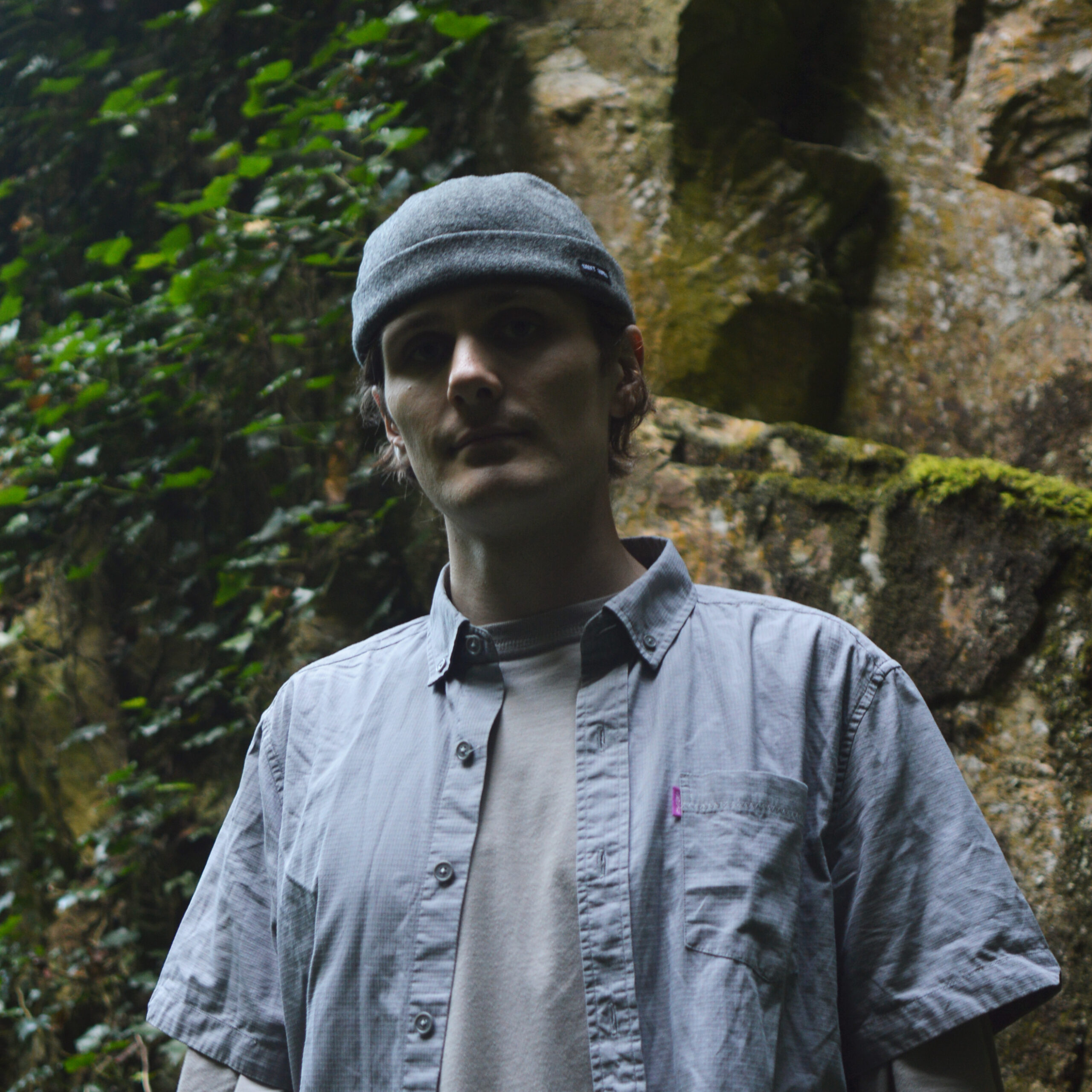 What are you listening to now? In fact, stuff that would never really make it into your sets? "Especially the last couple of months, a lot of [Ryuichi] Sakamoto, a lot just going through his oeuvre. Listening to all these things – amazing! Then of course, all the other YMO guys, Hosono and Takahashi, they've just been making really amazing music all this time. That's something really inspirational. It's not something I shout about but I compose music for things and make a lot of music that's not dance music. I have this music composition/sound design company and it's standing back-to-back with what I'm doing as Fraxinus. They don't really look at each other, they're not explicitly feeding back, you know I mean? What other artists… Some Debussy, modern classical stuff… Actually, a lot of the band Sleep. Listen to a lot of that stuff. OM is one of my favorite bands, just incredible – that's the bassist and the drummer from Sleep, well, when they started. There was this drummer called Chris Hakius – amazing, really inspirational to me because I play drums as well. Love his style of drumming, really powerful music. All the techno heads love OM because there's this really repetitive, monolithic beat going on. Just a bassist and a drummer. So that keeps me going as well."
I didn't know you played drums, but it checks out. Do you have drumming heroes both in and out of dance music (other than Chris Hakius)? "I don't know if there's any real people I consider heroes. One person particularly who's another modern drummer of recent times, who's about today, is Zach [Hill] from Death Grips. He's just pushed drumming into this really amazing thing where it's so visceral and that's incredible. The drummer from the band Nisennenmondai – I love the name of the band, it means 'Millennium Bug' I think, it's so cool. Her name is Sayaka Himeno. That's the epitome of minimalism in drumming but making it work and being really tight. They did a Boiler Room a couple of years ago and an NTS recorded set, I think in the same month. Both of those are really recommended. Then you have Jaki Liebezeit from Can, he's another reference for drumming. He passed away a couple of years ago… 2017. He's great. There are some tracks where he'll pay very repetitively, but there's certain things that he will do. If you really listen in detail, you can hear him dragging some of the snare hits back, and then dragging them forwards. And if you hear over a 15-minute piece, it's really subtle changes and an amazing level of detail. Someone pointed it out to me, and I thought, 'nah, you're looking too deep into it,' and then I listened to it and I thought it really worked. That's something that maybe speaks to my attention to detail in a way, with what I'm doing."
There's definitely a lot of inspiration that comes in from that scene. I know Damo Suzuki still tours, he was here in Leeds a few years ago. Actually, I got to see Faust last weekend. "What were some of your highlights from that festival you went to? That was quite a few days, wasn't it?"
Vladislav Delay was great, I was in front of a speaker the whole time. It's been a long time since my body's been allowed to feel that vibration, you know? Because I hadn't really been in clubs since pre-COVID. "There's something quite therapeutic about high sound pressure levels. It takes you out of your normal everyday, you're not exposed to that, especially with stuff that's in the bass range. I don't know how I'll feel when I'm faced with that, I'm kind of looking forward because I haven't been to any events either for a while, so getting back into some kind of environment with a subwoofer. I'm looking forward but I don't know how my body will react, though. It's funny because that's the only environment where you're really exposed to really loud sounds for an extended period of time, when you're at a concert or club."
Can you talk me through what you're doing outside of Fraxinus? Both with the music company and what you do for downtime. "It's ambient music. Kind of the antithesis in a way, complete melody and harmony, and building on what I can do with that. I used to play the piano and I've been getting back into it the last couple of years, I used to enjoy playing it. Making this music on the computer, technology, dance music is really great, I love it. But there's so much more to music than just making beats – there's nothing wrong with that at all, but I really wanted to see what I can do and get back into this musical mode in my head. It's ambient music, pretty, ethereal, serene stuff. Very different. There may be stuff that feeds across to Fraxinus, and definitely with this album I'm working on. That's the kind of environment where it would feed in and inform what I'm doing there. I'm looking forward to actually seeing what I can do – I'm halfway done with the album.
"Outside of making music, reading. Cycling actually, I was doing a lot of cycling when I was in the UK. Especially when I was with my parents, with my dad, getting out the road bike, that's really nice. Especially going to Devon where there's hills, because here [in the Netherlands] it's so flat and you get used to it but then you go over to the UK, to Devon, to Torbay where I'm from, and it's just these amazing views. When you're riding it just makes it more interesting. As a fitness thing, it's really good but also as a way of getting out and just the feeling of riding a bike. I have a really old bike with the gear shifters on the downtube and I really like that feeling of being on the road. It's not as comfortable as it would be with a modern road bike, but I love that. You're switching gears on the frame and you can really feel you're riding up. That's quite nice. Yeah, I'm looking around to see what I've been reading…?"
Are you a nonfiction or fiction person? "Both, yeah. What was I reading when I was away? I picked up some stuff from the charity shop. This one in particular stood out to me, it's called Trafalgar, by an author from Buenos Aires, Angélica Gorodischer. It's a sci-fi, magical realism kind of thing that was quite fun to read. Yeah, all kinds of stuff. There's a lot of stuff in particular that Urbanomic have been putting out that's really interesting, so shout out to Robin [Mackay] from Urbanomic, shout out to the PlaguePod crew as well. That was a really amazing podcast that got me through lockdown. Really good, it was a mixture of jungle, critical theory, and a live, text-based dungeon that Robin had made called CoronaQuest. That was great, really funny. There's a book I'm really looking forward to getting, Mark Fell's book, called Structure and Synthesis. I'm looking forward to reading that because I find his ways of talking about how he works and his way of thinking about art and music in particular really interesting."
What can you tell us about your approach putting together the mix? "It's essentially a distillation of Fraxinus as a DJ. The kind of thing I would play in a club but quite condensed, I maybe wouldn't do as many dramatic tempo changes like that in an hour and a half. But yeah, generally that's how I saw it. I wanted it to be a mission statement with what I'm doing, and to treat it a bit like a released mix CD. So there's a lot of things on there that are exclusive to the mix, a lot of like-minded people were happy to contribute to it, which is really cool. There's a couple of bits from the EP, bits from the upcoming Powerplant stuff. Some old gems that I found. I wanted it to be a special occasion, at least for me, so I did take a while making sure it was up to scratch."
Just to round things off, when was the last time you danced? "It was in my parents' kitchen, I was listening to a Sakamoto tune. It was one of his renditions of "Tong Poo", one of the Yellow Magic Orchestra tracks, a live one with a trio, someone with a violin – it's not a particularly dancey one but I just felt quite in the mood, really happy and contented with what was going on."
Were your parents there? Are they into Sakamoto? "Not really, no. I don't even know if they were there at a time. I was showing my mom, she was there, and some of the tunes – she was like, 'this just sounds like '80s dross,' she didn't use that word but you know. Like it sounds like it could be some any '80s track. But then I was showing some of the other stuff and I was like, 'this guy is so good at making really emotive, impactful music,' showing her a lot of his film scores. They're always up for listening to stuff."
Have they listened to your music? "They have, yeah. I think my dad likes to put my music on during long car journeys, which is really nice. Sometimes I make tunes and think it might be too heavy for my dad to listen to it because he asked me to send him stuff, but he's listening, it's cool. And my mum as well. It surprises me, sometimes I play stuff while I'm cooking or I just want to show them something when I'm around, and I think they're gonna hate this but sometimes they really like this heavy, heavy stuff."
Fraxinus: Soundcloud, Bandcamp, Twitter
Access the 320 download and full tracklist over on our Patreon.
Fraxinus – Position [Displacement] is out now in vinyl and digital formats, available to purchase via record stores and on Bancdamp here.
Artist photo: Walter Ellis.