Recently outscoring the likes of scene legends Fabio, Klute, and Djinn on Electronic Beats' 90S Jungle/Drum and Bass Blind Test edition, it is clear that Tim Reaper is one of the most honest generational talents when it comes to the genre. From jungle to hardcore, to darkside and 4×4 jungle-techno, he shows an appreciation to its long history and offshoots like none other, exploring and taking inspiration from a number of eras with the utmost respect and with outstanding technical ability. Since breaking onto the scene in 2010 as a producer, years of immersion and learning as much as possible through forums, drum and bass chatrooms, have led to a huge catalog of music the last 10 years. Recently he's started Future Retro, a project in which he aims to collaborate with every producer he's into in the modern-day jungle scene, a label now two releases in with eight producers worked with on already. We caught up with Tim to talk about his humble beginnings, his collaborative releases for Globex Corp, and how running a bi-weekly radio show with Dev/Null for the last six years has kept him motivated and on his toes as a digger. Truancy Volume 269 is packed with recently released and forthcoming music from the current crop of jungle producers, with the likes of Coco Bryce, Dwarde, Nebula, Comfort Zone all present. It'd be no Tim Reaper mix with also a number of classics from the early years,  with him pushing the envelope for new and old into a blistering hour mix.
Hey Tim, thanks again for doing this mix for us and answering some questions, seeing as this is your first interview on the site, just wanted to go way back for a moment. I understand you started producing in 2010, so you've now got a decade of music under your belt but how far did the fascination with jungle and drum and bass stem back before that? "I found out about drum & bass at first through some coursework I had to complete for my GCSE in Media Studies, and the assignment was writing an essay comparing two magazines in the music industry. One of the magazines was Mixmag and it had an Andy C mix CD on the cover. When I first listened to it, the energy and power that the music had completely reeled me in and I had to find more and more about it. One of the ways I did that was trawling through MySpace profiles to find more artist names and their releases & I stumbled upon a fake DJ Hype profile where someone had uploaded Dred Bass by Dead Dred & Super Sharp Shooter by The Ganja Kru. I found myself listening to these two tunes more so than any drum & bass tune I knew at the time & I eventually found out through forums that this was a predecessor of drum & bass named jungle. When I found out what jungle was, I knew that I had to get involved & start learning how to make my own examples."
Who were you going to see when you first started raving and when did you get your first pair of decks? What can you tell us about your first proper gig as a DJ too? "When I first started raving, I had already been into jungle for a few years so I knew about nights like Jungle Syndicate, Rupture, Technicality & other nights that were more focused on the jungle/breakier side of the scene, where DJs like Equinox, Double O & Mantra, Chris Inperspective & plenty of others would be drawing proper selection on the regular, that was the kind of thing I was focused on seeing & hearing. I've never actually owned a pair of decks, when I was in my 2nd year of uni, having bought a bunch of records and only using a mate's decks at another house and plenty of CD compilations I was ripping, I decided that digital may be the best route for me and I bought a Traktor controller, which I still use. I've got one turntable at home for checking test presses & releases, but I learned to DJ on other people's decks, whilst never having a pair of my own.
The first club night I played at was for the Long live beautifully crafted jungle group on Facebook, when they first started doing nights at a venue in Deptford called The Bunker. I was really cautious about accepting any bookings at that time because I felt like I may not have been good enough or ready for club nights but I felt like I had to make the initial leap into doing clubs at some point, so their night seemed to be the first one. I played after Equinox, one of my favourite DJs in the scene currently, already a tough act to follow, also one of the monitors had blown during his set, leaving me with quite a limited setup to work on. Also, I was playing majority vinyl, which added extra difficulty to the mix considering I'd only played on vinyl a handful of times at house parties and during practices. The set was a bit messy but people seemed to like it and it got easier from then on."
I also read you were massively into drum and bass chatrooms and forums such as Dogs on Acid and Drum and Bass Arena, did you find yourself just wanting to absorb as much information as possible on the genre? What sort of things were you learning early on? "Yeah, I was completely taken over in my hunt to find out as much as possible I could about any artist or label and listening to as much jungle music as I possibly could from Discogs, Rolldabeats, YouTube, recordings from old tape packs, newer DJ mixes, I had to find out as much as I could because my interest was so keen that it had to be fed constantly with more and more."
Drum and bass and jungle producers are known to be some of the most technically gifted when it comes to producing. How did you take to producing when starting on? Any videos, tips or tutorials that gave you a real breakthrough? "The first thing I wanted to know how to do was to sequence drum patterns with breakbeats & I found some tutorials on how to do it in various different DAWs but FL Studio seemed to be the one I liked using the most to do it. I've stuck with it since and once I was comfortable doing that, then I would learn about loading and manipulating samples and then using VSTs and then one thing at a time from then on."
Your first vinyl feature was a remix of Trace, with a remix by Ed Rush & Optical also on the flip, three very influential producers of the genre. That must have been quite the buzz, do you remember putting that out quite clearly? How'd it come about? "I had done a collab with another producer named Phil Tangent and it had been played on Kiss 100 by DJ Hype, thanks to a friend of mine who passed it onto him. I was sending the tune out to various people I had in my AIM contacts list but nothing really came of it so we gave it away for free download. 6 months later, DJ Trace messages me on AIM saying that he found the tune and wanted to sign it, I told him that I'd already given it away and he offered for me to remix Final Chapta, a tune of his released on Dee Jay Recordings in 1995. I did the remix for him, he really liked it and wanted to put it out with the Ed Rush & Optical remix of Sonar and I fondly remember going to Metropolis (mastering studios in West London) with my older brother to meet DJ Trace and sit in on the session while Stuart Hawkes is mastering the tune and then cutting the lacquer. A few weeks later, I come home from school and my mum said a package was brought earlier for me & when I opened it, it was the test press of the remixes, which I still have with me."
Looking at your Discogs it looks like 2019 was one of your most prolific years in terms of putting out music. Has your routine and setup when it comes to making music changed much over the years? "Around 2014, I was experiencing depression with how things were in my life and I was going through quite a low period for a few months due to feeling like I was failing in everything I was doing. I'd graduated from uni with a lower grade than expected due to how much I'd hated my final year, I was struggling with getting my first job out of uni, I had taken on too many releases to work on and felt like I was letting people down by not being able to live up to promises, I felt like my improvement with DJing had hit a brickwall and I'd never be good enough to play in clubs and various other things that made me feel like I wasn't doing as well as I should have been or had planned on been doing. During this period, I pretty much spent every day switching between gaming and working on music and as a result from this period, I got into the swing of finishing tunes in the same session as starting them, solely because I didn't have anything else to do that would interrupt the tune making. I was finishing a new tune every day for weeks during this down period and when I eventually came out of my depression as things started getting better, I made sure to retain this workflow and it's allowed me to write a lot of music and be able to work with a lot of labels as I had the tunes ready for them if they ever got in touch."
Let's talk about Globex Corp for a minute as it's the label you set up with Dwarde, to put out your collaborations and tracks with other guest producers. Can you tell us a little bit about the conversations you and Dwarde were having prior to setting it up? There must have been quite a bit of back and forth I imagine with ideas, style etc "So with Globex Corp, a lot of people think it's a standalone label (which is fair based on how it's branded & presented at times) but it's actually a series of releases on a label called 7th Storey Projects, run by a mate of ours named Simon. The way it came about was that Simon had a series of various artists EPs on his label called The Dark Arts and he got in touch with me wanting a tune of mine for it. I happened to have done a collab at the time with a producer from New Zealand called Worldwide Epidemic who had done a solo EP for Simon, so it sort of all came together quite well. A few weeks later, Simon messages me saying that he had another producer in mind for that EP who was unable to provide a tune and wanted to know if I could provide a 2nd tune. I gave him one and he liked that one as well, so he put it on there and was interested in doing a full release from me in the future.
Around the same time, Dwarde had moved down to Turnpike Lane in North London from where he used to live up north & I was going around his house to work on tunes in person, as we'd collaborated previously online. I told him this story about this full release I could be doing for 7th Storey Projects and how it came about and Dwarde told me that he was meant to be on that Dark Arts EP but never got around to finishing anything for it, so it turns out I was replacing him on that release. I thought that it would make sense to do the full release as a collab EP with him since the sessions we had were going really well and both of us were enjoying it. Whilst this is all going on, another friend of mine named Ricky (Law), who co-runs a label called Repertoire that I have released on before, mentioned to me an idea he had for a white label series of more oldskool style jungle with the name of Globex Corp, referencing the Simpsons that he knew I was also into. Dwarde's also a big fan of The Simpsons, so we nicked Law's idea (with his permission), but instead of doing white labels, I designed the logo and we'd take turns picking a screen grab of a Simpsons episode for the other side. The first Globex Corp EP we put out seemed to do really well so we just kept going and going and going."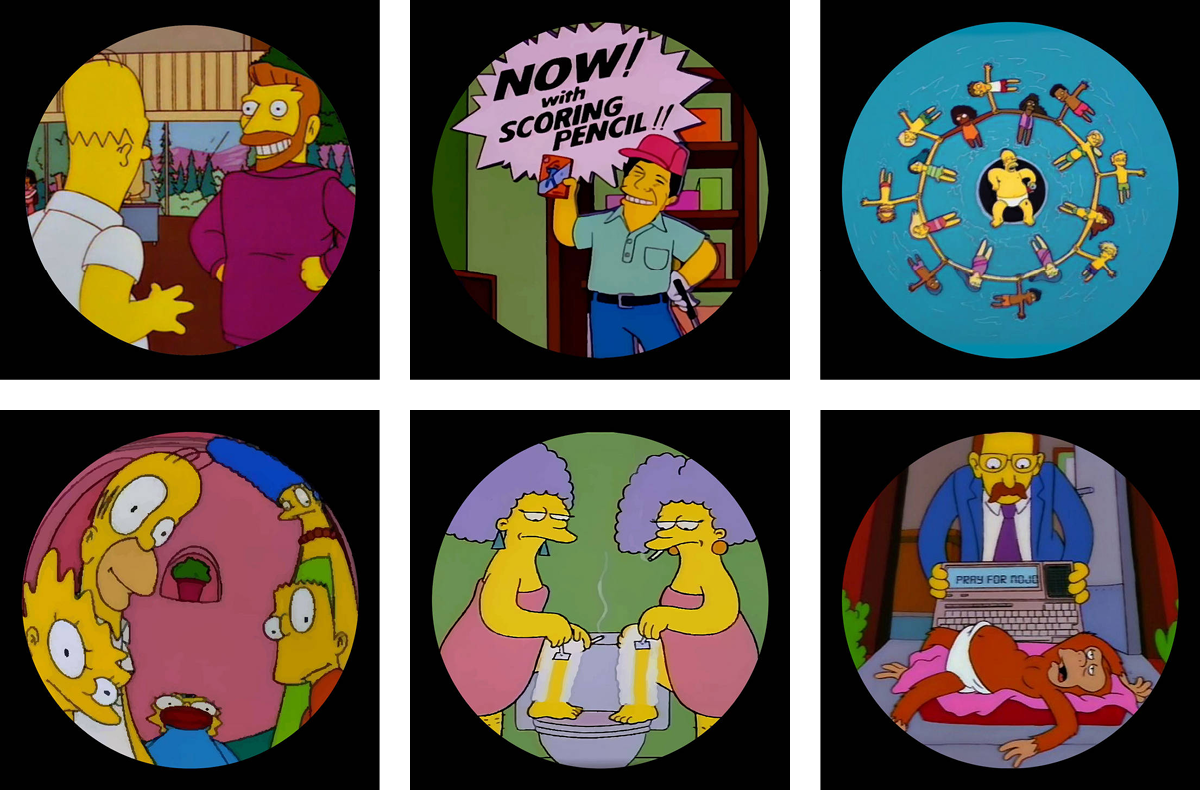 Having now put out 10 records the label covers a lot of styles and emotions within the genre – jungle, hardcore, more darkside stuff, 4×4 jungle-techno, straight amen rollers to big pad breakdowns. You had a phase of really wanting to explore records pre 94 right? Was that a big influence to how you approached the label? "The main aim for Globex Corp was just to be an outlet for whatever kind of style we felt like making at the time, free from any kind of restraints or feeling like one EP needs to stay on one style like other labels would impose. A lot of my output at the time was based around the 94-96 jungle style but with Globex Corp, we were able to explore 92-93 hardcore style in some of the tunes. In terms of inspirations, labels like Basement, Creative Wax, Liquid Wax, 3rd Party, Impact, Formation, Legend, Brain Records, After Dark and so on, these served as the main reference points for most of the tunes on Globex Corp."
With such an encyclopaedic knowledge of jungle and drum and bass I'm keen to know how you organise your playlists and music, be it for DJing or just home use. Is it by year, label, style, intensity? "In terms of any kind of actual categorisation, the only divide I have in place is for old jungle and new/modern jungle but usually when I'm DJing, I try to represent both because that's what I feel like makes sense to me, I sometimes sway more to one side sometimes but always try and maintain a balance between the ratio of golden era 90s jungle and the stuff that gets made today in most of my sets."
Does this help with the planning of the BTTO radio shows you do with Pete Dev/Null? It's been a bi-weekly affair for what I think has almost been 6 years and has become easily one of my favourite shows. I imagine planning these shows, you become so entwined with the music you own and the genre's history. "Doing the show with Pete has been really vital for keeping me motivated to dig for more & more oldskool bits that I don't own or haven't played already, as well as giving a bit of a testing ground for any new tunes of mine or other people I know. It's also allowed me to not constantly be playing the same tunes on repeat as I have to keep the selection fresh each time and it's given me a reason to practice my mixing & general DJ skills on a regular basis. It's also a great way of gauging reactions from people on certain tunes or mix combinations as there's a live chatroom that runs parallel to the radio station and it's good to have that interaction with the audience and be able to give shout outs live and take requests for tunes or reloads & things like that."
Do you feel you manage to get your own style and personality across when DJing out? "Not always because I do feel somewhat obligated to walk a fine line between challenging the crowd with less dance floor friendly tunes and keeping them entertained with tunes that they came to experience in a club setting. But I always feel like most sets I do in club nights aren't too far removed from a set I would play on BTTO radio, just I usually try and keep the momentum up whereas you can afford to have dips in energy when people are listening to radio at home."
There's been a lot of debate recently about the whitewashing of the drum and bass jungle scene with Chris Inperspective raising some points over Hospital and starting Black Junglist Alliance. How do you feel about the scene in general at the moment? Are there certain things you would like to see in the future? "I've not been too involved in any public discussions about the lack of racial integration & diversity that's currently in the jungle/drum & bass scene, but I feel like from what I've seen online and from having conversations with people close to me, things are looking like they will be on a much healthier path towards achieving a better mix of people involved in the scene. The fact that these conversations can be publicly had without too much backlash directed at the conversation starters shows that people are interested in listening to the experiences of minorities in the scene. I hope that this encourages people to adapt their behaviours and attitudes to create a place that may encourage different demographics to want to become a part of the scene, and to not feel disinterested in remaining in the scene due to how they were treated based on their race, gender, class or sexuality."
What can you tell us about the mix you've recorded for us? Any particular theme you went for this or any particular tracks you want to shout out? "For this mix, like most of my mixes, I wanted to blend the old with the new because I feel like a lot of people that play oldskool usually only focus on original 90s oldskool or playing mostly their material with a few token oldskool bits in. But I wanted to get a nice mixture of some recently released & forthcoming music from the current producers around in this new jungle scene, as well as some favourites of mine from the early years of this music."
Last usual question for us, what was the last thing to put a big smile on your face? "The last thing that made me smile? I think it might be recently, where the guest mix I did for Anz's show on NTS was announced publicly, which led to a well known producer getting in touch with me, asking me to pick 4 tunes from his last album to do remixes of. It's quite an opportunity to be offered and I look forward to seeing how this pans out."
Tim Reaper: Soundcloud, Resident Advisor, Future Retro, Globex Corp
You can download Truancy Volume 269: Tim Reaper in 320 kbps and view the full tracklist by supporting Truants on Patreon here. Your support allows Truants to continue running as a non-profit and ad-free platform. Members will receive exclusive access to mixes, tracklistings, and merchandise. We urge you to support the future of independent music journalism – a little support would go a long way.