Born during the infamous blizzard of '96 in Washington, DC, and raised by Nigerian immigrant parents, soso tharpa embodies the eclectic nature of DC's music and culture, having grown up listening to the musical likes of country, rap, and everything in between. His musical productions are similarly wide-ranging, taking inspiration from a slew of sources and rewiring the sounds into something completely new. What started as happenstance has developed into a burgeoning career as a producer, marked by a recent EP on DC's Future Times, a solo EP titled Looseleafs which has seen rotation by the likes of Ben UFO on Rinse FM, and an upcoming release on 1432 R's label. soso tharpa's sound is hard to pin down – it's more about the emotional drive behind the music, which feels in a constant state of propulsion. Spring-loaded synths, pinpoint percussion, and evocative vocal snippets dance in rhythm with beautiful intricacy; it's music made for dancing and for feeling.
In Truancy Volume 265, soso tharpa gives us a snapshot of his creative perspective, highlighting the broad range of genres that have influenced both his own productions and the musical explorations of his peers in hometown Washington, DC. From Mutsumi's raucous "Collage Panty Smelling" to the classic "Fat Larry's Skank" by Horsepower Productions, into the energetic sounds of Kush Jones and M. Bootyspoon, and an unreleased soso tharpa track, the mix perfectly encapsulates a night out in DC, where seemingly no genre is off-limits, and expressing the movement in your feet is all that seems to matter.
Truancy Volume 265 ends with a powerful statement, one that reflects the all-important need for Black representation, equality, and justice, in the form of a freestyle rap by LL Cool J in response to the death of George Floyd. "For 400 years you had your knees on our necks / A garden of evil with no seeds of respect / In America's mirror all she sees is regret / Instead of letting blood live they begging for blood let…" Being Black in America, he says, "…is like rolling a pair of dice. But the stakes are way higher, you're gambling with my life…" Black Lives Matter.
Hi soso tharpa, thank you so much for creating this mix despite the circumstances. We understand this has been an especially difficult time for your family and we would first off like to extend our sympathies. We would love to know more about your background. Where did you grow up and what are some of your most fond childhood experiences with music? "I grew up in Washington DC, baby! 1996 to be exact in the heart of DC's most craziest blizzard. As a child, my parents often listened to a range of music all the way from Country to Master P. Both my parents are Nigerian immigrants so hearing them listening to such a wide range of music was pretty discombobulating. My most fond experience was listening to music in the backseat of my parents car as a child while my Mom did home visits (as a nurse). This was when there were no phones so any music that was being played was my saving grace from boredom."
Between djing and producing, do you feel one comes more naturally? How does your approach differ between the two? "I would definitely say producing comes more naturally. DJing is my first love but over time I just enjoy the freedom of making whatever the hell I want. When it comes to my approach, I would say that when I DJ I have a sense of what I want to play going in whereas with producing I have no idea what's going to come out. So more sporadic if that makes sense."
When did you first journey into production and what did your first creations sound like? Have your methods changed over the years? "Just to preface this is a very serendipitous way of discovering production but here it goes. Ok boom – it's the tail end of 2014, I've been keen on buying a piano to practice (I've been playing on and off since middle school). With what appeared to be a solid keyboard along with a sight read exercise book, I placed my order. A couple of days go by and a package shows up at my house, hell yes. Keyboard time. I opened that joint up and yo, I ordered a midi keyboard. I unwrapped my failed purchase and a card that read "Ableton free trial" fell out. I had no idea what that was so needless to say I shelved the keyboard and forgot all about it. When classes resumed in early January 2015 I remembered that incident, researched Ableton, and here I am.
"My music was pretty ehhh starting out but now I'd say the biggest difference between then and now is that I work on tracks in stages. When I see potential in a track I make a rough draft then revise it in a couple of days. However there have been a couple of times where I make a solid track in one sitting…"
Could you describe the process of creating your release for Future Times? How do you feel about how the record has been received? "Ah that was interesting. Things didn't work out with a girl I dated and I wanted to create a kind of emotional track but around that time I was secretly digging through Discogs while at work. I had gotten into some early 2000s trance music as while, I remember listening to Alice Deejays "Better off Alone" so many times. I believe the amalgamation of all those things gave birth to "Decode". "Sea Mojo" was a track I had drafted afterwards that turned out as a great b-side and the rest is history.
"I'm glad with how the record was received, I honestly never thought it would rock the way it did."
What has been your most rewarding musical experience? What are some of your current musical goals? "My most rewarding musical experience has been seeing my progression over the past couple of years and tackling creative roadblocks along the way. Alongside that, just the feeling of creation is rewarding. I have so many tracks in my Ableton folder, mostly bad lol, some good, but when I look at all the songs I've created I feel a sense of accomplishment."
Could you describe some of your visual influences or artistic inspirations outside of music? Is there a specific piece of media that has especially resonated with you recently? "Me and my lovely girlfriend have been looking at a lot of art on the MoMA online gallery. I would say that works by Aida Muluneh and Kandinsky spoke to me a lot. Aida Muluneh in the vein that I just love art centered around other cultures and Kandinsky from how diverse his catalogue was."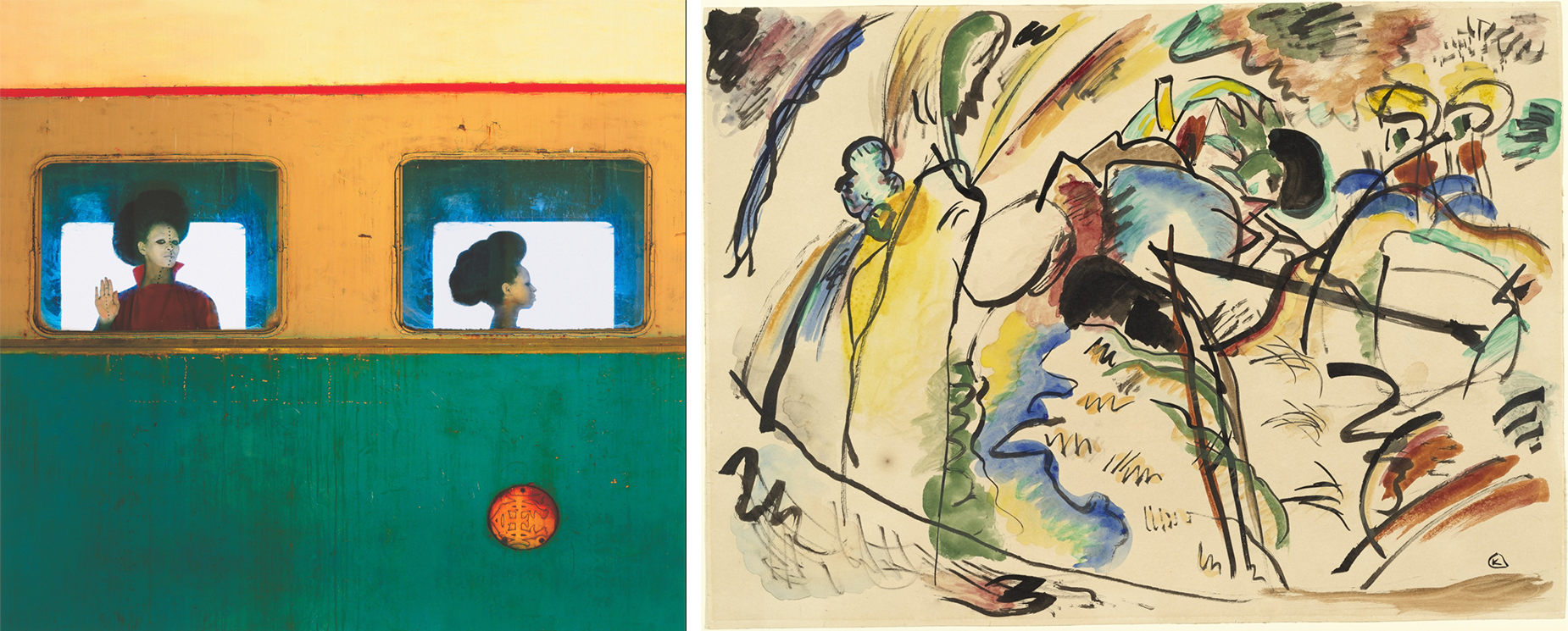 Are you currently working on new music or have any upcoming releases? "I'm always working on new music son. I've got a release forthcoming on 1432 R along with my own EP I've been tinkering with."
In the wake of smaller venues closing in Washington, DC, are you concerned for the future viability of performance spaces available to artists living within the city? How have you seen COVID-19 affect your nightlife surroundings? "Yeah it sucks, hard. I am very concerned about the future of performance spaces, the only way I see things going back to a definite normal is when a vaccine is made. However as a lot of people have been saying, this has been a reset button in many ways. I envision a huge renaissance of the arts after this, kind of like the Italian Renaissance that followed the bubonic plague. More of an emphasis will be placed on acts in one's local area rather than international ones. People are more aware of the nature of impermanence now so I see more music being made as well. An exciting – and scary, time indeed."
What aspects of the Washington DC musical community are most important to you as an artist? "Washington DC's musical community in my experience has never felt "cliquey" to me. I have homies that play different kinds of music and there's never any uppity vibes. A huge family feel, I love DC!"
In what ways do you think Black artists could be better supported in DC? How can the wider artist community do a better job of supporting Black producers and DJs? "Representation, representation, representation. African American people have contributed so much to music that I would be beating a dead horse by telling someone why. There needs to be less performative acts and more action, put African American artists that are dope on lineups, and support African American music!"
If you had the ability to curate your perfect party or club night, who would be on the lineup? "Shieeettttttttt…. It would most likely be a party with DC crews. I'd start it off right with Beautiful Swimmers of course with some Dreamcast Moe and Baronhawk Poitier to get the feet movin' a lil, then I'd have DJ Drink Water, DJ Dubu, and Zach & Shirley add a LOT of spice. After that the LENG crew would come in – Djoser, Benbo, Ovid, Martyn, Panch etc etc would throw in some euro inspired influence. After that my 1432 R homies would come in then BAM, some hard ass techno from Juana and Rush Plus agghhhh…I can't talk about it anymore – I'm getting too wistful."
Do you have a favorite piece of gear, plug-in, or production process of which you're particularly fond? What would your dream studio look like? "If you ask any of my friends, they'll tell you I'm pretty minimalist when it comes to gear and plugins. I mostly use stock Ableton stuff and when it comes to gear, I have a keyboard and Maschine I barely use…My dream studio would have proper audio acoustics and a nice cozy seat with air conditioning."
Could you describe your approach to creating your Truancy Volume mix? Any specific tracks or artists you would like to mention? "My approach was to get you reminiscing about the club as well as "Dancing your Pain Away" like Rod Lee says."
Thank you so much for creating such a beautiful mix and taking the time to do this interview!
soso tharpa: Bandcamp, Facebook, Instagram, Soundcloud
You can download Truancy Volume 265: soso tharpa in 320 kbps and view the full tracklist by supporting Truants on Patreon here. Your support allows Truants to continue running as a non-profit and ad-free platform. Members will receive exclusive access to mixes, tracklistings, and merchandise. We urge you to support the future of independent music journalism – a little support would go a long way.
Decode/Sea Mojo is available on Future Times here
Photos by Mikko Castaño