With a DIY network of producers, DJs, collectives and parties making Montréal a hotbed for activity, softcoresoft found her footing championing for gender representation in the city since being absorbed musically by the scene growing around her. We caught up with Leticia for a lengthy in-depth chat, discussing her trajectory through Montréal's underground, her community-building role as the music director at Never Apart and how she's using that oppurtunity to realise her vision of how to approach gender issues when it comes to programming. With prominent appearances the last few years at MUTEK Montréal (2018 and 2017 as Demora), Piknic Électronik and Igloofest, as well as a being a recent alumna of the 2019 RBMA Bass Camp in Calgary, her brand of fast acid house, techno and trance have made her a staple figure in Montréal's electronic music scene, with international recognition gaining traction. Featuring a couple tracks from her forthcoming Lobster Theremin Black release, she describes her Truancy Volume as a fast-paced 'all bangers' mix, fully reflecting what her DJ sets are like these days. The mix, switching from Danish stalwarts Anastasia Kristensen and Schacke to trance-tinged edits of Italian producers Lorenzo Senni and Gabber Eleganza, is a raucous hour and eighteen minutes of light-speed thrills and high-paced BPMs. 
Hey Leticia, thanks again for answering some questions and providing us with this amazing mix, everyone at Truants has been really excited to get this one out. So as it's your first interview with us I was hoping we could go back a little and and talk a little bit about your trajectory to where you are now. What can you tell us about the LIP parties in Montréal – from what I understand they were very supportive in giving you a space to play as a beginner? "I'm super grateful to get to share a mix on your platform, been a fan for years! My trajectory was definitely a product of the fertility of Montréal's multiple scenes when I started DJing four years ago, along with my online digging on SoundCloud and Bandcamp. I'd been going to loft parties since 2010 and absorbing what was going on from the perspective of a music fan. I was really taken by people playing all sorts of crazy sounds on electronic machines like the Electribe EMX-1, which I started experimenting with when my partner Matt at the time gave me his old one. But it didn't really feel like "my" scene musically, and even socially. It was really when I started to listen to acid house and techno, something really clicked. My close friends encouraged to try DJing, got me a Traktor controller and then I started playing weekly at a bar with my best friend Dave Madden. Fast forward to six months later, I delved into the queer scene that was bubbling up around Frankie Teardrop's LIP and Slut Island projects. It felt like such a necessary space at the time. We tried to form a collective together too but in the end we all did our thing and booked each other. What was amazing is that these platforms gave women, trans, non-binary and queer DJs a space to play as headliners even though they were just starting out and didn't 'know anyone'."
So after that how did things slowly start to form for you in Montréal? I assume you were meeting and starting to make a few acquaintances/friends? Were you starting to feel a scene in Montréal start to bubble up around with you? "I was joking the other day with a friend that Montréal really has a huge musicians/DJ fetish—and in many ways that's true. It felt easier for me to connect with others in the scene and be part of it when I started to DJ (as opposed to being simply a music fan/audience member). The conversation about gender representation in electronic music was really starting to reach a critical mass, I was reading articles and listicles and it felt like the table was being set for a change. During that time I was hungry for peers, women, trans, non-binary folks and allies that wanted to make that change and have those conversations. I connected with Frankie Teardrop as previously mentioned, Gayance, Kaz Kandy, Carmen, J'vlyn D'Ark— I remember some of us getting together and talking for hours about what we wanted to see in the scene, a space for people like us. Then Discwoman did a showcase in Montréal in 2015 as they were coming up, and they booked a bunch of us local women/trans/non-binary folks. That really made it feel real and from then on that push really helped me move along. Other friends started putting on shows and I started doing it too: we threw a one-off techno party at a crummy punk bar called Hénisphère Gauche one year. It felt easy to just do something. Fast forward 1-2 years later and slowly people outside the queer and DIY scene were intrigued by the artists coming from it, including festivals like Piknic Électronik, MUTEK and others. Making connections online also participated in this, and allowed me to get my music out there and feel like I am part of a broader network or movement."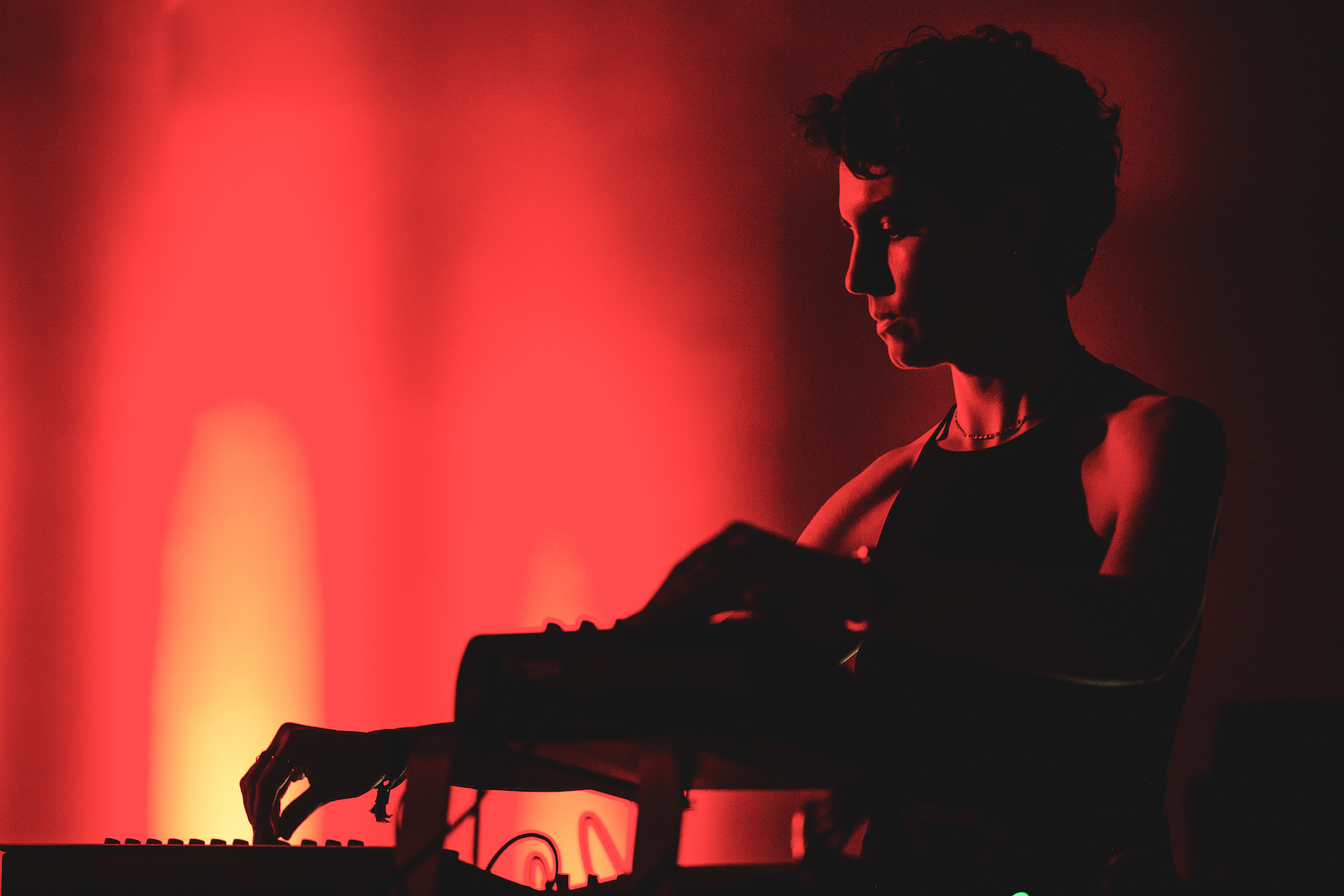 softcoresoft at Mutek, Montréal – Photo credit Bruno Destombes
How and when did the Lagom collective form, or maybe going further back how did you, anabasine and Jargoness meet, and decide you wanted to throw these 'community-building techno dance jam' parties as described in the beginning? I know you threw the second Lagom party back in November 2016 with Kaz Kandy, GRKZG, DJ Choozey and more but I can't quite find information on Lagom 001? What went into that one? "Lagom was started by Danji (anabasine) pretty much by himself I believe. He threw Lagom 001 before I knew him, and I wasn't there. Then by 002 we'd met and started getting together to mix and talk about music, and he booked me to play that second edition. Then Isabella (from Boston) approached me and said she was helping her friend Daniel Andreasson from Sweden book some shows in North America. So then I proposed the idea of booking both of them to Danji and Dominique (who is friends and roommates with him), and then we built Lagom 003 around that. After that experience — which was a blast — we decided that Lagom was gonna be us and whoever wants to join (DJ Choozey came along too). Each and every party has been us waiting for a moment and booking that felt exactly right — lagom is a swedish concept that means something like "just the right amount, not too much, not too little". We derived our slogan from that: "enough is more than a feast", which has been the guideline. In practice this has meant booking mostly locals, and not having an insane discrepancy between how much international DJs and locals/openers get paid, which is often huge. The project grew because people really saw that we weren't bullshitting them and we really took care of the whole endeavour at every level."
Living in London, I'm always intrigued to know what the situation with venues are like in other cities like Montréal? Has it always been clean sailing from 001 to the 005 NYE bash you did? You've mentioned in past interviews that you hope Montréal recognises the important of the scene and to think more of municipal initiatives in Montréal. "Huge topic! I feel like if you start talking to any underground party promoter in Montréal, the second or third sentence will be about the lack of venues for our parties. In the time I've been active as a DJ, most of the available late night venues for underground parties/raves have come and gone within 2-4 years. There are many reasons for that, including the fact that some are run and funded by artists themselves who are investing their own time, money and energy into it. Some are run by sketchier characters which have a bit of a longer lifespan. Others operate as rental halls and close down in favour of co-working and startup spaces or whatnot. The "morality" section of the police which deals with raves and mobs cracks down after a while if the project becomes too regular or popular. Gentrification of course is intrinsically related to this. At the moment it feels a bit dire — Montréal's underground scene is hungry to be recognized and protected by municipal powers, given space to exist safely and break even. We aren't even asking for extended alcohol hours (it legally ends at 3am in Montréal), we literally just want affordable, safe spaces to throw a sound system and invite 400 people to dance until 6am without having neighbours complain or police shut it down. Condos seem to always win."
How did you get involved with Never Apart? You're now the Musical Director there correct? What does that entail and can you tell us a little bit about what sort of projects Never Apart has been involved with in Montréal? It's very much a community and culture building organisation? "I got hired to become the music director at Never Apart in January 2018 to replace the former director who left — Anthony Galati of Solitary Dancer. My role is to create events centred around music with a mandate for social change and community-building. This includes parties, workshops and talks. Since I've started I've been throwing one party about every month or so, and 2 or 3 workshops, open-decks sessions and artist talks every month. It's been an amazing opportunity to get to have a job in which I can mostly construct a version of what I think is missing in the scene, with a production budget coming from the organisation to be able to book international artists and locals too. These parties have complemented what goes on at a DIY level and offered a platform where locals are presented with the same level of care as internationals." 
You've stated the role was a great opportunity to realise your vision of how to approach gender issues when it comes to programming? "I've been brewing and fermenting my ideas about gender representation in electronic music for a few years, and Never Apart was an incredible occasion for me to be able to present that in the real world (as opposed to the Master's degree I was writing about this topic and never finished!). I realised that what I wanted to do is present lineups with women, trans and non-binary folks as headliners and as a majority of the lineups, without mentioning this fact in any of the communication. My idea was that it's my job as a promoter to do the research and homework, dig for interesting acts that are not cis white males, and present them simply as a lineup. The new normal. There's a few times where I've had to be a bit explicit about a certain direction because I was organising events inside of a festival that required me to describe the theme, most notably Nuit Blanche where Eastern Bloc and Never Apart did "Latinx (Re)mix" and "Technofuturism" which respectively featured latinx and afrodiasporic artists. I wanted to take the conversation out of the marketing of the event and place it in the artist talks and panels I was organising as a complement to the parties, where conversations could happen. The idea is to begin normalising diverse lineups without patting myself on the back as a promoter. 
"Now I think the most important work around gender and race issues is at the level of structure: the roles that are not visible are still run by white cis men: promoters, club owners, marketing managers, production managers, technicians, etc. It means that these people can still curate and produce events with 50% of women and appear woke, but still act shady in practice and in the background. So we're beyond the point of simply needing representation at the public-facing level, we truly need structural change."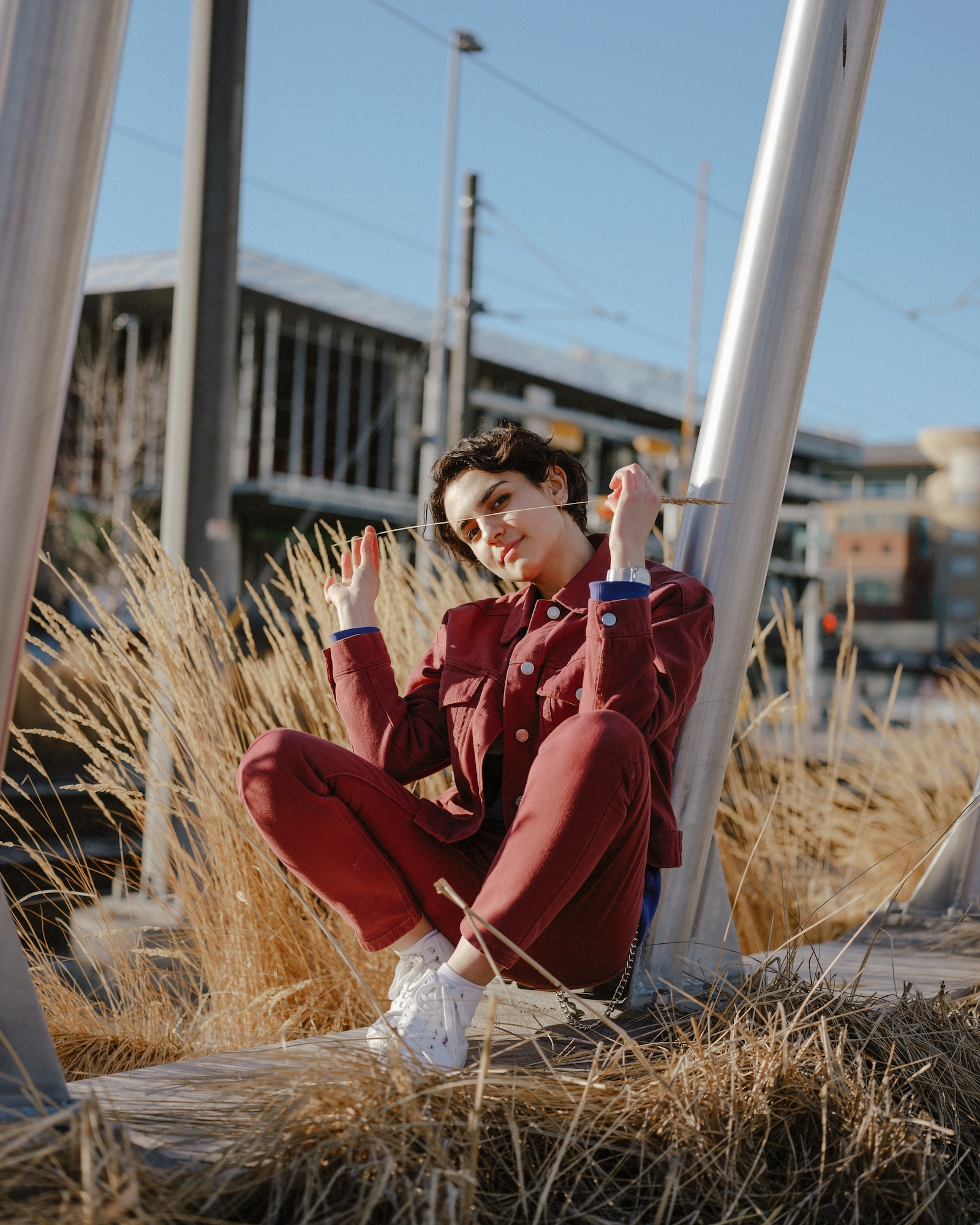 softcoresoft at RBMA Bass Camp – Credit Allison Seto
You've been on the other side and been involved in interviews yourself right too? Saw you've hosted Q&As with Josh Wink and Lena Platonos over the years? "Yes I love interviewing artists! This may come from my time in academia where interviewing was my main research method for work around music scenes. I also started doing it a little bit on my radio show Ravelength Radio on N10.AS when the station did satellite events at Red Bull Music Academy in Montréal and MUTEK. Then when I was working at LANDR audio, I started a series of artists talks called Talk Music where I invited artists to come talk either about their instrument of choice, or do a Q&A that I hosted. When I started working at Never Apart, the video Q&A with artists was already an ongoing series, so I had a lot of fun inviting artists like Octo Octa, Lena Platonos and Laraaji to chat with them. In university I always hated when I had to paraphrase a quotation or interview, I always preferred to let people speak in their own words. A sort of collage Dada approach, instead of filtering everything through me. I love to hear storytellers talk, people who've been at this for a while or have a particular experience. Oral tradition is such an important vehicle for history in dance music scenes, and interviews are a great way to preserve that."
I was reading that you lived in Spain for a period of your life or correct me if I'm wrong were actually born in Spain but possibly moved back from Montréal to work for Loop Barcelona at one point before returning back to Montréal? How ingrained or clued up are you on Spanish nightlife? "My parents are originally from Romania, and after fleeing the country when the communist regime collapsed, they arrived in a small Spanish town called Melilla. This town is actually in the north of Morocco. We then immigrated to Canada when I was about three years old. I've always kept a deep love for the Spanish language, and have spent a few summers as a teenager coming back to Spain. Then in 2014 I came to Barcelona as an exchange student for about a year, and that's when I met people from the local scene like Phran, Nehuen and others. I was also totally blown away by what the folks at Lapsus where doing there: a label, a radio show and a small and extremely well-curated festival. Inside of a city and scene that has big flashy clubs and festivals, the more underground side of it was really where the best stuff was happening. They've since opened a club called LAUT which is very well programmed. I've kept an eye on the scene since spending time there, because it feels like my second home. Since then, I also connected on and off-line with people like Wooky (Albert Salinas), Pedro Vian, Pau Soler, Lucient, Cardopusher. I am actually writing this from my favorite coffee shop in Barcelona, Satan's Coffee Corner!"
I was reading an old interview from last year and one part that particularly stood out was where you mention how you don't necessarily want to play more concerts/live shows and play week in week out as you never want to get to a point where you may not pay attention to what you're presenting. Jeff Mills kind of fed into this recently in his Art of Djing interview saying how if it all becomes too easy it will just be taken for granted. What kind of performances do you want to present each time do you think be it live or DJing? Is there a certain idea or criteria you have to meet? "Yes, I've been thinking a lot about this, as I've been reflecting about what I want, and about work-life balance and labour. I've always had another job than DJing to sustain me financially, and I haven't worked with any agent or PR — that's allowed me to grow at an organic rate through word of mouth, personal connections and internet friends. I'm not saying I wouldn't like to make DJing and production my main gig one day, but I don't want it to happen too fast. I don't wanna be a hype artist, I want to build something I'm proud of and to keep making connections and having deep human experiences inside the music world.
"As an aside, reading interviews with artists who also have another job always amazes and inspires me, like Mama Snake who is a surgeon! I like that it bursts the DJ bubble, and reminds me that A) it's ok — in perhaps preferable — not to centre your entire life around parties, gigs, DJing B) DJs are normal people, some of which are extraordinary and multifaceted, like Mama Snake haha! I find it actually quite boring to only talk or read about DJing, music and gigs all the time. I need several things to be excited about in my life that are not always related to each other: wine and food is another one for me. All this to say that quality of life and balance is important to me, so I want things to happen at the right time, in the right conjuncture. It's too easy to open Instagram and feel like "I'm not doing enough" or "Why does that person have that and not me" but I stay away from those thoughts by staying grounded and surrounding myself with good friendships."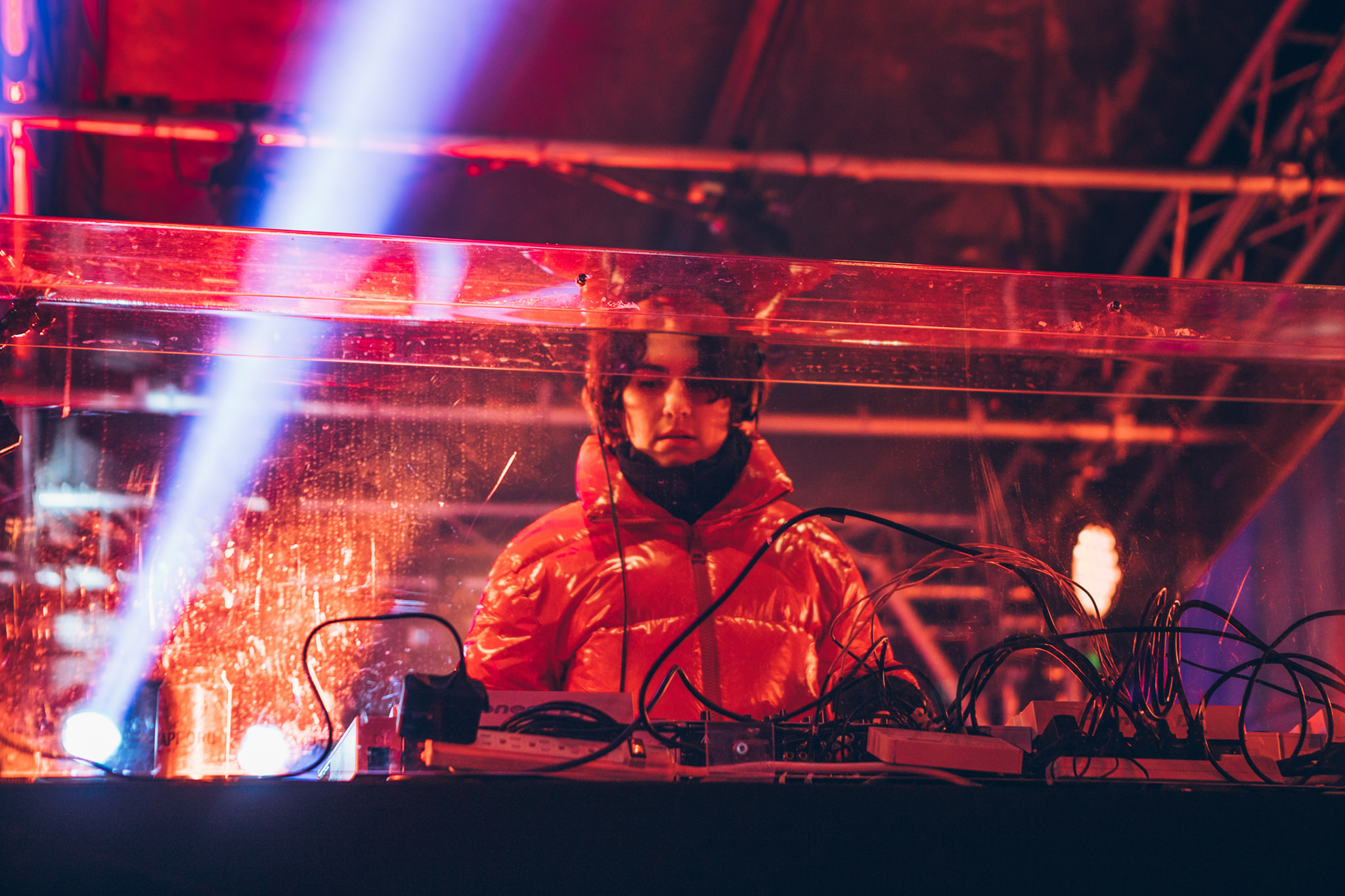 softcoresoft at igloofest, Montréal – Photo credit Toshimi Muniz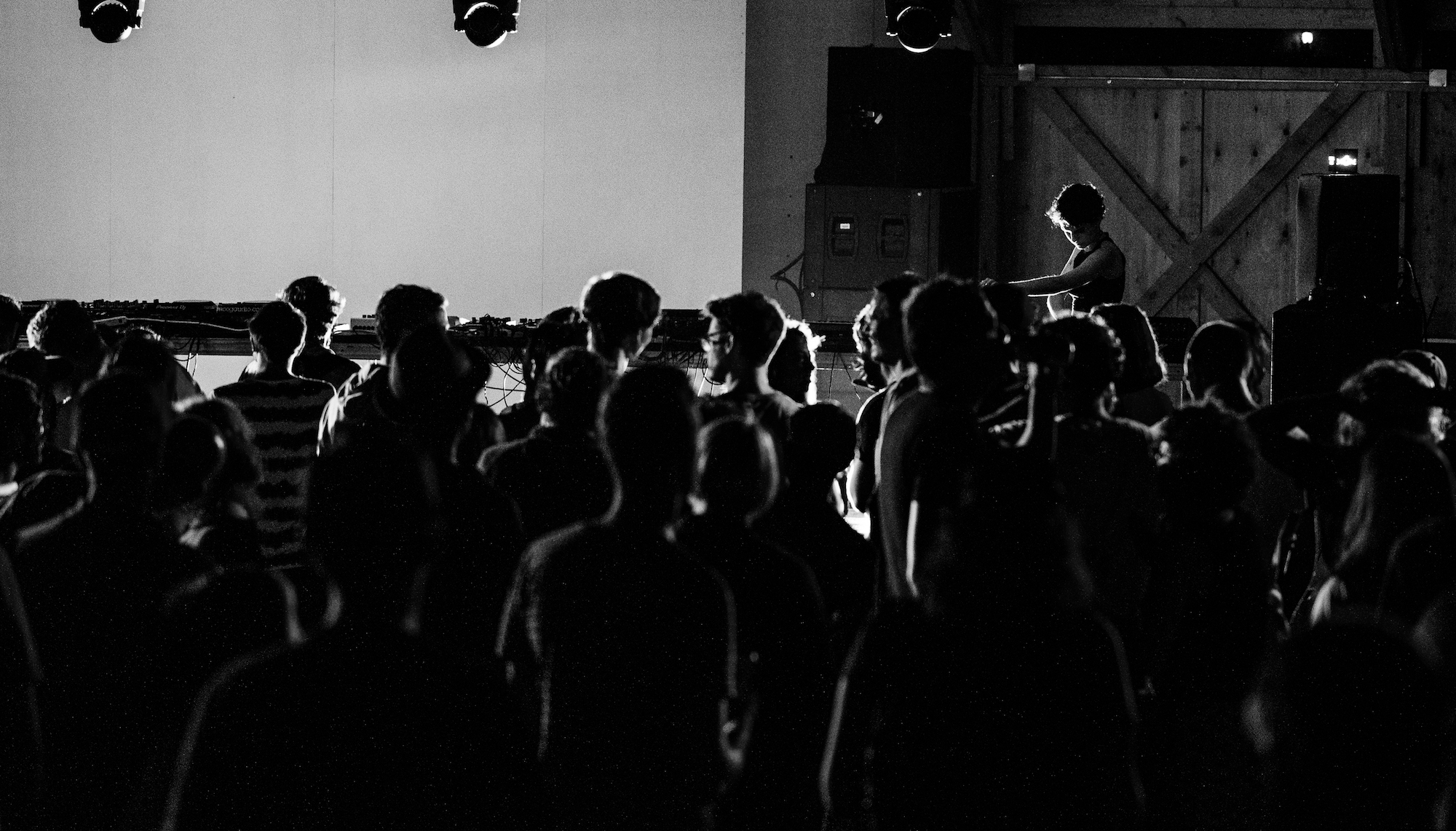 softcoresoft at Mutek, Montréal – Photo credit Bruno Destombes
What kind of setup do you have at the moment? You've been building and been acquainted with gear from early on am I right in saying? Is the EMX1 still going strong? "Right now I have a set-up that I'm really excited about because I've gotten to know it well. The central piece is my Elektron Analog Rytm (AR), which keeps revealing new features and never gets boring. I also have my Electribe EMX-1 since forever, which I use mostly for its synthesizers and its amazing arpeggiation features. I also have a Minilogue for pads, basslines or synth leads. For the Minilogue I have a 'Really Nice Compressor' with a sidechain that I feed the AR kick into, and a pedal chain: the Quick Draw delay, an MXR Phase 90 and Corona Chorus. The x0xb0x is my acid baby, it sings all the 303 lines. Then I have a Hall of Fame reverb pedal and the AKAI overdrive pedal, both in AUX going on most synths. 
"I used to record everything as live takes from the Tape Out of my Soundcraft analog mixer into a portable zoom recorder. I actually still really love the immediacy of that, and I hope to upgrade to a tape recorder and become a pro at mixing on my analog mixer so I can get rid of the computer as a final step. But on the other hand, I've been enjoying recording in multitrack and mixing everything 'properly.'" 
What can you tell us about the forthcoming Lobster Theremin EP and what went into producing the tracks that are going to be on it? You've mentioned in past interviews at really find your own style when you discovered acid techno. Without giving too much away, does that influence find itself on the EP a lot? "Most tracks on the release were composed for my MUTEK Montréal 2018 live set, and then re-recorded in the studio. I used all the gear mentioned previously. Some of the tracks were made the day before or day of the show, I had some manic energy and was going home between other people's sets at MUTEK, inspired by what I'd heard to change things in my own set. Then I sat on them for a while and recorded them again as live take in Danji's studio. Then we dove in with a fine comb and changed things as we were mixing it. I'd been talking with Jimmy [Asquith] for a year about doing a release with Lobster on their Black Label — he'd heard "Acid She Said" (one of my tracks) and wanted to do a release. But I wanted to wait for the MUTEK set because I knew I'd developed my style since he'd initially asked me. I've been experimenting much more with melodies and an acid trance approach with more pads and more layers. I really wanted my Lobster release — my debut EP — to be all bangers, for DJs to play out, big chunes! For my next project it may be different but for now I want to make proper acid techno and acid trance that are meant for the dancefloor and wherever people wanna take them."
You've mentioned in other interviews as often having this institutionalised, academic lens to music having come from a background that involves sound studies. Whilst also elaborating on that, do you find it seeps into your production still at all now? "It's funny because now I feel like I have the opposite of an academic lens. I studied Communication Studies for my Bachelor's, which included sound studies and cultural studies. Then I started my Master's in the same department, but I didn't finish because I kept changing my thesis and not finding what I really wanted to say, to contribute. I stared working in music technology at LANDR; there, I felt like I could make some arguments through writing extremely accessible and widely-read articles and "listicles." In a way, my writing on LANDR's blog (which essentially was marketing content) felt like a feminist intervention into audio tech culture more than the thesis I was trying to finish. I was a female audio tech writer writing about women who'd innovated in synthesizer history and thousands of people (mostly men) were reading it, unlike my thesis which would be read by 3-4 academics which already knew about all this. It felt more subversive somehow to do content at a startup than write an MA thesis in university. 
"I've been out of school now for a couple of years and I've refreshed my view of music and dancefloors by being involved in them in a direct way, not from academia's ivory tower. Don't get me wrong, I respect academic work about dance music and sound, in fact some of my academic friends like Dave Madden are doing fantastic work. But when I was doing my Master's, I realized I just wanted to be involved in this at a street level, at least for now. I wanted to be in it, not to write about it. I felt like I'd have more to say down the road in 10 or 15 years. For now I needed to go into the scene, practise my skills, be on dancefloors, talk to people, throw parties, make connections. Musically this has also meant that I was interested in playing bangers and in honing in what I liked at a sonic level without thinking of a justification about "why" at every step."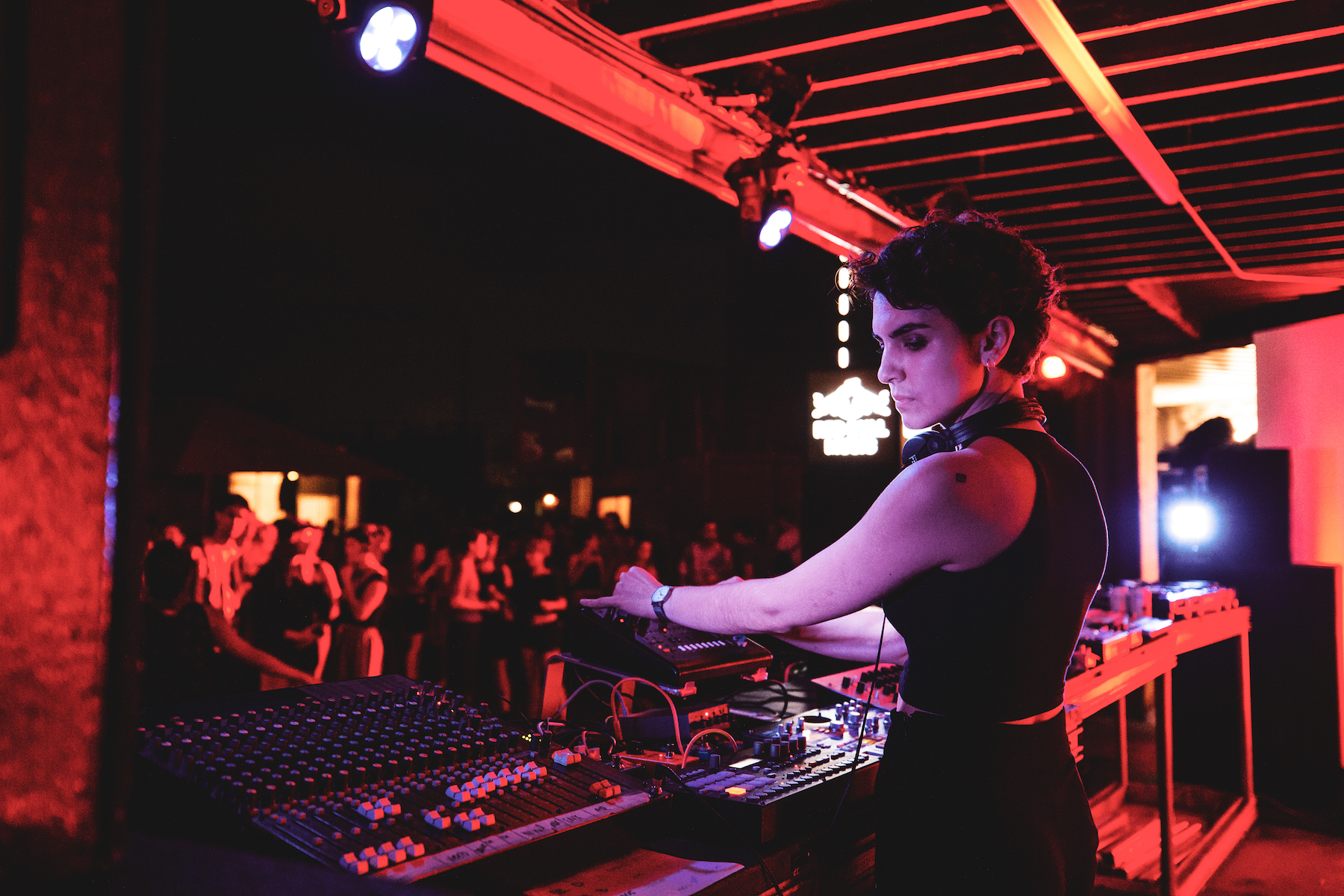 softcoresoft at Mutek, Montréal – Photo credit Bruno Destombes
I wanted to also talk about the Power Puerto compilation you put out in 2017 with Danji in aid of The Hurricane Maria Community Relief & Recovery Fund, for our readers that might have missed it. At 43 tracks it must have been quite a task to put together in 2 months? ""As I was watching the news about how badly Puerto Rico was hit by hurricane Maria and how little the US was actually helping, it felt really urgent to try and do something. I feel like DJs and producers get a very big platform, so we should use it whenever possible to participate in a concrete way in a constructive political project towards social justice, whether it's fundraising parties or compilations. I think Danji and I put it together in under two weeks if I remember correctly! Our network was very responsive and it really meant a lot that so many people wanted to participate — from all 43 producers to Margaux Fraisse the graphic designer. "
You recently had the opportunity to attend the Red Bull Music Academy Bass Camp over in Calgary last month. Can you tell us a little bit about how that was? You mentioned on Facebook, Lido Pimienta and Gavin Rayna Russom lectures being real highlights for you? "The Bass Camp in Calgary was a total blast. Those two talks in particular were very moving, hearing the stories of two figures such as Lido and Rayna, their philosophies, theirs life tips and their vision. It was pretty wild to be at the National Music Center, this impressive building in downtown Calgary that houses a mind-blowing synthesizer collection. But honestly the best part was getting to connect with the other participants: Korea Town Acid, Yusu, Raf Reza, Text Junk, Hood Joplin, Khotin, Debbie Friday, Ylang Ylang and others. Rayna also kind of made me want to get into modular synths but I also sort of promised myself I wouldn't go there haha! To be continued!"
What can you tell us about the mix you've recorded for us? Any particular direction you started going in when you were picking tracks? Any tracks you want to shout out too that have been staples in your sets lately? "I'd actually been sitting on the idea for this mix for a while. I'd been wanting to do an "all bangers" mix that reflects what my DJ sets are like these days. I wanted it to be fast, trancey, trippy and fun. I wanted to also throw in there some of the tracks from my upcoming LTBLK debut EP release. Some shout outs: Text Chunk is a Canadian artist that I met at the Red Bull Bass Camp, an incredibly talented jungle, juke and techno producer — someone to watch! Shout out Machine Woman who has been my biggest inspiration as a human being in this field in 2018, what a refreshing personality and no-bullshit, fun approach! Overland is my favorite Canadian producer, she makes the sickest acid techno and I'm thrilled to see her rising as well. Serieu X and Absurde are from Montréal and they are also absolutely gifted producers. The track by Aquarian is from the Forth compilation, which is an excellent label and party series that my friends Hadi and Lukas run in Toronto. Canadian techno is definitely having a moment and I'm stoked!"
Last usual question from us, when was the last time you properly danced and what was the last thing to put a smile on your face? "Last Saturday I was visiting friends in Paris and we ended up at Rex Club. We were a bit skeptical about going out to a club, but we ended up having a proper blast, dancing until 5am on super entrancing, slow jams. It was the Hard Fist label night."
Bonus question: All-time favourite cooking show segment? "It's not really a cooking show proper, but like ALL OF Chef's Table is all I ever wanna watch." 
Tracklist:
Eros – Influx
Text Chunk – Untitled
softcoresoft – Social Compost (forthcoming)
Maukook – Model (Maukook 303 Remix)
Randomer – Fat Purple Figs
90 Process – Knowledge Wasn't My Plan –
döner smuggler – auditory hallucination II
I Hate Models – Warehouse Memories
Machine Woman – East Midlands Rave Tune
Overland – Anxiety
Pavel Milyakov – main loop
DJ Ibon – No Love
Trancemaster – Trance Xode
999999999 – RAVE 4 LOVE
softcoresoft – Thalassa (forthcoming)
Stranger – Ommoord
Hearts Of Space – With A Medium Into Trance (Drop Out Mix)
Anastasia Kristensen – Donni
SERIEU X – GOLD
Schacke – Designer Of Worlds
Absurde – At The Speed Of Thought
Lorenzo Senni- XAllegroX (DJ Stingray's Molto Allegro Mix)
Aquarian – Ten Years (Leather Jacket Mix)
Sissel Wincent – Flood On Drizzle
Gabber Eleganza – LRNZ SNN + ZMBY (LIDO DI OSTIA EDIT)

Softcoresoft: Soundcloud, Facebook, Twitter, Instagram, Resident Advisor,