For our second Truancy Volume of the year and our 168th overall, we're able to welcome a rising talent based in Boston by the name of Isabella. Having made her big break last year with a killer split on Börft alongside the equally as talented and on the rise Bergsonist, her music has crept up on a number of weighty compilations in 2017. Last month saw a track called 'Dying & Denying' appear on Allergy Season and Discwoman's 'Physially Sick' and just this week she dropped another cut on 1221's 'Comp 4' which also featured music from close Truant affiliate 2Lanes and number of other producers such as Beta Librae, Umfang and Shawn Sullivan. With news of Peder Mannerfelt curating a compilation which she'll be contributing to, in the pipeline, her name is definitely one to keep an eye out for. We caught up with Isabella to discuss how she was brought to her current sound, her time spent living and studying in Boston, and how her visual work informs her music. Her mix, which she describes as a collage like assembly of sounds is wonderfully woven collection of experimental touches and tape manipulation, with some hard hitting hardware jams thrown in for good measure.
Hey Isabella, seeing as this may be your first interview on the web right now thought I'd start pretty general by asking if you could tell us a little bit about your entry into electronic music and how you've been brought to your current sound. Any key labels past and present that have inspired you and informed your work. Hi, yes, most definitely! It's hard to back track and think of a specific moment in time where I crossed over into an electronic sound, it feels like it's always been there, just a matter of expansion. More similar to a blending of happenings, realisations and outcomes that is still evolving and hovering on a liminal border. I spent a lot of time attending experimental noise shows in and around Boston, as I'm very interested in the intersection of noise and rhythm. I had been creating my own music since I was really young but primarily through ways of an upright piano. Through this I then became curious as to how I could translate that process electronically. I had an Alesis keyboard my dad gave me that weighed, no lie, probably 100 pounds. Every time I moved apartments it came with me, a massive drag to transport. He had used it for gigs and I knew it for its ability to produce "X" orchestral instrument sound like "Oboe" but when I was able to explore further on my own I realised there was a whole separate side to it. Raw clanging presets and modulated drums, it was like I discovered the unwanted sounds of the machine, the secret bank or something.
From there I decided to build off of that and invest in an EHX 2880 loop pedal, a Boss DD6, and some other weirdo machines. I recorded in the basement of my apartment on to a Tascam 4 track and made a bunch of tapes. That was in like 2009, eventually I moved to Providence which is where I started to get more serious about my music but only within the confines of my own studio, I was really shy about sharing my work digitally and live. I was listening to a lot of Frak, Dan Fun, Conrad Schnitzler, Palais Schaumburg, De Fabriek, Borghesia, that SNX release by the label Hawai was also really huge for me. This music provided me with space to create, that I wasn't previously aware of. The history of performance coming out of Providence RI undeniably affected my process as well. Access to warehouse and artist run spaces was/is paramount, a physical space can undoubtedly contribute to the creation of sound. For labels, Börft always has held a very special place in my heart and continues to do so, No-Tech run by Ciarra Black has been releasing some really sick stuff, Principe records out of Lisbon, Finders Keepers in the past has put out compilations that I've enjoyed a great deal and I think they're doing good curatorial work. A Tribute To Something Bizarre for sure, BANK records out of NYC hosts excellent friends and artists also. Just to name a few."
Are you originally from Boston too? Can you tell us of any changes the city has gone through musically or generally over the years? "I'm from Gloucester Ma. originally which is 45 minutes north of Boston but have been living in and out of the city since 2005, bouncing back and forth from Providence. Boston has always offered somewhat difficult conditions to work under as an artist. Or rather, since I've been here that seems to be the case. The DIY/underground music scene was thriving for a while years ago but most places that I've known have been shut down or changed drastically and no longer host shows. Boston is concentrated with a vast number of Universities and academic institutes, my own experience is that many people here have transient stays. Recently General Electric and many pharmaceutical companies have landed here making it there home base for head quarters. That has created senseless spikes in the cost of living, wiped any and all industrial areas that may have been occupied by artists/performers and created a harsh environment for the livelihood of art unless it fits within a certain paradigm.
We have young professionals with 6 digit plus salaries living in "artist lofts" and developments of high end condos popping up daily. That being said it's really pressured people here to try and work within a proper club/venue setting which has problems of its own or get creative in hosting parties/shows in what little spaces are left while maintaining a very covert operation. The police love to shut a show or party down plain and simple. I'm also speaking from a perspective of someone involved in a more techno/experimental focused community. Boston has always been a rock city so I'm sure it's probably different from that perspective, I don't know. But when I see artists migrate to NYC, Providence, Philly etc. it's totally understandable. You get more access/resources for your money in NYC and more space for less $$$ in those other cities. It's pretty hard here but people within these communities strive for space for less $$$ in those other cities. People within these communities strive to do what they can and make space for themselves. The other facet of this is that recently I decided to go back to school, a lot of my time is taken up in the studio trying to balance between my sound practice and my work in fibers. So my time to go out has diminished quite a bit, the local music scene is constantly transforming under these conditions, I'm just not always aware of which direction its transforming in."
I noticed an array of production gear from your Instagram. At what point did you start decide to purchase and can you tell us about some of your current pieces? "I've been insanely lucky to have really supportive people in my life, truly. A lot of the gear I have has been gifted to me or on long term loan. My good friend gave me a Roland CR-8000 for my birthday one year, and before that I acquired a Korg MS-2000, that was my first big piece of gear (imho) and that's when I started to study more about synthesis and pre/post MIDI. Shortly after came my Waldorf Micro-Q rack mount synth which resembles a french fry with buttons, it is not to be under estimated- it's a really wild synth. My boyfriend got me an Arturia Micro-Brute which I love for its rawness. I have a Roland 707 which is on loan from a dear friend and the pieces that I've invested in myself are the Elektron Analog RYTM, Octatrack, Cyclone TT-303 and most recently the Waldorf Pulse 2. Eventually in the near future I'd like to build a modular FX rack."
Prior to putting music out under your first name, you used to go by and play live as Sitting Adult. What was the thought process in deciding to go fully as 'Isabella' or is Sitting Adult still on the cards? "I got really sick of explaining what Sitting Adult meant, it didn't mean anything and when I would tell people that they would get disappointed. I simply liked the pairing of the words. I decided to just use my name for the time being until I thought of something else but I haven't thought of that something else yet. I've gotten remarks in reviews about how I'm "actually a woman and not a man with a female moniker" – it's amusing and also very complicated."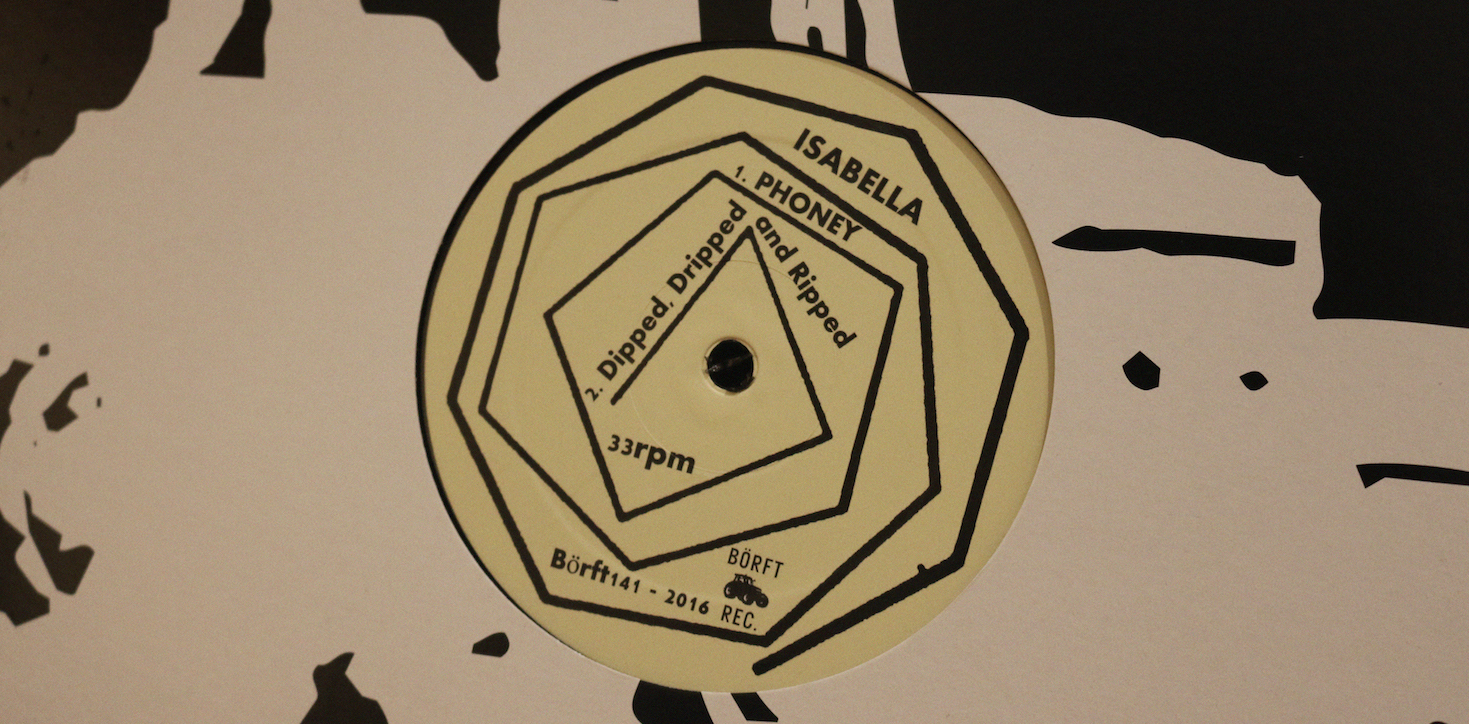 Speaking of playing live, something that you seem to be doing more than DJing at the moment, when did you first decide you were ready to jump into that format. Is it a similar setup to the way you make music too? "Yeah I used to DJ a lot, I guess my live performances definitely have DJ elements, I aim to build and dismantle through (at times) cohesive transitions but it's constantly changing. Sometimes I do sound exercises, as I like to call them. I give myself prompts then kind of document where that takes me. I try and tell myself that I'm not expected to produce something remarkable every time I work in the studio. Like "it's ok, indulge and make that corny track, like maybe it's something you have to get out of your system." It can't be too serious. I try and find bridges between my visual work in fibers/sculpture and my sonic work, doodles and sketches. Sometimes you need something highly rendered to be able to get to the grit."
You mention your visual work here at the end, can you tell us a little bit about that and how you attempt to build bridges between both practices? "Right now I'm focusing on, I guess I'd call them, "frozen scenes or situations" memories of environments decoded into possible fictitious forms and how that's presented or how it literally fits into a space. Is it squeezed or floppy or stretched, short, bunched, hidden etc. I think the ability that textiles/fibers has to transcribe is infinite and that absolutely runs parallel with sound. The language of both can apply to each other. The work of William Forsythe has been incredibly interesting to me lately and Diane Simpsons' focus on, arguably, uncanny sculptures depicting highly focused details of clothing or utilitarian objects. Typically constructed from a 45 degree angle viewpoint addressing functionality and sociological roles. Metamorphosis through exaggeration. These are some of the things that run through my head when writing music and vice versa. What would a sine wave look like presented in satin and so on.
I don't doubt some people would listen to my work and then read this and be like "chyeah ok" but these really are my honest intentions. References to art can be found in my work here and there, "Goldsworthy two step" I wrote after watching a documentary on Andy Goldsworthy, just fun stuff. My studio is in a warehouse above a cupcake factory and there are over night bakers there, at night when I'm here I can hear all these industrial baking machines working and the construction of a cupcake being made, I can visualise it based on the sounds and I can even smell it, but I've never seen any of it. I think that's what I aim to do in my music. Give a type of soundtrack to situations or forms but with a "dance music" paradigm. Does it always work, hell no, but whatever, it's about process for me right now. And yeah, thats how I attempt to build bridges between both practices."
One of my favourite records from last year was your split with Bergsonist on Borft. Can you tell us how that came about and how you and Selwa first came to meet? Have you made any music yet, or with other people yet for that matter? "Thank you so much! I'm really proud of that split. Some years ago I emailed Jan at Börft to express my adoration for the label and how important Frak was to me. We built a friendship and eventually he heard some of my music years later. One morning I woke up to an email asking if I would be interested in putting something out with a Brooklyn based artist named Bergsonist. I was down 100%, we were introduced via email and quickly became friends. Shortly after we played a Technofeminism party introduced via email and quickly became friends. Then we played another Technofeminism party together, this time at Bossa Nova Civic Club and the rest is history :) I'm so grateful for that introduction and having the chance to work with Selwa, we align on a lot of different levels, not just musically. I think when you're able to connect with someone like that through the experience of having your art shared it's really special. We have yet to jam together but it'll happen.
Via App seems to be another person whose music has popped up in your sets and your music in hers. Via App (Dylan) is another really exceptional artist in my life whose friendship is really special. We've jammed a couple times together and that's been really fun. Dylan successfully and dynamically challenges traditions of "dance music" and its tropes and through that we get a deeper listening experience and I'm thankful for that. Sometimes we talk about processes, she's also helped me with a bunch of gear questions <3″
What can you tell us a bit about the mix you've done for us? Well, I've included some friend's work who I've been into, the intro is an excerpt from my friend Timothy. I really love the sound of the tape speed changing, it's a nice translation of action. I also mixed in a lot of experimental sound recordings and tape manipulation. The Luciano Berio piece towards the end just floors me, it's an interpretive reading of the poem "Sirens" out of Ulysseus by Cathy Berberian, a composition for vocal and tape, the regard to the tape as an instrument is key. So, I tried a new process of not focusing on mixing a large amount but rather an assemblage of sound, a collage maybe. But I think there are elements which communicate to one another through out the mix. I've been really into Psychick Warriors ov Gaia and listening to a lot of Severed Heads. That Richard H. Kirk track is pretty sick and Robert Görls track "scoops" is a classic. I wanted to end the mix with "The Things That Dreams Are Made Of" for word fun but also as a signifier to some close friends. I also included some of my own stuff which are pretty raw but thought it was a good opportunity."
What else can we expect from you this year or in the near future? I have a track coming out on a compilation from Peder Mannerfelt with Sissel Wincent and others, looking forward to that! As well as a split 7" with Liquid Asset due in the spring I think. It's been hard to focus with the state of the world right now thats for sure. Selwa and I will be in Malmö for the Börft 30th anniversary party in April followed by a mini EU tour. I'm trying to make time to work on material for an EP but that's a constant thing. Sometime in the future I'd like to work on composing for performative dance/movement but we'll see!
Tracklist:
Tim Wood – Excerpt from A Bundle
Kord – Horisont
Rex Ilusivii – SNP 2
Psychic Warriors of Gaia – Kraak (Coil Remix)
Frak – Lance Stroboscopes
Chris & Cosey – Dancing Ghosts
Isabella – Head In A Bag
R. Görl – Scoops
Richard H. Kirk – Make It On Down
Thomas Brinkman – I Don't Know What This World Is
Luke Eargoggle – Drinking and Smoking
Bam Bam – Where's Your Child?
Luciano Berio – Thema (Omaggio a Joyce)
Fini Tribe – De Testimony (Collapsing edit)
Isabella – Generous Passion
Sissel Wincent – Chrome
Via App – Hostile Environment to Insidious Drone
Ciarra Black – Need Continuum
Shackleton – Powerplant
The Human league – The Things That Dreams Are Made Of (Original Dub)

Isabella: Facebook, Soundcloud, Instagram