Kicking it between Berlin, London and his hometown of Melbourne the last few years, Mic Newman, now better known for his Fantastic Man alias, has become one of the main leading stalwarts pushing punchy, tripped out house cuts out of Australia. Although now based in Berlin for the moment, a string of 2016 releases mixed with some fortunate good timing meant he was trail-blazing through releasing some of his best-received music in the short timeframe of six months. The summer sees him busier than ever, lining up gigs at Razzmataz, Panorama Bar, Festival Les Escales, Sugarfactory and some Australian dates to name a few. Catching up a month before he gets set to play his fourth Love International festival over in Tisno, Croatia, Mic kindly delivered our 217th Truancy Volume. We also threw some questions his way, discussing the last seven years of Fantastic Man, his new P.M.T.C alias, the label (Superconcious Records) he runs with Francis Inferno Orchestra, and taking mushrooms for the first time on one of his favourite teenage summer holiday. Opening with a forthcoming track from FIO called 'Hygiene', Mic excels from the start on this hour long mix, blending wistful melodies with soft tribal atmospherics for a dazzling 217th instalment.
So just by starting, considering it's been a good 7 years now since the Fantastic Man alias was born, how do you look back on the way this alias has progressed? Do you think you're making you're best ever music at the moment? "Yeah wow, time flies. It's been a nice journey and I'm pretty happy with how everything has gone so far musically, obviously with some twists and turns along the way. Whether or not I'm making my 'best music ever' is really a matter of taste. I'm sure there are folks whom prefer the early stuff and vice versa, personally I'm trying to evolve and challenge myself with each release."
In an interview around 2013 you mentioned it was always a bit of fluke when you got the music right. How have things moved on since then? Are you more confident when you sit down and get things going in the studio? "Yes and no, it's still the same; I haven't found the magic formula. So it's still a huge challenge (and achievement) finishing something worthy for a release. And as I find myself having less time in the studio, it's becoming more and more frustrating as I'm often discarding more ideas than I'm keeping!"
It's almost a funny coincidence that your prior music under your own name Mic Newman grew to a close after seven years, with two new alias P.M.T.C and Mind Motion coming up after FM after a similar length of time. Is there a cycle to that you reckon, wanting to explore further avenues but feeling the need to place it under a different name? "Not really, just sometimes I felt like certain ideas needed to be presented contextually because if you're an artist with a reputation for one thing, throwing in a curveball every now and again might not go down quite as intended. So I feel there's a need sometimes to present something fresh in the right context and minus the pre-conceptions." Saying that, what can you tell us about some of the tracks from the P.M.T.C and Mind Motion records. Any 'eureka' moments behind any of them? "Nah not really, those arose from different mental spaces and approaches, not necessarily intentionally either."
Going back a little what's your earliest memory of music? "My dad was a classical guitarist and was training for the academy right around the time I was three years old or something. So that memory of him practicing the same riffs over and over again for hours on end is probably about as far back as it goes."
As a graphic designer on the 9-5, was really excited to learn that you studied design prior to the whole music making thing and you've contributed in designing the Superconcious Records artwork. That 001 release and the P.M.T.C art are spot on. Cliche question but do you still find yourself eyeing up other design work for influences? Is it still the same sort of interest from when you were studying? "Other art definitely inspires me for sure. I like to attempt creating a certain vibe, for a record specifically it's something that I would pick up in a shop myself. A lot of what I dig for is old music with specific covers that for me easily pinpoint a style and era. I love absurd old 12' covers, and even something as subtle but distinctive as track titles from early rave records for example. I think it's something that's lacking slightly today."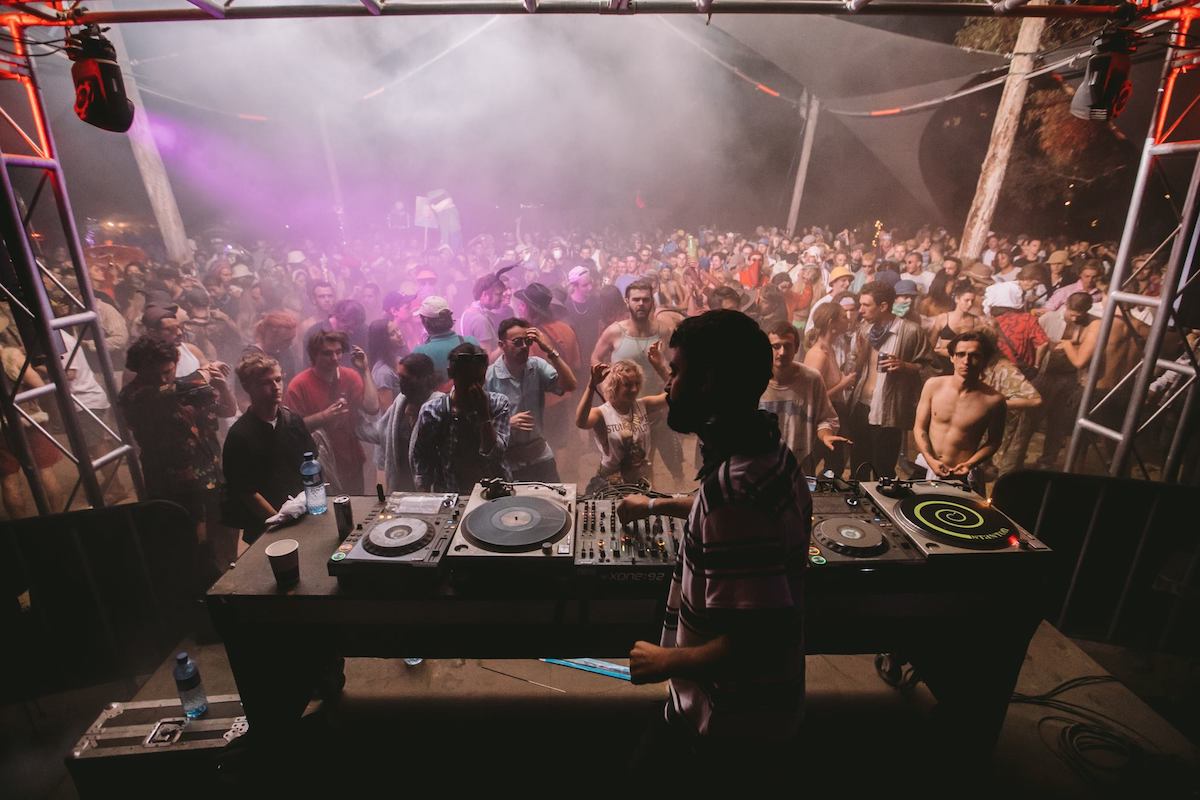 Let's talk about your relationship with Francis Inferno Orchestra as from reading past interviews, and interviews you've done with each other it seems you've got a close friendship. Keen to find out how you both met, and maybe how you bounce ideas on around on things such as the label and music in general. Also if not anything music related, what's the most common conversation topic you guys have haha "I can't even remember where we met initially. I think it might have been on Soundcloud first and then at the Mercat after (R.I.P) and we were pretty connected especially when we moved to London around the same time, we had the same friends and were repped by the same agents, so playing a few shows together etc. So initially setting things up was quite fluid. Now though it's pretty much long distance relationship, those usually never last but this one seems to be the exception haha. As far as bouncing ideas goes, we're pretty spontaneous. I don't think we've ever had anything that would constitute a real 'meeting' we usually sit around chatting shit and then eventually pool some ideas together and move from there." One thing I've gotta say about Superconcious Records is you've mainly kept it local and introduced me to a lot of new talent. People like Luis CL, Imohtep and and all the aliases in between. Are you all just a bunch of Melbourne friends? Do you think you've both achieved what you set out to do since starting the label?Yeah that wasn't an intentional thing. It just so happened that there were a butt-tonne of fresh artists in Melbourne, we just knew where to look ;)"
You're heading out to Tisno this summer for this years instalment of Love International Festival. Any ideas how this one might pan out? How good are you with coastal sunny holidays, and tips for people potentially doing their first abroad festival. Whilst we're on this topic, favourite teenage holiday? Funny you ask. Those who know me can vouch; I have been known to go on coastal sunny holidays from time to time. This will be my 4th Love Int, but first time playing on a Boat Party and Beach Stage. And lets see my fav teenage holiday? Probably that time my and my friends went on a two-week coastal trip over new years up the east coast of Australia. We were fifteen and it took two days to arrive by train. I wont go into too many more details but lets just say it was comedy of errors from start to end. Most memorable moment; taking magic mushrooms for the first time on the beach and getting locked out of our tent.
What can you tell us about the mix you've done for us today? Was there any particular theme you went for this and are there any particular tracks or artists you want to shout out? "Shouts to FIO for the opening track HYGIENE forthcoming on SCR next month. The rest is made up mainly of records which I've either been playing lately or wanting to play but haven't had the opportunity."
What else do you have coming up this year if it hasn't been mentioned yet? "Since P.M.T.C I haven't had much time to finish anything as I've been on the road solidly since the beginning of the year. I'm trying to write as much new music in between gigs as possible but it's not something I neither need to nor want to rush."
Who are some DJs, producers or just generally awesome music people who are keeping you interested at the moment? "Anyone we should be keeping our eyes on? Off the top of my head; Turner Street Sounds, D-Tiffany & Roza Terenzi, Acting Press, Minor Science."
Last usual question from us, when was the last time you danced and what was last thing to bring a proper smile to your face? "Dunno, but I'm most looking forward to this feeling at Barbarellas next week! That place is the raddest place to dance in the world!"

Fantastic Man: Soundcloud, Facebook, Resident Advisor, Bandcamp
You can catch Fantastic Man at this year's Love International Festival in Tisno, Croatia from 27th June – 4th July 2018.
Fantastic Man plays b2b with Francis Inferno Orchestra at the Beach Stage on the Friday 29th June, followed by the Tief x Supereconcious boat party on the Saturday 30th June. Tickets and information for Love International can be found here.