The artist, composer, scholar and educator Dr. Tara Rodgers (aka Analog Tara) began her involvement with music very early in life, learning to play piano by ear before age two. Born in upstate New York, she grew up listening to jazz records and was making her own recordings on a hi-fi cassette deck from a young age. Over the last 20 years, Rodgers' music career has taken the form of solo piano performances at cocktail lounges in NYC, six self-released EPs and six LPs of electronic music, along with tracks on Move D's Source Records and a 12" Le Tigre Remix. Her scholarly work has led her to study with sonic experimentalists Fred Frith, Maggie Payne and Pauline Oliveros in the MFA program at Mills College, and to create sound and multimedia installations with programming language SuperCollider, which have been presented at the Museum of Contemporary Canadian Art in Toronto, Eyebeam in NYC and more. Rodgers also completed a PhD on the history of synthesized sound at the prestigious McGill University, publishing several essays on music, technology and culture.
In addition to her personal musical and educational endeavors, Rodgers is a well-known advocate for gender diversity in electronic music cultures, as well as a public scholar and music educator. In 2000, she founded Pink Noises, one of the first websites to document and connect women in electronic music, while also providing links and resources for involvement and education. Rodgers followed up the website with a related book, Pink Noises: Women on Electronic Music and Sound, which provides in-depth interviews with various women in electronic music. Having previously served on the faculty at Dartmouth College, the University of Maryland and The School of the Museum of Fine Arts Boston, Rodgers regularly gives lectures and provides workshops at music festivals, community arts programs and academic departments.
Now based in Washington, DC, Rodgers has come off a 15-year hiatus from releasing recordings as Analog Tara with a new EP, titled Fundamentals, on the DC label 1432 R. Fundamentals is an amalgamation of the artist's influences and personal experiences, exploring everything from techno, electro, analog sound sources, jazz, funk keyboard performance, sound art and explorations of sound as sculptural material. The music is soulful, serene and celebratory, featuring jubilant rhythms, magnetic synths and an overall free-flowing energy. "In going back to dance music genres, I've been thinking a lot about club spaces as community spaces—as places people go to find a sense of belonging through the music, and to feel the music through a sound system," she describes. "When you produce tracks in these genres, you are making music that can exist inside of something larger—by fitting within a DJ's mix or bringing a certain energy to dance floors. I've approached this music in that way, to try to contribute to these atmospheres of feeling." In the following interview, we delve into her childhood interactions with music and technology, the impact of women on her work, her creative processes and inspirations, and the role of online communities and feminism in electronic music.
Could you describe some of your earliest experiences with music and technology? "Well, I know from photos and family stories that I was already at the piano by about 18 months. I also remember the moment in first grade music class when we all had to play the theme song from the Olympics on the recorder. I played the whole thing without looking at the sheet music, because I had heard it on TV. The teacher looked at me like I was from outer space! That was when I learned that not everybody can play by ear, and it made music seem more like a special power. I was a quiet kid, and music was like my alternate language world. I found it better than spoken or written language in all it could express, and I sought out many hours on my own to explore that.
Most of my musical and technological learning was self-directed, outside of school. I was lucky to be in a home environment where that was supported. My father was a hi-fi audio enthusiast, an early adopter of personal computers in the '80s, and an avid jazz fan. He was very generous in sharing that knowledge with me. I learned to make recordings on cassette and play records pretty early on. I would go to the public library and get a stack of records and make mix tapes from those, and also tape songs off the radio. My father also brought a computer home from work sometimes—this would've been an Apple IIe or similar in the '80s. I spent a lot of time on that when I was about 12, figuring out how to program melodies in BASIC."
In what ways have the women in your family impacted your work? "Thank you for asking this. My mother was a teacher, and her default mode is to validate and encourage people in this very steady, understated way. I know this has helped carry me this far, especially pursuing a life path in the arts where many forces along the way can discourage you. And it occurs to me that as an educator myself, I have often embraced a kind of pedagogy of encouragement, which is surely informed by her example.
I also have some amazing women in my chosen family around the world—including artists, scholars, and activists who impact my work in all sorts of ways."
What made you decide to release a record after 15 years? Could you talk about the process of creating the Fundamentals EP and working with 1432 R? Was it a focused effort or are you consistently making music? "The release was unexpected! I mean, there was never a point in the last 20 years when I was not active professionally as a musician and composer—record labels were just usually not the forum for it. I was busy presenting music in performances and galleries, and sometimes with dance artist collaborators Sharon Mansur and Thomas DeFrantz. I self-released several projects online, but had given up trying to find a label a long time ago. Last year, a mutual friend in DC introduced me to Joyce Lim at 1432 R, and the timing was just right for this release to happen. I had been ramping up techno and house music production after some years of focusing on other genres, and I had new material ready when Joyce and I met. I have such respect for what Joyce, Sami, and Dawit are doing with their music and curation for the label. You can tell there is such passion behind it, in how they are connecting people making music with people who love music. I feel lucky that they are listening to what I do.
On my end, doing this music now has partly been about figuring out how to have an ongoing commitment to techno and house genres. It's easy to think of dance music as being mainly by and for young people, and that at some point you age out of it! But for many of us who stick around for the longer haul, it is both personal and political. On one level, there's a lot of innovation and professionalism in the sound of club music. As a musician and producer, there is always a lot you can learn from it. But, more than that, I go back to something that DJ Jeannie Hopper said in our interview for the Pink Noises book: how people often come together in electronic music spaces to find their surrogate family, to find a sense of belonging on the dancefloor, connected by the energy of the music. This was true in the ways that house and techno genres emerged from queer and trans and Black and Latinx artists and communities some decades ago. And we know how this is still true through the lives that were lost at Pulse in Orlando and the Ghost Ship in Oakland. So, when you are producing music in these genres, you have the honor of contributing to the energy of these spaces, hopefully by introducing some positive energy or moments of joy wherever people are coming together. These are great goals to work toward as a musician. All of this pulled me back in.
I do make music continuously, as much as I can in the time I can give to it. Albums usually come out of live sets, so the tracks on Fundamentals originated in various performances I did over the last 2-3 years. I have a few more projects in the works now, and hopefully more recordings out soon."
The record artwork is very striking—what was the inspiration behind it? "All credit to Joyce! She does all the art for 1432 R releases and it is a thrill to have her artwork featured on the album. She asked me to share some concepts… We talked about being surrounded and comforted by sound, also about a direct gaze that communicates confidence and strength. She also worked with the symbol of my Leo sign. I'm in awe of what she came up with!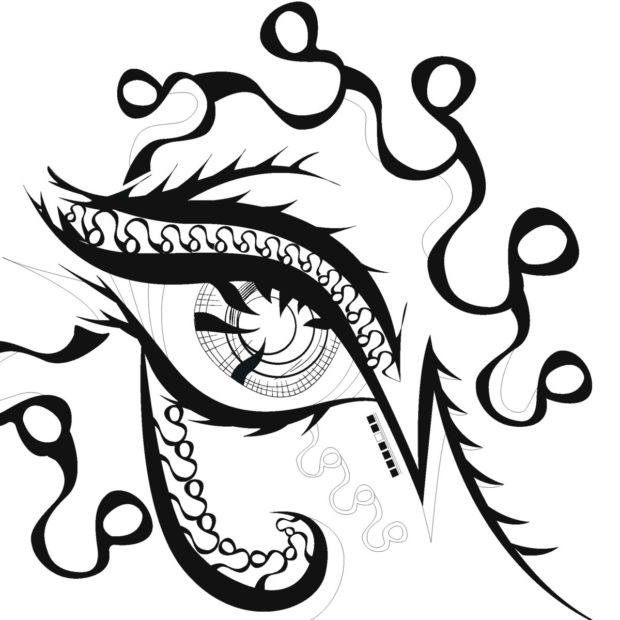 The track titles on Fundamentals suggest a fascination with the natural world—in what ways does nature play a role in your music? How does your interest in astronomy feed into your productions? "I would say the common theme is that my work explores sound as both material and metaphor. This was the subject of my PhD dissertation on the history of synthesized sound, and also of my MFA thesis project, which was a generative computer music composition inspired by behaviors of migrating butterflies.
Sound and music are so much about relationships of individual elements to complex wholes, and about patterning and dynamic formations. And there are many parallels to be found in natural, social, technological, and other systems. One of the central puzzles in my work is to figure out how and why electronic music without words can be so meaningful and engender such nuanced feeling. Working through metaphor, or how sounds evoke other things and vice versa, can help sort that out. I've found it helpful to explore sound and metaphor through historical research as well as in my creative practice.
So, in the studio, I am always giving myself prompts to create. With Fundamentals, I was thinking about things like: Does sound have a surface? How do you work with that musically and technically, and how does surface differ from what we hear as texture? Also, how do you balance a sense of lightness and weight in a mix? Or, how do you produce a sound that evokes a memory of something in the distant past in which the details are not clear? Another favorite one, to get out of my habits, is: how can I play my instrument as if I am an algorithm?
The astronomy explorations are more recent. I was working at the piano one day and reflecting on how a few notes of a chord can generate a big cloud of harmonics. I got to thinking about constellations—how we tend to perceive just the brightest or nearest stars, and not always the complexity behind them, depending on the weather and the ambient light. So, from there, I pulled some prompts from astronomy textbooks to use in a piano recording session. For example, asking: how would you play a double star phenomenon in sound, where two oscillating elements are sometimes perceived as one? Things like that.
These are often riddles that have no answer, but they set up a work process that can take you deep into physical or natural phenomena in order to generate musical material. It's usually not important to me that listeners know about the prompts behind the music, but I do have a certain faith that working in the realm of metaphor can enhance what people are ultimately able to hear or feel in the music in some way. Or, maybe these exercises are just an elaborate way of training myself to be more sensitive to the nuances of sound. That sensitivity is ideally what comes through in the performance or recording."
Do you have a favorite piece of musical equipment? Has your approach changed over the years? Is your music heavily influenced by the tools you use? "Probably too many to name! For Fundamentals, there are two I would highlight. One is the Vermona DRM mk III drum machine. Many drum machines are derivative of the classic TR-808 or TR-909, but this one is not. It has its own particular tonality and presence in the mix and is excellent for tuned percussion. I also use an Oberheim Matrix 1000 for synth pads. It has an ethereal sound that sort of floats and moves, and its sounds can be transformed in rich ways in the digital realm as well.
I've taken many approaches to composition and performance over the years, in pursuit of a greater understanding of sound and musical expression. I've learned to play electric guitar and bass as well as piano, synths, and drum machines, worked with various recording techniques, and used the open source programming language SuperCollider extensively as well. Definitely, tools are key participants in the music. I think almost any kind of music emerges out of encounters between performers and tools or instruments, and the historical and cultural forces that inform those encounters.
In electronic music, the role of the tools can be especially apparent because we often set things up deliberately so that there is machine or algorithmic agency happening, which you must confront or collaborate with in some way. Like, currently, I use an MPC500 sequencer and analog MIDI instruments to develop tracks, then I do extensive production on digital audio loops in Ableton Live. The music that I start with is based on my improvisations. But by the time a track is finished, with the swing that the MPC locks in, and the algorithmic rearrangements of audio in Live, I can hardly recognize what my original performance was. My style and performance habits are embedded, and I'm making decisions that frame the production, but the musical result is something well beyond myself."
Could you describe your relationship with the piano over the years and why the instrument remains so integral to your music? Did you have any favorite jazz records as a child? Do you feel the genre has had a strong impact on your composition style? "I often say that piano is like my first voice, because I took to it so early and with complete absorption. I also say with only a little bit of exaggeration that everything else I've done in my career—learning music production and computer programming, and writing essays—is probably because the emotional intensity of the piano is so strong that I need to turn away from it for extended periods! So, I busy myself with other, not-piano things in the realm of music and sound.
Jazz was the soundtrack at home when I was growing up. Especially solo jazz piano—Dave McKenna, Fats Waller, Bobby Henderson, Art Tatum—and small combos with the likes of Count Basie and Oscar Peterson. My father was a huge fan of Dave McKenna and was part of a network of fans who made recordings of Dave's live performances, including at a jazz club near our home in upstate New York. Dave became a family friend and I was fortunate to spend time with him in his later years when we were both living in Rhode Island in the early 2000s. His music, and the solo jazz piano tradition more generally, has had a big impact on everything I know and do as a musician. Because I play by ear and do not use conventional music notation, jazz piano recordings were like my textbooks. Through those I learned how to listen for different instrumental parts emanating from a single performer, which I think laid a foundation for my process of arranging and producing electronic music now.
Through the local jazz scene, my father was also close to family of Bobby Henderson (later known as Jody Bolden), who was Billie Holiday's pianist and fiancé in the early 1930s, and a student of Fats Waller's music, before he relocated to upstate New York. Bolden died a few years before I was born, but he was a key figure in establishing the jazz piano scene at small clubs near where we lived. From my father's friend in his family, I have a few records and pieces of sheet music that belonged to Bolden—and am quite haunted by that: because these are a kind of conduit from my musical present to jazz from a century ago. I'm not sure if my exposure to the jazz piano tradition would have run so deep if Bolden had not moved to upstate New York and made a place for that music locally, and I'm not sure what my approach to music might be in the absence of that influence. I think there are elements of a stride piano syntax in the techno I'm producing—whether it's in the phrasing, harmonizations, or how tracks are structured. So, I'm deeply indebted to African American musicians who were solo jazz piano innovators, including Waller, Bolden, and Tatum, as well as to the work of white musicians like McKenna who were working in that tradition.
I should also mention that I spent the first few years of my music career in the late-'90s performing solo jazz piano in New York City—actually working in that tradition that I grew up with. I gradually shifted to electronic music because it felt like a more open field, where I could take some of the same musical ideas and creative impulses, but perhaps have a greater chance of carving space for myself professionally as a woman who is an instrumentalist and not a vocalist. The professional jazz world, at least at that time, felt more limiting in that respect."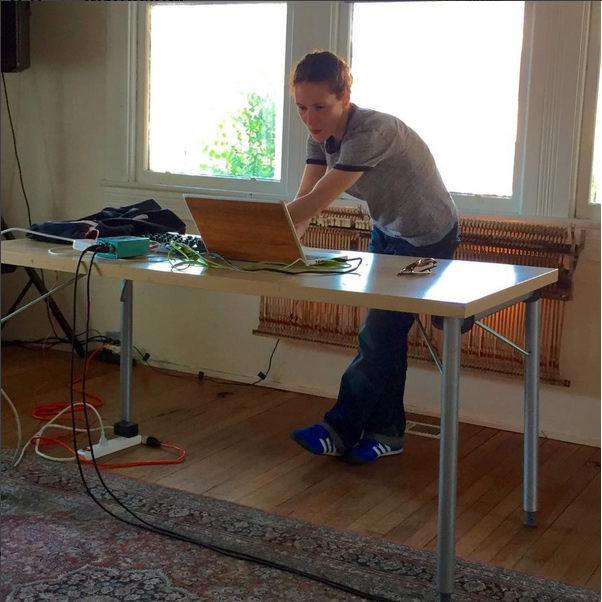 Which artists have you been listening to recently? Are there any specific records or sounds that inspired the tracks on Fundamentals? "You know, during periods when I am composing and recording, I don't listen to a lot of other music! It can throw off the focus. Every once in a while, I'll take a break and binge-listen to other people's music so that I stay connected to the world… Lately, I'm loving Kelela's album Take Me Apart. Everything—the vocal performance, the songwriting, the production—blows me away. I'm always interested in work at the boundaries of pop and experimental music, and she is a leading light on that front. I have 'Waitin' on loop.
I can't think of specific records or sounds that inspired Fundamentals, but I was just reading an interview with Terri Lyne Carrington where she talks about how, when you play a note of music, your life is basically contained in that note. And how, especially after years of practice, you can hear in that one note not just your life but also the traditions informing it. I love that way of thinking, and I guess it is one way to think about this record. The parts of my experience performing jazz piano and funk keyboards are clearly in there. The exposure to and admiration of '90s house and techno that I came up with—Detroit, New York, Chicago, Paris, and Stockholm styles, as well as pop/electronic crossover artists of that period, like Prince, Deee-Lite, and Robin S.—is all there. Also, themes from my sound art projects over the last 10 years, like approaching sound as a sculptural material, thinking of sound as metaphor, and working with layers of shifting harmonics driven by algorithmic variations. Maggi Payne, my MFA adviser at Mills College, certainly has had a big influence on how I approach sound recording and composition, always, regardless of the project."
What qualities of house and techno music are most exciting to you? "Many things! I like that it requires engaging with the past, present, and future. In other words, you are responsible for having a level of fluency with a genre's history and stylistic conventions so that your track can be played by DJs working in that tradition. And you are also interacting with the dancefloor in some way—either in real time during a performance, or in future tense, if your track will be played by others. I also enjoy the technical challenge of producing tracks that need to sound great on a big sound system. Mixing is so complex, you can always learn more and get better."
When did you begin documenting your ideas and research on electronic music? Did you like reading and writing from a young age? "You know, I don't remember exactly when this started… When I committed to doing an MFA program starting in 2003, it was a conscious decision to make a deeper commitment to composing electronic music. With that, I started researching sound more formally. Then I had so many questions to pursue. I went on to do a PhD, which involved more research and writing.
I was an avid reader and writer when I was young—as with music, in a very self-directed way. I often tried to skip school because I wanted to stay home and work on projects! I always struggled with highly formal educational structures. Later, for college and graduate school, I sought out the most interdisciplinary and multidisciplinary programs I could find. I also spent a few years in the '90s making visual art, especially photography and sculpture. So, I guess it's no surprise that my way of making music involves writing and sometimes visual elements or visual ways of thinking."
In what ways have you seen the role of feminism in electronic music change over the years? How important are online communities to the progression of feminist movements? "Well, sometimes it feels like history is repeating—where new initiatives have a lot in common with feminist interventions in the field 10, 20, or even 50 years ago, because we're facing some of the same challenges. At the same time, feminist initiatives in electronic music are evolving in ways that reflect feminist movement more broadly—like more explicitly nonbinary- and trans-inclusive feminist projects now, maybe more projects emerging from an intersectional feminist consciousness now, compared to prior decades.
There is some amazing, international, grassroots energy happening with feminisms in electronic music cultures. Some forums are still resistant to change—like academic music departments and pro audio environments, many of which continue to function like hostile workplaces for people who aren't straight, cis, white men. So, you see some people dropping in to academic programs to get the knowledge they need over a period of years and then bringing that knowledge back to community-based projects, often operating outside of formal academic or art institutional settings. And more women in pro audio are setting up shop for themselves as recording and mastering engineers—just flat out making a way for their work, regardless of what barriers still exist in the industry.
I think online communities and networks do make a difference. When I started the Pink Noises project almost 20 years ago, women in electronic music were just starting to find each other online. With social media in the last 10 or so years, it has become easier to find and support kindred projects, colleagues, and friends around the world. This helps make everybody's work more visible on a widespread scale, and it can help make individual projects seem interconnected as part of a movement or even part of a sea change happening in the field. It's then on everybody else to take note and catch up!"
You've created some excellent resources for women in electronic music—are there any other books, essays or websites you would recommend? "female:pressure, which Electric Indigo started around the same time as I started the Pink Noises website 20 years ago, remains an incredible international online network and collective, doing so much important work. I'm also a fan of the Women in Sound print zine, by Madeleine Campbell, dedicated to women, queer, and trans people in live and recorded sound. And everyone should follow the Sounding Out! blog, edited by Jennifer Stoever, for crucial writing on sound, culture, and politics, and also check out Dr. Stoever's book The Sonic Color Line on race and the cultural politics of listening."
What advice would you give to young women interested in making music? "Hmm… In a few words… Know that your creativity is a unique and necessary force. Learn to listen to that force, trust it, and follow where it leads."
Tara Rodgers: Bandcamp, Facebook, Soundcloud, Twitter, Website
Fundamentals EP is out now on 1432 R, with release party Friday in DC, details here.