Luca Mortellaro a.k.a Lucy is one of the driving forces in the European techno scene, being the founder of the established Stroboscopic Artefacts imprint and having a strong back catalogue of releases under his name that sit comfortably in the world of innovative, hypnotic techno. While this description may fit his established past, it does not fully encompass the versatile producer's current on-going work. Moving away from the darker and dystopian edge, Lucy is making a gradual shift towards a warmer sound instead and presenting a fundamental change in his output. Stroboscopic Artefacts recently launched a new 10-inch series, named Totem, which marks the label going into this distinct space with the first release by Lucy himself, to be followed by another release by L.B. Dub Corp later in the year.
This Truancy Volume showcases this change in his approach, as it travels through an eclectic range of music. He describes the mix as similar to the Totem series – to be something more physical, as something that makes him move, featuring tracks by the likes of Eomac, Actress and two forthcomings of Lucy himself, taking the listener on an hour and fifteen minutes long journey. We caught up with Lucy to discuss change in direction, both in his label, as a selector and as a consumer, his Totem release "Tarkomania" and his collaborative work with the likes of Rødhåd and Rrose.
Hey Luca! Thanks for speaking with me, and I'm so excited for people to hear your mix. To start off,  you had a double gig in both Sweden and Munich last weekend – how was your experience? "Both were beautiful shows! Summer is usually festival season, so it was special to do two shows in a row that were local and underground with a 400 people cap. I do enjoy playing festivals in front of massive crowds, but in clubbing is where my roots are and where I can immediately connect with the crowd without any barriers and distance. It's more physical and direct."
You returned to Sicily, which is your home base for the next few months. How is it there? "Sicily is a good bridge for me. I am working on a big farmhouse which I'm slowly renovating. I only started it a few years ago, but this is the first year where I'm really trying to spend more time here. It's also really good as a break from my studio work in Berlin and a welcome change to the German capital. I can take some time to refresh my ideas – and charge my creativity inside. When I sit down back in my Berlin studio after spending time in the nature for a while, things come out in a very flowy way. The transition between conceiving the ideas for an EP or LP and actually writing the record becomes extremely fast."
I want to get straight into Tarkomania and the Totem series, which has your release coming out next week as well as L.B. Dub Corp up next. What can you tell us about the Totem Series and how it came about? "I wanted to start a new series that was a little different to the main 12" series. Last Summer I took a break from writing to see what kind of music would form after, and the idea of the Totem series came to me. In a way I wanted to escape from the tyranny of expectations. When u run a label and it becomes something quite successful and popular, it's easy for your listeners to get stuck in one idea of what it is, what it should be, and what it should sound like. Starting the Totem Series is a way to make it even clearer to our fan base, than what I'm already doing in my sets and remixes and productions, where I stand artistically and musically right now. And mainly how the label in general is developing.
In the series all the artists involved can freely express a warmer and more embracing sound. I always believed in this pedagogical function of a record label. It is about having a way to comprehend that a valid artistic output is one in constant evolution. I remember the years when I was feeling that Stroboscopic Artefacts was on the forefront of innovation in techno, alongside other pioneering labels like Ostgut Ton and Sandwell District. But things have evolved from there. Berlin itself, where the label is based since the very beginning 9 years ago changed radically. So if you haven't listened to our output consistently over the last few years or you couldn't have the chance to enjoy our recent showcases, then this series is a little gift to show he listeners how and in which way things organically evolved."
Is that also why the series is named Totem? "Yes, the totem is normally this one item, this one unique object that's charged with meaning. Not one totem can be a duplicate, which is why we found a format that's more rare, namely the 10-inch. We wanted to show you the listeners and artists involved, release by release, that it's a one piece that can't be duplicated. We aim for the records to be warm, embracing and directly emotional in some way. By emotional, I mean..  those from the underground side of western culture, not so much the pop music way. It's not this mainstream idea of: 'we tell you what sadness should sound like' or 'we tell you what happiness should sound like'. I like to actively destroy that way of communicating, and rather get the artists to express emotions from the inner, more private side. That's what I'd refer to when we talk about something more embracing. This is a shift that is part of of a more general one within how I conceive the label. Stroboscopic Artefacts used to be about expressing a city, or a general civilization state, an mostly a dystopian one. That perspective has changed into: what alternative can we propose to that dystopian vision, emotionally and artistically? I hope that the Totem series will properly represent this new inspiration."
When I was reading about Tarkomania you also hinted at a different production process, that it's different to what you know. Was this in terms of your workflow, or on a technical level? "Definitely both. Every once in a while I move bits in my studio and everything around it, touching things in a different way and allowing my machines to have a different flow. That always change radically the way the whole thing sounds on both a technical level and on the more creative and emotional level."
Did you strip down your set-up at all for the Tarkomania EP? "Not so much, but what is simplified is the arrangement and the way things are written down. I found myself taking out a lot of things and getting the tracks back to their essence, leaving only the elements that were necessary to communicate emotions. And I tried to avoid this process to go into minimalism, while keeping the emotional warmth."
There is a Russian vocal sample on Tarkomania. Could you tell us a little bit about where it was taken from? "The track was inspired by the amazing movie by Tarkovsky – the sample I took is known as 'the writer's monologue'. On one side, the movie is really dystopian – the scene is a post-nuclear, apocalyptic setting. On the other side it's so intimate and emotionally intense, not at all alienating. The last scene for example is a really heartwarming sign of hope. It is a child on the edge of a table, that manages to move the energies of 'The Zone' in the way she wants. She starts moving this glass with her will, without touching it. And the whole movie evolves at a very slow pace in a very anti-mainstream way. It's sci-fi, without special effects, which is what I try to do music-wise as well. To do something extremely roaming, direct and communicative without using artefacts that are too well known or too easy and obvious."
You come from such an interesting interdisciplinary background, which includes both painting and writing. Are there any habits that you took up from your past? Ones that are getting in your way or rather support you? "Definitely, when I feel too comfortable in something whether it's the way I produce music, the way I play records, the sound I like to play, or the way I like to mix things – as soon as I get comfortable, even over the course of a handful of gigs, then it's not right to me. I need to find the challenge and take risks. It's not easy when you put a lot of expectations on yourself, especially when your schedule is punishing. But my goal is to have my listeners who bought tickets to my shows, and allow me to do this, to see me and be satisfied by a certain approach to djing, but not simply giving them what they directly expect in the sonic sense. A successful dj set to me is when I feel that the crowd discover something that they wanted really badly, but they didn't know they wanted. It's about trust between you and the crowd. That trust allows you to go on a long and surprising journey without losing the plot."
You talked about the experience of rituals in the past, but I was wondering about your own in the context of making music. What helps you in the creative process? "Yes, one is that I don't allow myself to write too much too often. There's something inside me that must come outside at some point. It's not about having fun producing, it's just something that I have to do, you know what I mean? It's this fire inside that needs to find a way to get out. Now it is music, before that it was writing, or painting, and now it is in the shape of music. It is good when I engage discipline in the process, which is for me the difference between a teenager confession and a structured art piece."
I wanted to go back to the warmer direction. It also comes across in your mix which is really great. It reflects the different trajectory you were talking about. Could you tell us a little bit about the mix and track selection? "I wanted to sum up in the Truancy Volume, what I would play when I am playing in a club when I'm comfortable around the people, with the crowd, with the setting.. I wanted to showcase the eclecticism and freedom that are happening in those moments. For example I like a lot to mix into the set non purely electronic stuff, and the challenge is to not make it sound cheesy! You know, vocal chops, they are used and abused – but if you really think about it so is all the rest, haha, like the 808 kick drum! You can still find ways to do those things in different ways. The mix is similar to the Totem series – something that makes me move in a physical way, something that embraces me. I included a masterpiece from Eomac's last album called "Transmutation, Redemption, Forgiveness" as well as to "Kime Ne" from Insalar. I also included a track from DsorDNE, this band from Italy that was active in the 80s and the 90s. They pioneered this sound that was very dark and warm at the same time, you know what I mean? Darker shades of Techno and embracing sound warmth can go together – it's not a contradiction to me. This is something I tried to translate into this mix."
This mix, the Totem series and this conversation hint at the changes you've gone through as a selector. Did your habits as a listener also change over the last few years? "Actually, yes. Two and a half years ago I was burning out creatively, it was hard for me to find new music for my sets. The artists and labels that used to be connected to, it was no more. It was no longer interesting to me. From that I started to step completely out of my bubble and rebuilt my references from scratch. It was difficult at the time but in the end it was very rewarding. I found myself very surprised, and I really needed to step out of my arrogance a little bit. These labels that used to be meh to me, they changed my mind on my prejudgment. I flipped the game completely and I had a more diverse of wide-ranging approach to music, which also reminded me of when I started as well. Hanging out with friends, that have nothing to do with what I do, to get hints about music that is impossible to find if you stick too much to your own bubble. My range of friends is very diverse and show me a very interesting range of stimuli that would've otherwise gone over my head. That is working for me. Mixing that, with what I'm comfortable and used to, gives me a way to really express and surprise myself at the same time – it's also what I tried to do in the mix."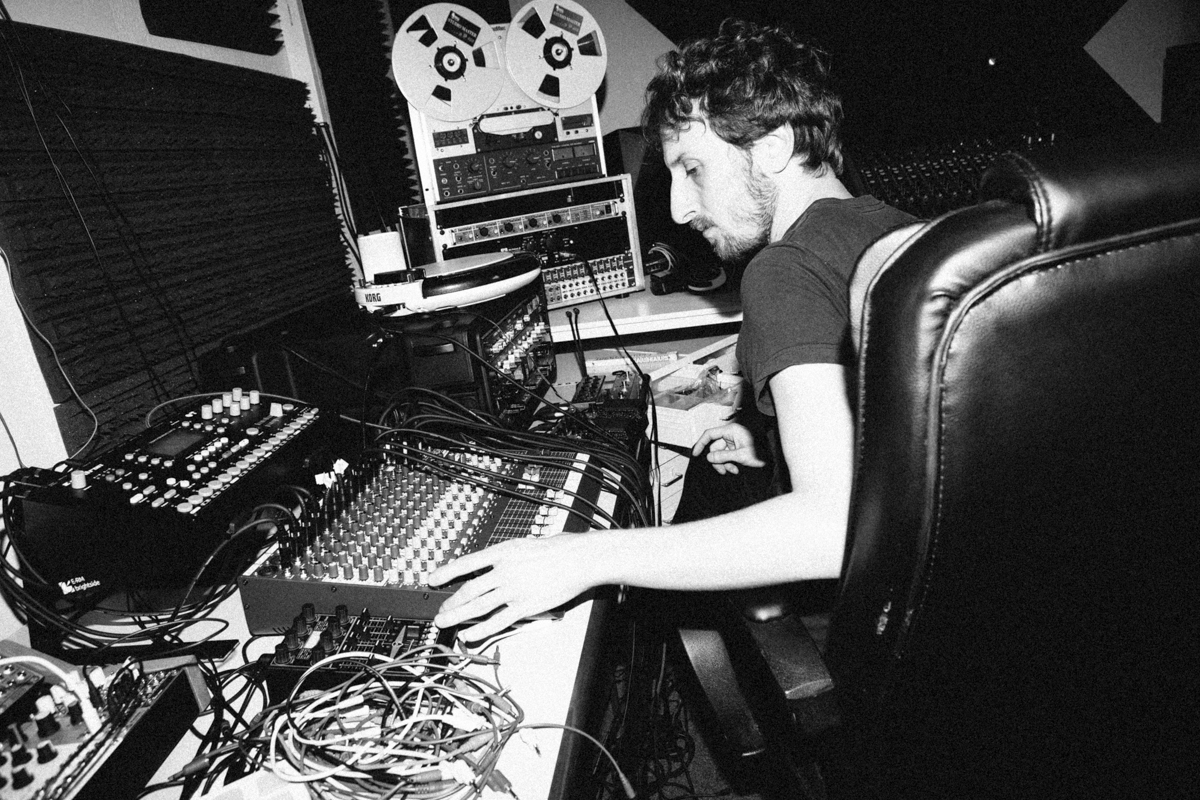 Can you elaborate a little bit more on your residency / curated nights series in Amsterdam's De School? "Residencies are so important, not just for me but for the scene. It allows you and all the artists involved to go way deeper musically than you would normally do. The function of music changes, you re-establish a connection with the crowd which is impossible during one-offs. That's a level of connection that's impossible otherwise. The residency has almost been a music academy for me, the freedom and level of trust I get are amazing. Two years of building up and we now have a very dedicated crowd – that was especially clear to me when we did our all-nighter, I had tears in my eyes at the end of the show. It was just something else. So far, we invited people like Kangding Ray, Chevel, OAKE, Rrose, Isabel, Shackleton, Errorsmith, Tapes, Marco Shuttle and Nobu to name a few."
Errorsmith's live show is really amazing – can you tell us more about that night? "Yes it was great, I'd been meaning to invite him for a while. With the team from De School we decided we first wanted to build a level of trust with the audience that would allow them to experience that very special live performance in the right way. It was very special. There was an opening by Tapes, which was mainly 90BPM dub stuff, then Errorsmith playing live and it gave me an opportunity to start my closing set in a particular way, in a different sound aesthetics and I brought it to places I don't often do, which was great."
I saw this video of yourself and Rødhåd rehearsing ahead of your gig at Berghain together which gave me so much joy. Are you still working together a lot? "With Rødhåd, it was actually very spontaneous. We've known each other for a long time, at small parties before the mega touring machine went off like a rocket for the both of us. Even though we play in slightly different ways, we both share a common memory of the very beginning of our careers. At some we started working on a record, set for release later this year. We noticed we were booked for the same night at Berghain together and we decided to play together the closing. We'd never played B2B before even though we'd been on countless of line-ups together, and the video you saw was us practicing a fee days before the gig. A week later we jumped into the craziness of the never-ending Berghain closing set. And well… those who were there know what kind of magic happened."
How was the B2B? "There were moments of struggle and other of bliss, moments of exhaustion and others of endless energy. Over thirteen hours there's a lot of things that can happen. It was quite interesting and very intense. I find Mike (Rødhåd) to be a fascinating person – he's so fresh with regards to music, like a child playing with his toys. It is almost like a light energy which I find so beautiful, as when you tour so much it's very easy to be consumed by the business around you, but he's not at all. And that is a gift."
Lastly, when was the last time music made you feel really inspired or happy? "The one experience I cannot manage to repeat, was a Portishead gig in Berlin. I consider them to be one of the most impressive acts ever. That concert – I was expecting a lot but it was way more than I could possibly imagine. Five years have passed and I didn't have the chance to feel the same thing yet! I was like, if I could die now that would be a very beautiful death. That was the level – I didn't need anything else. I was like: I'm good, I'm done. I remember it so vividly! Another one is a set by Villalobos, actually. I don't remember where it was, but it might've been at Kater Holzig. I was there at random, I didn't plan on going – at some point, dancing with my friends, things in the sound radically changed. I was in another dimension. I turned to the booth and realised it was Ricardo playing, it was truly unbelievable. It was a music encyclopedia translated into a DJ set, one of the best I can remember in my life. That was so refreshing, and actually one of the triggers of the processes we were talking about earlier. Finding what your comfort zone is, and finding the strength to step out of it."
Tracklist:
Lucy – Tarkomania Acapella [Stroboscopic Artefacts]
Insalar – Kime Ne [Honest Jon's]
Dj Tennis feat. Fink – Certain Angles [Studio !K7]
??? – Freerer Than A Bird (And Actually Even Higher) [???]
Moritz Von Oswald – Watamu Beach Rework [Desolat]
L. B. Dub Corp – Roar [Stroboscopic Artefacts – upcoming]
Newa – Dance Of The Warrior [Klockworks]
Aleksi Perälä – GBBVT1337152 (Len Faki Hardspace Mix) [LF RMX]
Nocow – Better Be Clean [Figure]
Actress – Dancing In The Smoke [Ninja Tune]
Efdemin – Move Your Head [Curle]
Eomac – Transmutation, Redemption, Forgiveness [Eotrax]
DVS1 – Polyphonic Love [Transmat]
Roma Zuckerman – Robologia (Voice Ring Edit) [Trip]
KDA – Hate Me feat. Patrick Cash [BMG]
Shifted – Gauze [Drifting Over]
Thomas Fehlmann / Terrence Dixon – Strings In Space [Tresor]
Lucy – Tarkomania Dub [Stroboscopic Artefacts]
Yotam Avni – Modern Matters [Stroboscopic Artefacts]
DsorDNE – Tristi Di Rabbia [Blacksilk]
Lucy & Rødhäd – 170913 [WSNW – upcoming]
The Lotus Eaters (Lucy & Rrose) – ??? [Stroboscopic Artefacts – upcoming]

Lucy: Facebook, Soundcloud, Twitter, Resident Advisor, Instagram