1432 R co-founders Sami and Joyce have been busy lately. Between running the Washington, DC-based label, promoting parties (ROAM and ANYWHO), curating a mix series (Extended Family) and DJing, the two managed to put together a compelling debut. Titled Ethics, the EP marks their first release working as a duo under the moniker Sami%SuYung. Warm, confident and celebratory, the record is as much a reflection of their personalities as it is a summation of their positive approach to music. Created shortly after their marriage, Ethics projects the strength of their bond, their respect for musical heritage and their joyous outlook on life. Citing a wide variety of influences, Sami%SuYung have blended disparate ideas to produce a sound that's unified and heartfelt. We caught up with the two to ask some questions about their creative process, upcoming plans for the label and thoughts on the electronic scene in Washington, DC.
Hey, Sami and Joyce! What have you been up to lately? S: Hey Taylor! Wild busy start to the year, making a little music, getting ready for gigs and getting back into the work flow. We've some exciting label developments on the horizon and an upcoming trip to NYC for some shows.
You recently went on a trip to Ethiopia, where many of the artists on your label are from—what was that experience like? S: Well first of all, it was mine and Joyce's first time meeting Mikael Seifu and Endeguena Mulu (Ethiopian Records) in person. After all the Google hangs we've shared over these past few years, it felt amazing to finally give 'em both a hug. We saw Ethiopian Records perform at this outdoor bar in Addis, a cozy lot filled with bonfires and a beast sound system, and his tunes crushed on the big system. Plus we met some of Mikael and our label-mate Dawit Eklund's friends and family, some of the most gracious hosts I've ever had the privilege of meeting. There were so many fantastic moments in just a couple short weeks! We saw Mulatu Astatke perform live at a hotel lounge, we danced with Azmaris in a dimly lit honey wine bar, there are too many to list here. It was awesome, and it won't be our last trip there!
When did you first decide you wanted to make a record together? Did the process come naturally? S: I think we've wanted to make music together for a long time, but it wasn't something that came naturally at first, which was odd. Joyce and I are on the same wavelength almost all of the time, and definitely when we DJ together, but for whatever reason we'd hit roadblocks in the studio. It'd feel forced, the energy was off. Then, one weekend right after we got married, the creative log-jam gave way. We had this outpouring of ideas, hour after hour in our home studio. We worked with each others strengths in a way we hadn't been able to before. That initial creative push lasted all of 72 hours at most, and then for the next month or two we tweaked and polished the EP until it was ready.
J: I know personally that any initial roadblocks to working creatively with Sami was definitely charged with a bit of anxiety. Ableton has a big learning curve and it takes a long time to feel confident and in control of the output. When you're insecure about your own abilities its really hard to work with other people you respect, even if its a person as close to you as your husband. I'm really excited to say that my studio sessions are only feeling better and better, and I look forward to working with Sami and Dawit as well as venture out into my own solo projects.
What inspired the artwork for this record? What was the creative process like? J: The current political climate had us discuss racial tensions both in the music community and in more of a macro sense frequently. I was born in Maryland but my parents are immigrants from Korea, and Sami has a mixed background (Turkish and Quaker—with ancestry that dates back to the Mayflower), so discussions about race and its place in society weren't necessarily new for either of us, but the rise of white supremacy has made these conversations feel personal like never before. Last Thanksgiving when we were on our way to visit Sami's family, a cab driver shouted at us from his cab that "[we] should be careful looking the way we do, Trump is President now you know" in an incredibly aggressive way, unprompted by any interaction from us, and we were truly taken aback and confused. We couldn't figure out whether the hostility was from me being an Asian woman, or Sami looking a bit more middle eastern with his beard grown out a bit, or because we were a couple of mixed race.
I think there are many roles that an artist can take in society—we can be healers, revolutionaries, teachers, lovers, philosophers—and so that potential means that we should really take our messages seriously. It is a stance that we've taken with both our work as producers as well as label heads. I am so proud of my heritage and background, both as a Korean and as an American, and I think that Sami would say the same about both his Turkish and Quaker backgrounds. Our children might be the first Korean-Turkish-Quaker-Americans and I'm actually pretty excited about that. It's a bummer that not all Americans would agree with me. Regardless, I wanted to use the art to make our union and racial heritage a point of pride, and I found no better inspiration than the folk art from the countries of our ancestors.
The outer rim of the label and some decorative elements in the center of the Ethics EP are inspired by ancient Turkish ceramics, and the flirting tigers, outfitted with a smile meant to convey a lightness despite the reverence that we have for the traditions of our families, are inspired by ancient Korean folk art. The image, although pulling from aesthetics that are thousands of years old, feels new when juxtaposed together—making it a symbol for both the love that we have for each other as well as the love we have for our families and the world around us.
Ideally how would you like listeners to experience this record? S: This is definitely something that we bang in the club, and to me the right tune on the right dancefloor at the right time is always ideal. But I don't think any of these songs are bound by their functionality at a party. Ideally it moves someone, whether in earbuds or through a big system.
J: I don't think that artists have any control, and perhaps any right, to dictate to their audiences how said audiences should perceive their art or experience their art. Once you let work go it takes on a life of its own, and people will make personal connections with the work that we might not really have anything to do with.
As the record is titled Ethics, do you feel the EP is a reflection of your personal or musical beliefs? J: The title of the EP is Ethics, but the names of our tracks are Free Time, Light Touch, Do It Up, and Be Kind—we hope that every EP we ever create is a reflection of both our personal and musical beliefs, but I admit that we were trying to sort out what was important to us as we decided on the concept. In a world where grave morality grows ever more important, we also love to have fun and think that's important too. As seriously as we take our music, we love to play video games and go dancing and find joy in curiosity and experimentation. We felt that naming the EP Ethics and then juxtaposing the seriousness of that title with track names that would instead refer to our simple joys of living, was a way to show that duality.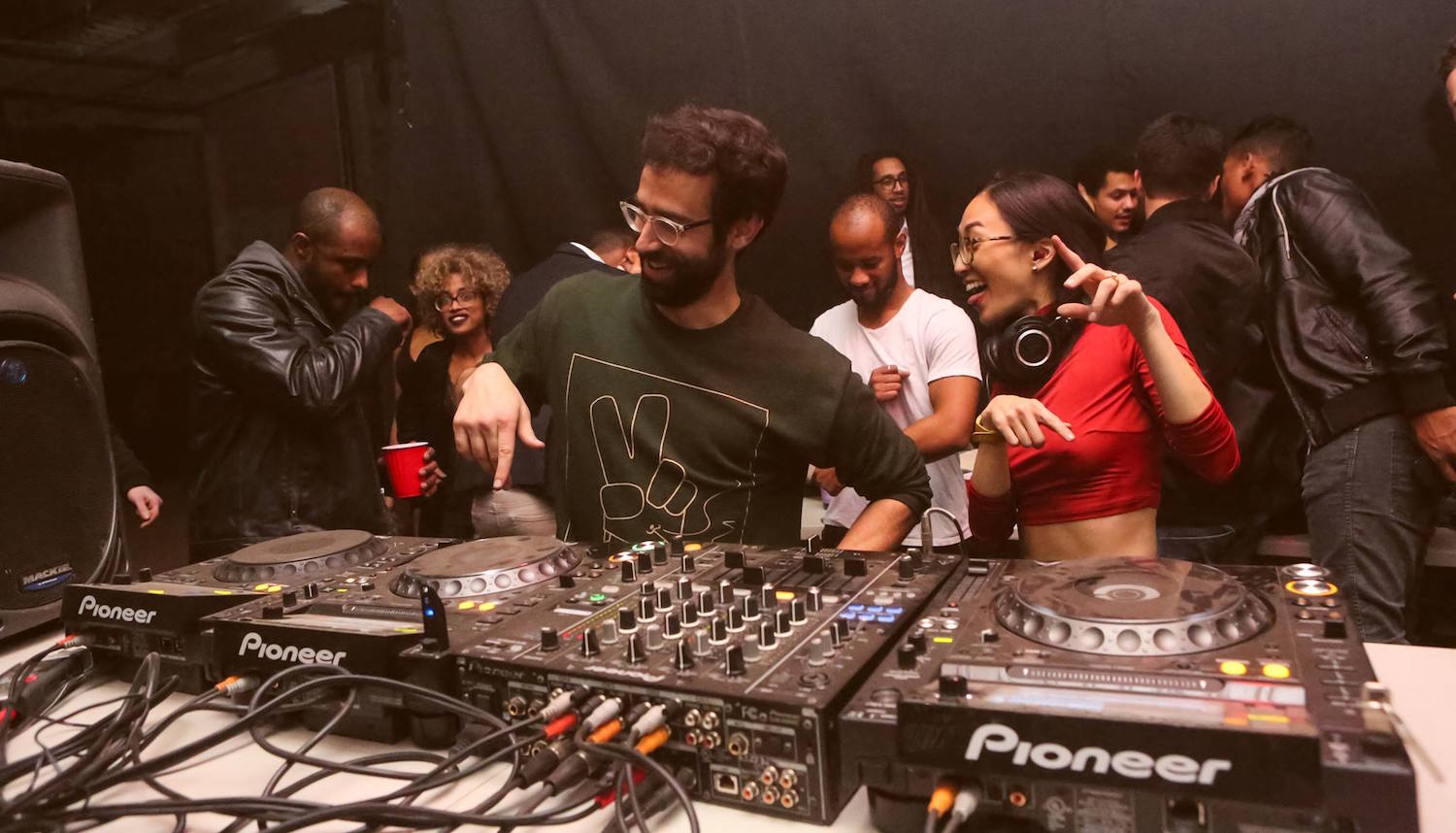 Photo by Diyanna Monet
While I would classify the record as house music, there seem to be a lot of influences at play. Are there any particular genres or artists that inspired some of the more funky sounds? S: Dawit is a constantly humongous influence on me, and Joyce and I influence each other. Beyond that there's the DC family that's always been crucially influential—Future Times, PPU, and the larger network of friends we've got making great music. My close friends are always my greatest influences.
In a larger sense this is music rooted in black communities of America, LGBTQ communties, Latino communities—Detroit, Chicago, New York, and DC—house, techno, funk, and soul. At the time we made this I was listening to a bunch of Gemini and Rick Wade records. Pepe Braddock has also been a steady source of inspiration. We both have backgrounds in classical music too, so plenty of western music theory works its way into our tunes.
How do you feel about the label's growth and musical direction over the past couple years? S: I feel like we're just beginning to express the range of tastes, tempos, ideas and energies that we want to include in the 1432 R catalog. Our first handful of releases were from Mikael and Endeguena, doing what they call Ethiopiawi, but since then Dawit's put out some gully house music, Ocobaya dropped a banger of a house and techno record, and rbchmbrs brought a drum n bass project like nothing I've ever heard before. This is not a project where we're gonna look backwards at our catalog to try and figure out what a "sound" is or anything like that. We're just drawing from ourselves and those we love to release stunning music.
J: It's been great and we've been really lucky. Very happy to be here.
You've been vocal about the necessity of underground music spaces. Could you discuss their importance to the Washington DC electronic scene in particular? S: Ask most people around dance music in DC right now and they'll tell you there's something bubbling, and I think a lot of that has to do with alternative spaces. There's a lot of DC that I just don't want to have anything to do with, parts of town where the crowd and music are not for me. But DC has such a long history of DIY spaces, and when it comes to DIY, this city has always been good to me. I got into DJing by throwing parties with friends in warehouses, I've lived in a home turned into a music venue, and now I throw a party called ROAM that uses non traditional venues regularly. Not to mention the house shows—rock, rap, jazz performances that shaped the nightlife of my early twenties.
We're also at this moment where a lot of very talented people are hitting their stride—new labels, new parties, new original tunes—but most of them are relatively unknown outside of town. So in a lot of cases these warehouse parties, after hours events, or house shows are the only spaces where my friends and I get to freak it. We play our own tunes, set our own groove, and in some ways I think that unconventional venues allow a sense of the freedom that more conventional spots don't.
Perhaps most importantly, underground music spaces in DC, like in many other cities, are made to be safe spaces for marginalised communities. We intend to carry on that tradition.
J: We are here to stay.
What do you see as ROAM's role in DC? S: My friends Chris Nitti, Morgan Tepper (DJ Lisa Frank) and I started ROAM in a row house on Sherman Ave, which fit about 50 people and had barely enough power to keep the soundsystem running. The first show was an all local lineup where Beautiful Swimmers, the ROAM DJs, Dawit and a few other DCers threw down. Now three years have gone by and it's still an all-local lineup and I'm still DJing with my friends, but the crowds and spaces have grown. Our NYE party this year had almost 1,000 people in attendance! It's a testament to the hard work that Chris and Morgan have put in, to the DJs that have shared their tunes with our crowds, and most of all to the dancers who support what we're trying to do.
We're trying to carve out a little magic when we put together these nights. I think most of your readers will know what I'm talking about when I say that—the moment on a dance floor when you feel wholly connected to those around you, lifted by the frequencies coming out of the speakers—it's not something you can find on any given night, or on most nights in fact. But I hope that DJs who play our parties are hard at work right now trying to tap into some of that magic so they can share it with us when our next space opens up. And I hope that anyone who has come to a ROAM party has felt that feeling for at least a moment.
Definitely. Are there any local artists you've been particularly inspired by lately? S: Hell yea! Like I said, DC is having a major moment. I've already mentioned Future Times, Max D stays inspiring to me. Recently his partner in crime, Ari Goldman, started up his own label, World Building, and the first two releases are so good and have Ari's love of house music all over em. My buddy Ben Jenkins just started a label called Partial Magic, which is off to a smashing start. Club Cuttlefish, run by Shirley Galbiati aka Sleepy G, and DJed by my man Zach Freed aka DJ Freez, is one of the best booked and DJed parties around. Then you've got the Rush Plus crew making quality warehouse techno, my friends Djoser and Jett Chandon making great new tunes, The NeedleExchange DJs making fire edits and throwing one of my favourite regular parties in town. I'm also super excited about the upcoming lineup for Extended Family, the mix series that Joyce runs that features mixes from local DJs on the 4th of every month. I feel like I've only mentioned a small fraction of whats happening, it's a lot.
J: I think maybe the question is instead whether there are any local artists who don't inspire me at all! DC is not a comfortable place for artists and you really, really, really have to want it here. Anyone that chooses this life in this city is doing so understanding there is a bit of an uphill battle, and gets my respect generally on that courage alone. But this city is weird and intelligent and nerdy and diverse and it's hard not to feel inspiration from our peers.
What is an average day of music listening like for you? How do you find new music? S: Nowadays it feels like a lot of my listening schedule is taken up by things my friends send me. I like digging through mixes they post, Discogs rabbit holes that start with a song in a mix and then wind their way through Youtube. I stop in record shops from time to time and pick out stuff that looks cool. Ari Goldman hooks it up any time I go over to the Earcave headquarters. Bandcamp is a big source of new tunes for me. Our Soundcloud page is also a place where I look for upcoming releases. We follow a bunch of labels and I keep an eye on that feed.
I wouldn't say I have average days of listening really—some days I'll go for hours and hours listening to things, others my creative focus will be more centered on making music. I get burned out too. Always good to rest up that part of my brain from time to time and start fresh the next day.
J: Really depends on the week for me. Every process is always in flux, never fixed.
Are there any particular goals for the label this year or plans for new releases? Any upcoming shows you're looking forward to? S: Yes, we're playing a bunch of shows in New York in early February (we're playing at The Lot, Halcyon, Beats in Space, and Joyce has a solo show at Sisters—will announce this soon on our Facebook page). As for the label, our network has stuff cooking at all times. Keep an eye on 1432r.com this year :)
1432 R founders Sami, SuYung and Dawit will be DJing in NYC Feb. 4–7, event here.
Ethics EP will be released February 21 on 1432 R, pre-order available now.