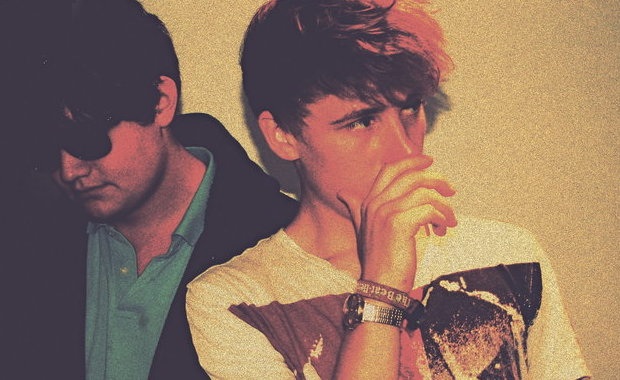 What were you doing in your last year of school? Nerding out in the library or setting fire to the common room? Either way we'll hazard a guess that the majority of you weren't getting signed to record labels and producing smooth jams. Lancaster duo Bondax, however, are doing just that. They're all over the internet with their remixes and despite the fact that they only started producing about five minutes ago they've already been featured on lineups with the likes of Joker. Not bad for two guys that are only just wrapping up sixth form. After getting hooked on the beautifully sweet 'All I Want' we decided to catch up with the lads behind the loops, Adam Kaye and George Townsend.
All I Want by Bondax
So you guys are pretty new to the game and most of the blog posts I've seen about you focus on how young you are. What else is fresh about Bondax? Adam: "I wouldn't say it's fresh, but it is a bit weird that we're from the countryside!" George: "There isn't anything like us from our area. We're the only the people doing what we're doing where we're from apart from one out our mates. We're a product of the internet really. The music that influences us doesn't come from our local area. It's weird because ten years ago this would never have happened. Although people complain about the way music gets stolen online, it's so much easier to hear things that influence us. We're different kinds of people as well, I'm really into sport and fell into music, whereas Adam comes from a musical background. I'm the electronic side and Adam is more of a composer. Every time I see anything about us online I see the words 'future garage' or 'post-dubstep' but really we never had any intention of making those things. We just fell into that kind of sound. But we're young, we're still working out what we wanna make. Our music is just all about happiness at the moment really!"
Do you have a pre-concieved mood or setting that you aim for your music to be played in? G: "Yeah, with 'Just Smile for Me', I remember making that and thinking that it'd sound cool on a big system, but with a lot of the other tracks we've moved away from making club-ready music. For our original stuff it's mostly just dreamy ideas and it just happens that we use an electronic structure."
So how do you see yourself fitting into the UK electronic scene at the moment, if at all? A: "It's weird, because we were making stuff that sounded like French house at first! Actually the first track that we made sounded like garage." G: "Yeah we didn't mean it to but it kind of ended up being garage. But we didn't even really know what garage was! I can remember Craig David tracks seeming like really crappy tracks! But the sound we came up with was a kind of accident. We just put some stuff together and it just happened to be quite similar to what was going on. We're quite influenced by Mount Kimbie as well. We don't claim to be anything new at all. But we didn't mean to be so completely immersed in one scene. You go on soundcloud now and there are hundred of tracks with Beyonce samples. But at the start we were thinking, who's really sampling r'n'b?"
Last Japan – Settle Down (Bondax Remix) by Bondax
What track do you wish you'd written, sample-based or otherwise? "G: Jai Paul, "BTSTU"…I just think that track's really clever. Its so soft but the lyrics cut quite deep, and the way it progresses, drops and builds…I think it's just a quality track. Anything by Radiohead as well." A: "If I made any song that sounded like D'Angelo or Erykah Badu I'd be pretty pleased with myself! Or LCD Soundsystem. I tried to raise money to see that last LCD show in New York! Then I realised how much the flights were…" G: "One of my favourite people at the moment is Toro Y Moi…which is just really hipster music. Isn't that original but it's just really good catchy music. We're just massively into loads of music, really. Especially Adam. I was just in a house mindset before I met Adam." A: "And George introduced me to loads of electronic stuff. We used to just sit and talk about how good Mstrkrft were, and Simian Mobile Disco." G: "It's funny, what people regard as some of the worst electronic music was what actually got us into electronic music."
You were talking about rock and indie influences, but who do you really rate in terms of electronic music? G: "MJ Cole, and quite a lot of the garage producers." A: "There are lots of producers I respect for lots of different reasons. Julio Bashmore is an obvious one but he's amazing."
What's going on now in terms of releases? G: "Our first release came out on Four 40 who have been really great to us. But we are in talks with some other labels at the moment, and the EP will be coming out really soon. And we'd love to do some fully vocal tracks this year. We'd like to do some more songs with a chorus-and-verse structure rather than a build-and-drop, if you see what I mean. But those are just ideas at the moment."
Just Smile For Me Ft Bobbie Gordon by Bondax
And finally who's your dream vocalist? A: "Alicia Keys. Or John Legend!" G: "Although saying that I'd probably be too intimidated to work with him! But I can't think of anyone better than that. Or maybe Diana Ross! She's a big influence on us."
VOLUME 38: BONDAX
Tracklisting:
Intro (Days To Come) – Bonobo [Ninja Tune]
To Be Here – Royce Wood Jr
Resemblance – Idea3
Juggernaut – Benjamin Damage & Doc Daneeka [50 Weapons]
I've Been Misled – R.I.P Productions [Ice Cream Records]
Tenderly – Disclosure [Make Mine]
Heat (Bondax Remix) – Mak & Pasteman
Crazy Love – MJ Cole [Talkin' Loud]
Shouldn't Be Alone – Kidnap Kid [Squelch & Clap]
Try Me Out – Sunship & Anita Kelsey [Filter]
Sunny Day (TLGB Dub) – Stereo MC's [!K7 Records]
Do The Same (VIP) – Mak & Pasteman
Doo Wop (Pedestrian & Maribou State Remix) – Lauryn Hill
Big Dancin – Bounce Camp
Just Us – Bondax

Expect the Bondax EP "Reverie" in the very near future. In the meantime, they'll be playing Corsica on February 9th.