Polygonia has without doubt a special grasp on techno and the streams of sound crossing over within the genre. Over the years she's become a trusted voice for experimental soundscapes and boundary-pushing productions, with her love for ambient and subtle textures emblematic of a producer who ably embraces both deep darkness and emotional harmony when it comes to her releases. As well as being a core member of the IO collective, a close-knit group of friends with multi-faceted talents working within the audiovisual spectrum, she has recently launched her own solo label QEONE, where she focuses on an organic sonic mindset and any BPM is allowed. We caught up with Polygonia – real name Lindsey Wang – for an extensive deep-dive on her most exciting new projects, her current perspective on nature and electronic music, and her desire to perform sound design-focused music live as part of her new collaborative alias Lyder. Tying music together from the likes of techno heavyweights Oscar Mulero, Sleeparchive and Peter Van Hoesen, her Truancy Volume is a gripping hour snapshotting her dance motivation for the coming summer, with her own forthcoming productions gracing the swirling deep techno and reverberating club sound design with an ethereal but hypnotic groove. With a flow that always feels one step ahead, this is an unflinching yet spirited expedition from a multidisciplinary artist at the top of her game.
Hey there Lindsey, thanks for taking out the time to answer some questions and doing this mix for us! You've been one of the most interesting people to research for these questions as you have so many amazing creative endeavors and projects you're involved in, it was very inspiring to read. So just to start before we get on to them, how have you been, and how has the year been getting on for you so far? You've recently been doing some gigs in India too, as well as another big gig at Berghain, how have they been? "Hello, thank you very much for your invitation! The year has started very promising, there will be a lot of new music coming out and I'll be touring quite frequently. I was in India for the first time in my life. What a fascinating country! The two techno gigs there were very interesting and super different. I also played a live ambient jam together with Marja Burchard at the Goethe-Institut Kolkata in a concert. It was our collaborative debut, an absolutely dreamlike combination. After that we gave an ambient workshop with the title 'When analogue meets digital', it was a really enriching experience we had with the participants. To top off this trip, I then went straight to Berlin to play a breakfast set at Berghain. I had tremendous fun presenting my driving grooves combined with immersive harmonies and hypnotising rhythms."
Also to start, I just wanted to initially talk a little bit about some of the projects and music you've released this year. What can you tell us about the Fungi Monster / Beziehungsweisen soundtrack you did? Obviously your approach to music and love for nature lends itself so well to ambient, how do you go about producing your beatless productions and conveying the right emotions? "I made this soundtrack on commission for students of the film academy of Munich (HFF). The documentary 'Fungi Monster / Beziehungsweisen' highlights the intergenerational trauma in the Vietnamese diaspora. Overall, the film is very deep and strongly evokes reflection. I mirrored those profound emotions in my productions and ended up with two works which both communicate a different facet of the atmosphere. Part one stands for the more melancholic side of things, it creates a big space for the mind and crawls under the skin with texture of a blanket and the soft waves of noises. Part two conveys a feeling which appears to be filled with hope and a variety of more positive emotions caused by the harmonic changes. The continuous arpeggio which modulates throughout the whole composition lets the track appear as a living organism.
Unfortunately, the documentary is not publicly available, but the students are trying to get it screened at various festivals. Moving on to the last question, Ambient is something that has always been very close to my heart. My musical background is rooted in classical music, as almost all of my family are professionals in that field. In a way, classical music and ambient have quite a lot in common. There is no real beat, unlike electronic dance music usually has. Because of my feeling and knowledge about harmony and also sound design, it is big fun for me to produce a big variety of ambient tracks. Additionally, my experience as a professional sound designer makes it much easier for me to evoke intentional emotions and scenes. All that knowledge can be compared to a toolbox.
I think it's important, especially in a genre like ambient, to work as creatively as possible and experiment a lot. Because there is no beat that gives you any kind of grid, you are completely free to let your feelings run wild and create sounds with very untypical objects and techniques. This was basically Marja's and my message in our past Ambient workshop in Kolkata as well – just let go of the known patterns and see the world of sound from a different angle."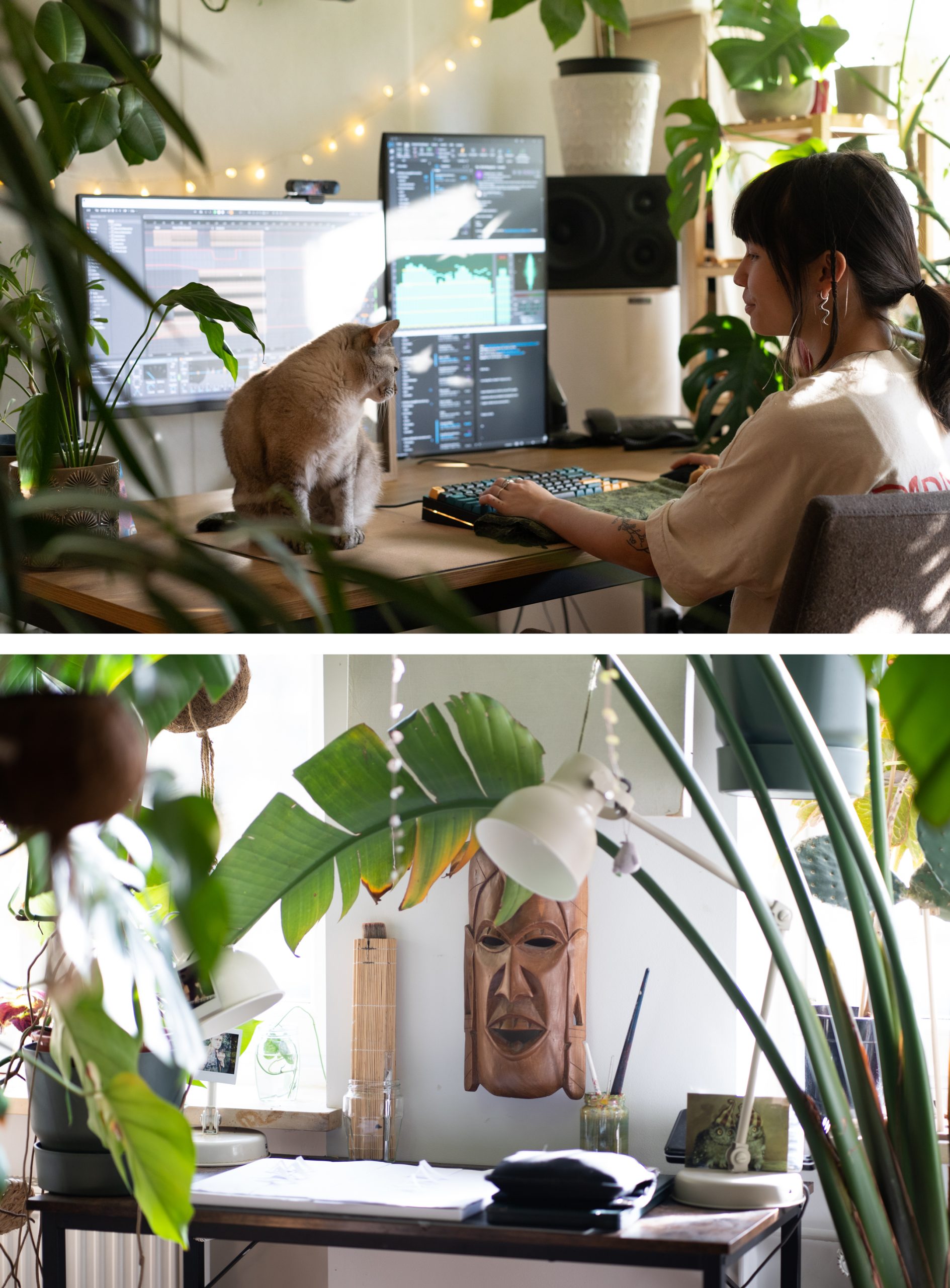 With your productions as a whole, you've talked about in past interviews about loving musical diversity and wanting to create sounds for every occasion and emotion you feel. Does this give you a constant desire to produce constantly? "It's actually very important to me to cover as many musical colours as possible with my productions. On the one hand, because I also like to DJ in different contexts, on the other hand, because it is incredible fun for me to explore in the course of the creational process. As a DJ I want to have the possibility to play my own productions in any moment to test out how they work on audiences. Besides that there are so many styles that inspire me, it is important to me to process all these impressions in my body of work. This musical diversity goes back very much to my teen years in which I made a journey through various scenes, among them were hip-hop, drum and bass, dubstep, dub, psytrance and jazz. Beyond that, I dug up countless other genres like IDM, metal, ambient, (neo)soul, RnB, trap, disco, countless game soundtracks and so on.
In fact, only after that techno and house came along. This whole process allows me to perceive music from a variety of perspectives. Today, I also notice among my listeners that they come from the most diverse contexts, which very often have something to do with one side of my musical background. Coming back to producing – In a certain way, you can say that this activity has made me addicted. When I started doing it in 2018, I spent countless hours on it every day and I still do. It's easy to forget time and space while in the process. Moreover, you never stop learning, music production is just an incredibly exciting subject that also has a lot to do with physics and, moreover, almost feels like a game. In this respect, you can learn a lot about the nature of the world through profound sound design."
Expanding on your love for nature, you've mentioned how the line between technology and nature really is quite thin. Can you expand on that, and how electronic music ties in with this for you? "I think that you can see very clearly in the current technology of artificial intelligence where the similarities between nature and technology lie. It basically acts like a replica of our brain's chains of associations. It learns from experience in the same way as humans and probably most forms of existence that we can rudimentarily understand.
From my perspective it is so that the human being is a product of the nature and the technology is a product of the human being. In this respect we can say that nature created technology in some way, even if this sounds almost wrong at first impression, because its production causes so much damage. It seems to me that man anyway just tries to imitate nature with the technology. We as earthly existence are not at all, in a position to develop something that does not function according to natural laws. Our horizon of abilities and knowledge is simply too limited for that. The only thing that we unfortunately have not yet fully understood is how to maintain a closed cycle in which technology exclusively continues to develop and does not have to be disposed of at some point. This is in fact a central aspect in nature that keeps the whole system going. To make the parallel complete, this factor would have to be fulfilled as soon as possible, so that we can meaningfully shape our future on this planet.
But getting back to the topic at hand, I recently discovered what the voice of a Sterling sounds like. It is among the most digital sounding bird singing I have ever heard. The connection of electronic music to nature feels very natural to me, because it is possible with pure synthesis to imitate in principle any natural sound with the simplest means like noise or sine tones. I also find it very exciting when both worlds intertwine, when you no longer know what is real and what is not. Moreover, I find that, for example, even techno modulating for a long time can feel very natural in a certain way. It's comparable to the evolution of a natural snapshot of our inner state. In principle, it's like a modulation of our heartbeat, which logically also has a completely natural origin."
So going way back a second, what can you tell us about first attending Freqs of Nature festival? That was one of your first instances of discovering techno, do you recall much of how it clicked for you? "I would say that I am not exaggerating when I claim that this last edition of the Freqs of Nature festival 2018 has changed my entire life. I actually only went there because my label mates from IO said that it would be worth it in regards to the inspiration which the lineup promised to offer.
At first I was mainly spending my time on the BassPlayground and the Relaxperimental floor. But that changed when the day came where the most legendary techno lineup ever was offered at the Kreuz&queer floor. I was instantly sold from the moment I got there and all of a sudden Cio D'Or started playing. I had never heard such a beautiful, minimalist pulsating and bassy sound before and was immediately captivated. It felt like bass moved the air in a very certain way and a vacuum feeling on this floor was created. There was no question of leaving this place anymore, and if I did, I just did it running. It was also the first time I saw a woman my mother's age in the DJ booth, who had such an impressive charisma and played wonderful music at the same time. That was the moment when one of my best friends and I said: 'Imagine, we could be like her in the future'. This shows how important it is to have female role models in electronic music. After Cio D'or then Rrose played, I can't imagine a better timetable! Everything had become one techno flow from that moment on, which I did not want to get out of. From that day on my perception of Techno changed completely."
So where did you first meet Dycide and MTRL and what formed the initial idea of starting IO together? I imagine between you three, and running this collective and label IO, there must be so much inspiration and learning amongst each other. "Dycide and I were part of the same circle of friends in musical highschool, which was mainly characterised by this great love for drum and bass, metal and hip hop. Some of us already produced electronic music, a few have also been DJing.
After we graduated from school, David went to SAE institute to study audio engineering. In this context he met MTRL who directly became part of circle of friends as well. Before IO, our group actually had another label, called Membran with a focus on bass music (https://membranrecs.bandcamp.com/). We all got a bit tired of this project though, since everything was a little chaotic. Dycide and MTRL then had the idea to start a new label in a proper way based around Deep Techno. At the beginning of 2018 we started IO. I wasn't a key figure for the label by then as I was only taking care of the visual appearance, it just came about during the first year. Since I contributed a lot to the organisation we all decided to make me the third label head. By the second half of 2018 after Freqs of Nature festival I finally started producing Techno.
Next to Dycide, MTRL and me who are taking care of the paperwork, we have more core members. It includes my significant other half FTP Doctor, he is responsible for most of the masterings. We actually know him from high school as well. Ohneweil aka Carmen is the other artist besides me who takes care of our cover artworks. Like MTRL, she joined us through the SAE institute.
Our entire crew is a very tight-knit group of friends. We meet quite often to produce music together and recently we also started working on a wonderful spectrum analyser software, which is specifically tailored for music producers. Next to the core team we have further members such as Mordio and Kaf who both have been part of our circle of friends for ages. I worked together with Dycide and Kaf at the same sound design/software engineering office for a while. Also part of our group are our talented Ghana based writer Kwasu Tembo and Epsilon who we also picked up through SAE institute. This year we added two new members, we'll announce this throughout 2023. Good examples of our mutual inspiration are our big Sphere compilations that we put out every two years or so. These releases consist of feature tracks that are created in joint producing sessions."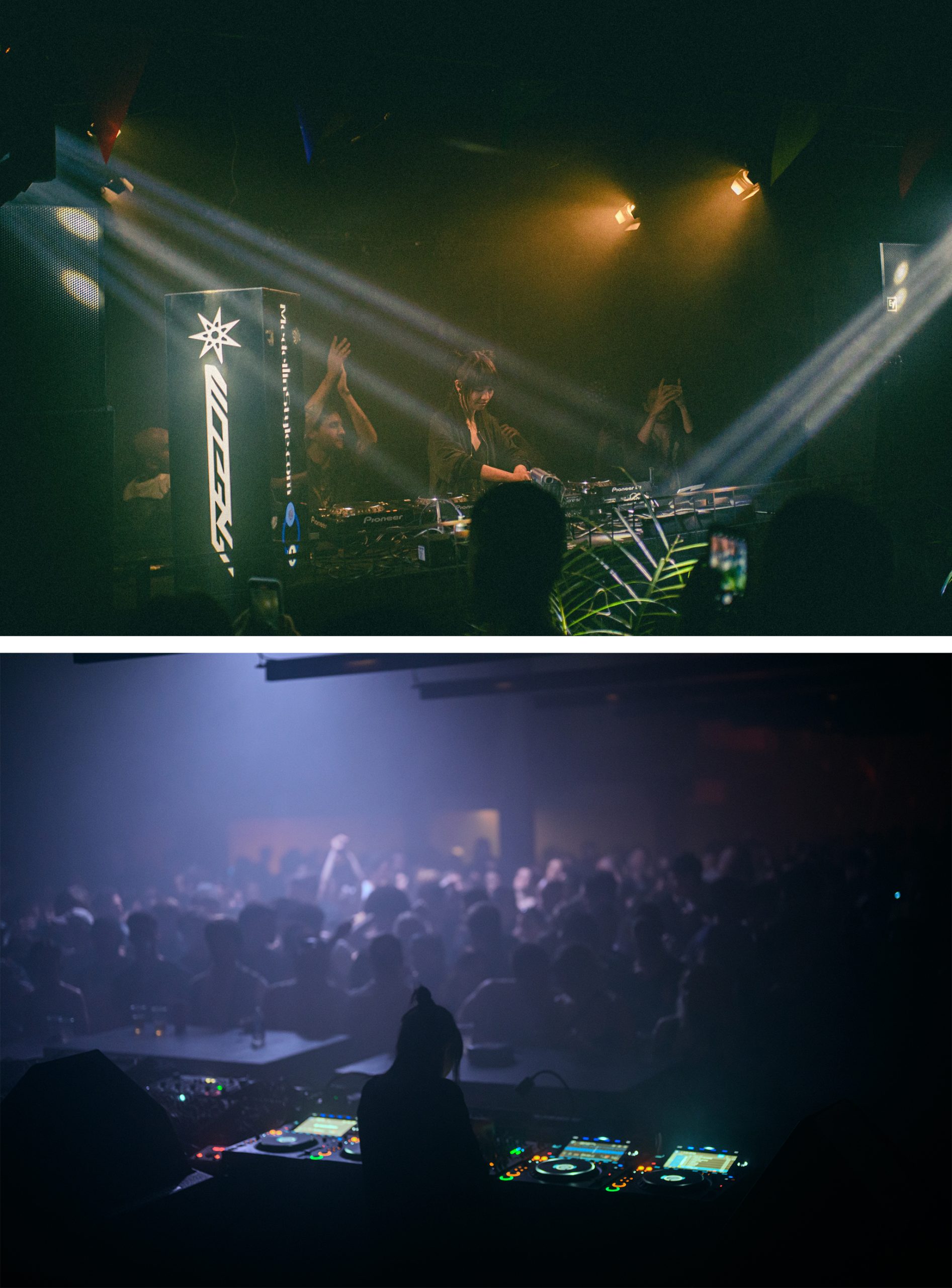 What can you tell us about the release you've put out this year in collaboration with Dycide and FTP Doctor? I really enjoyed the lyrical interpretations by Kwasu Tembo in the press release. "In principle, this release has been a result of such a collaboration session as I mentioned in the previous answer. We have been planning the next Sphere and during the process, we noticed that these four tracks from the 'Ground Work' EP have a very coherent character. Since we needed some more time to finalise the Sphere tracks anyways, we decided to release these four tracks as a collab EP beforehand. For us personally this release is also a tribute to our deep love for bass music. When David, Niklas and I meet as a trio, it usually happens that one person is sitting at the studio PC building sounds and the other two are talking about some nerdy topics like different unix based operating systems, our shared gitlab or tinkering with our spectrum analyser. That's how you can imagine the creation of this release. And of course Kwasu Tembo's words were not to be missed for this one. We are always thrilled by his way of describing our music, onomatopoeic and full of meaning."
What can you tell us about your recently started new label QEONE? Being half Colombian myself, it was nice to see you shine some light on a Colombian artist with Dåggěr, and I've been enjoying those Herbarium mixes so much. How are you approaching the label in comparison with IO? "Since I love to work conceptually and create my own vision, I started this label. The central sonic focus is anything that sounds organic or stands out with exceptional sound design, any BPM is allowed. It is very important to me to release only digitally at least for now. Because this way I am very flexible in terms of schedule and the selection of the artists as I love pushing the small talented members of our scene.
Besides solo releases I also have a lot of fun putting together concept compilations. The first one will be released on June 7th and is called 'GLYPHS : WOOD'. The basic idea is that each release in this series has a different material or substance as its theme which the artists describe musically. Each compilation of this series should be some kind of toolbox with a very specific timbre. Besides the music, the musicians give insight into their idea and production techniques of their track. That way the project is also a skill sharing platform.
I've also launched an open call Various Artists series which is as well concept based. The first one is called 'LANDSCAPES : JUNGLE'. As the name implies, this is about landscapes that are to be musically interpreted. I have already received countless great tracks and am absolutely thrilled to put them out in summer. The already released solo EPs by Dåggěr, Saša Delimar and Cafe de la Jungle have laid a nice foundation for the sound aesthetic of the label. They are quite different, yet they are united by an organic sonic mindset. Besides the music, the label gives me a wonderful platform to live out my illustrative work in full form with the design of covers, event graphics and so on..
Beyond that, it is a pleasure to direct the Herbarium Mix series. I always instruct the artists to pick a plant that they can identify with either personally or in an artistic way. It's so exciting to see what they end up picking and how they describe the plants musically with their track selections. Everyone brings their own personal input related to the plant, so it gives a whole new insight. As you can see, the idea of QEONE is quite different from that of IO also for the simple reason that it is a pure label and not connected to any collective. I follow a very specific sound aesthetic, unlike IO where we are as diverse as possible in our timbres and the focus lies mainly on highlighting the different musical expressions of our individual members. The name is so to speak agenda – everything between I and O, alpha and omega is allowed. However, one does not exclude the other, I love featuring IO artists here as well in terms of releases or mixes."
How have the two nights at Rote Sonne gone? "In total, there were actually three label nights that took place at Rote Sonne. Each time it was very nice to see how open the people of Munich were to musical diversity. We've heard inspiring sets played by Kangding Ray, Konduku, Forest Drive West, Paula Koski and many more. I also built some decoration with the help of friends, which made the events stand out visually. It was a wonderful experience to host this series of events right at the start of the label. I will continue to do so in collaboration with several venues and build up an international community bit by bit."
So you also recently formed an electric jazz trio comprising of yourself, Niklas Bühler (FTP Doctor) and Moritz Stahl (odizouu) called Lyder, with your first EP 'Vivacity' coming out on Jazz-o-Tech last year. Can you tell us a little bit about the creative vision you had for this project and what bonded you three in getting the live jams going in the first place? "In fact I didn't start the trio completely out of my own motivation, instead I was brought to it in a way by the collaboration with the label Jazz-o-Tech. I did some artwork for various releases and also produced a remix for them. The head of the label approached me afterwards and asked me if I would like to release an EP in collaboration with other jazz musicians. I thought it was a very good opportunity and immediately had an idea of who could potentially be part of the ensemble. Since my partner FTP Doctor aka Niklas studied jazz piano, it was obvious that I'd ask him. Furthermore we have a very close connection to the Munich based Jazz fusion band Ark Noir, which is why I then contacted their Saxophonist Moritz Stahl. It was a big honour for us when he confirmed my request.
Since we had formed as part of the Jazz-o-Tech label, our musical vision is based on the intersection of jazz and techno, which turns out as a very exciting genre fusion. Our goal is to explore this combination of styles from different perspectives. This can be either harmonic with melancholic characteristics or very experimental and effect-oriented."
You've talked about in a past interview about wanting to perform sound-designed focused music live but in a spontaneous way with this Lyder project. Can you expand on that? "Because there are three of us, we have more possibilities to experiment with sound design live. In the case of solo live sets, for example, it's often much more difficult to try things out spontaneously without losing the flow. All three of us are very skilled at working a lot with effects and thus making our signals very exciting. Moritz has a huge effect pedal board through which he sends his saxophone signal, I've rarely seen anything comparable and the sounds coming out of it are incredible. Nik is just like me an absolute sound design freak within the digital signal processing realm. In this respect, the three of us are a very good live sound design combo, with which a lot of effect can be created."
Can you tell us a little bit about how a live jam session might go about? Is there a prep you go through beforehand, or is there more emphasis on the improvisation with all three of you being classically trained musicians? "There are two different approaches that we have already tried out. Some tracks of our first release, were partly done by meeting in the rehearsal room and not preparing anything beforehand. We just started playing after we decided on a certain mood and key including specific changes minutes before, I was building a beat piece by piece while playing and the whole thing was recorded to filter out usable material later.
To speed up the process a bit though, we now set a rough mood, the harmony and the sketch of a beat before we meet for our rehearsals. The whole approach is very free, often I change a lot of things on the beats while playing together. We even do it like that at concerts as this keeps it exciting for us. We all love free play, great coincidences happen in such moments and thus new, innovative ideas emerge."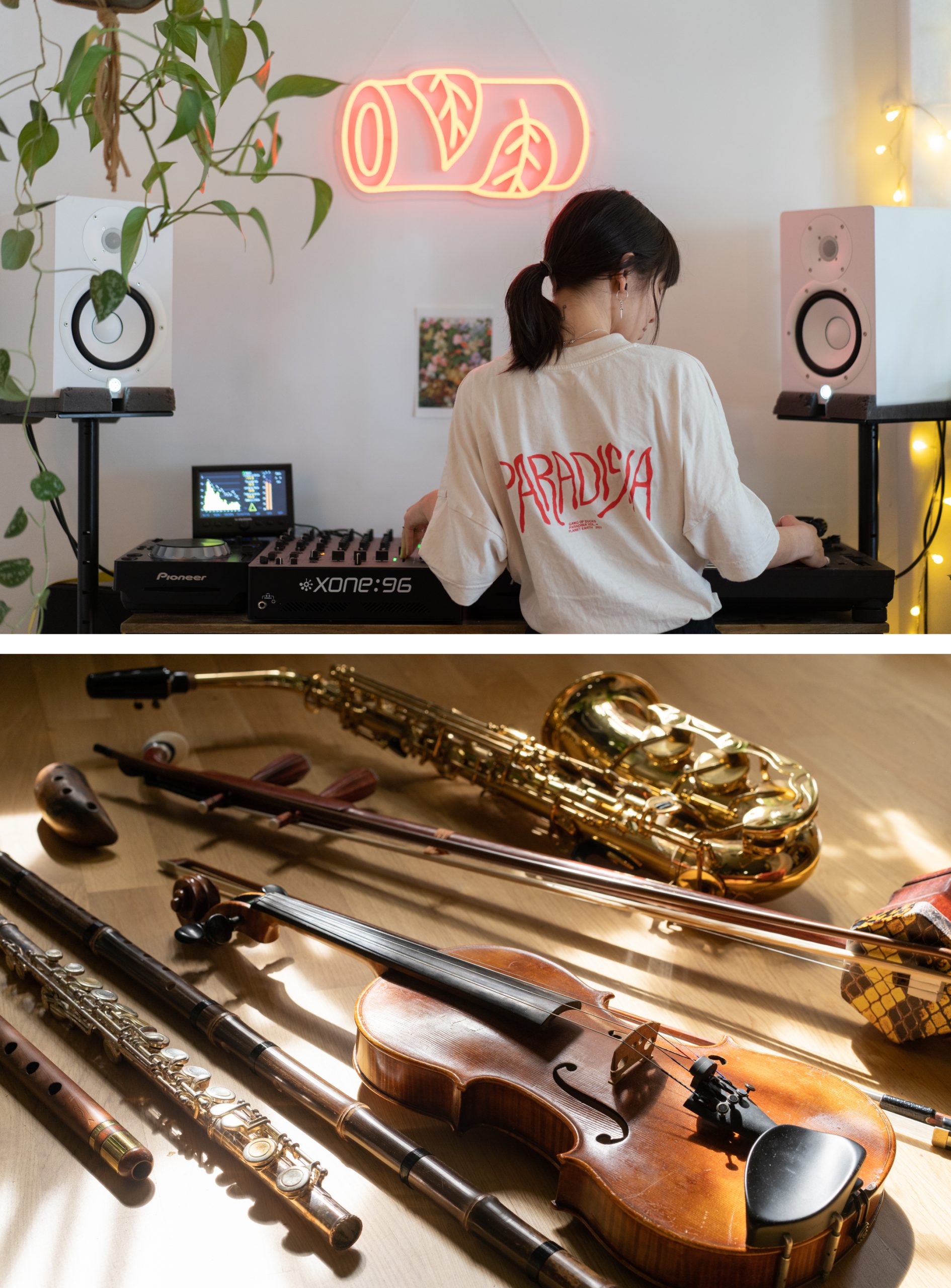 As well as all your musical endeavours, you're also a very talented designer working in a number of visual fields such as photography, graphics and audio visuals. When did this passion start? Has it always been something you've worked in tangent with your music? What parameters do you enjoy transferring to the other and vice versa? "My visual expression began very early; I've already drawn extensively as a small child. Also, we had a painter in my mother's circle of friends, who influenced me very strongly. His name is Čestmír Janošek, may he rest in peace. In addition, my grandfather was very talented artistically, I still love to look at his little drawings because they are full of finesse.
In my teenage years I transformed the regular drawing a little bit, because at that time I was strongly rooted in the hip-hop scene and so I also liked to spray graffiti. My whole room was full of graffiti sketches on paper, there was no free spot left on my wall. Later I turned away from hip-hop a bit, but even when I arrived in the psytrance scene, I continued to draw. It wasn't graffiti anymore, but since I then inevitably got inspired by psychedelic art, my drawings were of course strongly influenced by that style. However, my own music and art didn't really intertwine until IO was founded. Basically, I only started creating music reactive visuals because we wanted to have music videos for our releases and mixes. For me personally, it's become a great experience to create audio-reactive visuals, because on this level you can create extremely immersive experiences.
In fact, I think art and music are really kind of the same thing, except that they work through different channels of perception. One is transported by sound waves through the ears, the other by electromagnetic waves of light through the eyes. The parameters are amazingly similar. For example, Noise is clearly white light to me. Because Noise consists of all frequencies, and white light consists of all colors. Contrast I equate with dynamics in music. Certain rules like 'less is more' can always be applied to both areas. Composition and rhythm play a big role in both disciplines. Texture also exists in both worlds. Photography, to me, is the same as sampling. A track composed of many samples from other pieces is like a collage work for me. Sound synthesis, where you build everything yourself is like working with vectors in 2D or 3D space. As you can see, there are a lot of parallels, I can't even list everything I've noticed so far because there's so much."
As a designer myself it really hit home when reading about you initially dealing with the pressure of trying to do both and feeling you don't have time to do either properly. Are you in a better mental state with that now? What advice do you have on juggling? "I actually didn't think about this issue at all anymore, since the two disciplines are now so closely linked through my projects. I would even say that this skill combo has become a great advantage for me, making me very independent. When I made that statement, the two activities were a bit more separate. I was doing cover artwork and so on, but still I was doing a lot of graphic service providing that had nothing to do with music at all. That's when I noticed the separation of the two worlds much more.
It is often the case that there are periods of several weeks in which I am exclusively producing music, or the other way around, that I can only take care of graphic work. However, I can learn just as much from these phases for the other discipline as for the one I am currently pursuing. This is simply because the parameters of the worlds are merging more and more for me. I think that it makes sense for every person who is at home in these two worlds to try to keep both and to find approaches on how to merge them in a way."
Are there any books, films, art pieces or other things you've seen or been reading/watching that you might want to share? Anything you've found particularly inspiring? "I would like to recommend a book that I am currently reading, it is called 'Journey to the West' written by Wu Cheng'en in the 16th century. It is a Chinese novel which belongs to the basic literature of China. This book is reconnecting me emotionally and mentally with the country I'm half from. The plot is closely interwoven with Chinese folk tales, legends and Buddhism as well as Daoism. I watched the referring cartoon 'Havoc in Heaven' over and over again as a child, it has stuck with me a lot as it is aesthetically extremely beautiful to look at and the music is heavily influenced by the instrumental environment of the Peking opera.
In addition, I want to recommend the author Walter Moers, he is in particular interesting for Germans. I don't know how well his work translates into English as he plays a lot with language. Especially 'The City of Dreaming Books', 'The 13½ Lives of Captain Bluebear' and 'Rumo & His Miraculous Adventures : a novel in two books' are insanely great. This man has managed to create such a colourful fantasy cosmos in his books that, in my opinion, puts all other fantasy stories in the shade.
Apart from that, I think that everyone who didn't do it yet, should really watch all the Ghibli movies. These films are among those that I will watch over and over again throughout my life. The same goes for the entire Adventure Time series. I already went through it several times, and will definitely do so again. As you can tell, I love fantasy-filled stories with striking imagery. Also, to touch on art, I'd like to recommend my favourite artist James Jean at this point. His creative output is such a great source of inspiration. His psychedelic organic shapes are very narrative and absolutely mesmerising. In addition, I would like to name the following artists: Vorja Sánchez, Toni Demuro, SillDa and Tomas Sanchez.
As I am a passionate gamer, I want to recommend some works here, too. The ones that have influenced me the most are Bioshock (especially the third part), Zelda Breath of the Wild for the Nintendo Switch (I have never heard a better game soundtrack), all three parts of Xenolade Chronicles (also a Switchgame) and of course GTA 5 can not be missed."
Can you tell us about three albums that a) define you two getting into electronic music, b) maybe a midway album when you were fully invested in DJing and and c) a recent album that you've especially enjoyed?
a) The Flashbulb – Arboreal
b) Akkord – Akkord
c) Linfeng – Little Dragon Palace
So what can you tell us about the mix you have recorded for us? Was there any direction you decided you wanted to go for this when making? "In this mix I followed my deep and percussive side. I've included a few interesting grooves that definitely motivate you to move along and at the same time stand out with their unique sound design. I also weaved four new tracks of mine into it, I'm excited to see who will find them. The mix also sums up my ongoing dance motivation for the summer pretty well, because I can't wait to be on the road at all the festivals that are currently on the schedule!"
What are you looking forward to this year? Are there any upcoming performances or releases that have you particularly excited or inspired? What are your artistic goals for this year and beyond? "In fact, I'm really looking forward to the release of several EPs this year. One of them is going to come out on Bambounou's Bambelabel and another one on Monument. Also, I've seen that some are already eagerly awaiting my VA track 'Atropa Belladonna', it will also come out later this year on a very special label. Next to that there is more to be expected, but I'll leave it as a surprise. I will be touring further Asian countries in July and in fall the US, that will be incredibly exciting! I'll be playing at Moment festival in Japan, heard that this is going to be really great. And I can't wait to return to Hongkong as an artist this time and play at Minh Club.
Furthermore, I am of course extremely excited as I have another date at Berghain. More info on that later though. Besides that, I think the Allstars onboard music night at Else on June 2nd in Berlin is going to be extremely promising. And I can hardly believe it, but I will be playing at Ozora. Returning to my Psytrance roots, really curious to observe how the scene has evolved."
Last, usual question from us, what was the last thing to put a big smile on your face and when was the last time you had a proper dance "The last huge smile on my face was when I played my last gig at Berghain and of course when I returned home afterwards and greeted my cats and Nik. And I would say that my last proper dance was also at Berghain in the end of February during ROD's set. Wow, that artist really got me going with his positive vibes in the booth and his groovy body shaking sound. So so good. (Haha..so many Berghain references :D)"
Polygonia: Soundcloud, Instagram, Facebook, Bandcamp
IO: Soundcloud, Bandcamp
QEONE: Soundcloud, Bandcamp
Image 1, 2, 5 & 6 and cover artwork by Lindsey Wang
Image 3 by Kelly Cardona. 
Image 4 by Cle FW Photography
You can download Truancy Volume 308: Polygonia in 320 kbps and view the full tracklist on Patreon here. Your support helps cover all our costs and allows Truants to continue running as a non-profit and ad-free platform. Members will receive exclusive access to mixes, tracklists, and discounts off future merchandise. We urge you to support the future of independent music journalism—a little goes a long way.