Kiara Scuro specialise in a sound that comprises of tunneling raw acid and driving trance and techno, a sound that's become incredibly suited to long progressive DJ sets and euphoric afterhours partying. It's with this mantle that the duo have been able to amass appearances all around Europe and beyond, with festivals such as Glastonbury, Field Maneuvers, Gottwood, Test Pressing, Dimensions and Warm Up all ticked off to many happy festival goers. The London based duo have also honed their skills to extra effect over the last few years, immersing themselves heavily within the music scene in the city via radio with regular shows and residencies on Worldwide, NTS, Balamii,  Reprezent and now Rinse FM. It's a music format they describe as being hugely rewarding and therapeutic to them, and one that's allowed them to take their knowledge of both dance music and sounds away from the club, to a wonderful and enriching level. Kiara Scuro have also been churning out tracks the last year, with the duo taking on production with a confident and assured stride. Releasing four tracks via various amazing compilations and collectives that include Ritmo, Limit and Accidental Meetings, the duo also teamed up with Timothy Clerkin for a cosmic breakbeat tinged anthem for London event series and label GODDEZZ. The pair seemed stepped in building up their productions to what will be their debut EP and with this in mind it felt like the right time to bring them onto the series. We caught up with Rosie and Nadia for a chat about their formative clubbing years, bonding through radio, slotting into the production role and how their DJing feels more like a singular performance than a usual b2b. Locking in together for a massive 100 minutes, their Truancy Volume is an odyssey through impeccably crafted dance music with a healthy dose of chug and prog propelling us through in a hypnotising groove.
Hey Rosie and Nadia, thanks for taking out the time to answer some questions and doing this mix for us! So just to start, how have you been, and how has the year been getting on for you so far?
Nadia: On the whole it's been decent so far, was in full on hibernation mode until Mid March, didn't step foot in a club and stayed sober which was actually really great for my own creativity. Now gigs have started again and the smell of Spring is in the air. I've been more social and I'm appreciating it all the more after being a hermit.
Rosie: Firstly, thanks so much for having us be part of the series! Yeah as Nadia mentioned it's been a nice, easy start to the year really. We decided to take a bit of time off as I went over to Mexico for a while. I ended up playing a few gigs out there, in between stuffing my face with tacos and sinking too many clamatos. Things have started picking up again recently and we're both looking forward to gigging more regularly.
So as it's your first time on the site, for those people that might want to hear more about how you first got into DJing and dance music, can you tell us a little bit about your formative clubbing experiences? You didn't know each other at this point I assume?
Nadia: I discovered a love for dance music around 15/16 when I used to go back to Beirut where my dad's family is from over the summer. I remember feeling very stifled at school musically. I was in chapel choir completing my singing grades in classical music which has been a huge help developing my ear but I felt no joy in it. So when my cousins in Lebanon introduced me to a Cream Summer Compilation I felt mind blown. It's super cheesy Ibiza dance music but I'll always have a soft spot for it!
By the time uni came around I was going to places like Plastic People and Fabric and was very into the sounds of Dusky, Joy O, Bashmore etc. I went to SOAS, and in the first few weeks joined the DJ society there which is when I first invested in a pioneer controller, and soon enough started playing uni events around London.
Rosie: Nadia's introduction was a bit earlier than my own, at 15 I was still going to NME Radar tours. It wasn't until university that I got into dance music proper; similar sounds to what Nads was listening to. I went to uni up north so the days of Plastic People sadly passed me by, but we used to make trips to Manchester for Warehouse Project and down to Rainbow in Birmingham a lot.
DJ-wise it wasn't until Nadia and I landed our first radio show in 2016 that I actually started learning to mix. I'd had a controller for a while but shied away from committing to it, probably due to the lack of people (more specifically women) around me who were DJing at the time. Radio really pushed me out of my comfort zone and forced me to properly learn.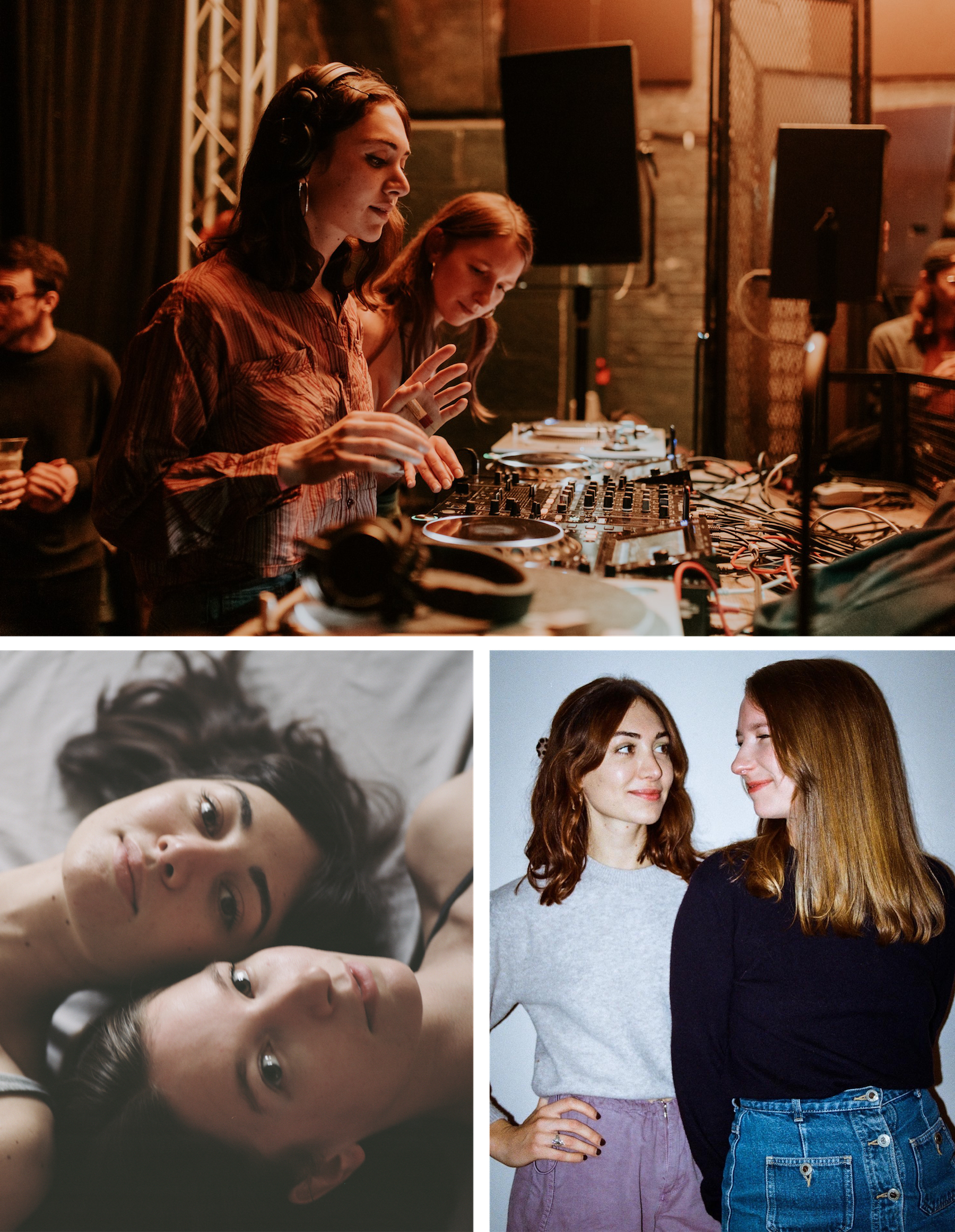 When you two first met, do you remember what you especially bonded over musically? There's having friends in music and then there's starting a DJ duo together, the similar interests/connection must have been pretty big! Do you also remember what the first night out you went to together was?
Nadia: I can't remember exactly what we bonded over in terms of specific music, I just remember being really impressed with Rosie's music knowledge. I do remember the moment when we decided upon the sound that we have today, which is sort of when we stepped into our identity as Kiara Scuro. It was after doing a couple of radio shows on Worldwide FM, one where we dedicated a whole show to Polish electronic music and another on Belgian new wave and new beat. We started playing all these sounds together and really enjoyed making it all flow.
Rosie: I struggle to remember what I did last month so casting my mind back that far is quite difficult haha. I do remember us finding out early on that we both grew up listening to bands, that was a catalyst for us to start exploring dance music that had those band elements and influences, which still informs some of the stuff we play today.
You've now played your fair share of both warm up sets and peak time slots, and your mixes and sets have ranged from 85bpm all the way up to 140. Are both your individual USBs set up in a way where you can comfortably go in a few directions?
Nadia: I like to think my USB is set up in a way where I can go in a few directions, but it's not ordered by genre or anything, that makes me feel too robotic. I also get overwhelmed if I have too much music on there (Rosie is the complete opposite to this lol) so I actually don't ever put more than a few hundred on at a time. I like to feel some spontaneity in the set because it makes me a better performer, so before an event I create one playlist of tracks I really want to play, and then I have maybe 5 or 6 other playlists from previous parties.
Rosie: My USBs are definitely organised chaos – or maybe just chaos. I tried the whole genre categorisation thing but it didn't work for me so generally my playlists are all in folders based on gig/show or recent discoveries. Like Nadia said, I have so much music on my USB (and usually carry about five around with me), I like to have a ton of different options to choose from.
This could also be a dumb question but does the way you two DJ feel like a b2b when you play, or is there lots of discussion of how the set might go beforehand that it feels more like a singular performance between the two of you?
This could also be a dumb question but does the way you two DJ feel like a b2b when you play, or is there lots of discussion of how the set might go beforehand that it feels more like a singular performance between the two of you?
Nadia: I think that's a good question! To me it feels like a singular performance more than a b2b. In fact Rosie sometimes goes for a ciggy break during our set and I make her promise she won't be more than a few minutes haha, only because when she's off stage the whole energy changes, kinda feels like my right arm is missing. I think that speaks to the difference in energy as a duo vs solo act, they're completely different.
Rosie: Yeah it definitely feels like a singular performance. We've always played one for one so I think that's definitely a contributing factor. There's not much discussion about sets beforehand, maybe just a mention of the vibe we're going for based on the time we're playing or who else is on the bill. We have a good sense of each other's tastes now and how they work together. I have a lot of admiration for duos who play in a very seamless and fluid way in terms of selections, but I think for us the enjoyment comes from switching things up, whether that's shifting the energy and the dynamic, or finding ways of moving between quite contrasting sounds. I love those elements of surprise.
What's been a favourite club gig and festival for both of you where it feels like everything has just lined up perfectly?
Nadia: Warm Up festival last year was very special, we had beautiful weather and the sun was setting during our set. Can't ask for much more than that! Club-wise, Macadam in Nantes was an incredible night, they pull in the best crowd.
Rosie: We had some really amazing gigs last year. A favourite for me (well two) were on the Easter weekend. We closed the White Hotel on the Friday and then got to play for the first time at Chapter 10 on the Sunday – both of them were so much fun. Yeah Warm Up was great, as was the first Watching Trees – excited for its comeback next year.
Congrats on the Rinse show by the way! It seems like radio has really helped you two make a name for yourselves over the years be it on Worldwide, Balamii and Reprezent. How do you look back on all your radio experiences? Has digging for the radios shows almost become like a therapeutic thing for you two?
Nadia: Thank you :) yes definitely. It's a nice break from daily life to dig for tunes / rummage through promos. Some of my most fun times with Rosie are normally when we've travelled for a gig and spend a couple hours in our hotel rooms going through all the material we want to play in our next show/event. It's always nice when you find a new favourite tune, but when you share that with someone it's even better.
Rosie: Yeah for me radio itself feels like therapy, I love it so much. It's been amazing to have that constant outlet throughout our whole journey, it's something that's really shaped us and played a huge role in where we are today. There's been quite an evolution in the sound of our shows over the years, nowadays we're more keen on sharing the kind of music you'll hear us play in a club setting.
I've worked in music journalism for several years so I'm very lucky to have tons of great music landing in my inbox all the time, but digging solely for my own enjoyment gives me much more satisfaction, not just for dance music too. I have a solo show on Noods which focuses on some of the sounds I like away from the club like ambient, experimental, folk and chanson. Digging for this kind of music feels like a different, and largely more rewarding, process than with dance music. It's easier to do on a hangover too.
It's been great seeing you two comfortably slot into the production role with amazing tracks such as 'Trance Would Be A Fine Thing', 'Don't Haunt Yourself' and the collaboration with Timothy Clerkin. Can you tell us what the process has been like making tunes as a duo? Do you have a set location or it is an ever-changing setup?
Nadia: The last couple of years I think we've really found our stride in terms of playing to our strengths. It can be really hard doing everything together as a duo, logistically it just doesn't work. Rosie is an amazing curator, so she leads on mixes and radio then we come together for collaboration once she has worked on the structure.
It's vice versa for music production – I have a bit more background in writing melodies etc so lead on structure then we come together for creative direction. I have a small music room at home now with some hardware so that's where most of the production stuff takes place, then we use Rosie's for mixes and radio.
Rosie: It's been really fun translating our sound as DJs to our own productions. Nadia's got such a great knack for melody and composition, she's been really leading on that. She also has the voice of a literal angel. I prefer making drum patterns and bass lines so there's a nice middle ground in terms of interests.
Do you have a list of producers you admire or are influenced by when it comes to making music? Do you notice certain elements more now you are making music? Also do you have an idea of what a full Kiara Scuro EP or album might sound like?
Nadia: We're slowly working on an EP, I hope it sees the light of day next year. I think it will be quite varied, with Rosie leaning towards a slightly slower, chuggy sound and myself bringing the faster, high energy bits.
Music I listen to for inspiration ranges from contemporary producers like Priori and Maara to older stuff from Robert Leiner. I use mostly all of my own vocals rather than sampling and more recently I've started to feel influenced by pop artists like Caroline Polachek, who clearly also has a choral background. She plays around with similar choral harmonies like I do – you can hear that in our latest track, 'Shy Love'.
Rosie: A full EP would combine a lot more of our different influences, and like Nadia said, it would cover slower and faster tempos. In terms of influences, I mention him a bit later on but I've always loved Gamma Intel's productions, no matter the style there's always this distinct moodiness to them. Olsvanger and MYKI, who run Tofistock, are also two producers who have a magic touch when it comes to energy and groove.
Can you tell us about any breakthroughs that you've had in your musical development be it in DJing or producing, finding music, managing jobs?
Nadia: I've experienced a bit of a mental breakthrough with music over the past year, which is the realisation that music doesn't have to disappear from my life with age. Being in my early thirties there was a time when I was grieving the idea of saying goodbye to my passion as I enter the next phase of my life but I realise this was a mindset thing. I feel a lot more free and joyful with my whole attitude around being involved with music now, it's made my life a lot easier.
Rosie: I think shaking this idea that you have to be busy all the time. It's easy to find yourself comparing your gig schedule to others or putting this expectation on yourself to always appear busy or present online. I've learned to not give it as much thought as I used to and just be really happy and grateful for everything that comes our way.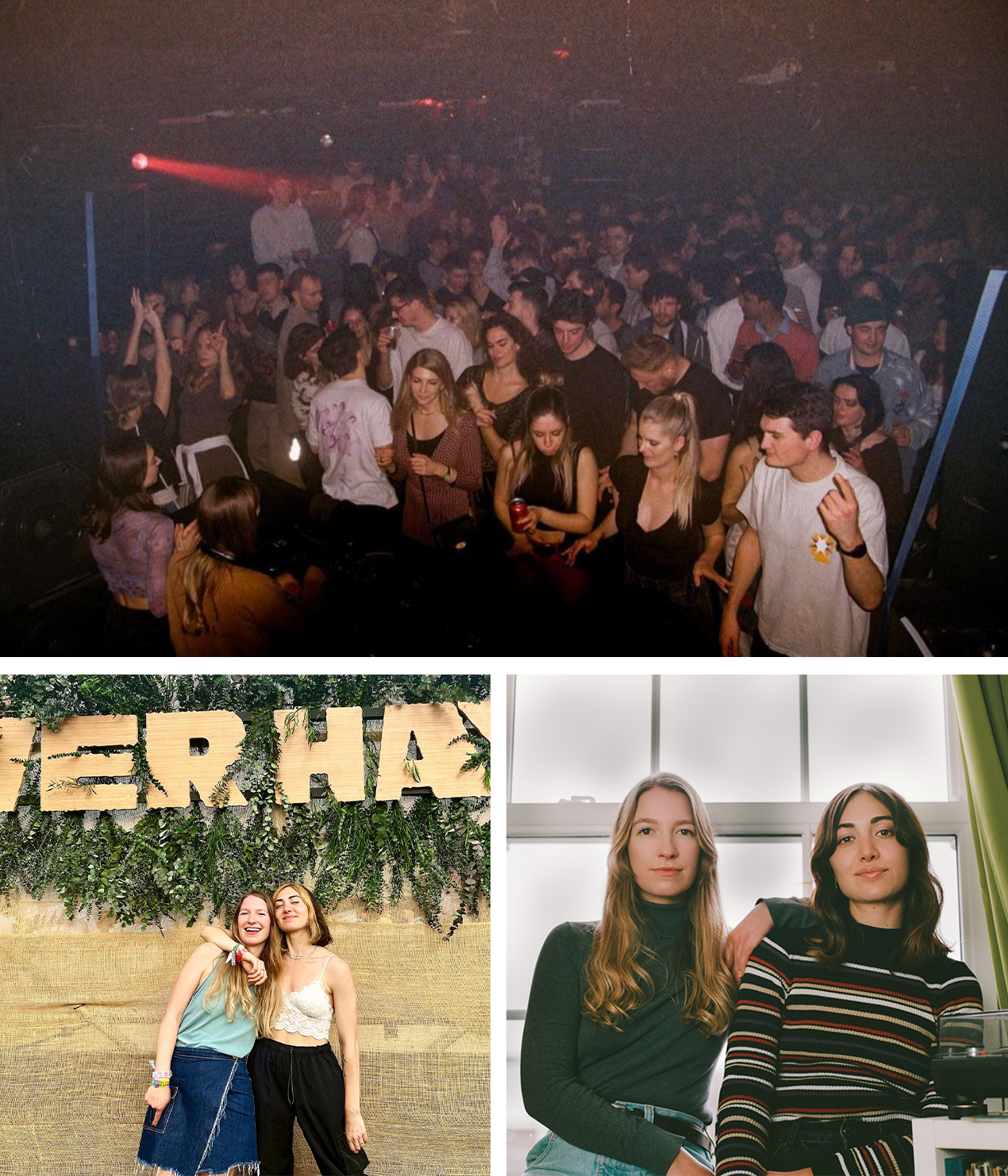 Can you tell us about three albums or EPs that a) define you two getting into electronic music, b) maybe a midway album when you were fully invested in DJing and and c) a recent album that you've especially enjoyed?
Nadia: I can't really think of whole albums that define me getting into dance music, but there are standout tracks like 'Born Slippy' by Underworld, that I would play again and again. I snuck out to see them perform at The Roundhouse with some friends when we were fourteen and it was one of the best experiences of my little life.
An EP that stands out for me during the early Kiara Scuro days is Devotion by Beta Evers. It's slow, gritty and full of very sik vocals.
A recent EP I'm vibing is from In2stellar, called Feels Bad. They're also a female duo, we share a similar sound. Hoping we'll play with them at some point when they're in the UK!
Rosie: I don't really have a defining album either but that crossover period from indie to electronic, at the same time as labels like Ed Banger and Kitsune were doing the rounds, was definitely a turning point for me.
Not an EP, but I remember this remix by Fabrizio Mammarella of Front Cadeaux having a huge impact. We were playing it in our sets about four or five years ago and it really felt like a defining moment in finding a sound that was really us. It got absolutely rinsed tbh. I think enough time has passed to give it a second lease of life…
Gamma Intel's EP, 'E.M.', for his and Identified Patient's new label Nerve Collect blew my head off. The first track especially – I've listened to it on repeat.
So what can you tell us about the mix you two have recorded for us? Was there any direction you decided you wanted to go for this when making?
We wanted to try and encompass some of the different facets of our sound so it's a bit longer than our usual mixes. There's a lot of changes in mood, vibe and pace. Inside there's plenty of new stuff we've been digging, but also some favourites from the archives and tracks that we've not found the opportunity to play in a mix yet.
What have you got in store musically for 2023. Have you set yourself any targets for the year be it outside or in music? Finish an EP, even if it kills us.
Last, usual question from us, what was the last thing to put a big smile on your face and when was the last time you had a proper dance be it solo or together.
Nadia: My family in Beirut sent me a video yesterday with lots of decorations in the background, and lots of cheering, meandering between Arabic and broken English to wish me congratulations on my wedding that happened last week. It made me laugh and cry a bit too. Very cute!
I had a proper dance at Printworks recently for the FWD event, lot's of nostalgic dubstep.
Rosie: Nadia getting married last week. I felt so proud I could burst. My mum and her partner also had a civil partnership earlier this week and the photos put a massive smile on my face.
I went to this club called Yu Yu a couple of times when I was in Mexico, the step count was very high on both nights. Together, we had a bit of an impromptu "hen do" for Nads when we played in Lithuania recently… no penis straws sadly.
Kiara Scuro: Soundcloud, Instagram,
You can download Truancy Volume 306: Kiara Scuro in 320 kbps and see the full tracklist by supporting Truants on Patreon here. Your support helps cover all our costs and allows Truants to continue running as a non-profit and ad-free platform. Members will receive exclusive access to mixes, tracklists, and discounts off future merchandise. We urge you to support the future of independent music journalism—a little goes a long way.