The last few years have been some of the busiest yet for Audrey Danza. Currently based between her home in Geneva and a relocation to Berlin, her high-energy selections of oldschool trance, progressive house and techno and acid saw her become a resident at Motel Campo, a multidisciplinary space based out of Geneva dedicated to electronic music, art and throwing good ol' parties. Becoming an integral member of the team there, she started a label called Proxima with co-director of the club Nicolas Oggier, originally reissuing various 80s and 90s records that spanned italo disco, new beat and experimental Spanish electronic gems, to now incorporating more dance-orientated music from the likes of Swedish legend Peter Benisch (Harmon Eyes). We caught up with Audrey to chat about her formative clubbing years in Geneva, becoming a resident at Motel Campo, co-starting the label Proxima, and the 'true process' she's described in learning how to produce the last couple of years. Her Truancy Volume, an hour of psychedelic, dance orientated trance and techno featuring the likes of contemporary producers Kapser Marott, Fruit DJ, Lisene is a no-nonsense mix of euphoria. Her trajectory has gone into hyper-drive the last year, and with the news of her forthcoming original productions on the horizon, the momentum is very much in her corner for her to explode even further.
Hey there Audrey, thanks for taking out the time to answer some questions and doing this mix for us! So just to start, how have you been, and how has the year been getting on for you so far? It seems like the gigs have really picked up for you in the last 12 months. "Hi, first of all thank you so much for having me on your mix series, I'm honoured to participate. I'm doing well, this year has been hectic so far, I'm quite busy and working a lot but I'm super happy to be where I am, and also very grateful. There are many ongoing projects that are very exciting as well as some great gigs coming up."
So as it's your first time on the site I was wondering if you could tell us about how you got into electronic music and DJing? "In 2014, I went to Montreal for almost a year for my final year of bachelor's degree. There, I started going out and experiencing the nightlife. I remember seeing Robert Hood in a sort of warehouse. It had a huge impact on me, I was impressed and at the same time super curious, because I knew nothing about this world. But I quickly felt a particular attraction to the dance floor. Later, I returned to Switzerland, moved to Geneva to pursue a Master's degree in International History, that was in 2015. It was really during these two years that a new world gradually opened up to me, I met a lot of friends who were DJs, who organized raves, worked in record stores. So I became very enthusiastic too, I started to be enormously interested in this world, to go regularly to festivals and choose the club nights that I absolutely had to attend. But at the same time, my studies took up a lot of my time at that time, I absolutely did not consider pursuing a career in music, far from it.
It was really after I finished my studies that the idea of DJing started to take shape: so I learned to mix from scratch. My career as a DJ started as a coincidence I would say: at that time, I wanted to pursue a career in diplomacy, I went to Mexico for a year to do an internship at the Swiss Embassy and that's where I had my first gigs, in Mexico City. Back in Switzerland, I worked in the film industry in Geneva and at the same time I started to have several dates in Switzerland. It was really in November 2021 that I left my job in the film industry and was able to concentrate almost 100% on music and 'give it a try'."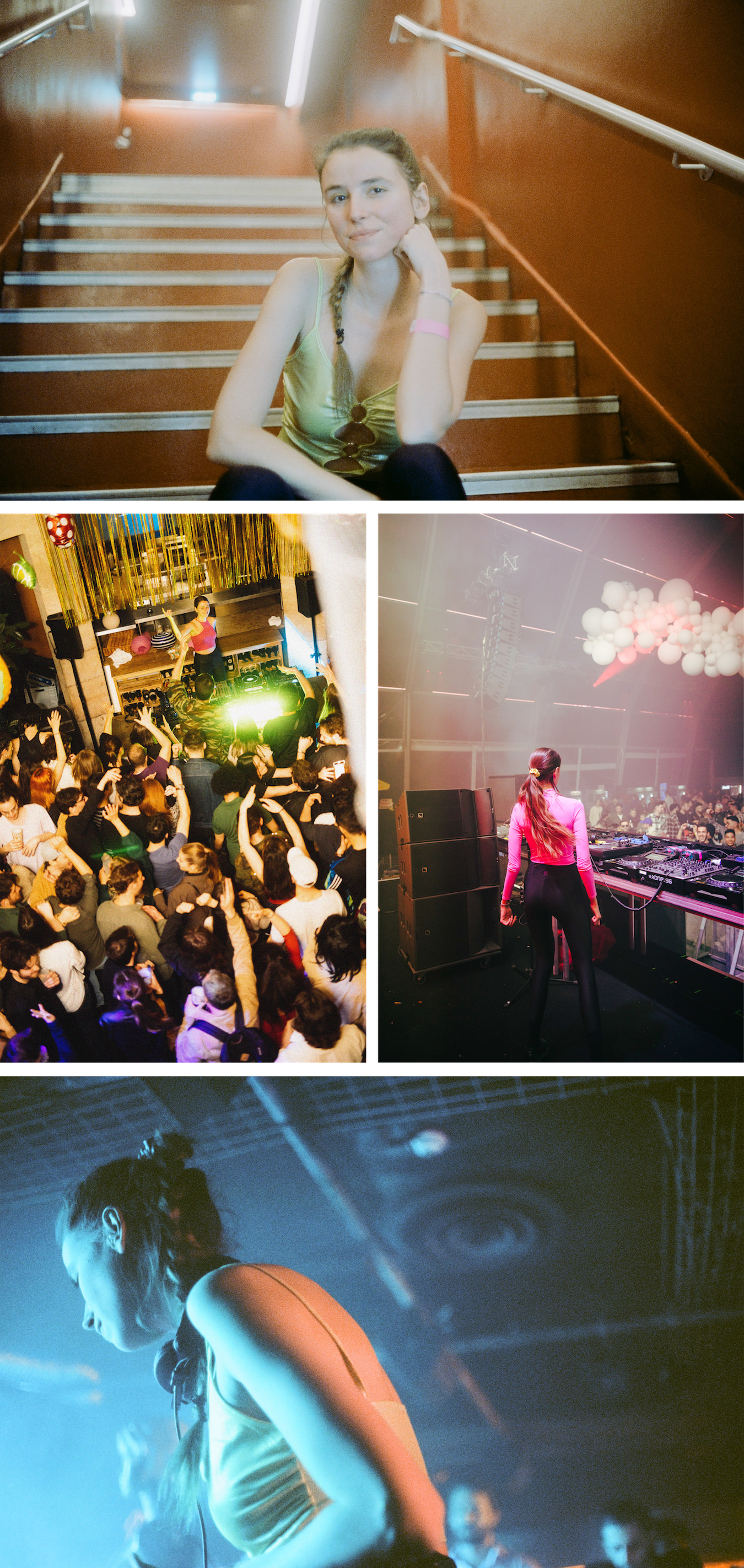 Can you tell us about some of your formative clubbing experiences in Switzerland as well? Is the scene generally quite healthy with other passionate music lovers over there? "During my teenage years, between the ages of 16 and 18, I attended my first parties at La Case à Chocs, in my hometown of Neuchâtel. Then, I started going to raves in Geneva, and to clubs like Motel Campo and Zoo.The music scene in Switzerland is really inspiring and it's constantly evolving! There are many bridges being built between the French-speaking and German-speaking regions of Switzerland with various initiatives led by true music lovers, such as the record store and label Bongo Joe in Geneva, or the TRNSTN RADIO in Fribourg. The scene is healthy, and I would say that there is a lot of communication and exchange, particularly among independent labels in Switzerland, who share tips and support each other. For example, my friend Dominik André from Subject To Restrictions Discs has given me a lot of advice at different stages of our label's development.
The female collectives are also at the forefront, organizing parties and leading various initiatives like DESIR and Zagaza, to name just a few. This makes me extremely happy! And I hope it will encourage other girls to do the same. Many Swiss DJs have inspired me greatly from the beginning, such as El Tigre Sound, Garçon, Crowdpleaser, and producers like Nicola Kazimir, Neu Verboten, and Jamira Estrada. There are currently many producers in Switzerland who are very active and doing great things, such as Reda Saiarh, Ecar, Noria Lilt, Maura Lombardo, Belia Winnewisser, Owelle, Pekodjinn, Mirlaqi, NVST, Anita Kirppis and also bands like Ethyos440."
Do you have an early dance music experience that really stuck with you? Can you tell us about it? "I have a very strong memory from when I was at Panorama Bar, it must have been in 2017 or 2018. If I recall correctly, Discodromo was playing and suddenly they played Evelyn Thomas' track "High Energy". I was really a baby raver at that time, but I knew that this moment was incredible. I had never heard this track before, and it has since become a true anthem for me. I remember there was such energy, such communion among all the people on the dance floor. I immediately felt that this was a moment I would remember forever. I felt like I was flying! From that moment on, I remember telling myself that I wanted to be a part of this world, and to be able to experience and share other moments like this with people. Looking back, this memory is also special to me because I was fortunate enough to play at Panorama Bar, a place that is very dear to me. I am very grateful for this opportunity. I am also really enthusiastic about the fact that other girls from Switzerland, like Jenny Cara, are also playing in places like Panorama Bar and also touring and killing it."
Can you tell us about one of your most memorable nights at Motel Campo of both playing there and being in the crowd as a dancer? "I played the closing set for the 12th anniversary of Motel Campo last October. I must say, I haven't done many closing sets at Motel, and I knew it would be a special night with all my friends there, so I prepared well. My set was very high energy, with a lot of acid, trance, techno, and old school tracks. In the middle of the set, around 7:30 in the morning, I played a remix of Mylène Farmer's "Désenchantée." That track is so iconic, and the moment of euphoria that followed was just memorable. I had listened to the original version of this song during the week when I was working on other things, and I thought, 'Why not look for a remix of this song for this weekend?'
As a dancer, I remember a Christmas Eve party at Motel Campo, it must have been on the 24th of December 2016, I was not DJing back then. Christmas parties at Motel Campo are legendary; everyone finished their family dinner and then came for an extended dance session. Nobody was really fresh for their family reunion the next day…"
So you started a label called Proxima with Nicolas Oggier back in 2020. What can you tell us about the label and how it started? Did you two have an idea of what you wanted the label to be and the direction it might go in? "Proxima started almost on a whim. During the summer of 2019, I was really into Italo and heard a track that I couldn't identify, but which drove me crazy. After intensive searching, we found the track: "A.E.A.E.O." by Nando Litteri. I wanted to play the track, but I couldn't find it in digital format or even on vinyl. Nicolas and I thought, "Why not contact Nando directly?" We found him, I immediately had a great connection with Nando, we spoke on the phone and discussed reissuing the record. At the same time, our friend Nemo from Sound Metaphors told us he would distribute our record and label. That's how Proxima was born: I simply wanted to play Nando's record, so we ended up reissuing it. The Proxima releases also reflect my evolution in terms of style. It's a whole process. But I can say that I'm proud of all the releases we've put out. We don't plan too much in terms of genre, we mostly follow our hearts."
What can you tell us about reissuing Peter Benisch's 'Through The Tunnel' release? It's such an incredible record and more people need to hear those three Harmon Eyes records in general. Are there plans to reissue the other two? "When we first listened to Peter's work, it was mind-blowing. Peter's work is timeless, and you can hear in his tracks that he has a serious mastery of his machines. Peter was heavily involved in the underground nightlife scene in Sweden. He now works as a doctor in Stockholm and is very busy, but he remains very involved in the process of reissuing his records. Yes, we will continue to work together to reissue his work."
How smooth is the process with reissuing old records? Have there been any hurdles to overcome? "We're lucky to work with our friends at Sound Metaphors for all of our vinyl releases. They handle all the printing and distribution, while we take care of the artistic direction and contract signing. Producing vinyl records nowadays requires a lot of dedication and patience. The most frustrating part can be the waiting time for the production of the records. That's why we continue to produce records, but we also allow us to release digitally as well."
Can you tell us about the 'Dancefloor Memories' compilation you put out in 2021 aswell? Was it nice to curate and reach out to the artists you wanted?I'm very proud of this compilation. It was also a very formative project, I learned a lot throughout the entire process. The project was born out of a collaboration with two journalists from the Swiss production company Chahut Média during Covid. Since everything was closed, we wanted to convey the pleasure of experiencing strong moments on the dancefloor. So, we curated 10 artists who produced 10 tracks, which we paired with 10 testimonials from people who had a strong experience on a dancefloor. This created a series of 10 audio podcasts and a compilation with 11 tracks. We received funding from the City of Geneva for this project, which also allowed us to pay the artists for their work. We wanted to showcase the work of friends and artists who are dear to us.
How are your own productions coming along? You started off making a lot of edits but from interviews you've mentioned you have been quietly working on your own productions too. Do you have artists that you aspire to be able to produce like? "I started by producing edits because I felt the need to edit certain tracks for playing them. Since I was accumulating a lot of them, I decided to release them in a "club edits" format. Production is a true process. I knew nothing at the beginning and I learned little by little. I learn new tricks every day and I take a lot of pleasure in it. I am currently working on several tracks and have several projects in progress. I want my productions to reflect my personality, to be fun to play, colourful, and fresh. Several producers around me are a continuous source of inspiration. I love the productions of Kasper Marott; his tracks are hypnotic, techno and trance but at the same time have such precise synth elements, everything feels right. I also greatly appreciate the productions of my friend Alex Kassian, Alpha Tracks, BSS, Oprofessionell… I am also working on a project with my friend Andrea Dama at the moment. Working with other producers is very inspiring, it allows me to learn each time. By learning with others, I also learn what I would like to do myself. Starting production, like DJing, pushes me out of my comfort zone. I also try to apply the "less is more" method in my productions."
Is the way you approach your DJing the same way you would approach a studio mix? Obviously DJing is something you may do hundreds of times a year, be it in a club, at home, friends house but sitting down to curate and put together a mix will happen a lot less. What changes? "Whether it's on the dancefloor or in a mix, I always try to make my music playful, energetic, and dynamic. I also like to mix genres and moods. I'll switch from one style to another while maintaining continuity. Once, a girl complimented me at the end of one of my sets and said she loved it but couldn't define my style, and I think that's great. Ultimately, whether it's in a club or in a mix, people have to be hooked on what I offer and be surprised. There's a fine balance to strike between something more intellectual and something wild that goes in all directions. On the dancefloor, I tend to give people what they want as well. If I think a track will make people happy on the dancefloor and feel like it's the right moment to play it, I'll play it. I try to follow my instincts. While in a recorded mix, I also think more about the overall feeling I want to convey."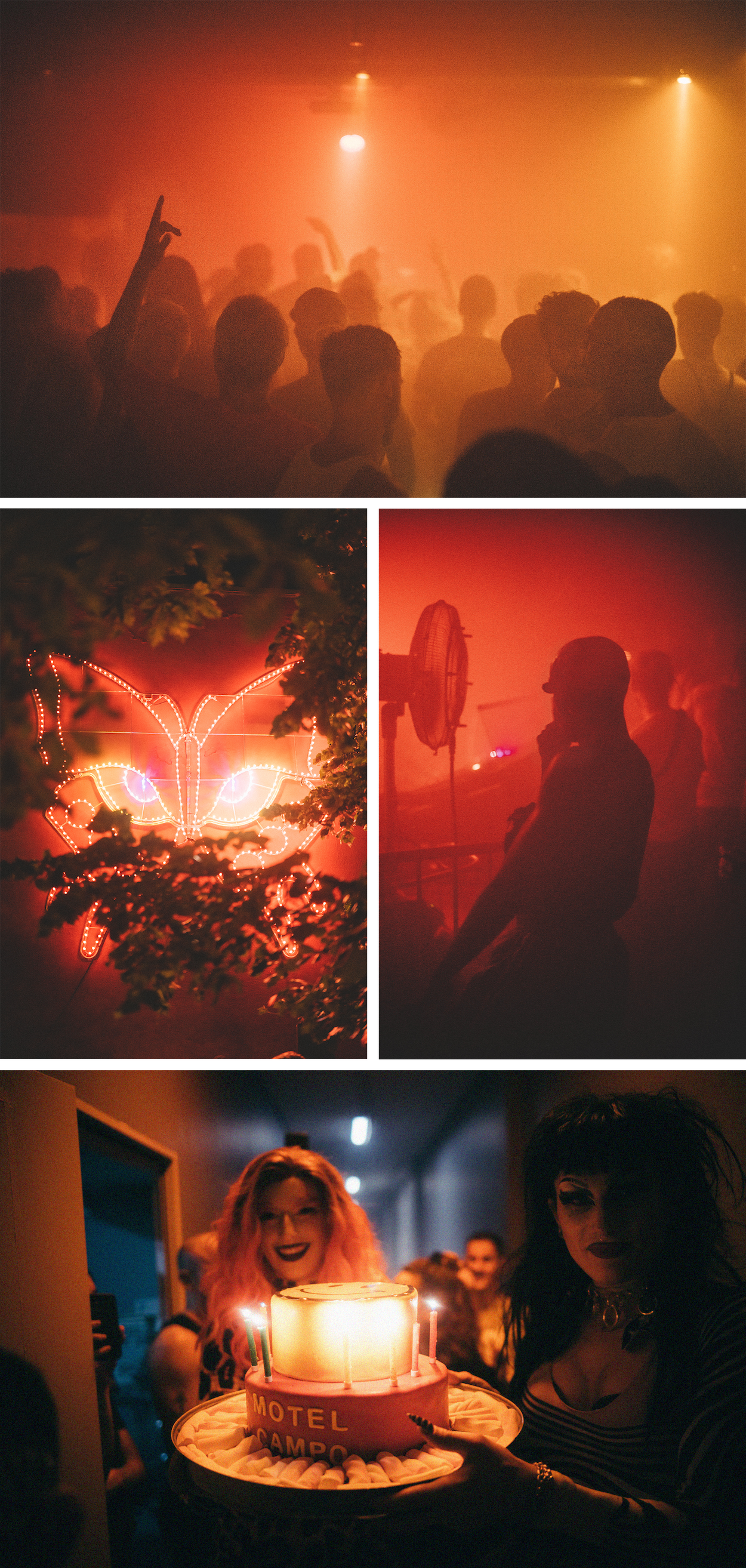 Can you share any tracks or mixes that really bring you back to specific place? "Fairly recent, but I would say Mama Snake's recording at Dekmantel Festival 2022, I was just blown away."
What sort of other hobbies or interests do you have outside of electronic music? Are there any books, films, art pieces or other things you've seen or been reading/watching that you might want to share? For several years now, I have been practicing yoga and it has become an increasingly important part of my life. Since the beginning of this year, I have also read many books related to personal development and meditation. I am now trying to meditate every day. It helps me keep a clear mind, focus on myself, and be present in the moment. The book "Atomic Habits" by James Clear was inspiring and helped me better organize my daily life.
Can you tell us about three albums that a) define you getting into electronic music, b) maybe a midway album when you were fully invested in DJing and and c) a recent album that you've especially enjoyed?
a) Chris And Cosey – Heartbeat
b) Delkom – Futur Ultra
c) Kasper Marott – Fantasy
So what can you tell us about the mix you've recorded for us? Was there any direction you decided you wanted to go for this when making and are there any particular tracks you want to shout out? "This mix is gradual, a bit more trippy-mental at the beginning and it evolves into something more psychedelic trance and techno, more dancefloor-oriented at the end. I also included several of my edits, which reflect what I would play in a party. A special mention goes to the unreleased track "Goa Space-Cruise" by a producer I love, Rambal Cochet.
It may sound cheesy but I want to keep improving every day. As an artist, I want to continue exploring, being curious, becoming a better DJ every day, and listening to the people on the dancefloor. I'm also excited to share my own productions. On a personal level, I want to feel grounded and grateful. I stumbled into the world of electronic music somewhat by accident. It wasn't what I had planned for myself, but I embraced it and I'm so grateful that it happened to me. The decisions I made along the way have led me to where I am today."
Last, usual question from us, what was the last thing to put a big smile on your face and when was the last time you had a proper dance? "My latest smile: the moment when I officially finished my first track – it's going to be released very soon! The last time I really danced: on New Year's Eve at Berghain, I went to see my friends play at Laboratory."
Audrey Danza: Soundcloud, Instagram,
Proxima: Soundcloud, Instagram, Bandcamp
Motel Campo: Soundcloud, Website
You can download Truancy Volume 304: Audrey Danza in 320 kbps and see the full tracklist by supporting Truants on Patreon here. Your support helps cover all our costs and allows Truants to continue running as a non-profit and ad-free platform. Members will receive exclusive access to mixes, tracklists, and merchandise. We urge you to support the future of independent music journalism—a little goes a long way.