We first caught wind of Fio Fa back in 2019 with the release of his You Think EP on Radiant Love, an infectious and playful two-tracker backed with a trippy remix from D.Tiffany. With the title track "You Think" clocking in at almost 11 minutes, it's a clear testament in his want of creating rolling party anthems built directly for the club. He's taken that to the next level with a series of releases, mostly all self-released on a number of labels he has started solo or with friends, whilst also featuring on hit compilations from the likes of Haŵs and Club Vision Records. We caught up with Fionn to discuss the Stattbad parties in Berlin in his early teens, throwing 300-capacity Pear parties in the back of Japanese restaurant, his interests in graffiti and skateboarding leading to All City, and how he sampled one of his favourite records for his new release on his new label Sunset Drifters. With so many of his productions finding their way into sets across the country and beyond, it's not surprising that he knows his way around a pair of decks to an equally good level. With a tireless attitude in unearthing obscure Discogs gems and a penchant for rolling, fun, evil, playful dancefloor weapons, his Truancy Volume is a slowly unfurling coil of techy steppers, lighthearted breakbeats and recalibrating groovers. Having built an inimitable style the last five years, it's a two hours mix we'll be rinsing for many occasions!
Hey Fionn, hope you're doing ok! To start, how have the last few months been? What have you been up to and did you have a great summer? "Hey! The last few months/summer has been good to me actually. I've just been working on putting out my newest release SUNSET001, DJing a bit & making music, hanging with pals and working in a restaurant."
As it's your first interview on the site, I wonder if you could tell us a little bit about how you first got into dance music and going out raving? You're from Dublin originally, correct? "Yeah sure. I was listening to a lot of Boiler Rooms and dance trippin tv mixes when I was around 16/17 that first got me into dance music. Some standout Boiler Rooms I was listening to around that time were Jamie Jones in Ibiza, Kim Ann Foxman, The Martinez Brothers & Jamie Jones, Maya Jane Coles and some dance trippin tv ones I was listening to were Seth Troxler, Ricardo Villalobos solo and the one with A:rpia:r.
My sister Cáit was already Djing as well and was putting on parties called DIP with her mates Robbie (r.kitt) and Enda (Soft Stone) in Dublin. I think I was around 17 when I first started going to them with my mates. They're still the best parties in Dublin whenever they happen (RIP Jigsaw – one of the many spaces in Dublin that have been closed down). Around the same time as DIP we used to go to these raves called Techno Temple in an Indian restaurant in Temple Bar. These raves would be the after party from like 3am when the club shuts til around 6 or 7am but we'd just wait around town/city centre until Techno Temple started."
What were some of the influential parties you were going to? Is there a first dance music experience that really stuck with you? "A lot of the influential parties I was going to when I first started going out in Dublin were happening at The Twisted Pepper. Seeing Prosumer there stands out for me. My first ever time in a club was at Stattbad in Berlin when I was 16 and using my friend's older brother's expired passport to get in. In more recent times the dance music experience that really sticks with me and still does is a party that happened in Paris called En Catimini. Z@p & Emilio played along with Rakya and a bunch of other French collectives. It was the closing set by Future Funktion that really sticks with me still. I'd never heard anything like that before, one of those epiphanies on the dance floor moments. I was trying to make tracks that sounded like they could've been played at that party for months after that and still do. I kinda cite this as one of my formative dancefloor experiences which brought me to where I am now."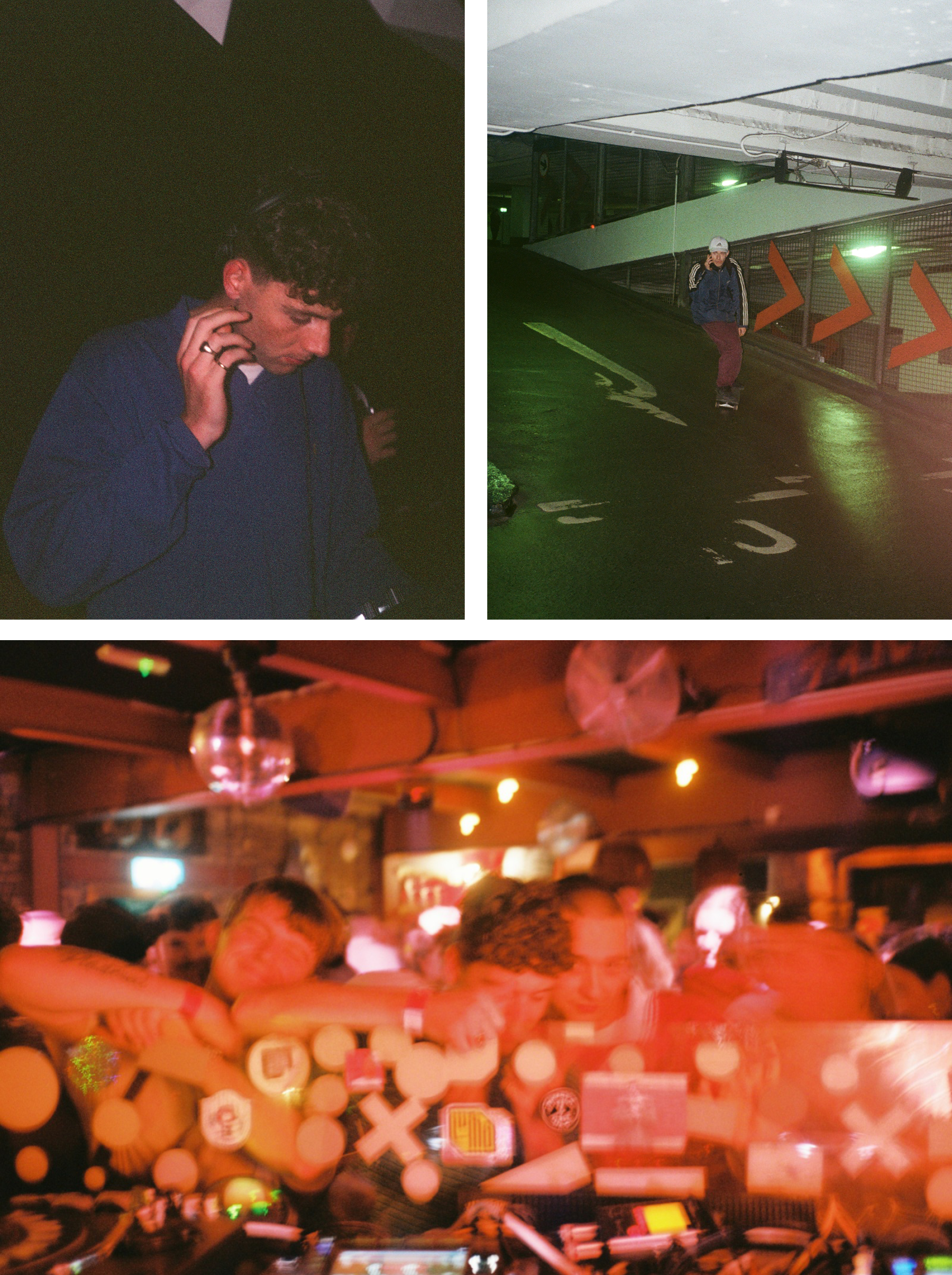 Discogs cites All City Dublin as the parent label for Pear which was the first label you co-founded (with Nev Jio) for your first release "Sunday Pledge" back in 2018. Can you tell us about teaming up with All City back then and how everything came about? The label is closing in on 10 releases now, how do you look back on the label? "Yeah shouts out to Olan the legend. Well myself and Jio were doing parties as Pear together for about a year before this but Jio was going into All City asking Olan for a job and Olan said no but asked if he wanted to do a sub label of All City and the Pear label started from there. I look back fondly on the label to be honest. We were both quite young when we started it, around 20/21 so it was a big learning experience for us on how to put a label together. We can thank Olan for this though he's been a support for our label since day 1 and he's running a heap of other Irish labels through All City like First Second Label, Jheri Tracks, P.U.P., Gurriers, Arís to name a few – now with Jio who got the job at All City in the end. I rediscovered the New Members track Soma from PEAR005 recently too, big rolly banger!"
You regularly throw a number of parties at this sake bar in Dublin. Can you tell us about those? Is it important to you that the Pear parties remain in Dublin? "Yeah at Yamamori Tengu. It's a sick spot at the back of a Japanese restaurant, 300 cap room with a Funktion One sound system in it. We've been doing the parties there for about 6 years now and they're always my favourite – especially the annual b2b all night with Jio. I don't think it's that important that the Pear parties stay in Dublin, we just found a home for our parties there so we kept it going. Pear has definitely taught me the importance of a regular party and how it can bring people together."
What can you tell us about the new label you've started Sunset Drifters and the first release of the same name? I think it's the first of your releases with a full print sleeve artwork. Was that a conscious decision in the direction of the label too? "I made these tracks around the start of 2021. One of the tracks has a sample from one of my favourite records ever – Gat Decor – Passion.  I didn't want to do another digital only release like I had been doing with the couple of Fungie releases I put out in lockdown so I sent the tracks to Baldo at Subwax and he was very down to put it out through Subwax. Forever grateful for Subwax and all the work Baldo does, legend and a sick producer too. Yeah it's the first release of mine with full cover art. One of my best mates Carl Hickey did the painting for the first one and he'll do one for every release to come. The cover for this one was an old Ferrari advert from the 90s that Carl painted. He's an unbelievable artist, I wanted him to paint a cover for one of my records for ages! carl.hickey_ on instagram."
It's a real testament to your productions that so many of your tracks have been used in Truancy Volumes and in mixes elsewhere. It seems you've really been nailing a sound that people can easily fit across their club sets. What goes through your mind when making tracks at the moment? Are you always thinking with the club in mind? "Thank you!! I'm definitely always making tunes with the club in mind. I'm always trying to make a specific sound each time – like after Houghton Festival, I was feeling very inspired & making a load of stuff that I thought sounded similar to what OMAR was playing at the Terminus Stage. That's just on a good studio buzz though , sometimes I'm just thinking ahhh this is trash and I'll start a new project or just stop until I'm feeling it again. The inspiration and motivation to get into the studio always comes from the club though yeah."
What do you look for in a record yourself when playing out? How are you approaching your DJ sets at the moment? Have you had that perfect set yet where everything just goes right and you're in that groove? "I'm always looking for records that are rolling, fun, evil, playful and lots of energy for playing out. I'd say a specific old housey/proggy/breaksy sound. I always have about 50 discogs tabs open so I'll try to get through them all before the next gig. I'll usually know the first 3 or 4 tracks I'll play – sometimes I'll have 10 tracks ready that I think sound good together. For b2b's I'll try to have as much music as possible that I'm excited to play. I've definitely had that set where everything's going right. I think that happens when I have a full record bag + usb full of tunes I can't wait to play."
It seems like I'm regularly discovering new crops of producers and DJs from Ireland at the moment. Can you tell us maybe some of your favourites that you feel are doing great things right now? "Cáit, Síofra, Jio, New Members, Lukey, Spray, lastminuteman/wherethetimegoes."
I've been listening to a lot more full length LPs lately, lots of ones I used to listen to when I first got into electronic music especially. Can you tell us about three albums that a) define you getting into electronic music, b) maybe a midway album when you were fully invested in DJing and and c) a recent album that you've especially enjoyed? "No album really springs to mind that I feel define me getting into electronic music. I was really just listening to tracks by Kerri Chandler, Maya Jane Coles, Mr. G, Seth Troxler, Jovonn, Shonky and Phil Weeks when I was first getting into dance music to name a few. Orbital the Green Album stands out as something I was listening to midway, I came across that album randomly on youtube and became obsessed, I still am. Recently Roc Marciano and The Alchemist – The Elephant Man's Bones has been on repeat for me."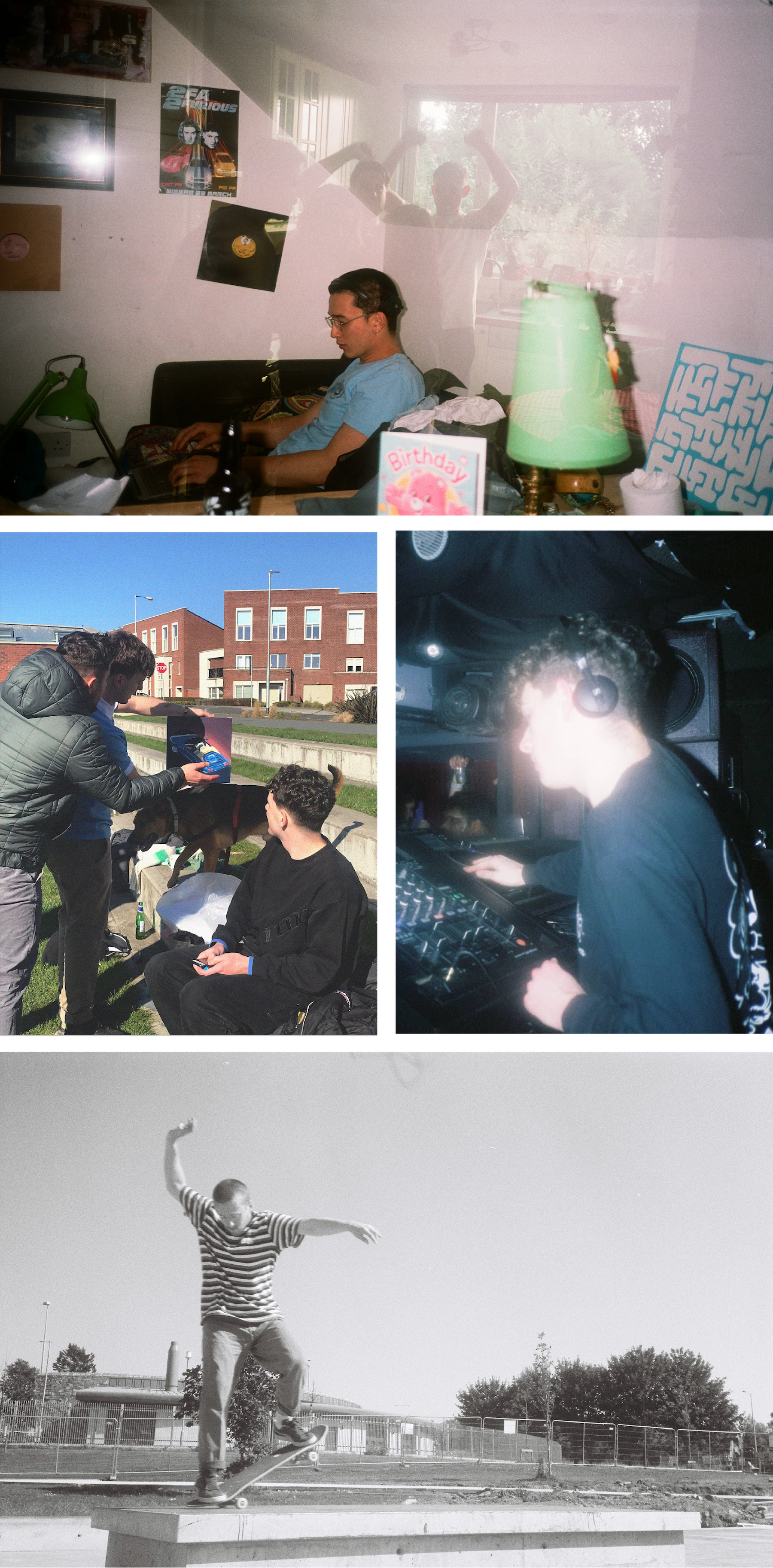 What sort of other hobbies or interests do you have outside of electronic music? You're an avid skateboarder right, how long have you been doing that for? I think I've seen you in a bunch of Dàire Carolan's skate videos too. Is there a London crew that you skate with? "Yeah I love skating. I started when I was around 9 or 10 when I was very into Bam Margera. I stopped for a few years and got back into it around 15 this time because of Odd Future. I feel like skating has also taken me to where I am today, it brought me to graff and graff brought me to All City (they sell paint as well as records). I met Jio through one of the All City parties that used to happen at the old Bernard Shaw too. I've met some of my friends for life through skating. I love big Dàire Carolan as well, he's the leader of the crew! Best fakie ollies in bow."
What's your all time favourite skate video? "Dylan Rieder's Gravis Part or Antwuan Dixon in Baker 3."
What can you tell us about the mix you've recorded for us? Was there any direction you decided you wanted to go for this when making and are there any particular tracks you want to shout out? "Not too much, it's just a bunch of recent finds for me + a few rips that got sent to me by Ken Brady who used to Dj around Dublin in the 90s. I think I always try to go from a little bit chill and work it up to big party tracks. I do wanna shout out the second last track in there from Bilal/ Central intelligence. It's been my favourite tune since I first heard it, I've listened to it so many times. One of my favourite producers at the moment for sure."
What else have you got in store for the rest of the year? "Doing a 2 Fa 2 Furious party with Cáit and Ken Brady on the 28th of December in Bow Lane in Dublin. I'm buzzed for that! Hopefully have SUNSET002 ready before the end of the year too."
Last, usual question from us, what was the last thing to put a big smile on your face? "My girlfriend video calling me from Tokyo at the after party."
Fio Fa: Soundcloud, Instagram, Bandcamp
You can download Truancy Volume 297: Fio Fa in 320 kbps and see the full tracklist by supporting Truants on Patreon here. Your support allows Truants to continue running as a non-profit and ad-free platform. Members will receive exclusive access to mixes, tracklists, and merchandise. We urge you to support the future of independent music journalism—a little goes a long way.