For Bruce, breakthrough releases on Hessle Audio, Idle Hands and Livity Sound were always bound to turn heads, but he's kept the momentum going in spectacular fashion the last eight years. A large part to this is his distinct ability in manipulating tension and release for either densely textured rhythms to stripped-back, ambient abstractions, but it's also his warm and affable character and penchant for fun that's made his sets such an enjoyable and unique watch.
Bruce's Truancy Volume, acting as a 'slightly cleaner' produced version of where he likes to take his DJing at the moment, is one that covers a lot of ground in his unpredictable playfulness. Regular switch-ups between pace, mood and genre form a track-list that many DJs would struggle putting together in any cohesive flow, yet he trail-blazes through the likes of Mad Mike, Interplanetary Prophets, DJ SS, Coil and unreleased Batu with no constraint. It's undeniably Bruce, with a shot of playful humour in the form of Netflix stings and out-there closers creating a dynamic that captures his experimental tendencies and love for the club into one gloriously, twisting, narrative. We caught up with Bruce to chat about the last five years since we last spoke, his relationship with DJing as he hits 30, producing 'IDM dancefloor clobber' with Lurka, and how he's been getting on with his Get Loose nights post-lockdown.
Hey Larry, hope you're good! You've grown out your beard and hair since you last spoke to us for an interview back in 2017. Have the last five years flown by for you too? Congratulations on your 30th by the way!
"Hiya gang! Yeh I remember talking to Aidan way back when. Although I find the constant pendulum swinging of presence and perspective to be such a mind-fuck that it's impossible to have any true grasp of where the time has gone when looking back even a week, let alone five years (got some undiagnosed ADHD to thank for that!).
Life is definitely good this year though. I reckon there is a real sense of optimism all over. And yeh, I was ready to turn 30 the day I turned 29, haha! 20s are great and that, but I'm at a part of my life where I'm really keen to turn the page onto the next chapter. A lot of lessons have been learnt and the new decade definitely feels like a level up and opportunity to put that newfound wisdom into action. And lol, if you think I sound like a quasi-mind-guru-master, that's because I am. And you can be too, you just gotta beeliiieeeevvee…"
You mentioned to DJMag in 2018 that the release and making of your debut album Sonder Somatic really brought your relationship with dance music to the next level. Do you have goals in mind for what the next level past this could be?
"Ahaha! Good to see that 2018 Bruce was full of the same shit as current day B-boy – the one and only attribute of mine that I can claim is truly consistent! I honestly do not remember that mindset clearly, but I guess it makes sense. This love for dance music definitely took a big hit at the turn of the pandemic, but I'm safely back in it now; on the one condition that I maintain a good relationship with Djing.
It's been a real struggle for me in the past to let go of the control and precision of performing live. Sure, it can be a science and a craft, but really, I've had to accept recently that I'm never gonna be a super tight or technically smooth DJ and my prowess definitely lingers elsewhere. If I try to be sharp, I'm not that fun to watch as I get too in my head and don't engage with the crowd enough. Plus I'm having the most fun when I'm pushing myself to the limit with dumb mixing and mashes of sounds and styles, so the main objective is just getting myself relaxed enough to do that. If you're having fun, the crowd should be having fun. If they're not, they can fuckin do one."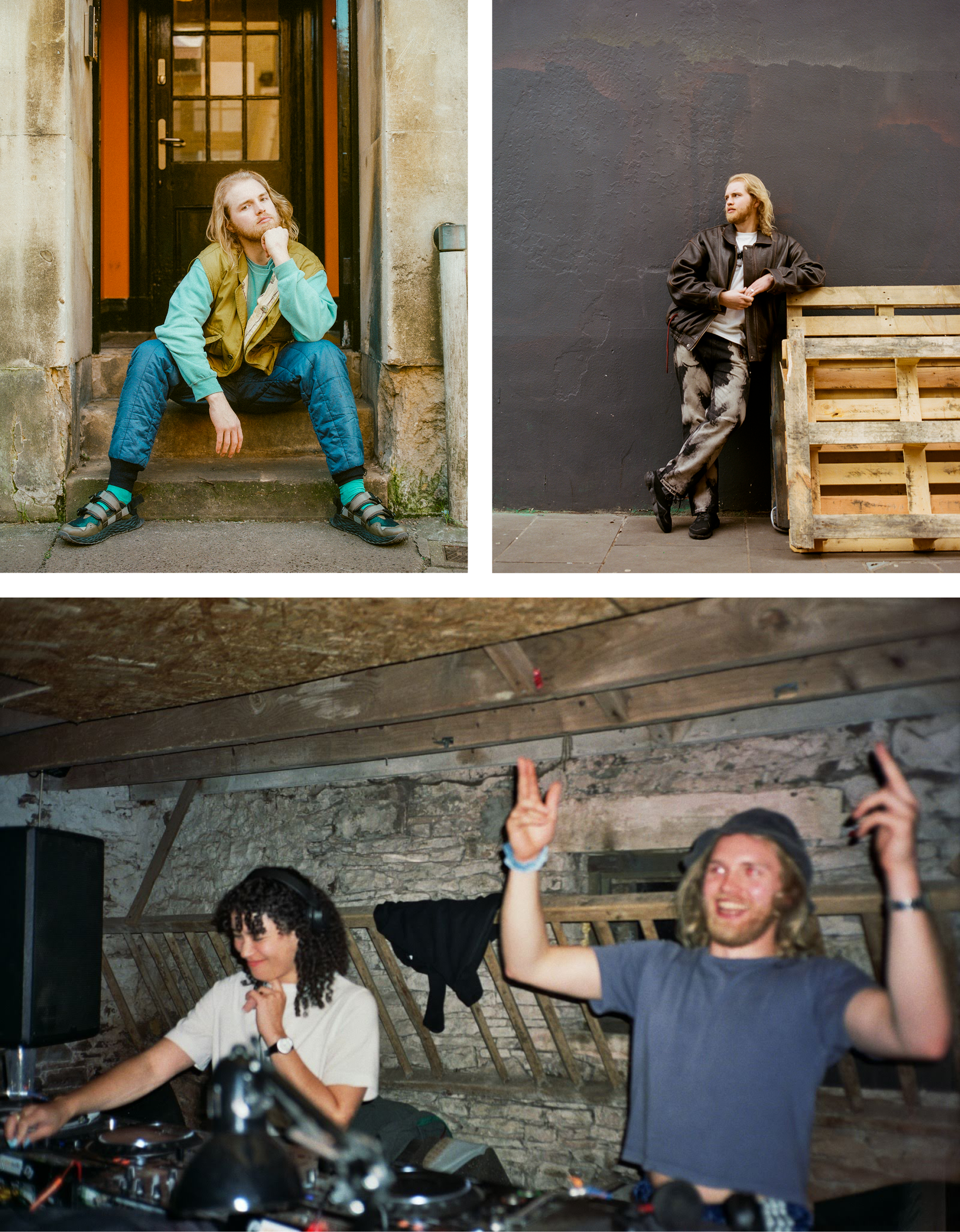 I was listening to that LNR closing set earlier for Get Loose #4 – those last 10 minutes are proper tops off. What's it been like throwing and planning the parties again? You had got into a good swing of things before COVID through a spanner in the works.
"Ah mate yeh, the only real downside of putting on nights is you don't get to bloody see much of the music yourself, so I'm glad that the recording was successful! But yeh, LNR's was fucking unreal. Such a depth of amazing rave music from such a young DJ. Throwing parties again has been so much harder than before, not gonna lie. People's attitude to tickets and club events in Bristol have been dented by the pandemic (two years of students not going out has hit the scene nationwide.) But the two events I've put on since, have still been really great parties and it just makes me even more grateful to everyone that comes through and helps fulfil the efforts put in by all to make it a special space and experience."
Have you had any tour highlights since being able to play out again?
"There have been a few shows that have really stood out: the first proper club gig back was actually in Iceland. Bjarki put on a mad rave at this incredible new space in Reykjavik. Playing b2b with my boy Árni was a lovely way to feel the full weight of the club once more. So that was a very special trip all round. Then playing b2b with DJrum two nights in a row back in October was amazing! What an actual frickin wizard. It was so cool to play with someone who performs with such mad tricks and flair and it really brought the best out of me. But it was actually quite recently, at the Livity Sound 10 year anniversary on Sinai Soundsystem in Leeds, that I feel I really hit a new level (theres a theme building here). To have been able to go completely wild on such an incredible soundsystem, after such amazing sets from Azu Tiwaline, Beneath and Peverelist; I felt I had found a lil space in the sonic-sphere that was truly me. After feeling a bit disillusioned recently, it felt amazing to be back with a bang!"
What's it been like making music with Lurka? The collaborative record you've recently put out together under the new alias XRA is very good. "DOINK!" is my favourite out of the four tracks but it feels like a record where everyone comes away with a different favourites – there's so much to it! The tracks sound very detailed in their production – did you have a particular dynamic in who brought what to the studio?
"There be no man like Lurka. His understanding of audio processing precision, combined with an unmatched, beyond-r00d taste of everything truly 'Nuum (hardcore continuum), really has provided an amazingly formative experience to work with. Not putting a huge amount of thought into it at first, we wanted to make tracks that wore as much welly as they did finesse. But once we realised the extent of our ambition track-to-track, it was clear that we both had the same goal in mind: IDM dancefloor clobber, driven by the power of tuff, 'Nuum sonics, for the ruff 'n' ready fearless DJ.
Putting it lightly, getting the tracks to where we wanted them definitely took it out of us. But from a special combination of nerdy-ness and gunfingers provided by both of us, it was almost always very clear as to how far we should take the ideas we had formed. As for dynamic, I don't think he'll ever forgive me for turning up the high shelf when re-amping the drums one time, but it's ok cos "them tinkers be tasty n crispy like a spicy pork sausage." Keep your eyes peeled for XRA002!"
2021 seemed like a very collaborative year for you, with your other record being the one with Bambounou. How did that one come about? I imagine the production process being a bit different for this one? Was it mainly a digital collaboration? How long did you both spend writing and sending tracks to each other?
"Ah, Mr Bambe; there's definitely no one quite like him either! It's funny, as before Jeremy suggested we write tracks together, the controlling hold I had on my studio process made the idea of working with someone else really rather daunting. But his energy and enthusiasm is addictive, and it was real inspiring to simply jump into his studio in Paris and just get on with it! We pretty much finished the first track in one session – something that almost never happens with me – and despite the pandemic restraints of finishing the other two, the energetic, creative seed, had been well and truly sowed, and the record was really quite easy to finish.
Much like the Lurka collab, it was so lovely working with someone who had a completely different set of skills to offer. Jeremy's work ethic and creative vision has always been a big inspiration, so I'm really grateful for all that he taught me in the process and I'm so happy with the release as a result. The artwork by dimisaere & Johnny Graf is also amazing! Slightly gutted he didn't want to cast me in wax for his private collection of waxxy torsos, but I guess there's only so much creative juice one can drip on a project at one time ;-)"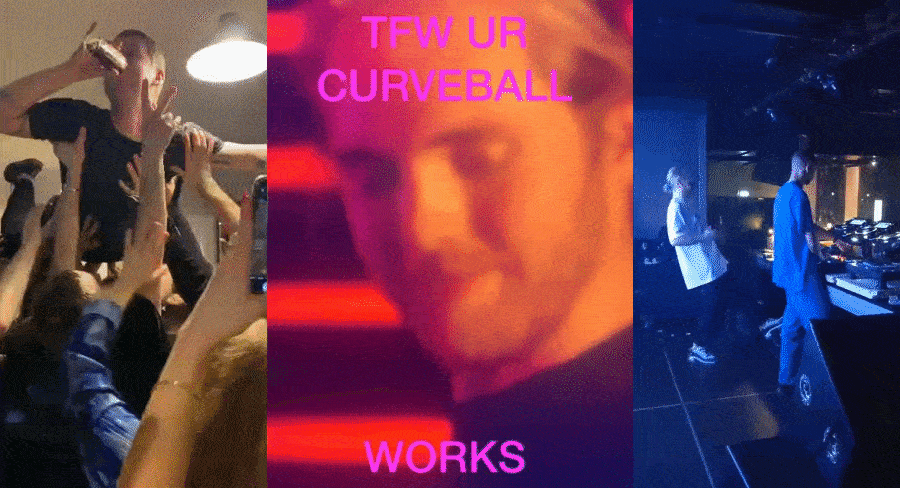 We noticed from the "Cellular Disconnections Volume 1" by dj_2button that you've also started to master other releases. Can you tell us a little bit about the progression into that and how it's going?
"Well, Will (dj_2button) is one of my best and dearest friends from way back at uni. He's always had such a special, singular and amazing creative vision, but very little interest in technical direction. So when he came to me and said that he had a bunch of tracks ready to release, after years of begging him to try and put something out, I leapt at the opportunity to help him. With very little experience, I gave the job a good crack and it turned out alright! Since then (with a faint bit of very valuable help from Lurka), I've had quite a few jobs come in here and there and I'm feeling pretty confident with it! It's quite exciting to use the few bits of hardware I've accrued of recent to work in an area that is so often mysterious guess work. But ya know, fake it till ya make it, amiright?"
You did a CDR talk at the Strange Brew back in September. How was that? Do you have say three key moments in your production career where you've thought, 'Ohh wow, this changes everything? Why did I not learn this sooner?'
"It was amazing. Whilst with the nature of the job, and the special love felt from crowds while DJing, the CDR talk was probably the most significant and most thankful experience of my music production career. I'm not very good at receiving love (ask my therapist) but having a room full of people, keen to hear what I had to say about my music was a blessed memory I'll never forget. Especially when getting the reaction I did in response to a new track of mine, you'll have to ask someone who was there for more info ;-) Big, big shouts to all those peeps actually, especially big man Tony whose warmth and knowledge, directing the session was more than I could have ever asked for. For anyone who is even considering writing tunes, I wholeheartedly recommend getting down to one of their events. They're nothing short of beautiful. Yeh – don't compress everything, don't put processing on sounds arbitrarily and leave the studio/beat-station/laptop when you're tired, not when the tune is finished."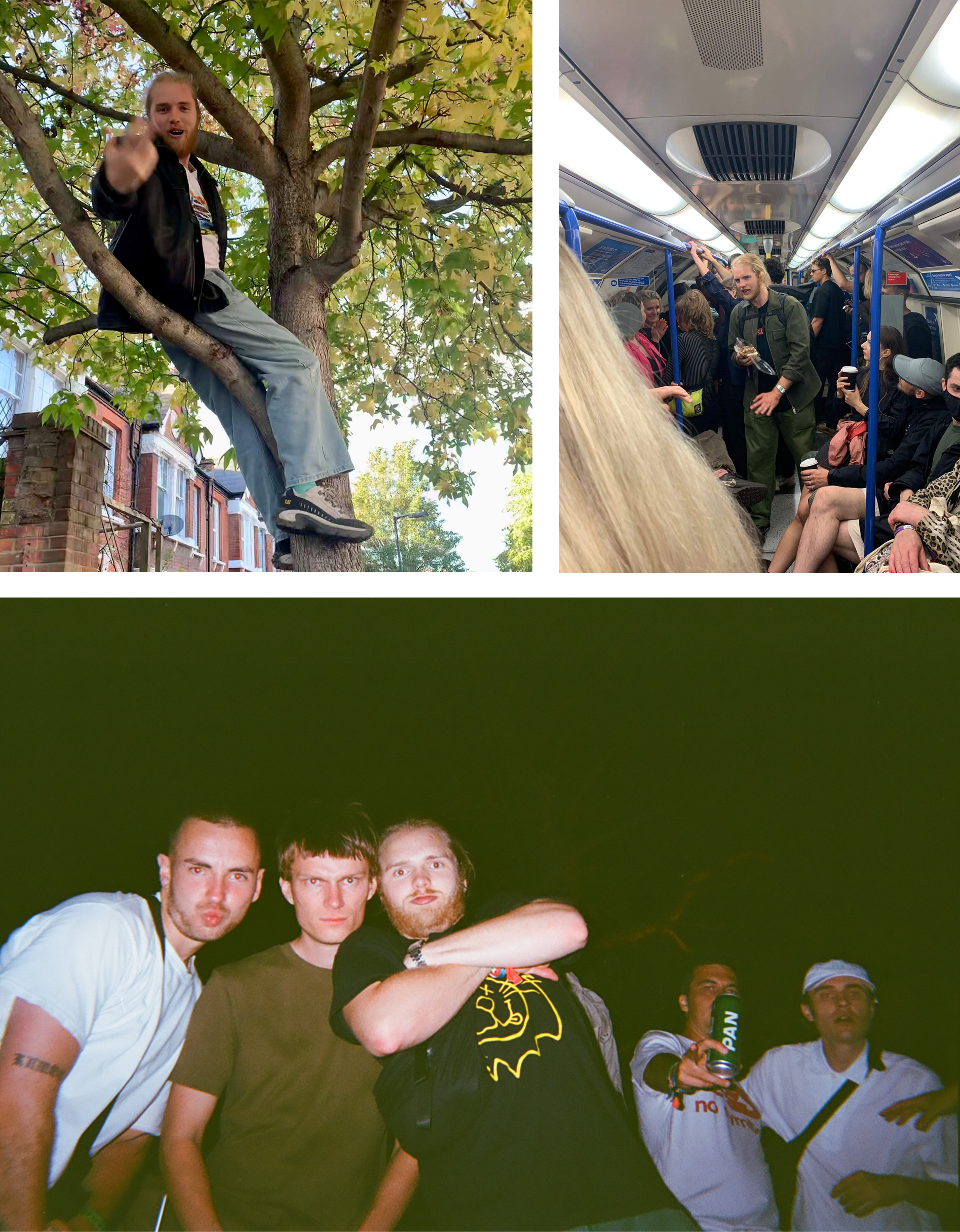 What can you tell us about the mix you've recorded for us? There's a real abundance of switch ups in the mix and you cover a lot of ground sonically. Was there any theme you decided you wanted to go for this when making? Are there any particular tracks or producers you want to shout out?
"I think given it's been nearly four years since my last proper studio mix, it was about time to nail a new one down. Over the years, I've been much more focused on live recordings, believing that the new and slightly wilder flex I've been on, can only really be achieved in a club/festival setting within the full flow of a live performance. But whilst presenting "me DJing" with a cheering crowd, live flair and little mistakes here and there, all has a special kind of magic to it, I have found there is a limit to its relatability and function for the listener. There's a stillness to studio mixes which I reckon actually helps listeners sit inside, and let envelop them. Because even if someone listening to the live recording was actually there at the time, because of how recordings are captured "in the moment", the listener can sometimes only really look in/back to an event/experienced in the past. It's simply impossible to do it all (Bradley Zero actually wrote a post summing up a similar predicament, here, funnily enough, whilst I was recording my mix).
So with this mix, I wanted to put together a mix of moods, shades and switch-ups that help showcase the breadth of where I like to go while DJing, for it to feel real and not contrived or over ambitious, but also maybe push a slightly cleaner and polished flow that is less unlikely to unfold in such a way as if it was in a live setting. I'm really happy with it and hope people are able to appreciate its both disconnection and connection from any recent gig they've seen me play at or radio show they've heard me on.
It's mostly vinyl but reppin' the homies here and there too – special shouts to ML, a dear friend of mine and a truly extraordinary musical being, who has ventured into the world of music making in remarkable style. He continues to inspire me on a daily basis so it was special being able to get his stuff in there. Katatonic Silentio is one of my favourite producers and she really can do no wrong, especially in the case of the remix of hers I used. The forthcoming bit of Batu's is as special as it is mysterious. And last but certainly not least, I've been absolutely rinsing tracks from the Icelandic band, SKRATTAR's unreal album that came out on Bjarki's label last year. Truly incredible blend of punk attitude with dancefloor wallop."
Last usual question for us, what was the last thing to put a big smile on your face and when was the last time you properly danced?
"Last weekend at Get Loose when Gigsta opened her set with a recording of a voicenote I sent her, asking her to come play the event LOL. Definitely a common theme forming here of DJs playing stupid voicenotes of me at my events. We LOVE to see it. I then proceeded to dance like mad briefly downstairs to I-sha, Junior and k_means absolutely shelling it in the dungeon at the same event. They are three names that are rightly, really beginning to get the hype they deserve!"
Bruce: Soundcloud, Bandcamp & Instagram.
Photos 1, 2 and 3 by Lucy Werrett
You can download Truancy Volume 289: Bruce in 320 kbps and view the full tracklist by supporting Truants on Patreon here. Your support allows Truants to continue running as a non-profit and ad-free platform. Members will receive exclusive access to mixes, tracklistings, and merchandise. We urge you to support the future of independent music journalism – a little support would go a long way.