Sky H1's sound is difficult to pin down, operating somewhere in the half-spaces between ambient, techno, trance and modern forms of "club" music. With releases on labels such as CODES and essential appearances on compilations from PAN and Astral Plane Recordings under her belt, the Belgian artist released her debut album, Azure, on AD 93 late last year, perfectly encapsulating the knotty and unknowable textures of her sound. Following a prolonged period of downtime (for reasons obvious and unexpected), she's back operating in the live arena, with a host of dates lined up across Europe this summer. We spoke to her about Azure, her collaboration with Austin Lynch, her approach to production and her history on drum and bass forums.
Can you tell me how you got working with Nic Tasker and AD 93? "That's a funny story actually. I was working on the album and I finished mixing the tracks. I think it was right on the day where I received the mixes, the tracks, that Nic emailed me, and he asked, 'Do you have any new music?' So I sent him everything that I had at that point, and he was like, 'Yeah, let's do an album.' It was a super weird coincidence to not do this. It's been really good. I always really liked the label, he was definitely on my list of people I would contact to release something with, so it totally makes sense."
Did you have a title and artwork already or how much of that came afterwards? "Everything came afterwards. I'm always really slow with titles. They sort of came gradually and changed twice, three times in the time between the mixes and the final release. The artwork, Nic got me in touch with Somnath Bhatt, he introduced me to him and I really liked his work. I thought it was really fitting what he did. So that's thanks to Nic that that got set up. There's a lot of things on the label that I really like, and I think, especially for this release, it's a really good match actually. I think the record sounds a bit more UK-inspired so in that way it made perfect sense because I think that's kind of the direction Nic has as well."
Where did the music come from? What was inspiring you when you were working? "It's a difficult question to answer because the music was created over a very long period of time, I think some of the older things on the album already dated from 2017 maybe. I've been gradually putting things together. It was always trying to make this puzzle fit together. I'd been playing a lot of live shows, and I think a lot of things started out as being a thing I used for the live show and gradually made into a track, and there's some things I initially made for a movie score. So there's that as well." Have you done a lot of work on movie scores? "I have, like four. Right now I'm working on a first feature film. But I've only done short movies before that, movies in art galleries or shorter films. So yeah, this is my first feature film I'm working on, which should be should be coming out next year (2022)."
What kind of movie is it? "So the maker of the movie's called Austin Lynch. He's the son of David Lynch." Oh, wow. "He makes these films in between documentary and fiction. It's a really slow movie. He really looks at how the light is moving when he's filming. I don't think it's a very commercial film, there's very little dialogue. But it's very artistic and beautiful. I don't really know how much I can say, we've been talking about doing this score for a very long time already. It's like a conversation that's been going for three years already."
How did you first get in contact with him? "He saw me play in Denmark a few years ago, and when I was playing in Los Angeles, he contacted me, he wanted to shoot me while I was playing the show. Some of those images were used in a small documentary that was made for his dad about transcendental meditation. We met then when I was in Los Angeles, and then he proposed afterwards that we work together." Okay, that's very cool. I'm sorry, I don't know how I didn't know this already. And I'm just kind of taken aback and speechless. That's really cool. I'm a big Twin Peaks fan you see. "Well, yeah, I mean, for me as well. It was super weird because my parents were big Twin Peaks fans. As a child they gave me the soundtrack." Wasn't that your first album or something? "Yeah, it was one of the first things I listened to as a child. When I was on holiday, I would play the cassette in my Walkman, and I used to listen to the score without having seen the series. So for me that was like, wow, this is so strange that all of a sudden I get contacted by a family member. It's too weird of a coincidence." Yeah. I suppose in a way it's not entirely unlike Nic getting in touch with you just out of the blue when you finished your album. Happy coincidences. "It's just weird. But nice."
Yeah, of course. So you mentioned playing live a lot. How was that all affected by the pandemic? What did you do when you weren't playing live? "That whole period of the pandemic, my mom passed away just before that, so for me at that time, it was a break that I really needed. I was home by myself a lot and just thought about what happened. I was actually really relieved that I didn't have to think about playing because I would have found that so stressful, those two things combined. It was not a nice period, but at the same time, I was happy that I got that whole break." The decision was made for you in a way. "Yeah, yeah. Exactly." And what brought you back then? "The album was a project that I had been working on for a while, and I was still a bit occupied with getting the tracks mixed and everything. I think just the fact that Nic was kind of like, 'Yeah, let's do this,' that he was so certain about that, I was kind of just I was getting back into it and just said to myself, let's start doing this again. And again, it just gave me confidence again to pick all of that up."
And have you managed to play any gigs lately? "Yeah. I played a show in Barcelona recently, which was really nice. That was for AD 93, they organized something with Minor Science a month before. And then they did something with me. That was super fun. I think that was my first thing abroad in a very long time. All of the other shows were in Belgium." Was this your first time traveling since 2020? "I have taken like a small holiday to France, but yeah, I think it was my first time flying again. It was weird, after not doing that for such a long time." Did you listen to any music during your travels? "Yeah, for me, like for me, traveling was always a moment where I listen to the most music. I don't have the habit of listening to music at home. So yeah, it's really weird that like, I feel like I haven't listened to that much music over the last two years now actually. Because, I was always like, I'm going to listen to this when I'm on the plane, while I'm traveling. Obviously I have to make like a lot of mixes. So I've been listening to a lot of new stuff recently."
Has the pandemic changed the way you approach mixes? Would you still make a, let's say, clubby mix or would you make something more for home listening? "I think that hasn't changed. I always really liked combining clubby things with alien tracks, doing the combination of those two, is just what I like listening to myself, and that hasn't really changed that much." Have you had any favourites lately? "Yeah, let me think. I really liked John Glacier's album, SHILOH: Lost For Words. I liked the HTRK album, Rhinestones. Space Afrika, Skee Mask, Andy Stott."
What's your process for making music? "Usually I just start with a sound that I get inspired by, it can be a sample or a sound on the synth that I've that I've recorded or a loop that I've recorded. You know, the lawnmower or something that I've heard in a performance and then I start from there. I don't know. I kind of always just like set the BPM really randomly. And then I start working from there and see what works and I never really have a set idea of like, I want to make this kind of track or that kind of style. So yeah, kind of can go like all kinds of directions actually. Mostly I think if I like something, it kind of goes really quickly. if I started listening to something too long then I really get bored. I'm really not the person that is that is like sitting for a very long time on a track. I just kind of like to do things very quickly."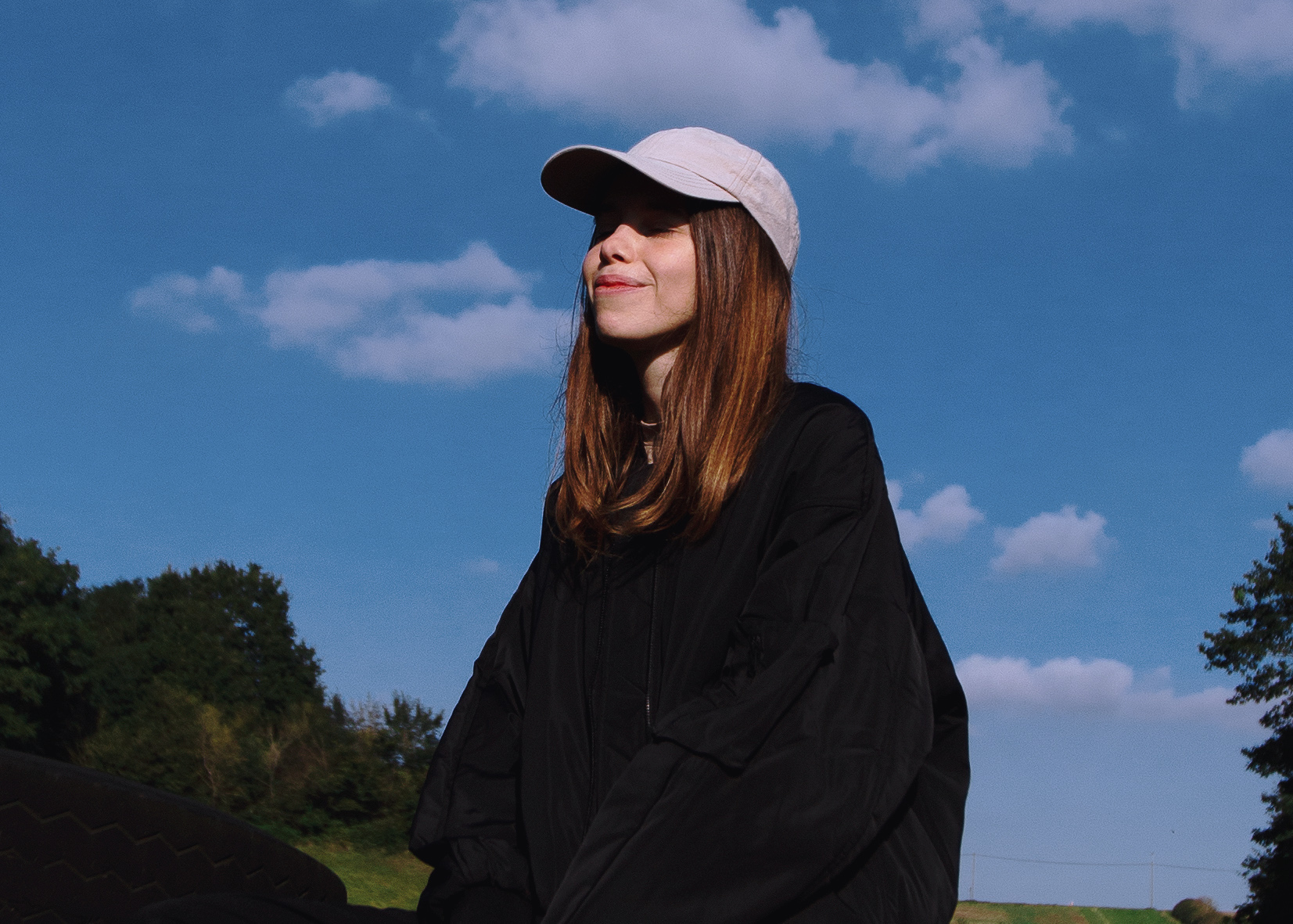 How would you describe your music? Obviously, ambient is the first thing that comes to mind but it's not that simple, really, is it? There are a lot of different things going on. What would you say about it? "I'm always asked but I really don't have an answer to it. I find it very hard to describe. Because, like I just said, when I make music, I never really intend to do something in particular. So you can kind of go into all kinds of directions and it gets influenced by a lot of different things. The tempo just it kind of goes into different directions as well. I get influenced by many types of music. I wouldn't really know how to describe it myself."
I read before that you mentioned drum and bass compilations. What sort of ones are you talking about? "I used to listen to these Moving Shadow compilations when I was younger, those kind of albums had a big effect on me. When I was a teenager, when one of those new compilations would come out, I would always buy those. I had a really big drum and bass periods where I would go to parties every weekend, like only to drum and bass, and I was heavily into being on forums as well. I think it's one of the main influences in my music even if it probably isn't so obvious, because it doesn't it doesn't really sound like drum and bass, but I think just synths and the way that synths take space and the use of reverb and everything, I'm always influenced by that sound." I don't know about you, but for me, I got into dance music long before I was able to go clubbing or anything. So forums and magazines, they were the way that I could communicate with people and find out about new dance music and so on, would you say that was the same for you as well? "Yeah, yeah, certainly. I was in on this Belgian drum and based forum called Breakz. It doesn't exist anymore. I used to be on there a lot. And then , afterwards I would see people at parties and stuff. There was a real crew of people." Are you still in contact with any of those people? "Not really. I think we've all kind of gone in different directions. Some of them are still drum and bass DJs – I still have them as friends on Facebook." Do you think they like what you do or do you think they have any opinions on it even? "I don't know. I think most people aren't really into the music that much anymore."
On that note, what inspires you keep going in music, if other people lose their interest or move along? What keeps you going? "It's been such a big part of my life since I was very young, it's kind of who I am, and even if I lose interest sometimes in current music, what's going on in music, I know it's a part of me that I would find very difficult to let go. Obviously there are moments where I have no idea what I'm doing or what kind of music I'm making, but it's always something that I eventually go back to. I just really enjoy making music. My whole social circle is based around that, all my friends here in Brussels, everyone's so involved in music, it would feel really strange to stop."
Sky H1 – Azure is out now. Buy via Bandcamp. For full tour details, see Sky H1's website.
Photos by Maryan Said.