Below is the streamlined transcript and audio recording for a panel I moderated at Unsound 2019 in Kraków last October, programmed with the festival's theme of 'Solidarity' in mind. Since then, COVID-19 has revealed the fragilities not only of global underground music ecosystems, but of the globalised, capital-driven world as a whole. Within music, artists, labels, rosters, suppliers, distributors, publicists, agencies, journalists and more all find themselves on precarious ground. Some things haven't changed so much since this panel: when marginalised crews requested financial support, others in the scene balked and yet, not so long after, those at the top of the chain asked for support themselves.
There are promising signs however, as some things have changed. The make-up of some organisations and their missions have evolved, and some communities are finding new ways to develop and grow. Resident Advisor called for a coming-together to #saveourscene, and we are seeing calls for self-sustenance, mutual aid, autonomy and interdependence in order to simply hold onto a scene to save. With these things in mind, this transcript is published as a document of what once was, and as a resource to help us consider how we shape the future of our scenes too. The pandemic impacts internationally marginalised communities in uniquely difficult ways – if our scene is to emerge from this, it's vital we consider the structural, economic and cultural ways to support those communities.
The old way did not work for everyone; even if we could physically return to it, you'll see from some panellists below that it was fuelled on borrowed time. The moment we are in is so many things: crisis, disaster, or existential reality check some would say. But, like every moment, it is an opportunity to look upon the dynamics and circumstances of the past, and consider how that can inform a better path moving forwards. Hopefully the conversation below puts vital perspectives into words, speaks truth to power, and serves as a toast to a better tomorrow we might yet do our part to make tangible.
Welcome to the final talk of today's talk programme at Unsound. It's on complicity and accountability in our agency in counterculture. Today we're going to be talking about three things in general: money in the scene, brands and our industry's relationship with them (and the reasons we compromise autonomy), and accountability – topics such as in-fighting in the left (or so people perceive), call-out culture, what it means to be 'cancelled' and where we can go from there.
These are all things I know a little bit about, but I'm still trying to find out more about them. I hope that by having a very clear, honest and transparent discussion with our very excellent panel here, we can all learn more about it together and actually do something constructive and move forward and progress, as progressives should. A little bit about myself: my name is Tayyab, I'm based in Leeds, UK and I'm known for freelance writing. I do a bit of DJing back in Leeds and I run a small, occasional community party inspired by astrology. My 9-5 is in the literature, culture and arts industry. I work at a literature festival, so I'm not full-time in this industry, I'm still only seeing glances of it – this industry that we call 'counterculture'.
We should get introductions underway – everyone here could introduce themselves and say what it is that you do, what your role is in this thing we call counterculture. And also say what the one thing that makes counterculture counterculture is for you; what is it that makes our scene separate from mainstream industries?
DeForrest Brown, Jr.: "Hi, I'm DeForrest Brown, Jr., rhythm analyst, media theorist, curator and, by necessity, musician. I produce digital audio and exhibit media as Speaker Music, and my specific role in this whole game is kind of being a virus. Just plugging various seams between the art world, between the soft drink/drug-fuelled music/club industry, publications, all of those things. And the art world, yeah. What I think counterculture is… It's not taking place here. It's not taking place in this city. Counterculture is something that basically you all can't stand to see or put money towards. And you know counterculture when you see it homeless in the streets – ask Julius Eastman."
Mat Dryhurst: "Hey. My name's Mat, I work on art and music projects, I teach, and in various capacities, I've been involved in music scene stuff for 15 or so years in different places – across different continents actually. Counterculture – I mean, the stuff I tend to focus on – is, how to put it… I think counterculture is a constantly redefining position, and I'm always really skeptical of inheriting things unquestionably. And so, in my talk earlier, I tried to raise two things, which is: what it means to have inherited the burden of independence culture, and what the kind of backdoors or how porous that concept is and how it isn't all that functionally useful anymore. My argument would be to say, maybe biased towards my area of focus is, y'know, counterculture would be attempting to identify the new centres of power, and combating them. And I'm not sure that the clean delineations between mainstream music culture and independent music culture as inherited from the '60s, '70s, '80s, '90s, is an accurate way to define that now, right? Even though I still invest a lot of faith in this community as being perhaps more sensitive and interested in such things."
Laura Diaz: "My name is Laura Diaz, I'm also known as Carneosso (flesh and bones). Me and DJ Cashu, we are the creators of Mamba Negra. I'm a Latin American woman, I'm a producer, I'm an artist, I'm a composer, I'm a performer, I'm a fighter. In São Paulo, in the past ten years, the electronic music and electronic culture grew a lot of strength outside the clubs and the nightclubs, 'cause they were presented like the white heteronormative businessmen from São Paulo. So we found independent parties, the parties that happen on the street and on idle buildings and deactivated factories, as a safe place for us: women and LGBTQ+ communities to build a chance at being protagonists, to be recognised as artists, to be able to pay our bills, making the money circulate among our beloved ones. Being also with the black people and the black movement in São Paulo was really important for us, for the tiny European bubble from electronic music to just explode, you know? 'Cause we're much more than this. I don't know, it's a matter of life and death for us right now to do what we do, and to build this, safe places, to be our own headliners. I'm also the singer for Teto Preto, which is performing on Saturday, so, yeah, it's gonna be exciting."
Frankie Decaiza Hutchinson: "Hey guys, I'm Frankie. I'm from Brooklyn. I'm one of the co-founders of Discwoman, a platform dedicated to showcasing women and non-binary DJs and producers. It started out of a necessity in our scene to create a culture that wasn't really there for us already. So in really simple terms, that seems countercultural in a way. I would say that, you know, as we've had to adjust and exist as an entity, maybe we've become more into the mainstream in a lot of ways. Maybe we wouldn't be considered underground in the same way as when we started – but you know, when we wanna talk about survival as an entity, it's quite hard to think about."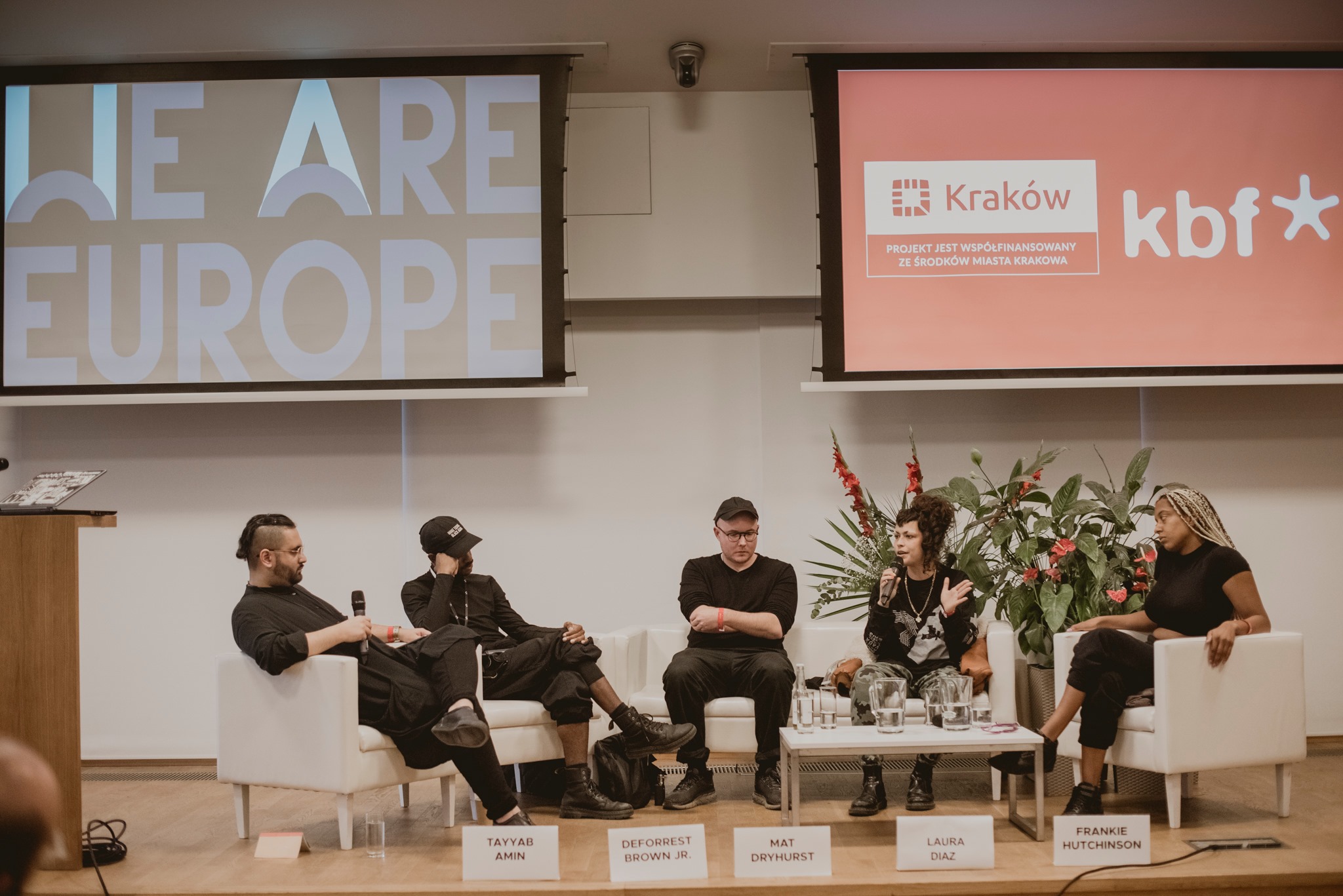 We do call this 'counterculture' and we do refer to it as 'underground' and part of that's a result of the machinations and mechanics of the system that it is, and the values – but at the same time, it is an industry. There is this whole entire framework, this exoskeleton that we exist inside of, and there are all these gears turning, so: where is the money and capital in this industry? Who holds it and where does it go? Where has it come from?
Frankie: "Well, when we first started, we did it out of literally nothing. Our framework was quite flawed with Discwoman at the beginning: every event we did, we were just making it a fundraiser, all the DJs played for free, but that wasn't really a sustainable model in any respect, because I think one of the most empowering things you can do is pay yourselves, and pay the people you're trying to represent, right? So, with that said, that's why we started a booking agency and then that was a way for us to push this talent but also take a small percentage for ourselves. It's so important when you kind of start these kinds of collectives and stuff like that to be able to pay yourself in a lot of ways. It makes you feel like you have more integrity, confidence, that's super important – but how do you do that? How do you exist? One thing for us was merchandise, but another big thing was also, we did work with brands.
"One of our first things was we worked with Smirnoff in like 2015. And we did a massive little campaign with them which DeForrest knows about 'cause he was at Mixmag at the time. It was really, really helpful to us, obviously – monetary aid is so important and we were able to funnel it into our business and do that. But that doesn't mean it's without its criticisms, and I think it's really valid for people to constantly be on people's cases about who they work with, and the ethics behind that and stuff. But it's what we needed to survive at that time, so you kind of assess things as they come to you."
So would you say it's mainly external entities then, like Smirnoff. What about ticket sales?
Frankie: "Well, we don't really do that many events actually. I actually hate throwing parties, I'm not gonna lie – but I love to party, as you'll see, you may have already… But yeah, that's not something we ever had as a big monetary gain for us, in fact probably most of the events that we've done, we've broken even. We've never had a large amount of money come from a party, ever."
What about for artists on your roster as a booking agency. When promoters are booking them, is it for set fees? Or is it ever a share of tickets, or…
Frankie: "No, we always work in guarantees only. It depends on the event, honestly, but most of the time it's a guarantee. It can be tough but that's the only way for it to succeed. We can't have travelling artists depending on the percentage of a bar [takings], it's just not gonna work like that. That is not a sustainable way to live, it's extremely stressful for artists, and particularly the kind of artists that we're working with that don't have the same privileges as other artists in the scene. Guarantees are essential. I mean it's essential for your mental health, as an artist, to know that you're gonna be getting something out of it, it can't be a negotiation. But that being said, I know that there are some spots that can only offer so much and they still are doing great work but they can't afford those kinds of set fees to give artists, and that's okay too – and that can be a weird friction with it sometimes. But I guess we can get more into that later."
Laura, what's the situation like in your scene? Is there much money going around?
Laura: "I don't even know where to begin. Mamba Negra is an auto-financed party, so the tickets that we sell pay for the party itself. Me and Cashu are taking all the risks alone and obviously we don't have the money that we would need – if the police just show up and close the party, that would ruin our lives like forever, you know? So of course we have already worked with brands, and we try to avoid the biggest one in the drinking industry – like alcohol, the most dangerous drug that is legalised – Ambev. So we tried to not work with Ambev for a long time, but we had a really tiny budget that they gave us, really not so much money. But it helped us, and then it got to an end… Now we're negotiating with Ambev and they're just making us wait for six months. We did an activation for the brand on the anniversary of Mamba Negra and we got a debt now that is just because of this investment that we made for them. So we're really fucked up right now, 'cause we have no money and we're like, minus twenty grand. And they say, 'oh I'm sorry, just, we need to take another week and another week and another week to close the contract,' and that's the same thing that's always been happening with Mamba.
"Smirnoff tried to pay us six thousand to close a public space in São Paulo – like, they were renting the city for nothing and closing it just for a white audience, you know? We refused to do this, we don't want this kind of relationship with the brands. I think that the main issue is that the foreigners and the brands – they come to us in a predatorial posture. They never give us real conditions to develop our local scene and to valorise our local scene. When we are called by Dekmantel or another huge festival that comes out of nowhere into our thing, that was built – all these conditions were built by us, you know? They're just coming after us now, Dekmantel is only establishing itself in Brazil because they know… Like, nice guys but they are like, white, straight guys and rich guys. So Dekmantel comes to them 'cause they have the money to also sponsor Dekmantel, and we don't have, and they will never speak to Mamba Negra. They are just like, getting our artists and our service separately with really, really tiny budgets and that's revolting, you know? Because we're building with our entire bodies and lives, the conditions for them to come here (to Brazil, 'cause I'm always in Brazil in my heart, sorry).
"So I think that the most dangerous thing is that they are destroying the scenario that is retro-fitting them, and they need us. They need black artists, but they don't treat them well. They never give us the minimum conditions and we gotta like, invest so much reais, 'cause reais is like, many, many Euros just like the Polish coin – and we treat so well the gringos when they come to Brazil. We are obligated, always, to pay huge fees. In Mamba Negra, we decided that we are not going to pay a huge fee to a foreigner and like, the fees that we have in Brazil. And even with a group, a performance group (that I'm not going to tell the name) that is all about freedom and etcetera, we said (they asked to perform on Mamba Negra 'cause they were already going to Brazil), 'hey, this is the amount that we can pay to you and not to be so different for people from Brazil,' and they were like, 'that's not reasonable, that's not treating the artist well, and we want I-don't-know-how many-thousand-dollars, and blah-blah-blah, and we are blah-blah-blah dance group.' We appreciate your work a lot but we can't mistreat our artists and we know that that's not like the fair price – we know, we are living this, but uh, maybe next time then."
When you're engaging with a brand, what is that you want out of this situation, and what is it–
Laura: "My money! Haha, my money back!"
Is that all? Or are there any conditions with that money?
Laura: "No – something that we did as Mamba Negra that was really important is that we began to explain to them that it was kind of tacky, the way they wanted to input the brands on the parties. And we kept really skeptical saying, 'people don't wanna know that they're being like, I don't know how to say – weak, enganades – fooled! Yes, people don't wanna notice they're being fooled you know, so please, no big brands and big signs and huge signs and tacky signs and cheesy signs – and cheesy promo material. Dismiss all your marketing sector right now 'cause we know what's nice and what is not nice, what is uncomfortable,' so we can think about an experience activation. We can think about an installation and calling an artist to make something with the colour of the brand, something like this, and it really worked when we did it to Ambev, and they didn't pay us, ha. 'Cause we did this secret path that you would access the secret Boiler Room pista – dancefloor, the secret Boiler Room stage, and it was all green, not like Heineken but like Becks, you know Becks? Ha. So they're saying well we did all this fucking mess, and it worked out 'cause people were like, 'hey this place is amazing, woo! Let's take a selfie! Woo!' So thousands of selfies were taken with the key of Becks and the green space with lots of plants. So we paid like our architects that work with us to build a space for it and it worked."
Do you worry at all about whether people coming who are don't necessarily wanna know that they're being fooled, do you worry about how they feel about the situation or do you think that they're okay with it?
Laura: "You can make a post, you can make stories, and when you come to influencers that are friends of mine, they're getting so much money for one post or one story. When the brands come to us and make an agreement about an activation or something like this – actually, it only happened once in six years with the beer Becks – they're always asking for more, and they're always asking for something that is going to tie Mamba Negra to the brand. They don't have the same things that we believe, they don't work that way, they work with a hierarchical way of thinking, predatorial always, and they're never giving us enough money to sell ourselves you know? So of course we think about the experience of the party because we can't sell that. That's the main thing about Mamba, it's a safe place, people know they are in a safe place and we don't work with brands that we don't believe – actually we don't believe in any brand, but uh, the clearly fascist brands, you know? They're all fascist also haha, kind of hard."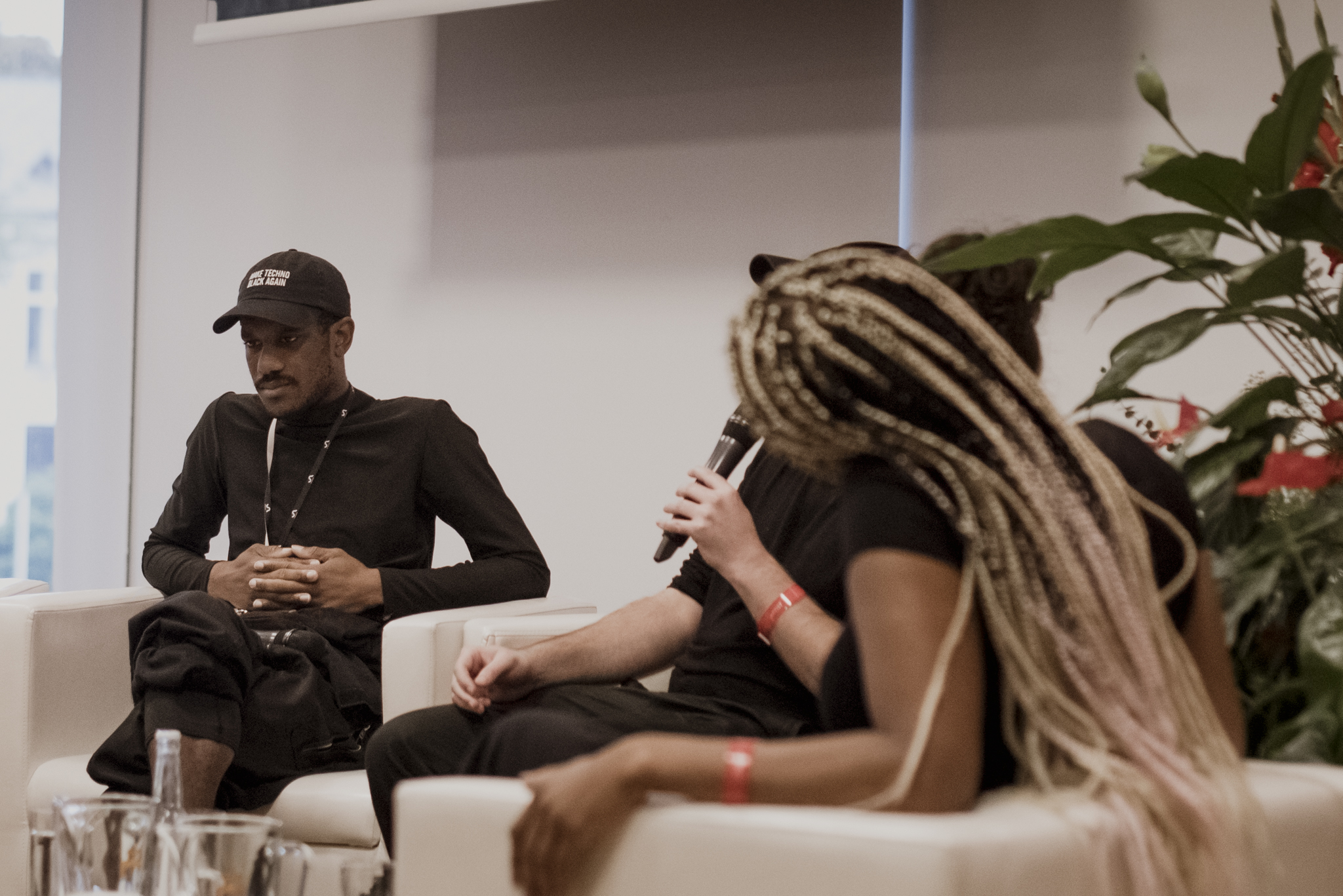 This leads to something I wanted to ask you Frankie – when do you say yes to working with someone as a partnership or a sponsorship with a brand or an organisation or an institution, and when do you say no? And I mean this for venues as well as things like Red Bull, Boiler Room, radio stations or otherwise.
Frankie: "Working in an American context, there's such few options in terms of money to support arts in general. So you are forced to be in the hands of brands in a way, to survive. I have done an insurmountable amount of unpaid labour, like, I don't have days off, ever. Constantly – sending emails at the rave, d'you know what I mean? It's an ongoing thing. So yes, we're very interested in money from brands when it comes up. Because I just wanna be able to survive, essentially, and I'm not saying I'm in the most unprivileged position, but to be able to keep on doing this, we need to have some kind of resources. But we haven't done that many massive brand partnerships to be honest, maybe two or three over the years. We are also quite particular about that as well. But we've had quite good experiences, honestly, and we take in the fact that there are obviously problems with that kind of stuff too.
"But when it comes to venues and institutions and stuff, hmmm, that's a big one. I feel like now that there's so much talk about and discourse around this stuff, you almost catch whiff of the venues that are like, kind of funky, these days. You have a good idea about it, like, I feel like I have quite a good handle on that. That being said, you never really know. I mean how can you have a complete handle on it? You can't, yeah."
I mean, I thought I knew with venues but then obviously with the whole discussion around the Antideutsche thing and Palestinian solidarity and the way some German clubs have reacted to that…
Frankie: "Exactly, it's as if suddenly it took a weird turn."
Suddenly it needs a lot more vetting, right?
Frankie: "Yeah, yeah."
Do you ask questions about this sort of stuff to the people that you work with? How do you find out what page they're on? Do you ask other people?
Frankie: "Generally speaking, I'd say it's kind of known in a way? I don't know how to describe that actually, whether intuition or you find out who they've worked with before, but usually – I mean especially amongst black and people of colour, you'll know the venues that are racist, d'you know what I mean? Everyone is very aware of the problematic stuff. We talk. Which is what a lot of people don't realise that happens. Black people talk to each other, we have conversations, we're smart, so things get around pretty fast, haha."
Everyone's looking shocked right now.
Frankie: "So yes, yes exactly. We have our 'little meetings', we know what's going on. We're very, very in tune to things. So it's quite easy to get a handle on that stuff sometimes."
DeForrest, the way things are right now, do they seem sustainable to you at all? In terms of this being the way this industry that we've created for ourselves we all perpetuate or exist within has to run. How long can it keep going for?
DeForrest: "Well first things first, is that if you have a market, you're hurting someone. You're extracting, so there's no sustainability when you have someone at the bottom that you're whipping and extracting blood from. That's just common sense but, you know, the Western world hasn't figured that out yet which is why we're about to deal with a global economic collapse. But uh, you know, that's how that goes.
"So – how long does the music industry have? I would say that the music industry actually collapsed in about 2015 when Smirnoff pulled all of their money and then Red Bull slowly pulled all their money a bit later and now we're just kind of in the after-credits, pretending like there's something to do, running on government funding. Which is actually quite nice, you know, that there's government funding – I mean America's so stupid, they haven't figured out that maybe they need to put funding towards their national identity, so America's fucked. That's what they do.
"But where to move past this, is maybe reconsidering how we value art, reconsidering how we think about space. I would say that Unsound has done a really good job of using the Old Town and the sort of colleges surrounding it as a sort of demographic marker of people that are willing to participate in global arts. But I mean, yeah, if you're showcasing people from multiple countries, you're creating a colonised trade. It's a slave trade. That's what you do. But the thing about the art world is that they're quite honest about that – that's why I like them. They tell you from the beginning that you're worthless, they tell you to have no dignity, and then they say: now go. Strip naked for me. And then you go and you do it, and then you're allowed over the course of a few years to put your clothes back on, and you're allowed eventually to even get nice clothes. And sometimes, you get high enough that they buy your clothes for you. I mean that's the whole thing with Peggy Guggenheim and Jackson Pollock; the man was a terrible painter but thanks to Peggy Guggenheim and their relationship, he was able to have a career and he stopped being a drunkard for a little while, but you know, then he had to exploit himself some more and he drank himself to death. So I don't know, we'll see which side of that we'll be on after this festival."
In an ideal world, where would you see things like money and resources and autonomy distributed?
DeForrest: "I don't believe in German idealism. It's stupid. I also don't believe in any utopian ideal beyond the present, and the thing is, money isn't real. It's a fucking delusion. I mean, if we actually wanted to play this game, I could ask each and every one of you how much you were paid to be on this panel. But I won't do that. So, no, there's nothing we can really do with money but redistribute how it's run through the hierarchies, as you brought up. I mean, there is a hierarchy and there is an order and chain of command, it's called business managerial practices. What should be done is that the people working in the organisation deciding who gets to be in this room, both audience and performers, they sit down and then they devalue-ise everyone. Like everyone has this issue with Aphex Twin right now – sorry, the person who won't be named – but the reason Aphex Twin gets paid a hundred grand is 'cause he won a Grammy seven years ago and about twenty years before that he was hitting Billboard charts. He's not an underground artist, so we don't talk about Aphex Twin. But if Aphex Twin were to play this festival, he ought to be making two hundred dollars like everybody else, because, this is that context. So yeah, we need to redistribute what we think value is before we even start thinking about some idiotic, intangible future for the music industry.
"But that's not me being pessimistic, that's actually me being quite realistic, you know? Can't pay my bills in this shit."
Mat, would you describe yourself as an optimist with this music stuff?
Mat: "Not really – to be honest, speaking of idiotic, intangible futures of music, not really. The challenge for me, with a lot of work, or a lot of the areas I look at, like I tend to focus a bit more on tech just because it's one of those areas people just naturally assume just kinda works, and there's a lot of opacity around who that function is serving. And the interesting thing with tech ultimately is that it really depends how you deploy it. When you have a lot of investment in a certain area, you have a lot of ideas being circulated – very often it's people with a lot of money who have first access to those ideas and not often communities like the kind that might be based here, who just get stuck with whatever they get.
"Looking at the streaming economy for example, which I've been very critical of – I don't think it's necessarily being an optimist, but I've tried to look at it and be like, this doesn't necessarily have to be the only vision of a future of music, because Sweden pumped a bunch of money into something that has yet to turn a dime of profit. Why does everyone have to settle for that particular vision? And there's just a dearth of voices who maybe have enough experiences to maybe present a counter-argument.
"But related to money generally, again I don't think I'm necessarily an optimist but as I said in my talk earlier, the thing that's ultimately most important for me is to get to some kind of aspect of truth. Because I think maybe the most immoral thing when it comes to money is when marketing language supersedes reality. The opportunity cost of everyone in this room dedicating their life to the arts is relatively high, and so it gets me really annoyed when I see things misrepresented. Because people do have bills to pay, and they come from different situations. And following a pipe dream – which ultimately I think is what a lot of the industry does run on – a lot of the music industry is run on people spending money on themselves to try and promote themselves, there's a whole side industry of that, right? I invest optimism in the idea that truth produces results. It might not necessarily be something that is good or nice, but truth at least you can come to some kind of Schelling point where you're like, at least we can say that's real, and then strategize accordingly from that.
"And speaking of money, I'm ultimately an employee of the live music industry. I think I agree with DeForrest – actually I think I'd even call it a few years earlier than that, but I don't really think there's a music industry insomuch as people stopped paying for music. People pay for experience, as you guys were describing, and that's a very, very different set of demands on an artist than previous times. The demands of making a great record in the studio happens to share some similarities with the demands of producing a live show that fits within a very specific, perhaps European arts-funded context, right? And ultimately the people that tend to thrive are the ones that suit those demands, just as the people who tend to thrive on streaming are the ones that make three-and-a-half minutes of crap, generally, so–"
DeForrest: "So the best slave wins."
Mat: "Well, yeah – that's the thing, you gotta understand your masters, right? You gotta understand the structures and it's, to a degree, always been that way. Actually a lot of the European funding comes from the United States, state department, and there's a lot of really good books about this – German arts funding was implemented by the United States. The reason people like jazz in Europe so much was a soft-power move by the United States to convince Europeans they had culture so they didn't turn communist. There's lots of really great books about that.
"But the thing I'll say too is also in urban centers (so you're based in New York, I'm not so sure about the context in São Paulo, you guys are both based in New York), the other thing about establishing some form of truth is – I was describing it to someone earlier as the simulation. For those who operate in the culture sector, they might maybe intuit it or they maybe know it really brutally, but a lot has been lost. A lot of the institutions have crumbled, for better or worse, because people stopped paying for shit. So you start getting into this branded space where there's a lot of judgement thrown around, a lot of purity tests, and ultimately you're inheriting an impossible burden, right? The way I was describing it earlier is, the only people who can render the most vivid simulation of transgressive subcultural activity within an urban center now are the rich. And trust me, they do. I know, for a fact – without naming names – a lot of New York, the kids walking around in sneakers, with ripped Converse, and playing like a punk, grew up in like, palaces.
"And that's the reality – when you emphasise this, I don't like a lot of brands, I tend not to take on a lot of corporate work for example, I'll be very, very picky about it, but ultimately when you impose this kind of purity test on often working class or marginalised people, you can almost do the opposite of your intention and give a free pass to the wealthiest kids dressing down, which a lot of our urban centers are filled with. And some of those people are awesome people too, but let's be real – and that's why it's important to look at money, right? Because you can, through again inheriting these old ideologies and not updating your economic model, you can actually be hurting people who you need to help. So figuring that out, everyone here probably has a thousand ideas about how to do that, but I think getting towards real data versus bullshit inherited stories gets you closer to real options for people."
Laura: "In Brazil, we are not even respected as culture. When brands come, they don't come with an amount of money that will really help us. At the point that it's worth for us to sell a part of soul, to have nothing, it's sad you know? With six thousand reais, you don't do anything – just the soundsystem is ten thousand, 'cause the guy who does it is a friend of ours and we costed him as an investor as Mamba 'cause he doesn't charge enough for his soundsystem which is huge and amazing. We don't have less than what is happening in Europe right now. We are one of the best things happening all around the world and I can say this now 'cause I got the opportunity to know many countries that I'd never had the chance to know with Teto Preto this year on our tours. And I can say that what we're doing in America is like, the hottest shit right now, so, sorry. Fuck Berghain you know, I don't give a shit about them."
DeForrest: "Mat brought up a really good point about the money thing. See the thing is, if you have a lot of money, it's good data for how sadistic you are. It's really good data for original sin. And the culture sector, this whole recital structure where we sit and you guys sit in chairs and strap yourselves in, we strap ourselves in up here with a little stage barrier – whoever gets to be on the stage or off the stage is decided by the sadistic person who has accumulated wealth off of torturing everyone else around you. So. Some of us are up here because we've accumulated the ability to be here – you'll never know how I did it – and some of us are outside because we spent the money to be here. That's all I was gonna say, that if you have money, there's blood on your hands. If you're sipping culture and not thrashing with it, not moving your body with it, you're sadistic."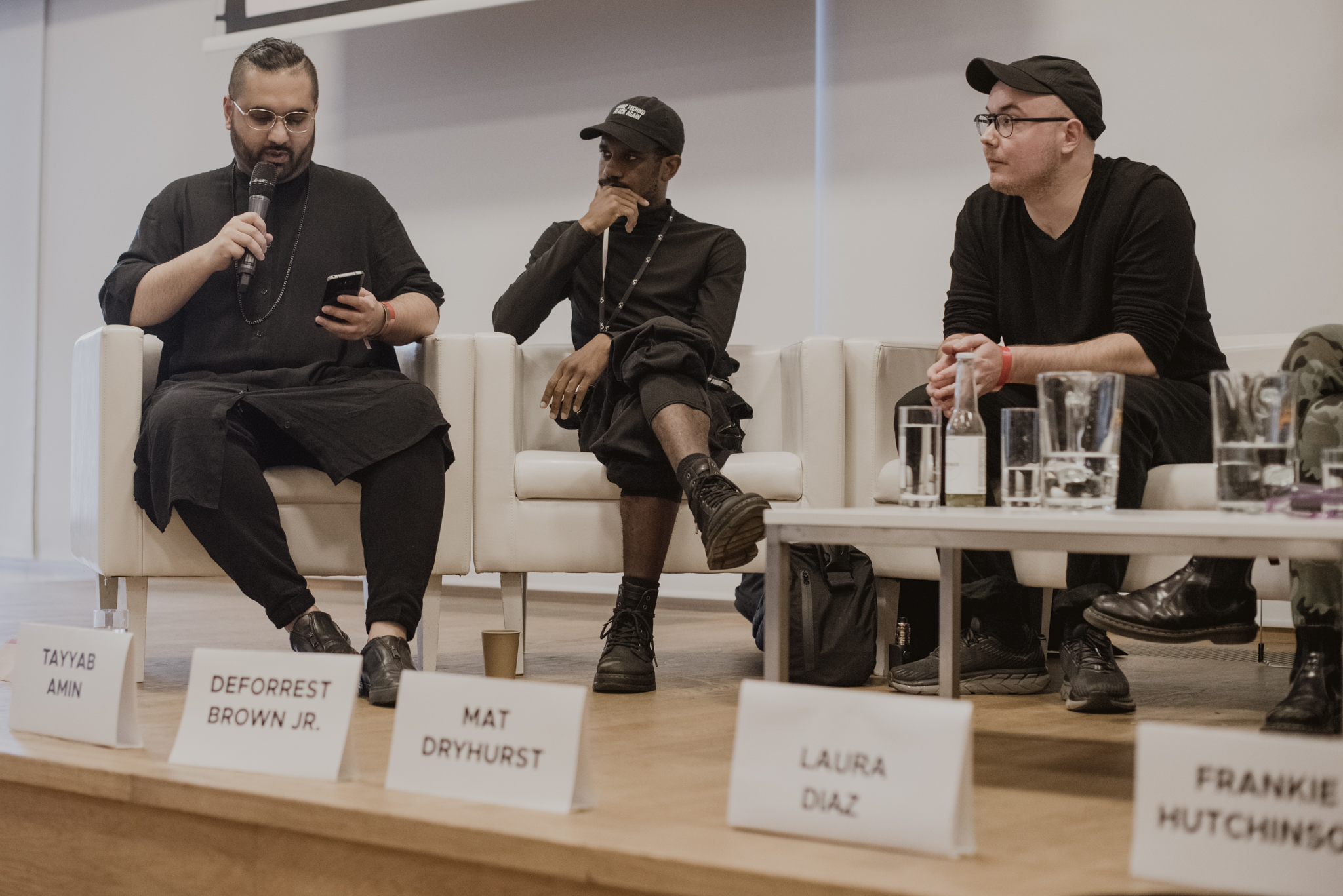 I also just wanna touch on the point about money and the culture industry and also about – what was it you said about reifying the simulation? Turning something that's intangible into something real, which to me sounds like, I guess, Boiler Room going from streaming to doing an entire festival in London this weekend. I just wanted to talk about the way the culture industry works from my perspective and why truth is such a dangerous thing: it makes it all fall apart, because a lot of government funded or privately funded stuff, it runs off audience figures. A lot of the events are loss-leaders, they don't make any money, or not enough to sustain the programming and production costs of what they are. They lose money, but the value is in the audience figures: the people who come through the door, and how they can evaluate that data and make assumptions about who you are and what you represent, and they can show you off to their funding sources. And you know those figures are impossible to actually get accurate and are almost always inflated, so – there's basically no truth.
It's the same in advertising as well, right? If anyone runs a Facebook page, you'll know that it tells you how many people have seen it, and you know it's not accurate, and Facebook also told everyone to start producing video content 'cause it would be better, and then it turned out to not be worth anything at all, so a bunch of websites folded. It's a total mess and truth seems like a very 'dangerous' thing.
DeForrest: "That's why I'm jobless. 'cause I told Mixmag that video content was stupid. I was like, 'you saw numbers spike for two months, and you changed your entire twenty-year business model to fit numbers that spoke for two months.' Foolish!
"Actually, how much did they pay you guys, Frankie?"
Frankie: "Smirnoff? For the whole project?"
DeForrest: "Yeah."
Frankie: "They gave us twenty thousand dollars. But that was over the course of six–"
DeForrest: "So my year's salary."
Frankie: "Yeah, literally."
What was the scope of the project though?
Frankie: "It was probably about a year to be honest, front to back, and, honestly, that sounds like a large figure but it really actually isn't. We put in so much work into that, we pretty much came out with not much, actually."
What did it materialise as? What did you create with the twenty thousand?
Frankie: "After that, we got a bank account. Woohoo, right guys? Isn't that cool? That was the base thing that we did. We became an official business, how exciting, I didn't get any new clothes or anything… But what we did actually do which was cool, is that we funded our first five artists to do a European tour, we like paid for the whole thing and that was a good kickstarter for the whole thing 'cause we put it back into something.
"But it is weird to think about it now, 'cause these companies have loads of money. Loads of it, so, at that time it was like, 'wow, that's a lot of money', we were like that. But, in reflection, actually it's not, this is not that much at all. And for the amount we're giving them for what it is, there's definitely an unevenness about it. But it did help us kickstart our whole thing. Complicated feelings about it, you know?"
That ties into the thing about truth as well – it seems like a lot of money, it almost seems too good to be true and often you can't refuse, right? Why are they giving you such a good deal? But I guess it's hard for us to understand why we're so much more valuable to them.
Laura: "Noone ever gave us such a good deal, I'm really depressed right now, haha. Noone asked for us such great deals, 'hey Mamba Negra, come here, there's such a great deal for you guys,' like, yeah, we never saw this in our lives. Even Boiler Room, for us to receive their money, I had to declare family help, you know? And they were like 'yeah, you're family with us now,' it should be illegal but it's not."
There's been talk about government support for the culture and arts – is that something you have? Obviously with the current political situation in Brazil and the parties that you do and the scene that you're from…
Laura: "They're coming after us, they're not supporting us. Through our legalisation process that we've been through, we had to pay them some amounts of money for the documents – like, the fake documents actually that you get… authorisations and firemen documents and stuff. And they raised three hundred percent the prices to try and kill us, you know? So they weren't prohibiting us but the same authorisation that you could have for six months and you would pay like seven thousand reais, now you have to pay seven thousand reais for each party that happens in the same place in the same idle building, with the documents already made like four thousand times. So they literally just raised the taxes for us – only for us, not for the club owners – so we gotta pay the cops, we gotta pay the state bureaucracy, and we don't have any money from the state 'cause even the public thing in Brazil doesn't exist, properly.
"In Brazil, we gotta know that culture is being paid… like country gospel music, an entire huge industry that is happening right now in music in Brazil, but at the same time you have not mainstream funk, but the favelas funk that is also playing with this mainstream stuff. You have really sexist ones and the others, empowered ones – I hate the 'empowered' word but the most representative from where we are, the LGBTQ perspective, like Linn da Quebrada, like many others… we're trying to reach this mainstream from the mainstream from underground, you know? Pabllo Vittar is one of the first pop muses that we have in Brazil, it's not like Anitta – that's much huger than her – even Pabllo is not like pop, she's trying to be more and more and more famous and more representative but still she's not huge as Anitta, that is only a product and something that just wants to sell itself. And in the beginning she tried to erase the fact that she was a black woman, and now she knows that it's better for her to be like a black woman right now in Brazil. I'm really not optimistic at all 'cause there is money. There is a lot of money happening and they are really trying to kill us and to erase us."
DeForrest: "I should say that I went to college in Florence, Alabama at the University of North Alabama, and in that town is the FAME recording studios where Etta James, Jimi Hendrix, The Black Keys, Alicia Keys, they've all recorded their albums there over the span of fifty years or some shit. What's interesting about the school that I went to is that they actually have a really damn good music programme. There's people that vote for the Grammys, and I really got to experience how they choose. They literally get an email with a fill-in-the-blank kind of thing and most of the guys – and it's all men, all men – they don't listen to the music and they go 'oh, Bon Iver, I heard that was nice' and they click 'yes' and that goes on.
"But anyway, one or two of the people I went to college with was the Civil Wars and the Alabama Shakes. It was quite interesting watching the Alabama Shakes literally play a garage one day – I had dinner with them in someone's backyard, 'cause the town's really small, and then the next day I saw them in Rolling Stone. They moved away. And same with the Civil Wars, they would play around a lot but it was interesting to be in this town where I would watch country and folk music just be built. Built on school funding and I would watch them just form, and then Billy Reid the fashion designer opened up his head quarters there and he would throw very, how should I put it, 'culturally tasteful' parties in the loft of his headquarters, and that's where I saw the Civil Wars perform for the first time, and he would just kinda rocket em off. Off somewhere, you know what I mean? They would just suddenly be at the Grammys. Taylor Swift would come down and…
"But to your point, I know what you're talking about, I've seen a music industry work. I've seen every single person in that music programme come out as like great producers in big-ass studios in Nashville. And in fact I actually left that school because I was wanting to deal with electronic music and they were like, 'it's not human! There's no emotions in it!' and I was like, 'I'm a philosophy major, I can help you with that.' One day, after saying some very unpleasant words to my dean, I hopped on a bus and two days later I actually met Mat Dryhurst at a government-funded institution – that's part of how I got here – but yeah, I just wanted to actually build on her point that I've seen industries and scenes get like kind of flushed out and I've seen an industry work. You guys are choosy. You choose what you like, you choose what you put your money towards. I mean, buy music, delete Spotify right now and buy music. You can, you, you can do this. You can stop watching Greta Thunberg, and stop watching this little girl, and you can do it. With your money, 'cause I don't have money – I get promos. You know how I know all this shit about music? I get promos in my email. 'Cause the PR people are so stupid they haven't figured out that I've been jobless for years. And so I get the fucking Flying Lotus album and I listen to it and I go 'uh.' I listen to the new Arca album, I go 'huh.'"
Same. I hardly ever do any writing and a lot of my DJing has definitely come from promo lists that I'm on, because someone thinks that I can hook them up with something, but they're just getting played in some empty Leeds basement.
DeForrest: "This is why there's no hope for the future – your public relations people, the literal people that are supposed to be psychoanalytically manipulating you, don't even know who to contact to get the content to you. So I mean, again, you can stop this. You. Help us."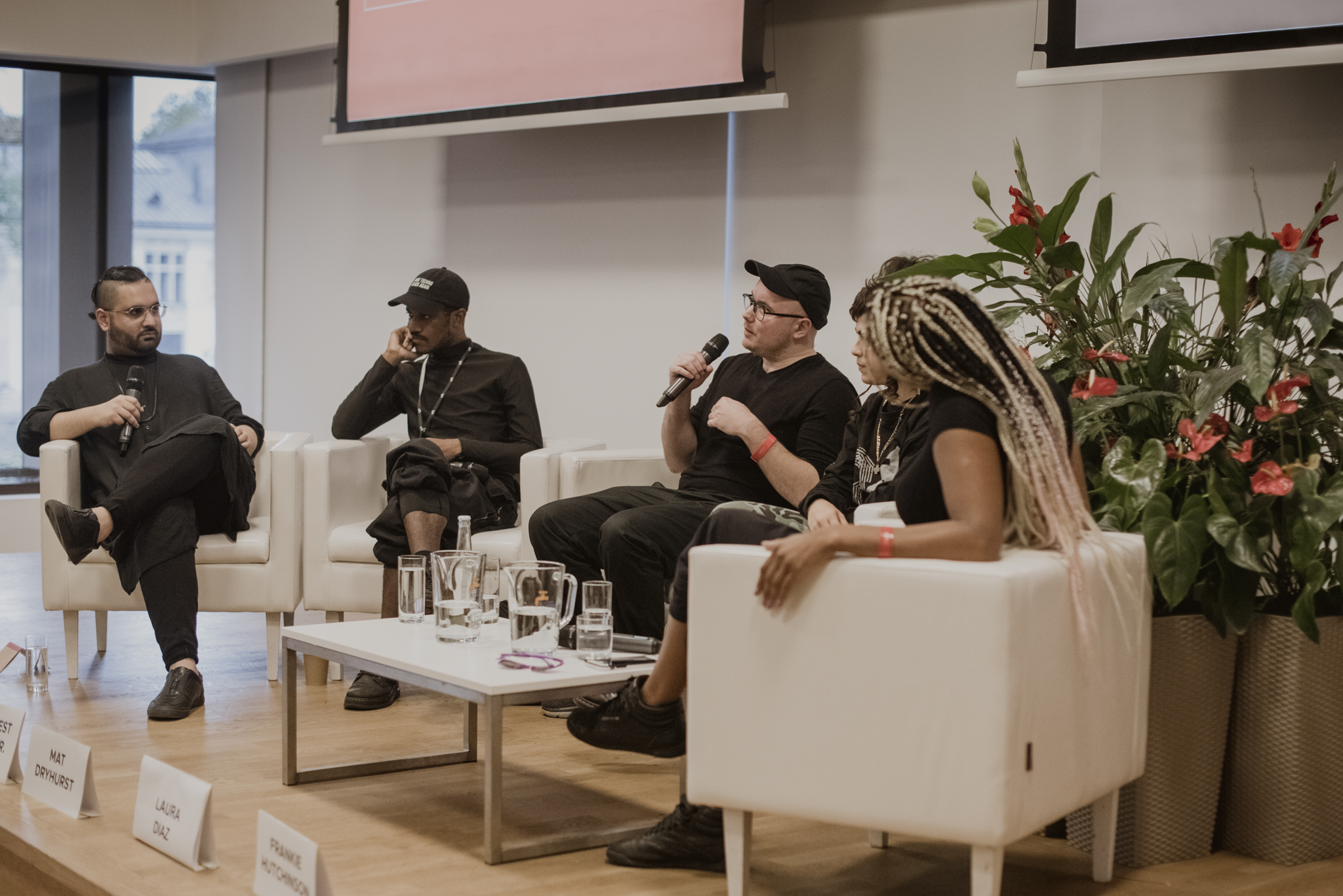 Springing from that point but we were gonna go here anyway – there's always this idea that, the left, progressives, whatever you wanna call it, we're all 'on the same side', and then we're always perceived to have an 'in-fighting' thing going on. This relates to working with brands and sponsors as well because you know because people talk and it's not always good – I was talking with someone yesterday and they were talking about how when they were dealing with RBMA or Boiler Room, everyone else around them got angry that they wouldn't do a Boiler Room for free, you know, 'how dare you demand payment?!' Boiler Room don't have a regular pattern of compensating the people that they work with – but yeah, what do you guys feel about this 'in-fighting on the left'? Are we all on the same side? Do we all want the same thing?
Frankie: "No, we're not all on the same side at all. It was so funny this year Shyboi and I went to Dekmantel Festival, and I've been the last three years, even hosted Boiler Room there a couple times – I've been quite involved. But it was quite funny because we were standing by the bathroom and this white couple came up to us and they were super nice, you know? Jacked up on whatever, and they were like, 'ohh so do you like the music here?' We were like, 'yeah, yeah we love this music,' they're like, 'oh so do they have house and techno in America?' And I was like… this is exactly what is wrong though, d'you know what I'm saying? Like what the fuuuck? This is ridiculous but that's indicative of that thing, this broad, 'oh it's so accepting' scene but they have no idea what is going on at all. They have no idea who they're exploiting, they have no idea about the appropriation that's happening, and it just made us feel really uncomfortable. Me and Shyboi are able to have fun on our own, we can entertain ourselves, however, there should be a lot more black people at that festival! I find it crazy, it blows my mind that DJs are playing to mostly white flailing hands every weekend, that's a problem. That's a real issue. It is so bad at the moment, and no-one has anything to say about it – d'you know what I'm saying?"
Laura: "We got really lucky with Boiler Room 'cause we were with Batekoo, and other female artists and trans artists and black artists in Boiler Room when we got them in Brazil, they didn't like pay us anything, they just paid for the huge structure that we had to pay to host Boiler Room, like internet was the most expensive thing – at the same time it was an investment because having Boiler Room inside of Mamba called like a lot of playboys to our party, haha. 'So oooh Boiler Room okay let's go,' you know? We want them also 'cause we want them to change their minds about the LGBTQ community, we gotta do this job you know – we must speak to different people. Not just speak only between the ones who agree. But of course they gotta pay us, they gotta valuate us because it's a huge amount of money that we're spending to be right here, speaking with you.
"I was crying for three days since I got in Poland 'cause my rent just was on October 8, so we don't have money to be touring around the world. I was saying about Teto Preto that next year, if you want us, you gotta pay us. 'Cause you didn't pay at all for this entire year that we're struggling outside our country, and everything that we do is just to do our thing. We don't want to have to be out of our country to be recognised as artists, but not being paid. Because when we think, like in an event like the guys are here, all of them are here supporting me today, we always look at each other and we say, 'man, Brazil was paying us and we're only recognising this right now that we have to count the Euros too, okay, so let's dinner, hot dog today,' you know? It's not worth it, I don't think it's worth it.
"Of course it's a huge privilege of me having the chance to know Poland or Australia or Portugal or Germany, but I think that the most important thing about our job is that we're opening new paths to our gang. 'Cause we're never alone and when we come to a country, you should know that next year, there's gonna be many more of us, many more of us. We're here and we'll be here in Boiler Room on October 12th, in London, so the Batekoo girls and Badsista and Cashu, the Mamba Negra girls will be there so it's gonna be explosive. I think it's important for our bodies to be in these places that we are 'cause you've never seen us. People are always asking me on the street, so, 'excuse me but, what language were you speaking?' Portuguese! I love to notice that people don't know who we are. They don't know who we are and I feel this huge advantage in the war, because the enemy doesn't know my face but I know the face of the enemy."
We've got a few minutes of the panel left and then we are gonna do an audience Q&A. Let's talk about call-out culture. Frankie, you've called out some individuals certainly, in recent years there's been a lot of talk about Konstantin for example, and–
Frankie: "Who I ran into in a grocery store! Was a wonderful meeting."
Err!
Frankie: "Very awkward!"
And DeForrest as well, you've been calling out some organisations recently. You called out various platforms, organisers and people in the audience on Tuesday – it was magnificent. What does it mean to put yourself in that position where you're calling someone out? Some people have this perceived idea that someone calls someone out for attention or some other weird attempt at personal gain. Is that anything near the truth? What was your experience like Frankie, when you called Konstantin out or when you talked about festivals?
Frankie: "Honestly, it felt kinda great, to be honest, because I do understand certain criticisms around call-out culture and stuff but it's also a way in which you can take power back for yourself in a way. No-one has your back out here, so that was the only way and the internet makes it feel like you're not just gonna get shat on and like, that's just gonna go on. 'Cause when that first thing happened with Konstantin, he just said these things but we didn't say anything about it until this article came out about it and that's when we were like, 'we can actually use our voices and amplify this because this is wrong and it's messed up.' So I'm, yeah, for the most part a big supporter of it. I think it can do really powerful things, and it's for those who are most disenfranchised, maybe some of the only few tools they have to feel like they have some kind of stake in society is being able to use your voice and be like 'this person fucked up.'
"People are desperate. They don't have much outlet to be able to regain power and it can be sad to see as well that we have to resort to these methods. It's not what we want – no-one wants to be in that position of doing that, it causes so much anxiety, to be able to call people out. I've had multiple women friends do similar posts about men in the industry being terrible and it's not a nice experience – nobody wants to be doing that. It's not like a warm hug, it's terrible! In fact, it encourages more abuse, you know what I mean? It's not a good position. I got an email maybe six months ago that accused me of ruining Konstantin's career, it still goes on and on and on."
But he still has a career.
Frankie: "He still has a career! So I'm not really sure – they didn't even really get 'cancelled', that's the funniest part. That is actually the funniest part."
We're all talking about 'being cancelled' these days. Does that even really exist? Can one really be cancelled? It was during the same time Unsound was running a couple of years ago when the Weinstein stuff came out, and a lot of people have been 'cancelled', since the #MeToo movement rose to prominence in discussions. I'm still going through the airport and seeing the Johnny Depp Sauvage advert, and then even in our scene as well, things like Jackmaster being back on the Circoloco line-ups only a year after it came out that he'd done some terrible things.
Laura: "Well, don't book men then – just book women and transwomen and LGBTQ women! I assure that the chances of these things happening will drop like 20%."
DeForrest: "Further along the exploitative market I was trying to draw up with slavery, I mean, maybe it is men, because men went and killed a bunch of people in the name of some delusion. But that's something about cancel culture. 'Cancelling' is also a delusion because you're on your phones. You know how you cancel a person really? In a global market, you sue them. You audit them, you take their money with the state. That's the thing – millennials don't understand business which is why they're all broke, and why 90% of millennials don't have friends. No, that's a stat, that's not me being silly. Like, really, get help. But that's the thing – cancel culture is not real, it's a coping mechanism. It does help, when you're someone like Frankie who has a community that is tied up in money, which is how you do it – you touch their money with other physical financial transactions. But no, it's not real.
"I mean, if you want me to be really frank, where I come from, you beat 'em up. You beat 'em up in the street. And you beat 'em so bad that they don't come back. But, I mean again, 'cause that's the thing, you don't kill 'em, you beat 'em until they don't come back. But, again, we're all sitting, watching a little girl petition to our government, while we're here, listening to nice boom-booms in rooms. So we gotta really think about this. What is cancel culture if we're just sitting in a room talking about it? I mean, I obviously put my life on the line every day going after big corporations and I toe little legal lines to make sure that certain companies don't sue me. I actually didn't know Resident Advisor was in the room that day, didn't really care, they knew they were wrong. But yeah, that's the thing, if you want to 'cancel' someone, you do it legally. You just – as my partner says – you make it good."
When you're speaking to your experiences of calling someone out, speaking to that, what would you hope the person or place or institution or organisation you've called out, what would you hope the steps that they would take would be?
Frankie: "I don't know but I don't think it's my responsibility to be there for that part, necessarily. There needs to be more framework in place for people like that. We're already out here doing enough work and it's like crazy, even speaking in the context of Dekmantel, me and Shyboi ended up having to give a lecture about techno in the middle of this white festival – we're just trying to have a good time!"
More of that free labour you were talking about.
Frankie: "Yeah, yeah. But if that becomes extra labour it's insane, like when I ran into him in this grocery store in the middle of Brooklyn for God's sake, my safe space, I thought – it was crazy. I mean, he apologised to me which is insane because he could have apologised to me at any time in public, never happened, but seemed, at this time at the grocery store – I'm just trying to pick up my veggies, and there he is. So it was really strange to see that and he was really seeking my forgiveness and approval and I literally was like, 'I don't care what you do with your life now.' That's on you at this point. It's not my responsibility. I would like to see sort of, I actually don't know about this, the sort of rehabilitation stuff – problematic cancelled people back into it, it's really hard for me to speak on that, honestly. I'm curious about what other people think about that kind of stuff. I don't have a formulated opinion about how that, I don't think there maybe is one, I should say."
It's interesting because for me, looking into this stuff 'cause I'm invested in my local scene and how that community functions and running DIY parties, this stuff comes up and you have to know what to do as an organiser when someone like that enters your space and looking after people within that space. Most of the inspiration I've found, frameworks on accountability, and the best ways to protect people and the best ways to get people who've wronged people to understand what they've done and what they need to do next, has come from like punk zines from like, the Philadelphia scene. Why is that the case?
That, aside from that sort of stuff or other community accountability frameworks that come through diasporas, lineages and heritages – other than that, the only other framework we seem to have is like the legal stuff, you know? But you wouldn't always necessarily wanna get police involved when you're dealing with marginalised communities or certainly in America you need a certain amount of privilege or resource or capital in order to get things moving on the legal side of things.
Laura: "We're the weak side, you know?"
DeForrest: "That's why I brought it up actually."
Laura: "There's the tricky stuff."
DeForrest: "Yeah, I'm glad we got to this point because I can't afford a lawyer, which is why I'm careful. Once you say the words, that some people can't access the police or lawyers, it sounds like you have a fascist state. Sounds like you have oppression."
Laura: "Me for example, like other friends here in the room, we are finally free from an eight-year criminal process. The state was prosecuting us for occupying public buildings against the cops. So just now we are really free to go where we wanna go, you know? And like, I'm Teto Preto's singer you know, all that – I'm not a criminal or something, but I never had the chance to prosecute the state back 'cause otherwise I won't have the right to get the visa to USA. 'Cause they always 'mmm-mm-mm, you're not coming in.'
"I don't wanna hear any more excuses from white guys, I had nothing to do with these excuses 'cause when people come say 'hey I'm really sorry,' it's more about them than about me, you know? So please don't use me to get your excuses and your conscience, your white conscience, your Occidental conscience, washed again and clean again. 'Cause you're not getting any of it, just give me the money, give me conditions to do my job, give me the right to be who I wanna be and be respected for what I am. So basically that's it."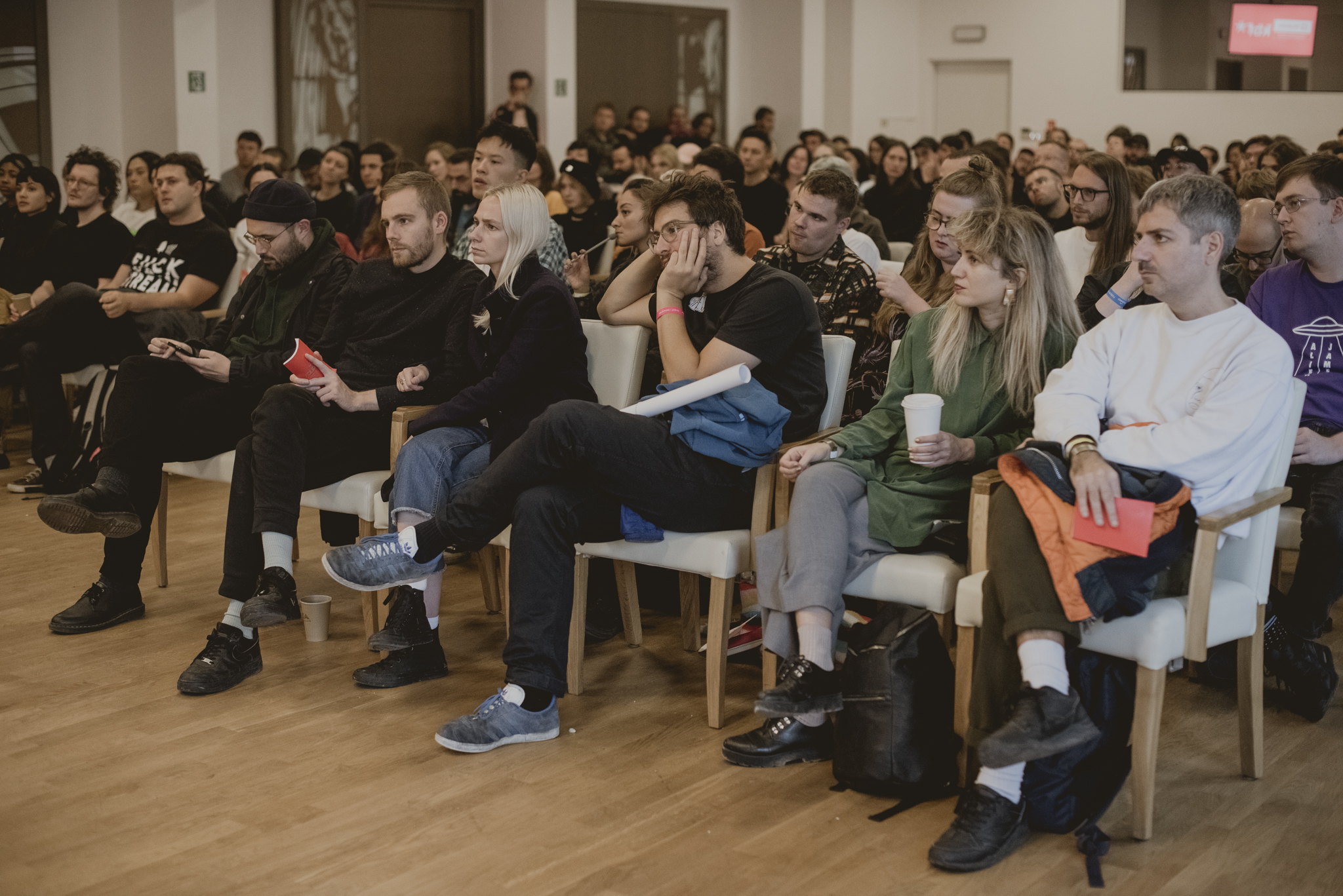 This a good point to open the floor for questions, I think we've got about 10 minutes…
Audience 1: Thank you a lot. In Russia, where I'm from and other close countries, there is a tendency that more younger and younger communities of artists tend to apply to brand sponsorships very early on now because they see how it is done and brands become more friendly, agreeing sometimes not to put logos, and find more creative ways to brand their stuff – but these artists, at that point when they apply, they do not have yet established their voice and have the capacity to stand for their vision or values before brands. And so, they grow and they become inherently contaminated with this willing and readiness to co-operate and to get the compromise done. Do you think that it's something inevitable and this skill maybe can be further tuned upside down against brands – not so against but to stand for their conditions, or is it just the way it's happening and we find other ways?
Laura: "If I understand your question, this is a matter of privilege for me 'cause I've never seen it in São Paulo something like this, 'cause it's so hard to exist and to resist, doing counterculture stuff or something that goes against the majority thinking. I've never seen really young people with no responsibilities about what they say that they do, everyone is really true in São Paulo because otherwise you wouldn't even be alive, you know? 'Cause there are people who are just vanishing or being murdered. Brazil is the country that assassinates trans people, is the country that kills the most trans people in the world. So when you say that is a matter of life and death it is a matter of life and death. I don't know anyone who is not true, 'cause we talk to each other news goes by fast. So I don't know people who got really big in Brazil and have resources, because no-one has resources. Bolsanaro has the resources. We don't have, like Tomorrowland or Burning Man or fuck that shit – we don't have it. There is the gospel industry, country industry… But I don't know, this example is really farther from our reality, sorry."
Audience 2: I would like to go back to call-out culture, because I have the feeling that somehow we follow trends. Some years ago we started to call-out, for good reasons, Red Bull, then today we were calling out Dekmantel – it started some months ago or maybe some years ago. The question is then, you know we continue for instance to, in the press, and even as artists to, to speak about Berghain as being a great place for example when we all know that it's a problematic space. When do we choose to call-out something and how do we choose it? That's the question, and how do we make sure that we, our line that we're on, not alone calling things, should we call-out all the things at the same time?
DeForrest: "When you're desperate enough, you know exactly what to do. I was homeless a year ago. I can finish that statement – I thought it was implied. When you're desperate enough, things just start lining up. I'm gonna be crass right now – I've discovered that white people don't have this, and white European peoples don't have this thing called a second wind. They don't get to a point where they're about to just like, done, and then suddenly you just have all the power in the world. Don't know what that is, maybe that's why colonialism happened, maybe that's why we're dealing with a thousand years of idiotic progress, I don't know. But you know exactly who to hit, when and how to hit them when they've hit you hard enough. I mean that sounds vague, but maybe you haven't been to that point yet if you're not striking, specifically. 'Cause again, like I said, Resident Advisor knew they were wrong, that's why I laid it out like that."
Audience 3: Hello, thank you so much – this has been so rewarding for us, I think I can speak on behalf of the whole audience. Touching back on, DeForrest, what you were talking about, how we should change how we value art: your example about Aphex Twin, and Mat, talking about Spotify, and sort of serfdom in the economy – I have been thinking a lot this week about how change that's required in industry often starts first within ourselves, and within the bodies of those in power. And it strikes me that in a lot of this economic woe we have in this industry, it might be an issue of redefining what it means to be human and what it means to have an identity. 'Cause a lot of times we're reflecting back on 20th century models of capitalism but it's actually really different now than it was thirty years ago. Jay Springett gave a talk yesterday where he was talking about the movie industry and 'cultural fracking', where the big movie industries are just producing remakes from a time when there was a code of culture and that doesn't exist anymore because the complexity is too great. I was wondering if anyone wanted to talk about this emerging complexity and the complexity of the economy 'cause I'm bored with talking about us just as humans and talking about an economy where things are simple, 'cause it's so much more complex now. You know what I mean? Does anyone have any ideas?
DeForrest: "You asked the right person. The other reason I was able to get here is 'cause I actually studied film theory in college and film economics with a film theorist that's also a psychoanalyst. So we would just look at the trade routes of film after the fringe suddenly got Hitchcock films and stuff, he'd understand where these cultures would start to permeate, he would just walk us right through it – or me, because, it was private lessons, the other kids couldn't come, 'cause I was special. But yeah, cultural fracking is a very particular term and I'm really glad to hear it – what happened in the movie industry is essentially the 2008 crisis happened and then there was a writer's strike that happened immediately after. Normies didn't realise it because they were too busy watching the Hangover and because you gave all that money to the Hangover, now we have to deal with the Joker. So, thank you. I wrote essays in college that's just like, 'don't do it, don't trust Todd Philipps,' but anyway – that's ultimately what happened.
"We put our money behind our oppressors, I mean the literal people that fracked culture. The movie industry isn't doing anything that industry wasn't already doing to culture. Even had the white male romantics going, 'oh,' being all flaneur, being like 'no buildings, they're bad' and they were right. Walt Whitman was right. And it's up to us to do what's happening in São Paulo, to have this cultural sound that has nothing to do with cultural trends. Maybe we remove ourselves from the feed, maybe we go walk around our city and pick up sounds of our own. Maybe we don't rely on the rich white man who still hasn't actually turned a real profit to tell us what we like."
Mat: "The other side to it is, not trying to be pessimistic about stuff – it's almost like, the future is here already, it's just not evenly distributed. I don't think that these communities actually suffer in any way from a lack of vision or a lack of awareness, very intimate awareness with the problems that are local to them. And as you say, there's a gradient of severity there, right? Because we are more international now, which is a wonderful thing, but the thing that bothers me is that ultimately when you kind of cut the main artery of funds, and again when you subscribe to these kind of ideologies that suggest that 'everyone's just fine, we don't need support, we don't need to collaborate together and pull that money and choose how to distribute it amongst ourselves,' what you end up happening is seeing all these wonderful, promising moments that just end up dying. Of course, within an attention economy, that suits Twitter super well, that suits YouTube super well, so you have all these mini little subcultures that I don't think have any problem in capturing a moment or connecting with a contemporary issue but then they'll pop up for six months and then die. So the future in a sense is all these little revolutions that are never able to grow into something.
"This is where, on the one hand I might be like, 'oh we're living in the simulation of the past,' on the other hand I also kind of get it, right? Because there's something beautiful and coherent to the subcultures of the past and I have to say that the one thing that makes them cohere was funds. The classic example I always give is, my first job out of college, I worked for this band Crass. And Crass are one of the ideological – you know some of them came from money but there you go – the original wealthy punks. Even that said, they had a coherent ideology that spread really far, I mean I'm sure you can go and see Napalm Death on Columbia Records, looking at Napalm Death and crust punk and the kind of ideas that were spawned by that movement that did spread, it's kind of incredible. Look at Napalm Death's touring schedule, literally, it's mindblowing what's been accomplished there, but you can't detach the success, maturity over time and the spreading and mutation of those ideas from a funding source, right? Crass sold a lot of records. Fugazi sold a lot of records. The early techno pioneers sold a lot of records."
DeForrest: "Cheaply."
Mat: "Well yeah, exactly, but a lot, right – it's a very complex question, and then at the core of it is actually quite a simple answer. And that also speaks to the question earlier about brands – I think because when you cede to these narratives of saying, 'okay well we're all just these atomised people with Instagram accounts that are waiting for money to drop in from somewhere,' it's all mostly a subsistence kind of practice. When you cede and start buying into that narrative, what you end up doing is also putting in your head this idea that we're all out for ourselves.
"When it comes brands, one thing – not being judgmental about people taking brand money – but one thing I think people could be really, really better at (for example, in the art world I know art workers have done this) is communicate with each other about funds. Communicating with each other about how those resources could be distributed in a way – make more concrete demands of the companies. 'Cause when people come to you atomised it feels, as you say, it's 'too good to be true' and you've gotta take the deal otherwise they're gonna give it to somebody else, but when you actually have a conversation with people where you can maybe be a bit more transparent about cash, maybe then you're actually able to make demands that benefit the culture immediately around you rather than individuating ourselves. But as I say, I don't think there's any shortage of great ideas, I'm just concerned that I see them come and go, because people dip out and go work on something else because no-one is supporting them."
Laura: "Yeah but I just would like to say that in Brazil it's something really different, there's a reality that is really different that we leave 'cause we always know what we want from the brands, you know? We know exactly what we want but they don't wanna pay us, they don't wanna do anything that will nourish us, will really feed us to do what we have to do. It's something that we really feel in our skin, in our bodies, that when you go to Europe, we don't know welfare state – people are just so accommodated with the simple shitty life that they can have, like, okay, so, I have public education, I have public health, I have proper cities that were designed by someone that all the buildings they are saying something about a culture that is really strong, and it's really telling me that this is not my place, and I feel glad, actually, feeling that this is not my place.
"But we always know what to ask from brands – they don't respect Latin America at all. They respect us as bodies and as sexual individuals, as exotic individuals just as European anthropology – you're just looking at us at this table and saying, 'oh how exotic are all these opinions, and they're really good, you saw? yes I saw, they had opinions,' yes of course we have opinions. Of course we do have knowledge, we know your culture, we know that you stole from us, lots of things that we never got the chance to see, you know?
"So I disagree with the fact that we gotta know maybe how to approach the brands and speak more concrete stuff – 'cause I'm a producer and I've never got the privilege of being just an artist. You can never be – women, or black, or LGBTQ and just be an artist – you gotta be your own producer. I also went to film school (and ran away from it), so I'm a filmmaker also, I'm a producer, I'm a curator, I'm a performer, I'm a singer, I'm a composer. This is the meaning of being American, you know? So I'm sorry, we know exactly what we want from the brands. And they know what we want, and they just won't give it to us 'cause that's the Occidental thing happening right now. It's so clear that the most thrilling thing that is happening right now in the world is in Brazil and in America, that that's the only way that you can survive. You gotta just try to kill us and make us really not be able to develop and accomplish our stuff you know. That's the game."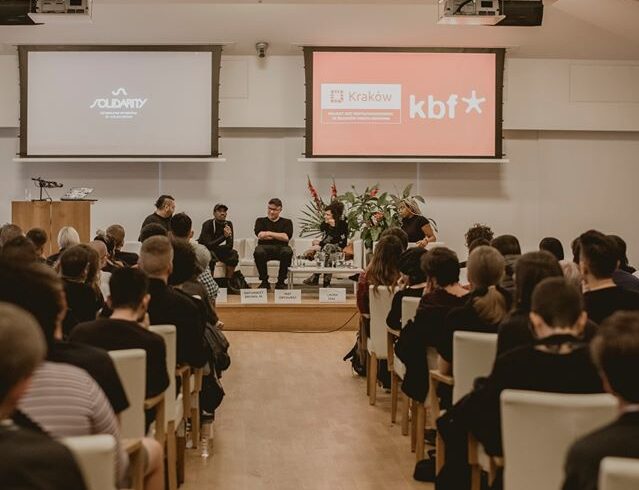 Unsound Festival's 2020 edition will take place 4th – 11th October with a livestreamed programme based around its theme, 'Intermission'. The festival's open call is receiving ideas until 31st May 2020 – more info here.
The above transcript has been edited for clarity and readability. Photography by Natalia Knycz, courtesy of Unsound Festival.
DeForrest Brown, Jr.: Instagram, Twitter, Speaker Music, Assembling a Black Counterculture, Make Techno Black Again
Frankie Decaiza Hutchinson: Twitter, Instagram, Discwoman, Dweller, DiscUs
Laura Diaz: Instagram, Teto Preto, Mamba Negra
Mat Dryhurst: Website, Twitter, Instagram, Interdependence, Guild