Okkyung Lee has spent over two decades playing experimental music around the world. Though known for her dissonant, wiry cello-playing and her invigorating use of extended techniques, she has never settled. On her 2005 LP Nihm, harsh noise exercises share space with rhythmic jazz workouts and melodic laments. More recently, her explorations have led to the electronic textures of Speckled Stones and Dissonant Green Dots and the traditional Korean music-inspired Cheol-Kkot-Sae. Her 2018 collaboration with legendary string player Ellen Fullman, a pioneer of drone, revealed new depths of restraint and resonance in her music.
On her newest record, Lee throws her audience another curveball. Yeo-Neun matches the fractured free-play of her older work to elegant compositions for chamber music ensemble. The Yeo-Neun Quartet consists of harp, piano, bass and cello – a combination that's meditative yet restless, never quite resolved. The group play beautiful motifs, looping them over and over only to then shatter them, intruding with discordant improvisations. With a focus on structure, balance and the 'bigger picture' of composed bodies of music, Yeo-Neun encapsulates the diverging paths of Lee's career, serving to document the formalised side of her music at last.
It's a gorgeous, intense album and a personal one too, shifting through Lee's own memories of life as a teenager as well as her experiences of moving countries, touring music and taking risks. Lee finds sound for these memories, drifting and existing in partially lit ambiguity, despite the tightly structured arrangements and rolling melodies – moments that come into focus before slipping away like passing thoughts. The stunning musical conflicts of Yeo-Neun communicate the displacement inside all of us: the way memories are fractured, incomplete, but still ours.
For many of your listeners, this album will come as a surprise. Do you see Yeo-Neun as a departure from your previous work? Is it a surprise for you? "Do you mean people will be surprised to hear me playing actual melodies? Hahaha. I suppose that could be the case if they knew my work mostly through Ghil or some other noisier records but if they have heard my Tzadik releases, it might not be a 100% surprise. I don't consider Yeo-Neun as a departure but rather one of many modes that my creativity is applied to define who I am both as a musician and a person. It's just normal that we all have different facets in our personalities, so why present only one side?"
You speak of 'Yeo-Neun' being a loose translation of a gesture of 'opening' – it really resonates throughout the record, which feels really ambiguous, between states. What does this idea refer to for you? "The reason why I chose the word '여는 / Yeo-Neun' instead of '열린 / Yeol-Lin (open already opened)' is because I wanted to emphasize the action itself more than the result. To me, the title also means the longing to open up, and taking chances even without knowing exactly what to expect, and not being bound to something that has defined you in the past, and to reclaim your identity through following what you want to pursue."
Yeo-Neun really is melodic, and it has this real narrative drive to it. The tracks feel episodic, bringing together stories about your own life. In moments, it reminds me of your record Nihm, but even more structured. How familiar do you feel with composing and presenting music this way? "Perhaps the melodies I'm drawn to are more influenced by the Korean pop ballads I was listening to in my teenage period, while the harmonies [are more influenced] by the music I was listening to while studying in Boston. At Berklee, I majored in dual major, Film Scoring and Contemporary Music Writing and Production, and that's when I began to compose which might explain its somewhat cinematic approach. Then once at New England Conservatory of Music, I began to bring improvisation into compositions. So in a way, I've been composing for a while but it took a while to bring all the different elements together in a more authentic and balanced way. In New York, there have been several premiers of pieces composed this way, which helped me to develop as a composer but most of them just remained as one-off performances and no real documentation or real development as a proper group like Yeo-Neun."
The record is described as being very personal to you, speaking to upheaval in your life. You've done so much moving, touring and collaborating throughout your career – does this feel like the first time you've had a chance to articulate these things about yourself, musically? "I think that's something that I always expressed through my compositions in last two decades but maybe this is the most well put-together because Yeo-Neun took extra time to develop the pieces, found balanced sound as a group, record them in a proper studio, produce the pieces with clearer ideas on what I wanted which is quite a luxury in reality. Many times either the musicians are too busy or you don't have enough resources to put into recording and mixing as many musicians would agree.
"Also, I indeed had a clearer idea of what kind of sounds and sentiment I was after when putting together these pieces into an album, even though I couldn't articulate that in words precisely other than feeling it in my gut. For example, "one bright lazy sunday afternoon…" was my attempt to recreate musically how this one cut of the cartoon depicting a sunny day that I saw as a teenager made me feel the warmth of sunshine on my body. For another example, on "eternally", I wanted to recreate the fade-out-to-white effect you sometimes see at the end of a movie, by bringing the cello melody closer to the front, creating a sense of other elements getting blurred out by bright white color that fills the screen. Not sure if that's what you'd feel listening to that piece, but I tried at least, hahaha."
Did you write it in one place, or did writing take place in that same state of constant upheaval? "Some of the pieces were floating in my computer as sketches for years, some of them went through many adjustments after trying out with the band, and some of them were specifically written for the band usually right before the rehearsals. Usually, I only write for people I have some kind connection with already unless it's commissioned by someone else, but this was unique in a way that I put together the instrumentation first then found the right people. For that reason, I had to take some time to get to know everyone both musically and personally which I think worked for the benefit in the end. Many times melodies come to me when I'm walking around or wandering around in different places (not at the airports!) then I develop them using Sibelius if they stick in my head. And yes, having a deadline is a great motivation to finish a piece."
After so many years of traveling and touring, how do you find the experience now? "As many touring musicians and artists would agree, we all probably have some kind of a love-and-hate relationship when it comes down to traveling. To me, the worst part is having to go through so many unpleasant processes just to get somewhere but once I'm on the plane or train, I'm quite ok spending many hours. However, just dropping in different cities and venues can be emotionally draining because you are not quite sure how much you should open yourself up. But we all understand it comes with the territory and it's a huge privilege that we get to visit so many amazing places and meet great people. As an antidote to the unpleasant side effect of the traveling, I try not to do the traveling-everyday-type of touring but do projects that allow me to stay put in one location even just for a couple of days."
You've been working with the quartet who made Yeo-Neun for a few years, and I'm wondering what the evolution of the quartet has been. How did these players come together? Was the intention always for the quartet to be a vessel for this personal, quite differently structured music? "Maeve [Gilchrist, harpist] and I met when trumpeter Ambrose Akinmusire invited us to play in his piece which was commissioned by Monterey Jazz Festival in 2015, and Maeve's positive energy and musicality left a strong impression on me. Later in 2016, when I had a week-long residency at The Stone that I wanted to put together new projects for, I invited Maeve first. Then I wanted to bring in a 'rhythm section' minus drums and thought of Eivind Opsvik who I had met in 2012 when he invited me to record a track for a compilation CD titled Rusk on his Loyal label. He certainly had a reputation of being a solid bassist with a wide taste in music on top of being such a nice person.
"Then Jacob [Sacks, pianist] and I also had met in many different social occasions and always considered him as someone with very positive energy, and knowing him and Eivind had played together on many different setups naturally led me to invite him to join. It was never my intention to 'start' an ongoing band from the beginning but once I brought in the pieces to the first rehearsal, the sound of four instruments filtered through four personalities already had something peacefully balanced and intriguing that was inspiring me to compose more for the group."
How did you approach composition for this group, compared to your writing for other set-ups such as Cheol-Kkot-Sae? "With Cheol-Kkot-Sae, I invited the musicians whom I had worked with previously and developed some insights on their musical identities, and it was my goal to find a way to bring seemingly different traditions of music-making together to a result that would be authentic to who I was while highlighting their contribution by having enough space within the composition and more focus on improvisation and sounds. Also with that group, I had only four days to develop the whole suite which was only possible because they trusted me for some reason, hahaha.
"With Yeo-Neun, I used more tightly structured pieces that could be interpreted by them in a more traditional sense while bringing more specific sound materials also to be incorporated. Perhaps the music for Yeo-Neun has more of an even focus on composed material, improvisation, and sounds."
This group is one of your longest-running – how have you found writing and developing with more time to take in with your collaborators? "So far all the collaborations were mostly improvisation-based which means it was built on certain understanding and trust in each other and the process itself has been usually very spontaneous and democratic. Yeo-Neun might be 'longest' in numbers of years but we only did a couple of concerts each year, giving me plenty of time and mental space to sit on ideas and clearer understanding of what I was pursuing musically, therefore all this information could be translated to the band members better. Also being a leader gives you the responsibility to create something that excites each member while focusing on the bigger picture that's laid out by me. Both ways give me a different type of satisfaction and I'll continue making works in whichever way that music requires."
This record has fierce, percussive moments alongside stuff that's more gentle – your cello-playing pierces these quite sombre chamber melodies. Is there anything you find only this particular quartet's set-up achieves for you? "Although it's not such a huge challenge to play something rhythmic or percussive on the instruments in the group, it was a nice challenge to create a certain sense of drive without having drums or percussion. Also, I didn't see this quartet focusing more on 'extended techniques' since that was not necessarily where these players came from musically however capable they were in that language. In the end, I think everyone, including myself, found a comfortable space to be true to themselves while enriching the music."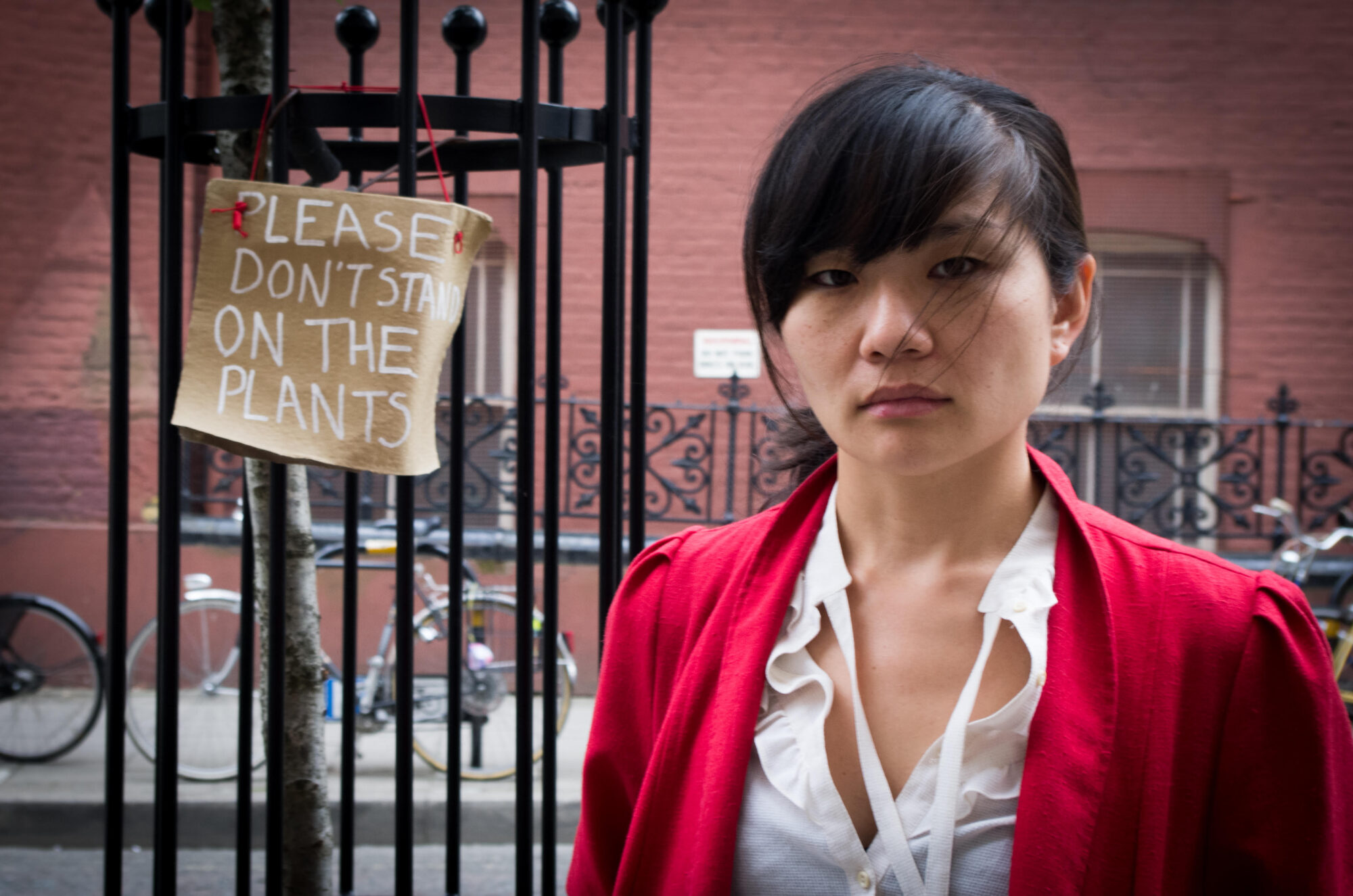 Some of the most thrilling moments come from how you offset your compositions with improvisations: the little melodic loops in "another old story" that suddenly turn into four players just playing what they want for some bars. Where does improvisation fit into the record and how you go about locating it in your music? "On this album, improvisation was used as a tool to give space to each individual to bring their personalities into the music which refined each piece better in my opinion. It was quite specific what kind of gestures I had in mind for each solo but more importantly, allowing enough time to internalize the pieces helped the musicians to bring in that special quality that cannot be notated on a piece of paper."
The melodies on this record are stunning; they feel like a natural progression from the noisier experimental music you make. You hear these two sides of you together, as on "the longest morning", where you take these beautiful lines, rip them up, and then put them back together. How did you reconcile these two sides? "To be honest, from the very beginning I didn't see them so far away from each other. To me, certain 'noise' sounds way more romantic than some 'romantic' melodies and is just capable of evoking certain emotions, while certain melodies or leap in intervals can be as abrasive as any 'noise'. It was always in my interest to bring these two elements together in compositions and finding the right balance came out of simply trying out and learning little by little. Hopefully, I'll continue learning!"
What kinds of music do you listen to, both in and out of the genres that have gone into this record, and do they influence what you write? "These days I'm obsessed with BTS. Not quite sure what kind of influence it would have on my future compositions but I do cherish this newly found connection to certain lyricism through their melodies and words. For the last couple of decades, I think I was mostly inspired by visual arts and movies, rather than music when it came down to compositions. In a way, music is something that became a part of me since I was three. Sometimes it's hard to have a certain distance from it which might sound a bit odd. However, when it comes down to improvisation, I respond the most to the sounds and pulse within the music, and to something that I cannot quite create or even understand, such as electronic sounds or beats."
I saw you improvising a couple of years ago with Christian Marclay and Mats Gustafsson and loved it – at one point you were playing cello while chasing an audience member coming out of the toilet back to his seat. Do you have any other favourite performance moments? "You were in Huddersfield! It's such a wonderful festival and I was so happy to spend a few days there almost two years ago. For many solo concerts, I tried to create a unique relationship between the space, the audience, and myself. The first memorable moment that comes to my mind is one of the most recent performances at MOMA that I composed a piece responding to Haegue Yang's installation that also included five performers doing choreographed movements and featured a piece by Isang Yun. It was rather challenging acoustically since it was performed at their atrium which had long delays on top of juggling logistics for rehearsals, but everything came together quite eloquently.
"Also one of the most memorable moments is when Arca invited me to perform with her in New York for the pre-opening performances for the Shed, and I never felt so alive and free while performing. She was absolutely sensational, period."
Okkyung Lee – Yeo-Neun is out now via Shelter Press, available in digital and vinyl formats here.
Photos: Lasse Marhaug (top), Nathan Thomas (bottom)