Everything SHYBOI seemingly touches is delivered intuitively and with intent. Her sets may not be planned, but they feed off the crowd's energy in a sort of unspoken symbiotic exchange. She may also casually mention a documentary she's worked on, without letting the audience in on the fact it's been several years in the making following a decade of research. SHYBOI maintains both an air of mystery and a gravitational charm; her modesty and intellect undeniable through social media. In a club atmosphere, her sets are enrapturing, delivering catharsis in the way of provocative vocals, intoxicating beats, and an enveloping energy that demands physicality. In the art world, she explores women empowerment, marginalized bodies, her Jamaican heritage, and the power of queer expression. Through both her involvement with Discwoman and her solo work, SHYBOI has consistently pushed boundaries and broken barriers to give queer black women more of a voice in this world, and we're honored to share her high-powered mix and personal thoughts. Dubbed "the SHYBOI experience," Truancy Volume 260 is both raucous and liberating, and we hope brings you a moment of relief and release during this incredibly difficult time. Just as the opening line of her mix playfully teases, "y'all ain't ready!"
Hey SHYBOI, thank you so much for doing this mix and interview in the midst of all this. We hope you are staying safe and doing as well as you can. How are you and what have you been doing during this time? "This mix was done literally right before the COVID-19 explosion in North America leading to the effective shutdown of New York City and subsequent cancelling of my European tour. So right now, I've just been at home, practicing social distancing, only going outside for the bare necessities. Like with a lot of other people, things have been pretty overwhelming. Unfortunately the worst of it is yet to come, especially in a city like New York where everyone is essentially on top of each other. I've been cooking a lot, trying to get my anxiety down to manageable levels so I can be creative again. Both my music job and day job are effectively cancelled for the next few months as they both require my physical presence, so dealing with not having any foreseeable income for a while is pretty daunting. A lot of us are suffering right now, I urge you to all to practice empathy and kindness during these times."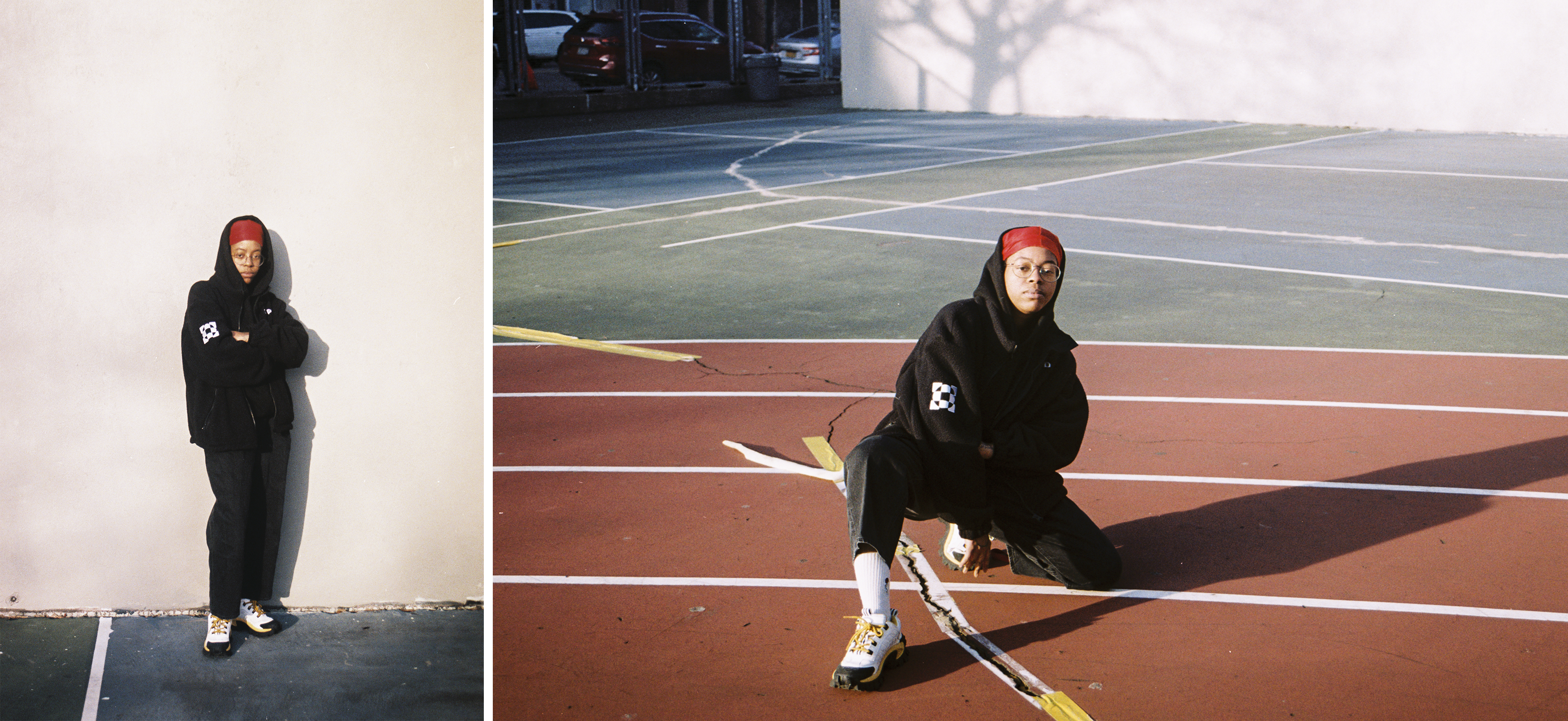 Your sets are known for their raw intensity—what is your message when you DJ? How would you describe your relationship with the audience? "When I was teen going to DIY shows I'd mark the success of the show by how dirty my sneakers got and how much sweat from a stranger I was drenched in. I love being able to completely lose myself in music, and in order for me to do that, I have to have a similar experience as the audience. I don't plan my sets, at most I'll know which track I'll start at, and then everything else is up for grabs. I want a completely cathartic experience, it's the quest for ultimate pleasure."
When did you first see yourself as an artist? What role did art play in your childhood? "One time as a kid I traced some character, I believe it was Puss in Boots and my mother loved it, but then she asked me if I drew it myself, to which i replied 'no,' and she was genuinely disappointed that I had traced it instead of putting in the work to draw it. After that I spent every day learning how to draw it then showed her and her reaction is something that I'll never forget. It was the first time I saw the power in honing a visual craft. We didn't go to museums or galleries when I was growing up and I didn't see much use for it until about the 9th grade when I went to a Jenny Holzer exhibition. It was then it clicked that this was something that can be used to spread information, and from there I wanted to know more."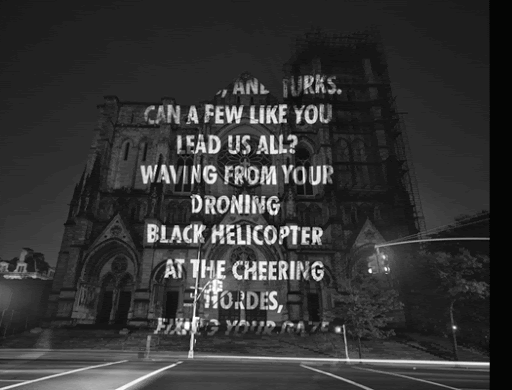 In past interviews, you've mentioned your love of ethnographic research. To what degree is your art inspired by your research? "My art is the end result of my research. I've always been obsessed by how things work and tracking those systems, seeing how one thing relates to the other, even in the most abstract ways. It's allowed me to better understand the world, or it confuses the hell out of me even more. My approach to most things is usually like Dee Dee from Dexter's Lab, coyly saying "oooo what does this button do?""
You've often described your work process as being "bombarded by stimuli." Do you ever feel overstimulated? What do you find relaxing and/or healing? "Nature is the easiest way for me to relax. 10-Mile walks, sleeping on the beach, hearing the sound of water, fresh air. Even when I'm meditating, there will be moments when existential dread/reality comes creeping in, and when I'm surrounded by nature that's one of the few moments where I achieve silence.
Could you describe your role in the new documentary, 'Shakedown,' which focuses on the LA lesbian strip club scene of the early aughts? Why was your involvement important to you? "I'm an associate producer for the documentary Shakedown, directed by Leilah Weinraub. It's been a project I've been a part of on-and-off since about 2013. A version of it was originally screened as part of the 'Film Program' for the 2017 Whitney Biennial. Since then it's been in circulation within the film circuit and is now available on different sites for the upcoming months. Upon first hearing about the project I wanted to be immediately involved.
I'd never heard of a story about Black lesbian strippers before, I wanted to know more about the characters, the economy they've created for themselves, how the community supports them… Shakedown, as a night and as a club was very much a For Us By Us, community engagement, you had to know to know. It's important on the level of, here you have these Black women creating something purely for themselves, one hundred percent outside of the male gaze, and it's important to stress that they created sexuality, and a sexual economy strictly for women. How freaking rare is that! And not only did they create it, it was documented. So much of queer history, especially queer history involving Black people and Black trans* and cis women gets whitewashed or completely written out—this was something that needed to be told."
Do you see yourself continuing to balance your various artistic practices? Is there anyone you feel most passionate about? How important is collaboration to you and your work? "I still view them both equally. My visual/performance practice is meditative and asking you to channel inward, whereas my DJ sets are cathartic and ask you to expel your energy outwards. Collaborating with friends and people of a shared interest has been a constant in my output for years. I recently had the opportunity to collaborate with lighting designer Kip Davis, who is a mainstay of NYC raves on a 3-day performance installation last summer titled BUSS DEMON CHOAT. Being able to bring aspects of the club into the white cube has been a running theme of my works for the past few years now."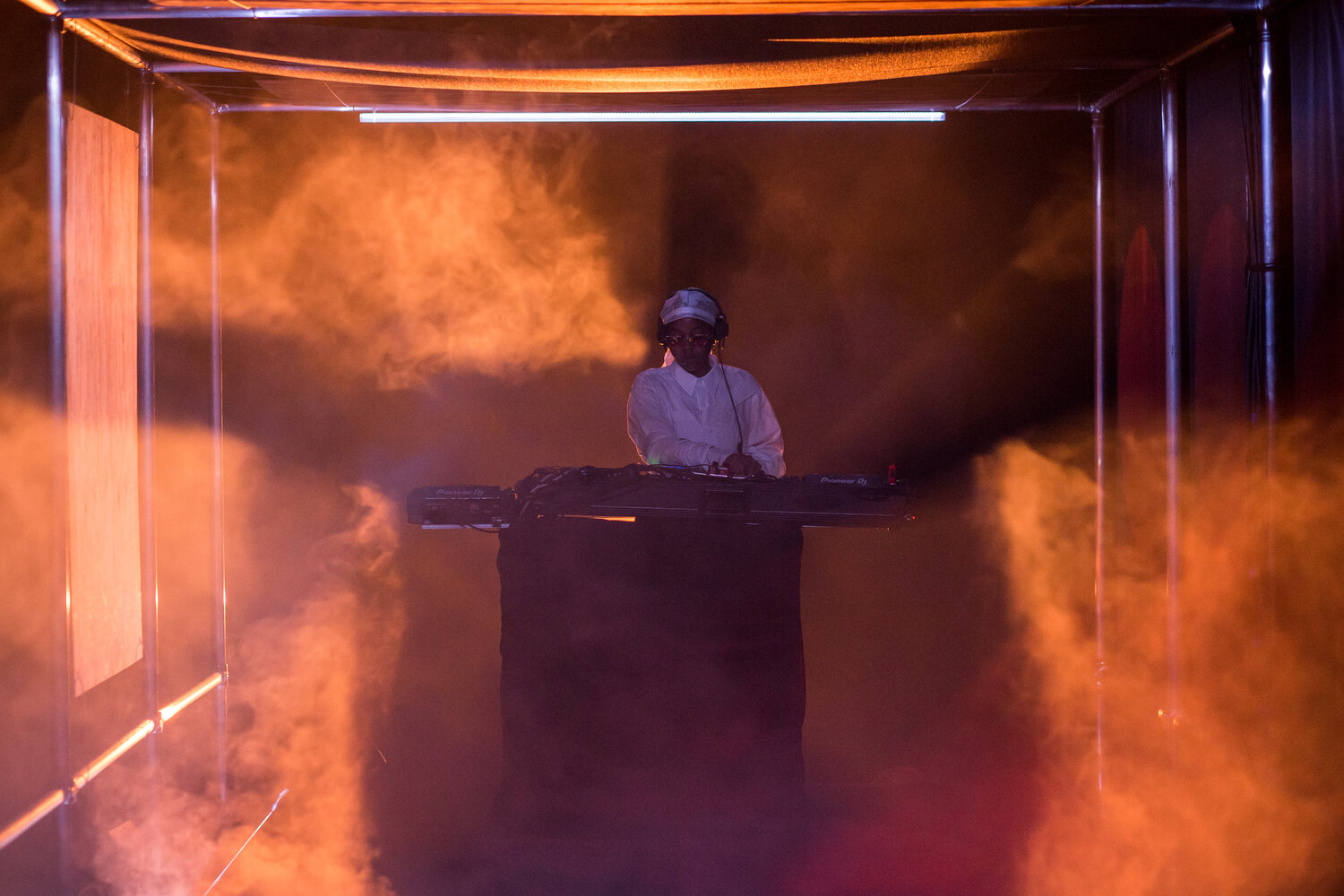 What is your dream project? How do you see your art evolving in the future? "Oh man, this one I've wanted to do for about five years now. It involves flooding a space, that's all I'll divulge for now. One day it will happen. I'm very patient with my art practice. I know it takes decades of work to truly find your voice, to find the right people that are willing to back your ideas. I'm looking forward to the future and whatever that may mean."
What's next for you? Is there any one project you're particularly excited about? "Who knows! Things definitely feel like they're in purgatory right now, but I'm looking forward to releasing music later this year. Working on some new video art. My close friend, fellow Jamaican, and Reiki Master; Adrienne and I have been workshopping some holistic drop-ins. We're working on doing reiki attunements and sound baths, essentially creating pop-up meditation sites."
Any context you would like to add regarding the mix? Anything that inspired it or any artist you would like to mention in particular? "Since we're all on lockdown, hook this up to your speakers, get rid of some anxious energy and just imagine how glorious the first rave will be once we survive this pandemic! I don't put out mixes often so I wanted to do something that would give you "the SHYBOI experience." So with that, this is all done in one take, because we don't get re-dos on the dancefloor ;). I am forever inspired by those around me, from the OG's like Miss Djax and DJ Stingray, to the younger generation of unapologetic NYC noisemakers making the scene fun, like Akua, Ren G, Dime, and Via App."
You can download Truancy Volume 260: SHYBOI in 320 kbps and view the tracklist by supporting Truants on Patreon here. Your support allows Truants to continue running as a non-profit and ad-free platform. Members will receive exclusive access to mixes, tracklistings, and merchandise. We urge you to support the future of independent music journalism – a little support would go a long way.
SHYBOI: Soundcloud, Twitter, Instagram, Works, RA, Discwoman
Photos by Tyler Jones
Performance photo by Luis Nieto Dickens