With a background originating among Sheffield's DIY/independent punk scene and now existing as an explosive part of Manchester's DJing circuit, Clemency was always destined to thrive in liminal spaces. The producer and DJ has spent the past few years gaining a reputation for dropping the dark and dubby right in with frazzled techno, tense-yet-cathartic hardcore dance and rickety rhythmic workouts. As well as playing at various haunts up North, she's also known for holding down a monthly residency at Limbo Radio and co-running Mutualism, a collective whose events, label releases, NTS Manchester radio shows and Datastream concept mix series give platform to experimental creatives from all walks.
Her debut EP, References, comes by way of Finn's 2 B Real imprint – Local Action's sister-label – and ties together her vision for creative interconnectedness and her penchant for leftfield dancefloor antics. Poetry, literature, geographic locations, cosmetic products and of course music are all explicitly listed as influences, stamped across the artwork and brought to life on the project's dedicated website. Musically, the three-tracker sports Clemency's badges from both dance and DIY scenes: "Testimony" distorts time with its wooz and crunch, "Mimic Animals That Are Easy To Love" toys with spine-tingling textures and the engrossing rhythms of "Biblical Names" play like M.C. Escher on hand drums. Ahead of the EP's release this coming Thursday, we caught up with Clemency to talk about her background, her work and of course her References.
Hey, how's it going? Where are you chatting from?
"Hiya! I'm okay yeah, ups and downs in quarantine but getting used to it. I'm in my room in my flat in Rusholme, South Manchester, burning incense, drinking herbal tea."
How is the COVID-19-induced lockdown affecting your life at the present?
"I got furloughed quite early on in all this, which I'm kinda enjoying. I'm always quite busy and had quite a non-stop lifestyle before this I guess? It was totally self imposed. I love being busy, but it was really weird to go from barely home to here 24/7! I've adapted now though I think, still trying to grasp little bits of routine. Still getting dressed, still going outside, still eating three meals. Putting on makeup on the days I have something to do. Creativity comes and goes, but it has always come in waves for me so that's normal."
It's so easy to let these little but so important things slip! What is it you do to pay the bills and how would you normally pass the time? What keeps you busy?
"Absolutely! Someone on my social media radar is in Beijing and spoke about how important routine is while they were in lockdown. They made a thread when we were just starting to distance, and I've really clung to that. It's kept me going for sure, even when my life usually has a fluctuating routine.
"My normal life before this was a bit of chaos but it really suited me – I'm easily bored. I work part time at a kids' shoe shop, I'm still studying and I try and fit as much music in there in between too. A normal week for me would have been a day or two at uni, four or five days at the shoe shop (which is open 10am-10pm lmao so lots of weird shift patterns) and then I've been producing at Limbo Radio or working on bits of music, going for a blend."
That's pretty late for a shoe shop, but it makes me wonder if I should be stopping by for a pair rave kicks on my way to the club… So you came to Manchester to study then, but were in Sheffield before that – is that where your involvement in music begins? What's your musical story so far?
"Yes, I came to Manchester to study in 2017, but I definitely owe a lot more of my musical background to Sheffield. I got into music through going to punk shows in like 2015/2014? Every so often they'd be held at this DIY space in Sheffield called The Audacious Art Experiment and it was there that I kinda went on a 'journey' from hardcore punk, through to noise and experimental electronic stuff. I produced and performed as Negative Midas Touch for about three years, all live improvised noise, but eventually got a bit tired of the project and the circles that making that kind of music lead you to move in, and at the same time I was finding weird cold techno cuts… So I stopped taking bookings live and laptop DJed, which was about when I moved to Manchester. Sheffield was totally inherent to my background in music but moving to Manchester changed the tools for me: learning more about DJing, starting to produce again, using a whole new palette and language for music that I never really encountered in Sheffield, which was almost wholly DIY."
The EP seems to incorporate elements of both approaches, yet embody neither; "Mimic…" has that DIY textural edge, "Biblical Names" is a studious electronic banger and "Testimony" sits somewhere between the two. It's a bold debut, and something I wouldn't have necessarily expected to appear via 2 B Real / Local Action! How did it come about?
"The ball started rolling when I released "SSRI Season" through Leftovers last year – Finn picked up the track from India Jordan playing it on NTS. Finn and I met through that, and when I played b2b with Hesska on NTS last summer, I played "Testimony" in one of the chuggier bits of the show. Finn really liked it when I played it there and asked me to send over more stuff, and offered to do it as an EP on 2BR not long after. I didn't know how it would sit alongside a lot of 2BR/LA stuff but it made more sense the more I thought about it tbh; Finn's vision for 2BR is tied through location, 'ethic', etc. more than sound, which I gathered more through working with him. I don't wanna say that I was 'surprised' by Finn and the breadth of his musical knowledge looool but I was surprised he wanted to put it out because it isn't a big club banger EP. But he is incredibly open-minded about music, totally switched on and genuinely connected, so I really trusted him with the EP :)"
It's not a 'big club banger' EP (so quite unlike the ones Finn is best known for!) but the way these songs play with momentum and rhythm feel like they could provide crucial turning points for DJs during their sets. And it's one thing to be an open-minded listener, but to put belief into music, into music that isn't 'straightforward' is cool to see – and it's great to see how this belief has been realised through things like the website. The website adds a new dynamic to the artwork, and of course acts as a pointer to the eponymous references themselves. There's loads here – music, literature, places and even cosmetics. Are these references direct influences on your music? How do these ideas connect to the EP?
"I went to a talk a couple of months ago, which in part discussed how Spotify/streaming services have led to a 'digital flattening' in the presentation of a lot of releases. We lose a lot of things like liner notes, back covers, maybe a poster in the sleeve of a CD or record when they exist purely digitally. Even though I am not totally into the theory of this 'digital flattening' stuff and find it pretty flawed, I'm a real maximalist and I love the kind of ephemera of music. I have so many physical records, posters, books that came with records that it was really important for me to really flesh out 'references', so with that came the idea of a website to click through the references. Jamie [Hudson, artist] made a beautiful back cover. I'm eventually going to publish an essay about how the references coalesced and how the conceptual framework for the record came together
"The references for the EP can be split into the ones that had very acute influence on the tracks – the Sara Sutterlin poem, Celebrity Big Brother 4 and the Annea Lockwood album all directly coalesced to giving me the idea to make "Mimic Animals…" whereas things like the cosmetics, the places, most of the music feed more into the idea of causality and determinism: how these things were around me, or how these things were once around me, in order to trigger the sequence of events that made me sit down at GarageBand, chop up lots of tiny audio samples and make a song."
I wanted to ask about your music-making process – is it all made in GarageBand? Can you tell us about your mindset, environment and approach to composing and producing music?
"Yeah, the whole thing was made in GarageBand and then mixed down in Ableton. I've really struggled with most DAWs for a long time, I'm impatient with learning how to use them and would rather use something simpler to make a song, rather than 'practice' at a DAW for hours. The EP is all a 505 drum kit, tweaked and chopped samples and odd synths and thuds I had made or had samples of lying around.
"The idea for the References theme all came from how I can only really find inspiration from these tiny triggers. I'm finding it easier to just sit down and write a song for fun, but most of the time I had to rely on these counterparts or finding a sample or something I wanted to mess with. Environmentally, I'm usually at my desk, in the evening – I'll burn essential oil, make a tea or open a beer, open up GarageBand, and just mess with things until I'm frustrated and hate what I've come up with, or end up with something I'm a little more satisfied with. I'm drawn to making things that maybe aren't things that would pop off in a club: I like making things slow or with impractical rhythms, and it's usually those ones that I'll see through to a finished song. I end up with a lot of scraps!"
With the EP being released, there's a sort of canonisation and permanence to the creations happening as we speak. These tracks that you've seen through this far, how has your relationship evolved with them and what is it like to see the reception so far?
"I've definitely gone through phases since Finn and I agreed to do the EP. My closest friends have had to deal with a lot of, "I think this is actually an objectively bad record and I don't want to release it anymore!" Good reception has been a relief. If anything, I'm really glad not only the tracks but also the concept and the website make sense outside of my head. The tracks have gone from a source of stress to something I'm really proud of, ever since it came together as something mastered with artwork, and then again when we released "Testimony". I'm really glad it's making sense I guess, and I hope that carries on when the other two, perhaps weirder tunes come out."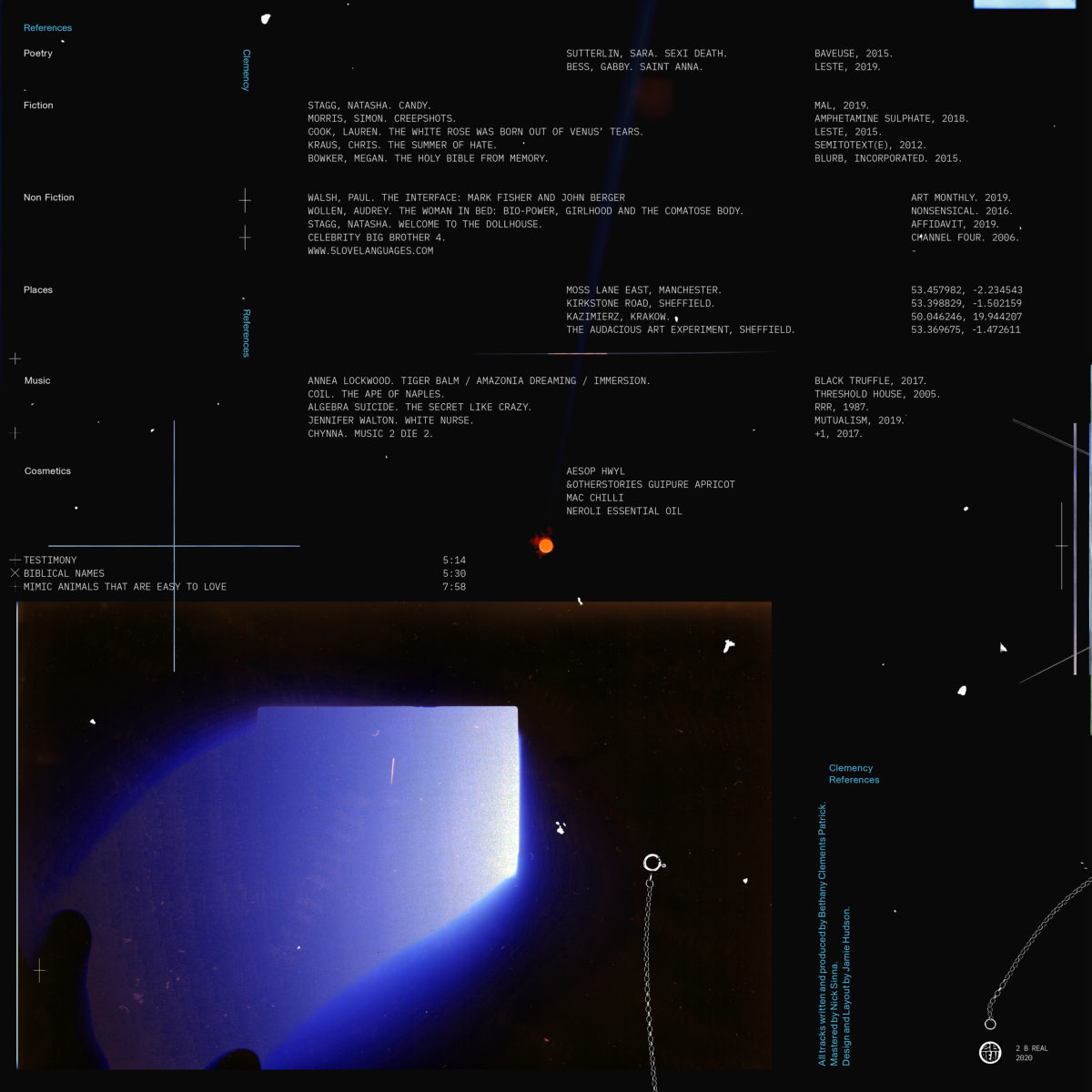 Let's talk about your DJing – it's been great seeing you play at yours or others' parties, sharing bills, having you guest on a radio show I do with friends, and obviously your airtime on NTS and Limbo! Both solo and in B2Bs, you always seem ready to either ramp it up or take it leftfield. Can you tell us about your approach to mixing and selecting?
"I've quoted this before, but when Szare mixed the Electronic Explorations podcast, he described it as "a little bit spooky, a little bit rude and a little bit rhythmically playful", and I really loved that – it definitely resonated with how I look for music and want to play it out. Technically, in terms of mixing, I like playing outside of the 110-135bpm range. I love the kind of fuzzier, lo-fi side of bass music, and I have a lot of fun with how a lot of drum and bass or dubstep interacts with super contemporary club sounds, or playing with double and half-time bits. Maybe that's where the tendency to go hard or left comes from; I love those contrasts.
"There are definitely things that I am drawn to when I'm looking for music, weirder rhythms or fuzzier sounds, but it's something I don't particularly meditate on much – there isn't a formula or a set of signifiers I look for. I think if I'm drawn to it, and there exists that intrigue, that is enough to buy it, play it…"
In terms of looking for music, how do you balance listening for pleasure and listening with your 'DJ ears' on?
"I try not to distinguish the two. The music that I play out is the music I listen to for pleasure and vice-versa. Not everything I listen to is necessarily dance music obviously, but there are a lot of things that might be danceable, or work in different contexts. I've had a lot of fun playing PJ Harvey in the club or including Black Flag-esque hardcore punk in bass-heavy mixes. I feel like I've always loved to share music, which is a really important part of DJing for me, and I've never really drawn the boundary at dance music since I've started DJing as a type of sharing."
So when did you get involved with Mutualism and what sort of stuff have you been doing co-running the crew? It's been really great going to the parties and even playing a couple of them, they've brought an energy to Manchester (and beyond) that the city's been sorely in need of. Plus there's the label, radio, mix series and more too, right?
"I met Ryan BFTT when I still lived in Sheffield, and I knew he had links to this Manchester crew when I was moving here. I didn't really know anyone when I moved here, Sheffield was quite insular for me, so I asked him to put me in touch with the crew, who I eventually met through a few nights out. They booked me to play at The White Hotel – I think the same night I met you and aamin! We stayed in touch and joining eventually came up after I'd played a few shows for them.
"Mutualism is pretty compartmentalised, I mainly just work on the events every few months and the radio show with Rob and Ryan. Julian, Lucien and Ryan handle most of the Datastream and label stuff. But we share a lot of ethics, and work well together in our little groups, and I think it comes together as a lovely little unit of work. Right now, we're working on a little stream of releases, working on some new Datastream pieces and we still have the NTS show every month. We've had to cancel some pretty exciting parties because of COVID-19, which is super sad, but we have things to work on and look forward to for sure, including the fifth birthday in November."
In terms of cancelling events, I can relate – but we move! You mentioned you'd been producing at Limbo Radio earlier?
"Yeah more so day-to-day broadcasting logistics – pressing play, taking the picture, sending the tweet!"
You're pretty well-placed to tell us about the Manchester scene more generally then – it feels like it's in the middle of this amazing wave of producers and DJs coming through, and venues too.
"Manchester is super exciting, it always has been to me! I had a huge culture shock when I moved here just for how good the parties were and how many of them there were. It's incredibly diverse as a nightlife scene, there are real bits of everything and scrolling events on a weekend often makes you a bit spoilt for choice. I've definitely had moments of frustration here, it's not perfect at all, but it is definitely exciting and there are some incredibly talented people here, some super-inspiring parties, some really good spaces."
Having been involved in scenes in Sheffield and Manny, and as an events organiser, what would you say are the most important things to consider when creating spaces and fostering scenes?
"I think a lot of my belief in stuff like this comes from having a background in DIY events and spaces. Promoting and going out in Sheffield put much more emphasis on safer spaces, booking locals, even fostering community in smaller spaces like The Audacious Art Experiment. It completely informs how I move as a promoter, I'm still drawn to smaller spaces, in terms of capacity and community, and why I think Mutualism finds such a good home in places like Soup Kitchen and Partisan. They remind me of DIY for all the right reasons."
Thanks so much for your time – just as a final question, what's a good YouTube hole you've fallen down recently?
"My isolation hobby is cooking, so I've ended up on some pretty good trails through that! It's pure cheese but I am really enjoying Kids Try, but it's also making me kind-of miss my shoe shop job, where I mainly work with kids. Tragic!"
Clemency – References EP is released on 23 April 2020, available digitally via 2 B Real here.
Photo: Roxann Federici. Artwork: Jamie Hudson.
Clemency: Instagram, Soundcloud, Resident Advisor, Twitter, Facebook