"She is rearranging molecules in the air" was how Shane aka. Kiernan Laveaux's mixing style was once described to us by her In Training co-founder, Father of Two. Anyone who has been lucky to catch one of her mesmerising sets over the years across North America, in Berlin, or more recently during a tour in Europe this spring, will know exactly how accurate that description is. Kiernan Laveaux is one of the founding members of In Training, a queer party and collective which made its roots in Cleveland, Ohio in 2014. Over the course of a few years, by throwing their own parties in their small, industralised city In Training became part of the fabric of North America's queer dance music underground. Shane is now based in Pittsburgh and, alongside In Training, holds strong links to the collectives & event series of Heaven is in You and Motherbeat, as well as other parties and groups based around the globe . One thing you become acutely aware of when listening to Shane play, or to her mixes, is that an intrinsic part of what she does is to create a narrative with the music that she plays.
Hey Shane! Thanks so much for putting together a mix for us. What have you been up to lately? "Hello! You're welcome, thank you for asking me to contribute. Lately I've just been slowly integrating back into regular life after Honcho Campout and finding time to practice music stuff in between working a lot at my restaurant job, trying to lay low while also being as productive as possible. I got to see Roza Terenzi and D. Tiffany play for 5 hours on a boat in Pittsburgh recently which was such a pleasant way to spend a Sunday at the end of summer, being surrounded by all the natural foliage growing by the waters and older ruins of 20th century rustbelt industry and getting a queer brain massage from those two. Also been deep in watching The Dark Crystal: Age of Resistance and feeling like Deethra. The Dark Crystal was one of my favourite movies as a child and it's been wonderful to connect with it more as an adult, and pick up on all the ecological commentary this new series has to offer." 
Tell us about your music background. What were your first loves? "So many first loves and experiences! Some of the first songs I ever remember hearing in my life was "Enjoy The Silence" by Depeche Mode around the house, and hearing Nelly "Hot in Here", Lil Romeo "Basketball", Nelly Furtado "Like a Bird" and all that when I started elementary school. I wasn't much of a consciously musical person until later on in my childhood. My mom has always had a CD copy of Depeche Mode's "Violator" around that I now own, and lots of the sounds there plus that maroon flower on the cover have stuck with me eternally. She is my only parent who raised me, and I'm lucky she was a neon 20 something of the 80s and has the music taste to match. She put me onto the Devo cover of "Satisfaction" when I was in 4th or 5th grade, did the best Mom move possible telling me it was a million times better than the Stones original, and to this day that's one of my favourite songs/covers ever. Tom Tom Club, B-52s, New Order, R.E.M., Sade etc all things her and I have been able to bond over more and more as I get older. Anthony Shakir sampling the B-52s has recently had me circling back to them and giving me some newfound appreciation!
On my own as I got into adolescence, a lot of my first loves were Bad Brains, System of a Down, soooo much bad metal, In Utero, "Our band could be your life" stuff, Circle Takes The Square, Against Me! I found out about The Shape of Punk to Come by Refused (maybe the first time I ever heard some weird IDM was the Bruitist Pome #5 track on there) and Loveless by MBV in middle school and I remember being dumbfounded by both records and having no idea what to do with them. Loveless is of course now permanently etched into my psyche. 
My first concert was Nine Inch Nails when I was 12 (lol) in 2008. I was really taken aback by the video for Closer and still am, even though I can't stand hearing Trent's voice anymore. Everything from then to now has just been me going deeper and deeper from all these points, I've been lucky to always get to be exposed to great music at seemingly every corner of my life since I was a pre-teen. Had some super embarrassing phases of different stuff as everyone does, but now as a 23 year old my music taste is kind of boomeranging back on itself in a really cute full circle way through all that I love to listen to and DJ. Recently I've been totally re-obsessed with everything On-U Sound related, The Unseen, Madlib's Beat Konducta tapes, & Maxinquaye –  trying to apply what I love from all that music into how I approach DJing now."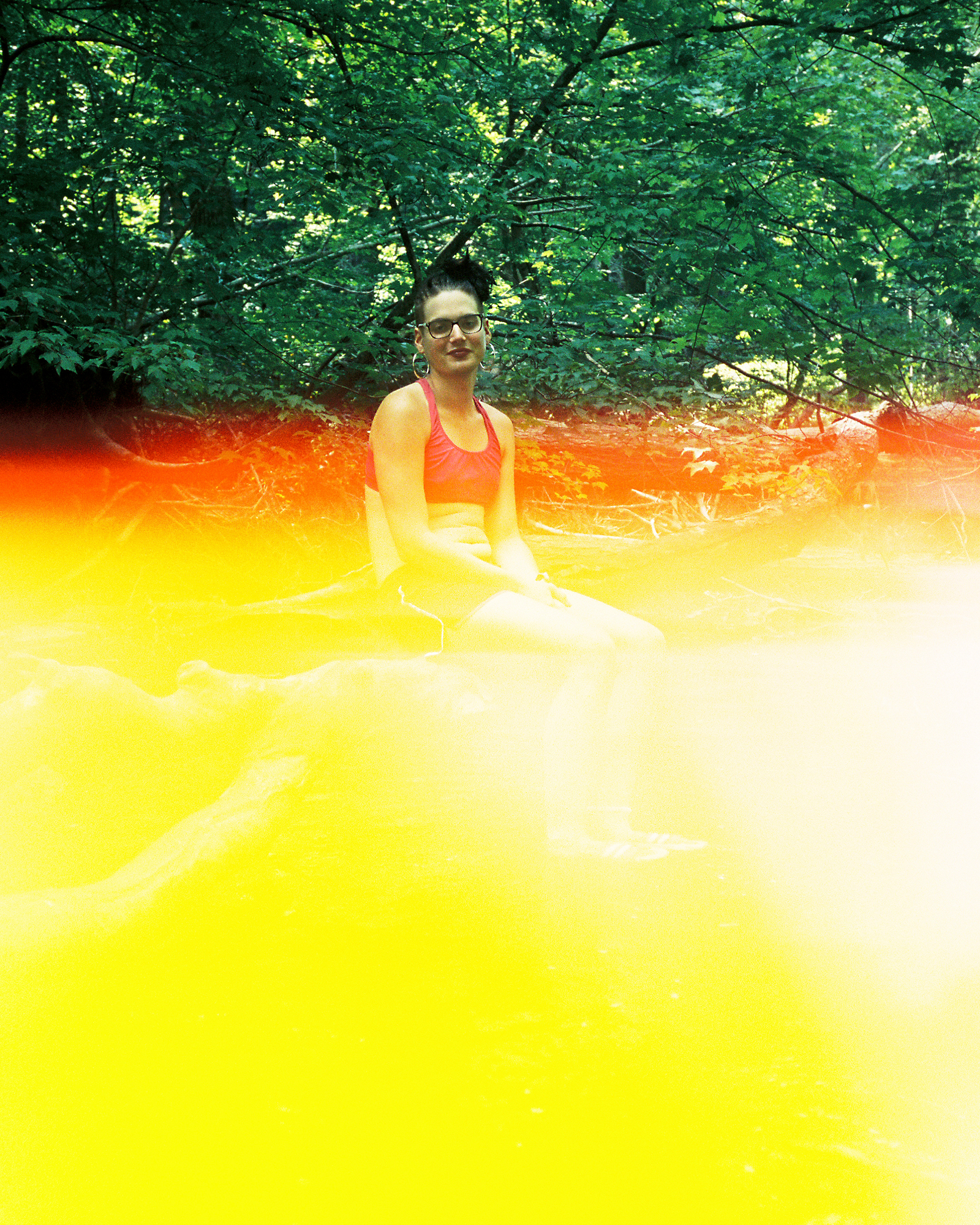 What led you into DJing? "Basically had just started living with Aerin (Mx Silkman) right after I graduated high school and she had met Brian (Father of Two) and they got the idea to start In Training. I had never thought about DJing before but at that point was listening to Gas and Actress and some more abstract stuff like that, I was attending community college in Cleveland at the time and both of them began to recommend me a lot of dance music I would listen to on my train commute to school. Eventually I sort of "joined" on In Training and they both showed me how to use VirtualDJ on my computer, basically to be another one of us to open up the nights for whoever we booked to play. Miah (ADAB) was the first friend of ours I ever saw DJ who totally blew my mind and made me realise that all of us who were starting to do these events and parties together may have something just as special to offer as the people we were booking to come play.
Around this time I also got gifted the name Kiernan Laveaux by this older group of queens I met at a gay bar next to where we were throwing parties, they said they were from the "House of Laveaux" and that they wanted me to be their daughter and I needed a good name. I never saw them again after that. After I started DJing a bit and didn't want to just be DJ Shane, I decided on that to use. "Kiernan Laveaux" strangely corresponds to both sides of my family as well, "Kiernan" being an Irish girl's name and "Laveaux" being a Haitian/French surname – the name chose me & seemingly, so did the DJing."
You are one of the founders of In Training in Cleveland. What was the idea and purpose behind setting up the party? Were there any queer parties in the city, or beyond, that influenced you to start it? "The idea and purpose for me was to meet other trans people and try to present a space for people to radically be themselves and dance hard, while doing our best to be free of all the horrors of mainstream and semi-underground nightlife. I feel like I simultaneously accomplished that goal on an unprecedented level and also have not accomplished it all yet and am eternally trying to. Speaking for myself, there was zero inspiration in Cleveland or in other places that went into what I wanted to accomplish with In Training. I joined on with it when I was only 18 and had barely any experience going to parties or other queer events at that time, I only knew enough of how exhausted I was already by being a transfeminine person living in Cleveland. If anything, some of the books in this series called Baedan were the biggest inspiration for me, highly recommended reading for some queer-against-the-world feelings. Every aspect of going out, from walking to going to the gay bars to punk shows etc. was a drain on my soul and I had to either collaborate on anything beautiful to keep myself going or let myself waste away. Five years later I'm still trying to collaborate on beautiful things for the same reasons."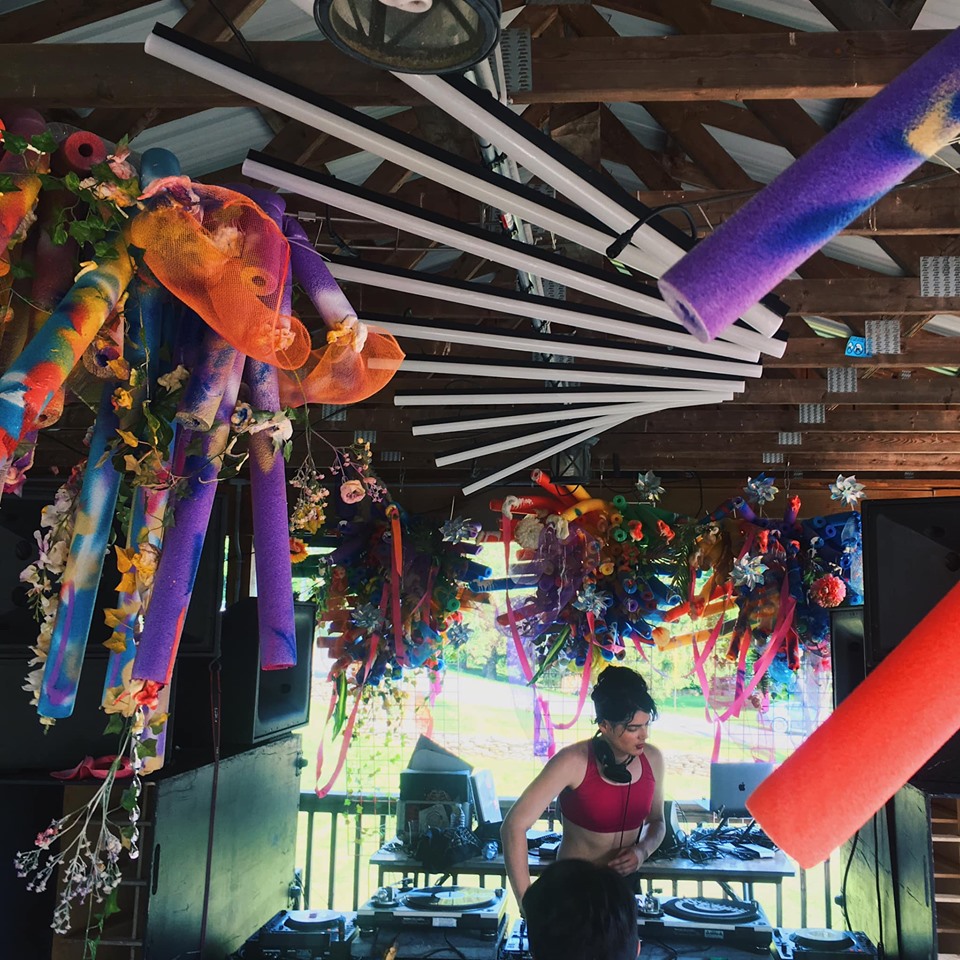 You then moved on from Cleveland to Pittsburgh. How do the two cities compare and has the move changed how you approach DJing? "Great question! Lots of this is hard to put succinctly into words. Besides both cities being part of the Rustbelt midwest and both falling victim to intense industrialization, fall of industry, medical industrial complex greed, white supremacist sports culture, etc. they're vastly different to me. Cleveland is more bleak and industrial and spread out, still kind of a loser city recovering from its mid 20th century economic downturn. It's my home but it's good to be honest about that kind of thing. It's super isolating but is amazing for figuring out exactly what YOU want to do as an artist, person, etc. because there's just such little outside influence that seeps in there.
People in Cleveland say that it's 20 years behind other places socially, and to a large extent that's true. It's simultaneously a place everyone wants to leave but also has some of the most genuine and singular artists and people you'll ever meet in your life because it forces you to either figure out how to be yourself or be crushed by it. I've only been living in Pittsburgh for 9 months now and am finally warming up to it, it's quite isolating in a different way where there's so many neighbourhoods that are sectioned off from each other but they're all smushed together. So you're able to run into way more people just from being outside, but it confines and oftentimes segregates people based on these super arbitrary neighbourhood dividers. 
There's this big debate on if Pittsburgh is the midwest or the east coast or not, but it's honestly this weird mishmash of backwards Middle America culture meets East Coast architectural setup meets Pacific Northwest nature and white supremacist gentrification tactics. I was not in Pittsburgh before Google and Uber stationed headquarters here,  it gives it this really palpable layer of fake prosperity that is clearly enjoyed mostly by and for white people who make 6 figures and move here for jobs and entitlement. So on the one hand you have all this "progressive" tech industry stuff going on here, but then there are all these white redneck adults who have ultra conservative opinions and a sense of entitlement over the city and a full blown culture grown around that entitlement, are obsessed with the Pittsburgh Steelers who have a star football player who has repeatedly assaulted women, and not be questioned on how regressive their lifestyle and views are in general. You have horrific occurrences like the Tree of Life Synagogue shooting last October and the shooting of Antwon Rose Jr. in June 2018 by an East Pittsburgh Police Officer, who was then acquitted on all charges for the murder in March 2019. Events like that are the bleak ways the cities of Cleveland and Pittsburgh are tied together more than anything, where a soulless white ruling class is able to brush off all these instances of structural and interpersonal violence they perpetuate. 
The way these white supremacist ways of life have dismantled the ability of black people and other people of colour to have space to live and exist and be joyful in Pittsburgh feels so accelerated and on par with how people talk about other cities across the U.S. that have been hit with horrific tech booms. I love living here because of the strange confluence of amazing and inspiring people who have settled here currently, but it's impossible for me to not pick up on these dynamics every day going to the grocery store or my job or even the audiences you see at a lot of music events. This place exists in a lot of stark social dualities in a way that plagues all of America (especially the rustbelt) but is also totally unique to here. It would take me this entire interview + a few more years of living here to summarise these feelings accurately, but it's an intensely complicated city that lots of us just starting to live here are trying to figure out and do our best to exist in it.
The people behind BOOM Concepts, 1Hood Media, Darkness is Spreading, Jellyfish, MESH, and certain folks at Hot Mass are some truly inspiring examples of keeping real culture and places for people to meet and feel alive and well here in Pittsburgh in the arts. There is something interesting and artistic to do almost every weekend if you search for it. In terms of DJing, living there has not really changed my approach so much as living around a ton of inspiring musicians + the love of my life and other inspiring people I've met through them here just making me look at the city and the world in different ways. Cleveland is definitely more of the place that's forged my weird take on DJing due to the isolation and amazing musical history and melting plot that place has, and if anything I feel like a lot of us who've come to Pittsburgh from Cleveland have had a healthy influence on people's DJing here more than Pittsburgh has influenced us."  
Turning to the mix you've kindly provided us with, how did you approach the mix and what was your thought process in putting it together? "I wanted to paint a picture and transport myself and the listener into an otherworldly place, where all is one and we can rejuvenate ourselves and feel beautiful." 
Is there an overarching theme or concept to the mix? "The thoughts that went into the mix revolve around a lot of communion with nature and the ways in which all things on Earth are interconnected, along with the feeling of helping your body and mind go through a rebirth as you grow and change in new environments. Being an only child of a single parent, I feel the only constant in my life has been my relationship to myself – it's led me to constantly evaluate and dissect how I relate to my body, my name, everything and everyone around me. That lens in which I view myself has been ever changing as I mature, both because of knowledge of self I continue to gather and the knowledge that many of the tools we are given to construct our idea of self are oftentimes inadequate. The mix is a portal into feeling a psychedelic connection with the natural world around you, while simultaneously feeling this immeasurably heavy distance from aspects of your gender, your body & heart, and familial knowledge and culture that's absent from your life for so many reasons beyond your control. I thought a lot about what people who've come before me have had to give up just to gain safety and resources in life, who controls and dictates said safety and resource, the elements that sacrifice of all kinds entails, and always what it means to have a sense of community. 
I had such powerful experiences with nature and community this year at Smangtasia and Honcho Campout, particularly the last day of Campout where I went on this mind bending solo adventure throughout the campgrounds by myself. The photo I used for the "cover" of the mix and that are included in the interview are all photos that were taken of me that same day by my dear friends Ceci and Charles Ludeke (both amazing and kind photographers) – that final day of spending time under the sun and trees watching فناء (FANA) & Nishkosheh play these breathtaking sets and being humbled by the earth there really provided the final push I needed to finish this mix. I felt everything from sadness to amazement to mourning to intense, unbridled joy and peace. I wanted it to be like standing in a garden, that's at all times lush and beautiful, but also has so many brambles and roots and dark clouds passing in and out of the sun overhead that cast shadows for a bit until the light shines down yet again. Or like a budding flower going through the process of molting and blooming for the first time."
How does the music you've presented in the mix compare to what you would play in a club? "Basically everything I play in here I would play in a DJ set in front of people, no hesitation. I'm still figuring out myself what I would play in "clubs" for those are the environments I feel least able to express myself with sets, dancing, everything. For mixes I tend to want to include music that is going to sound great for people listening on headphones and maybe doesn't require you to feel the music with your body quite as much, lots of music I love to play in person has this certain OOMPH and physicality that I really think you need to be in front of a speaker to get the scope of. It's important to use discretion during a gig about what best fits the situation, but anyone who censors themselves with what they play in front of people is only cheating themselves and the audience in the end. A good chunk of this mix was more fully realised after playing at Smangtasia this year, lots of these tracks erupting from the speakers there inside a pavilion overlooking a beautiful blue sky, mountain range, and pond. It was one of the most perfect, immersive settings I could have imagined for hearing this music."  
I always think these chats are also a great opportunity for artists to shine a light on those who have inspired them, musically or otherwise, especially those who might be overlooked! Is there anyone you'd like to show some appreciation to and why? "Soooo many!  أدب (ADAB) , Father of Two, and Mx. Silkman of course continue to be some of the best DJs ever – Mx Silk is about to release a wonderful record under her Auton alias on Tram Planet that's dope and even Nina Kraviz thinks so! Jaye Ward, DJ Gag Reflex, and Sister Zo are all some super inspiring DJs, track makers, and trans women who I'm happy exist in my life. Jacek and the entire Brutaz crew were the highlight of my time overseas, getting to just hang out and connect with them and feel human. They all hold a special place in my heart and were so warm and lovely to me. Chung, Faso, Turtle Bugg, Sagotsky and the whole Sublimate crew have been super wonderful to a lot of us this year and I love seeing them all DJ, such warm humans with this vast well of music knowledge they love to share. Clark Price, Aaron, and George from Honcho of course are always wonderful and level up as DJs each time I see them. #1 bubs CCL and Via App both continue to amaze me and push the boundaries of music with all they do.
A good bit of music in this mix are some people I'd love to highlight, one of whom is دانا (DANA) who's based out of Chicago currently. Her track "Bird Atop The World" (on Identity Spectrum Records "Way of the Rave Vol.1") was one of the biggest sonic inspirations I had for this mix, it comes in around the 16min mark after this K-Lone track. The vocal sample of Fairouz in there and the airy drums are just so perfect, everything about it so fully captures the title of the track. It sounds like you are watching the world go by and are unsure about how to break into it or be a part of it the way you want to. I felt like when I heard it the first time I immediately could tell what the track was trying to say and it stirred up this feeling deep within me that I couldn't ignore and had to sing and let it's wings fly. Another special track in here is by my family فناء (FANA), it is around the 48min mark and is an edit of a track of theirs called "Ancestor Syndrome" off of a record they released earlier this year with the same title.
The edit is by Flora FM, another family member for me to shout out who's been gaining a lot of traction recently. فناء (FANA) has been a close one of mine for four years now and seeing them grow into the person and musician they are today has been so absolutely wonderful to watch from the sidelines, they have a truly unique voice that the world is catching onto. I heard them play it during a gig they played live in Detroit during DEMF weekend this year and it sounded like keys of life pouring out of them. I am so proud of them every day and It felt amazing to be able to include some of their music in here. At this same gig they played, I also met a person named Izaak who DJ'd and happens to be the anonymous force behind this record that totally saved my life earlier this year. We connected there and then they sent me this record they helped make as a collaboration called S Transporter, it is totally mindblowing. The track I included in here is a special dub of it that I felt fit better in the mix, but the actual track sounds like Jacqueline Humbert being remixed by Hessle Audio aka my DREAM!!! 
Nihar from San Francisco, who runs the Left Hand Path label and a night there called TVOD, is one of the most inspiring musicians and friends I've made in the past year. He's so kind and understanding and intelligent and just exudes this warmth in all things he touches – the track "Arythmatic" by Neuropolitique (that I play in the mix after فناء (FANA) 's track) was shown to me by him. We were both at Carlos Souffront's house and he randomly pulled the record off the shelf not knowing what it was, put the track on and it blew my mind. Phenomena! He has an amazing release on Jacktone Records called "Chrysalis" that is out now, and I'm sure so much amazing unreleased music waiting to come out. Besides some of this music in the mix, my friend Ali Berger was the MVP for mastering this recording and helping me with some other audio stuff with it. He's a total wizard and makes beautiful music. Davis Galvin and W00dy, both based in Pittsburgh, are making some of the weirdest and most wonderfully adventurous dance music around right now.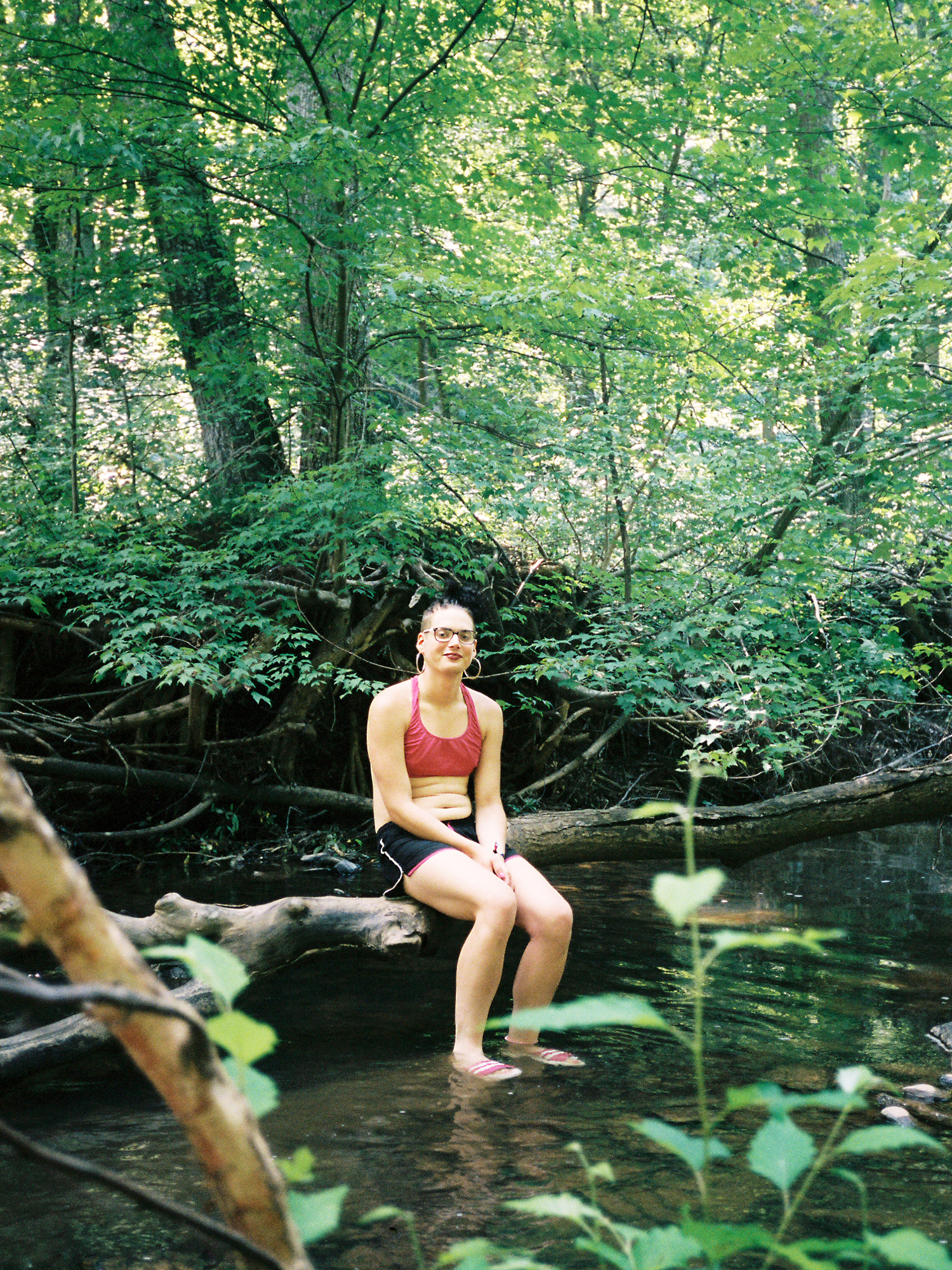 Rrao from NYC played a beautiful nature focused live set at Honcho Campout for us this year that melded into the insects and trees on this unreal level that inspired some of the sounds in this mix. Our friend Him Hun, from Cleveland but now in Chicago, released a track called "Decarabs Dungeon" on the same record the Dana track is on – it's amazing and she's beautifully coming into her own as a track maker, DJ, and force of nature. 
Real Girl, based out of Northeast Ohio, just did an amazing Daisychain 088 mix that is brimming with talent and drive she possesses. Kamal Naeem out of Berlin and Ondo/Gusto from DETOUR in Pittsburgh both played some of my favorite sets at Smangtasia and both deserve more dues as DJs, they're such wonderful and vibrant people to be able to call friends. Nicole Misha, who's a Sound Signature affiliate based in Detroit, played my favorite set all of Detroit weekend this year and every mix of hers I've heard is beautiful. She has been some serious inspiration for me in terms of selection and communication in DJing. The homie Mischa Lively is about to release an AMAZING record on his label New Love Unlimited, pre-orders are up now and I helped write the bio for it.
If you are into bassy boom tunes it's on some next level stuff compared to lots of bassy techno that is popular now and marred with tropes, he's a drummer at heart and a true original. Father Dukes, Etta, Beige, and Tammy Lakkis are all DJs and sometimes live performers based in Detroit that I played with in May for my only gig during DEMF weekend, it was one of the most fun gigs I've ever had in my life and I was super thankful for Father Dukes asking me to play with everyone. After coming back from touring Europe it was the perfect gig to play in the midwest and remember why nowhere is more rewarding to play than in our weird corner of America.
Matthew Paul, Jordee, and Sis Girl from Kosmetik in San Francisco continue to fly a necessary freak flag there. Ghost Noises is one of my family members and has an amazing record of weirdo psychedelic RAP MUSIC coming out soon that the world needs to hear, I hear they've been working with A/V who is a total beat wizard also based in Cleveland. A true lover of music and has a next level gift for sampling and flipping records and making beats. Lucy & The Daze from Cleveland crafts some amazing psychedelic rhythms and lyrics to match, she has so much amazing music in the vault waiting to come out and a track I love that's released called "medatayshun" she's uncompromisingly spiritual and gay and wonderful. Mourning [A] Blkstar are a group also from Cleveland who are slowly taking over the world and whose music inspires me every day, seriously some of the only stuff that's not dance music that just moves every part of my soul – they have a record out now on Don Giovanni called "Reckoning" that, much like their other albums, is beyond words. Pursuit Grooves makes some life affirming off kilter but warm beats that I've been gathering a lot of strength from. 
Our friend Two Thou just released a record on Uzuri Recordings that is some heartwarming broken beat photosynthesis music – he also collaborated on a remix with Afrikan Sciences that is amazing. Afrikan Sciences himself also continues to self release some of the only music on Earth that makes me want to keep living and moving forward, everything about his tunes is arguably my biggest inspiration and I can't thank him enough for bringing his voice into the world for us. Archetype/Charles Noel & Titonton Duvante also continue to inspire me and bring some warmth and funk into the world that we're always in dire need of." 
And finally, what have you got coming up in the near future? "Helping people smile, dance, connect to one another, and educate themselves while there's still time left on Earth to do any of those things. Selah."  
Kiernan Laveaux: Soundcloud, Twitter, Resident Advisor, Instagram