"I use my voice in my music so that people know this is what a woman sounds like," declares Ariel Zetina. The Chicago-based dj, producer, playwright, and writer is a creative force, never shying from her power to amplify the voices of women through her art and music. Ariel's a meticulous curator, vivid storyteller, and passionate dj, which is exemplified through the various parties she's organized, the numerous tracks and records she's produced, and her impressive number of residencies (Chicago's Smartbar just to name one). A major strength of Ariel's artistry is the duality of her sound, which is present in both her dj sets and productions, and represents her multifaceted talent and background. Inspired by the summer sounds of Belize, the Latinx American artist blends the country's organic pitched rhythms with the contemporary Chicago sounds of acid house, highlighting the importance of both these places' musical histories to her own story.
Ariel's Truancy Volume continues this thread through highly personal track selections which exemplify a deep connection to both the music itself and artists who created it. The mix strikes a balance of vulnerability and chaos with its emanating energy and moments of spacious contemplation. Undeniably visceral, the very first word you hear in Ariel's mix is "power". Dedicated to those loved and lost, there's an underlying sadness to the mix, but the beauty and strength of human connection is ultimately the most resounding message. From organic moments of infectious house vocals, to the textural sounds of acid squelches, the mix adeptly highlights a diversity of artists and genres. Covering an impressive number of tracks in just over 70 minutes, Ariel's mix features fact-paced mixing with quick vocal chops and high-contrast blends. With magnetic momentum the mix consistently propels you forward, aided by the sounds of hydraulics gone haywire, intoxicated drum beats and fluttering synths. Dynamic, strong, and soulful, Ariel's Truancy Volume could stand as an anthem for trans women, an ode to chosen family, and a declaration of both the power and value of women's stories.
Hi, Ariel! Thank you so much for taking the time to put together this mix and answer some questions for us! How are you and what have you been up to lately?! "Hi! I was so honored to put this mix together! I am chilling in Chicago at the moment. Most of my August has been at home in Chicago making music, cooking, and watching a lot of America's Next Top Model."
What were some of your earliest forms of self-expression? When did you first begin considering yourself an artist? "Interpretative dancing to music in my living room with my brother (who also makes electronic music now). I drew a lot, made a lot of mix CDs, and did a lot of "live music videos" in my living room. I was always really dramatically into the idea of being an artist."
As you used to write as your main practice, do you feel that you're able to express yourself the same through music? "I turned to music as my main practice when my personal life was really bad. I write a lot from personal experience and it became too much to channel my feelings into words. Music production allowed me to express what is inexpressible in words."
How much control do you feel over your music's ability to convey a certain message? Do you consider how your audience will interpret your music? "I want my music to be conveyed differently depending on how you are looking at it. I scrap music when it feels too emotionally manipulative. I always want to make sure that my music has the ability of hitting multiple planes at once. When I am making music, I feel like if I am putting a lot of emotion or drive into it, the listener/dancer will feel that. Lorca's theory of duende. I always want what the listener feels to be complex though. "I Miss the Sea" can be slow and nostalgic or a danceable acid track. "Valenzetina" has a very different feeling if you know the origins of the vocal."
Could you describe the role of vocals in your music? Why is it important for you to incorporate your own voice in your productions? "This is so embarrassing to say, but Grimes' early work is so important to me when it comes to understanding how I use my own vocals. I love using vocals as an element in my production, but not always the primary element. Trans women's voices are such a touchy subject because a lot of the times my voice will be the reason my T is clocked and can put me in unsafe or uncomfortable situations. I use my voice in my music so that people know this is what a woman sounds like."
In what ways do themes such as movement and sexuality play into your work? "The physical is just as important to me as the audio. Music that makes me move is my favorite music, and I think that even the slowest, most acoustic music has that element of movement (Mitski, for example). And I love playing with sexuality in my work. I think the ritual and performative elements of sexuality are so fascinating. Sex is the one time people ignore their phones. And music absolutely has a way of getting us into that state where we are actually present."
How would you compare playwriting to producing? To what extent do the themes of your work overlap in your different practices? "Movement is the biggest thing that exists in both playwriting and music production. I really enjoy working linearly and I feel just as a scene or a full play must have an arc, a track/mix/EP must also have a theatrical arc. I used to try to separate these two practices since they are so seemingly different, but they are like, exactly the same. The large majority of my plays have lots of electronic music in them. And I think all of my music and plays are about the trans female Latinx American experience and about desire, drive, and the poetry of the Earth. I know I am carrying with the drama of that last sentence, but a kick drum really can make me feel all that in one beat!"
As you explore very diverse sounds in your most recent EPs, Organism and Shell, could you describe the similarities or differences in your approach? What do these titles mean to you and what message was important for you to convey? "I had very different approaches to each project. Organism was the first time I worked on tracks knowing they would be part of a collection, inspired by the sound of "Chino" my track on the Majía compilation "Exhibition". Shell came from wanting to make a "surreal house" EP because I had made "Valenzetina" in 2017 and wanted to explore that sound a bit more, and it wasn't until Head Charge was interested in the track that I committed to making the whole EP. Because I am so cross genre I feel like my production can vary pretty greatly, so I was definitely putting my focus on different rhythms and different instruments for each one. Shell explored house and ambient styles while Organism explored club, acid, punta, and brukdown. Organism felt like the right title for me since the project is so much about the body, and also a cheeky title since it is so close to the word "orgasm". Shell came from the songs feeling like the spell "Shell" from Final Fantasy X, a defensive magic spell which is always conveyed as a soft blue orb. Also I just think both are really nice, pretty words!"
Are you generally working on multiple projects at once? Is there difficulty in maintaining a distinct voice for each project, or is that less important? "I am constantly in the midst of many different projects! I think from all of my experience in theatre, I can easily put different hats on, but it is easier for me when the projects are vastly different. I don't like working on two EPs at the same time, because I usually just like researching one thing at a time. Currently I am working on an EP (out later this year…some drafts of these tracks are in this [Truancy Volume] mix), a playwriting commission, and a remix at the moment, for example. But since the final products look different, I feel like I have the capacity for all. I tend to pick very different inspirations for them though, but the messages of my works all seem to live in similar territory. I always want my work to heal in some way."
When producing a track, are you envisioning a certain scene or particular set of visuals to represent the sound? To what degree does your theatre background play a role in your approach to music? "I think of my tracks as environments, and my collections as ecosystems. What is it like to live in those worlds? I think this definitely comes from my interest and education in worlds of plays. Such a huge part of collaboration in theatre is making these environments become palpable."
Could you share a memory from your childhood summers in Belize? In what ways do you incorporate Belizean music styles into your own sound? "Walking to the sea wall from my grandmother's house in Belize City. My brother was flying a kite during a rain storm and it spiraled around an electrical wire, and the kite was still there for a bunch of summers. I remember my aunt introducing the remix of "Jellyhead" by Crush to me, which I always feel is super important to my musical upbringing.  Belizean music (punta and brukdown) is extremely percussion heavy and contains lots of horns, chimes, and other high pitched organic sounds. The presence of a clave is necessary in brukdown. I think that all of this is present in my work."
What was it like transitioning from a conservative city like Jacksonville, Florida, to Chicago? How has this move influenced your personal growth? "Some of it was great. I grew up in a place where kids at my high school had Confederate flags attached to their pick up trucks, so Chicago felt like a liberal haven to me. Some of it was awful. I still absolutely hate the winter. I am glad to have a strong trans sisterhood in Chicago and easy access to hormone replacement therapy. Chicago really showed me that dance music can be joyous. Dancing with people of all generations to house music in Chicago is a really magnificent experience."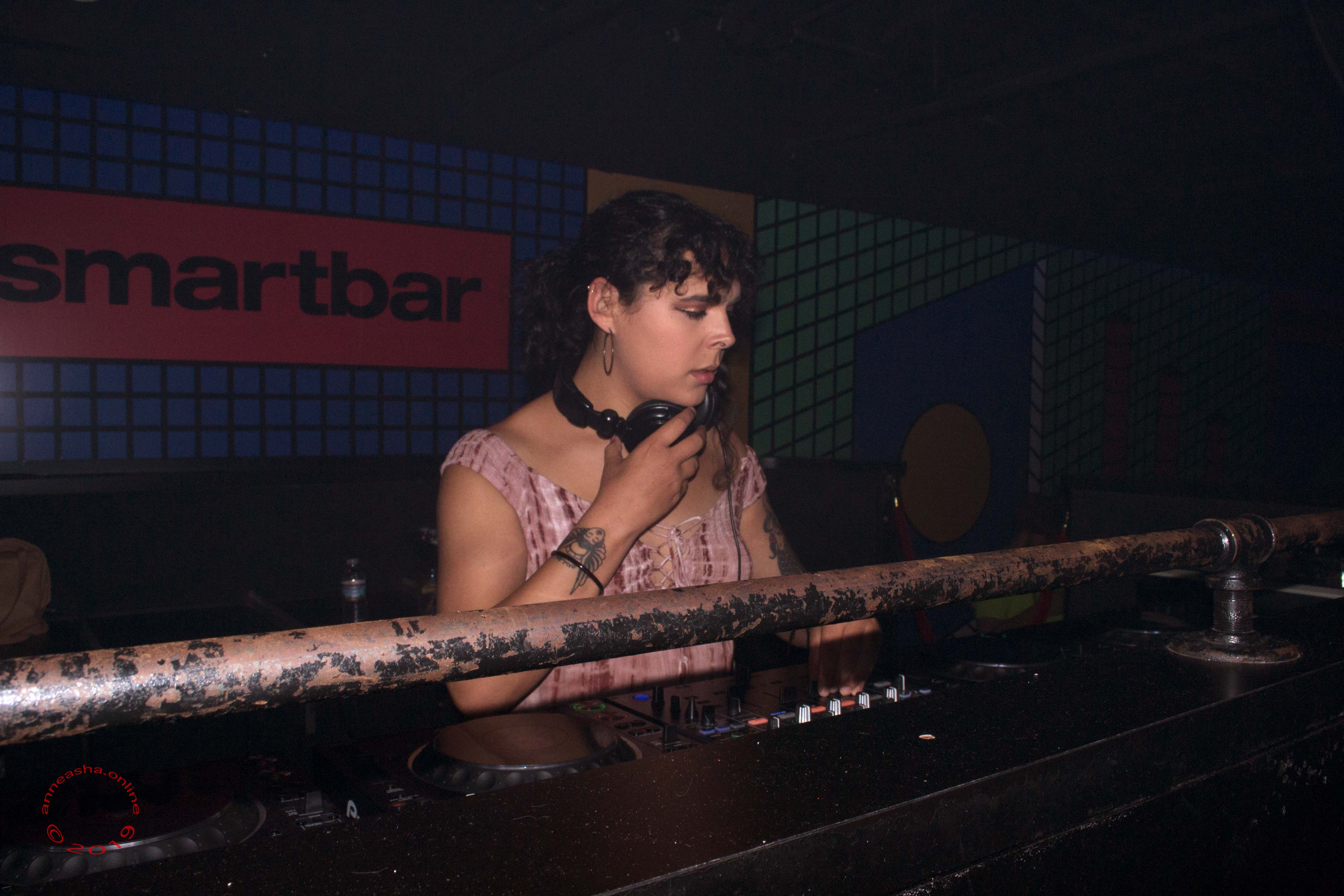 How would you describe Chicago to someone whose never been? Does a specific image come to mind when you think about the city? "Chicago is lots of grays, light blues, greens, and browns. It looks like a lot of the rest of America. The city sprawls in every direction for miles. I always say when I do work in film the most gorgeous way to represent Chicago is the large bare gray walls."
What has been your biggest takeaway from your residency at Smartbar? How do you feel your sound relates to or departs from Chicago's musical legacy? "Smartbar believed in me and gave me a platform. They saw something in me even before I saw it completely. Club, bass, grime, and vogue were the first genres I was actively playing, but I started to shift more towards house and techno as time went on, and to have a house music institution such as Smartbar really interested in showing off a mixture of all these genres while still staying true to the historical origins has been powerful for me. I love being able to hear what I am playing off of the sound system, and I feel like the clarity of the system has really allowed me to take risks in sets I couldn't take if the sound system was not as strong. House music was named for the location that it was made, not for exactly how it sounds. I always think the music being played in spaces in Chicago is the "house music" of our time. Groups like Futurehood, Trqpiteca, and Teklife come to mind as really defining what the house music is now in Chicago."
How did you get involved with ECLIPSING and how do the themes of this performance festival relate to your own work? In what ways do the concepts of light and space manifest themselves in your sound? "ECLIPSING is a festival organized by my friend Amina Ross who is also one of the most generous curators and innovative artists I have ever met. We have worked together on numerous occasions in the past. Eclipsing as a festival explored the concept of darkness and was performed in conjunction with the eclipse. This was where I premiered my live set for Organism (which actually featured moments from Shell as well). For me, my Organism live set fit into this exploration of darkness–looking at emotional depression and invisibility of trans women. The intersections of my identity put me in a very specific mindset. Seeing colorism from both my Belizean family and my white family showed me from an early age that skin color is such a dominating factor in prejudice. In Eclipsing I was also able to present work with poet Porsha O. As a light skinned person working in a festival about darkness, I was glad to be able to present work where my sounds were uplifting Porsha's words. I always want to make sure I am uplifting others when I am doing work, especially when it comes to dance music."
How important is curation to your process, both in your own DJ sets and putting together parties? On the contrary, how much of a role does intuition play? "Curation is so important! I spent a lot of time making sure the lineups I create make everyone shine as brightly as they can. For DJ sets, I usually have three times as many tracks as I end up playing, but I spent a lot of time picking out that first bunch to make sure the tracks all have something that will contribute to the arc of the night. I think some of the best moments in sets are when I abandon my plan and find something else on my USB that is what I need to play at that exact moment. I think being able to throw away your plan is so important. That is what makes the liveness of a DJ set, and the DJs that also do that are the ones that I continually book."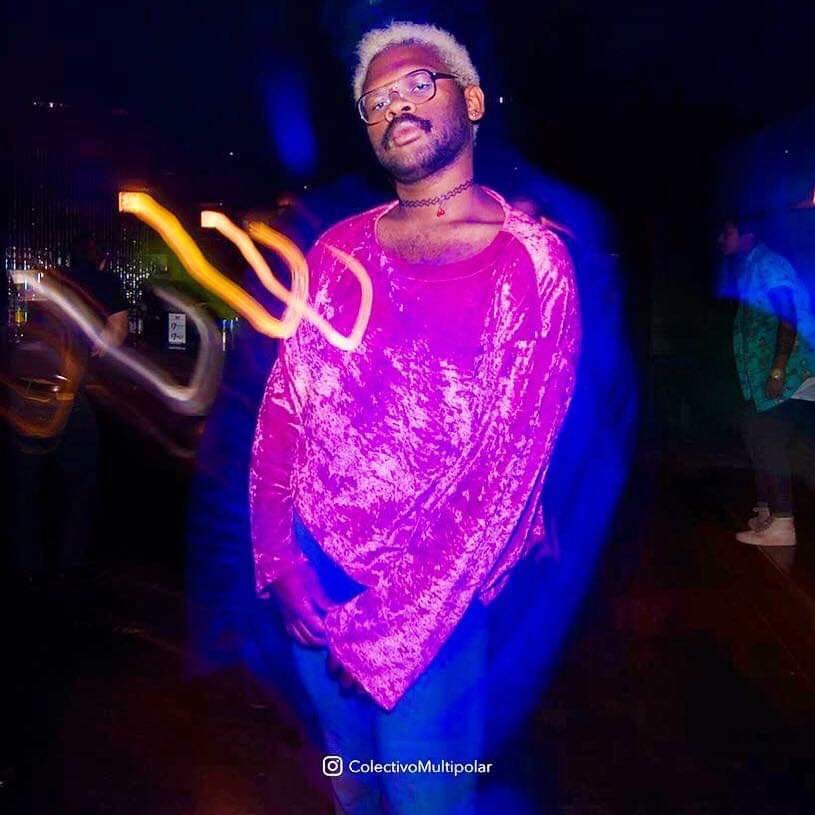 Is there a particular piece you've written or music you've created that you're most proud of? "I thought a lot about the question over the past couple of days. It is really hard for me to feel proud of my work because I am always thinking of all the ways I would change it. I am proud of the amount of work I've put out though, because I love being able to see my journey across time. I am really proud of my track "Spell for Don" though. I made it in one go. One of my best friends and collaborators, Don Washington, passed away at 22 years old in April, and I didn't think I could make any music but I made this about a month after. It feels like the only thing I've made recently without any bit of ego, and I feel like it represents me even without any kickdrums or danceable beat. It still has movement, and is the final track of this mix."
Do you see yourself focusing on more individualized projects in the future, or are you more driven toward collaboration? "Both are really important to me! I really feel like both individual work and collaboration help me grow as an artist. Collaboration for me is best when everyone involved is using their best skills and are extremely trusted, and insistent but willing to bend."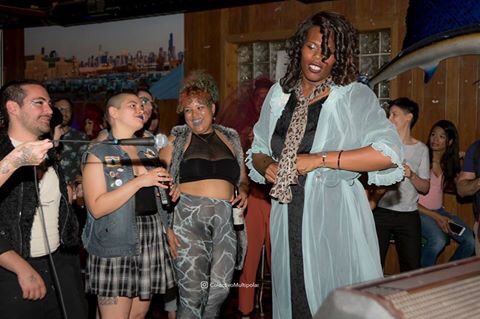 You explore such a wide range of genres and an impressive number of tracks for your Truancy Volume, which seems to reflect a lot of the influences heard throughout your own productions. Could you talk a little about your ideas for this mix and your intention behind its unofficial title, 'Transistor'? "I wanted this mix to be a dancefloor-ready mix but also one that is sometimes contemplative in the chaos. The mix's first vocal is from a video sent to me and a number of other trans women by Nefertiti Jackson/Aerin Pussy Cooper, one of my friends who passed away in July. Losing two young friends this year has been so heartbreaking and I have been carrying both of them in every DJ set I do, but I have not been able to put anything to paper. But in this recording something clicked and I feel like I have my groove back, and it is because Don and Nefertiti are with me. Transistor is a play on "trans sister" but also it's literally meaning of amplifying electronic power. This mix contains tracks from my sisters Jasmine Infiniti, Femanyst, Odete, Precolombian, Estoc, and Érica Mar; who are all making some of the best dance music in the game.
What's next for you and what are you looking forward to? Who is the next artist you're most excited to see perform? "I have an EP coming out at the end of the year. Really, really excited about this one :) As well as a few singles and remixes releases. Hopefully DJing a lot as well! I've never seen DJ Stingray and have been really trying to manifest that to happen. I also want to see Normani live :) And I just found out today that Nabihah Iqbal is playing in Chicago next month and I'm gonna really fangirl over her!!"
Shell EP is out now on Head Charge, available here.
Tracklist:
Unofficial Title of Mix: Transistor
Dedicated to Nefertiti Jackson aka Pussy Coopy aka Aerin Cooper (Rest in Power)
(vocal snippet from Pussy Cooper/Nefertiti Jackson "Power To Transexuals")
Odete- The Swords of a Tranny (Rotten Fresh & Troublemaker Records)
Femanyst- Had A Man (Darkest Timeline Mix) (Dark Carousel)
DJ Irene-Drag Queen Alert (Underground Construction)
Ariel Zetina- ????? (forthcoming)
Jasmine Infiniti- Pu$$y Vortexxx (Dio Ganhdih "Pussy Vortex" Queen of Hell Reimagine) (self released)
DJ Trajic- Jam Session (Underground Construction)
Alexander East- Hazy Shade of Love (The Nite Owl Diner)
Lauren Flax- Sequen_tial Discord (Dance Trax)
Callum Magnum- Waves of Ecstasy (unreleased)
Cubic Zirconia- Josephine (Egyptrixx Dub) (Don't Cry Recordings)
Kalli- Raindance (Origami Sound)
Dan Miles- Forward (unreleased)
Piri Piri ft. Sally Crumb- Ice Cream (Visionist Remix) (Silverback Recordings)
2 in Rhythm- Acid Wash (Underground Construction)
Ariel Zetina- I Miss The Sea (Makeda Remix) (forthcoming)
Ariel Zetina- Cleanhouse (Jasmine Infiniti Sure Remix) (Head Charge)
Laurel Halo & Hodge- Tru (Livity Sound)
Las Chicas Roland- One Two Three (Protel Records)
Louis Me – My 1-800 Beeper Number (Total Trax)
SBTRKT – Fright (Numbers)
Ariel Zetina- Orbital Rim (forthcoming)
Power to Transexuals II
Ariel Zetina- ????? (forthcoming)
Sean Pierce- The Mark (Sweat Equity)
Érica Mar- sinmiedo (Sequel Sound)
Precolombian & Estoc- CCT01 (Apocalipsis)
GYUR- On (Circa A.D.)
Sylvester- You Make Me Feel (Mighty Real) (Michael Gray Remix) (Sultra Records)
Ariel Zetina- Spell for Don (self released)
Power to Transexuals III

Ariel Zetina:Bandcamp , Facebook, Instagram, Soundcloud, Twitter, Bookings
Photo 1: Ariel by Shahrnaz Javid
Photo 2: Ariel djing at her Diamond Formation residency at Smartbar, from 8/22 with LSDXOXO and Jared Brown
Photo 3: Don Washington at Ariel's Party, photo by Colectivo Multipolar
Photo 4: Aerin Pussy Cooper/Nefertiti Jackson on the far right performing at Ariel's party/residency at the Hideout in Chicago, photo by Colectivo Multipolar