With co-signs from Freerotation, Room 4 Resistance (where she is now a resident) and numerous other Berlin parties, Gigsta's expansive record collection has propelled its sights on dancefloors across the continent. She is a DJ whose mixes evidently display a passion for digging and conjuring up imaginative themes. We caught up with Gigsta to discuss her ascent as a DJ, telling us about her formal radio years on RCV and Canal B, her ongoing research project on early press in electronic music and the wonderful central themes that run through her monthly Fictions show on Cashmere Radio. Incredibly researched and meticulously prepared, the 31 shows, often influenced by her love for literature, range on music inspired by colours, cult novels, quotes, and NASA launches to spoken word specials and Mancuso tributes.
Her Truancy Volume comes as no exception to a theme, guiding us through a mix that starts at 140 and does the rare inverse of gradually slowing down to 100bpm, although she's quick to tell us that slower change in tempo doesn't necessarily mean a slower change in energy. From Scratcha DVA remixes of Wiley, to the stylistically versatile sounds of DJ Haram and Hitmakerchinx, to Nord rippling sounds of Johanna Knutsson's recent release on Oscillate, it's a mix that runs the gamut in selection, yet echoes her personality when it comes to music and digging. 
Hey! Thanks for taking out some time to answer some questions and do this mix, very excited to post the mix now! "Thanks for sharing my mix, I've enjoyed so many Truants episodes and the recent Upsammy and Batu mixes really blew me away. Thanks as well for asking such thoughtful questions – last night I had this bizarre dream that you'd sent me Seneca quotes which I had to improvise and that would be the interview."
So there's not many interviews with you on the web so hope you don't mind me asking some general questions first. I understand you were born in Belgium but have moved around a little bit before heading out to Berlin, where does the introduction to electronic music fit on the timeline for you? "You're right, I was born in Belgium and grew up in France. I was always into music and got more into electronic music towards the end of my teenage years: various things including Justice. I played with TSVI over the weekend and I spotted a cross tattoo on his arm which made me want to listen back to the album. But some things are better kept in the past. I studied in Italy and Lille and I would spend most of my free time showing up at gigs which is partly why people called me Gigsta. I was just always in the corner of the club or the concert hall, dancing. The scene wasn't super interesting there though, so I often travelled on my own to clubs abroad and festivals around."
You also lived in Rennes at one point right where you had a radio show called Track/Narre? How did that come about and what kind of station was Canal B? Was this your first experience with radio and were you free to play what you wanted? "Waouw, you've been digging really deep! I moved to Rennes after my masters degree. The electronic music scene in Brittany was more diverse so clubbing became less of a solitary activity. After a few years, we even made a zine about the labels and promoters, DJs and dancers. Before Canal B, I'd hosted a show in Lille on a radio called RCV. Both RCV and Canal B arise from a tradition of French pirate radios and are now part of a network called Ferarock. They both broadcast on FM and are, to a certain degree, publicly funded although most of their hosts are volunteers. Basically, I was totally free to play anything I wanted but the staff at Canal B was extremely demanding in terms of the quality of production and talking on my shows. That's how I learned to use a studio as well as audio software. Track/Narre was meant to be a show « narrating electronic music » (ahem), so there was often a theme or a guest on my shows. I also incorporated interviews I'd made offline with musicians such as Chloe, Jeff Mills, Livity Sound, Low Jack, Lucy, Midland, Monika Dietl, M.E.S.H. and Objekt, etc."
Berlin (c) Robin Plusquellec + books (c) Natasha Todd
You then moved to Berlin, and among other things, I read one of the main reasons you moved to the city was for research on your thesis, with a lot of it coming from the Jugendkulturen archive. Could you tell us a little bit about that? "Exactly! In 2012, I started my (currently ongoing) research project, studying early press on electronic music. During my studies in Comparative Literature, I focused on the limits of language in translating the aesthetic experience. I'd written a bit about rock criticism or more generally how journalists had tried to transcribe popular music. At the time, no one had investigated the relationship between techno and words, and professors kept on telling me that it was because electronic music had not lead to any interesting texts. So after a few years I came up with this project and started diving into early British, French and German magazines around Electronic Music.
"For theoretical reasons, my study is mainly between 1986 and 1995. The Archiv der Jugendkulturen has a wide collection of publications related to pop music and certainly the widest collection of European Techno magazines which is why I first visited it. But then I enjoyed the freedom on Berlin dance floors, being able to learn a new language (as well as speaking all the others across one day) and the (sadly soon ending) cheap life allowing me to pursue different projects. The research trip kinda turned into a five years stay. Interestingly, the 86 to 95 period feels like a miles away from what I would play as a DJ or, to a certain extent, enjoy as a listener. But the question at the heart of my research is probably one of the main things that animates me every single day: I just don't understand what music is, what it does to us. In the club, I often can't stop thinking about how bizarre it all is. If an alien asked me to define music or explain what these pointy things moving in rhythm are doing or feeling I still would have absolutely no idea what to say."
Tying into your research, you moderated a panel at that archive late last year with Heiko Hoffmann, Lisa Blanning and Marianna Berezovska. What did you come away with? "The panel was about the state of Electronic Music press. In a context where we'd just lost Spex and the paper version of Groove, but where Marianna just started the new and blooming Borshch magazine, it was interesting to reflect on recent evolutions. At the time, I wish we'd had someone from RBMA on the panel as well, though none of us expected it would soon announce its imminent closure. We discussed the economics of press and music nowadays as well as contemporary habits of listening and sharing music."
Here in Berlin you've had a regular show called Fictions on Cashmere radio, recently hitting your 31st show on the station. I love how there's always a central theme be it about a certain colour, a novel, extraterrestrial intelligence, the 'Think break', tributes, or spoken word specials. What's usually the influence or idea spark with these concepts and what's the planning like for each one? "Thanks a lot for these words, Fictions is my favoruite moment of the month! It just feels like a space where I can combine all the things I love: music and literature, serious and fun, food and friends, obscure records and bizarre movie quotes.
"If you're ever in Berlin, please ask me for the address, it's the best place in town. Cashmere is a radio but also a hangout place which I always keep in mind when I prepare the shows. I feel like they should be potentially enjoyed on many levels: live in the studio, around a potluck dinner, on the podcast in an office whilst replying to emails or in public transport staring through the window and more importantly (erm, selfishly) on my own level. So I spend a pretty crazy amount of time shaping them around themes which I don't even know how they occur to me but all I know is I feel like a kid building a castle of sand (with extra shells on the walls and sea water running all around). Usually I know the themes months in advance and I gradually add tracks, audio samples, various quotes and finally a cool artwork. Over the spring and summer, I'm always having a guest which lifts the weight a little bit, because none of the solo shows were prepared in one day, but then neither was Rome built in a day, I mean, not that I'd want to compare my shows to the Italian capital."
Do you have a particular stand out that you'd want everyone to listen to if they first came across your shows? "The Blue Special is a good start. It was partly inspired by an experimental set I played in the cinema at Room4Resistance and which explored feelings and sounds around the color blue. The show includes lots of dub and ambient as well as bits of the documentary What Happened Miss Simone, the movie Still The Water or quotes from Joan Didion, Maggie Nelson and Derek Jarman. It's a soft and soothing one. The Laughing Special is a funnier one – it explores manifestations of laughter in music. I'm considering hosting a part two with many more lols so if any of you know a track which features giggles *and* which I might enjoy, please feel free to send it my way."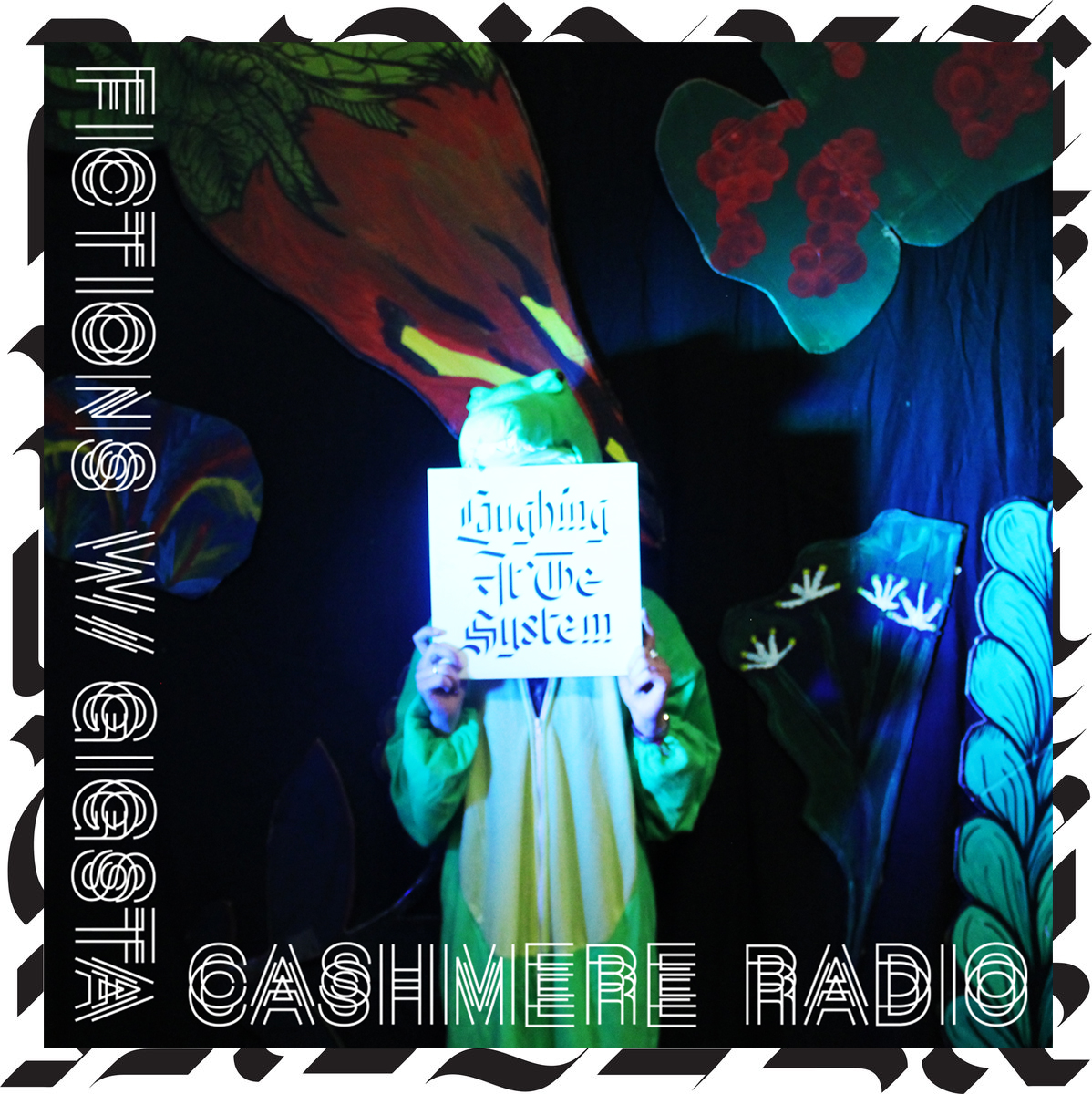 We'd love some insight into your current digging methods and how you source your music for your radio shows and club gigs. Do you have a way of arranging/organising your records? "This is a biggie and I could admittedly write an essay to answer this question. But to keep it short, I try to vary the sources in which I dig as much as possible. In terms of organising, I am quite meticulous and constantly trying to improve the way I can navigate inside my collection. I have been buying records for years and every new item entering my shelves goes through what I call « processing »: I write down some basic and technical infos as well as some more intimate things on every cover of every record. i.e.: « artist / label / year / bpm + « first heard at ohm in 2017, tears!! » » then enter it on Discogs. As for Rekordbox, oh Rekordbox, you don't want to get me started on Rekordbox <3
Can we talk a little bit about what went into that Freerotation set from last year? A lot of people who attended couldn't stress enough what a highlight your set was and the recording rightfully got lots of love! "The first time I went I fell in love in a way that I still haven't fully recovered from. However I somehow never really dreamed of playing there as I enjoy it primarily as one of the best places to dance. Steevio told me I was going to play on the Sunday which, amongst other things, is the costume day. I'd played a kids party earlier that year in a crocodile costume and I felt like it had woken up the reptile in me, so I decided to go for the same character and built the set around that theme whilst keeping the tracklist flexible. I'd made this lil collage about crocodiles listening to music, had asked some friends to record themselves saying « the house of crocodile » and wanted to play this bizarre folk / motorbike song entitled See you lated harleygator (!!!). When I played, Jus-Ed was still keeping everyone happy outside so I just built it up slowly and when there were enough people on the dance floor… bang! Crocodile bass!! All the way till this I.D.L. track which I had used a few times to jump from techno to jungle tempo. And then happy hardcore ending: « you dream of heaven, wowow! »"
As well as that you had your first All Night Long set near the beginning of the year where you got to play at Paloma in Berlin from 10 till 6am. How did that go? There's definitely a lot to take from being in control of a room for that long and getting to know your records. "Oh yes!! I think it went down well :) It was the first time I did my own quirky opening, freaky peak time and elegant closing with all the colours and rhythms of my palette and it felt like absolute luxury. I often wonder what I have to add musically and whether I have something original to bring as a DJ. I've met and heard enough DJs to know that on one side, there is an incredible number of talented people out there and on the other side, there is a frightening amount of people who want-to-be-a-DJ when really there are also many other things we could do to make earth a better place. And whilst I also want to do some of these other things, the all night long was a bit of a confirmation to me, that DJing was something I had almost accidentally become comfortable at. I don't know why, it was like suddenly something made sense because at no point did I doubt where to go next and I could have continued for a few more hours. That being said, I think there is *sooooooo* much more I still need to learn about music to be able to creatively do what I'm really dreaming of with music."
Is there anyone in particular that inspires your technique or way of mixing if you think you have one? "I don't think I would be here or anywhere if I hadn't heard Ben UFO playing a decade ago and to this day, I still haven't encountered anyone matching his ability for empathy with literally any crowd. At the moment, I think a lot about how to channel empathy though. Anyway, I could quote at least 50 names of DJs which have completely changed my perspective on playing music to people but DJ Marcelle and DJ Bus Replacement Service should definitely be at the top of this list – each in their own way master the equipment they use to a point that is actually completely freeing!"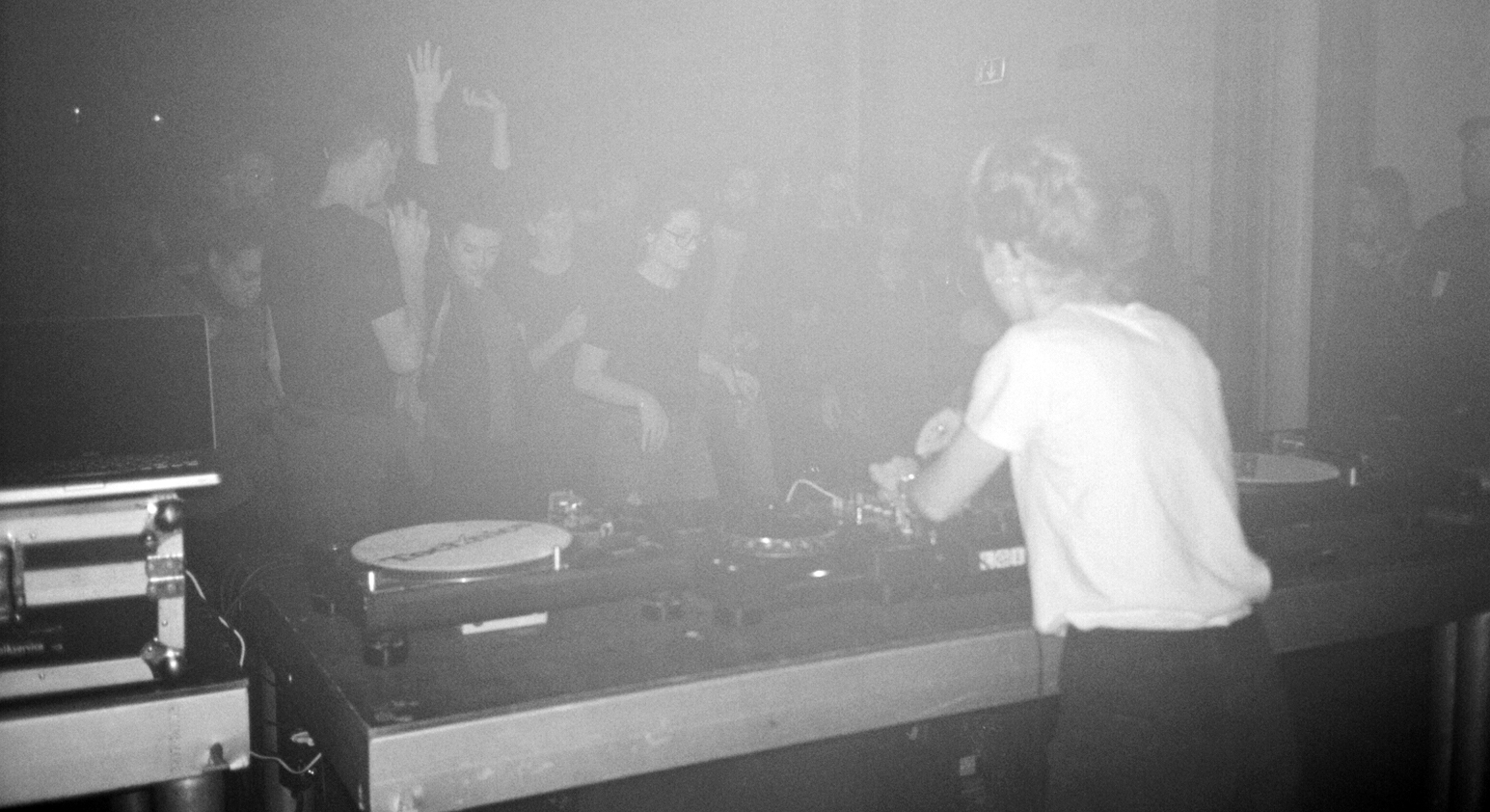 Gigsta playing at a nosymbols showcase in Bologna (c) Ben Beneath
Can you tell us a little bit about how you met fellow DJs Oxyd and Carlton? I was reading an old interview with you and Oxyd and how you both say Carlton would be your chosen DJ for a three-person b2b. Seems you all have the same musical tastes and values. "I met Oxyd as I interviewed him! Both for Seb (Oxyd) and Mateo (Carlton), I'd had too many friends telling me that I *had* to meet them because we'd get along well. Indeed, we were all obsessed with the same music and soon after we met we created a chat group on which we would share all types of nerdy things as well as religiously commenting on every Hessle audio show live when they used to happen on Thursday evenings. It was only when I moved to Berlin and kept on accidentally meeting music people who were concerned by the amount of their Instagram followers or how much they earned that I understood me and these two had more in common than « musical tastes. » Mateo is the kind of person who messages me every 10 days just to check « all is ok » or who travels across France whenever I go back to play. I don't think I would have had the nerves to play Boiler Room if it wasn't for Mateo, Cody, the Emperor Penguin and all the French crew supporting me in so many ways."  
Can you tell us a little bit about the mix you've recorded for us? Any particular tracks or producers you might want to shout out? "With all of my podcasts, I try to achieve something new technically so I can use them as learning processes. I also often add sonic elements of things which are on my mind during the making. With Boiler Room I knew I had to keep myself busy with the decks as I am very stage (let alone camera) shy, so I played around with some three-channel mixes including an occasional locked groove which is barely audible but had the merit of keeping me very focused. As for the sonic element, I had put together the introduction.  
"The Truants podcast happened pretty soon after, for me, as I often need space and time to record things. Whilst working on it, I was preparing my first DJ Workshop which got me thinking of my early learning period. There were things I got told which were immensely useful and other things which I enjoyed transgressing as soon as I knew how to beat match. I remember this dude telling me that when you play for the dance, you always have to increase the tempo. In other mixes, I had played with changing tempos in various ways and this time I wanted to try and record a mix that got slower very discreetly, in a way you almost wouldn't notice, in a way that felt like the energy was kept, at times even increased. So we're going from 140 to a 100 bpm on this one. And I used bits – in a sometimes slightly ironic way – of this tutorial with a guy explaining how to mix. There are also a few three-channel mixes in the Truants mix although I enjoyed letting some tracks breath including the very untameable recent Johanna Knutsson track (hi Jojo! Your track is a nightmare to mix but I love it and I love you too, so it's ok) and an upcoming Leif release which is like a precious little diamond in the middle of the chaos. I listened to the mix again, two weeks after having recorded it and it struck me as an orange mix. The selection is a bit everywhere but the result feels very orange. Maybe like the light at the end of a hot day."
What else have you got planned for the rest of the year? Any exciting gigs you've got planned over the summer period? "There are some decisions I took early on in my relationship with music (keeping my face hidden, limiting my use of social media, travelling pretty much only by train, etc.) which mean that there is a certain kind of slowness at which things are happening. But a slowness which I enjoy and wouldn't compromise for anything in the world, because it means every single gig I play usually feels special. All the upcoming gigs are exciting: I'll be playing b2b all night long with FTD label head Drakeford and random extra guy Minor Science at Sameheads in Berlin on Saturday, I'll be back at Freero in July and the following week I'll be playing Griessemuehle alongside Batu, Ben Ufo, Darwin and Mala :') In August I'm travelling to Copenhagen for the first time for a gig with Room4Resistance alongside Yuki (who is booked for the decoration!!) and Doc Sleep (who is booked for the crazy bangers!). Later this year, I want to have more time for writing as well so I'm planning a few productive clurb breaks in the next months. Never stopping the dancing though, never."
Gigsta: Soundcloud, Resident Advisor, Twitter, Instagram

Photo by Mailie Viney