As a DJ and artist, Berlin-based Hayden Payne, known predominantly by his Phase Fatale alias, has developed into one of the leading names taking EBM and post punk-informed industrial techno into raw and exciting territory the last five years. With his father involved in the music scene in the '80s, his fascination with new wave and industrial bands stems way back, with him gravitating to more dance floor sounds as he was introduced to the Wierd parties on the Lower East Side of New York as a teen. This week sees him newly signed on by the Ostgut Booking agency, in a move that seemed all but confirmed with Payne's now regular residencies at Berghain and the release of his debut outing on Ostgut with 'Reverse Fall' last year. Payne's monolithic and immolating sound have always upheld well against the backdrop of Berghain, but he's quick to stress that his work fits beyond just one side of the club, with his influences in synth wave, new beat, electro, and italo lending themselves to Laboratory and Snax too.
We caught up with Payne to discuss his label BITE, telling us how him and his partner Florian had started the label with aims of operating beyond the borders of common preconceptions in techno. In the space of a year they've released debuts from Vulkaniski and REKA, a record from Teste, who celebrated their first record in 25 years, and a long-time-coming collaborative record between Payne and close friend Silent Servant. Falling by sheer coincidence on Truancy Volume 242, this serendipitous addition to our series has Payne digging through a lot of his current favourites, creating a sonic whirlpool of selections that pulls in electro, industrial, EBM and techno in a genre-blurring manner. At an hour and forty minutes there's a substantial amount of music to get stuck into.
Hey Hayden, hope you're good! Thanks for taking out time to answer some questions and do this mix for us. To start, let's talk about your label BITE which started last year with the collaboration with Silent Servant. Had there been a lot building towards getting a proper release out together? I ask this as you had the edits release on Hospital, and several Jealous God showcases where you played live, possibly spending a lot of time sending stuff back and forth and being in the studio together. I can imagine there was a pool of tracks to pick for this EP? "Thanks for having me. The tracks from the EP come from the music we made in preparation for our live set at Atonal in 2016. Afterwards, Juan and I had been playing around with the idea of releasing some of the songs, possibly even in the live recorded version from the show. But I really wanted to pick out a few to make proper studio versions out of them suited for the dance floor, which we did in one evening before pressing the 12". We made the original tracks before the showcase long distance style sending stuff back and forth, switching the role of who was making the skeleton of this track or visa versa.
Then we rehearsed 2 or 3 times beforehand to get down the additional drums, synths and vocals. Sometimes we just smashed together a rhythm track and synth track from one another without hearing either before, and it melded together perfectly. The general idea was really inspired by DAF + John Carpenter.  We weren't sure where to release it if we ever wanted to since Jealous God was nearly over. Eventually, my boyfriend Florian and I decided to start our own label as it just felt like the right time. We knew a lot of people making amazing music that had no platform to release on. So we created BITE to support these artists and make a community around this kind of new music movement."
I was reading an old interview between you two where you describe being in your studio together and learning about minimalist sensibility when it comes to freeing up space in your productions and how to arrange tracks better for the club. Was anything else learnt or applied with this release? "Yeah, that first came about when he assisted making the edit 12" single from my album "Redeemer" on Hospital. The tracks on the album themselves are more dense, concise and monolithic. But on the 12", Juan showed me another way to approach them, tearing them apart and putting it back together in a different way. Inserting way more time and space in between the elements and adding simple groove elements while removing the superfluous to make it more "club friendly" and at the same time more direct and cerebral.
Little methods like letting a track sit for a few weeks then coming back to it with a fresh mind really changes things. Then being able to meditate on it, not looking at the screen so you don't anticipate elements and try to imagine the world you are trying to paint. These processes are now applied to almost everything I do since then. I find this puristic approach even more important now than ever, keeping things to the essentials and focusing on making those essential bits extreme and perfect. Rather than adding more and more and increasing the bpm, just to give the track a surface value or instant gratification that it is good or hard when in fact there is zero substance or depth."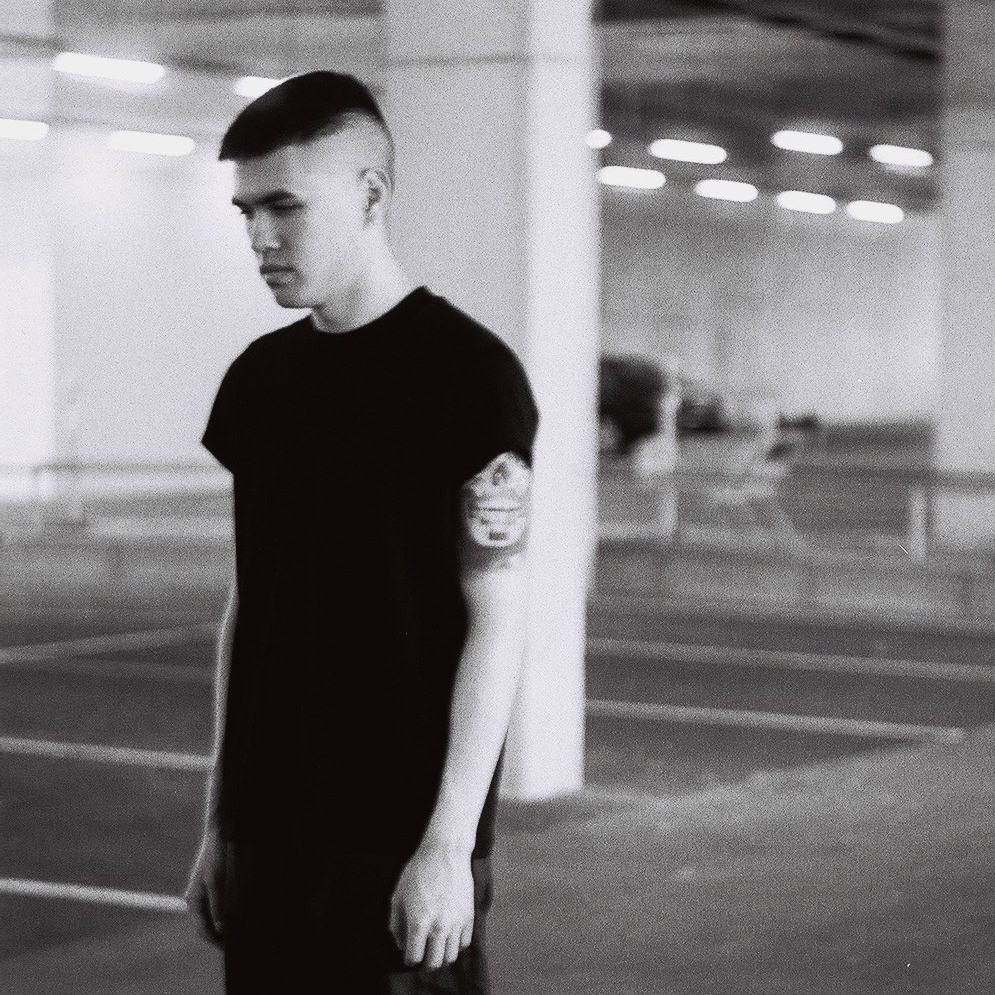 Photo by Cristina Cipriani
Can you tell us a little bit about your relationship with some of the other artists that have been on the label? The Teste record is in interesting one to ask about considering Dave hadn't released a record under that moniker for 25 years!  They did a live show at the Bite Nite party in Lithuania for you too. "On the label, we work with people we know closely. I think that personal connection is important to make a good record. I think I've also gotten more insight into other's writing processes by doing the A&R from which I've also learned a lot for my own productions. I've known Dave Foster for quite a while now and also Martin almost just as long. Dave's music aka $CUMTRONIC$ whether as Huren or Teste or his many other monikers has been an influence on me for many years, as well as the many ideas we bounce off each other in conversation, both having a knowledge and drive for music outside the dance realm especially in regards to industrial or post-punk even though we may be years apart.
So it was really an honour to release the first new Teste record in 25 years! It's also been a pleasure to curate some label nights now and really create an event around the music. Through that I've made some b2bs with Reka, Unhuman, and Sarin which also creates a different spin on the way we're used to playing. We've also done showcases now in Tokyo and Seoul which felt like a big step. Next record on BITE is also going to be by a legend who's been a huge influence on my work. That'll be out in the fall."
You also brought on Vulkaniski for his debut record, I assume the connection there was made with you holding a residency at Khidi? It looks like you've played some spectacular parties there with people like Fiedel and Adam X, as well as the BITE NITE party where you had lots of label family such as Silent Servant, Reka and SARIN all playing. I've heard such great stories about Tiblisi, the clubs and their resident DJs, a regular residency there must be a nice way to properly enjoy it over the past few years. "There are a lot great DJs coming from Tbilisi and are also starting to really release their productions. First time I played in Georgia was at the end of 2016 and was one of the first times people in Tbilisi were really introduced to this kind of techno sound that I've pushed forward, and it went pretty well. Since then, we've invited a lot of artists more in tune with that sound, and the scene for this has grown so much there that it has gotten really popular. Now even Ancient Methods and Hospital Productions are residents at the club. For label nights or otherwise, Florian and I have worked closely with Khidi to develop the scene there by bringing certain musicians and people together. I think the BITE NITE there was the peak so far where we really brought together our crew from Berlin to Tbilisi, and it was a big success."
You've also mentioned in past interviews that the setting at Khidi has been the perfect place to showcase your live show when performed. Can you elaborate? "There are only certain clubs or festivals I think playing live really works with Khidi being one of them. There is a particular kind of energy in the club and city in general, the young generation of people are very driven to develop something, and you can feel that in Khidi. It is a bit cathartic, people are really working on something. So the interaction between a more intimate live set and the crowd is perfect. I'm coming from playing in bands for years so that is something that I am looking for and expecting when I do a live set. Not people asking me why my DJ set was only an hour long! It should be done somewhere where people really are there for the music."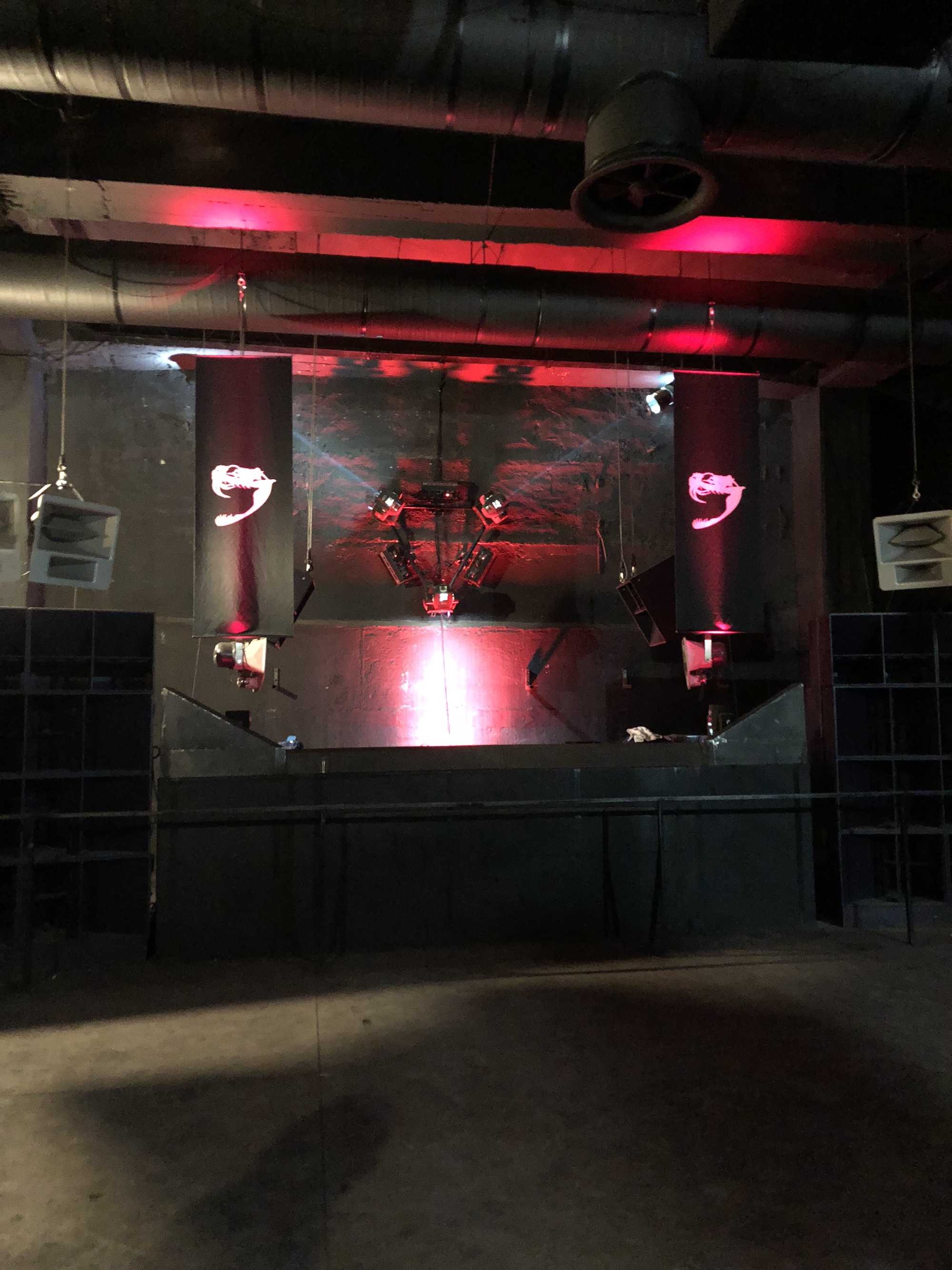 BITE label night at Khidi
As well as starting your label last year, you also had your debut release on Ostgut Ton with the Reverse Fall EP, with you now joining the Ostgut booking agency too. Can you tell us a little bit about how this all came about? Do you also feel like the minimal sensibilities we mentioned above apply to this record? "I first played at Berghain 4 years ago and have increasingly started to play there to the point where it is very regular now. My music got passed onto the label a few years ago, and that sparked my first record with them on Unterton that came out 2 years ago. Since then, we've followed that up with Reverse Fall on the imprint proper last year. The Ostgut EP is very much inspired from the aforementioned sensibilities. I think I finally found my groove so to speak. I stripped it back to just a couple synth elements and put more focus on creating funkier percussion lines making for a nice evolution and trajectory from my past work. As well, I think it also fits in with these two sides of Berghain, such that it is not just all about it's brutal architecture and so on, but also about Laboratory and Snax . I'm trying to blend techno in with my bigger influences such as synth wave, new beat, electro, or italo, which is the kind of music you might hear down there.
Correct me if I'm wrong but was the first time you played Berghain back in July 2015? With a residency at Berghain now and having played most of the time slots I imagine, is there anything that you've come away with being able to play these longer sets?  "Yes, that was my first time playing there. It was the opening slot, and I was quite nervous. Being such a long party, each time slot kinda has its own vibe, which I like for different reasons. Last week I did my 3rd closing set, this time was 9 hours, which I actually enjoy. You can really cross between many different styles and time periods connecting the tracks in more esoteric and intelligent ways that can only be done over an extended period of time. Even 4 hours is a nice opportunity to go beyond the usual borders of techno. Sometimes if it's just a 1-2 hour festival set, you only have time to smash it out (which can also be fun of course) but never the time to go to that other side for chance of it sounding too unfocused. So for me, these extended sets are really what works for me personally."
You've mentioned the Wierd parties in New York being pretty formative to you in a few interviews so kind of did a search and stumbled upon their complete events list from 2002.  It was nice to see possibly your first time playing the night supporting Vaura Live back in 2010 – a bit before the Phase Fatale name had formed. From just the listings, these looked like such an amazing run of shows almost every week. Is there anything you can tell us about parties for people reading about the first time? "The first time I played there was live when I was in Void Vision in 2009. I think I must've DJed there that year as well actually but I can't say for sure. I was also making parties à la Wierd in some foggy backrooms with friends in Brooklyn at that time with two turntables and a walkman for the CDs! As a teenager, Wierd was for me the first time I saw a community built around cool music where a strange crew of people went every week to listen, dance, and connect. A band would play at midnight with DJs before and after playing only the rarest cuts in this tiny basement dive bar in the Lower East Side with tons and tons of fog and only a red light beaming on a disco ball. Wierd also got me much more into the obscure side of minimal synth, cold wave, and industrial stuff where there was a lot of crossover with dance music, and that's how it all kinda began. I got my chops from DJing there.
With this very rare minimal synth music, it's not made to be mixed or beat matched. The tempos are all over the place, and the drum machines are drifting in and out of time. Sometimes it works out that they are the same tempo, especially with the more EBM or new beat stuff. But most of the time they're not, or you only get away with a 30 second crossfade before the elements clash. One of the bigger lessons I learned from regularly playing a party where you couldn't rely on making some long, pleasant mix was that you had to create a mood and vibe and that each song had to build that up or break it down depending. Genre or bpm was not as critical. The smaller connections were. So I really learned how to read a dance floor and select the right tracks on a whim, which I still find is most important."
Phase Fatale at Khidi
What can you tell us about the mix you've done for us, was there any direction you decided to go with this? Going through the tracklist it seems like you included a lot of new music and talent from the last couple years, was that intentional? "I made this mix to reflect how I'm DJing out at the moment simply with a condensed opening and ending. I even recorded it at Khidi one day when it was closed during the week a bit over a month ago to get a better vibe rather than sitting at home and doing it. I tried to put together a lot of new artists I dig along with some old favourites, but mostly all stuff that I've been playing out recently so I guess it was intentional to include some more recent cuts. I find some of these new releases to be a bit more forward as the lines between genres are getting more blurred, especially some things that are more on the electro side but quite 44 and/or industrial but at the same time have these old school melodies and rhythm."
What else can we expect from Phase Fatale in the coming months and for the rest of the year? "Over the next months it's more gigs, especially this month and August including my first all nighter in London in a few weeks and also a BITE showcase in Munich with Sarin and Vulkanski. I've been working in the studio extensively this past year trying to formulate something new. I never like to repeat myself whether that involves changing the style or swapping out some synths to get totally new sounds. I think there's a comp track and a remix or two that should come out before the year ends. Also working on putting out the next few BITE releases by some great artists plus another label night in Khidi later."
Last usual question from us but when was the last time you properly danced and what was the last thing to put a big smile on your face? "Last time was at Berghain in March when Silent Servant played after me for the Vatican Shadow Berghain mix party. Last thing to put a big smile on my face probably was eating in Hanoi."
Tracklist:
Alberich – Upper Mountains [Hospital Productions]
Phase Fatale – Incision [Ostgut Ton]
Slow White Fall – Vein [Downwards]
SC-164 – Soles Walk [Subapical]
Orphx – Solipsist [Sonic Groove]
Betek – Avalanche [Barro]
Karenn – Salz [Voam]
Alessandro Adriani – Fuoco (Silent Servant Remix) [Mannequin]
P.E.A.R.L. – The Pain Of Regret [Mord]
Persona Non Grata – It's All Broken [Barro]
Crystal Geometry – Coldest October [Sonic Groove]
Cardopusher – Muscle Memory [Dark Entries]
Unhuman – Nylon Speech [BITE]
Maenad Veyl – No Irony [Veyl]
Larionov & St. Theodore – Bleak Warfare [Rotterdam Electronix]
REKA – Diving The Innermost [BITE]
Adam X – Bimini Wall [Sonic Groove]
Broken English Club – Cold Medicine [L.I.E.S.]
Norman Nodge – Discipline [Ostgut Ton]
TV Out – XTC [L.I.E.S.]
Kinder Aus Asbest – Hertz Voltage [Electronic Emergencies]
Sunil Sharpe – Line Rage [Black Sun Records]
Pornotanz – CySex (Gate Edit) [New Zone]
Acid Vatican – Repent Motherfucker (Sarin Remix) [Aufnahme + Wiedergabe]
Front Line Assembly – Attack Decay [Cleopatra]
Pasiphae – Tachyons [Artificial Dance]
Mr. TC – Depth Gauge (Lokier Remix) [Hard Fist Records]
In Trance 95 – Brazilia [Minimal Wave]
Circa Tapes – Corravo [Medical Records]
Sarin x Imperial Black Unit – Strategic Force [BITE]
Carnera – Io So (Ancient Methods Remix)
Rainforest Spiritual Enslavement – Hunting Down Individual Mosquitoes [Hospital Productions]

Phase Fatale: Ostgut Page, Soundcloud, Facebook, Resident Advisor, Website, Instagram
Header and artwork photo by © Cristina Cipriani