It's difficult to articulate an experience like Sustain-Release. Over the course of four days, attendees are immersed in chaotic and cathartic dance with friends and strangers, drenched in sweat and strobe lights, crying and cheering, wrapped up in whirlwind energy in what seems like a never-ending techno dream. Not until it's all over can one really start to reflect and make sense of all the crazy, wonderful moments, and even then its hard to define. Yet the one description everyone seems to agree upon is "magical."
Sustain-Release felt even more special this year with the addition of an extra day, another stage, next-level lighting and an even more diverse lineup. Many attendees noted that the new stage, The Grove, was their favorite part of the weekend, and that the performances on Thursday night were a welcome warm-up for the more hard-hitting techno to come. While S-R is well known for its intense techno and electro sets, delivered by the likes of DJ Nobu, Mama Snake, Legowelt and DJ Stingray, it was some of the more offbeat, multi-genre sets that were most memorable. The following are standout moments and highlights from year five, with additional thoughts and stories from friends who attended.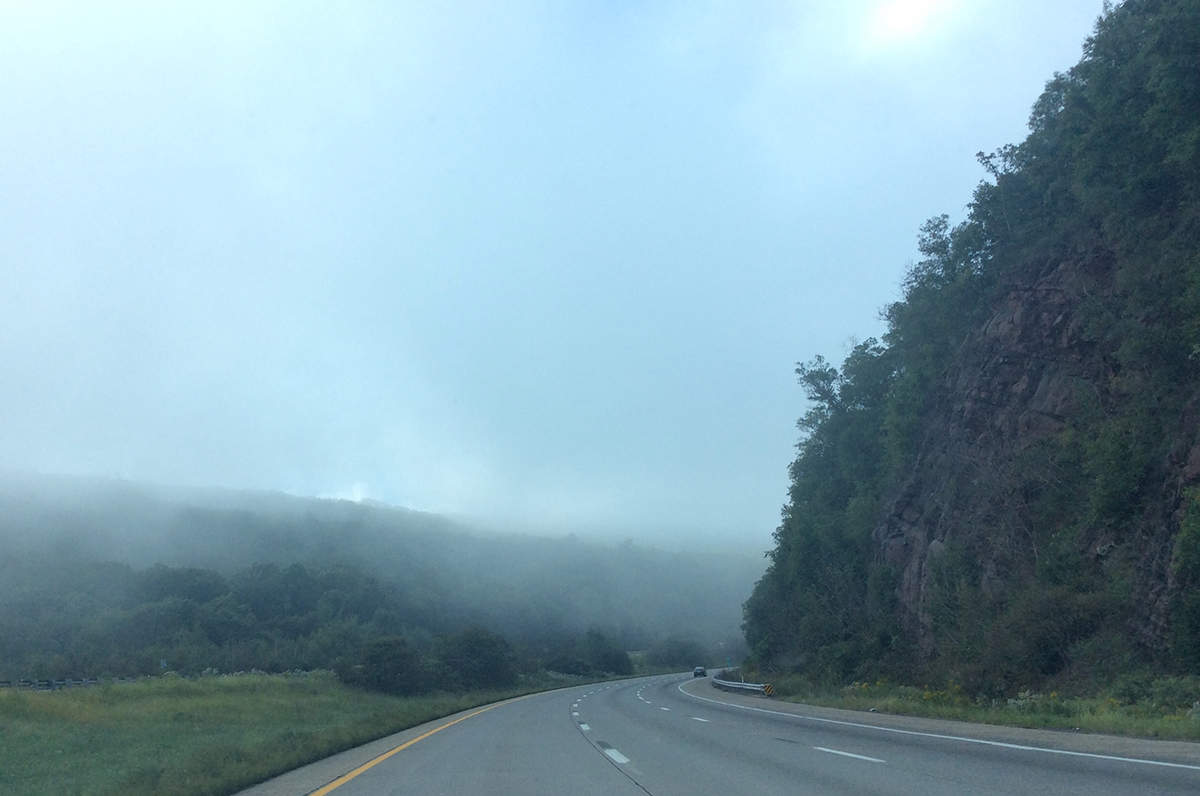 The Setting
Located a few hours outside NYC in the Catskill Mountains, Sustain-Release takes place at local summer camp, Camp Kennybrook. The drive from Washington, DC takes you through Pennsylvania steel towns nestled between mountains, where thick fog frequently obscures the horizon and sheer cliff faces reveal veins of rock and clay.
Through twisting back roads, you reach the camp which sits nestled along a small and misty lake. On one side of the water is a bright prism of tents forming the campground, while the stages, pool and cabins sit on the opposite side. The surrounding nature is lush and beautiful, providing the perfect setting in which to escape and immerse yourself in music.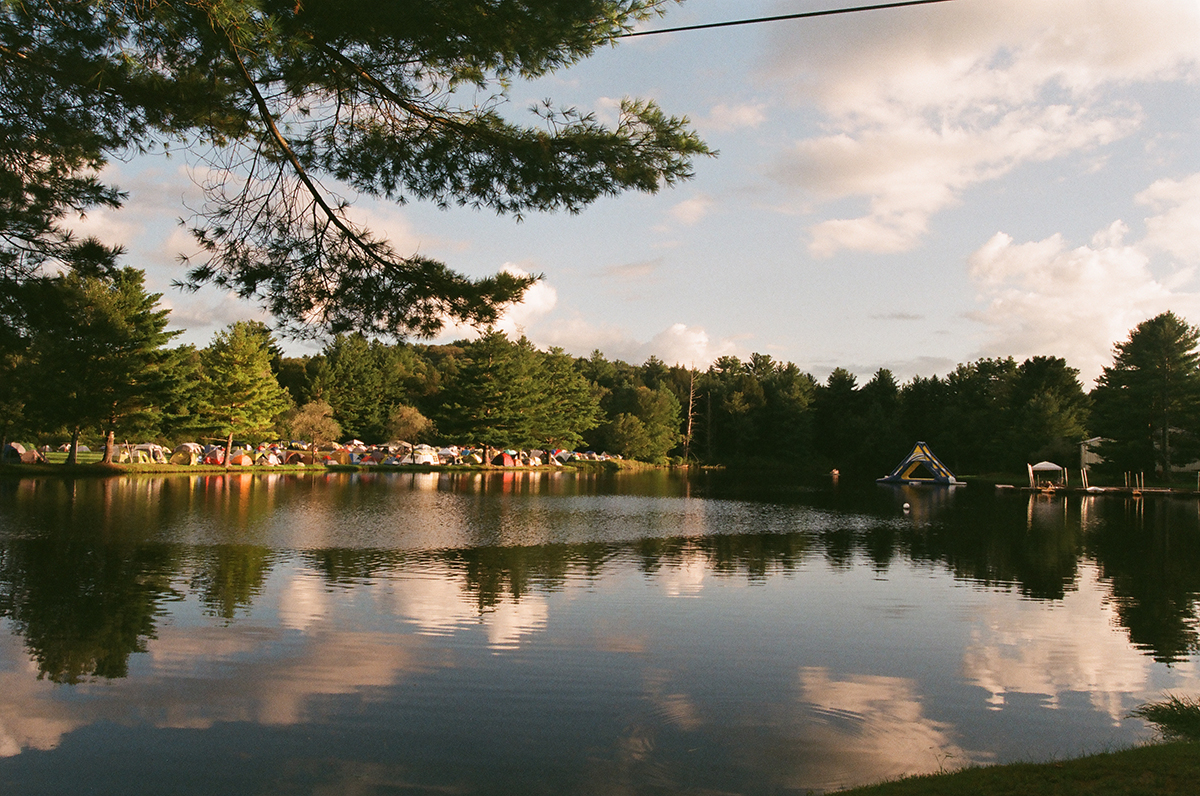 The Community
While Sustain-Release's audience continues to expand, there is always the return of familiar faces, making every year feel a bit like a reunion. It's heartwarming to see dancers and DJs come back year after year, sharing in a familial bond and love for the techno dance community. Sustain-Release is also one of the few places where you can lose sight of your friends for hours, but connect with complete strangers on the dancefloor. "Initially, S-R was a bit of a challenge because I was going without one of my rave best friends," explains Toronto-based attendee DJ efemmera, "but I was never really alone because it's truly one of the only few times a year where you have friends coming in from all over the place to rave from sunset to sunrise."
In addition to the dedicated dancers and DJs, a major contributing factor to S-R's success is the steady team behind its creation and execution, led by Aurora Halal and Daniel Martin-McCormick. S-R's continued partnership with Nitemind and Bossa Nova Civic Club makes for a consistent NYC presence that stays true to the DIY aesthetics of the underground. The result is an impeccably curated, smoothly run and boundary pushing electronic experience.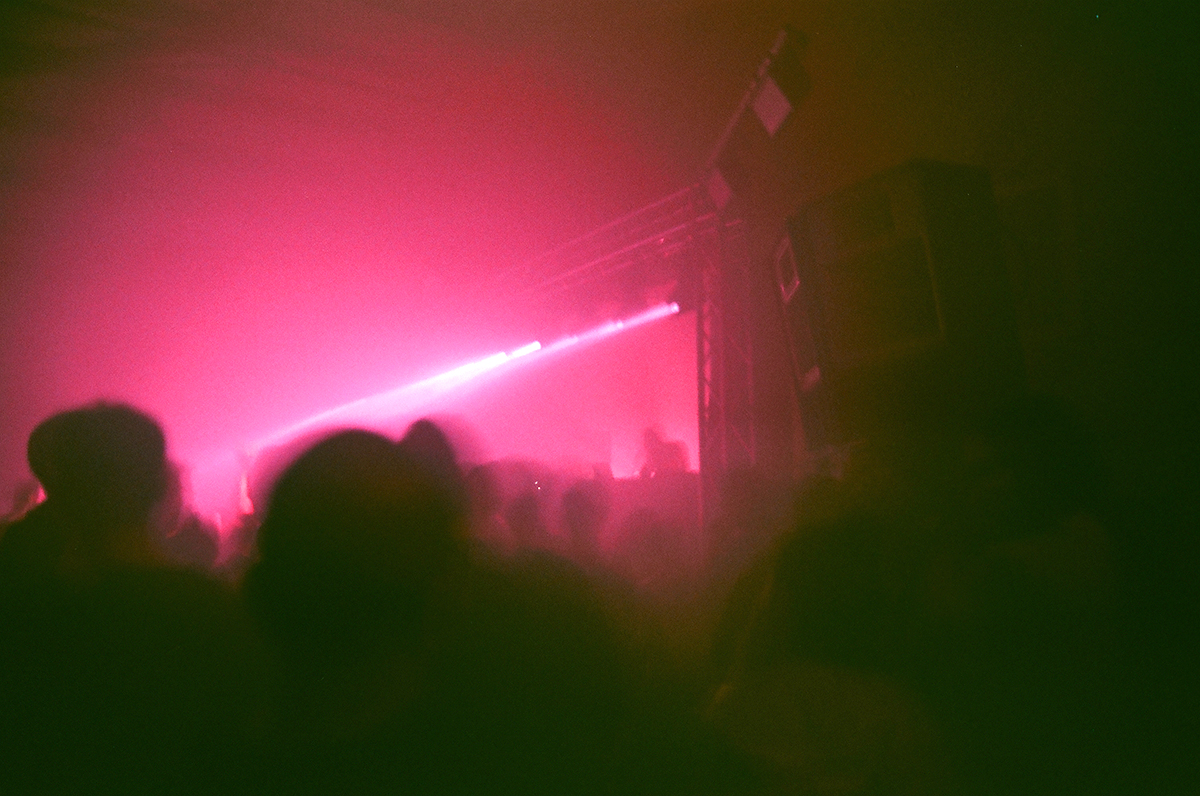 The Lights
While the lights have always been a defining feature of S-R, the Nitemind crew and Kip Davis went above and beyond this year, creating an otherworldly atmosphere throughout the camp. Each space had a unique setup, offering distinct visual experiences for every set. From the artistic installation at The Grove, to the high-tech rigs at Main Stage, to the sci-fi effect of Bossa, the creativity and intensity of the lights both synced with and enhanced the performances.
The Main Stage featured huge lighting rigs on either side of the stage, with one mounted above the DJ for a powerful, encompassing effect. Lasers spun in perpetual circulation, while bands of light descended upon dancers like empyreal rays. Blaring and intense, they turned the entire room into vivid pools of light while fog masked everything within reach.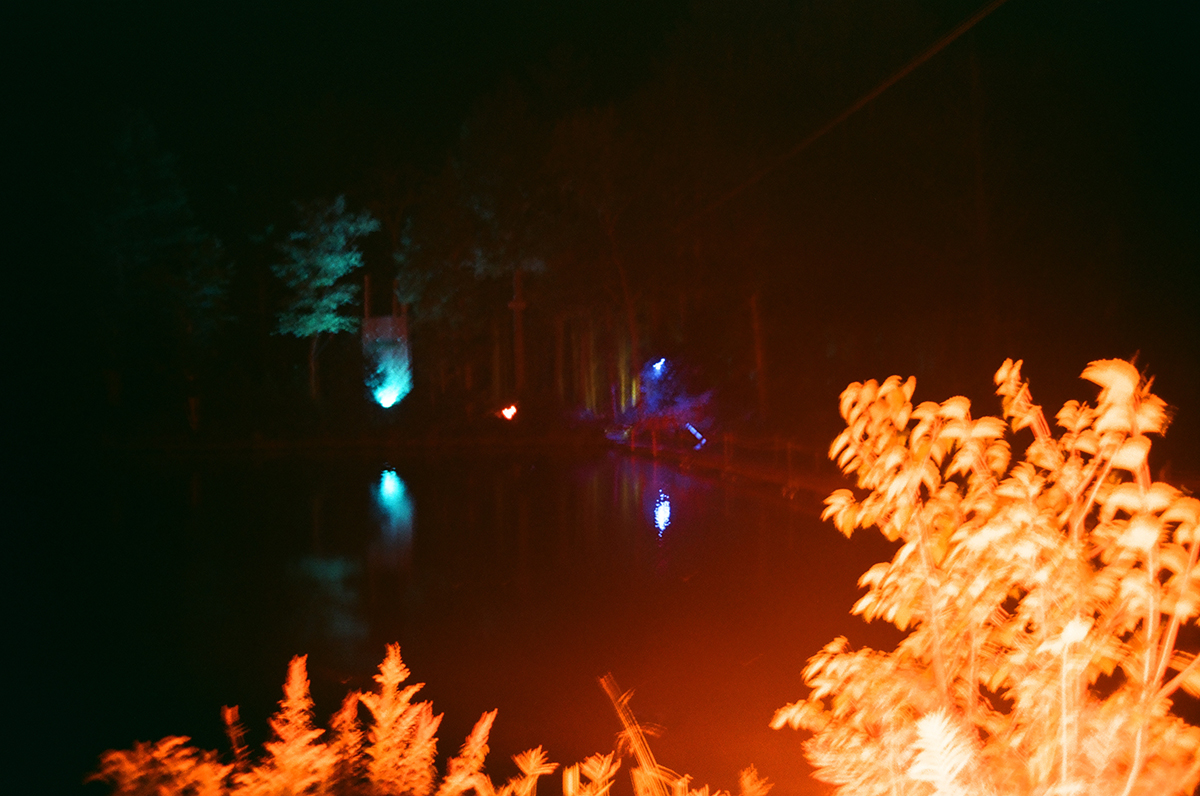 The Grove
Lining the rope bridge across the lake to The Grove, various lights appeared against rocks at the water's edge and saturated the surrounding nature in dreamlike tones. Creatively led by Kip Davis, the Grove itself featured thin, vertical lights which sprouted from the ground and seemed to mimic the adjacent pines. A nearby fire sent smoke drifting through rays of light, mesmerizing viewers with its movement and texture. Colors changed and flowed throughout the installation, appearing like liquid tentacles bordering a living, fog-breathing stage. Evoking a scene from Twin Peaks, the lighting was a perfect marriage of nature and the surreal, creating a supernatural setting from which ambient and soothing sounds emerged.
Sets at The Grove affected nearly every sense given that the stage's location meant dancing on a bed of cushioned pine needles, taking in the earthy scent of firewood and sap, feeling the childhood nostalgia of leaning against trees and resting on logs, all while watching thick trails of fog weave into the distant forest. It was the site of singing frogs and soft-spoken poetry, the sounds leaving the speakers and mingling with the night air. Sensory and beautiful, The Grove provided respite throughout the weekend.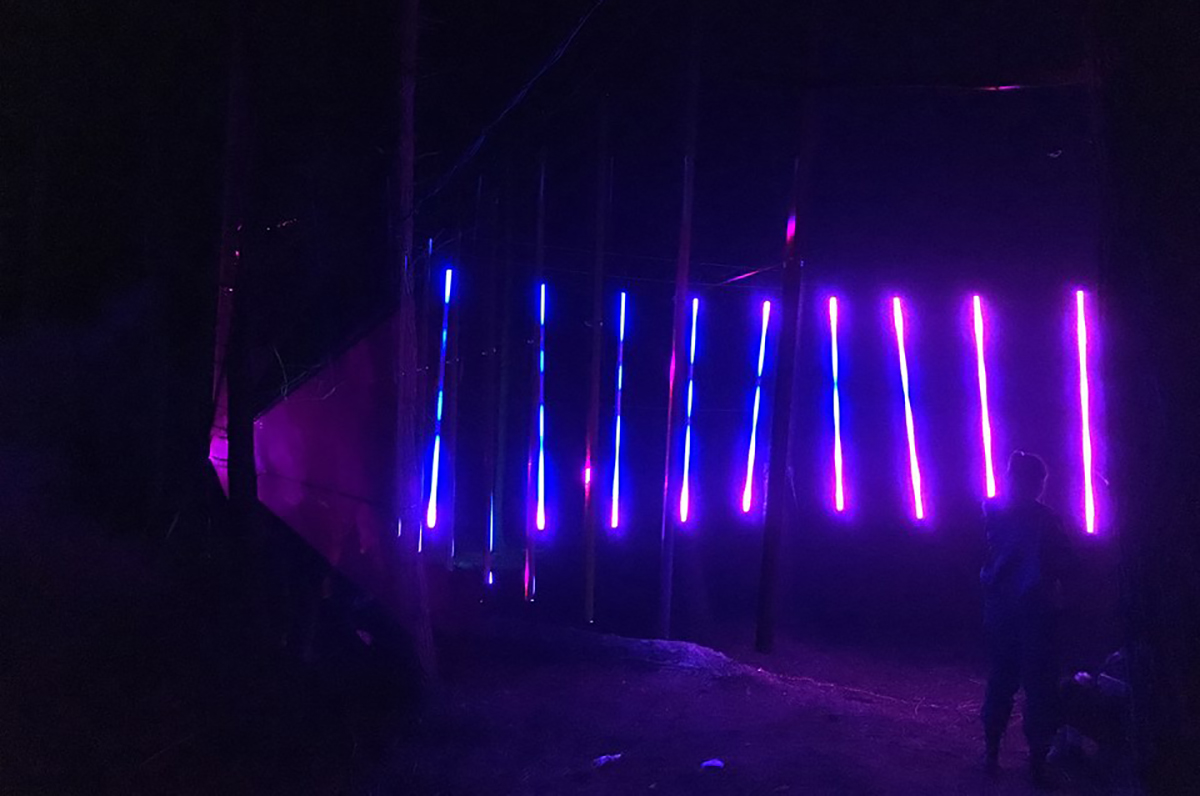 Friday
Beneath pale-blue strip lights at the Bossa stage, Beta Librae toyed with speed and volume, playing diverse selections with a common thread of intricate percussion. Wonderfully rhythmic and highly danceable, it was easy to lose sense of time and place. Her dreamy, floating set seemed in perfect conjunction with the oceanic lighting, blanketing the crowd in deep-blue warmth. Colorful melodies pierced the milky fog for a breathtaking display that showed the depth of Beta Librae's musical influences. Says DJ efemmera, "I think my favorite stretch of dancing was Bossa on Friday night. It just felt so good to be in such a disorienting space, and hearing Beta Librae and Shanti Celeste was very healing and uplifting."
Over at the Main Stage, SHYBOI delivered sheer intensity for a vibrant and raucous set that was a standout for many. In what felt like some end-of-the-world celebration, blazing red-orange lights set the room afire, while punching vocals rang out over explosive beats and back-bending breaks. Says NY-based attendee DJ Space Jam, "DMX shouting "Gimme Pain Til I Die" over gabber has been stuck in my head since." Playing mind-melting mixes of Depeche Mode, DMX, DIVORCE, Cardi B and everything under the sun, SHYBOI's set was raw and visceral, engaging the crowd in frenzied dance. At one moment, DJ Trajic's "My Style is the Craziest" rang out, feeling like a particularly epitomic description for SHYBOI's insane, rapturous performance.
Saturday
While the Main Stage hosted the majority of the hard techno and heavy bass that S-R is known for, the Bossa stage is where the more unusual and experimental sets went down. Even the stage itself is unique, taking place indoors on a wooden court. Dancing on the wood beams is like being on a floating dock, where every movement of the water can be felt rising through your feet. At times, the whole room seems to sway in one powerful motion.
Starting off Saturday's surreal lineup was Juliana Huxtable, who dove right into the weird and abstract, playing hardcore, hip hop, electro and an array of stunning vocal tracks. There was a cinematic quality to her entire set, which featured striking transitions and powerful vocals utilized in dramatic fashion. ADULT's "Hand to Phone", with its robotic, monotone synth sound, was oddly perfect in the hallucinatory setting, as was the devastating deployment of "I Don't Like That Bitch" by Jay Karan. Like an epic dream sequence, Huxtable's set was a wild and unforgettable trip.
Following Juliana Huxtable was Galcher Lustwerk, whose especially eclectic set was warmly embraced by the dancers. Playing with slower tempos, his selections touched on everything from disco to rap to dub. In what felt like a particularly special moment, Lustwerk played My Bloody Valentine's "Soon", sending the crowd into emotional fits. Lustwerk clearly doesn't hold any sort of genre bias, and that sort of confidence and freedom to play whatever he loves leads to distinctive, unpredictable sets.
Next up was Buttechno, whose live performance was acidic and ethereal. Featuring mechanistic textures layered with emotionally charged synths, the set was both dizzying and hypnotic. Beneath deep blue strobes, his track "808 Mod Cutz" enraptured the crowd with its resounding bass and celestial signals for pure sci-fi bliss. But it was Buttechno's "Main Loop" combined with a ghostly Shadowax vocal that made for the most intensely beautiful moment, as the whole crowd seemed to give way to the music, pulsing with electrifying warmth.
Continuing Saturday's unforgettable lineup was Eris Drew, whose set brought a positive, inspiriting energy to the weekend. Playing explosive electronic and irresistible classics, her set left the Bossa crowd breathless. "There are certain aural sensations totally unique to Sustain," says DJ Space Jam. "Like hearing Eris Drew drop the midwest classic "Take Me Away" over the trees while you run back to grab some nuts from your cabin." At S-R, the contagious energy of a set feels boundless, connecting everyone to the dancefloor.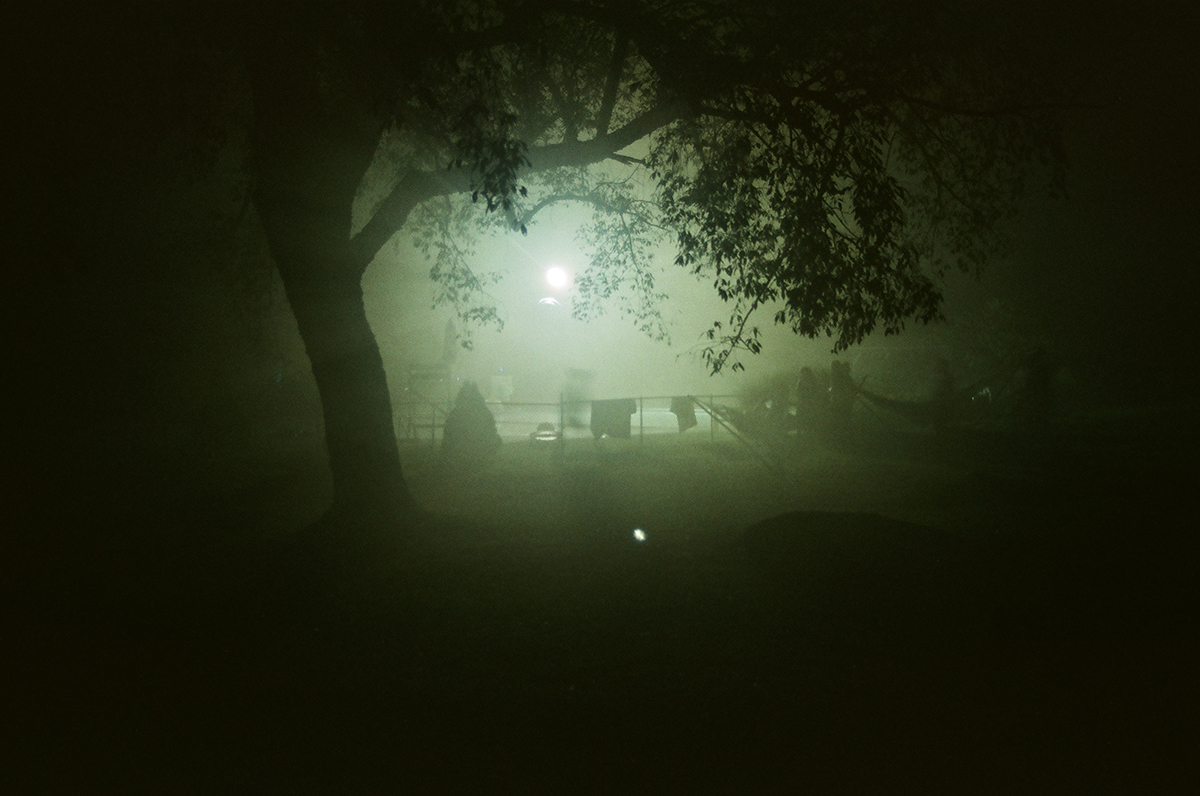 Josey's Closing Set
The highlight of the weekend and perhaps one of the top moments in Sustain-Release's history, Josey Rebelle melted minds well into Sunday morning with a legendary 7-hour closing set. Highly emotional and unrelentingly moving, it was the perfect finale, a healing experience for both dancers and DJ alike. As Josey herself noted in a recent Facebook post, "smashing out the most brutal and beautiful tracks in my collection (with a small side of slow jams and auntie classics) was like therapy."
For DJ Wawa, who organized and DJ'd Sustain-Release's basketball tournament, Josey's set was especially significant. "The moment for me is when Josey Rebelle, like 6 hours into her 7-hour set, dropped DJ Rashad's "Drums Please" (my favorite Rashad track), followed by Rashad's "Feelin", then by Jessy Lanza's "You Never Show Your Love"."
When DJ Wawa heard "Drums Please," he recalled his personal relationship with Rashad leading up to the artist's death, and was overwhelmed with emotion. "I love Rashad, his music and the person he was. So to hear Josey, who is 6 hours into one of the best DJ sets that has ever taken place on earth, drops these specific tracks after a long festival, I couldn't hold myself together. I just started jumping up and down until I began crying my eyes out and could barely stand. My friend Matt, who happened to be right behind me as I started breaking down, literally embraced me and lifted me up as we cried and danced together. To have Josey co-sign something that is so close to my heart and my past was so beautiful, reaffirming and unexpected. It was a moment I never thought I'd experience and don't think I ever will again."
The artists, attendees and organizers of Sustain-Release create powerful, magical moments together. Every year leads to new eye-opening experiences with electronic music and more reasons to love dancing with this community. Between the brilliant DJ sets, tight-knit atmosphere and sublime setting, Sustain-Release is truly one-of-a-kind.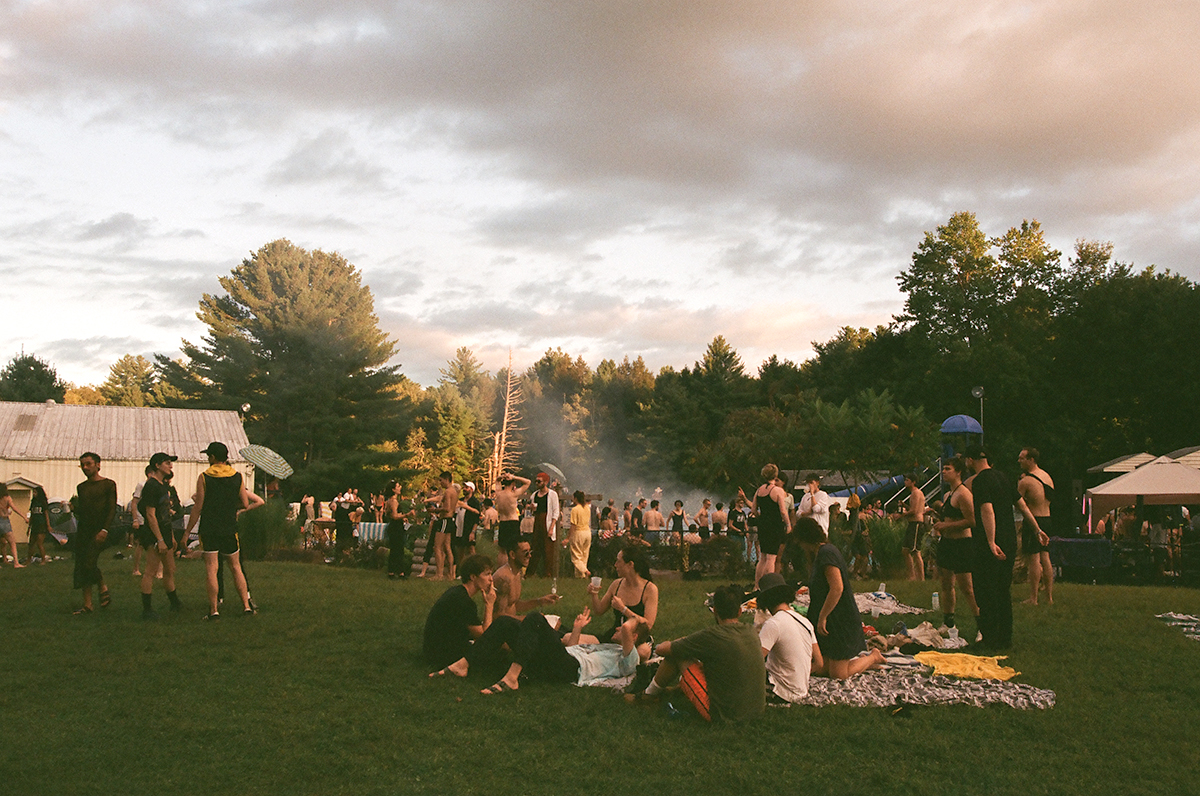 Special thanks to Aurora Halal, DJ efemmera, DJ Space Jam and DJ Wawa <3
Photos by Taylor Trostle