Hornets, the debut album from qgb, is a perfect body of work. That is to say it is succinct, coherent and whole. On top of that, it is available in a limited edition 4GB USB drive cast in amber. "We made the Amberdrives in relation to the references to insects in the titles and the sound of the record," qgb told us over email. "We were drawn to idea of a fossilised USB stick, freezing music and technology that is quite contemporary in something that could be older than civilisation itself! Amber is kind of like the oldest form of data preservation as well." On first glance, it may seem a bit much, but the logic is sound, and it's even kind of practical: "We wanted to release the music on a physical medium and make it a bit of an event, but didn't want to wait months just to get the music on to wax."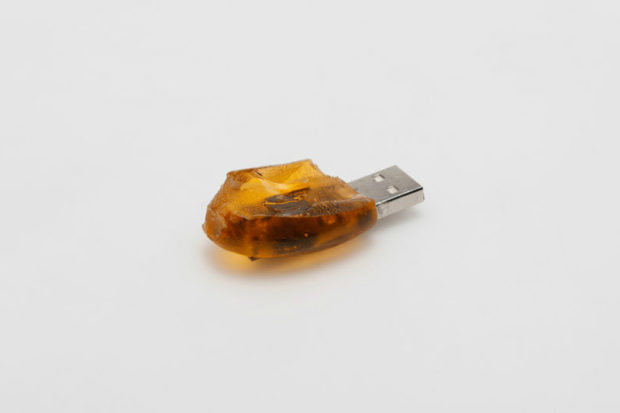 But what does the music sound like? Broadly speaking, it's like a shiny, aural representation of sunlight passing through amber. It's bright, it glistens and it's as densely layered as a thousand-year-old fossil. It comes to life with a bubbling explosion, digital plant life and forest pools awakening on a sunny morning. Things really get under way with "Quivering Grumbling Braying", a lumpy techno number with a strong kick under its glorious splendour. The floral melodies that dance about in these tracks call to mind mid-'00s James Holden, beauty suspended in murky gloop. "Who says gloops can't be melodic? That's been my agenda since day one!" says qgb. While a press release cites inspiration from the likes of Cristian Vogel, Alva Noto and Autechre, as well as the labels Hessle Audio and Livity Sound, he says there was no lightbulb moment when it came to electronic music – and perhaps that's helped him hone is particular sound. "The album references both experimental, noise-based music forms as well as more cathartic and palatable dance music and it was definitely a goal to combine these influences into something that hopefully feels fresh and a bit ambiguous in style."
"Hornets", which featured on Call Super's Truancy Volume last year, opens with a confusing barrage of sampled speech, while a wall of fizzling sound appears like impenetrable rain. Scattershot percussion lands like rhythmic basketballs, a heavy counterpoint to stretched melodic wails. "Helipads", meanwhile, channels the confusing daylight encountered when leaving an afterparty. Undoubtedly beautiful, it remains unusual and unexpected. Coming after two tracks that could make sense on the floor, it pointedly changes the mood without feeling like a ham-fisted ambient inclusion. "Feeling a bit left out from the club scene definitely fed into the sound of the album," qgb told us. "Helipads" collapses in on itself before expanding widely once more, a corner turned and a view opened up. "Henime", which combines indecipherable shouts with rolling melodies and a broken drum pattern, is somehow both street-rough and painfully pretty. It epitomises the fusion of styles on show here.
The album closes with the shimmering beauty of "You Can Steer Yourself Any Direction You Choose", a melodic endpoint of everything that came before; shimmering, glistening, dancing in dew-soaked sunlight. The artist says that concept and sound design will always drive his approach, and this particular track was chosen to end the album for a reason. "Problem is I haven't quite decided which direction to choose yet…" Whatever comes next, we'll be waiting with eager ears.
qgb – Hornets is out now on Present Tense. Buy here.