Anastasia Kristensen is a DJ and producer based in Copenhagen. Born in Russia, she moved to Denmark as a teen, and after half a year spent in Toronto, returned to Scandinavia and threw herself into techno culture. With just a few features to her name so far, most notably the striking "Spring Ballade" that came out on a compilation from Nous Disques last year, she's also a remarkably busy DJ – this week she travels to the US and Canada for her first North American dates. Ahead of her trip, we caught up with her to chat about her history, her motivations and the city that she calls home.
So the reason we're talking is because of the tour, right? "Yeah, Truants is one of my favourite places, you have such a good focus on more upcoming and those weird leftfield artists that don't get normal coverage. The tour is right around the corner, I'm travelling this week – it's a long trip, and there are a lot of gigs coming up. So it's exciting to highlight it!" How long are you travelling for? "I'm going to be away for two weeks and I have five shows scheduled – three in the States and two in Canada. New York and Toronto the first weekend – it's going to be pretty busy as a good friend Ariana Volvox invited me to her show in New York, so I'll be playing twice in a night, and the day after I have to hurry up to Toronto, which is also exciting because I used to live there. As much as I'm excited to play there I'm also excited to spend a few days there after the show, and see all my old friends and classmates. All the people who inspired me to enter electronic music on a more serious level, it's where it started for me."
I read you said that when you came back from Canada, that was when you first bought decks? "Exactly. I used to collect music before and somebody showed me exactly how to use them more practically, and I was so inspired. I'd already imagined the idea of the flow, but I didn't have the technical routine or any idea of how to start, so that was the place where I first stood next to a mixer and two decks and got really hooked on it. Like 'Woah, all the tracks I know, all the releases from Detroit I used to collect, now I can actually mix them together!' So that's the start of the story."
Were you clubbing back then?  "I wasn't a big raver, no. I would stick to private parties, where people were more enthusiastic about listening and discussing and geeking on Discogs and all that. I was really into more intimate circles, and also I used to move quite a lot in my life so I never really had a chance to explore local scenes. So for me it was very theoretical knowledge of music for a long time. Then when I came back it naturally became a part of me, if you're a DJ you have to go out as well, which I liked very quickly, and it escalated with bringing all my friends who didn't go out into that as well. So I got the taste for it, for sure."
Did you do some promoting as well? "I used to throw a few parties, I recently tried with a more leftfield, ambient, noisy end, but in this country it all comes down to how much you can sell at the bar, which really demotivated me. It's a really big struggle because we have a very expensive country and very little audience, especially for more quirky and more experimental stuff. Also the headliner cancelled a few hours before! So that was probably a final thing that signalled to me that I should probably stop. But I definitely like the idea of creating something interesting, curated, like an interesting programme, something versatile. What's really important to me is to be inclusive, so my lineups would not be just a bunch of guys from the techno industry, but also some local talent, female identified – an inclusive environment, that's what really matters a lot to me.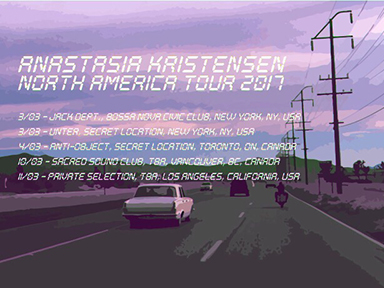 To go back to the tour – do you know anything about the parties you'll be playing at? "I'm starting in New York and one of the parties is Volvox's Jack Dept at Bossa Nova Civic. I've never been there so I'm extremely excited. People say really good things about it, that the vibe is good. After that it's going to be Unter, which is quite underground, they don't have any page or group or social media. They keep it quite low-key, which makes them even more in demand – people are very curious, they want to know what it's all about. We have a lot of great people on the bill, like Antenes from L.I.E.S., Volvox, Clay Wilson from Bunker, and Tommy Four Seven, who's an amazing industrial techno DJ and producer from the UK. So it's really exciting because it's a diverse lineup, and it's friends around me, and I'm sure everything will be well planned and organised. I feel I'm in very good hands."
And on the west coast? "I stay a few days in Toronto, which will be a very secret party, mailing list only, because they keep losing venues in Toronto – poor city of Toronto! That's exciting because usually in my experience those parties can be some of the most cheerful or festive ones, and it's limited to maybe a hundred people, and everybody knows each other and feels really safe about things. On the west coast, it's a very funny story – there's an artist on Nous Disques called Dreams, he lives in LA, and the Nous label owner recommended me to ping him, send him an email if I'm ever in the States. So I did, and he was very interested, and I'm going to LA for Dreams' party. It's called Private Selection release party, which is also the name of his label. I joined their bill and they found an amazing location in a gallery somewhere. I'm not supposed to say much about it in order to stay free from police! It's like a little Nous Disques family gathering or something. The last show is in Vancouver, which came together pretty much last minute, the guys are called Sacred Sound Club. I'm excited to play there as well because it's in another art gallery space, but it's also a venue for activists and artists, so it has a certain belonging to art, 24/7. I think it will have a certain spirit that should inspire me for sure."
How do you find the spaces you're in, affect the sets you play? "I've been thinking about it. For me it usually depends – is it more on the heavier techno end or is it people who prefer to be more, I guess liberal and not care so much about the recognisable conventions of techno sets. I look at what background the other artists on the bill come from and what bookings they had before. It doesn't mean I'm going to compromise the way I play, but I think it's definitely a DJ's task to recognise what audience and environment you operate in on the night. And also as it is in any other place, it would depend on the time I'm playing. How do you build before the next person? Maybe you want to let people build the excitement for later, or take a little break – it depends. I study the lineups before every gig in order to be oriented, informed. Also the good thing is that I will meet the promoters before we start, some of them host me, so you get an idea of what kind of community you're entering."
You mentioned Nous Disques – can you tell me about the next release? "It is kind of secret, because the label prefers to stay quiet about it. We are working on polishing some last things, and the label is quite busy with other amazing artists like Sapphire Slows, who's coming up soon with an ambient record. Right now I think it's a bit too early to reveal too much, sorry to disappoint you! But we aim for an EP, and it will be this year. I have another thing for the spring, which is another VA with me on it, but it's quite different from what people know from me, a more aggressive side of me, which I'm very excited to channel, to show that music and artists can be versatile and have different approaches to production. I can't say anything more, but keep your ears open on SoundCloud. The company I ended up in is pretty interesting, I haven't been associated with any artists on that label before.
"The Nous record was the most unintentional release I've ever had in my life. The label owner George Mavikros reached out to me online, and we chatted about music, mostly about mixes, some other Danish artists had made mixes for his channel, and I sent some of my old tracks to him just for fun. He was pretty hooked on "Spring Ballade" right away, and I didn't know he was serious cause it was all online, I never met him. I was sceptical! It's an underground label under the radar, and I'm like, is it really happening? I didn't know who he would pick for the rest of the compilation, so I was really amazed how carefully picked everything was. I think it's the compilation of last year in my opinion. It's such a clear vision of the label, but at the same time I feel my track sticks out a little bit, because it has more pads, and this flowy, soft underlying tone."
It's really hypnotic – one word that comes to mind is "gloopy". "(Laughs) I agree with you totally. I try not to listen too much to it because I made it long ago and I've listened to it so many times that I think I need a break. As a producer, when you hear it on your iPod, on your computer as a project and then masters, I think you can really get tired of it, and you start to hate it a bit, because you know every single inch of it." Do you play it when you're DJing? "Yes, maybe more in the first half of my sets, it's quite hypnotic and romantic in my opinion. I made it when I was deeply, madly in love with a guy, so it was a track that made itself almost. I don't remember struggling arranging it, whereas in other productions sometimes I spend months polishing it."
The sets that I've heard from you tend to be quite heavy, but your set will often depend on time, place etc, what's the difference between your approach to DJing and your approach to producing? "When I play music out there in clubs, for me it's very much about the energy that's right there in the moment. Me and the people experiencing it together. What kind of vibe am I creating and what kind of vibe people are creating within the audience? I would say that my DJing in clubs is very situation oriented – within the tracks I know I want to play. When I produce, I try to create a story for people, I want to create a vibe that's not necessarily connected to my own experiences. While making music, I don't think about if it's going to be a banger on the floor or is it going to be a new ambient hit – I think, okay, this element sounds interesting, maybe we could develop a certain mood out of it. So my productions differ from my sets because when I produce I think mostly with a deeper approach, which has nothing to do with the energetic and sometimes angry vibe of a techno set. If my music can tell a story to a listener, or they imagine a romantic moment, that's my goal with the production.
"With the DJ sets it's all about the moment, and that's why I'm cautious with recording club sets, because they will never sound the same way as they did in the club that night. If you can look at it cynically, it can frighten people away, or give people a bad impression. They assume that that's the only thing you play. That's the same problem with podcasts – as you said my sets are heavy, but that's why it's important to highlight that of course it will depend on the night. I will never start with 135bpm bangers if it's the opening set! What really occupies me as well is knitting all those tracks together that makes a whole new sound out of otherwise maybe pretty "simple" tracks. It all comes back to that point of diversity as well – differently arranged tracks together may create a super special combination.
"People ask if I play disco or house, but I do that locally under a different name – Ana Kris. I like to keep Anastasia for that particularly energetic sound, but it doesn't mean as a DJ or person I don't like to do something else. I think it's important to work with different music, if people can do that.
You said you got into DJing after that time in Canada, how did you get into production? "I got into that because I was with some friends in Berlin long ago who suggested that they didn't want to go out to party, they just wanted to stay in the studio and see what we could do. I picked up some beginner steps from a friend called Dave, he would give me those very basic steps in Ableton. I used to use it when I was 17 for some chiptune music, but I forgot about everything – it was like learning from scratch. Then I picked it up and I wanted to build on my own basic knowledge, so I went home and got a cracked version at first, and I started playing around with it. I watched a lot of tutorials online, and I asked my music friends in Moscow how would you do this, do that, so it was pretty much online learning. I would go to a couple of hardware sessions here in Copenhagen, workshops and free tutorials, but it was all hardware, so it really turned me off. It's not because it was complicated, I just found it so clumsy – all those boxes, filling almost five square metres – by that time I was unemployed as well, so I had no idea where I would get money for these kinds of boxes! I didn't have any other option than software.
"I slowly started hanging out with local producers, just looking at what others would do, then I would go home and try to repeat that and then instead of repeating it I actually figured out my own way. I'm sure I'm doing a lot of those processes wrong, but I know how it works for me. If it works for me and I can make a result out of it, then I'm happy. I think the next step would be to optimise some of my working flows. The issue with this production thing is that there is no right way to make results! I think if I can save five minutes per workflow, that would be great. I'm confident enough to navigate in it, I'm at a certain stage in production where I can maybe advance a few things already. At the same time, when I talk to my friends who live off producing music, I can see I have so much work to do in order to make the same sound quickly and write an EP within a week! It's a constant learning curve."
Because you have a full-time job, you don't have the same amount of time to devote to music that other people might have. How do you fit music in? "I work day-time as an IT consultant for the government, which is also exciting. What I do with music is I try to fit it in the evenings, or weekends where I don't want to go out or be sociable. I think timewise I fit it in alright, and there is a certain advantage to doing it this way. Because I only have a certain amount of time, let's say three hours every day, maximum, that makes it 15-21 hours a week – and that's an ambitious number, on a good week – I try to use it extremely result-oriented. I do miss free-jamming with no ambition or plan, but I find myself extremely productive because, okay it's 11.30pm, I have to go to sleep because I have a meeting at 8.30am tomorrow. So I stick to my discipline, I make a good cup of coffee at night, which is not good for my sleep, but I use those three hours as much as I can. If I bought a new plugin for example, I try to spend that one evening learning it, so the next evening I can try to make some interesting tunes with that. That's quite an advantage, because when I was unemployed, I didn't use that production time the same way. I was distracted quite quickly, be it social media or making a new job application, I didn't know what to do with myself. I felt I had too much time. So I think it's nice that after work, I both relax with music but I also make something out of it. Sometimes it's hard to think about something else at work when you really want to finish this piece of music, but also you don't have time for bullshit! You have to do something good
"If I feel that I haven't been social with my friends for months or weeks, and that happens once in a while, because of this dynamic lifestyle, and my family lives quite remotely, it's important that you go up to the studio and do something, but it's also important to give yourself a day off or two evenings off. I've tried it a few times when I've been so frustrated and everything bugged me that I burned out for a week. It's like with any other work. Some people just need a few days off so they can come back all fresh and ready again. I've sat in front of the screen, and thought, no, I need to be social today and meet with friends for coffee. Then the day after, because I gave myself this step away, I became more disciplined, because I fulfilled my other needs as a human being. I have to remember that I only have this amount of friends and family, so you have to take care of these things."
Are your family in Denmark as well? "My mother is here and my Danish stepdad is here, and my dad is in Moscow. I moved 10 years ago. I go to Russia once a year when I can, sometimes I play there. To be honest, I have some good memories of my past, and it's a part of my identity and always will be, but when I go there, I always experience a little bit of culture shock, and also recognise so many things, like jokes and humour, this Russian mentality. It's home away from home. It's like a long-distance, remote connection. I've moved on from there. My teenage years were here so it had a big impact on my world view and my ambitions in life in general.
"Scandinavia is really pricey but what I like about it is their socialistic model. I know it's on the way to collapse, maybe in the next generation, but so far it's been quite beneficial for anybody who stayed here and worked. It's a real safety net. I know very few people who want to move away let's say to Berlin, because you get a lot of good benefits here. At the same time, if we speak about music and techno environment, I can totally understand people who engage with art and music more seriously move away from Denmark, because the art hub, the epicentre is definitely not in Copenhagen. I think in Sweden it's a bit more interesting and more liberal in a way, because the state really supports music communities. You can register yourself as a group and have a VAT number and apply for funds, you're entitled to certain creative space that the government should be able to find for you. Not right away, but it's a part of their legal policy, which we don't have in Denmark. They also have a more rich history for music and arts, especially for music. Just look at the Eurovision winning, lol! Or the techno scene there. It's definitely competitive with the UK. I wish Denmark was the same, the tradition of taking things a bit more seriously.
"We have a lot of electronic artists though, like SØS Gunver Ryberg and DJ HVAD. Ctrls is a close friend of mine, he's been releasing on Token for four years now. I'm really happy to see local talent growing even bigger. I think we need to mark Copenhagen more and more."
I couldn't help but notice you're drinking a can of something – could you tell me what that is? "You heard that? I'm drinking San Pellegrino Limonata." Have you had the mint and lemon flavour? "I love that! But there's only one shop that sells it here and it was closed. So it's just pure citron. My favourite is with the mint, but I think the whole series is top."