CTM is an annual festival that takes place in Berlin alongside its sister event transmediale, a year-long project that aims to draw out new connections between art, culture and technology. CTM focuses on contemporary electronic and experimental music and as well as the multifaceted disciplines that branch off from the club experience. A host of parties, shows, installations and lectures are presented over the course of eight days in late January. This year's overarching theme was 'Un Tune': the aim was to explore and examine the functional significance and effect of contemporary music. To that end, the festival hosted some 180 concerts, performances and installations involving more than 200 participants. We spent a weekend in Berlin, soaking up as much as possible in an all too brief space of time.
*****
The first event for Truants to attend is Xeno IV at Berghain. After stopping for a drink in the semi-infamous Sunflower Hostel we make our way to the even more notorious nightclub, forbidding by reputation and in its brutal appearance. Visiting Berghain for a festival occasion is, we're told, markedly different from seeing the venue in its regular capacity, and it does indeed seem more reserved than anecdotal reports would have had us expect. After two hours of warm-up music from local Boiler Room host and CTM co-curator Opium Hum, Aleksi Perälä takes to the stage – a stage, somewhere – to perform Colundi Sequence, built from the custom musical scale he fashioned alongside Grant Wilson-Claridge. It's a beautiful experience: uncertain where to look, the crowd shifts and moves with a slight awkwardness, unused to a situation where the DJ or performer cannot be seen, a captive audience forced to break from what a friend describes as the "slightly fascistic" element of DJ performance culture. The music itself is exquisite, with frenzied synth arpeggios darting about the impressive sound system, each track harder and more corrosive than the last.
Hungarian artist Gábor Lázár follows, hammering out 45 minutes of sonic abrasion – not dense noise, but rather clipped blasts of sound that stray away from rhythm whenever it seems to approach. It's even less conducive to mindless dancing than Perälä's considered elegance. This assault is followed by a similarly-minded DJ set from Prostitutes, who ramps up the tempo and hits hard. Egyptrixx offers some initial intrigue, if only by virtue of his tardiness. A bizarre experience for many, no doubt, is the total silence that greets us on return from brief sojourns upstairs into Panoramabar. Some time later he takes to the stage and blasts lengthy passages of the grinding, metallic noise central to his latest album, Transfer of Energy [Feelings of Power]. He eventually brings in some beats, and the crowd, at this point almost static, is shaken from its stillness. By now awake for some 24 hours, we head home without seeing either Powell or Maelstrom, though not before a languid walk down the affluent Münzstraße covered in fresh 5am snow, listening to the crisp sounds of Vitalis Popoff (following some U-bahn-related confusion).
The following afternoon, an insightful discussion takes place between Resident Advisor associate editor Will Lynch and industry veteran Craig Leon. At CTM for a live performance of his recently reissued 1981 album Nommos, Leon speaks about his professional history, from recording in Florida before moving to New York (where he discovered and helped launch bands like the Ramones, Talking Heads and Blondie) and on to his present-day work in classical music. He describes his production style as more interpreter than dictator, helping bands iron out their ideas to create a coherent vision from their often rambunctious live approaches. In his mind, recording the London Philharmonic is no different from recording Suicide. He says that the albums he put out with the likes of James Galway and Luciano Pavarotti elicited more shock from the classical establishment than any punk album did from the mainstream. Mark E Smith of The Fall recently told BBC 6Music that: "A lot of producers, even if they're big fans of the group, they won't work with me any more." On this day, however, Leon ventures: "Everyone says Mark is difficult to work with, but he's one of the funniest guys I know. He's incredibly aware of what he's doing and he knows what he wants." Coming across as truly affable and genial, perhaps Leon is simply that bit more relaxed than his fellow producers. As for the future, he describes a new modular take on the work of JS Bach inspired by the Wendy Carlos album Switched-On Bach. When an audience member asks why he hasn't tackled the work of a composer like Bruckner, Leon responds that although he had actually suggested such a project, the money just isn't there for anything considered that experimental. Furthermore, Bruckner's arrangements are just too complex. Bach it is.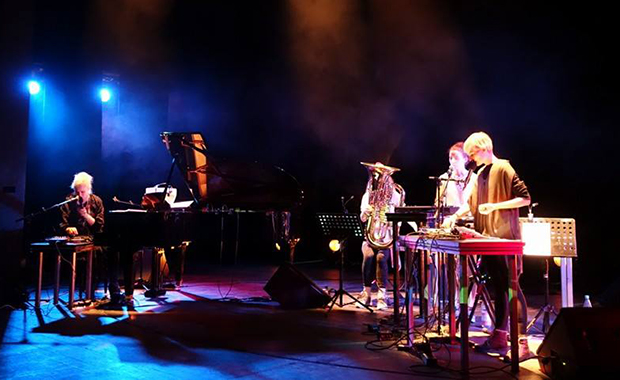 Jenny Hval and Susanna, joined by Heida Mobeck and Stine J. Motland. Photo by Oliver Beige

If Berghain was put to strange use on Friday, the setting at HAU seems a lot more appropriate for Meshes of Voice. An "interdisciplinary house", the venue plays host to artists from the worlds of theatre, dance, performance art, music, visual art and discourse, and aims to create new alliances and produce different contexts. First to perform this evening is Lydia Ainsworth, a Canadian singer whose seemingly straightforward pop numbers are underpinned by electronic experimentation and heavily effected vocals. At one point her on-screen visuals cut out to a blank Apple screen emblazoned with the words "GET BANGED", eliciting mischievous laughter. It's a moment of levity before a really quite magnificent performance from Jenny Hval & Susanna, whose 2014 album inspired the event's title. Accompanied by Heida Mobeck and Stine J. Motland, not only do they bring the album to life, but expand its character entirely, creating a dense and overpowering wall of sound causing an intense visceral reaction. Opening with unvoiced tuba blowing, manipulated to create the sound of waves, there's an overarching sense of the mystic and mythical – forest spirits and mountain lords, benevolent and malevolent, hanging over the evening. The tension is so thick that after one lengthy sequence is complete, the audience remains deathly silent until Susanna playfully says, "Hello," from her piano, prompting nervous laughter and well-deserved applause. There's a sense of a unifying performance rather than a series of songs, those overlying meshes of voice – Jenny's youthful, elfin, Susanna's powerful, almost strident – coming together in grand harmony and discord.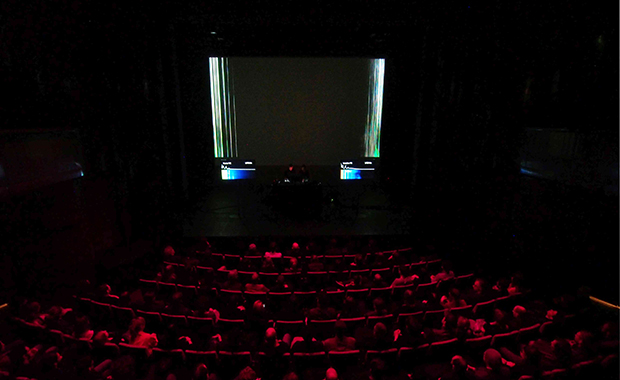 Emptyset. Photo courtesy of CTM
One observation of the weekend is that Berliners don't jaywalk; the locals are wont to wait for the appropriate signal before crossing the road. More than a few visitors are seen on their way to HAU for the world premiere of Emptyset's ambitious Signal project, running across a clear street under the stern eye of a little red man in the hope of securing some of the few remaining tickets. In Signal, the Bristol duo aim to use ionospheric propagation (in the simplest of terms, radio waves) as the basis for their sonic explorations. In fact, the performance is delayed by an hour due to the unpredictability and activity of those radio waves. Their sound is initially transmitted to the Nauen Transmitter Station, the oldest transmitting plant in the world, some 42km away. It is then sent on to the Issoudun Station in France, from which it finally travels back to the HAU venue and out of its speakers. A long journey, along which many factors can cause havoc, yet the hour-long performance passes without any great hitch. The sound is thick, heavy and oppressive. Wholly immersive, the effect is heady, dreamlike, best experienced loud, and in the dark; something to be savoured and appreciated, if not enjoyed. A small sense of its scale might be touched when it will be replayed on Deutschlandradio Kultur in April, just after midnight (CET).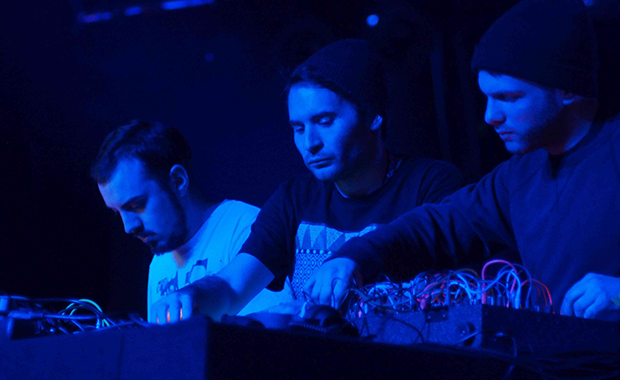 Shapednoise (l), Logos and Mumdance present The Sprawl. Photo courtesy of CTM
The final event of the festival takes place at Astra Kulturhaus, a venue that regularly plays host to acts across the spectrum, from Amon Tobin to Yo La Tengo. Tonight, it is the site of Tune Out, the CTM x RBMA finale. To start, Melbourne-born Berlin transplant Phoebe Kiddo performs her exuberant Mind:Body:Fitness project, a feverishly upbeat yet manically forlorn take on modern club music. She's followed by Japanese trio Nisennenmondai, whose performance comes off as a touch robotic and lacking in human spirit, despite undeniable technical prowess and unwavering steadiness, particularly on bass and percussion. The drummer even manages to maintain blistering pace whilst checking her phone at one point. Guitarist Masako Takada takes to the mic at the performance's end to say, "We have new record, so please buy," to genuinely heartfelt laughter and applause. A highlight for many, supergroup-of-sorts Carter Tutti Void take to the stage for their own twisted brand of electronics, a lurching technoid stomp encouraging even the weariest of festival-goers to get down.
Then, The Sprawl. Mumdance and Logos' performance is far from the urgent heft of their collaborative album, Proto. Instead, the pair draft in Italian drone and techno explorer Shapednoise. His task is to deconstruct and transmogrify Proto, moulding an unrecognisable barrage of sound from its skeletal constructions, which is both deep and abrasive. Inspired by William Gibson, a writer of speculative fiction who coined the term cyberspace, The Sprawl is a grand look at the modern world and its urban conglomeration. (Note also that 'The Sprawl' is the name of a track on Mumdance's Take Time EP for Rinse last year.) Beats and rhythms occasionally creep in amidst abstract explosions, a constant threat of thud hanging in the air. Always aiming for great sonic drama and tension, the performance is replete with the bare tropes of grime and rave – sirens and hoovers, gunshots and cymbal reverse – yet in tearing these elements apart, the effect is one of confusion and reflection rather than hedonistic escape. It's reminiscent of Lee Gamble's Diversions 1994-1996, in which he sought to "extract, expand upon and convey particular qualities emblematic of the original music" – old jungle tapes from his youth. Maya Kalev, writing in The Wire, describes the 'weightless' genre coined by Mumdance and Logos as "a shadow or palimpsest of dance music, rich in its signifiers and history but lacking its typical drive and force". The same could be said about this show for the most part, although it's certainly not lacking in force, blasting heavy noise and mechanical squawk. It's a stirring end to the evening, if not quite rousing and triumphant. For that, the crowd is sent to the adjacent Urban Spree venue, where Kontra-musik's Ulf Eriksson and Lobster Theremin and Dekmantel's Palms Trax take things home over five hours of ebullient house and techno, while a secondary room includes the first indoor coal fire Truants has ever seen next to a DJ setup.
*****
Despite the brevity of our stay, it was all too easy to find and enjoy a variety of performances and activities at CTM. Engaging with each event on any level was possible, from mindless dancing to deep-focused concentration and involvement – and there were plenty of shows we were unable to attend. Now in its 16th year, CTM is a well established fixture on the Berlin calendar and shows no signs of complacency, attracting a range of international artists that are across several scales of diversity. More than just a festival (to call it such does a disservice to its scope), CTM offers as much as you dare put in. Here's to its 17th edition.