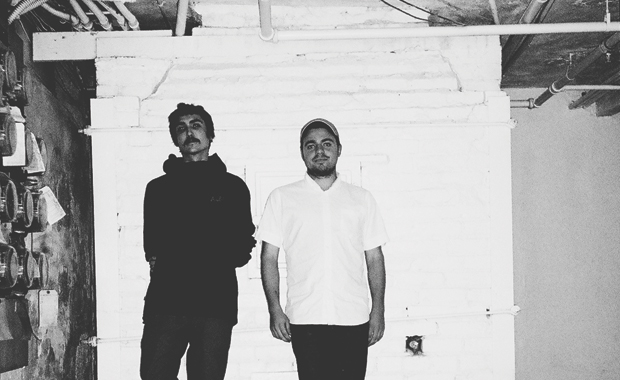 Young guns Cromie & Sage Caswell may call Los Angeles home, but their sound is truly global. Both together and solo they've crafted tunes that push the boundaries of house music at a time when too many record crates are filled with carbon copies of classics. As individuals they've left quite the trail of sonic breadcrumbs (a yung Cromie even featured on our second Truancy compilation) but it's together that they've assembled their latest release, the inaugural record on Brooklyn's Peach. "Vines" & "Pyrex" are two tracks out of place and time, drawing from the past, present and beyond. No strangers to the club, for our 81st Truancy Volume the duo turned in an hour of dance floor burners peppered with a few tunes of their own.
Sage, you've mentioned that you started producing in your mid teens. Cromie, did you also start working on music early?
Sage Caswell: "Yeah."
Cromie: "Yeah similar, took piano lessons for a while, got some gear handed down and gifted and made beats. I guess it was a few years ago that I started making music, using the same gear, with the intention of finishing tracks and sending it to friends I was meeting."
Individually your tracks sound quite different, what's your approach to collaboration?
Cromie: "After a couple of sessions starting tunes from scratch at my place, having known each other through having some dj gigs together, Sage showed me a couple of drum tracks he had been working on. They sounded just a little bit different from the other tracks of his I'd already heard, and I was immediately interested in working with them."
Sage Caswell: "I had a few fully developed drum tracks that needed melodies, I felt Nik was an appropriate suitor and from there we started bouncing stems back and fourth. Since then we've started on tracks together, but we definitely continue to stick to original styles of trading parts and working seperately
Cromie: "We each contribute original ideas, and then work together at my place or his to shape and fine tune the track together. "Pyrex" was the first one we made, Tim [Rem Koolhaus] hit us up around the same time we finished it and we had already started on Vines. Tim was into that one too, and that's how the Peach record came together. We've kept at it since finishing the Peach single, we have a good workflow going at this point and some more tracks in the bag."
This is the first physical release for the both of you right? How does it feel!?
Sage Caswell: "Couldn't be any happier with how this all worked out, all luv outs to man like Rem Koolhaus, he made it all happen."
Cromie: "Tim is the man <3  It's been an ambition of mine to get my music on wax for a while now, so yeah, lotta warm feelings to see the record spinning and for our music to come out. And it's a trip to share this first go-around with the homie."
You both spin at A Club Called Rhonda, which looks like one hell of a time. How has that experience influenced your tunes?
Cromie: Rhonda is one of the best things going on in LA and has been for a minute. As a gig, its a bit of a dream come true, the crowd is always havin' it, plus its always a bunch of friends there, so its a great place to see what works on a packed, open-minded, but discerning dancefloor, as well as being an opportunity to play my favorite stuff and not have to temper anything.
Sage Caswell: "I had to use a fake ID to get into some of my first Rhonda parties, which were still at this cool spot in Silverlake called El Cid. Down the line at the last Rhonda to be held there, LA's best kept secret (and fellow Rhonda affiliate) James Del Barco played a very tite nite with Tiger & Woods; Vibes were being thrown around all over the place (Video HERE). That night felt like a positive step towards where I feel like the city is now, everything feels right in the space. But really the reality of the situation is, Nik has a fantastic forthcoming record on Rhonda's label, Rhonda INTL. In light of our collaborative efforts, Loren (Goddollars) invited me to play with Nik on a few occasions. Since then they've treated me like family, It's really cool to be involved with a batch of folks who all love dance musics."
Cromie: "The party with Sage was a big one. When I saw that we were on the bill with Moodymann, that was too wild! But yeah, I look forward to attending Rhonda every month, so every time I play is really a treat. As far as influencing my music, it's impossible for me not to be influenced by the music I'm going out and hearing."
"As far as I can tell, here in LA, there's sort of two things goin' on, the Hollywood-style clubbing, which we don't really partake in, and a vibrant warehouse scene, where there is great talent playing pretty much every weekend at various cutty spaces. We really enjoy those. And then there's Rhonda, which doesn't fall into either of those categories, but is arguably the best party atmosphere that draws a diverse crowd without compromising on the music. So I guess the Rhonda experience encourages me to make music that has a broader appeal, without compromising my vision of what the music is about.
Sage Caswell: "Yeah, same."
Finally, you Californians love to brag about your Mexican food. Where could we Truants snag the best taco in LA?
Sage Caswell: "I suppose it's like New York & pizza, but honestly, there's a Taco Bell at Rampart & Beverly that has never disrespected me. Also, any place that will deep fry a burrito is 5 stars."
Cromie: Dollar fish tacos at El Siete Mares is a weekly ritual!

Truancy Volume 81: Cromie & Sage Caswell by TRUANTS
Tracklisting:
October & Borai – Didn't Mean To [Applepips]
Cosmic Kids – Higgs Boson [Let's Play House]
Matrixxman feat. Mykki Blanco – God Created the Beat (Matrixxman Groove Mix) [Grizzly]
Marquis Hawkes – Higher Forces [Dixon Avenue Basement Jams]
Cromie – Inner Knows [CDr]
SLG – Goat Cheese [Studio Barnhus]
Mark Grant & Braxton Holmes – Ron Hardy [Cajual]
The Mekanism – Body Classic [Needwant]
Benedict – Why Don't You Finish WIth Me [we_ctrl]
Cromie & Sage Caswell – Pyrex (Ghosts On Tape remix) [Peach]
Sage Caswell – Around [CDr]
Perempay & Dee – Kickstart (Instrumental)
Semedo – Love Illusion (Capracara remix) [Body Work]
Cromie & Sage Caswell – Vines [Peach]