Panel: Jon Alcindor, Kyle Brayton, Soraya Brouwer, Aidan Hanratty, Sophie Kindreich, Cayley MacArthur, Jess Melia, Michelle Myers, Warren O'Neill & Sindhuja Shyam.
1. Tuscan Leather
Jon: The production on this, my God.. Noah Shebib is at his peak; it's just this whirlwind of hi-hats, bass, and colorful leads. Lyrically, Drake, he sounds hungry, but sensitive thugs will be reaching for their tissues by the end.
Sophie: Whitney Houston's "I Have Nothing" gets the chipmunk soul treatment from 40, who shines throughout NWTS but particularly on its intro – Drake says himself that he could "go a hour on this beat". I can't fault the production, but it's the lyrics of "Tuscan Leather" that have really given me something to think about. That Drake can fire shots while reciting the alphabet ("aye B, I got your CD you get an E for effort") is testament to rap music's infinite ability to rephrase "I'm better than you'" into something that's razor-sharp, quick-witted and fun to say out loud. A lot of people find Drake's success-as-revenge motif relatable, myself included, and "Tuscan Leather" is packed with lines that resonate with those of us who privately consider our achievements a symbolic middle-finger to our critics.
2. Furthest Thing 
Kyle: "Furthest Thing" is one of my favourites, and it's produced by Jake One, who's responsible for Chance the Rapper's "Acid Rain". These two opening tracks are indicative of the production to come throughout the record.. lots of backtracking, soothing pianos, cloudy/dark atmospheres (aside from "Hold On We're Going Home"), clear-cut vocals, and low-end bass.
Soraya: This is the one that resonated with me most during my first listens, and the one I keep going back to – the closest thing to perfect. For me it's the song that ties Take Care and NWTS together, the opening lines say it all. Drake is on the rise and put out the record that shows him in a more confident place than before, and he makes sure to let us know he's here to stay. I mean, there's tracks about his come-up on all his releases but this is the record where his whole attitude changed. The sensitive Drake persona from his previous records is still in here before he changes it up, but it sets the tone for a more confident body of work. Best hook on the record, hands down.
Cayley: On a different note: has anyone noticed all of the rewinding/backwards sounds on a lot of the tracks? It's in the very beginning of "Tuscan Leather", a bit at 0:15 in "Furthest Thing", "From Time" from 3:00 onwards…  Is this 40's current favourite thing to do, or do you think it has some significance? I can't think of any explanations that aren't completely cliché. The only place I recall hearing this effect on a Drake track before is at the end of "Shut It Down" which was also produced by 40, but I could be missing something.
Kyle: I love the backpedaling production, too. I don't think it's saying anything necessarily, it's just a nice trick that dimensionalizes the tracks and provides room for a switch up in tone/flow/narrative etc.
3. Started From The Bottom 
Aidan: This is new to me. This beat is pretty damn catchy, even if the feeling of the track is a lot more defensive than celebratory. That bass is infectious though. Lyrically, yeah. You done good but let's be honest, saying you came from the bottom is just a bit disingenuous.
Jess: Don't get me wrong, I love "Started From The Bottom" as much as the next Truant (except maybe Aidan), and "No New Friends" gets me everytime… But this "No new niggas, nigga we don't feel that/ Fuck a fake friend, where your real friends at?" is kind of funny, isn't it? I think Charlamagne expresses this better than I ever could.
Kyle: From the fact that Drake didn't really start at the "bottom" but still gets a hood hall-pass for delivering a true banger that hasn't showed signs of rust since its release back in February to the general "Fuck-You, I'm-Here-Now" quality ('Imma worry bout me/ Give a fuck about you') of the track, "Started From the Bottom" could very well receive song-of-the-year praise come December when the flood of year-end lists are revealed.
4. Wu-Tang Forever
Sindhuja: Excellent use of the best tune off of one the EPs by Zodiac that was out on Vase last year, making for probably my favourite production off the record.  People who are still complaining about the odes to the Wu-Tang Clan and Ma$e, I don't get you. I think Drake's odes on this album were super subtle and nice, the complaints honestly baffle me. Maybe people are upset about things like this because it's too relatable, the fact that we grew up with the same things, under similar circumstances but Drake actually made success out of it? Drake is out here reading the same blogs and making money writing odes, collaborations and dedications.
Warren: Good song but, as with most tracks on NTWS, there's not enough departure from what he's already done. Some raps about one night stands with good girls, Toronto and how he changed the game all over a standard minimal moody Drake beat.
5. Own It 
Kyle: Does "Own It"  remind anyone else of "Practice" off Take Care? It has that slowed-down ladies' jam "U got it girl, do U" appeal without the Cash Money sample courtesy of Juvenile. The lyrics "Next time we fuck I don't wanna fuck/ I wanna make love" and "Next time I stand tall/I want to be standing for you" are the peak eye-roll moments of the album for me. But there's always these moments on Drake records; it comes with the territory.
On that topic, I got frustrated this week reading a writer's thoughts on NWTS in which she says NWTS is the most misogynistic album of the year, even more than Yeezus. I'm a huge Kanye West fan but I'm also the first to admit Yeezus was intensively misogynistic and that's not okay. While provocatively lyrical and sonically adventurous, the overt misogyny cast an ugly shadow over what could've been a masterpiece. The case can be made that Kanye despises his exes (which is where all his misogyny originates) but in comparison Drake seems remorseful towards his exes.. he still wants them back even though they've clearly moved on.
I'm not saying Drake's a golden boy or doesn't condescend the female subjects of his songs but he is tame in contrast to the Weezys, Yeezys, Weeknds, and Rozays of hip-hop. This specific writer says the women of NWTS are many metaphors but one of which is a NPC in Grand Theft Auto; meaning Drake, if we follow this metaphor through, would be placed in the GTA world beating and murdering these woman without prejudice. It's entirely far-fetched, especially for a rapper/singer who's been universally labelled a "sensitive thug" and "soft". Compared to his previous releases, NWTS seems more explicit than before as Drake has matured and maybe taken some vulgar cues from The Weeknd with more lines alluding to the vagina and his effect on it here than any of his previous outings. But this is commonplace in rap music, so maybe some things are still the same.
Michelle: I have probably thousands words worth of thoughts on this but the short version is that Drake brings out a lot of critics who normally don't listen to rap music and so they aren't 'grading on a curve' the way hip-hop fans tend to. Drake can be pretty condescending to the women in his music, though I do think some critics are kind of exaggerating how bad he is. I think it's totally valid for people to explain why they, individually, are rubbed the wrong way by this kind of music.
Cayley: It's hard to take someone seriously when they talk about sexism in an individual's music yet discount the legitimate thoughts of thousands of people on the basis of being 'stans' (and, more generally, fangirlish). It's easy to do, but I don't think you can have a contextual discussion of what's going on when you divorce the artist from the community. I think this paper is full of great ideas, particularly regarding 'the girl' as a relevant role in the overall scheme of the music industry. It brings up the concept of perceiving artists as either feeling versus thinking, and how that leads to the false dichotomy of Serious versus Popular music: the former being associated with the masculine Artist and the latter being the feminine Performer. The critic you mentioned brushed off a huge number of female fans for having connected emotionally with a record (and the artist) in the paternalistic act of trying to protect those same people. Those kinds of girls make up a sample of 'the bitches' we hear about in Drake's songs, and the critic has dismissed them in the same way Drizzy does in the interest of personally attacking him. It's a convoluted anti-misogynistic review that falls flat on its face.
Sophie: There's malevolent sexism and benevolent sexism, and Drake's definitely in the latter camp. Everyone is different and has their own standards as to what sort of lyrics they find tolerable. Personally, I found some of the lines on Yeezus gross but they seem cartoonish compared to Drake's 'women are helpless and need to be saved' schtick. Subtle Nice Guy sexism might not be as vindictive an attitude as Odd Future-esque rape fantasies but it is, I find, a lot more pervasive, and it can get swept under the carpet because it's not as overtly misogynistic as that sort of stuff. But just because Drake's intentions are good doesn't change the fact that the way he speaks about women is often paternalistic and chauvinistic.
Warren: I think the key difference, as mentioned, is that Yeezus is a work of fiction and NTWS is supposed to be from the heart. Kanye is playing a Patrick Bateman style caricature of himself but Drake wants it to be "the real me".
Soraya: It rubs me the wrong way when critics argue that Kanye is an act, whereas Drake presents the real him. Apparently, Kanye is not the psychopath he presents himself to be through his lyrics because his narrative is an act: it's over the top but calculated at the same time. But when they look at Drake calculating his every move and obsessing over his lines, they decide that apparently makes him a sociopath and not an act? I don't see how Drake's eye for detail in both his productions and storytelling adds anything to his assumed creepiness, at all.
Kyle: Drake's meticulous and detailed but it's hyperbolic to compare him to a sociopath.
Cayley: I don't understand why more people are not talking about Drake's own evolution and spending some time looking back prior to Take Care. There has been so much wasted space regarding the inevitable failure of two totally different artists in terms of living up to the imagined Ideal Rap Record. Everyone's ideal is different – Drake's and Kanye's ideas of the best record ever are obviously completely different. I don't know on which playing field we're supposed to meaningfully compare them.
6. Worst Behavior 
Kyle: The beat on "Worst Behaviour" is wild, DJ Dahi (the same guy who made one of the best beats of 2012: Dom Kennedy's "My Type of Party") makes the synth rattle and skip around a bass that hits like a snare roll but Drake manages to grab a hold of it firmly. He sounds most aggressive here, calling out all irrelevant rappers and those who never wanted to listen to him ('Muhfuckas neva loved us') on his "worst behavior." He's flexing pretty hard here, but it's necessary among all the down-tempo pensive tracks across NWTS.
Warren: Sick beat and he definitely goes in a lot more on this than the other tracks but why is he still reminding us that he made it big? Wasn't he already pretty big on the last record?
7. From Time (feat. Jhene Aiko) 
Sophie: "From Time" is my favourite track on the album. I love Drake when he's on his confession booth shit, but it's good to hear an actual woman on the track giving an actual woman's perspective. I like to think they're speaking to each other as the same people who fell in and out of love on Aiko's "July", just a few years on. Everyone is going crazy over Sampha's bit on "Too Much", and for good reason because it's stunning, but I hope people are just as hopped up on Jhené's vocal. Hearing her voice glide over "From Time"'s twinkly piano has put me right back under her spell. Swoon. As an aside, I love the "then she started telling me how I'll never be as big as Trey Songz/boy was she wrong" line. Trey Songz's level of success used to be something Drake strived for, then they did a song together about exactly that, and now Trey's living in Drake's shadow (along with, like, everyone else in the world, but I thought that was a nice bit of continuity).
Kyle: I think this is the most contemplative song of NWTS. Those piano harmonies with Jhene's voice are a beautiful thing but what stood out for me was when Drake addresses the situation with his father. On Take Care, we heard hints of angst directed towards Dennis Graham  while on this song, two years since Take Care, Drake seems to have made amends with his dad. Drake's growing older and hashing problems out like adults, even if they need to burn one to ease the tension.
Sindhuja: Jhene and Drake are two fresh artists that are very close to my heart. They both have a similar ethos to approaching their music that I can really appreciate – both limit their production collaborations to people that work with their voice and remain blunt and open lyrically throughout their discography. They've worked together before for "July" but since they were both still very much growing as artists, it doesn't sound quite as comfortable as here on "From Time". Jhene is a highlight for me here with her powerful, taunting yet caring hook, with utmost control over her angelic voice as expected.
8. Hold On, We're Going Home (feat. Majid Jordan)
Michelle: This one actually sounds better in the context of the album. How?
Warren: This is obviously the "hit" of the record in a similar way that "Find Your Love" was on Thank Me Later. Unfortunately, I find that just like "Find Your Love" this track feels quite awkward in the context of the album.
Jess:  I am feeling Warren's last point. I'm going to put it out there and say that I didn't like this song when I first heard it, actually, I hated it. Then it grew on me, and now I don't like it again. It kind of makes me cringe, and the thought of someone playing it at their wedding makes me want to do a little weep.
9. Connect 
Kyle:  This appears to be the universal frontrunner of the album. The streets of Twitter and blog critics have praised it, and deservedly so. Hudson Mohawke co-produces one of the best beats of the album to another level in the second half of the song that escalates into a platform that separates itself from the rest of the production on NWTS.
Cayley: Where the huge TNGHT beat fit the drama of Yeezus, the subtlety employed in this context is so appropriate; this song must be one of the most discreet Hudmo beats ever. It's so great to see him get the level of credit that he's been getting. This track is the standout for me, best believe I already have an iron-on transfer with SWANGIN ready to go. I rewound this song three times to make sure I wasn't mishearing an endearingly lame shout-out to the 401, which pretty much sealed the deal for me. I love when Drake gets in narrative moods rather than straight boasting, these are always my favourite moments of clarity on his albums. Everything from "my license been expired I'll renew it after the weekend / fuck I know I said that shit the last 7 weekends" to "I hate stopping for gas this late … Summer is coming I know you could feel it / 20 on pump whatever I ain't got enough to fill it" and so on. Story of my life, Drake, story of my life. But really, it's these rare chances to identify with a real person through storytelling that have been and continue to be points of connection with his music that I think have more staying power than other superficial pursuits.
10. The Language
Jon: This might be my favorite track on the record. He glides between rapping and singing in perfect form. And the lines he drops.. there are enough quotables to make a separate Twitter or Tumblr, just call it Drake (The Language) and fill it with soft ass punch lines.
Kyle: So the only reason Birdman's muttering at the end of this track is because Drizzy shouts him out in the lines "You know I come right every summer/ Cash Money Records forever/I'm always big timing bitch, I came up right under Stunna" and "I just might bring in some girls from Miami/To heat up the city and that's word to Stunna" right? Regardless, I love how Drake uses the Migos' triplet flow on this song–which he's already had practice with from "Versace". He reportedly had Migos in the studio during production, so it makes sense and it works well as he calls out hip-hop's newcomers as "uninspiring", holds his "platinum" stance among rap's elite, and shakes off "attached" girls as he jets off on tour only to return to the cold of Toronto.
11. 305 To My City (feat. Detail)
Jon: He did it, he did it. Honestly, what's so cool about Miami? Aside from the annoying fact that Drake is constantly repping Miami and all of its sleaze this is on an "anthem" level, but nowhere near "Started From The Bottom". As he said, "we're not in Kansas anymore", so expect those awkward upward hand motions when this track plays.
Kyle: Could you imagine if Future was on this track instead of Detail though?
Soraya: Oooh, 305 to my planet, I get it, I get it.
Jess: Lol at Soraya and lol at "you sparkle but fuck man is sparklin' enough for you?"
12. Too Much
Aidan:  The muffled piano is like the aural representation of Drake's imagined inner sadness because I don't buy into this whole "emo" shtick really. Sampha kills it. It's just as well Drake doesn't sing on this one, because Sampha's strained vocal is so beautiful that it would put Drake to shame. The repeated croon is a beautiful piece of work. Those claps in the chorus need to go. This second verse is something real, I respect that. It's pretty refreshing.
Jess: This is probably my favourite track. Although, on every listen some other track grows on me. Sampha's vocal is beautiful; with this and his feature on "The Motion" I think they're a perfect fit for each other, and I'm wondering whose idea it was to collab with him. I completely agree with Aidan's "that's something real" comment about the second verse. "Hate the fact that my mom cooped up in her apartment, telling herself/ That she's too sick to get dressed up and go do shit, like that's true shit" and onwards is so emotive and when I hear it I get a pang similar to that of when I listen to Kanye's "Family Business", it ain't "emo shtick", it's true shit.
Sophie: Cosigning Jess's last point. I think criticising Drake's sensitive thug persona as contrived is sometimes fair, but the lines about his family are startlingly honest and devoid of the ego that clouds his perspective re: women. In my eyes they redeem him from some of NWTS's clumsier struggle bars. The details are so elaborate compared to the vague aphorisms he tends to allude to less familiar subjects with.
13. Pound Cake (feat. Jay Z) / Paris Morton Music 2 
Cayley: I was hoping Jay Z was going to redeem himself with this feature but it's the same 'all black everything then a white thing' gimmick with which he obnoxiously filled his "Suit & Tie" appearance. I wish I fast forwarded through that. I do, however, really like "Paris Morton Music 2" which dissociates itself from the first part of the track. If Drake had let it all end with Jay, we'd have to have a talk. I'm undecided about Drake's frankness in the closing: on one hand, I can't disapprove of some well-intended introspection (if that's what it is), but on the other hand it almost feels like he's written a self-evaluation after a school project and stapled it to the end. As if he didn't just spend an entire album showing us that he's not going to "fall in line" and that he's the best ever, he feels the need to say it straight up. Was that really necessary?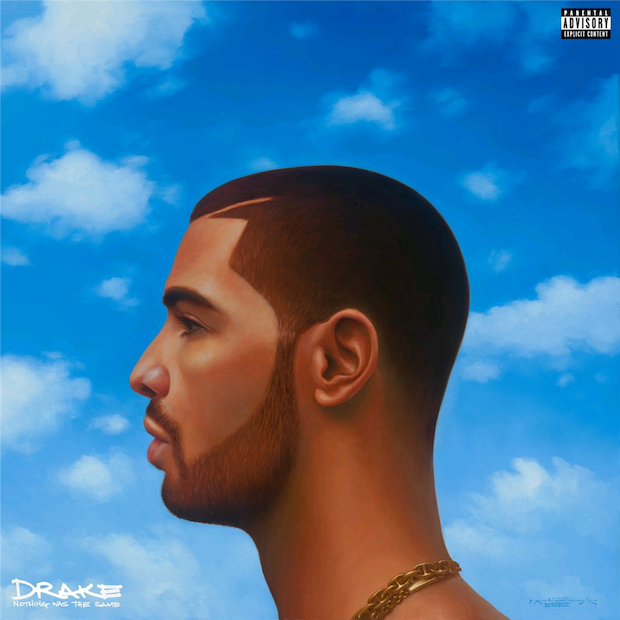 Aidan: Oh, we ain't finished? I can't get with his rap game/crack game line – he says himself he's not from the streets. A tempo change? This is pretty awful. Everything else he's singing is standard Drizzy but at least it's got some feeling to it. This outro ruins the song.
Kyle: I think that repeated melody "Why has it been so long?" is great because of its simplicity. There's been a lot of criticism directed at the lack of hooks on NWTS but if you look at Drake's back catalog, he's a proven hook-supplier. It almost comes off as too easy to him, so I think these simple exercises in repetition (also heard on "Own It") are more effective in some ways than a hook.
15. All Me (feat. Big Sean & 2 Chainz) (Deluxe)
Kyle: "All Me" could've been left off the album and replaced with "Girls Love Beyonce"…I just can't get behind this song. It's as uninspired as Big Sean's Hall Of Fame album, which can be summed up as disappointing to say the least. The ominous beat by one of hip-hop's hottest producers, Key Wane, and 2Chainz's verse on a 2Chainz-type beat are the best part of "All Me" for me.
Soraya: The discomfort of Drake's hook adds a lot of charm to the song, which in turn adds some rawness to the almost pristine overall quality of NWTS. I would've preferred for Drake to remove Big Sean's verse from the original instead of his own second verse. I don't think "Girls Love Beyonce" would be a good fit as a replacement as "Wu-Tang Forever" is already on the LP, and the overdose of pop references would just become a jest that way. I would be happy with the album to come to an end at "Come Thru".
Sophie: This, along with "Girls Love Beyoncé", were my favourite of the pre-album cuts, so I'm glad it made the album as a bonus track – I'm not sure it'd have fit in amongst the main album's arc. A lot of my favourite Drake songs are the anthems, the ones with huge dumb instrumentals and killer hooks, and I feel like this is the closest NWTS  comes to anything like "Miss Me", "Headlines" or "Over". The production is a lot more subdued, but it still bangs. 2Chainz is on top form here – he's my favourite goof in rap music and there's about a dozen quotables on his verse alone. Big Sean gets a thumbs up from me for his 'my new girl is on Glee and shit/probably making more money than me and shit'. Dude is SPRUNG (Seanaya forever).
16. The Motion (feat. Sampha) (Deluxe)
Cayley: I have to wonder when the working relationship with Sampha actually began, and if it reaches as far back as the "Wildfire" remix that Drake hopped on in 2011. If they've known each other for that long but a recorded collaboration is only surfacing now, I'd love to know in what other ways he has quietly contributed to the artistic process throughout this period. I think there's consensus that Sampha's contributions to NWTS are a big asset, so I hope the OVO team gets the memo and keeps him around for more.
Jess: Completely agree! Like I said about "Too Much", the pairing is beautiful. I'm super glad this track made it onto the deluxe edition of NWTS, when it first dropped along with the other 3 downloads on OVO a couple of months back I listened to it on repeat.
Conclusion:
Sindhuja: Drake has truly overcome his inconsistencies to me on this album. By being hyper self-reflective, he and his team have managed to recognise his own weaknesses and manipulate them into working in his favour, knowing where to use which talent. Needless to say, the productions are also spot on, and it's a sound that is only achieved when Drake and 40 collaborate so it shows how well they work as a team. Lyrically, he sounds much more natural, maturely open and secure as well. Here's an album where an artist is truly just having a good time making great music, and ecstatic to share this with his fans and family. That's all I could ask for from NWTS.
Kyle: Drake has really nailed this nightly quality to his music. There's something atmospherically dark about much of NWTS that suits the pre-party, the late-night drive to the party, the party, the after-party, and the nights of choosing to stay in with no party. While I want to like NWTS more than its predecessor, at the moment I'm unsure if it reaches Take Care's standard of greatness. Then again, Take Care took a few months for me to fully embrace and sit back and say "ok, this is one of the best rap albums I've ever heard". In retrospect, "Marvin's Room" is a perfect precursor to much of NWTS – it's got a dark, smoke-filled atmosphere, compounded with a sense of regret while remaining celebratory, and still has the self-loathing we know Drake for. Two main themes from Take Care were desire and lost youth, and I don't think these themes are lost in translation on NWTS.
Warren: A well executed record but for me there's nothing on this that you couldn't already find on his last two records. Even though he reached out  to more "underground" producers, most of the beats are quite typical for Drake and I would have definitely liked to see him extend himself more on the record.
Sophie: The chip on Drake's shoulder has definitely gotten bigger and my tolerance for it is getting lower. His 'girl let me save you, I know what's best for you' shtick is fine in small doses, even cute, but I lost my patience with it at various points throughout NWTS. It's more credit to 40 that when Drake slides into alarming territory, the production allows NWTS to maintain an affecting intimacy. The way Drake sings on "Furthest Thing" makes my heart flutter, but it's the swirling synths underneath his voice that really pin down the vulnerability. What Drake falls short of verbalising, 40 and his team of co-producers sculpt into the grandiose ("Tuscan Leather"), the haunting ("Wu-Tang Forever") and the jubilant ("Hold On, We're Going Home").
Soraya: I'm still a bit overwhelmed. I want to say I like it more than Take Care but I'm going to give it a few more weeks. However, I heard a lot of people say that they think this record is colder than Take Care. For me it's in many ways more personal than his last record, and I don't think his new-found confidence takes anything away from that. Quite the contrary, I think his reliance adds to the narrative of the album. People look at this album as Drake trying to prove that he's on top: for me, it's a record where he shows he's in a better place than before, but I have a sense this is still the warmup for his next studio album.