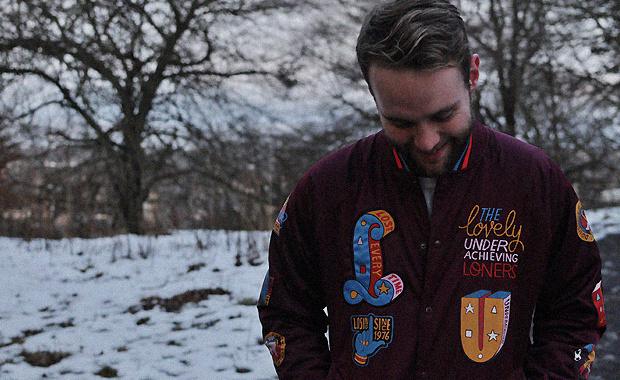 For our sixty-eighth Truancy Volume we are proud and blessed to bring to you the musical chameleon that is Samoyed. The Dundee based producer, otherwise known as Andrew Cook, will awaken your senses with harmonious sounds that flow through you with all the vigour of an electrical current. "I think I value emotional connection in music above anything else" is a statement that rings true not only of Samoyed's selection, but of his own productions; his recent "Sloe Eyes" EP for Vase (a stream of which you can find just below) was a startlingly sentimental affair despite containing two choice dancefloor cuts. After bringing out his "Spit" EP on Astro:Dynamics in 2011, Lukid signing "Her Honey Dripping Behind" to his Glum label, and now rubbing shoulders with Jacques Greene on Vase we predict 2013 is going to be a big one for him. The mix really highlights Samoyed's prowess as a curator, effortlessly navigating through new-wave punk, cloud rap and 4/4 house. Perfect for easy listening in almost any mood you find yourself in; but we'll stop there before we give too much away.
Stream: Samoyed – Sloe Eyes (Vase)
Hello! How are you? "Hungover, but happy thanks."
Let's start with a roundup of what you've been up to lately. How have you found the response to "Sloe Eyes" and what's next? "I'm totally delighted by it. It's difficult to get a sense of. I don't want to sound like one of those falsely modest 'I'm so blessed' types, but when I stop and think about it, it's an amazing thing to be able to release music and for people to appreciate it. It's such a privilege. Next is hopefully an album."
We hear that you intentionally share your name with those incredibly cute white fluffy dogs, is that true? And do you have any pets of your own? "Yep that is true. Samoyeds are great lads. I'm a big animal fan in general but I don't have any pets at the minute. I do like to visit our local wildlife park regularly and have a good old laugh at the animals though. They've got baby otters, tiny little monkeys with human faces and loads of pigeons. I don't know if the pigeons are supposed to be there."
You did a Degree and PHD in Product Design; is this a career path you envision for the future? Or do design and music come hand-in-hand for you? "They're pretty separate for me, and I'm perfectly happy about that. I tried designing interfaces for music for a while and it made me miserable. I love design as much as music though; I don't think I could ever leave one behind."
Your debut album "Always From This Point" was created from software you programmed yourself, is that right? Can you tell us a little more about this process and about Flask? "It was made using a program that I wrote with very little idea about what I was doing. It was an interesting process using it; setting this thing up that ostensibly did something very simple but very unpredictably and trying to coax something like music out of it. And then trying to make a diverse collection of music out of that. It was all improvised; the stuff that's on "Always From This Point" is chunks taken from hours of recorded improv. I used to play live with it, which was always so incredibly stressful that I can't even begin to tell you. I'm getting flashbacks now. I fucking hated that software."
Flask was the label that me and some pals set up to release it. CDR labels were quite a novel thing at the time, and we're all designers so we were very much into the idea of packaging things beautifully in very limited runs. Our plans for it sort of fell by the wayside as life took over. I'd still love to resurrect it in some capacity though. There's a load of those lads still making incredible music. Poacher and Ghillie are well worth checking out.
Your EP for Lukid's label Glum came out just over a year ago, happy anniversary! It was released at the same time as, and bears similarities  to a lot of the L.I.E.S.' raw 4/4 output – particularly "Her Honey Dripping Behind" and "Cherry Ripe". Were you aware of this sound at the time and were you at all influenced by it? Embarrassingly, I'm only aware of it because I looked it up now. From what I've listened to just now the super early releases sound great, definitely like they're coming from a similar aesthetic point of view. They seem to have got a bit more German lately though, which seems to be a bit of a more general trend. I'm not really into that Berlin techno sound. I'm sure I just don't get the subtleties of it but I find it really boring. I'd take Chicago over Berlin any day.
Here at Truants we like to think of ourselves as one big family. Can you tell us a bit about Pride of Gombe and your relationship with the other guys involved? "That would be BNJMN, Lukid and Mr. Beatnick. There are other non-Gombe lads who are still close; Rekordah, Tapes, Evian Christ, Kelpe. We've got a friendship that centres around taking the piss out of each other in a weirdly supportive way. It's really fortunate that such a lovely, funny group of people also happen to be such great producers. I've got so much respect for all of them. I just tag along really."
You've said that you're not into music that 'sounds like it's never left a computer until it goes to get mastered' and that you try to 'get as much of the outside world in there as possible'. Did your time spent in the Highlands encourage this? Was it difficult to participate in the IRL scene when you were up north? Being in the Highlands definitely affected what I was doing, but probably not in the way that you'd expect. I think what I was doing got a lot clubbier for that period, probably because I was missing out on going to clubs. I tend to have a romanticism about I'm not at that point. Living in the city I made spacious, quiet music and living in the country I made club music.
You've mentioned in the past that you're self-deprecating and that it keeps you grounded, but how does this trait impact on your writing process? Can this have a negative effect; is there a point where being critical/self-aware becomes detrimental to completing a track? "Oh, massively. I'm a terrible one for comparing myself unfavourably with incredibly talented people that I really respect (or better-looking people). But that's just part of my character and I'm generally OK with it. But I'd hope that my level of self-critique also keeps the quality high in some way. I have to be really sure about something to even finish it, never mind releasing it."
Your sound could be described as 'organic', and on a similar vein to that of Steve Reich (there's something very "Music For 18 Musicians" in tracks like "Spit" and "Minnow"). Who do you admire and what are you listening to at the moment? "Steve Reich is spot on; he's been a massive influence on me. Apart from that I admire too many people to name really. I think I value emotional connection in music above anything else. If I had to name one pivotally important person, Arthur Russell had it all. He was an incredible musician with a deeply experimental attitude, heartbreaking sense of beauty and the ability to make great dance music. A lot of what I love at the minute is in the mix. I think that Gorgeous Children are incredible. I heard Gigi Masin quite recently, he's got a beautiful line in tape-y, synthy, wistful quiet songs. Some cold, sparse new wave. And a load of tacky R&B caked in criminal DX7 overuse."

Stream: Samoyed – Spit (Astro:Dynamics)
If you could collaborate with anyone in the whole world dead or alive, who would it be? "Arthur Russell. I wish he was still alive. But if that prospect was a reality I'd probably just shit myself and refuse to come out from under my bed. So much respect for the man."
There's a recording on your SoundCloud of Floating Points playing "Klondike Rush" at Numbers' 8th birthday party. I take it this was a big moment for you; what other 'wow' moments have you experienced? "I wasn't actually there for that, Sam (Floating Points) sent me that recording and I thought it was hilarious and very flattering. The first time I met Lukid I went to see him play at Baller's Social Club in Glasgow, and ended up getting booked for the next one. This was when things were really exciting in Glasgow still, with Husdon Mohawke and Rustie and the rest of the LuckyMe lot still around. I'd been making weird drone music and not really knowing if it was any good, so to turn up and realise that they knew who I was was a really big thing. Joe who ran Ballers co-runs Vase with Jacques Greene so that's been an important point in all sorts of ways."
Have you ever considered taking Samoyed into live show territory? If so, what's the biggest hurdle preventing you from doing this? "As I mentioned before, I used to play live improvised shows. That was horribly stressful, and the music that I'm making has changed a lot since then. I think the main reason that I'm not doing a live show is that I want it to be good. I really don't want to be pressing play in Ableton and noodling around. But I think I'd need to dedicate a lot of time to work out the kind of live show that I'd like to see. And also I'm kind of in transition musically at the minute, I'm taking time to take stock and work out what I'm doing next. I may well do that with an eye on how things might work live."
In an interview you did for Sonic Router you called the mix a "coherent collage thing" rather than a "mixxy mix". Would you say this was the same idea behind the Truancy Volume or was there more specific inspiration? "Yeah, definitely. There's kind of vague groupings around tempo and I hope it flows well, but it's certainly not an exercise in technical DJ skill. It's just music that I love that I thought worked well together. And some of it is a bit obscure so it's really good to have the chance to share it with people. Doing mixes for people to listen to at home or on the train or wherever is a very different prospect to playing out. I'd rather try and do something interesting than treat it like a banging peak-time DJ set. I love doing banging peak-time DJ sets too, by the way."
As with several of your mixes, your Truancy Volume hops from one genre to the next and the same can be said for your own musical output. Which genres do you think your productions are most indebted to? "That changes with every track I make. I listen to a lot of different stuff, and for each track I tend to start out with a vague idea of an aesthetic. That might be inspired by melty jungle pads and mid-90s NYC garage (like "Sloe Eyes") or early 90s Memphis tape joints (like "Minnow"). But I really hope that for all my influences there's a coherent thread running through my stuff and I'm not just making uninspired pastiches of a load of unrelated genres. It's quite difficult to tell if that's the case sometimes."
Finish this sentence: When I went back in time I found… "..old women, mangles, rickets, coal miners, dirt, religiosity. Black clothes. Toil."
Finally, could you share a guilty pleasure in your music collection? And when was the last time you danced? "I'm sure that this makes me sound like a bellend, but I don't really believe there's such a thing as a musical guilty pleasure. If you enjoy it then it's good music for you. There's plenty of deeply unfashionable music that I love. I play T2's "Heartbroken" out all the time.. And I danced today, trying to demonstrate what shuffling is to some of my students. They live in Dundee so they're not really familiar with Mad Kezza."
Truancy Volume 68: Samoyed
Truancy Volume 68: Samoyed by TRUANTS
Tracklisting:
Bernard Hermann – Space Drift
Gorgeous Children – Frozen Affairs
Ski Patrol – Agent Orange
Rezet – Firebomb Suite
? – ?
I Level – Face Again
? – When I fall in love
Jim Coulter – Phosphorescent Rhum
Jeremih – Rated R (The Masterpiece)
Gigi Masin – Song of the Masked Man
Janet Jackson – Funny How Time Flies
Severed Heads – Harold and Cindy Hospital (Edit)
Pink Turns Blue – I Coldly Stare Out
Slava – Whirlpool+
Hav Lyf – When Your Around Boo
Words by: Jess Melia & Sophie Kindreich.