Three-Peat is our feature spanning genres and labels to bring you three select releases from the past – whether the past month or the past year – that still deserve your attention.
1. Mike Will Made It – Est. In 1989 Part 2.5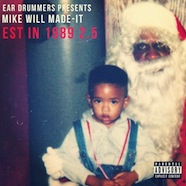 Atlanta's Mike WiLL Made It, the producer behind "No Lie" and "Turn On The Lights," has a penchant for mixing heavy trap production with light, twinkly synths and big, dramatic melodies. hHis previous mixtape, "Est. In 1989 Part 2″, was a stacked deck of claustrophobic trap rap, strip club bangers and spaced-out love ballads. Can anyone top a tape that has "Bandz A Make Her Dance" going into "773 Love"? Mike WiLL's newest mixtape, "Est. In 1989 Part 2.5″, lacks the obvious peaks of its predecessor, but is a more rewarding listen over all. Mike has cut back on the skits which are always endorsements from famous artists and producers, leaving more space for actual music. Mike WiLL has a real knack for R&B production, and his collaborations with Kelly Rowland and Brandy are among the strongest on the mixtape. Conversely, Mike WiLL's sense of melody seems a good counter balance to for Chief Keef–both of his contributions, Finally Rich's "No Tomorrow" and "On It," an a exclusive track featuring Young Scooter, are excellent. A track reuniting the old school Cash Money line-up finds Juvenile and Birdman out-rapping Wayne; we've come full circle to 1998. Even 2 Chainz has something of a return to form here; after a few months of phoning it in, he's actually funny again! His best verse appears on "Marble Floors," a track that recreates the "Pop That" line up and features one of the best Rick Ross hooks in recent memory: "got your bitch tip-toeing on my marble floors / red-bottoms only for the centerfold."

Stream: Chief Keef feat. Young Scooter – On It (Prod. by Mike Will Made It)
Download: Mike WiLL Made It – Est. In 1989 Part 2.5.
2. Rich Boy – Gold Kilo$
Twenty-twelve came and went with barely a peep from Rich Boy and the year was just a bit poorer for it. It's a new year though and Rich Boy seems poised to actually drop a mixtape before the month is out and the long-promised sophomore album later in the year. "Gold Kilo$" is one of the excellent tapes he dropped forever ago (internet time) in twenty-eleven that went mostly ignored (mentioned here) and almost two years it's hard to understand why. Production is varied, featuring low frequency thumpers like "Cover Girl" to the sunny eighties analog synth sound of "So Slow" which features, of all things, a Twin Shadow sample. Where "12 Diamonds" featured a more menacing sound overall, "Gold Kilo$" has a far brighter tone. The tape closer, a wonderful guitar sample fueled track about getting money playas and the finest of bottom bitches from the perspective of both sexes sends you out on a somber but luxurious note but will hopefully serve as a great segue into future project/s.

Stream: Rich Boy – Gutta ft. Shug (Mixtape)
Download: Rich Boy – Gold Kilo$.
Download: Rich Boy – 12 Diamonds.
3. Gunplay – Cops & Robbers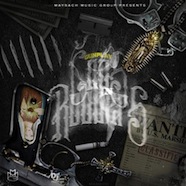 "Gunplay a different kind of artist, he a different kind of dude, he don't care about awards, he don't care about whoever. He not into that." Our favourite Maybach Music mouthpiece, the raving mad Gunplay is particularly good at a number of things: being a delinquent on the track as well as in the real world, stealing the show when featuring on other artist's tracks, snorting cocaine, and every time new material comes out he either completely overwhelms or fails to make any impact whatsoever. With his unhinged personality, provocative tattoos and stentorian vocals, Richard Morales Jr. is a rapper that people either love or to hate, and the same thing seems to apply to his mixtapes. Quite frankly, the tracklisting of his newest Maybach Music Group mixtape "Cops & Robbers" reads like a desperate attempt to let the people know that Gunplay is ready to pick up the pace again, after his anticlimactic finale of last year involving legal issues followed by a sudden disappearance. For the Gunplay diehards the tracklisting might seem all filler, following the classic recipe of constructing mixtapes in an era before the internet existed – the majority of the tracks on the tape have seen the light of day already (e.g. his collaborations with Yo Gotti and the A$AP boys) or are obvious choices of remixes (e.g. "Clique" and "Hold Me Back"). But who can blame him for it? Let it be known to the world that Don Logan is out and about, ready to drop his studio full-length "Medellin" this year.

Stream: Gunplay  – No Church Freestyle (Maybach Music Group) 
The tape starts kicks off with an underwhelming Pusha T collaboration, sounding like an ambient remix of Gunplay's notorious "Fuck Shit In My Life", though Gunplay referring to himself as 'a human cocaine shoestring' in his first verse makes up for a disappointing start. And all is not lost: the first third of the tape seem to lead to nothing, but the fifth track on the tape "No Church" shows us the Gunplay that we love. The freestyle he released at the very start of the year has him back on his game with his almost off-beat, uncontrolled flow. Then there's Miami's Finest Trina providing the hook and a verse on "Daddy", and the remix of Rick Ross' "Ball" off the latest MMG compilation might even be straighter to the point than the original. Everyone will be able to find at least two or three tracks on this tape that they'll like, as "Cops & Robbers" shows all of Gunplay's sides and if not, well, Gunplay don't care about whoever. By no means is "Cops & Robbers" comparable to "Bogota Rich: The Prequel" or "Off Safety" but it's a pleasurable experience for what it is – a collection of tracks and freestyles to keep his body of supporters satisfied for the time being. And we're into it. Now if Rick Ross recruits someone other than Lil B for the audio engineering on Gunplay's next mixtape, we're sure we'll love it.

Stream: Gunplay feat. Trina – Daddy (Maybach Music Group)

Download: Gunplay – Cops & Robbers.
Words by: Donny Marks, Michelle Myers & Soraya Brouwer.