In the history of Hip Hop there is one artist in particular who has quietly shaped an entire generation of MCs and producers, and that's Kamaal Ibn John Fareed, better known as The Abstract himself Q-Tip. From Los Angeles born Brooklyn residing mixtape king J. Period comes "The Abstract Best", self-released in 2009 as a ninety minute voyage through some the greatest tracks that Q-Tip created or influenced in some way featuring artists such as De La Soul, Busta Rhymes, ?uestlove, Black Thought and many more. A series of brief introductions commences the tape, including a scratch intro called "Rhythm", followed by a brief interlude simply titled "Welcome" that features Tip explaining perfectly what is about to go down in the following hour or so before crashing into "Getting Up" featuring Busta Rhymes:
"It was a rebellious music, y'nahmean? It was the ghetto folk that wasn't supposed to really have a voice. We just had just came out of the civil rights movement, the sexual revolution and all this and all that. Then here comes this music and it's the perfect description; this music describes us perfectly because it's not taught, we at this point had poor education. We didnt have access to a lot of instruments, it was a voiceless music. We had been theoretically robbed of our whole voice as a people. So here's this symbolic art form called Hip Hop where the music aspect of Hip Hop – it embodies us taking from only what's there, we can only take from what's there – we had the records that's what we used, that's what Flash used, that's what Herc used, thats what Bambatta used. We could only take from what's there, we didn't really have a voice ? So we had to use it to talk… that's kind of it in a nutshell." 
In his personal introduction, Tip references Hip Hop architects like Kool Herc and stylistic devices like Afrika Bambatta's selection of tracks and use of the isolated Amen break taken from The Winston's "Amen Brother", featuring the sumptuous sticksmanship of Gregory Sylvester "G.C." Coleman. The genre has since adopted an assortment of break beats sourced from many other Funk and Soul records. J Period's apt use of "Little Ghetto Boy" by Donny Hathaway playing in the background really ties in the bleak socio-political backdrop to this introduction, as well as setting the scene for the next hour or so – of what proves to be more of an audio-documentary than a mixtape per se. The opening docu-tracks provide a fitting platform for the likes of Stevie Wonder's "So What The Fuss?" that featured Q-Tip and En Vogue, utilising the beat from Mobb Deep's "Shook Ones Pt. 2" with total equanimity; the result is a well-oiled, soulful and melodic reworking of the sample itself which forms the bulk of the new production. The clean, swift cuts, often accompanied by split-sampling and sound bite references to tracks from the genre that harmonise with the lyrical content will prove a frequent theme throughout, a testament to J. Period's delectable taste.
Fittingly, it is Mobb Deep's "Give Up The Goods" that follows featuring Nas and The Abstract himself laying down some rhymes on top of Esther Williams' "That's Alright With Me". Q-Tip's legacy thus far is not limited just to his own music; he also produced and co-produced on tracks for a multitude of other artists. Apache being one of many, whose Monty Alexander-inspired Gangster Bitch seamlessly succeeds the previous track. He proceeds to talk about how he heard a record by a girl group called Jade with a track called "Don't Walk Away" and reveals how it inspired him to use the bassline in the production of "Award Tour". Malik Taylor, like Busta later on, is hugely appreciative and humbled by Tip's and The Tribe's contribution to Hip Hop, talking of how he came to listen to "Award Tour" when it was still in its early stages, with an invite to think up a chorus and being blown away by what Tip had been doing: "…When I first heard that I was like, holy shit, now I gotta go back to my room now? And listen to shit that can't even match Award Tour? So y'know, you gotta give it to him y'know what I'm sayin? Tribe has been very, very important in this rap game."
Stream: Q-Tip – Give Up The Goods (feat. Nas) (J.Period Remix)
Putting Tribe's successes down to having fun and keeping it honest, The Abstract gives the music the longevity and acclaim it has rightly enjoyed. With Lucky Thompson's Green Dolphin Street (as used in Tribe's "We Got The Jazz") playing in the background, Tip talks up the importance of Jazz music informing the genre as a whole, but significantly in the making of tracks for "Low End Theory". He adds that when he was supposed to make a record with Large Pro and Pete Rock at the latter's Mount Vernon recording studio, he wanted to pillage the Bronx-born producer's vast collection of records to find this specific melody that was never utitilised for the record they were meant to make, but that would later be used on "Let's Ride". Whilst it sounds remarkably like some early Wes Montgomery, it was in fact Joe Pass' invigorated version of Giant Steps, originally written by Jazz legend John Coltrane. On the mixtape, the track succeeds a tribute from Big Daddy Kane (Skypager: Bob Power & Big Daddy Kane) declaring his respect for Q-Tip, before heading into "Let's Ride" itself. The track, true to J. Period's form, opens with a looped acapella ("It's the ride y'all…") sitting upon a brief bass-line cut from Lou Reed's Walk On The Wild Side that was later used for Tribe's now infamous "Can We Kick It?". J. Period repeatedly reaffirms his position as a true Hip Hop aficionado with nods to such a plethora of artists and making use of samples that go beyond the scope of tracks covered in this mixtape. There is a sense of playfulness that interweaves the more serious documentary sections, which adds light hearted vigour to the experience. Tip's lyrics on Let's Ride, for one, never fail to amuse:
"…And when the evening is over love

Gonna find a nice spot for the rover love

Do things to make the man in the moon blush

My mind race but I tell my waist don't rush

You's a upper echelon piece

So when you find there's a stash then you don't freak…"
You can sense that J. Period is having a lot of fun with this mixtape and at the same time it's admirable how he manages to build momentum with all the documentary-style cuts in between the tracks. After a brief behind the scenes interlude, it's Bob Power's turn to pay homage to Tip which heads the mixtape straight into "Vivrant Thing". The beat on this track is just insanely good, with its syncopated unity from the kick drum and bass guitar grooves with 'steam-train' hats over the top. It's one of those beats that words alone can never do justice. The overall effect arrived at is really the essence of those finest spine-tingling grooves that we can all refer to from memory; you know those tunes that each of us has stored in our heads forever that blew our mind from the first time we heard them? Then when you hear something for the first time that matches those sort of tunes, they are immediately your bench mark for what really gets you off. For me, it was the genius selection of "I Wanna Stay" by Barry White's session band Love Unlimited Orchestra. Nostalgia like that is certainly ever present in this mixtape, in fact it's a huge factor in why it's so enjoyable. Before you've had time to really get fully immersed into "Vivrant Thing", the Busta loop that kicked it off ("I'm 'bout wreck yo body as they turn the party out") returns – and the surroundings melt away into Move; which employs a sample from one of Hip Hop's production luminaries – J Dilla with his Beat #19. The straight mixing of this beat into the dragging, slightly staggered, delayed kick-snare pattern from Kool & The Gang's N.T. appearing in Tip's Breathe Stop, which soon appears in its entirety before being whipped away from you and replaced with the beat from Tribe's "Butter". We at Truants make no bones about our bias and unrelenting love, for this era of Hip Hop. J Period is pulling out all the stops at the half way point in the mixtape as he slides into a brief patter of Black Sheep's "This Or That", then a brief show of respect for Tip's Tribe compatriot Phife Dawg, only for Kanye West to display a rare show of humility that leads nicely into Buggin Out 2009 (Tribute Remix) featuring rising star Kid Cudi. I defy any listener to not fall in love with this.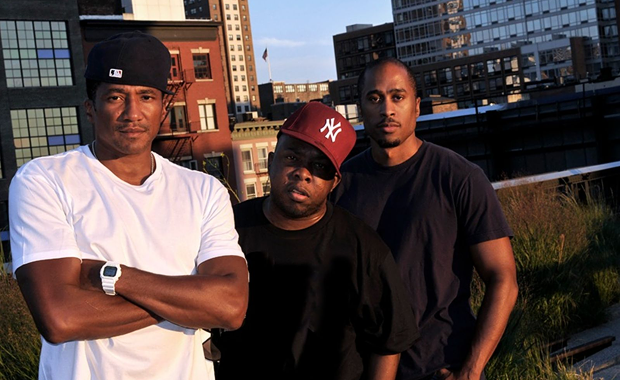 Stream: Q-Tip / J.Period – Let's Ride 2009
Back to the documentary theme running throughout the mixtape, the Native Tongues collective starts to get some mentions, and before you have time to recall who that entailed, another rapid cut into another delicious J Period remix sees De La Soul, Tribe Called Quest, Jungle Bros, Busta and Queen Latifah all teaming up for Buddy. Yet more appreciation for the artistic input of another Tribe comrade Ali Shaheed Muhammed, Q Tip and J.Period never once falter in their comprehensive acknoweldgement for the achievements of those who worked with Tip. "N.T." is up next, a track which features four very tasty samples taken from over three decades: "Written On The Wall" by The Invitations (1965) "Hit Or Miss" by Bo Diddley (1974), "Girl I Think The World Of You" by The Commodores (1976), and "Bang Zoom (Let's Go Go)" by The Real Roxanne feat. Howie Tee (1986). Talib Kweli gets some airtime to declare J.Period 'the best in the business'; we can't disagree. You might also be surprised to discover that Krautrock pioneers Can's "Aspectacle" was the sample behind "ManWomanBoogie" featuring the sultry vocal stylings of Amanda Diva, which soon follows on from Busta's previous diatribe. Another massive selection from J Period as the mix accelerates, via a spatter of Chris Rock stand up, into De La Soul's Saturday featuring Tip and Vinia Mojica, never to be outdone this track features all of: Frankie Valli's "Grease", Chic's "Good Times" (famously used by Sugar Hill Gang on Rapper's Delight), Mighty Ryeder's "Evil Vibrations", Tower Of Power's "Ebony Jam", Chicago's "Saturday In The Park", Young Holt Unlimited's reworking of The Doors' "Light My Fire" and Instant Funk's "I Got My Mind Made Up".
Returning one last time to the documentary aspect of the mixtape, the final six or so tracks before the Outtro feature Tip's famous collaboration with The Beastie Boys on "Get It Together" and then some 'Behind The Scenes' tracks focusing on the making of  "What Is Kapelka?", "Scenario", "Reinvention" and "Hood R.I.P." Not to labour the point too much, but this especially detailed list of tracks from many different artists, genres and eras, sampled throughout yet again points to the inherent musicality on show. Love of good music cannot be taught or bought; you have to feel it inherently. That for me is one of the main achievements of this mixtape; that it defends Hip Hop from those who don't understand it and make misinformed assertions about the genre, and seeks to educate: "For an enhanced Hip Hop experience, please know your history…" ("Welcome Interlude") Despite Tip's admitted lack of formal musical education, he along with his peers used what they grew up listening to in order to assert themselves musically, culturally and socio-politically. The myriad links between music, literature, politics and culture being no mere coincidence; one driving the next and so on with domino-like effect. What's going down here is a sort of elaborately woven tapestry of appropriate musical heritage, wielded by a previously voiceless generation who rightfully sought recognition and respect. Taking a cue from the mighty words of Stetsasonic: "You said it wasn't art, so now we gonna rip you apart…"  Hip Hop culture saw a lot of criticism leveled at it for years by ostensibly white journalists, music lawyers, major record label executives and musicians, who for a time deemed the genre guilty of theft and piracy just with some spoken word littered crudely over the top. But they all missed the point and failed to recognise the geni of the genre, especially when displayed by the greatest artists within it.
For me, Q-Tip is one of the foremost architects of this culture and J Period has outdone himself with this offering and tribute to one of the most important names in the genre. It certainly needed to be done and done right; that being the prerequisite for presenting the work of such a legend, it doesn't disappoint one bit. The mixtape excels in all areas, providing the listener with some of the finest work from Q-Tip's enormous catalogue, at a perfect length for maintaining a strong attention span whilst also documenting how much of the art came together. It takes more than just an appreciation of music, it requires a deft understanding about the meaning of songs, the relevance of the different segments and the palette of samples in relation to the new art that you are producing. That is precisely where Tip, Dilla, Pete Rock and many others who produced the tracks that appear scattered over this mixtape have excelled. But if you don't have a comprehensive knowledege it won't hinder your enjoyment; but will still point you in the right direction, and of course you can always skip those docu-tracks to check out some of Tip's finest offerings. This stuff wasn't taught, it was straight from the heart, honest and culturally relevant. To be fair, as the "Outtro" states, the Abstract is far too prolific to document in one mixtape, but this attempt is certainly worthy of the legend himself.