Stream: New Material by Grown Folk.
Grown Folk showed up fairly early on Truants' radar, and were even included on our first-ever Truancy Compilation in early 2011 alongside artists like NGUZUNGUZU, Teeth, Teki Latex, Brenmar and more. They've continued to impress us since then and have come a long way in only a year. The duo, comprised of Drew Kim and Brendan Neal, make music that's refined and understated beyond their years. They've taken a steady and mature approach to their releases, having only put out their debut City Wind EP on Templar Sound and the Droptop EP on Silverback recordings. Despite taking their time to work at their own pace, they've garnered support from artists like fellow Montréaler Jacques Greene, XXXY, Braille, South London Ordnance and more. We met up with the pair on Saturday, March 17th down in Austin, Texas, where they were part of the official SXSW lineup. We chatted them up while getting them to document one of their craziest days where, well, we'll let them tell you all about what happened…
10:00AM After such a stacked week it's hard to believe there's still one more day to go of SXSW. We had to drag ourselves out of bed following yesterday's amazing Boiler Room party, where we were super excited and surprised to hear Oneman drop "Southern Smoke" which is a collaboration we did with Dro Carey for the new Templar Sound compilation. Our shuttle bus didn't show up and we were freaking out that we wouldn't make it to our first gig of the day, but luckily a cab dropped someone off at our hotel at the last possible moment, and we grabbed it – cabs are impossible to come by during SXSW.
Nice to meet up with you guys! How have you been? What have you been up to?
Drew: "For the last month, I've been on tour with Main Attrakionz. We started in Boston for 10-ish dates, did some college shows, a festival in Denton, then we came down to SXSW and that's when the craziness started."
Brendan: "I've been going to school and working on lots of new music for our new releases this summer, and playing parties in Montreal."
How do both of you manage your long distance relationship? With Drew living in London and Brendan in Montreal, it must be difficult to stay connected.
B: "Basically, we just start tracks and just keep going with them. If we get stuck, we just send the project files back and forth between both of us so that the other person can work on something and interject some new ideas into it, so it's not too hard."
D: "It's so easy with the internet, Mediafire is our friend."
B: "I definitely like working together in the same room better, bouncing ideas off each other in real time. We're a lot more creative that way."
12:00PM We started into our long day right away. We went to the Brooklyn Vegan day party to DJ for Main Attrakionz, it was a small room but a really enthusiastic crowd. The monitors were blown out and we couldn't hear anything, but it was a great high-energy show.
Drew is Main Attrakionz' official touring DJ, who we've been hearing a lot about lately (with their release, and they also appeared on Jam City's latest EP). That's an exciting collab, and maybe not what we'd expect from you guys since your music is so house-oriented. Can you tell us how that happened?
B: "Drew's more into rap than I am, but we still were making some rap beats and different tempo stuff that wasn't necessarily like the other Grown Folk tracks that we've released. We decided that we wanted to try linking up with a rap group to do an EP. Originally it just started as one song and then it evolved into an EP. This collab basically happened completely through twitter. We hit Mainz up, asked them if they wanted to check our beats out, and they liked them. The beats that they were getting on on their mixtapes and "808 & Dark Grapes II" were kind of similar to what we were making, so we thought they'd be a good fit, and they were. We decided to do an exclusive EP with them for Templar, which is coming out in June on 12" and digital."
D: "With remixes of both the tracks by Kuedo."
Grown Folk DJing for Main Attrakionz at SXSW.
1:00PM We headed over to the Thrasher party, ate free BBQ, had some free beers, and had a few hours to kill until our set which was supposed to be after Mistah Fab and before Kreayshawn. Mistah Fab wasn't there yet so we went on early. There was a big crowd waiting for Kreayshawn but Mainz brought more than enough hype and killed it. Mistah Fab finally turned up but forgot his laptop, so Drew and I played an impromptu hip-hop DJ set to the crowd, including Sinjin Hawke's remix of Beyonce's "Countdown" which went down really well. When Fab and Kreayshawn were ready to go, we left to go to a Fade to Mind party.
That "Countdown" remix was offered in the past as a Truants exclusive download, too! Nice to see you showing support for Sinjin, who is another Montréal expat. Grown Folk met there, after having come from Vermont and Hawaii – how did being in that new environment inspire you and contribute to your sound?
D: "We actually used the Sinjin track for the intro for all of our dates with Main Attrakionz, when you watch videos of their performances it's like their official intro now."
B: "Coming to Montréal had a huge impact for both of us. In my case, I'd never heard any house music, dance music, or electro which was big when I came to Montreal in 2008. I didn't make music before that point. You didn't either, did you, Drew?"
D: "I tried to make rap beats and tons of mash-ups which were big in the blog world at the time. It wasn't til I moved to Montréal that I realized a DJ could be a live performer as well. It really switched my focus from hip-hop to dance music. But now we're finding this nice middle ground where we can do a lot of things.'
B: "The first real show that I went to was Bloody Beetroots in 2008, and that made me want to DJ so I started on virtual DJ in my room. Drew and I got really lucky when these guys who were promoting all the big electro shows in Montréal made us residents. We started DJing together and over the course of the year, we realized we were into the same music that was outside of electro and stuff, so we decided to try a track together. We worked really well together and decided to ditch our solo stuff to work together."
D: "We had a Facebook thread that was 6 months long of just sending YouTube videos back and forth of stuff that we were into or that we wanted to incorporate aspects of into our sound. Hot City, Jacques Greene, Jamie XX, the XX in general, XXXY, The-Dream & Ryan Leslie keyboard sounds being incorporated into a house context… that was the starting point."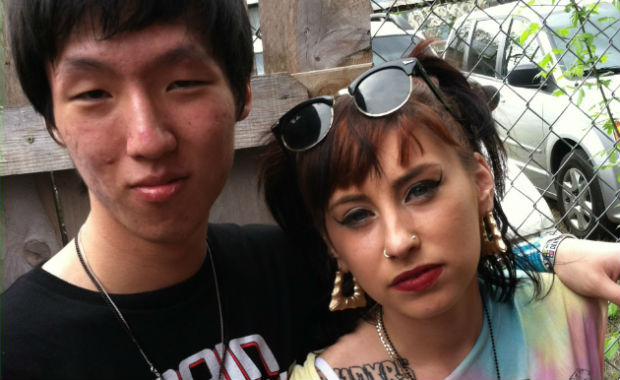 4:00PM Total Freedom was already killing it when I arrived at the Fade to Mind party, which was outside a vintage synth shop. Had a few more beers for energy then trekked on foot from the East side to downtown for our gig at Barcelona, one of the main venues with the best sound of the entire festival. Had to stop en route to chow my 999999th Korean burrito of the week. In Montréal, food trucks are illegal, so getting food whenever and where ever you wanted it in Austin was the best.
What has it been like getting involved in Montréal's thriving music scene? There's been so much going on there, with Jacques Greene, Ango, Lunice and the like.
B: "It's been really good, everyone has been really receptive and given us chances to play their nights. It's been really good to be a part of a scene with so many young people around our age who are doing the same thing, even if it's Lunice who's doing rap beats, or Phil who's doing house, everyone is really supportive of each other in Montreal. Everyone wants to hear your tracks and give you feedback."
D: "Definitely. We appreciated our time with the electro promoter but at the same time, a lot of people didn't necessarily want to be associated with them. We realized that when we broke away we'd be able to hook up with this amazing Montréal community that was going on around us."
B: "We're going to be participating in a podcast with some of our friends from Montréal in the near future, too. We've been playing a lot of parties with Boomclap, and started getting interested in recording some mixes. There are some pretty big names from the Montréal scene lined up to be a part of it, and Martyn Bootyspoon (who you might recognize from Sinjin Hawke's releases) is going to host it, so watch out for that in the next few weeks."
What're some of hidden gems in Montreal? Favourite place to dig for records? Best spot to eat?
B: "Definitely love Piknic Electronik and Igloofest, they do some of the best bookings in the city and provide a really great environment and way to experience music. For food, I love brunch at L'Avenue and eating french toast eggs benedict."
D: "Max from Prince Club showed me this spot, there's like a $1 vinyl wall, all stuff from the '70s. The guy who runs the place doesn't really even know what's in there, so you can find some gems. I don't even know how to find it, but it's there."
Grown Folk – Droptop (SIL007) from Silverback Rec. on Vimeo.
8:00PM  We played an early set at 8pm to open up the Icee Hot x XLR8R bash. It wasn't too crowded, but we got to play out all of our tracks and they sounded great on Barcelona's amazing system. We also got to play a bunch of our favorite slower housey tracks, and we got some great comments on our mixing, selection, and our own tracks which was really really nice.
You guys played such a wide variety of music all in one day, and your mixes display the same dedication to variety that you always pull off (check out Grown Folks' Truancy Volume, and a mix they made for Handsome Clothing Co.). What are a few tracks that you're currently feeling/that are inspiring you right now, outside of the genre you produce in?
B: "I'm going with the XXXY edit of How to Dress Well."
D: "Everything on Tri Angle Records right now, including Clams Casino. The stuff the guys like A$AP and Main Attrakionz are doing. "Drank In My Cup" by Kirko Bangz is a huge one. A lot of the more synthy, purple sounding stuff, even if it's not 4/4 we always get influenced by it."
B: "The more pop-y John Talabot stuff, like "Families," that's pretty inspiring to me. It is kind of in our genre, but it's more pop, but just slower."
D: "We listen to so much music, I don't know. At least for me, half the time is spent listening to stuff I can't play in a DJ set. Brendan is constantly listening to that stuff though, he's our crate digger."
HANDSOME Presents – The Basics Mix – Created by Grown Folk by HANDSOME
9:00PM Our set was over and Total Freedom got the party moving as more and more people came in.
10:00PM Blondes absolutely blew me away with their live performance, one of my favorite moments from SXSW to be sure. By 10:30pm the club was already at capacity and we could tell it was going to be an amazing night."
What are some of your favourite memories from the past week?
B: "Boiler Room for sure. It was crazy, it was like 50 degrees in the room and everyone was going insane. The-Dream at Fader Fort, too. He blew us away."
D: "The Icee Hot x XLR8R party was like the best party ever, that I've been to at least."
B: "Getting to see Blondes play "Wine" live, improvising it and drawing it out, was so powerful. It was amazing. Maybe one of my favourite moments from the whole week."
D: "The Thrasher party was awesome too, the crowd went nuts. There was this half pipe for some reason, with these pro skaters from Converse's team. It was crazy."
11:30PM Brenmar really turned things up with a crazy club set and ridic fast mixing. The crowd from the Young Turks party converged on Barcelona once they found out that Timbaland wouldn't be showing up, so everyone was in one place. From here on out there was a massive crew in the club and everyone was going nuts. There was an impromptu Jacques Greene b2b Jackmaster set where they spontaneously coined the name 'Jacquesmaster' which took things up another level.
You've done lots of collaborations with other artists, can you tell us about what that was like? Are you working with anyone currently?
B: "We have that collaboration with Dro Carey that recently came out on the Templar compilation. We worked with LOL Boys on a track called "Ghostpath" and we're really stoked on it. It's coming out on the new Young Adults label, which is a Friends of Friends house sublabel, in June. We're really excited about it because Leeor from Friends of Friends is the man. He was really supportive in putting this track together and getting it out. It was cool to work with LOL Boys to see how we do things in different styles."
Download:  Grown Folk – Steady Moving (LOL Boys VIP Re-Edit) (320 kbps)
1:30AM Finally, Lazer Sword played an amazing live set and finished with FCL's "Let's Go" to a full club with the lights on. Drew and I both agreed it was one of the if not the best club night of our life.
After the mayhem in Austin, you've both parted ways. What's on the agenda for both of you now? Will we be hearing from Grown Folk in the near future?
B: "Over the past few months we've been finishing up the Main Attrakionz EP and the remixes are done, so we've been waiting for that to come out. We've also put together a house release that will be coming out on a really good label with people who throw really good parties. We're really, really happy about that, we think it's some of the best tracks we've done so far and there's some good remixes coming on that too. There's also the "Ghostpath" track, too."
D: "I'm flying out to Oakland tomorrow to work on "Bossalinis & Fooliyones." It's the first LP from Main Attrakionz, so I'm flying out there tomorrow for a week, and they have some crazy big features on that and a few different producers. I'm excited to work in a real rap studio."
B: "I'm finishing up school in the next month or so and flying to London, and we're going to spend the summer together in London, and in Europe, making music together and playing shows."
Thanks so much for spending the time with us, and best of luck with all your endeavours this summer!