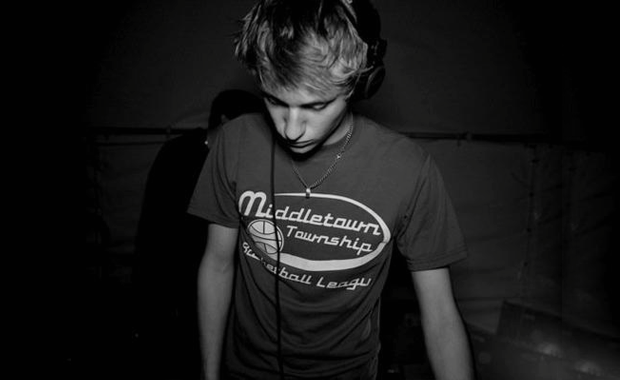 When we first came across the sounds of the twenty-two year old West County based producer Tessela in the form of his All City released debut "Slugger" EP in June, it was immediately evident that it was going to be one of those releases that's in it for the long haul, losing none of its original integrity and value despite many repeats. Coming from quite a strong musical background having learned a myriad of instruments at a younger age including the french horn, trumpet, double bass, piano and guitar, the young producer has strangely enough never been trained in the drums. Despite this, his current productions steadily lean on elements of confident sounding percussion, strong drum loops and binding rhythm that recur in his tracks, perhaps stemming from his current self-expressed increasing obsession with percussion. This doesn't take away from the variety of sonic colours that the different pieces in his body of work have, with melancholy use of synth work and dreamily pitched-down vocal chops to name a few. With a number of releases that are upcoming on his radar such as a 12" and two collaborations ahead of him, we're extremely pleased to present the thirty-fifth Truancy Volume to be crafted by Tessela, resulting in fifty minutes of what essentially sounds like a compellingly danceable and incredible club night not to be missed. Stream and download his Truancy Volume below, and read on for a little Q&A with Ed Russell himself!
Slugger / Subway (All City Records 23rd June) by Tessela
Hey, how have you been? Could you please introduce yourself to those unfamiliar with your work? Hello there. I've been good thanks. Busy, but good. My name is Ed Russell, I'm 22 and I write music under the name Tessela. Earlier this year I had a release on All City Records.
You're from the West County in UK, have you always lived there? Would you say that your surroundings have influenced you musically in any way?  I've actually only just moved here and If I'm honest I kind of hope my surroundings haven't had much of an influence on my music. I don't live in Bristol as people often assume, but in Bath. It' s quaint and sleepy which is great and suits me down to the ground but you can see why I wouldn't want that to translate into my music! Being so close to Bristol though is amazing and I've been to a few really good nights there recently. There always seems to be such a good vibe in Bristol, and a real sense of community. I'm looking forward to getting more involved and exploring some more clubs and nights.
You've mentioned several times that you are inspired by percussion a lot. Is there a similar pattern you follow each time during your creative process while building up a track? I always start with the drums and will often spend the majority of the time it takes to make the track making the drum track. When I feel I've got a strong drum/percussion part I usually then think about a bass or hook line. I tend to plan out my tracks pretty meticulously before I actually get down to making them. I like having a really clear image in my head of what I want a track to sound like and then trying to recreate what I hear in my head in the studio. It usually happens via some pretty cryptic visual representations in the form of scribbles and crap graphic scores and its rare that I get down exactly how I imagine it or even close. It's just nice to know what your trying to achieve instead of opening up Cubase with no direction.
Aside from music itself, what other sources do you draw your inspiration from? Hmm that's a tricky one. I'd say art is definitely becoming more of an inspiration. My girlfriend studies Graphic Design and we've got a load of amazing books around the house so there's always something to look at, we also share a studio so there's art all around me when I making music. When I make tracks I'm often very aware of the overall timbre or tone of the music and I've always got a really strong sense of a particular vibe I'm trying to capture. I find this overall vibe or emotion is often portrayed in art just as it is in music. It's something that's impossible to describe but I think very much present in both.
In another interview, you mentioned that you prefer seing a good DJ set rather than seeing someone play live. What constitutes a good DJ-set and who does it best in your opinion? A good DJ set for me is someone who plays decent tracks in a good order and doesn't clutter it with unnecessary effects and cheap CDJ tricks. I'm not that bothered about whether it's bang on in time, if the tracks are generally beat matched then thats good enough for me. Obviously I don't go mad for clangers, but I wouldn't really be put off if a DJ lets the tracks slip a bit out of time. In terms of best DJ I'd say Surgeon has got to be up there. I've only seen him few times but his selection and diversity is amazing. I also saw Pearson Sound recently, he was really good as he kept it really simple and it was a really enjoyable set. For some reason my most memorable gig was seeing Jamie Vex'd about two years ago in Leeds at an Exodus/Room 237 night. It wasn't long after his remix of Scuba's "Twitch" came out, which I still love. I remember just waiting in anticipation hoping he would play. He finally did and I just went nuts. You know when you just lose it in a club then realise that you've been dancing like a twat for the past ten minutes? It was one of those.
What are you working on at the moment and what can we expect from you in the near future? I'm working on a fair bit at the moment which is great. I'm doing a 12" for 2nd Drop which I'm really looking forward to and should be coming out early next year. I'm also working on a really exciting collab EP which will most likely be for All City and hopefully also coming out early next year. Me and Hackman have got a collaborative 12" coming out on the new Audio Culture's label and there's a few other things in the pipeline which will be surfacing fairly soon.
What has been the inspiration behind the tracklisting for your Truancy mixtape? What's the perfect setting to listen to the mixtape? The tracks in the mix are basically a little collection of stuff I've been listening to recently, a few old favourites and some new stuff by myself that isn't really finished but I thought I'd include them anyway. Its probably best to listen to the mix LOUD in a club or somewhere with a decent soundsystem but listen to it anywhere really. I've tried to include a varied selection of tracks and not just music for clubs so hopefully it can be appreciated on speakers big and small.
Complete this sentence: At heart I'm just a frustrated … man! Off the booze for the next four months and its about as fun as it sounds.
When was the last time you danced? In my kitchen about an hour ago… Fleetwood Mac.
Truancy Volume 35: Tessela
Gerry Read – Room Land [2nd Drop Records]
Siriusmo – Auf Wiederseheni [Monkeytown Records]
Tessela – Channel – [Unreleased]
Shortstuff – Tripped Up (Ramadanman Re-edit) [Ramp Recordings]
Photek – UFO [Addison Groove Remix]
Lory D – Acid Prastix [Numbers]
Tessela – Hardwood Groove [Unreleased]
Guy Andrews – Textures [Forthcoming Hemlock]
Horizontal Ground 6 – Track 2 [Horizontal Ground]
Cosmin TRG – De Dans [50 Weapons]
Perc – YSM (Sigha and Truss Remix) [Perc Trax]
Head High – Its a Love thing (Piano Invasion) [Power House]
Peverelist – Dance Till the Police Come [Hessle Audio]
Tessela – Stickem [unreleased]
Cloud Boat – Lions on the Beach [R&S]