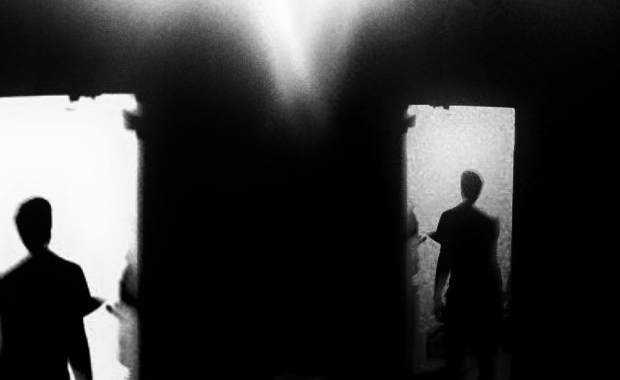 "Don't leave your girl 'round me, heartbreaker for life." Murs' vocal chops over the still unreleased track "Don't Leave Ur Girl Round Me" remain chiming in our ears almost over half a year after we were first introduced to the Bristol newcomer we've come to know as Abiel Bailie, better known as Riffs. Combined with an ample use of juke drum patterns whose primary concern can't be anything but to make its listeners twist and turn instantly, this track has kept its initial charming qualities with time.  Although Riffs' other tracks aren't entirely converging these distinct footwork vibes, there are reoccurring elements in his body of work like his ruthless use of unconventional drum patterns and subtle yet gravid basslines that make his tracks immediately recognizable and lethal inna di dance. All this talk of raw percussion shouldn't take away from the fact that his work also has a very melodious aspect to it that can be heard in tracks such as "Tell A Trick", where a soft and innocent xylophone-like melody somehow seamlessly works together with a rough 'n tough vocal sample towards a harmonious alliance as well as "Bubble Shrub", a track relying on his use of harmonic synths and sub.  A little bit of everything, although all of his tracks are equally contagious.
Riffs has been moving relatively quietly the last year so we're happy to officially give you introduction to Abiel by hosting a Truancy Volume made by the one and only, accompanied with a little initiatory interview. Furthermore, Riffs is preparing his debut release on Glasgow-based label Fortified Audio and will be appearing on the second Truants compilation with his new track "Threadbare" soon. His Truancy mix explores a variety of sounds that'll keep you going for days, going from strengths such as the haunting vibes of Disclosure's edit of Azari & III's "Manic", the classic Milanese remix of "Shake Wut Ya Mama Gave Ya" on Planet Mu and many other unreleased dubs by the likes of Blackwax and Actress – mirroring what Riffs would play out in his sets, resulting in a high velocity mix going through different moods and genres while maintaining a constant spark of significance. Stream and download his Truancy volume below. We're not responsible for any blown speakers.
Could you please introduce yourself to the uninitiated? "I make music under the Riffs alias. I can be found in my 'studio' most of the time in Bristol, trying to come up with something interesting on my computer."
How would you describe your own sound in five words? "Muffled, abrupt, playful, good and bad."
Can you us a little something about how you grew up with music and how you got into producing? "Well, luckily I had quite musical parents who all had musical friends, so there was a lot of it about for me to learn and take inspiration from. My dad was a punk in the 70s and pretty much raised me on mad stories of London back in the day. My mum came from communist Poland, she played dark sounding European folk music on her accordion that really stuck with me when I eventually went on to write my own tunes. Not to say that it was exclusively punk and Euro Accordian music surrounding me, they really pushed all kind of music in my direction. Anyway, after I left school I started going raving and getting more and more into straight forward 'dance music'. I'd never really connected with a lot of it, as I'd only really been exposed to a small handfull of electronic musicians in the past such as Warp Records people, Leftfield, The Prodigy etcetera, so to hear things like jungle being played by some random DJ on a massive sound system right infront of my face was incredible. The more raves and clubs I went to, the more I wanted to make the tunes people were dancing to, plus everyone I knew was making music electronically. So to cut a long story short, I got some software from a mate and kept playing around with it until I got here."
Have you always lived in Bristol? You're surrounded by a strong music scene, has this influenced you a lot? "I haven't always lived here, but the music of Bristol has definitely influenced me as there's such a massive variety of sounds, both past and present. It's hard to pin down a specific sound for the place, but I'd say the surroundings influence me more than any 'producer x' who comes from Bristol. I don't usually pay much attention to where an artist is from, but I do feel inspired when walking around the city as there's so much art and creativity on the streets. I used to catch a really early bus to work but finish fairly early in the day. I'd spend the morning walking past these giant modern buildings to the bus stop with crazy futuristic Moog music going through my mind, then get off the bus at about four in the afternoon and walk through Stokes Croft, which on a busy hot day is interesting. I like it when a street is filled with people and crazy things are happening, the sounds and sights can set you off on a mad thought pattern. Then you get back to your house, shut the door and the slam turns it all off suddenly and then you gotta re-think it again."
Can you run us through your creative process a little bit, is there a similar pattern you seem to follow each time? In what type of atmosphere or mood do you deliver your best work? "I sometimes have an idea for the exact sound I'm going for and sort of nail it, but usually the process is totally unpredictable and never really comes out how I thought it would. The only thing I can realise exactly how I want it is a melody. I guess I usually just play around with the drums until I'm nodding my head, then try to keep some kind of theme or feeling going. I get most into it when I add a vocal, which I hadn't really started doing until recently. I used to make instrumentals for my friends to rhyme over, so I had never allowed myself to get into a habit of taking up much space in the music with another person's voice in case it infringed on the MCs. Unfortunately, the kind of atmosphere in which I feel clear minded and creative is when I should be thinking about going to bed. A lot of my tunes are started late at night, then fiddled around with in the day and finished some other night weeks down the line when I'm in a similar mood to the one I started in."
What are you working on at the moment? It seems like people have picked up on your music over the last year. Especially with the wave "Don't Leave Ur Girl Round Me" created, and Swamp81 picking up on you as well – are there any projects in store you'd like to tell us about? "Yeah, it's nice that I have a wider audience than before thanks to Swamp's soundcloud and people playing the tunes out. Until about a year ago, I had only ever made a couple of tunes that someone might want to use in a DJ set and I had never played my own stuff out. It's definitely fun with the dancefloor in mind a lot of the time. Which is something I had sort of convinced myself I couldn't do in the past. There's a release forthcoming on Fortified Audio sometime in the near future and "Don't Leave Ur Girl.." will definitely be on it."
What are some artists that are currently ranked high on your own radar? "So many.. I'm looking forward to the Neil Landstrumm release on Nonplus, he's someone whose music seems timeless as it crosses so many genre borders but is still instantly recognisable as him. I really respect what he's doing. Also, people like Logos and Zomby who are putting their own spin on early eskibeat. I guess anyone I've interacted with and had support from, the people in the mix, any sound system I've played on, hold tight Jigsore! Sorry, I can't begin to name them all!"
What has been the inspiration behind the tracklisting for your Truancy mixtape? What's the perfect setting to listen to the mixtape? "It's just some tunes that I've been lucky enough to receive from other producers, with a handful of others that are either special to me or just a sort of representation of what I'd play out. The perfect setting is anywhere I guess, it's sort of half and half with club tracks and experimental ones so you could dance for a bit then sit down and mong out."
Complete this sentence: At heart I'm just a frustrated… "Producer! I know people sometimes pull the 'I don't know anything about technology card', but I really have no idea what I'm doing half the time."
When was the last time you danced? "Last weekend, at a night called Irie Bingo. It was heavy dancehall and hip-hop all night, lots of pull ups and towels being pumped. I love that shit."
Truancy Volume 34: Riffs
Def Bass Krew – Left Center Right [Def Cut]
Stereotyp – Nu Styling [Klein Records]
Halp – Bek [Unreleased]
Milanese – Cold Addidas [Bun E]
Disclosure – Manic [Unreleased]
Pusherman – Shake it Off [Unreleased]
Blackwax – Surface [Tube10]
Arctic – Zoot up [Unreleased]
Mac & Pasteman – Club Action [Unreleased]
Miami Bass Warriors – Bro That Chick's a Basser [Triangle Earth]
Computer Rockers – Green Screen [Breakin' Records]
Man Parrish – Hip Hop Re Bop (Bass Junkie`s Boogie Down Bass Mix) [Battletrax]
AGT Rave Cru – Terror Overdrive [Remerge Records]
Tanka – Hover [Dub]
Zack Christ – Slejmand Version 1 [Dub]
Youtube – Truancy Crisis
Jimmy Edgar – Turn You Inside Out (Baconhead Remix) [Dub]
Booty Cologne – Shake Wut Ya Mama Gave Ya (Milanese Remix) [Planet Mu]
Nochexxx – Savage Herald Homely [Ramp]
Tomáš Dvorák – Clockwise Operetta [Minority Records]
Ebola – Spider Carcass [Sublight]
Actress – MAD Stereo [??]
Words by: Immy Soraya & Sindhuja Shyam.