Three-Peat is our feature spanning genres and labels to bring you three select releases from the past that still deserve your attention.
1. VA – 116 & Rising (Hessle Audio)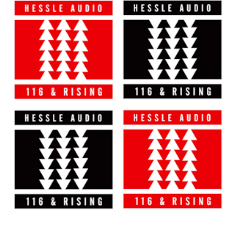 (IS) Over the last couple of years, the Hessle Audio troupe (consisting of David Kennedy, Ben Thomson and Kevin McAuley) has been at the helm of UK dance music. The 116 & Rising compilation emphasizes their beneficence by showcasing twelve tracks that have seen a release through the imprint before, alongside another twelve that will be premiered with the release of the compilation. Although all included tracks show a lot of variety between them, the entirety of the compilation does a fine job at presenting both the back catalog of Hessle Audio and their dynamism when it comes to new output – innovative, surprising, consistent and a whole lot of other flattering adjectives. For the 'exclusive half' of the compilation, the Hessle ternion included productions by artists who have put out music through the label before, but also reached out to consorts who haven't. A notable contribution from outside the roster is D1's "Subzero", an old cut that will undoubtedly bring back some good memories to the dub heads out there. There are a couple of other tracks included that might be familiar to your ears, such as Pearson Sound's "Stifle", Addison Groove's "Fuk Tha 101" and a re-edit by James Blake of his earlier Hessle release, "Give A Man A Rod (Second Version)". It's a breather to have these gems included, but there's many other surprises to be found on the compilation. For example the fifth track, one of the slower tracks from the collection. Joe's track "Twice", which samples a witty conversation from the American flick "Boogie Nights", moves from slightly disordered percussion combined with typewriter sounds and hazy synths, to a little jazzy breakdown, and back again – incredibly infectious. Randomer's "Brunk" is another unexpected  one – one that would go down a treat on the dance floor, percussion-wise resembling a lighter Blawan, the latter also taking part in and responsible for another one of the highlights of the compilation, "Potchla Vee". It's not exactly easy to assemble a compilation and offer up an end product that makes sense to the listener, but the carefully curated 116 & Rising delivers us over two hours of  quality. Hessle done did it. Again. Out May 16th.
Give A Man A Rod (Second Version) by James Blake
2. Jack Dixon & Robert Card – Decade EP (TAKE Records)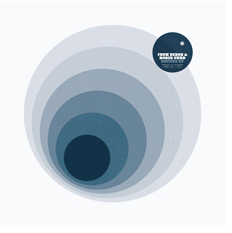 (SB) Following the success of his recent Substitute EP, Jack Dixon is back with a stellar release on TAKE Records, home to big releases from James Fox, Bearweasel, F and others. The soon-to-be-released Decade EP finds Dixon collaborating with Robin Card, a promising newcomer from Berlin, over four percussion-driven tracks touching on diverse dancefloor influences, from house and techno to garage and 2-step. The duo puts a strong foot forward with "Adrian," featuring tightly filtered synths, tidy 2-step rhythms, and vocal snippets trying to find their way through a thick, ethereal fog. On the more pared-down "Leave," skittering, hyper-syncopated drums and a dense low end form a rugged foundation for ADD-riddled synth stabs and unintelligible vocals (a common thread throughout the release, although it's never gimmicky or over the top). "Keith" starts off with a rhythm stationed somewhere close to FaltyDL's off kilter 2-step before settling into a slightly more traditional groove, while chopped vocals and old school stabs intertwine to create a blissed-out vibe. "Alone," the standout track of the bunch, rounds out the EP with a melancholy, detuned synth voice wandering through an expansive atmosphere of ambient tones and dream-like vocals. On the remix tip, Brownswood Recordings artist Eliphino flips "Keith" into a heavy hitting, dancefloor-oriented track with added sub-bass pressure and deftly layered vocals. James Fox draws "Leave" past the six-minute mark in a minimal remix that replaces the frenzied syncopations of the original with a thumping four on the floor rhythm. And finally, up-and-comers Colo steal the spotlight with their slow burning, downtempo reworking of "Alone" that's sure to please fans of Nicolas Jaar or anything on Brainfeeder. All in all this is a really strong release from some super talented young producers, so be sure to pick it up when it drops! Out June 6th.
Jack Dixon & Robin Card – Decade EP by Jack Dixon
3. Midland – Through Motion EP (Aus Music)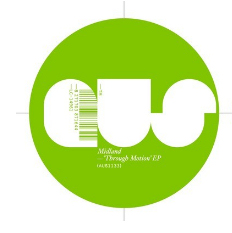 (AH) For the past year Harry Agius, better known to you and me as Midland, has been contributing more than his fair share to the world of 21st Century house music. House is a feeling. House is a spiritual thing. It's a body thing. Midland knows this. His collaborations with Ramadanman on Will Saul's Aus imprint – "Your Words Matter" and "More Than You Know" – were two delectable slabs of cut-up r'n'b-influenced house. His releases on Phonica Records and More Music saw him take a more earthy and atmospheric route, filling our ears with dark thoughts and brooding sounds. "Through Motion" is a gorgeous return to Aus. The title track kicks off with a droning sample that, for me, recalls Coco Da Silva's 2000 effort "Saudade". But while that track featured a mystical vocal that described a boxing match yet managed to fit perfectly with turn-of-the-century deep house, "Through Motion" moves towards a more melancholic arena as the muffled phrase "You start to believe your own lies" is repeated throughout the course of the six minutes. These, together with a female utterance and a series of delicate yet plaintive piano chords combine to form an emotional jam that will bring tears to your eyes. "Shelter" is a deeper affair, with shuffling garage beats sitting atop gurgling sounds and more vocal utterances. More drones and chugga-chugga basslines push this into driving techno territory, yet this track could find itself at home in many a DJ's set, crossing as it does genre boundaries and sonic divisions. If that wasn't enough, Chi-town house master Tevo Howard gives "Through Motion" a 'proper house' makeover. Bouncier beats, an acid-type bassline and switched-up use of the two vocal samples twist things up in a way that's both reverential and different enough to keep you interested. Out May 16th.