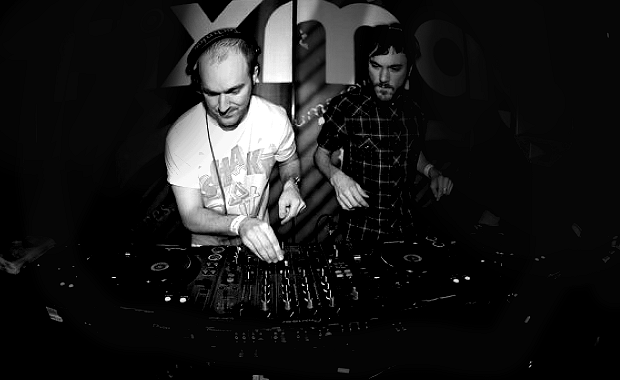 "The English like eccentrics. They just don't like them living next door."- Julian Clary

The latest Truancy Volume for you to feast upon comes steeped in glacial disco swagger from Bxentric – one of the most promising and hardest working duos to emerge in UK dance music over the past year, and who've now artfully thrown down an effervescent mixtape exclusively for TRUANTS that captures their trademark vibe. 2010 has been quite the journey for Bryn & Chris; the last 12 months have seen the pair embark on a steep upward trajectory on course to infiltrate the upper echelons of the disco/house scene, fuelled by their unrelenting enthusiasm and passion for music, accelerated by a turbo shot of sheer determination and of course, a hefty wedge of raw talent. So let's start invading the personal space of the boys before we fully immerse ourselves in eau de Bxentric;  I for one would happily live next door to them if this kind of soundtrack will be making the walls shake on a regular basis….
So Bryn, let's get the first interview cliché out of the way – how and when did you guys start out? In December 2006 I was in the pub with my housemate who owned a night club in Liverpool, and somehow drunkenly bet him that in one year I could play in his club. The following January I bought myself Technics 1210's and a two channel Numark mixer with some real ugly headphones. I set about practicing 3 hours every day, recording everything I did then laying on my bed to listen back to my whole session. Later that year I got my first ever gig in my local town of Wrexham, supporting a live band called Trash Fashion – I played in front of a grand total of six of my friends and five Trash Fashion fans. A month later I hassled a promoter in Chester to give me a couple of gigs at a night called 'Surgery', then through a chance MySpace hook up with Boggy from Riotous Rockers, I scored my first proper pivotal nightclub gig at Stealth in Nottingham. During this time my housemate had sold his club so I was lucky to have been given a big chance with that hook up.
Your friend totally sold the club in order to avoid losing the bet then…so you got your first big gig at Stealth, and in turn your residency at Moda – how did you get into producing? A month later I got invited back to play at Stealth again and this is where I met Jaymo and Andy George (Moda Music/BBC Radio 1) after warming up for them.  I sent Jaymo some mixtapes over the next couple of months, soon after they invited me to play at their Moda night and in November '08 I was asked to become a Moda resident. Through my residency I got to know one of the other Moda label heads, Tom Staar- Tom has a studio and I wanted to start putting down some ideas , so in 2009 he became my studio engineer and we created two tracks, 'Vice', and 'Miami', as well as remixing the Heads We Dance track 'Take My Picture'.
Bryn, how did you go from DJing on your own to becoming a duo? By the end of 2009 I knew my sound was still not quite right and having received parts for a remix for Flight Facilities 'Crave You', I wanted to work with a musician for a more organic sound, set against an electronic backdrop. The promoter who first booked me for his 'Surgery' night many moons ago answered a Facebook post of mine, requesting a session guitarist to contact me. His best mate Chris had just quit a band and so we went about arranging a session with him as my guitarist for a few hours. The day of remixing Flight Facilities was the first time we'd met, after a quick hello I took him up to the studio. It soon became apparent Chris was just so hungry to make music, from this moment I knew he was in it for the right reasons and we've been together as Bxentric ever since.
Second interview cliché alert – where did the name come from? Well  I went to a friend's house party where I played for over 5 hours straight,  the next day I asked my friend what he thought of my set, to which he replied (in the nicest way), 'Urgh, it was a bit eccentric'. Knowing I was looking for a name he piped up with 'oh, your names Bryn – why not B eccentric?' So from that day Bxentric was born.
2010 has been a great year for you both… Yep, during this last year working in Tom Staar's studio we've completed remixes for Flight Facilities, Louie Austen, Mighty Mouse and The C90s. Also during October we spent a week in Slovenia working in Sare Havlicek's studio creating our single 'Foolishness' using nothing but vintage analog synths and our guitars, underpinned with an old drum machine.
Sounds ace – when do we get to hear it and what's on the agenda for the coming year? We've been signed to Grum's management co, The Jockey Club which we're really excited about and we hope to have 'Foolishness' released in early 2011. We now have our own personal studio in London so next year will also see us writing our first album, plus more remixes along with our gigs for Moda and a load of bookings here in the UK and around the globe.
Thank you for creating the mix for us, I would describe it as a cosmic disco meets deep house smashdown… We wanted to create a mix that is fitting to the weather outside and our reflective mood looking back over this crazy first year together. We really hope the readers enjoy listening to the mix and have enjoyed getting to know our story so far. Thanks for listening!
Bryn, Chris – I can assure you the pleasure is all ours.
Download the mix here.