Download: Vlooper – AMERICA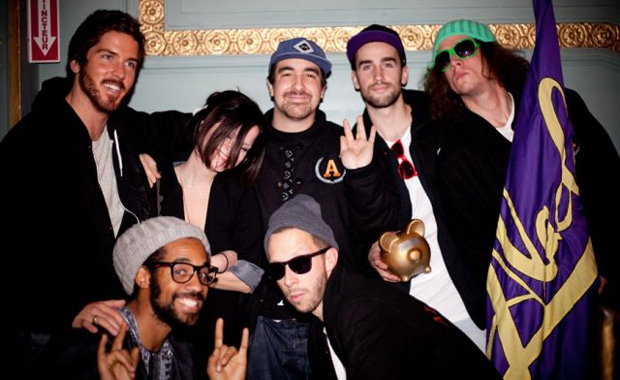 We're running this recommendation on minimum information. What we do know is that Vlooper is a prolific underground Hip Hop producer and part of the Quebecois Alaclair Ensemble (pictured above). Alaclair consists of a number of producers, rappers, and activists all of which remain anonymous as far as we can tell. The only other member with a good deal of individual fame is KenLo Craqnuques.
Now Vlooper produced a 17-track album for Alaclair Ensemble, AMERICA, whose title is necessary to be read tongue in cheek for the crew proudly communicates in French and acts more or less exclusively local in Quebec. Also note that the ensemble banner is the Canadian flag turned upside-down and that these tracks are different to Vloopers' previous tapes as they now all contain rap vocals. There's no clear idea who's rapping as the credits are missing and we have no idea what the rhymes are about, but the whole set flows excellently. Vloopers' edgy instrumentals are not the smoothest material for a rapper to deliver his crafts over. The beats are ruff and snippy, over-compressed and interrupted by odd sample every few bars. This is post-Dilla material like it's 2010, free from Ambient, Dubstep, Footwork or any other influence than Hip Hop. However, rarely has rap been heard fitting beats like these as perfect as on AMERICA. Of course there's a lot of Madlib and Jay Dee and Dibiase in here, but Vlooper manages to inject sufficient of an individual handwriting to escape the copycat accusation. Enjoy the free download and stream below.